This past Summer, high school teacher Jacqulyn Whang was challenged as part of her fellowship to affect the community outside her school's walls in a positive way.
Whang, who works at Centennial High School, reached out to other women in Compton who are working to impact the area, especially where it concerns Compton's youth.
"I asked them to come join me in a meeting and talk about what we can do for our girls," Jacqulyn told us. "And from that meeting came this idea of a conference."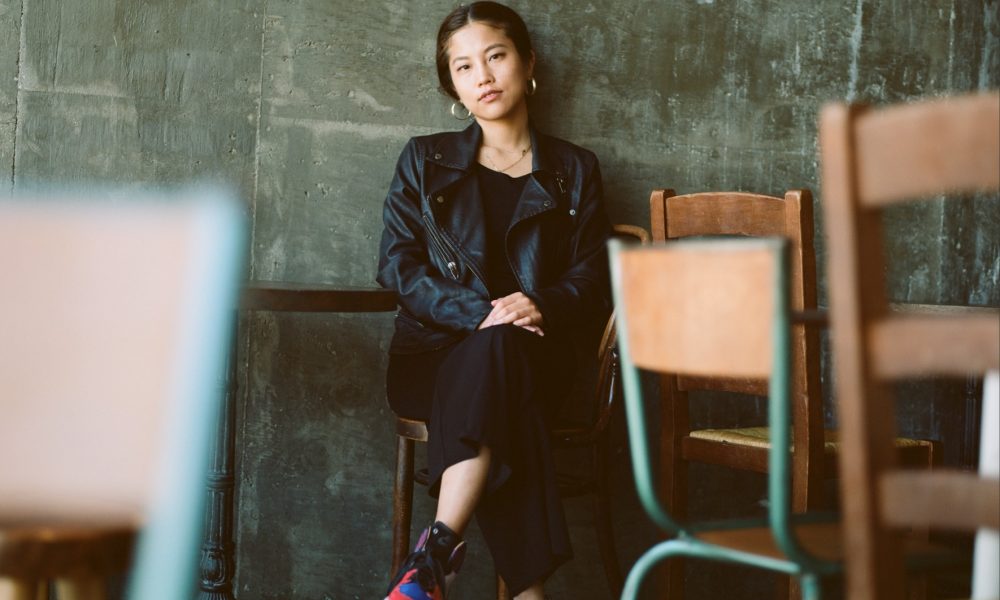 "The conversations led to us planning out this one day conference where our girls could get everything that we didn't have growing up."
Along with her two main collaborators, Chrystani Heinrich from Compton Girls Club and Abby Lopez from Color Compton, Jacqulyn began putting together what would become GirlSpace.
"These two women and I really formed a team to carry this vision forward," Whang said. "We had meetings on meetings on meetings, and then more meetings, collectively formulating a vision statement to really empower our girls."
"We aim to strengthen their unity, confidence, and leadership through fun, active, and creative entrepreneurship-driven workshops."
One of the glaring issues Jacqulyn noticed in her community is there are not a lot of safe spaces for these young girls to be brave and be themselves. "We're either prescribing them who they should be or we're too worried about their future, constantly in panic mode throwing all these different resources at them," Whang said. "But we really wanted a space where girls can seriously just be themselves, first and foremost."
Once given the space to build confidence and comfortability, these girls would be ideally be able to find their voice, be leaders in their own lives, and change their lives and the lives of others around them.
The Hundreds sat down with Jacqulyn to find out more about her mission and how GirlSpace is impacting young women in Los Angeles and beyond.
What do you want to provide to these girls with the conference?
Personally, what drives me and motivates me to really keep pushing GirlSpace out there is the traumatic experiences I had growing up. They pretty much paralyzed me throughout my life, especially in my early 20s, and I didn't realize how much I had been through until I was at rock bottom and had to seek therapy. I was experiencing so many side effects of PTSD and anxiety. That was the driving force. I want our girls to know what true confidence feels like and also to introduce wellness opportunities for them. They don't have to cry everything out, well maybe they will cry everything out, but they can just feel like this space respects everything they've been through on the spectrum of harm that we experience as young women.
One in every three girls have been sexually molested. If I look across the room and see six girls, that means two of the six. A statistic like that makes you rethink what girls are experiencing and we are giving them opportunities to be brave and overcome that. That was my personal connection to the cause. And as I began to speak with other women, we all agreed: "Damn it's really hard being a girl."
There are so many things that are left unspoken as a girl and our girls deserve to have fun, feel confident in who they are, and have the opportunity to step up into leadership. One of the phrases that we stand by is 'Sisterhood by Design.' This is our chosen family that we get to share and we're able to see that in the organizing team praying and hoping that this is the vibe that comes across on that day, even if it's a one-day thing.
Even though it's a one-day event, your team is going to teach enduring lifeskills and instill confidence these girls will use forever. It's definitely more than a one-day thing. What do you hope that participants take away from GirlSpace?
As cheesy as pillars are, I think they're really helpful in just being very direct about what we want our girls to build. It goes back to unity, confidence, and leadership. This next generation is so powerful. They have so much within them to really break the glass ceilings, so I really hope they know that they are the coolest people in the world and they can do whatever they want. They don't have to step back and there's no circumstance or environmental situation that will stop them. There's no relationship that can stop them. We really hope these girls connect with the organizations that are working with us. Compton Girls Club is one of our strong partners as well as Color Compton, Prosperity Consulting, Children Striving Together, and even Compton Open Mic. There's so much going on in Compton for our girls and youth. At our conference, we want to plug them in, like 'do you need therapy?' Then hook up with Etundu, who has these wellness and counseling services, or 'do you need community?' Link with Compton Girls Club and do some arts and crafts on the weekend. This conference provides access.
What's the age range of girls that you focus on?
High school girls between 16-18 and their moms. We have a unique space for moms. We haven't marketed this as much but it's for the moms who bring their daughters to GirlSpace or just moms in general. Veronica Higgins, who runs Prosperity Consulting, has created this powerful curriculum that provides positive, culturally appropriate parenting strategies. There are generational bad habits that we carry on.
I've never heard that statistic you stated before. Obviously that has immense potential to affect these girls' trajectory and their life is going to be different than what it may have been. How do you help them overcome that trauma?
We ensure that each girl takes at least one movement class. You can do all three but we make sure that there's one per each cycle of workshops for that very reason. A lot of our trauma gets stuck in our bodies. I became even more active than I already was when I heard of somatic healing, which is not existential or celestial, it's tied into our physiology and neurological make-up. When you're moving your body, you start to release dopamine and reprogram your self-esteem and thought processes. As a teacher, if I ask my kids to do this, they get very uncomfortable to even extend their arms out. It's very elementary, but in high school, you walk around guarding yourself. And I know that this holistic approach we are taking with this experience will have a robust and transformative impact. We want our girls to walk out with a starting conversation of how they want them to transform themselves into their highest potential.
What are the movement classes?
At GirlSpace, we have a Nike Fitness Trainer coming in to guide mid-intensity cardio workouts, and we have a hip-hop class from Christina Alba, a background dancer for Kehlani. We have Frankie from City of Angels Boxing Center in Downtown and she will be doing a boxing class for our girls. No bags, you don't need gloves. I take her class and I cry after it so I'm excited for the girls to experience the different types of ways you can move.
Beyond the different lessons the girls can learn and take with them, how much of GirlSpace is also about creating a new community and building a place for making new friends and finding support in the people around you who have gone through similar things?
For me, I have to work with my friends. I tell all the women that I organize with that we're all friends and we're all doing this together because at the end of the day, no one is going to get compensated the way we deserve fiscally but what will make us all satisfied is if we learn and grow together and be transformational. This is really about the girls and the legacy that we'll leave behind for the community. We want to pass that on to our girls and I really do hope it's leading by example and by how we promote sisterhood that they too will want real friends and will reconsider the unhealthy friends and people around them who have more shallow, harmful, and even toxic habits.
How will GirlSpace help these girls create new connections in real life versus what they have on social media?
We have a workshop with Evelyn Escobar about social media and also Olympia, who does Supermarket, is doing one about wellness and the use of social media. We have two workshops targeting that and we want the girls to reassess their relationship with social media and challenge themselves to learn how to create positive real life interactions and friendships. Not only do you need that for yourself but you need it in your career. We want to build that value in themand we know it will have social capital as they grow up into their professional lives.
How can people help?
I do believe in non-free work for community organizers and activists. We want to reimburse our workshop facilitators and the marketing team. We've hired graphic designers and social media people to ensure the girls are represented in all of their diversity on the social pages so they can feel included. We are very intentional about that. Tabling, snacks, lunch. We want shirts. I don't want to say fun comes with money but dang! It really does. Everyone gets shirts with GirlSpace on it, plus cool name tags! We want to give them business cards! Man, if we had enough money, we'd get them socks, too and just deck them out, you know? We want a photobooth. We want to commission vocal artists as well as artists within our network of creative folks to do banners so the girls can walk in and see visuals that were created by folks who know where they're coming from. The budget is fully transparent on GoFundMe. There's so much that goes into it but most of all we really do want the support of the community to carry this movement forward.
What's your longterm vision for GirlSpace?
I won't share everything but I'll share a few things. Our vision for GirlSpace is an annual event. It was really hard to pack everything into one day. For next year, we definitely want to make it bigger. We want to be more intentional about doing multiple panels. There was a lot of people, multiple musicians who wanted to be a part of this.
Getting high schoolers to participate in anything is difficult. How do you get people to show up?
I think that is what is very special about my role as a teacher is that I've just naturally had relationships with other teachers and students, so this would be an experience. It is really hard to get youth out there and so we're just going to rely on youth leaders who feel passionate about their youth and will really carry the torch in registration, organizing, and transportation. We have buses but it's still a deal to be like, "Alright everybody meet at school at 12 pm, let's all meet up." It has to be grassroots when it comes to our young kids. We'll be relying on our youth leaders and word of mouth.
What else should people know about GirlSpace?
People can sign up to volunteer! They go to the GirlSpace page and on the support button they can view a link to volunteer. We need about 170 volunteers on the day of the event.
There are 12 workshops. I know we've talked about some of them but what are the other workshops that are available to girls?
Let's Give is a nonprofit organization and they are providing two workshops that I'm really excited about. It's self-love and self-care. It goes over decolonizing our standards of beauty and how we can take care of ourselves and our minds. Also, one about sisterhood and with that one there is a lot of connections to black and brown unity and creating a space and dialogue for that. That will be a perfect sweet spot for our girls who are hungry for those reconciliation conversations. We have Good Hair, she's a young woman who recently just graduated high school, she's going to be doing her first workshop on hair braiding and hair care. I'm really excited about that. Selena Rodriguez is one of our partners as well, she is doing a workshop around beauty and the standards that we face. Evelyn from HiClub is going to be amazing. She runs a non-profit and teaches girls how to do a runway walk and they'll be performing at the end. Those get really lit because you really see the girls bloom. We had that at our school and entirely new characters came out.
They find a whole new confidence.
It gives you goosebumps! We have a poetry workshop. Britney from ShopLatinx is going to be doing one on entrepreneurship and I'm really excited about it because she just launched her business and it's been getting so much traction.
Anything else you would like to add?
We're supported by the City of Compton, who donated the space to us. Dollarhide Community Center, the mayor donated the space and she's going to be featured in our panel. Nike has also supported us as a sponsor. We appreciate all of them so much!
***