California's Good Worth & Co. is a breath of fresh air when it comes to today's accessory and small goods landscape. While pins are being billed as menswear's latest trend, it's pretty safe to say that not everyone is in the market for a pin of a naked lady in a martini glass or one that says "Fuck Me Maybe." Last year, we spoke to the newly formed Pintrill, and now we're bringing you a company on the other side of the spectrum. Good Worth isn't focused on fads or being on-trend – they've been around for years and they're in it for the long haul.
Founder and Owner Matt Wenz had been working in the skate and streetwear industry as a product designer for nearly a decade before finally branching off and starting his own company. Good Worth has been producing unique products with plenty of personality, executed with such a clean design aesthetic that it's pretty much perfect for everyday wear and use. If you've got a sense of humor, enjoy vintage-inspired design and some occasional profanity, please allow me to introduce you to your new favorite brand – which you can find stocked at Kingswell, Bodega, and other well-curated shops.
We spoke with Matt about predating the accessory brand trend, the influence humor has on the company, and he gives us an exclusive first look at their upcoming collaboration with Playboy.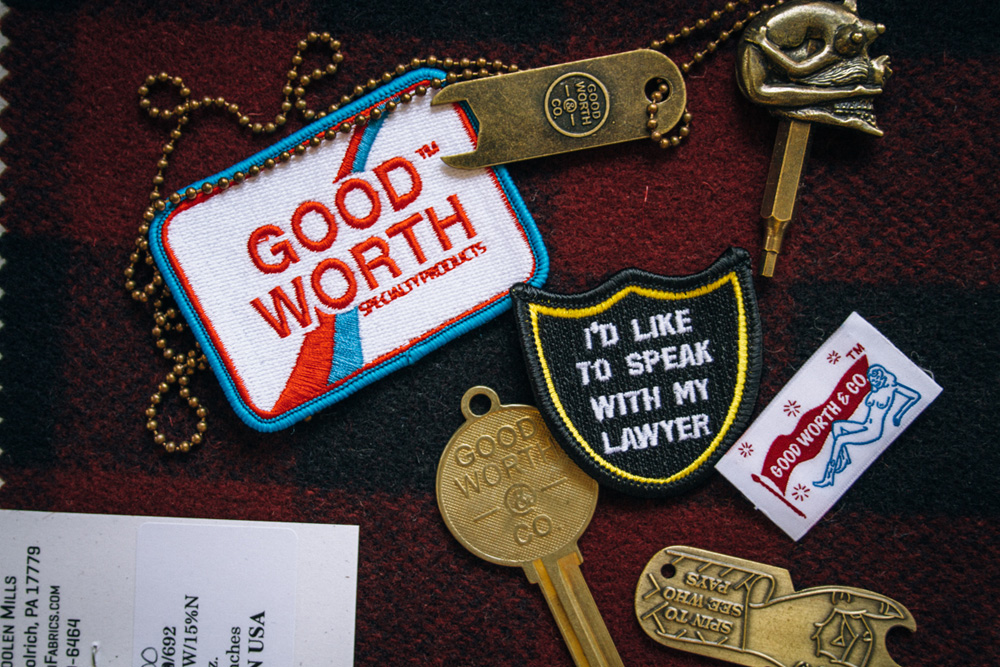 TYLER W: What's the story behind Good Worth & Co. and when did the brand form?
MATT WENZ: I started Good Worth about four years ago with the focus being on the smaller items and accessories.
Like a lot of people who work within this industry, I had always wanted to start my own brand. I knew without having any real clout in the industry that the product itself would really need to stand out. That's how the keys came to mind.
Sure, people had made keys before, but I wanted to really focus on them – and, most importantly, offer a wide variety of designs. I have worked in-house for many brands and the accessories were always the last products designed. I wanted to flip that mindset and make it the priority. Years later, and accessories are still my priority.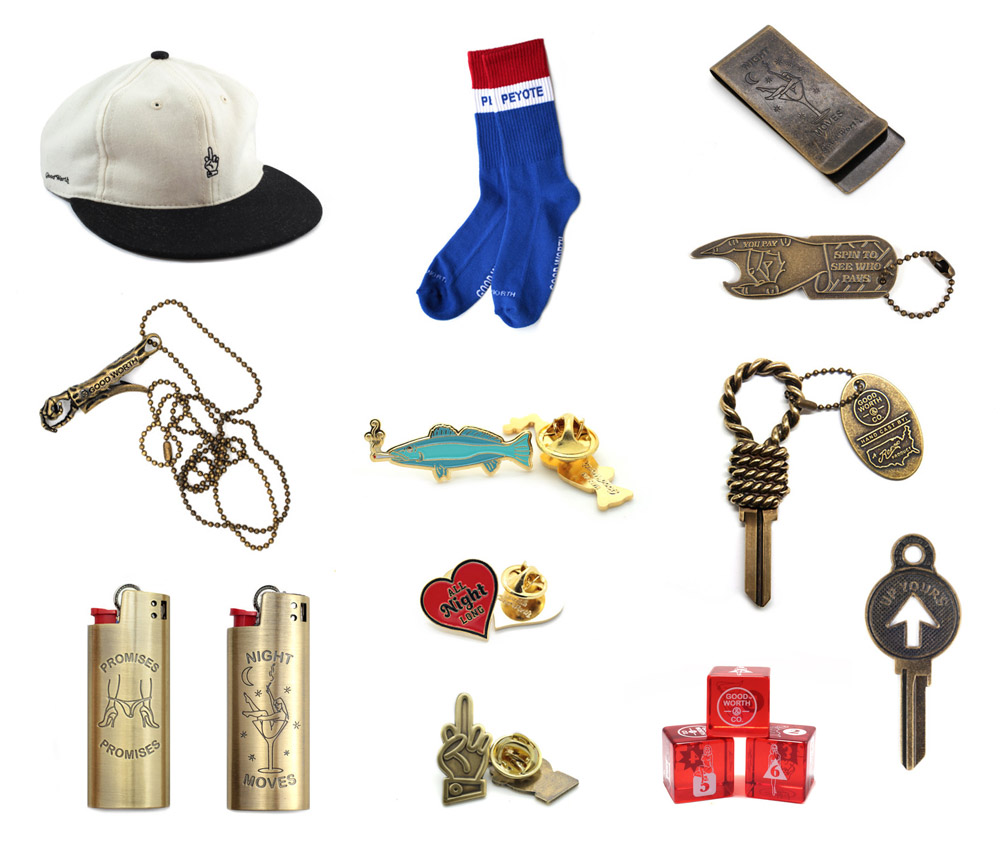 Before starting Good Worth, you spent nearly a decade working in product design. Tell us about your journey into that profession.
Art has always been my true passion. Ever since I was young, I loved creating things. My mom was a sign painter and all around creative, so I had a great hand helping me along the way.
I was also one of the ones who went to design school. And I wouldn't change that for the world. It was a great experience. Some people say it's not necessary, and in some ways they're right. But it most definitely helped guide me to where I am today. There is a lot more to design than making something look "cool."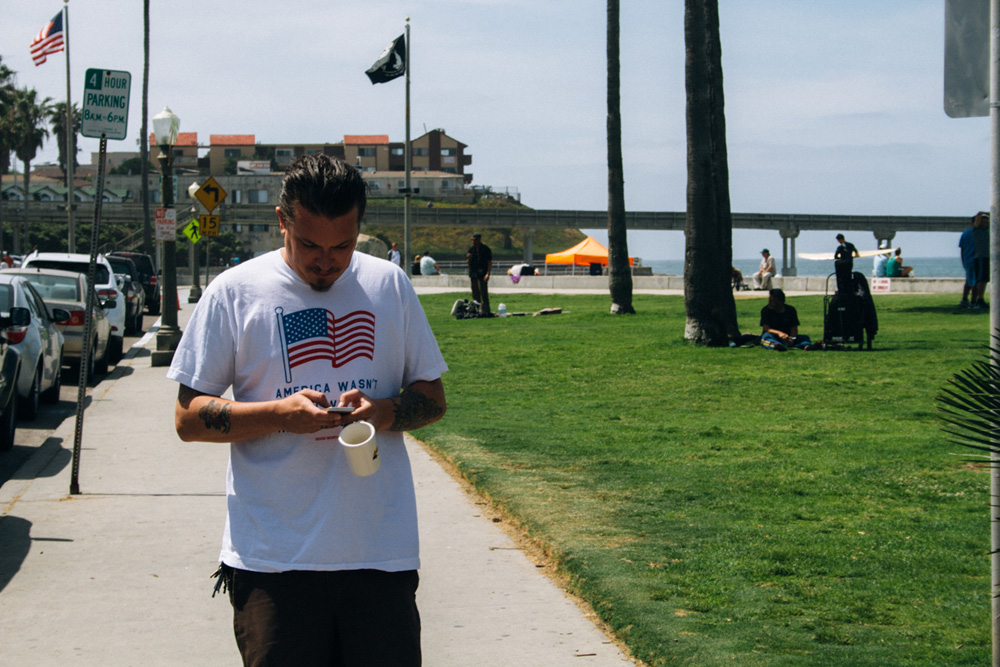 What were some key lessons you learned during your time at Active and Orisue?
Both were great places to work and design for. Orisue hired me right out of school and, because it was a smaller brand, everyone helped with everything. They put me into cut and sew design fairly quickly. This really helped me learn production, fabric, fits, and lots of other things that weren't really taught in the graphic design classes I took.
Active was a little more corporate and structured. They have the strategy down and you essentially just plug stuff in. The price points are a little lower, so you learn to work within a budget as well. It was a great experience. I learned a lot and they have a great team of people, which has led to some great friendships.
What led you to want to start your own company?
I have always loved the guys just doing their own thing. For me, I think it all started with Shawn Stussy. I was born in 1984 and, as a kid, seeing that it was possible to make something creative, your job was more than just inspiring – it was a dream come true. So, when I had the right idea and a little money, I started Good Worth. And here we are.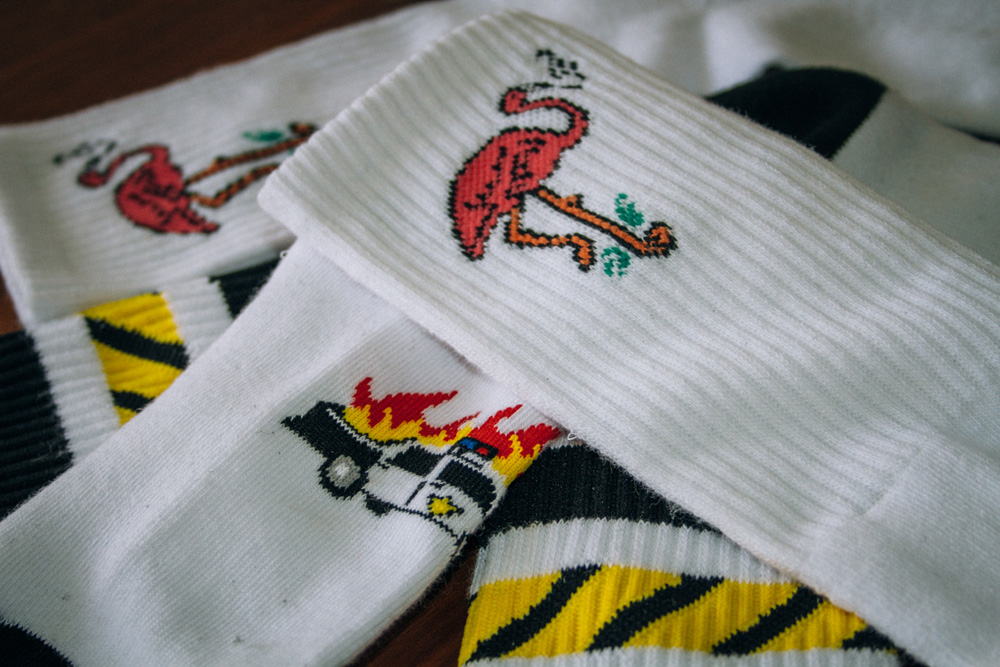 In what ways did your previous experience in the industry help in launching a brand from nothing?
Experience is everything. Everything. I think the number one thing is the structure of the business. Timelines are extremely important. You learn to work within seasons, production deadlines, overlapping projects, etc. Some aspects aren't as fun as others, but learning every aspect is crucial.
When did you first feel the company first starting to take off?
We had a great response from the very beginning, but the product selection was pretty limited for a while due to finances, molds, factory minimums, etc.
There is no investor or bank behind it, so it took a little bit of time to progress to that level. Within the last year it has really grown. We are now in 10 countries and growing daily.
There is definitely a subtle and sophisticated humor found in a lot of your products. Is that a conscious decision?
Yes, most definitely a conscious decision. I think humor is a great thing and I like incorporating it into products.
My humor is a little on edge, but I think that helps maintain some of the brand's personality. And after all we all like to laugh.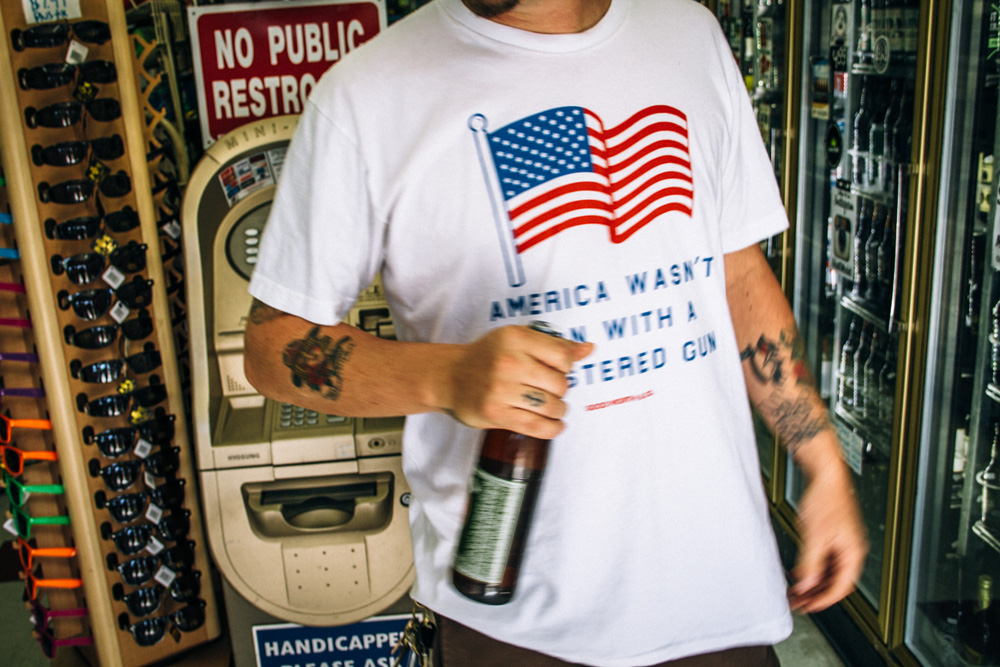 You have a razor sharp brand aesthetic. What influences have crafted what we see today?
I just love good, clean design. I am a huge fan of simplicity.
There is a large amount of great current design out there, but I always end up going to the past for reference. Computers seem to have made certain things more complicated.
I love 1970s-era design, anything from furniture to typography. It just comes off much more simply, and back then it was. I think the nostalgia tied to that era is also what makes it for me.
Would you say there is a lot of overlap between your personal taste and that of the brand?
Very much so. I am joking around about 90% of the time, so as mentioned before the humor is a large aspect of the brand. Also personal preference in design plays a large part.
Who do you envision when you think of the average Good Worth customer?
I think I see someone who has a sense of humor, somewhat of a fashion sense, and is all around stoked on life.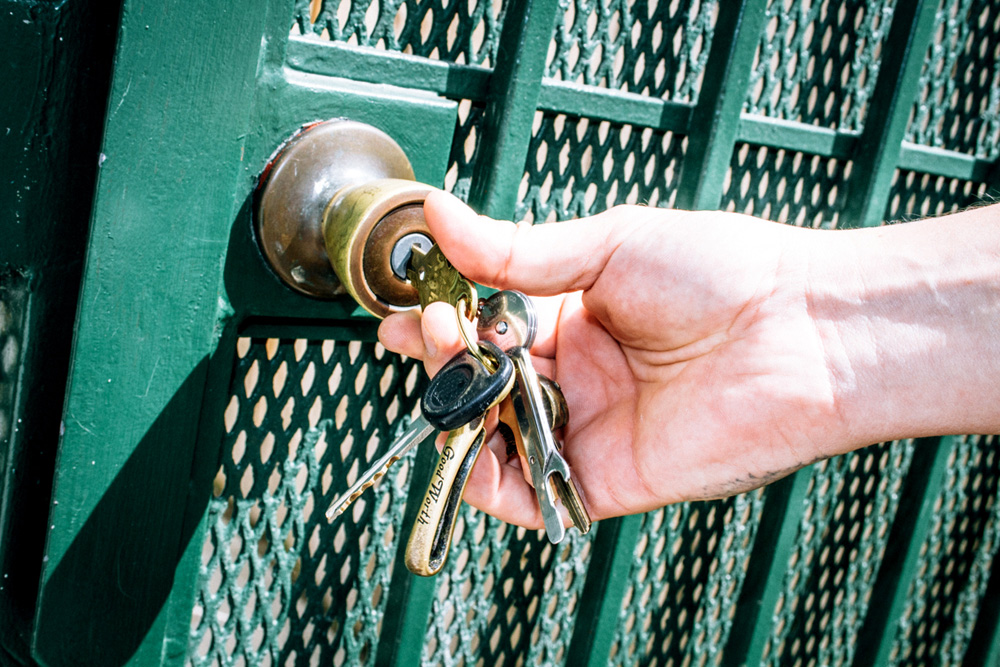 You started with a focus on making keys and have been consistently expanding the goods you offer. Was the plan always to start small? What made you want to expand your offerings?
Yes, the plan was to start small. The minimum with hard goods is much higher than printables, so you just simply can't make as many designs. But we are constantly expanding our offerings.
I like to keep things fresh and new things coming and going. I'm planning on larger collections, collaborations, and special projects help keep the brand moving forward.
The amount of detail in the goods you offer is impressive. Was it a long process to reach this level of production?
It definitely took me some time to find the right manufacturers. I can draw items to be as detailed as I like, but production is a whole different battle.
I also try to make some products that really aren't commonly found out there, so finding the places to make them can be challenging.
Within the last year, there has been a surplus of brands selling pins and other small goods. As a brand that predates the trend, what do you make of the sudden influx?
I think that is just natural. Five to ten years ago it was T-shirts, and now it's pins and trinkets.
People are also opening more USA manufacturing avenues so it isn't as intimidating to get things made. With China and overseas, you wire money to someone you have never met, and to a novice that can sound very risky.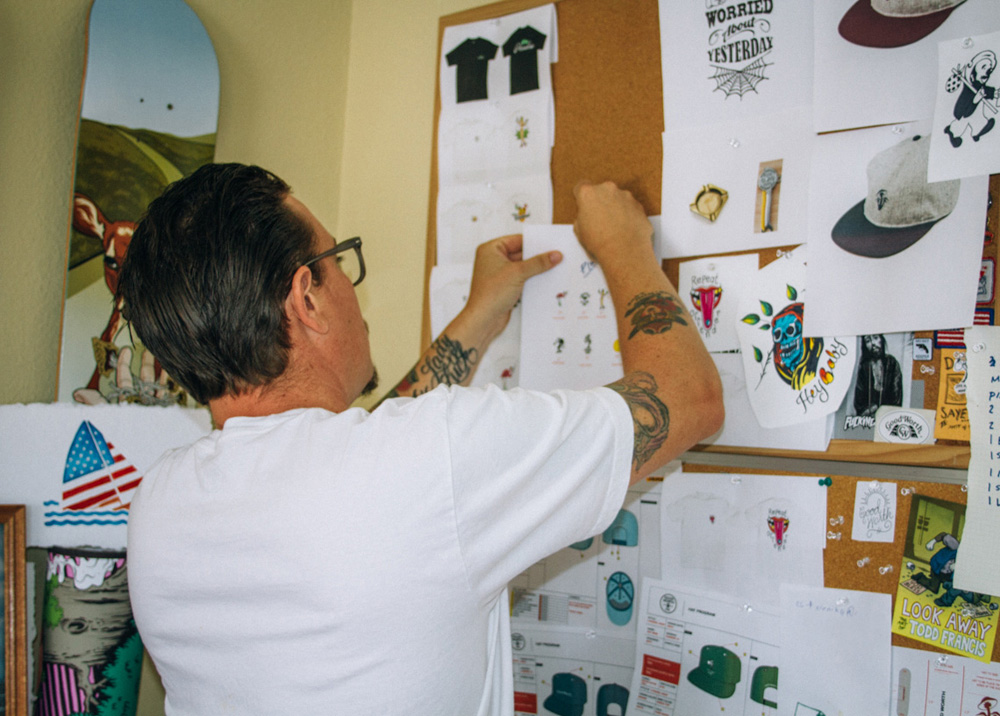 How long do you think the trend will last? Any predications to what might be the next "thing"?
I think small goods will always be a staple, but these companies just selling pins will realize they will need more products to stay afloat. As far as the next big thing – that might be more of question for Bobby [Hundreds] than me, ha.
What will the rest of 2015 look like for Good Worth?
2015 is looking very bright. Along with plenty of new in-house products, we also have collaborations with Benny Gold, HUF, and Playboy. All of which I am super excited for.
How did the collaboration with Playboy come to be?
Pile ltd., our Japanese distributor, lined it up for us and it is going to be nuts. We have so much great stuff on the way with Playboy.
The brands lend themselves well to each other so the design was very natural. There is a July delivery and Holiday delivery. I couldn't be more excited for this project.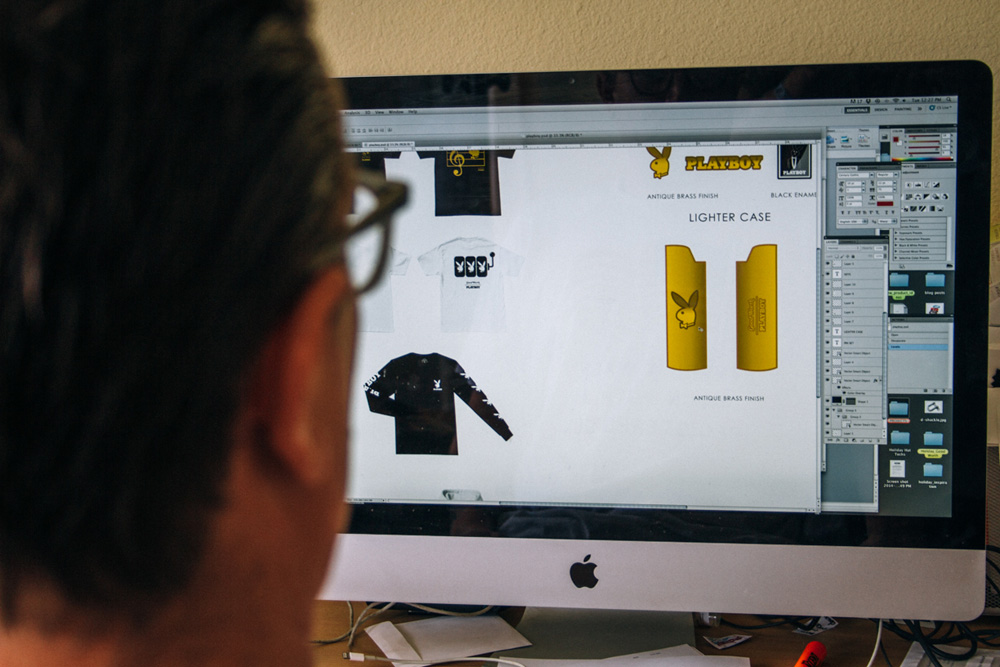 How have you had to adapt to keep up as your business has grown?
Bringing the right people on is key. We are building a great team that can really handle what needs to be handled.
Lastly, what's next for Good Worth?
Growth. The world is a big place! Thanks so much for the opportunity.
::
You can visit Good Worth & Co. website and keep up with their Instagram here.