Before I headed out to RSWD for Karrueche's magazine signing, I dropped down to the new Kohn Gallery, an opulently expansive 12,000 square-foot art space, to see the latest work of Pop-Surrealist godfather Mark Ryden. The exhibition, dubbed "Gay Nineties" was stalked by a swarm of hype, and probably the most distinctly interesting people you've ever seen. Hundreds of the world's most eccentric super-fans descended on the Hollywood gallery for a chance to meet Mark and witness first-hand a series of elaborate works worth more than the average Los Angeles home.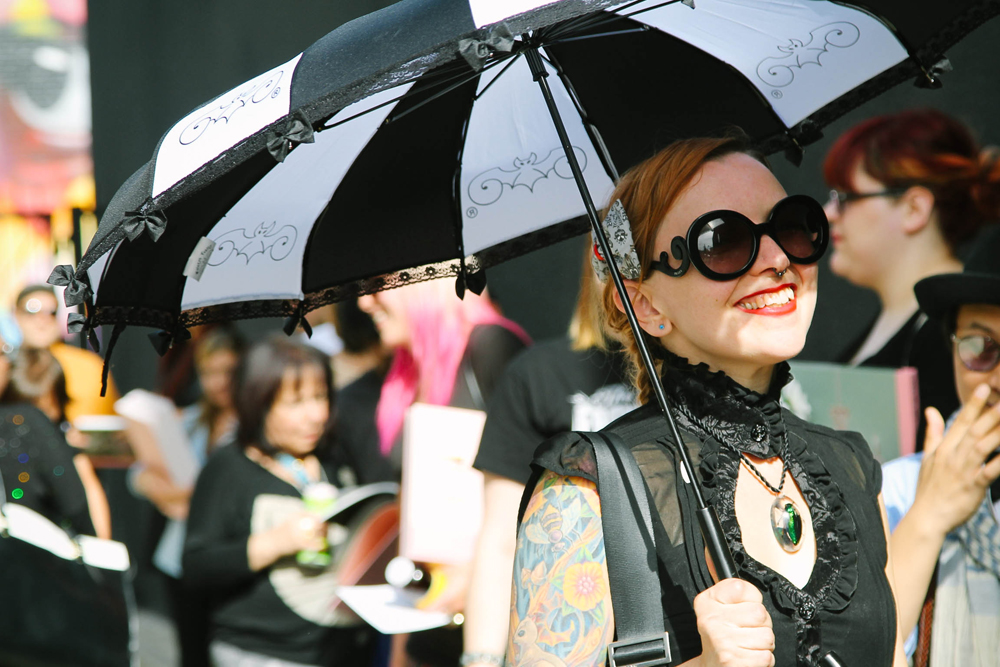 I'll just start off by saying that I really didn't know much about Mark Ryden when I entered, but there was a palpable air of importance. There's something about an artist who can draw out hordes of role-players that makes the exhibition feel almost cult-like.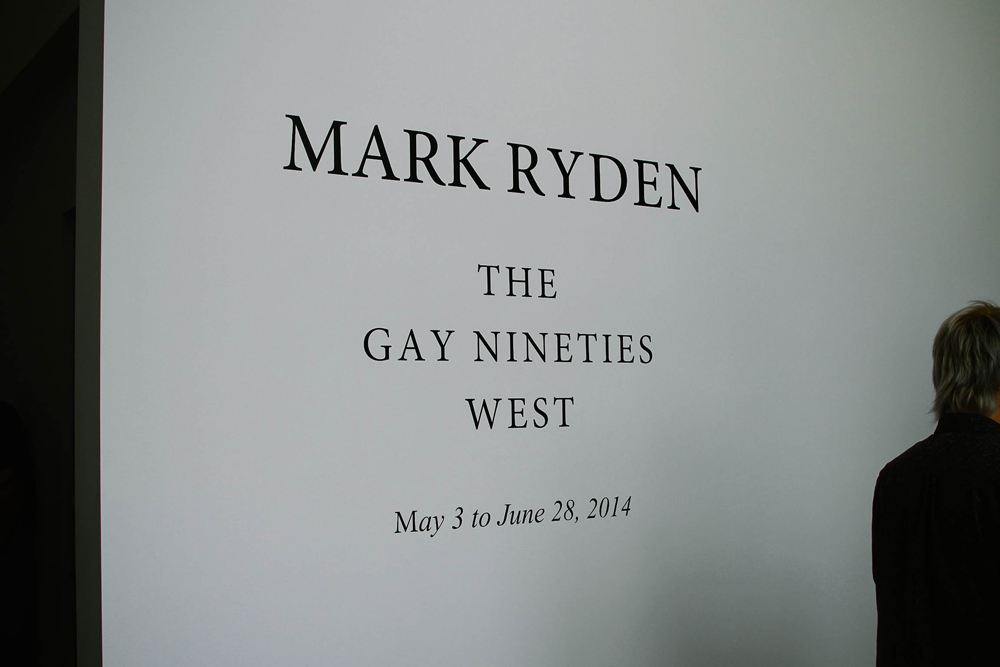 One of the most amazing factors in Mark Ryden's Pop-Surrealist paintings is the ornate framing. Intricate behemoths lined the pink walls within the first room of the tastefully minimalist gallery.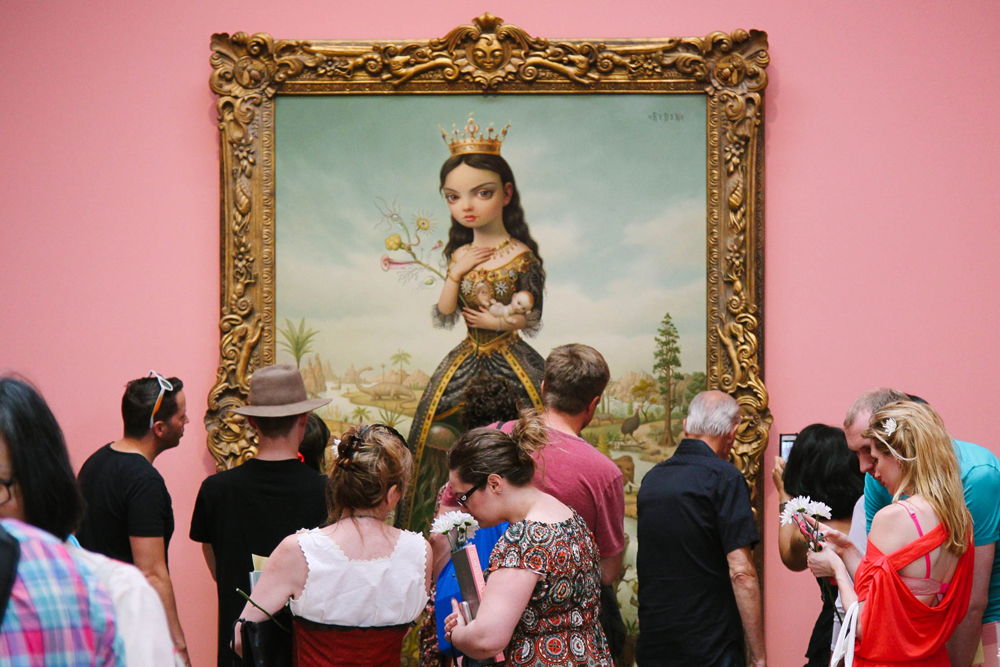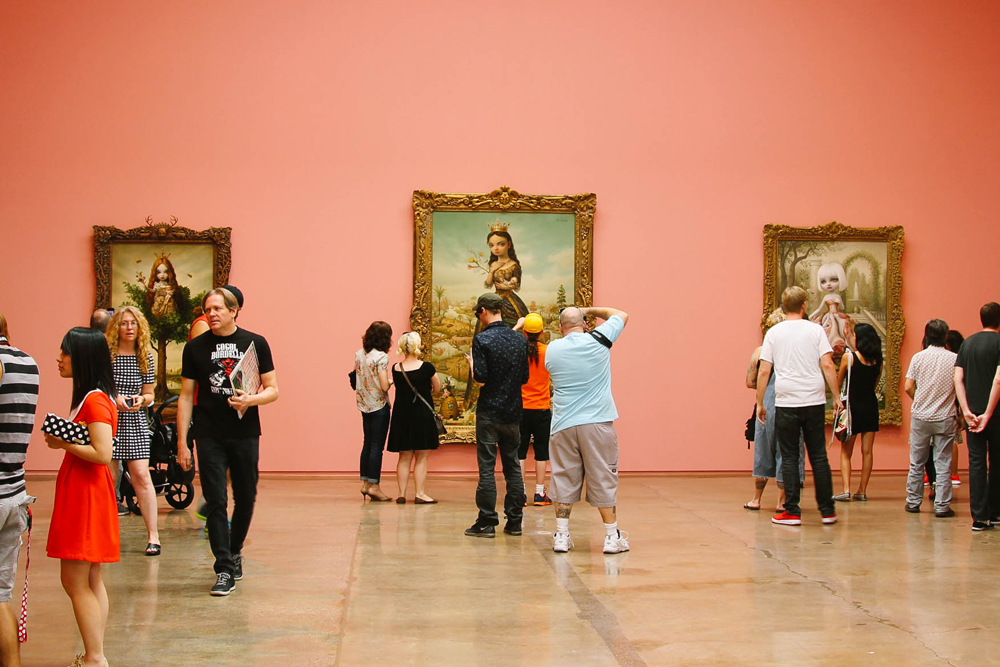 This dude has some degree of a crush on Abraham Lincoln. It's all good. The man is hard to resist. Remember?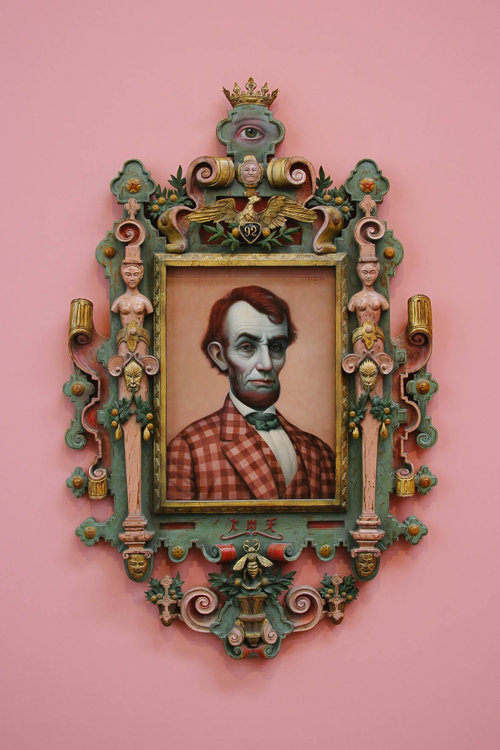 He also has a thing for Jesus. No, not that Jesus. This Jesus, displayed in both charmingly friendly and not-so-friendly applications. Mark has the ability to transfer between Care Bear and Passion of the Christ vibes seamlessly.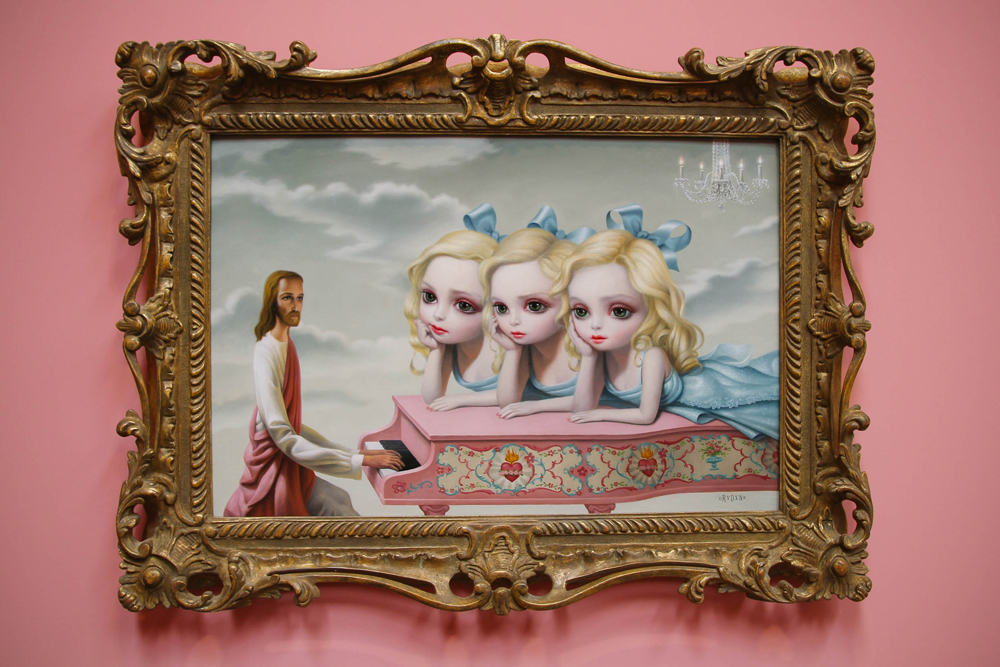 Christ on a bicycle! On a serious note, Ryden prizes the value of stark juxtaposition, which is why you'll see him putting a tortured Jesus on a 1800s bicycle, or a fair lady dressed in meat. One of his most valuable mediums for disseminating this juxtaposition is through iconic pop-culture figures.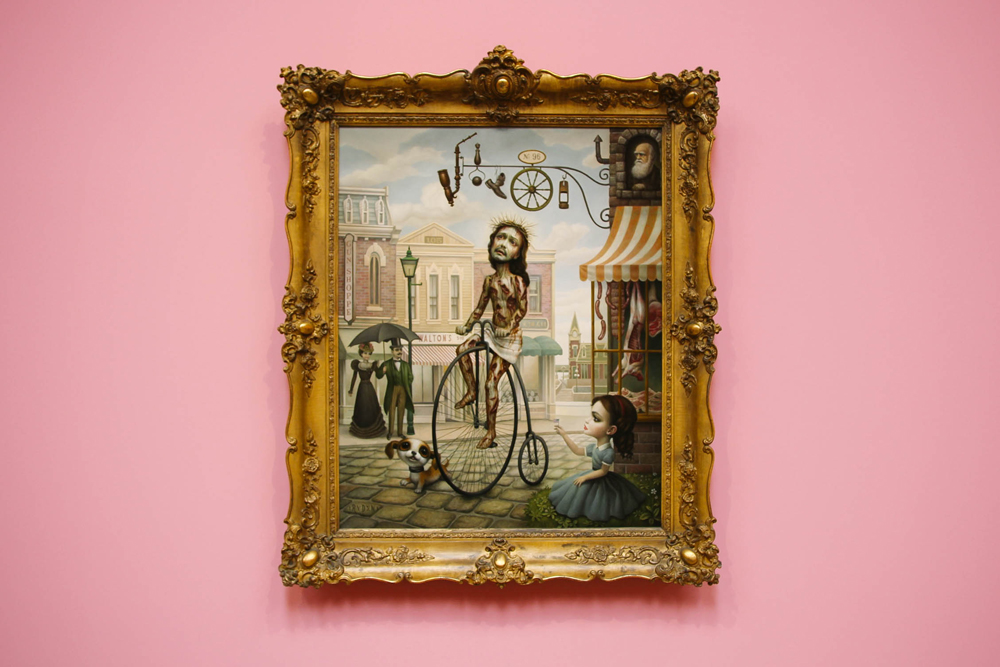 He puts these bear-like, dark animal figures in a lot of his pieces. These little Wookie-men had really high sus-levels.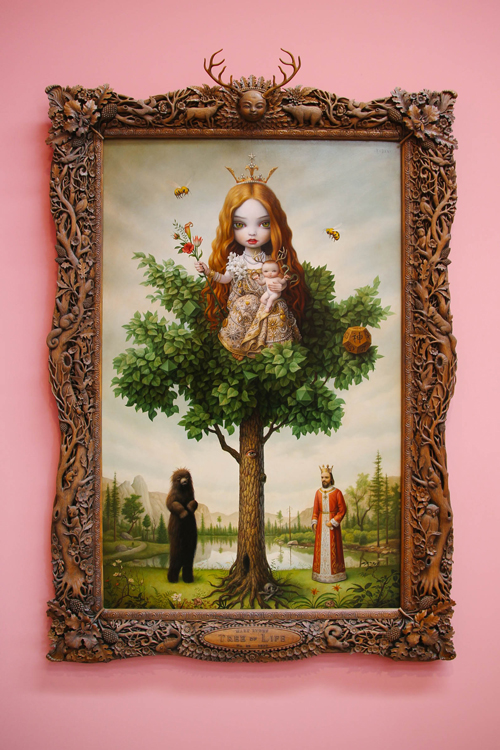 This piece, entitled "The Parlor" pretty much stole the show on the main drag. I don't think I was cool enough to "get" it, but I love it. I wonder if he'll take "The Hundreds X Tapatío" bottles in trade. This would look really good in my home office.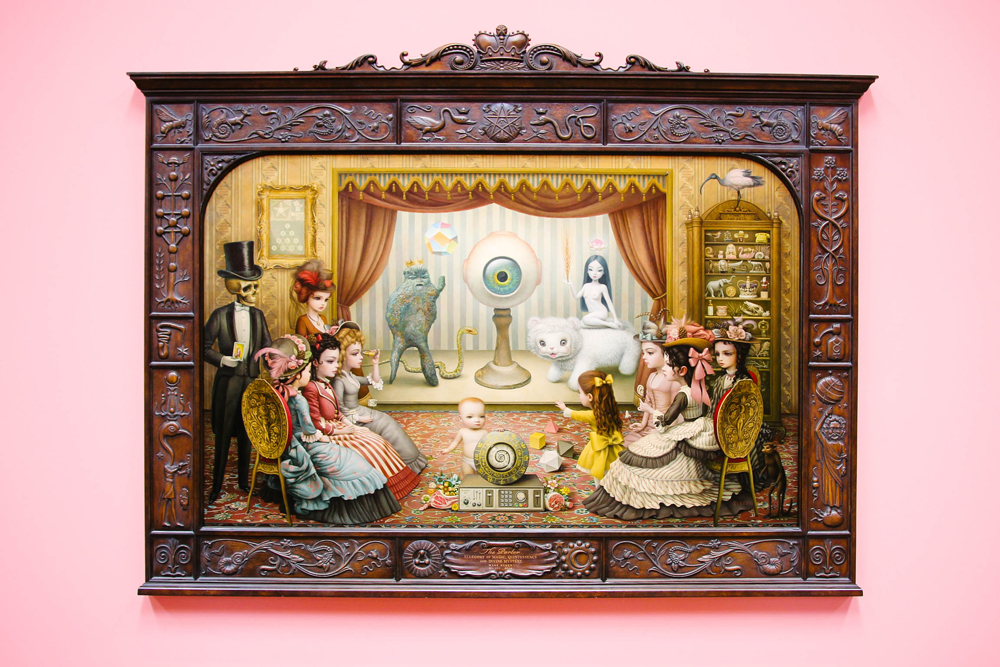 Meat is a recurring theme in his work as a commentary on the "disconnect in our contemporary culture between meat we use for food and the living, breathing creature it comes from." In other words, Mark is probably not a fan of our kind, fun-loving Vernon neighbors.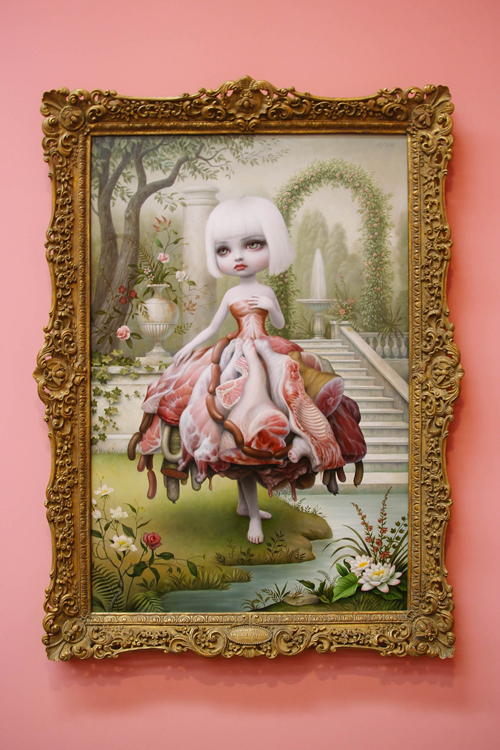 The randomness of characters was at an all-time high. It was a refreshingly unapologetic gathering of Hollywood's ever-expressive alternative community.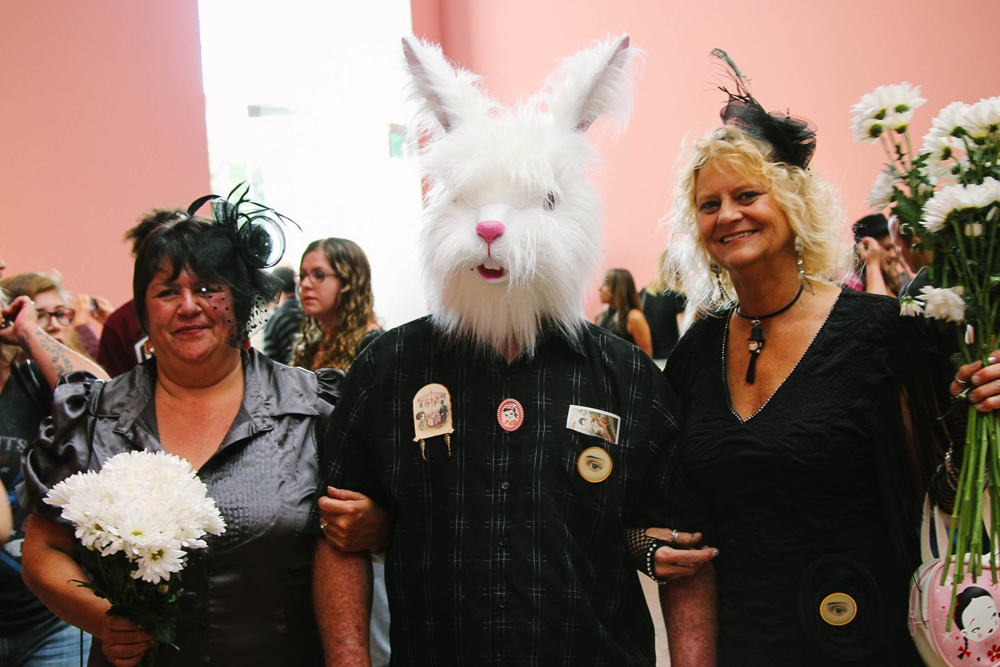 If you rounded the corner into the adjacent space, you were greeted by a station featuring the musical line-up on the $100 charity album that Mark created to accompany the exhibition. The record featured several renditions of the same 1892 song, "Daisy Bell (Bicycle Built for Two)," performed separately by Kirk Hammett, Tyler the Creator, Weird Al Yankovic, Mark Mothersbaugh, Katy Perry, Danny Elfman, and more. Proceeds from the vinyl went to benefit "Little Kids Rock," a nonprofit that promotes musical education in underprivileged schools.
Speaking of records, did you know that Mark Ryden designed the Deluxe Edition album cover for Tyler the Creator's Wolf? In fact, his cover artwork creations are what propelled him into pop surrealism. He got his first break as a commercial artist creating cover art for Michael Jackson's Dangerous, Aerosmith's "Love in an Elevator," and Red Hot Chili Pepper's "One Hot Minute." He also designed book covers for Stephen King.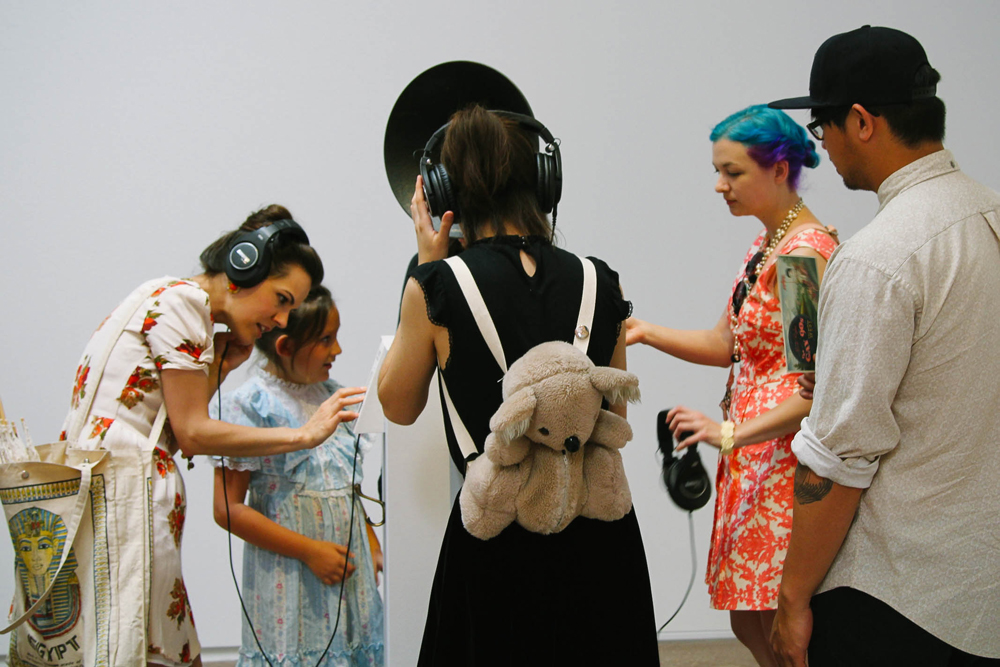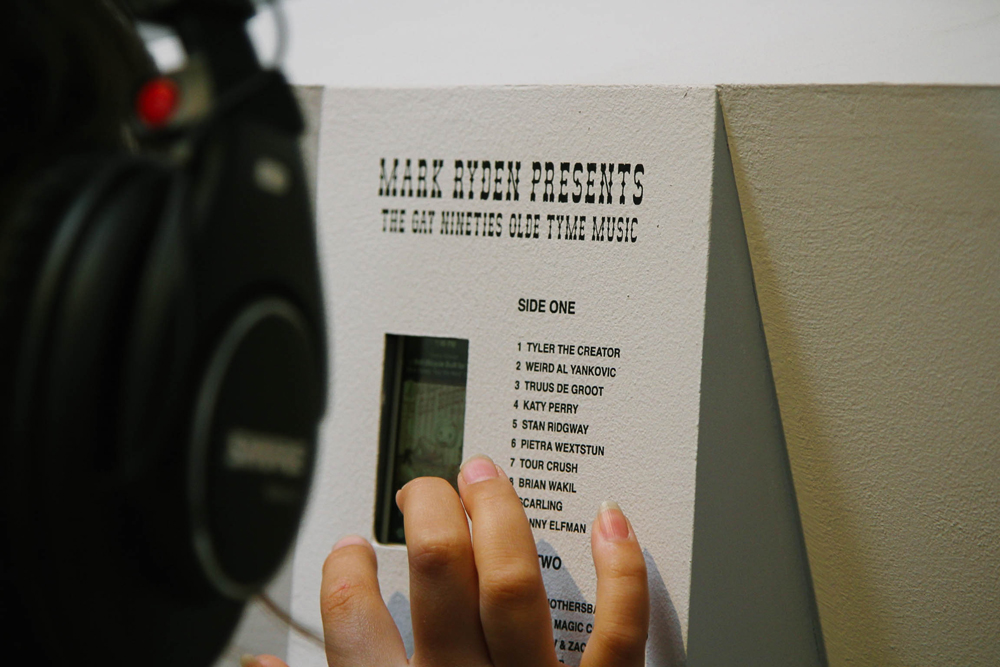 This corner of the gallery provided a less ornate surface to Mark Ryden's tribute to the 1800s.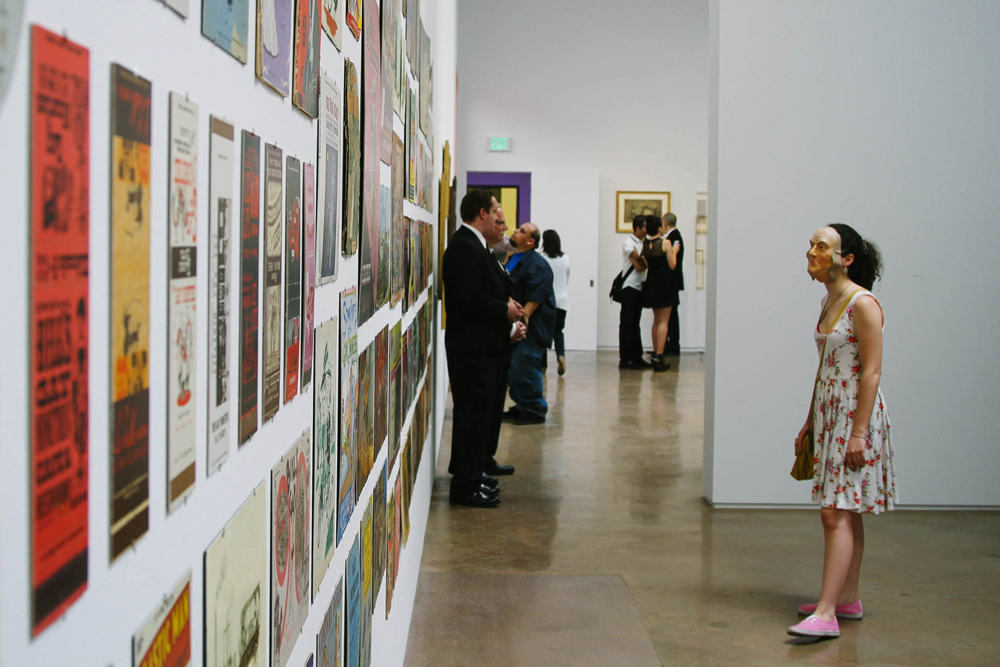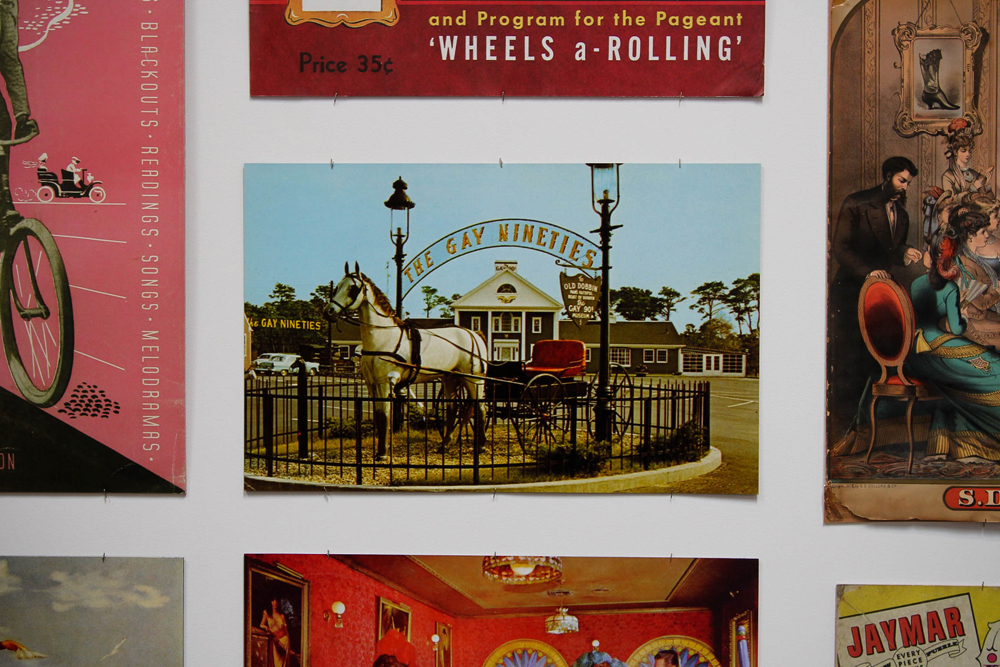 Good ol' Benjamin was on-site. Don't be skurt.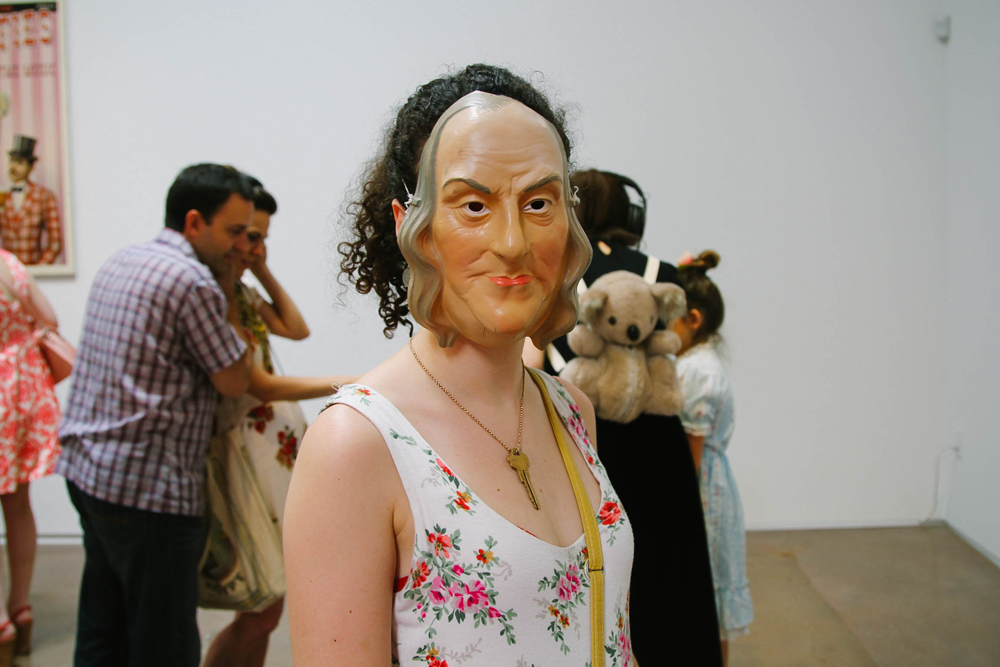 Four scores and 10 feet to the right, Abraham made another cameo, this time with a heaping chest of animal organs.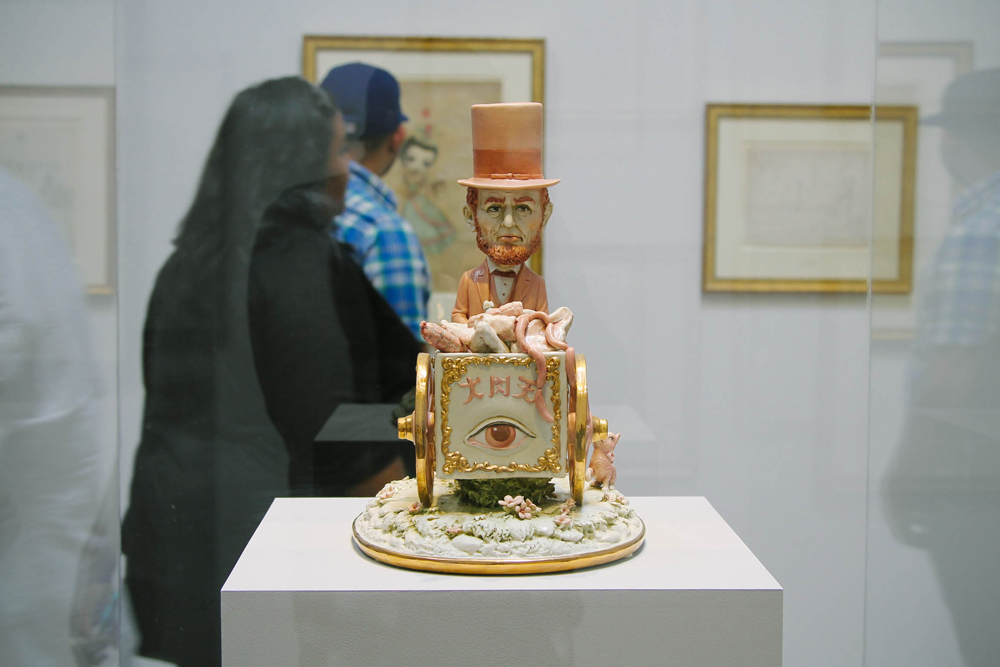 This musta' been his girl, taking skirt-steak to, like, a whole new level.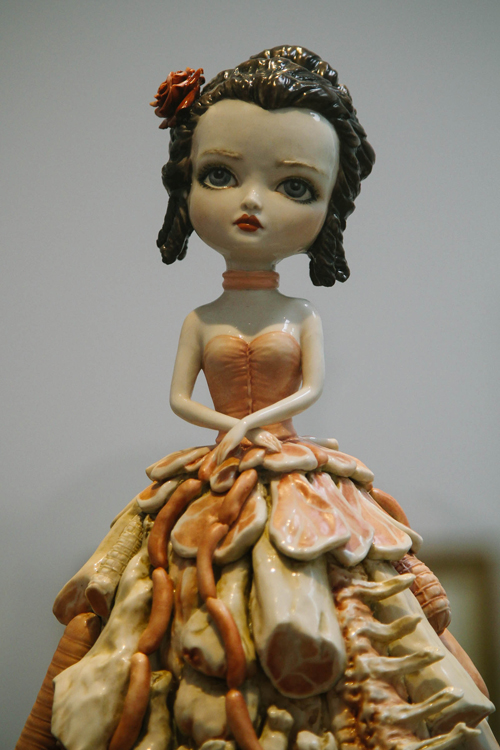 I popped back into the main room in anticipation of Mark's arrival. I caught this gem, a perfect extension of the work that made him famous – showcasing beautiful wide-eyed young women in precarious circumstances.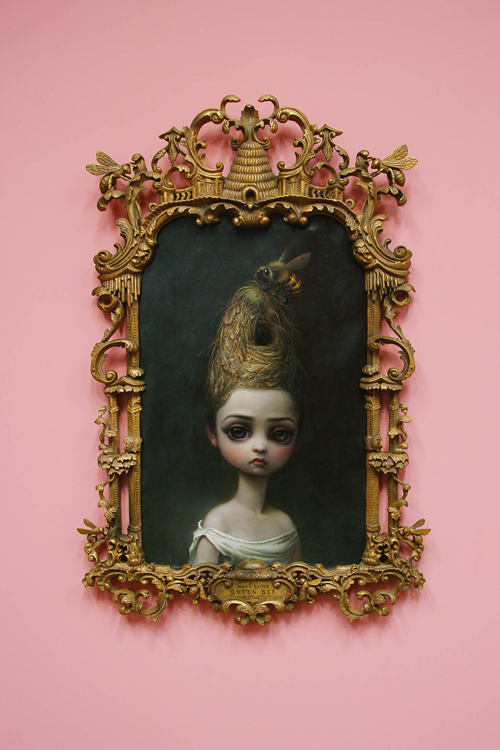 Remember that sus-Wookie I discussed?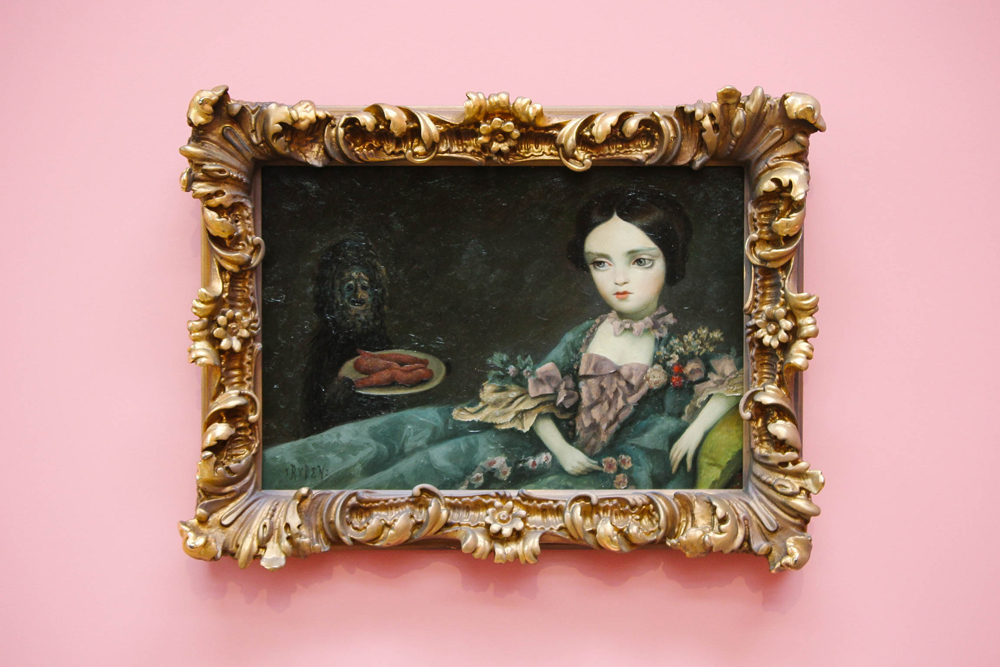 Abraham Lincoln, serving up raw beef to doe-eyed women since 1834.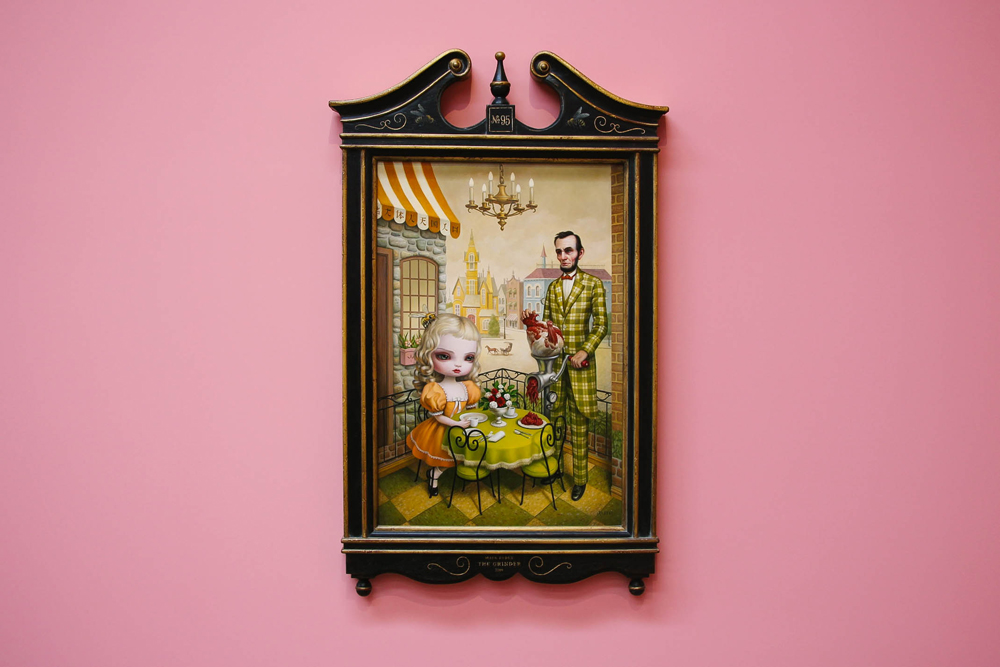 The die-hards waited until their feet were throbbing with gratuitously heavy coffee-table books. I was one of those mongrels.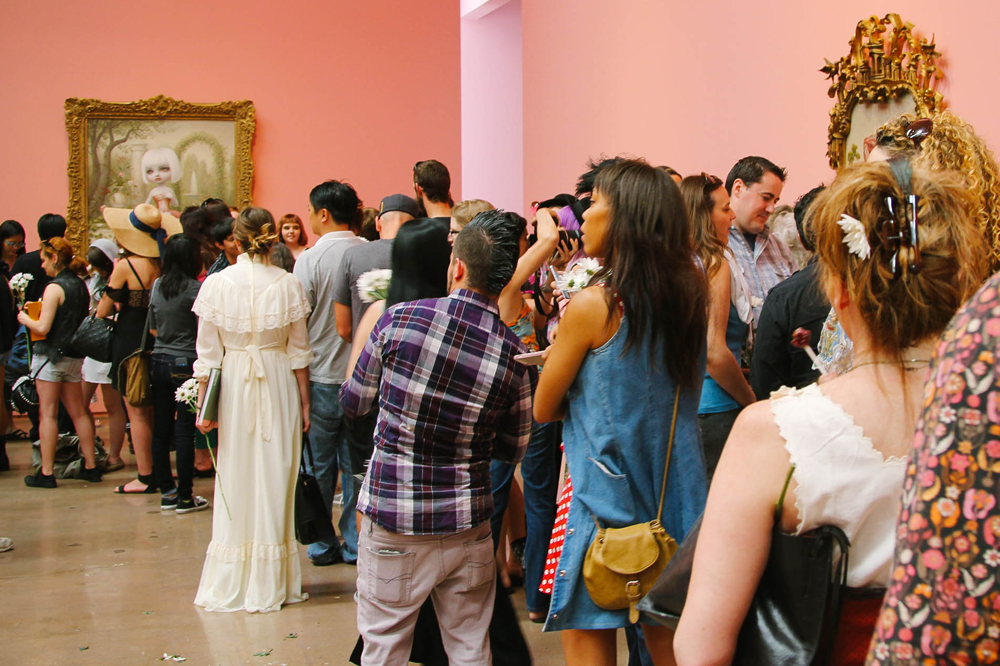 Yeah, I chumped out and drank the Kool-Aid. It's really hard not to respect this guy for his immeasurable contributions to the lowbrow art movement. Plus, you can't hate on a twenty pound coffee table book. Maybe I can use it to protect my cajones from laptop radiation.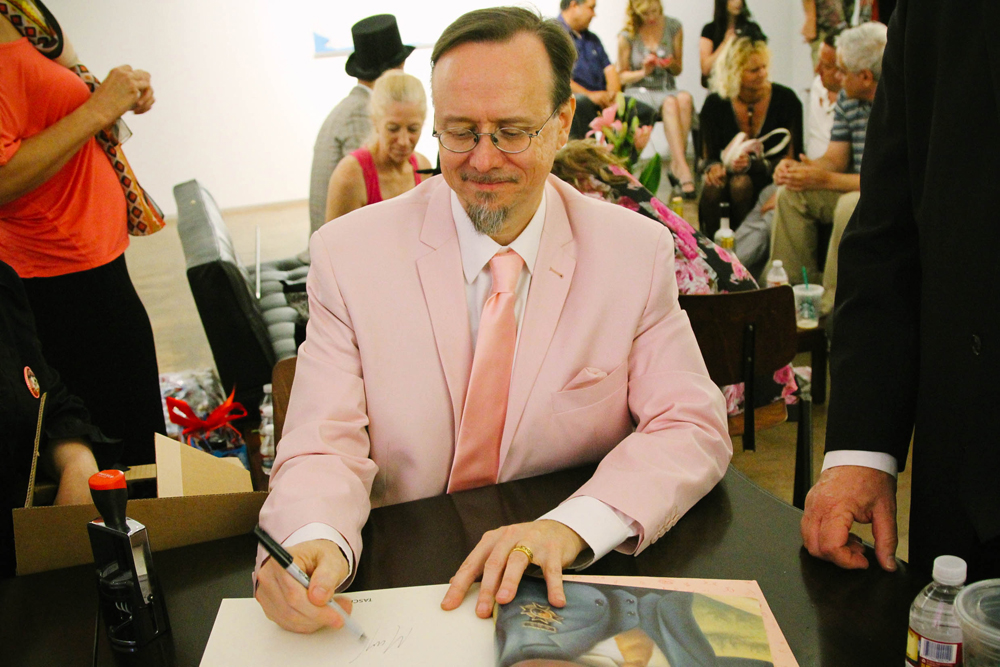 If you're interested in checking out Mark's "The Gay Nineties: West" exhibition for yourself, stop by the Kohn Gallery between now and June 28th. While you may not get a chance to interface with the legend himself, it's worth a day-trip just to soak in the immense intricacy of his works.
Kohn Gallery
1227 North Highland Ave.
Hollywood, CA 90038