"GIRL SCHOOL" is a new weekly column by Yasi Salek of Cultist Zine & Crying Magazine that's going to school us on all the women we need to know about – right now. Look out for it every Thursday.
I'm no make-up expert. Understatement: I just learned how to properly apply lipstick one year ago. I am 32. But as challenged as I am in the contouring (and blush… and bronzer… and concealer) department, even I know that Kali Kennedy is something special. The 31-year old Southern California native (and forgive me for saying this, but I just can't help myself) really puts the "art" in "makeup artist" (I'm sorry I know you hate me now and I understand that I deserve it). She is responsible for many of the awe-inspiring beauty looks you see at Bona Drag and Reformation, and has worked with magazines like L'Official, Ladygunn, and Dazed and Confused on breathtaking editorials that err on the side of fantasy. She also works closely with some of the coolest musicians around to help them create their looks, including but not limited to Drab Majesty, Soko, and the inimitable Chelsea Wolfe. Kennedy's ability to both effortlessly enhance the natural beauty found in her subjects as well as transform them into magical creatures is what makes her one of the most sought after make-up artists in Los Angeles.
I sat down with her early days dabbling in prom looks, her inspirations, and some of her favorite shoots.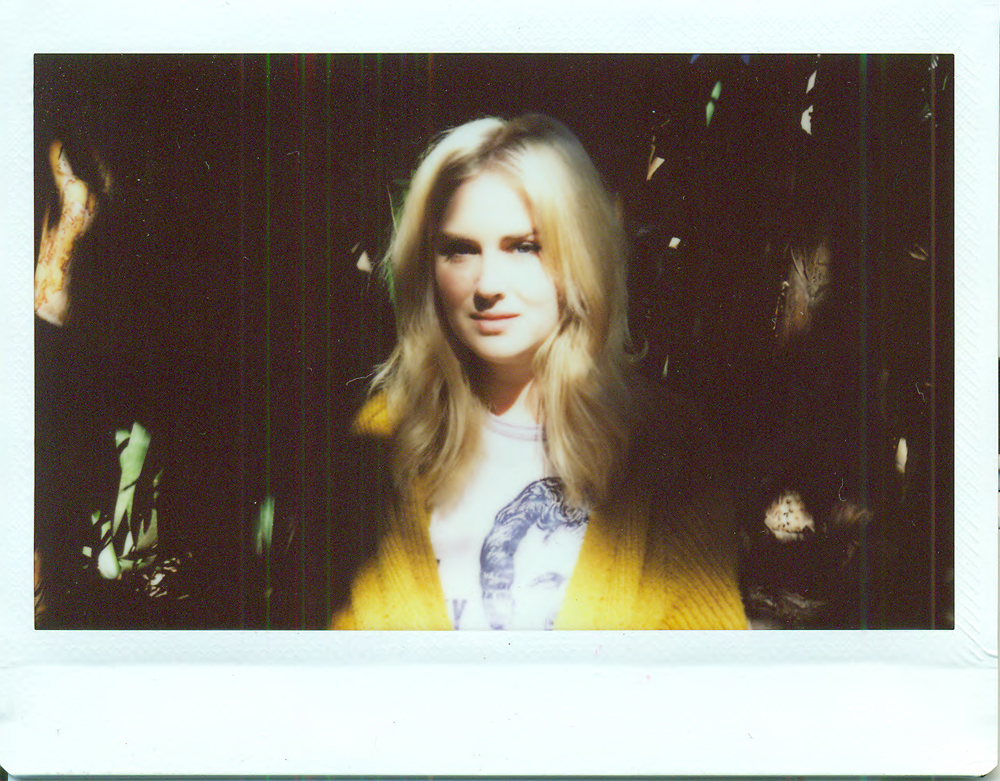 YASI SALEK: When did you move to LA and why?
KALI KENNEDY: I'm originally from Redlands, and I moved to Silverlake with my first husband in 2006 to fulfill the stereotypical goal of "living our dreams." Our shared dream was in the world of fashion; the husband has since come-and-gone, but I've developed a pretty strong love affair with Los Angeles in the meantime.
When did you first start doing makeup?
I grew up painting and making art, and in high school I discovered how to turn that talent into my first hustle: doing prom makeup for my classmates in high school. I've been hustling with my brushes ever since.
How did you get into makeup?
My grandmother was a fine art painter. As a child, she taught some of the skill seta I use today from painting to color theory. Painting made sense of the chaotic creative energy I had bustling in my brain. Eventually, I felt the need to transfer my love of painting onto a three-dimensional canvas, and makeup became my passion.
Where do you draw your inspirations from for some of your more out-there looks?
I am constantly inspired by subcultural movements in art, music, fashion, and film. There are so many twisted sub-genres of strange from which to draw! I'm especially inspired by the films of Kenneth Anger and Gregg Araki. There's a haunting surrealism there that inspires me to transform reality into something less expected.
Who are some artists (makeup and otherwise) you admire and why?
As far as makeup artists go, I admire Val Garland the most. She is so innovative! Nearly every style of eyeliner we see today came from her brain. I also really admire the work of my second husband, Ramsell Martinez. He is a hairstylist with a really unique vision, and it is incredibly inspiring to work side-by-side with him. Outside of the beauty realm, I love the work of Man Ray and Dali.
What are your three favorite shoots you have ever done?
The first is probably a Mara Hoffman lookbook I just shot in a cacti jungle in Montecito with one of my favorite photographers, Olivia Malone. It hasn't yet been released, but when it comes out, it will blow minds!
Second, I'd have to go with something I shot for the online store Bona Drag with one of my closest friends, Harper Smith. We shot our mutual friend Cuba Scott (granddaughter of Ridley Scott) who has bone structure that must come from non human species and a shaved head to boot. The last shot was my free reign and I totally let myself run wild. I can't describe that feeling with words… but I think you can tell by the amount of glitter that was used.
Kali's work for Bona Drag.
Third, I'd have to go with another Anja shoot. We did the cover of L'Officiel Netherlands, photographed by Mason Poole. It was the middle of summer and we were shooting in 29 Palms, with Anja all wrapped up in winter looks. The stylist's assistant got heat stroke, the model was sweating her skin off, but everyone was SO dedicated to making the shoot work – it came out beautiful! We shot into the night and at some point, we all took mushrooms to… uh… aid in the creative process. My favorite shot happened as we were all peaking, splashing water into the camera to create "twinkle effects."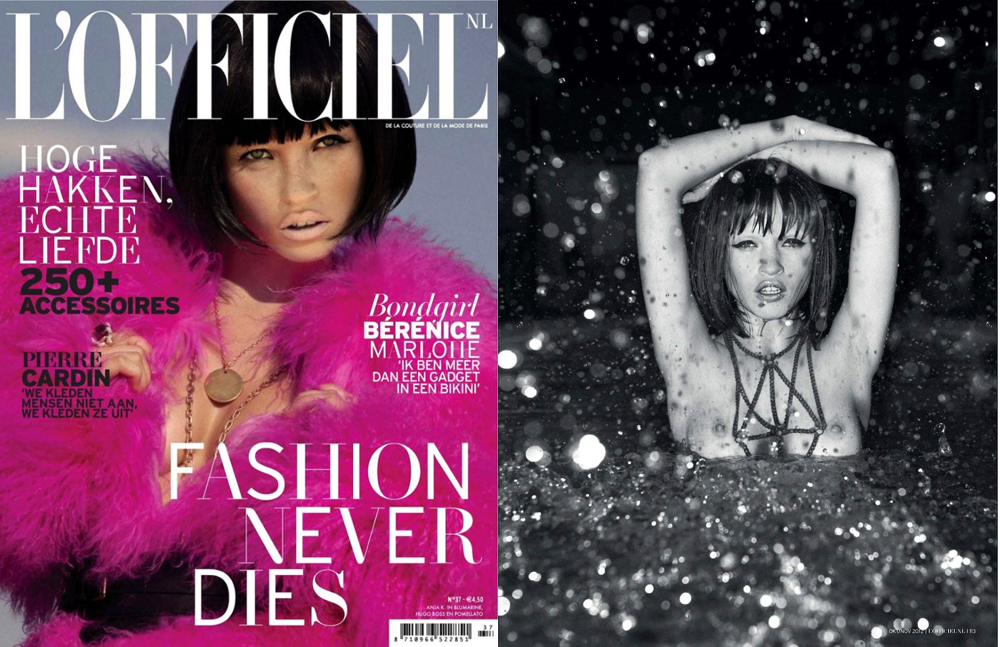 Tell me the craziest thing that has ever happened on a shoot.
Oh man, I did a Dr. Pepper commercial once where I had to transform a heavily-tattooed man into a "warrior." I had to cover nautical star tattoos on his pecs and groin area while everyone on set watched in shock.
(at :04 seconds…)
What is your dream make-up scenario?
Shoot, that's tough! I like the idea of a multi-day job that's ever-changing, with a crew of new people every day. What can I say, I'm a social girl! But if I had to choose one scenario, it would probably be working with Kate Moss and Avedon in the Japanese Suicide Forest – something along those lines.
What's it like working with Chelsea Wolfe? What do you enjoy most about creating looks for her?
Chelsea is a unicorn. She's one-of-a-kind and her energy is so incredible inspiring to be around! She's always excited to try new things, which I really appreciate as a creative. She also suggests looks that knock the ball out of the park. The last time I saw her, she asked me to put a crimson cat-eye on her. I mean, who does that? I love her.
Do you do any other kinds of art?
I have a top-secret embroidery project that I can't quite share yet.
Any projects you are currently working on that you are looking forward to?
I just did makeup for the new Drab Majesty video. Deb [Demure] left me do whatever I wanted, so naturally I chose Kabuki makeup. The set design was OUT OF CONTROL and come on, I mean, if you don't know about Drab, you should probably start Instagramming now (@debdemure). Here's a behind the scenes of her touching up her makeup, shot by Effy Hefner: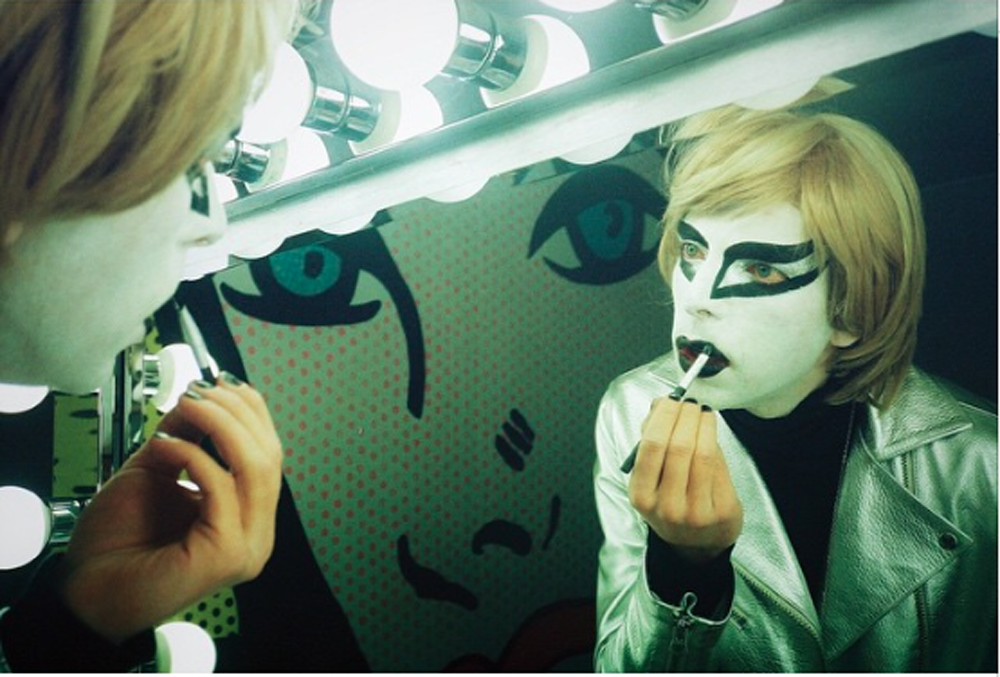 ::
You can follow Kali on Instgram @kalikennedy