There's nothing in the world I like more than an awkward hip-hop cameo in a major motion picture. Not even my own family. It's almost like my version of Where's Waldo, searching for the one thing that stands out so obviously that it becomes a game of sorts. Instead of a red shirt and cane, you're looking for the one actor who seems like he rehearsed his lines once (maybe twice) before arriving on set and is having a VERY hard time not looking into the camera. It's understandable that Hollywood would want to employ these musicians into films, to tap into their fan base, and hope that maybe, just maybe, someone may turn into the next Will Smith or Common – but in reality it's more likely a future in straight to DVD movies and a season on VH1's Love & Hip Hop. Sure, there will always be shining examples of MCs used correctly for a few minutes of screen time (DMX in Top Five and Eminem in The Interview come to mind), but a majority of examples have an uneasiness usually reserved for when you see an ex-girlfriend at the bank. I can't imagine if Stanley Kubrick were alive today he'd be fine with putting the Rae Sremmurd kids in a movie, no matter how many Vine followers they have. But over the past 30 years, I believe I've seen every single instance of a rap star or group unexpectedly popping up in a large budget studio film. I'm like Jane Goodall, but instead of doing my research at the zoo, I'm at the multiplex squinting my eyes saying, "Is that Foxy Brown in the Jada Pinkett Smith/Tommy Davidson comedy Woo? (It is).
So, I compiled a list of my top 10 favorite rapper cameos from mainstream movies, in no particular order, so that you too can treat these mostly uneasy cinematic moments like Pokémon and collect them all. I've left off some obvious instances like Vanilla Ice in Teenage Mutant Ninja Turtles 2: Secret of the Ooze and Drake and Kanye in Anchorman 2: The Legend Continues, mostly just to make way for ones you probably don't know. So without any further ado, here are some of the most endearing attempts Hollywood has made within the lucrative business of hip-hop cameos.
Snoop Dogg in Baby Boy (2001)
Calvin Broadus has had his share of random cameos throughout his career, from Half Baked to Soul Plane (he even showed up on an episode of Monk), but his best role is clearly from the 2001 John Singleton film, Baby Boy. A cult classic, Baby Boy is an overpoweringly confusing film about a 20 year-old man, played by Tyrese, who still lives with his mother and has little to no aspirations of becoming an adult. It may sound like a Duplass brothers film by description, but it escalates very fast and involves petty theft, an attempted rape, and drive-by shootings. But the highlight, for me, was Snoop Dogg's second tier role as Rodney, the recently released convict ex-boyfriend of Tyrese's chick who comes home and has to stay with her. Snoop wears a wife beater tank top in almost every scene, berates his child for building a fort in the living room, and shows off a physique that would make parents stage an intervention for an eating disorder. He delivers his lines with a swagger unrivaled in film, expressing an undying disgust for Tyrese's character that is both unforgettable and intensely absurd. Watch Baby Boy immediately if you haven't, and also let's hope there's an eventual spinoff stand alone Netflix movie just about Snoop's character.
RZA in Funny People (2009)
"Finally, Judd Apatow and the RZA are working together," is something no one ever said – but when RZA showed up as Seth Rogen's deli counter co-worker in Funny People, it definitely satisfied my need for random rap cameos. I'll always be confused about how this connection happened and RZA's acting skills aren't quite channeling the spirit of Philip Seymour Hoffman, but knowing how big of a Wu-Tang fan Seth is, this was sort of perfect. Eminem shows up in the movie too, but in a way less inspired manner. RZA shined because he was so in character that he actually wrote a rap from the deli worker's point of view, as seen in this Behind the Scenes clip. Do you think De Niro did that for Taxi Driver? NO. Here's to hoping U-God eventually shows up in a movie with McLovin'.
Ice-T in Tank Girl (1995)
Way before Law & Order, Ice-T was cutting his teeth on films like Trespass and Colors, doing the damn thing and laying the groundwork for what has become quite the Hollywood career. But the one stepping-stone no one seems to talk about is Tank Girl with Lori Petty. You may not remember Ice-T in the film but that's because he was in full-on creature make-up as T-Saint, looking like thrown out concept art from the movie Captain EO. He's shockingly believable as the mutant, helping mark 1995 as the most random year in Ice-T's career, since he also appeared in the Keanu bomb Johnny Mnemonic. Let's hope in 2015 another rapper is brave enough to appear in a totally different face, and I don't mean Nicki Minaj over the past few years.
Salt-N-Pepa in Stay Tuned (1992)
There's nothing better than salad days Salt-N-Pepa. Way before their Geico commercial, they were the biggest group in the game with smash hits like "Whatta Man," "Push It," and "Let's Talk About Sex." That's why I enjoyed Salt, Pepa, and Spindarella's appearance in the campy John Ritter romp Stay Tuned, a movie about a man who gets stuck in his TV set through a magical remote control; moving channel to channel, program to program. Ritter finds himself unable to escape a Salt-N-Pepa video on MTV (for what is also the movie's main song) and ends up having one of the movie's most suspenseful scenes within it. Oh, also, small note: John Ritter is dressed as New Power Generation era Prince and the sex offender, Jeffrey Jones, appears as a DJ. I didn't mention that earlier? Oh, I should've. Anyway, this shit is bonkers and essentially a music video within a movie – so it's a real no-brainer for this list.
Fat Joe in Scary Movie 3 (2003)
When this horror movie spoof franchise decided to take on 8 Mile, they knew they needed a seasoned MC to oppose the movie's lead, Simon Rex. They turned to BX's own Fat Joe, who, though never known for his rap battle skills, is a menacing presence on the mic. I always wonder if Fat Joe named himself and what that says about his self esteem. Anyway, technically Joe is slightly out of pocket for most the rap, making me think he spit to a temporary track when filming then production ended up replacing the beat during post. That probably didn't make Don Cartagena happy at all. And neither did having Rex, who showed early signs of Dirt Nasty, beat him by using a dozen "I'm a white guy" punchlines. If we're being honest here, having rappers appear as rappers is always a safe bet, but anytime an MC pops up as a cameo in a slapstick comedy, it's going to be a real moment (for me at least).
Chingy in Scary Movie 4 (2006)
If there was a rap cameo Hall of Fame, this may be the first inductee. What I believe to be a spoof of War of the Worlds turned quickly into a GREAT cameo from Chingy, who was popular for literally only the first weekend this movie was released, so the timing was perfect. The Scary Movie franchise was a real hotbed for rap cameos, touting names like Queen Latifah, Ja Rule, Master P, Redman, Method Man, Raekwon, Youngbloodz, Fabolous, and Lil Jon. That's not a cast, that's the line-up from 2004's Summer Jam. What do you think Chingy does now? He can't just live off "Right Thurr" money, can he? I love that he's in the "VIP" section during his cameo – just so he can look back and remember a time he was allowed in those. GREAT USAGE OF A RAPPER!
Jin in 2 Fast 2 Furious (2003)
Clearly, we all know that Ludacris has went to have a strong acting resume, even appearing in the Oscar winning garbage fire Crash, but did you know that Jin, the former 106 & Park battle king, appears in 2 Fast 2 Furious as well? Back when he was signed to Ruff Ryders, he was ready to be the next big thing and the first true Asian superstar in hip-hop. Though things didn't quite pay off for Jin, his turn as an import car technician is both memorable and somewhat racist. He also reportedly had a scene in Fast & Furious 6, but unfortunately it was left on the cutting room floor. Still, if you're one of the dozen people who paid to see this movie and yelled, "HEY THAT'S JIN!" in the middle of the movie, good for you, you're probably single and still listening to your Soundbombing CDs (don't worry, I'm right there with you).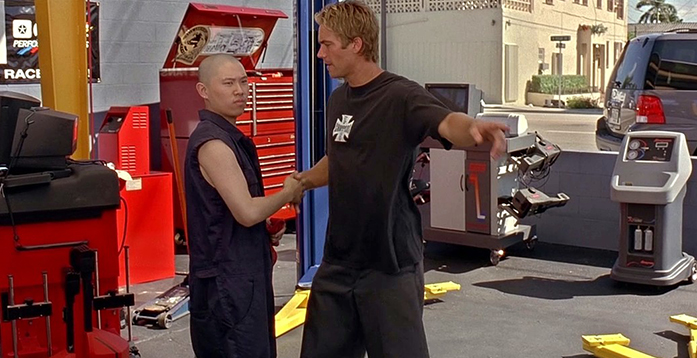 Heavy D in Cider House Rules (1999)
Google it all you want, but this actually happened. Heavy D plays a small role in the film as a character named "Peaches." The late, great, Overweight Lover may have been best known for his New Jack Swing rap classics, but he also had a small acting career worth noting. It's a sad movie starring the first Spiderman, so don't expect the Heavster to just jump up and start doing the Roger Rabbit, but it is nice to see a different side of the rapper. Some other notes about Heavy D that make him one of the greats – he raps on Michael Jackson's "Jam" (a song loosely inspired by basketball), he appeared in an off-Broadway play, and executive produced the song "Candy Rain" for Soul for Real, which is a real dry humping middle school jam. Rest in Peace, Heavy D, we salute your legendary rap cameo.
Flava Flav in Private Parts (1997)
Blink and you'll miss him, but Flava Flav does briefly appear in the Howard Stern biopic, Private Parts. It's right at the beginning, when Stern crashes the MTV Awards as Fartman and is uncomfortable amongst other presenters. If you look close, you'll see the Public Enemy hypeman backstage, gawking at the ass-exposing shock jock, then applauding when Stern passes him. Ted Nugent, Ozzy Osbourne, John Popper, and Slash also appear, but the only other rapper visible is M.C. Hammer, and, since this is way before Flav's reality shows and Bridgette Nielsen, that just isn't as cool. This is a fun one for only those with 20/20 vision.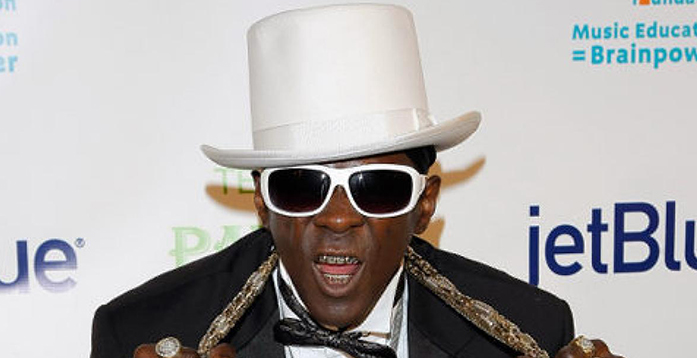 Digital Underground and Tupac in Nothing But Trouble (1991)
One of the best worst movies ever, Nothing But Trouble is the only feature film that Dan Aykroyd ever directed. I like to think he finished this one, figured it was a masterpiece, and yelled, "Can't beat this!" Only to feel the wrath from every review ever written about it. It's a mess with dozens of characters in a universe that couldn't seem more far-fetched or underdeveloped, but it does feature a perfect cameo from rap group Digital Underground, also employing the always-impressive music video within a movie. Clearly worth noting, since he started as a Digital Underground dancer, this is Tupac Shakur's first appearance in ANY movie, right alongside Dan Aykroyd in a weird prosthetic face rocking a keyboard solo. It's a real acid trip and seeing a young, smiling Tupac dancing around in a New York jersey doesn't help chill your buzz. Because right when you think things are calming down, Digital Underground has to play "Here Comes The Bride" for a cross-dressing John Candy walking down the stairs to marry Chevy Chase. Yeah, I'll just leave that right there.
Did I miss any great rapper cameos? Does anyone love these as much as me? Anything you think HAS to be mentioned? Let me know and let's keep the tradition alive. MORE RANDOM RAPPERS BRIEFLY APPEARING IN MOVIES!