My friend JP has been trying to drag me out to a Formula D event for the past few years, but for one reason or another, something always intervenes. With no excuses left in my pocket, and frankly, I think he was starting to catch on, I made my way out to Long Beach this past Friday to peep the scene. The last auto event I attended was probably Hot Import Nights a decade ago, back when
all my friends wanted to turn their car into Paul Walker's Eclipse, including me. This was a little bit different.
Walking through isles of vendors, I couldn't help but notice how much branding plays a part in events like these. While most of the sponsors weren't really in my wheelhouse, I did see the presenting one was GoPro, which sparked my interest. The San Mateo-based camera specialists have been progressively killing it over the years, and although they initially started as a venture aimed towards action sports, the company's now made its way just about everywhere, including Formula D, where its a presenting sponsor for the second year in a row. John and I had a nice chat with Chris K. from GoPro about all their latest technology updates and how much of a focus there is on mobile video. Knowing you can stick a camera on your dash and send the footage to your phone through an app and directly onto Instagram is cool. Very cool. For a novice to drift like myself, I was intrigued by this and curious about a few other things. John had all the answers.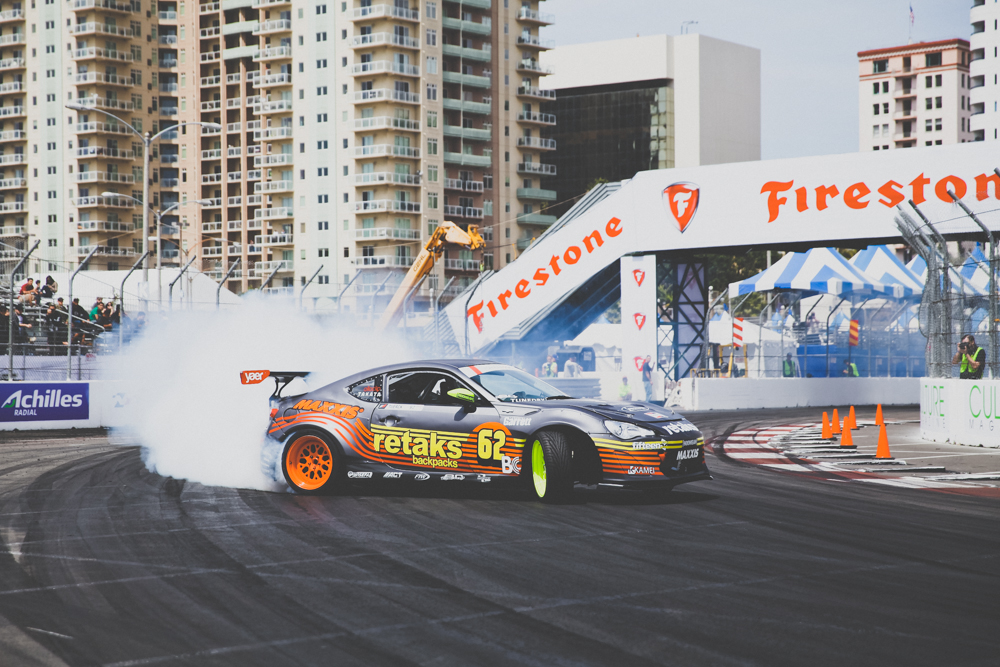 I've been a bit disconnected ever since I sold my '03 WRX, but from the looks of it, Scion and Subaru have been killing it with the FR-S and BRZ. They were and are everywhere. Ryan Tuerck in the Retaks/Maxxis FR-S.
For those not familiar, what's the difference between Formula D and something like Hot Import Nights?
Formula DRIFT is a motorsport with on-track competition whereas Hot Import Nights is a car show only. Formula DRIFT does also have a touring car show circuit that accompanies the Series to the various event venues called Offset Kings.
As a motorsport, Drifting is unique in that it's not a traditional race where drivers are awarded who crosses the finish line first or having the fastest car on track. Drifting is subjective similar to actions sports like skateboarding in which it is a judged competition that awards the driver based on skill and car control showcased.
Are there seasons involved? How many events are put on throughout the year?
Yes, similar to many other motorsports and traditional sports there are seasons. Formula DRIFT is currently in its 11th season of professional competition and has grown tremendously over the past few years. Currently, there are 7 pro championship events nationwide in the season, but also many demos and international events as well that the Series works with. Including the upcoming Motegi Super Drift Challenge during the Long Beach Grand Prix, which is the only form of motorsport that takes place on the famous Streets of Long Beach track at night.
I'm curious to know how judging works.
Judging is based on the following criteria with 3 judges making the calls.
1. Speed – How fast the driver goes through the course maintaining drift. The faster and smoother the better.
2. Line – The drift line defined as the ideal path the car must take on course and is marked by inner clipping points and outer clipping zones that the drivers must bring their car to.
3. Angle – The maximum drift angle at which the driver can control and maintain the vehicle through the marked course. More angle the better.
4. Style – Probably the most subjective aspect of the sport, but also what makes it the most exciting. Style is the driver's ability to showcase their personality and car control to provide the most entertainment possible. Style points can be awarded for aggressive flicks (how hard the driver takes the car to first initiate the drift), how close the driver can get to the wall even touching the wall without effecting the car's angle or speed, extreme angle, degree of difficulty, fluidity and how smooth the driver makes the vehicle look through the run and in competition proximity, how close can the chase car be to the lead car.
With scoring being subjective, is the sport prone to having questionable scoring from time to time, alas boxing?
With any subjective sport or competition in where there is human subjectivity there is bound to be questionable calls. In Formula DRIFT there are 3 judges and each judge on competition (head-to-head) battles selects the driver they feel after the two runs won. So many times there are 2 judges that can overrule the third judges call. Also there is a case of a tie in which either at least 2 of the judges call a "One more time," or each judge calls something different, "Driver A," "Driver B," or "One More Time," in which the drivers then go to another head-to-head battle with each other. The judges also have the power of instant replay to help make the most informative decision to help back-up their decision. For the most part the runs are straight-forward and there are decisive winners, but what also makes drifting exciting is when each driver pushes the other to the limits and vice-versa and its often too close to call.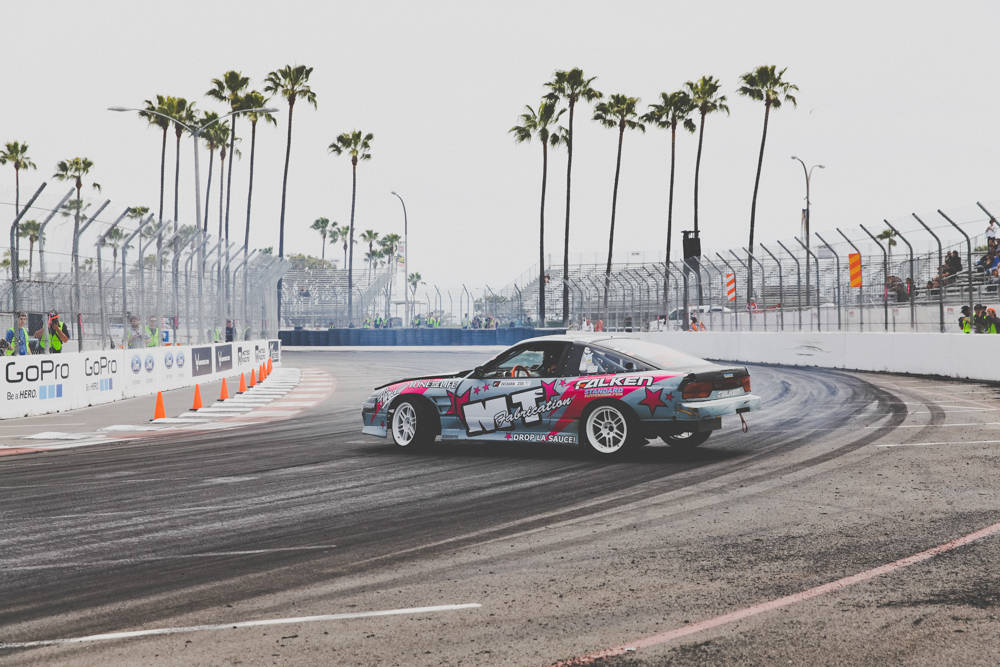 Miro Ovcharik in the Falken Tire/MT Fabrication Nissan 240SX.
What's the most popular car/make you've seen on the circuit this year?
One of the amazing things about drifting is the variety of car makes and models competing at any given event. There may not be a definitive favorite vehicle, but a few popular ones are the Nissan 240SX, Scion FR-S, Ford Mustang, Chevy Camaro, Hyundai Genesis and BMW M3. This is part of the beauty of Formula DRIFT you can see dream match-ups such as a 500 horsepower Scion FR-S go head to head against an 800-1000 hp Ford Mustang. On any given day any driver and car can beat any other driver and car.
If you were a drifter, what would you drive?
This is a tough decision as there are pros and cons of each car. Do I select a car based purely on performance? Do I select one based on style and looks? Do I select the car that I feel the most comfortable with? Or do I select the vehicle in which I can gain manufacturer support? This is the dilemma some drivers have to choose from. In my ideal scenario, I would probably drive a BMW M3 as it has proven performance and now can say its a championship winning car as the current champ is a BMW driver and killer styling. Or I would attempt to be the first champion to use a Hyundai as my platform…perhaps I should convert my current project car to drift spec.
How long does it take to set up these courses usually?
A course such as the Streets of Long Beach Grand Prix Street Course is unique in that the event is held on actual city streets versus a motorsport race track. Planning for this specific event takes weeks and the actual set-up that includes bringing in k-rails, guard rails, fencing etc can take a couple weeks. For other venues such as Road Atlanta that has a pre-configured course it is as simple as a day's work to get the track ready for a competition.
Its crazy loud here. How have resident complaints not shut this thing down?
What's amazing about Long Beach is how much the city supports motorsports in general having thrown the Grand Prix for over 50 years. They value the income generated from event such as Formula DRIFT that create tourism for Long Beach. Events such as this often help sell-out local hotels and restaurants helping everyone in the community. The cars are loud, but the action takes place within the city's set noise ordinance times of day.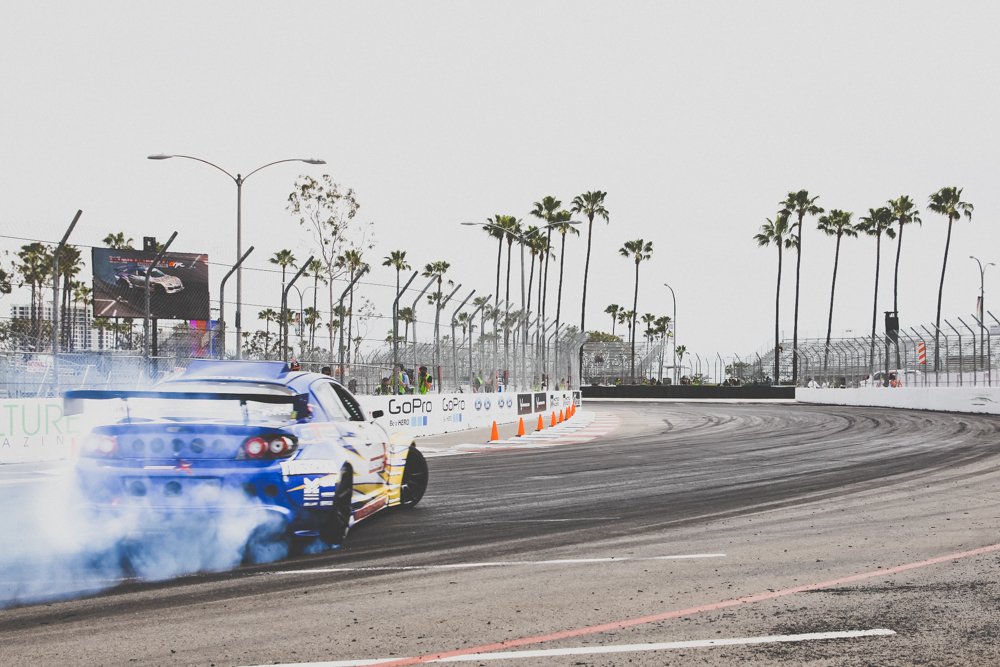 Kyle Mohan in the Energy X/Mazdatrix Mazda RX-8
With so much crossover these days, has streetwear made its way into Formula D? I notice lots of Fatlace everywhere.
I've always believed in the crossover of cars and lifestyle and have pushed more brands to be involved in events such as Formula DRIFT. What it comes down to is the streetwear consumer and fans of Formula DRIFT share many commonalities such as the love of personalization and individual style. So it was bound to happen. If your car is an extension of your lifestyle and you modify it to showcase your individual style then you probably are up on the latest kicks and need to wear the freshest brands.
Fatlace has been one of the leading brands in the youth culture automotive movement. Mark Arcenal has helped pave the way and start trends with the Fatlace and illest brands in this market that include starting the "Hella Flush" movement and the new "Offset Kings" car show.
It makes complete sense for streetwear brands to get involved with Formula DRIFT because they share the same demographic of young, educated, trend setting consumers that must have the latest gadgets, fresh gear and rely heavy on social media.
While on the topic of technology and social media, how have companies, like GoPro, and others, become more involved with Formula D?
GoPro is the official camera partner and presenting sponsor for Formula DRIFT and they have helped bring some new innovations to the Series such as making it possible to capture multiple camera angles for in-car to off-car action. The footage is not only entertaining for the fans and viewers, but also can be used as education to study the competitors and improve personal driving styles at each course.
Other technology sponsors include New Egg who is a sponsor of the Series and the Livestream and they are a leading e-commerce site for the latest technology and automotive parts. The Livestream, called the Driftstream, is partnered with DailyMotion, and at this event there were over 300,000 unique viewers that tuned in with over 1 million views.
Formula DRIFT is also at the forefront of technology and innovation when compared to other motorsports and embraces social media having a huge social following on Facebook, Twitter and Instagram.