For over a decade now, I've made the annual dork pilgrimage over to San Diego, CA, to partake in Comic-Con, a massive convention once focused on just comic books, but has since opened itself up to everything from video games to Hollywood movies. Over 30,000 people attend over the 5 day schedule, and it smells just like it sounds. Think of it as Agenda, but with just like a dozen more virgins. One aspect to Comic-Con that makes it utterly unique is that many of the convention goers partake in Cosplay, the act of dressing up in elaborate costumes inspired by different characters and themes found in nerd culture. Some people are lazy and put a box over their head and call themselves a robot, while some creative types will spend months on their outfits and look exactly like a creature from Rick Baker's shop. Spotting elaborate and strange costumes on the convention floor and taking pictures of them has become just as much a Comic Con staple as nerds salivating at every announcement Marvel makes about their upcoming movies...
"Paul Rudd will fart as Ant Man."
*crowd gasps, then applauds in wild happiness*
So this year, for all my loyal The Hundreds readers, I acted as your eyes and ears (and unfortunately nose) during SD Comic-Con, chronicling my favorite get-ups and reporting them back to you. These chosen few stood out from the rest, and in turn I will post them here, for your enjoyment and judgment. Let's get this started. I know we all have a curfew.
::
Mega Man 
You have to applaud his homemade, start from scratch approach. It's a definite decision to not just go to Rite-Aid, like the poor kid in your elementary school on Halloween, and pick up one of those Iron Man or Raggedy Ann plastic mask and apron deals and call it a day. Based on the popular video game series, this man is dressed as Mega Man, complete with a canon arm and speedo/tights combo. Mega Man is known for fighting a variety of villains like Flash Man, but this is guy is just trying not to flash, man.  Also, I'm not 100% the helmet is just part of the costume or mandatory, but either way, this dedication is kick ass.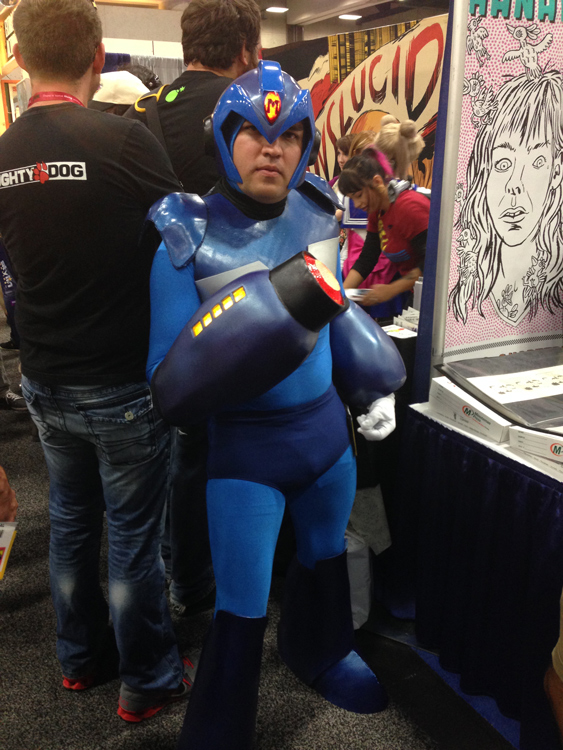 ::
Wolverine
One tenant of cosplay that everyone at Comic Con is encouraged to follow is to be fan-friendly. If someone asks you for a picture, you're supposed to oblige and pose. Even if you think the photographer is going to go home and place it on a candled altar to jerk off to. You're basically going to have to grin and bear it. And that's why I liked this Wolverine so much. The costume is only half the battle. Looking tortured and angry is just as much part of the bit (as is the sick tribal tat). He does lose points however for walking around without shoes on, especially since you're more likely to find a Wilhelmina model in attendance than someone who has taken proper care of his or her personal hygiene. I wish I could tell you he was just walking the floor with this much intensity, but he wasn't. This look was strictly for photos, while the rest of the time he was actually dancing around to Pharrell's "Happy." I'm messing with you. I didn't see him dance. I ran away in fear after I saw him flex.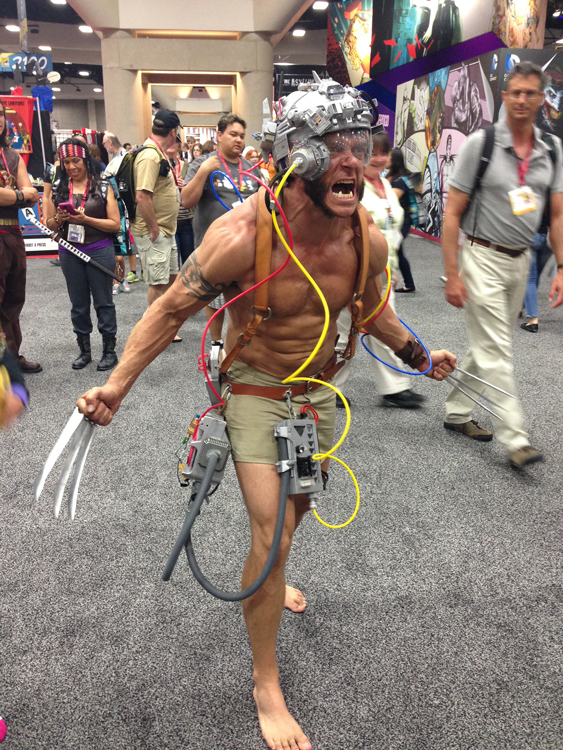 ::
Dead Dorothy 
Much like a club where Z-Trip is playing, Comic-Con is known for its mash-ups. If you've ever wanted to see a shirt of an Angry Bird dressed as Katniss from Hunger Games or a Pokemon/Dr. Who hybrid, then do I have the place for you. With the recent explosion of The Walking Dead, zombies have played a crucial part in the past few Comic-Cons, and 2014 was no exception. This girl decided to walk the convention floor as Undead Dorothy, giving a new twisted take on the Wizard of Oz. As you can see, Toto is also on some real Pet Cemetery shit and ready to eat your face. The weirdest part? She's still super cute. I do appreciate that Comic-Con is the one place on Earth where you can wake up next to this girl in the morning and have it make total sense.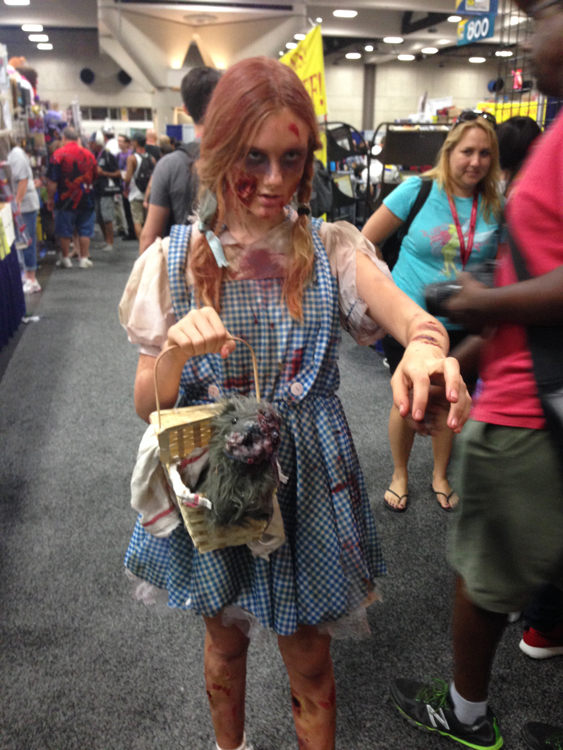 ::
Game of Thrones 
I've never seen one episode of Game of Thrones. Not even in passing. I've somehow avoided it like Paula Patton noticing a text message from Robin Thicke. I'm not sure how I've been able to accomplish such a triumph, but boy, does it make people mad. That's why RIGHT before I took this picture, I yelled, "I've never seen Game of Thrones." Imagine someone spending hours on a perfectly-crafted costume, making sure every detail has been attended to, then minutes into your day someone is like "Cool costume. Are you Genghis Khan from Bill & Ted's?" Anyway, you can see the actual anger in his eyes here, and luckily his girlfriend didn't hear me, or whatever her character does on that show would do that thing to me. Again, I'm no help here.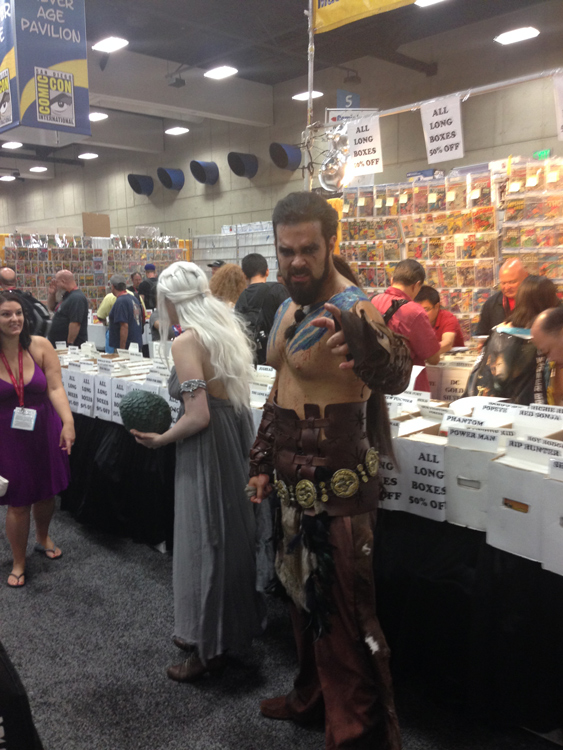 ::
Barf
Well, this is just dope. While an entire group of dweebs focus on what JJ Abrams is gonna to do with the new Star Wars movie, this guy said "Fuck it" and was inspired by its 1987 parody flick, Spaceballs. He dressed as John Candy's Barf and nailed it. Oh, this is a good time to reveal that I watched Spaceballs recently and it doesn't really hold up. I wish it did, trust me. But it feels dated and somewhat corny now. You know what isn't dated though? Three Amigos. I watched that shit right after Spaceballs and it's perfect. Well, this dude didn't dress as an Amigo, but that would be a good costume, right? Maybe if I have an open 6 months I'll hand stitch an Amigo costume and go to Comic-Con wearing it in 2015. I'll start now.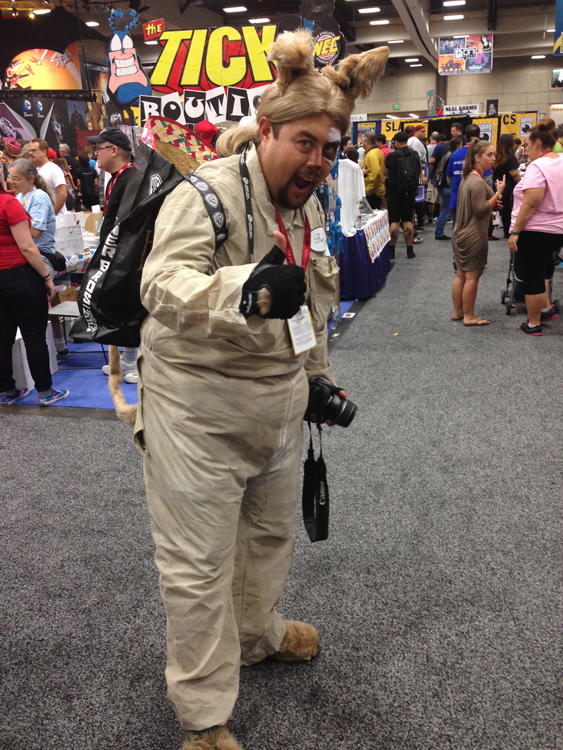 ::
Headless Soldier
This guy's Headless Soldier is pretty cool, but I can't imagine it's very practical. Obviously he can see out of his shirt's neck, but it's got to feel like he's in a cage for a few hours a day. I also couldn't help but notice his wedding ring. I applaud his ability to find a life partner – something I haven't been able to do yet – but I also sort of question his dedication to the craft of Cosplay. I highly doubt this headless soldier is married. He seems married to his work, sure, but while he's haunting men who were involved in his battlefield slaying, I doubt he has to call in and check with his wife about staying out late, or alert other women that he's taken. Also, marriage is only "till death do us part." He could just slip the ring off now and throw it in the ocean, cause he's a free man. I don't mean to be the Debbie Downer here, but DETAILS ARE IMPORTANT AS FUCK! Pay attention to them.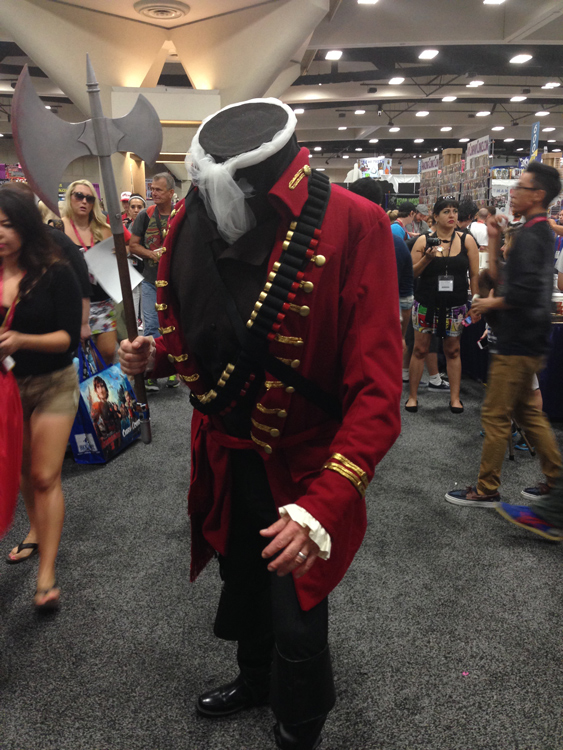 ::
Mars Attacks! 
Do you remember Tim Burton's forgettable attempt at making a Topps playing card set into a movie? Well, good for you, because so does this woman. Dressed as the female alien from Mars Attacks, she shimmied her way across the con's carpet in full character, extremely committed. I guarantee you that I could convince some millennial that this woman is dressed as Nicki Minaj.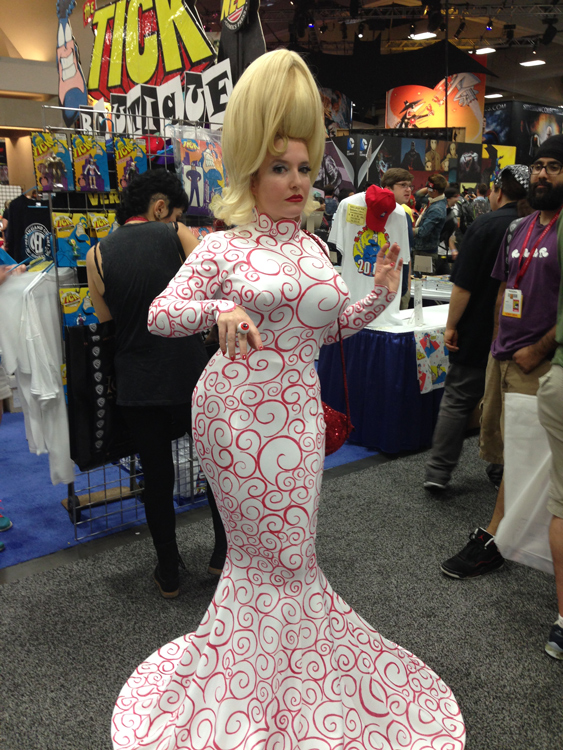 ::
Nic Cage pope
What can I say about the Nic Cage Pope that hasn't already been said by his parole officer? This man believes that as a society we should build a religion and worship our one true god, actor Nicolas Cage, and to be honest, I kinda agree. Whether it's The Rock or National Treasure or Kick Ass, the dude delivers. I don't even think this costume is blasphemous to the actual pope. I bet the real pope would be like, "Yeah, this whole thing makes sense," then he'd throw his hat in the air and hit the Shmoney Dance. ALL HAIL NIC CAGE!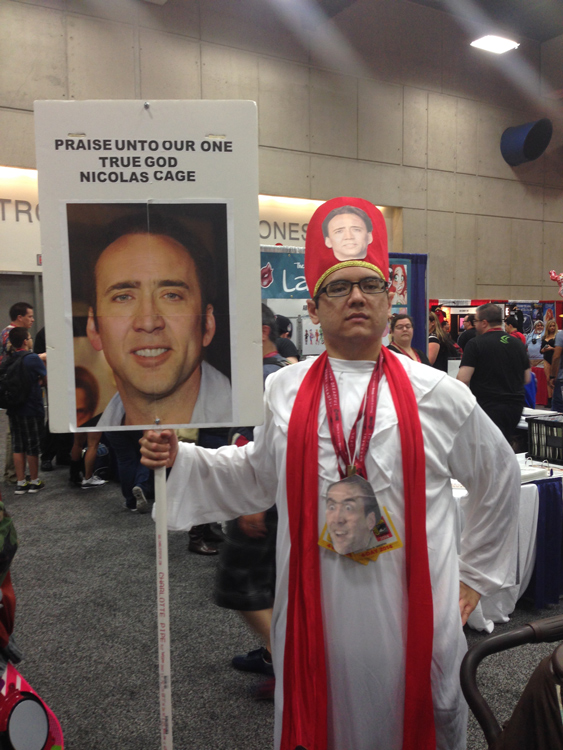 ::
B Boy Star Wars
Move over Jabbawockeez, there's another random, hard to explain breakdance crew in town and they ain't taken no Jedi bullshit. These b-boy Stormtroopers were dressed to kill (at Skribble Jam) and happy to pose together. The red Adidas Trooper was insanely impressive, but I'm just not sold on the white Stormtrooper's wig. It's got a real white guy with dreads vibe. The red one probably listens to Wu-Tang and Run DMC, while the white one listens to Sublime with Rome and 311. I'm not even sure they'd be friends in real life. I doubt the red one would be able to put up with the white stromtrooper talking about positive vibes and hemp pants all day. It's like seeing Jason Mraz and Prodigy from Mobb Deep at the movies together. Wouldn't happen. Anyway, cool costumes, guys.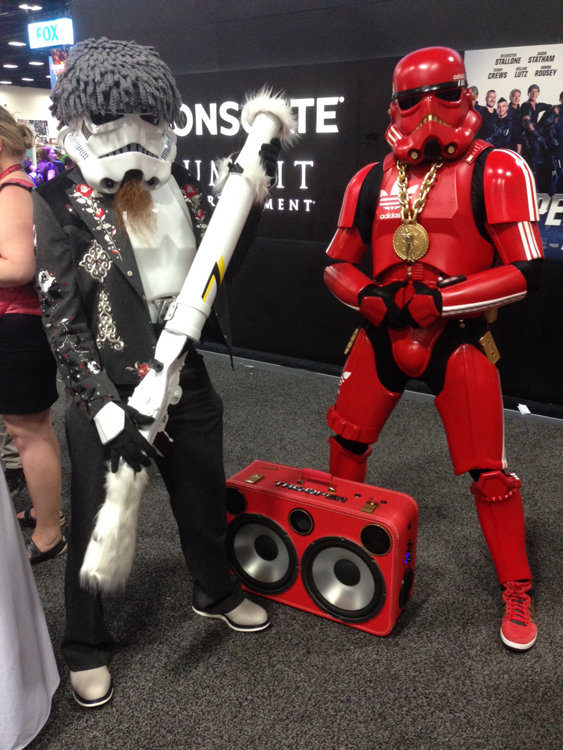 ::
Vanellope Wreck-it Ralph
My favorite costume at Comic-Con this year was this girl, made up to be a perfect depiction of Vanellope from Wreck-it Ralph and it ruled. The car was made so she can could just stand up and walk away. I assume this is going to be her Halloween costume for the next 10 years too, because this isn't the type of genius that happens twice. This is her Radiohead Kid A. When she's 45 years old, her friends will all be talking about their youth and one girl will say, "Remember that Wreck-it Ralph costume you made?" and they'll all laugh in approval. "You wore that shit any chance you got," another friend would joke. And then our girl will shake her head and be like, "Uh, yeah I did. Because it's the best fucking thing I've ever done." And she'll be right. She can cure cancer or open a Jurassic Park in real life, and this costume would still be her life's crowning achievement. Congratulations, young girl, you're the winner.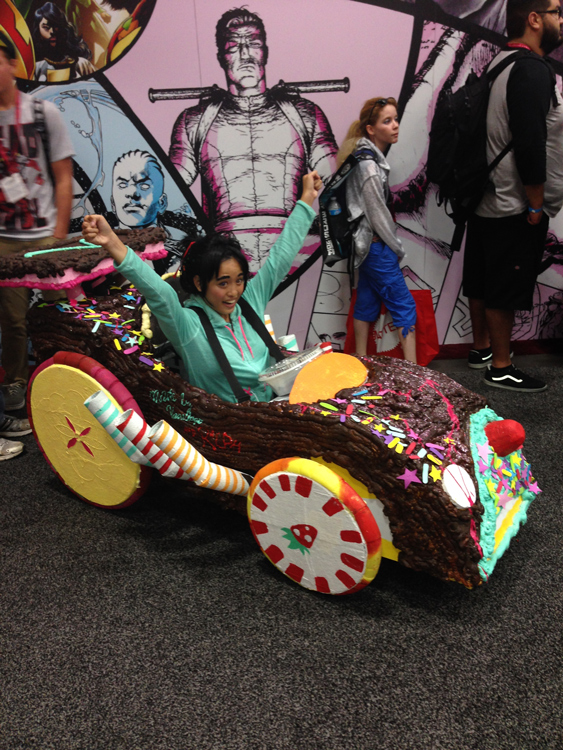 ::
See you next year!