It's a sunny day in Chicago's West Loop, the neighborhood that Fat Tiger Workshop now calls home. From the shop's doorstep, you can see the heart of downtown and the entire cityscape, Sears Tower's two TV antennas jutting into the cloudless blue sky.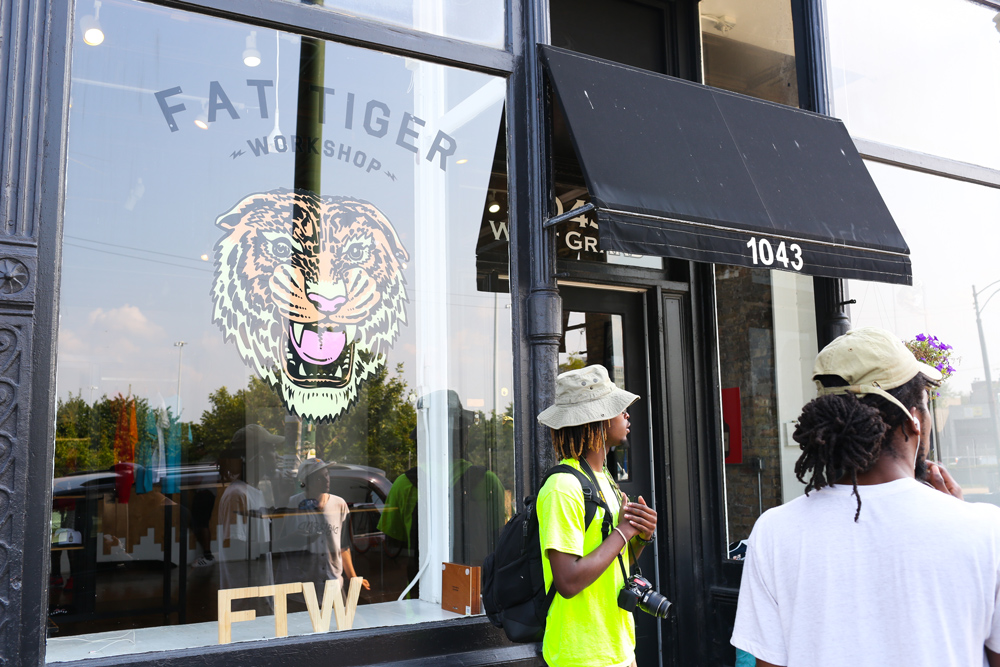 Inside, the shop's decor is fairly minimal. An outline of a tiger has been painted along one wall, a half-eaten pizza slice on its back. In one of the shop's windows, a heather gray Vita track jacket is displayed; in the other is another image of a tiger, this time roaring, with the store name prominently written in bold, black lettering: FAT TIGER WORKSHOP. The shop's floor is marked by separate stands that exhibit the shop's main clothing lines—Vita, Dope Boy Magic, Squad, and Fat Tiger Workshop—and a fourth stand that showcases an array of handmade clocks and cut and sew pieces. A red neon sign above the DBM display glows, "Made in a Chicago Hood," one of Fat Tiger's many catchphrases. And behind it all sit co-owners Joe Freshgoods, Terrell Jones, and Vic Lloyd.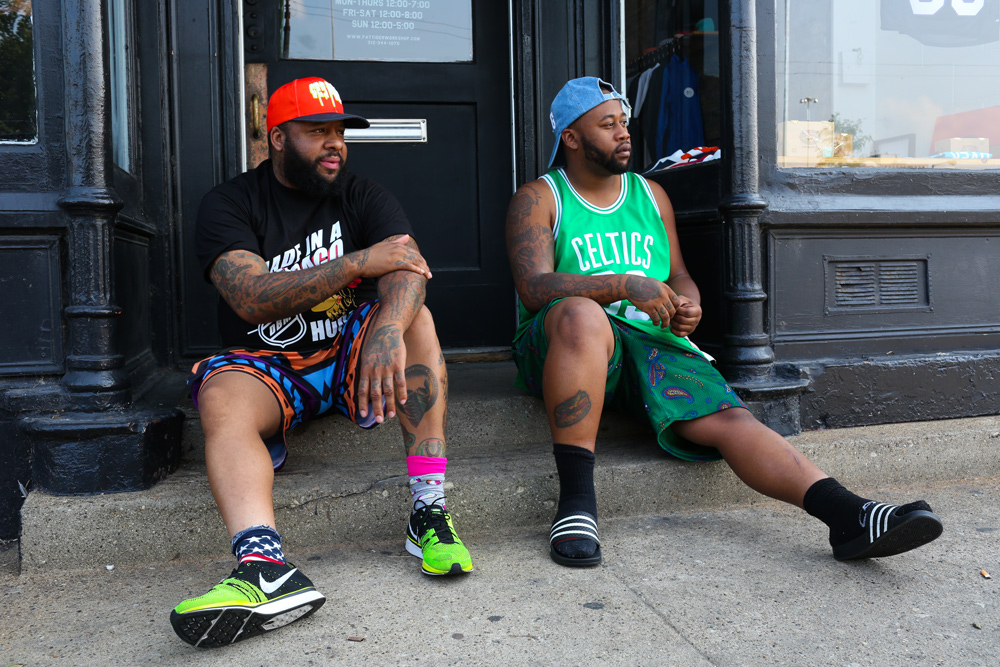 Right to left: Vic Lloyd and Joe Freshgoods.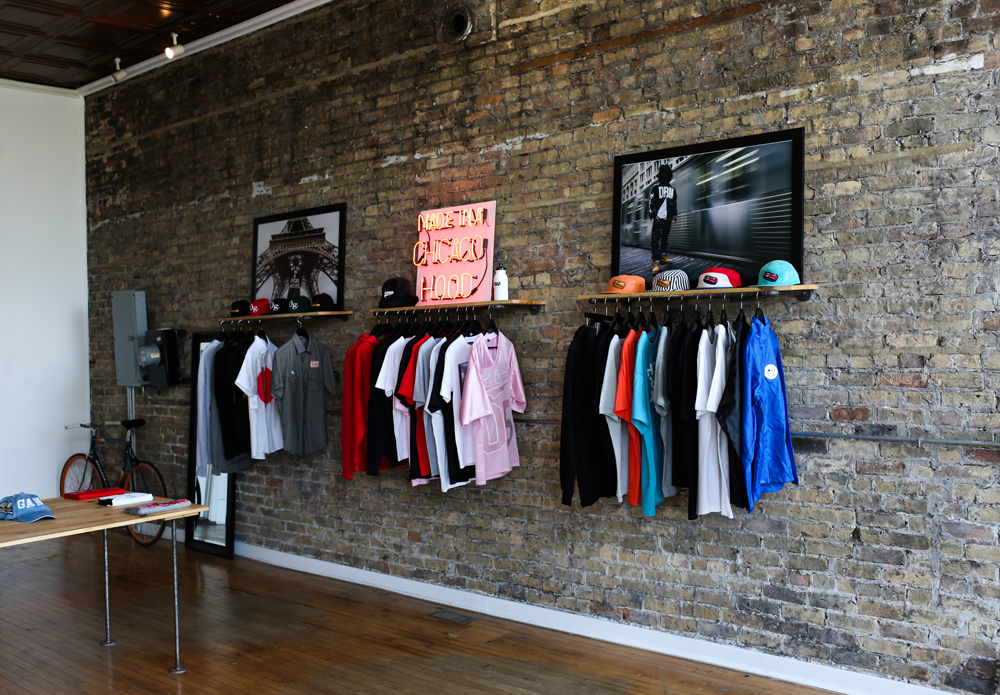 A native Chicagoan from the west side, Freshgoods has seen his city go through a lot of changes. Fat Tiger was previously located in the rising neighborhood of Logan Square for a year and a half before the three had to leave—the owners of the building were renovating, which meant rent was going to skyrocket. All the tenants in the building ended up leaving. "[Logan Square is] kind of an up-and-coming, Hispanic community, that's like going through gentrification... Like Wicker Park, now it's getting pushed back to Logan Square," Freshgoods says.
Even though Fat Tiger had to move on, the shop's new residence is fast becoming their biggest selling point: Logan Square, Wicker Park, and downtown are only a short drive away, and the nearest subway stop is a five minute walk.
For the most part, Fat Tiger Workshop sells clothes that Freshgoods has designed and created. Freshgoods, in particular, isn't new to the business: An industry veteran, he's been making clothes since he was 15. He created his first line was Vita with a friend, but his designs really took off while he was working at Leaders, another prominent Chicago streetwear company. During his time at Leaders, he created Dope Boy Magic, which birthed the Rihanna line, "I wanna fuck Rihanna." Rihanna eventually sent him a cease and desist letter, but not before he made a nice buck.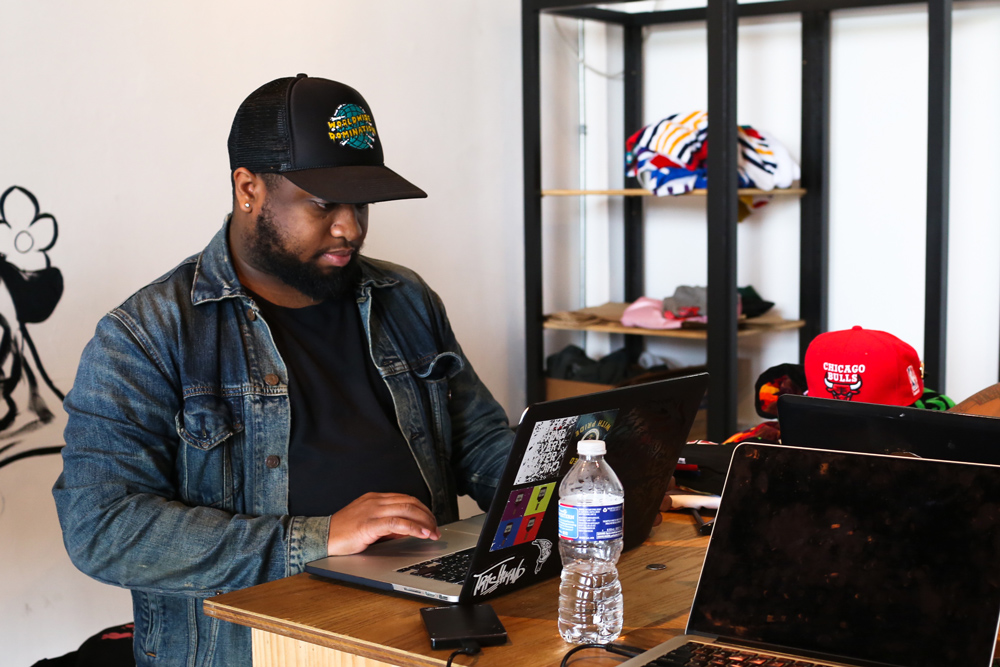 Terrell Jones at work in the Fat Tiger Workshop.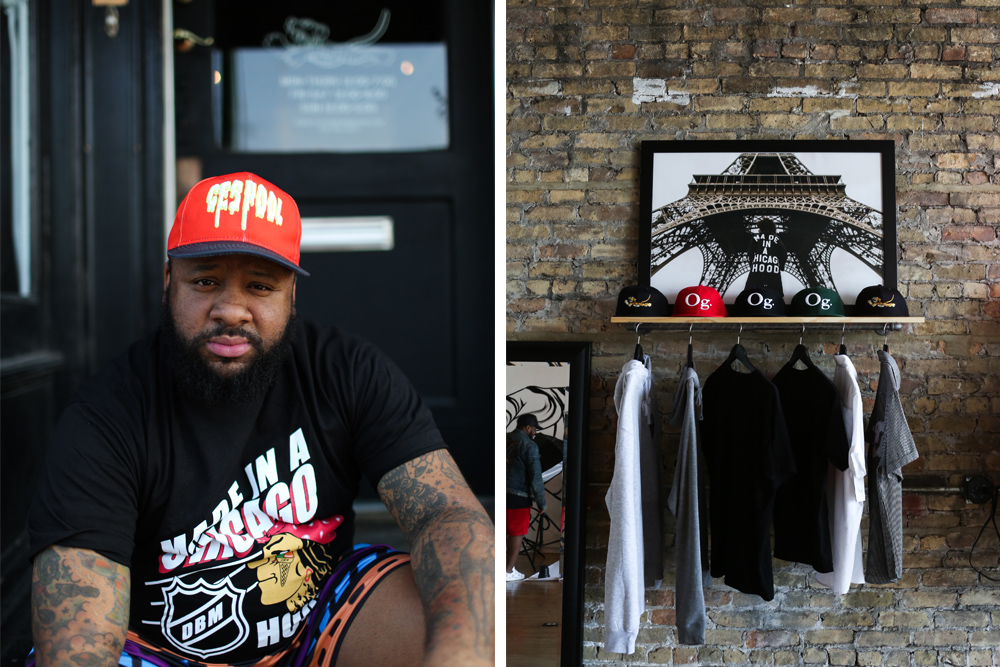 If you want to find a group of people who are Chicago through-and-through—who have carried Chicago on their back for years—then you really don't have to look any further than Fat Tiger. Before the trio opened their first brick-and-mortar store, and back when Freshgoods was balling off his Rihanna line, he sold clothes out of his home garage in Pilsen. He turned his garage into a warehouse, creating a space for his community to congregate over clothing made by one of their own. But when business picked up, that set-up became dicey. From there, the three focused on the online store, and pop-up shops around Chicago and in other cities, to help spread the word of their hometown and brand.
"I do stuff for Chicago. The more I travel, the more I realize that. When I was in Paris, I went to colette and [saw] some brand, they were selling like laptop cases… It was something like 'Fendi, Miami,' 'Fendi, New York,' 'Fendi, Tokyo.' It named like eight different cities around the world and Chicago wasn't [there]," Freshgood shares.
"I think Chicago is a big market. As far as streetwear is concerned, it's kind of weird to me that people can embrace New York or LA brands and wear that in different cities. People will wear a shirt that would say New York 10.Deep—people will wear a Yankees hat. I just want to be that brand. I want people to wear a 'Made In A Chicago Hood' jacket in Paris."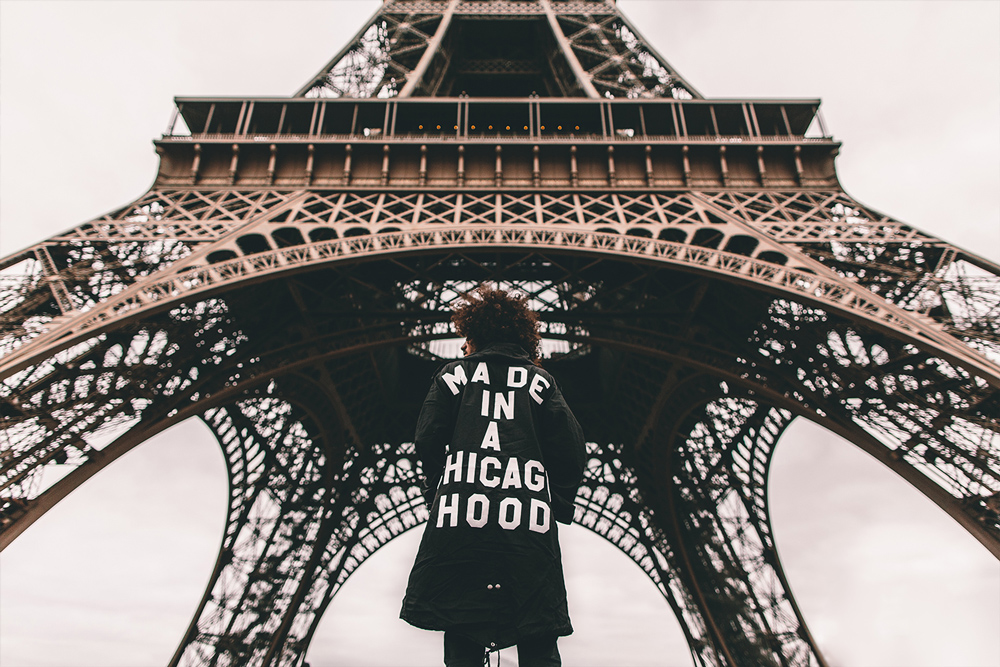 In the back of the store is a shelf piled high with colorful fabrics. Freshgoods reveals that they are actually towels he's amassed over the last three years: Pendleton, BAPE, Louis Vuitton, Marc Jacobs, and Opening Ceremony. He plans on turning them into cut and sew shorts that will be housed under a Joe Freshgoods line. "I would always come up with ideas to make money—that's been like my thing for a long time... Back in the day, a lot of drug dealers used to wear like towel jackets, that was a thing growing up in Chicago. So I just kinda wanted to take that idea and like remix it," Freshgoods says.
Rather than try to bag big investors or pick up other brands, Freshgoods, Jones, and Lloyd continually come up with design concepts that push the Fat Tiger brand and stay true to Chicago. Chicago is a city that has flourished from these kinds of homegrown, grassroots efforts, where local creatives put on for their city. Fat Tiger is central to that rising momentum.
It's now no secret that Chicago is on the come-up musically. Hordes of rappers are coming out of the woodwork, which has become a major assist to Fat Tiger over the years. Freshgoods himself manages Chicago-based rapper Lucki Eck$—when Eck$ travels, Freshgoods uses it as an opportunity to create pop-up shops.
By the same token, Fat Tiger has also gotten co-signs by prominent locals like Chance the Rapper, Mick Jenkins, and Vic Mensa, and national endorsements by Wiz Khalifa, Chuck Inglish, and Casey Veggies, among others. Fat Tiger proves that Chicago is a family, and fashion and hip-hop in the city work hand-in-glove. By managing Eck$, Freshgoods further merges Chicago's worlds of fashion and music, and advances the city's communal sense of togetherness.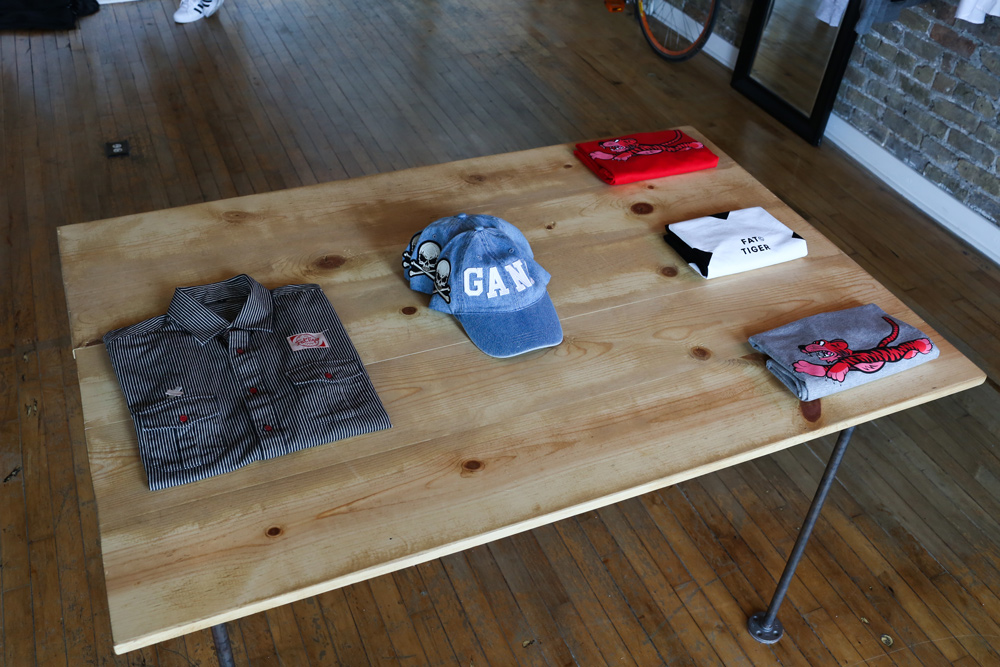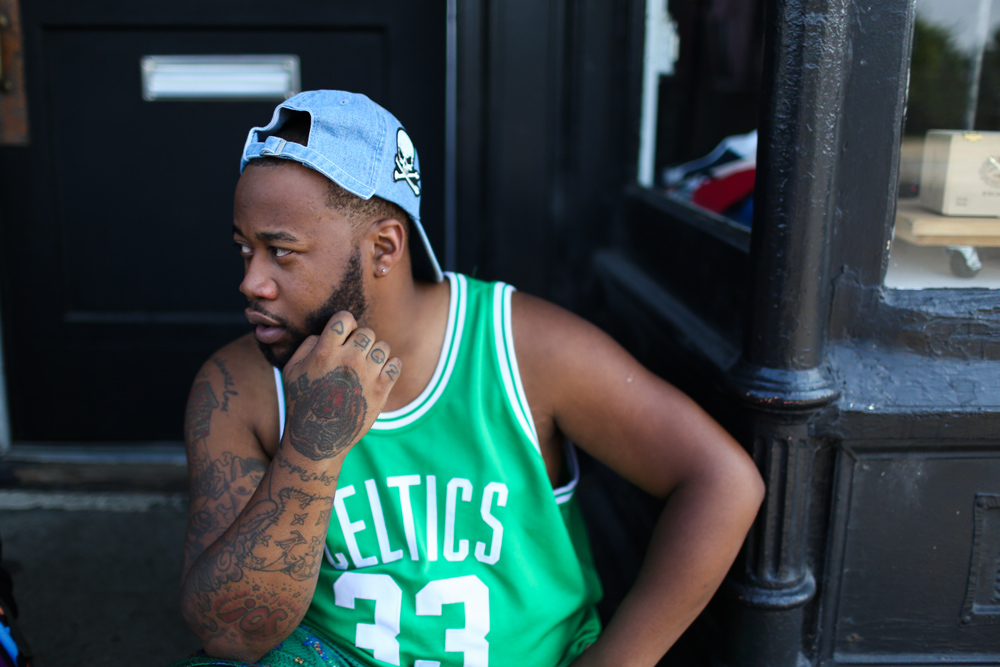 Joe Freshgoods.
Chance—like many of the people who have "made it" from Chicago—is from the south side, as is Kanye, Common, Vic, NBA player Derrick Rose, and probably any major Chicago superstar you can think of. "The west side-south side divide is pretty evident in Chicago," Freshgoods notes. According to him, only Da Brat, Twista, and himself are the current luminaries from the west side. Eck$ is also from the west side.
"You don't hear too much about the west side, but it's slowly coming up," he tells me. Joe Freshgoods is looking to change that, to shed a positive light on his neighborhood, but his aim is secondary to what he wants to do for Fat Tiger and his whole city. "I want to be the city representation of a brand. That's my main goal."
***
fattigerworkshop.com. Photos above by David Rasool Robinson.