So, you've probably heard The Hundreds is throwing a food festival in a couple of weeks. Family Style is the evolution of The Hundreds longtime love affair with the food game. While we've built one of the biggest streetwear brands in the world over the last two decades, it's the food game I've always wanted to get into. I guess it's kind of like how all of the athletes want to be rappers and all of the rappers want to be athletes.
Anyway, it all goes down on September 15th. Family Style is the first of its kind, a true streetwear food festival. We're pairing world-class chefs with some of the most fire brands in the game right now to create one-of-a-kind collaborations that include inventive menu items and merchandise. We've challenged all of our participating brands and restaurants to come up with truly original ideas that you can't find anywhere else but Family Style. And they all stepped up to the plate.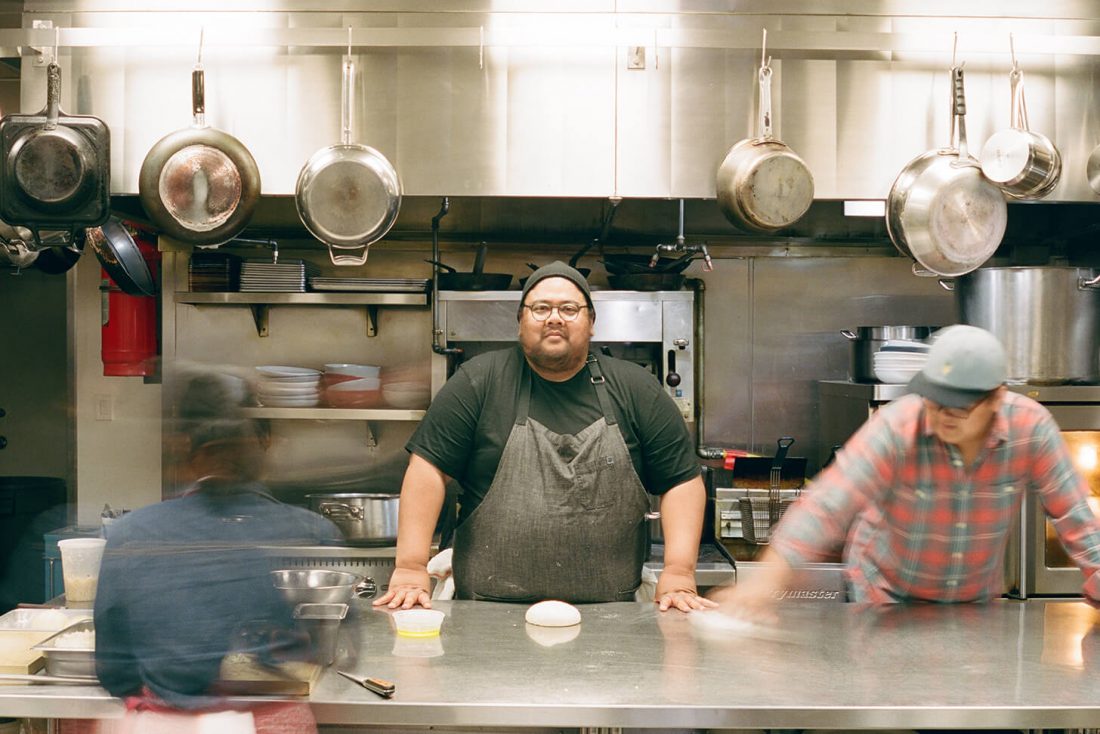 One of the collaborations I'm most excited about is the one that Alvin Cailan is doing with Burgerlords. Alvin is a superstar chef, founder of Eggslut, host of First We Feast's The Burger Show, and the brains behind the smash-hit Good Burger pop-up that's the talk of LA right now. He's working with Burgerlords, who are making some of the best burgers in LA and have the buzz to prove it. The project they're pulling off at Family Style is on a whole other level. Would you believe me if I told you one of the hottest burger joints in the city was collabing with the most in-demand burger experts in the world, and they're creating something with no meat in it? Believe it, the Alvin Cailan X Burgerlords collab will be plant-based for all of our vegan attendees. I've been begging them to let me try it early but I guess I have to wait until Family Style like everyone else.
Alvin stopped by The Hundreds HQ during a quick trip to LA recently and we sat down to discuss — what else — tacos.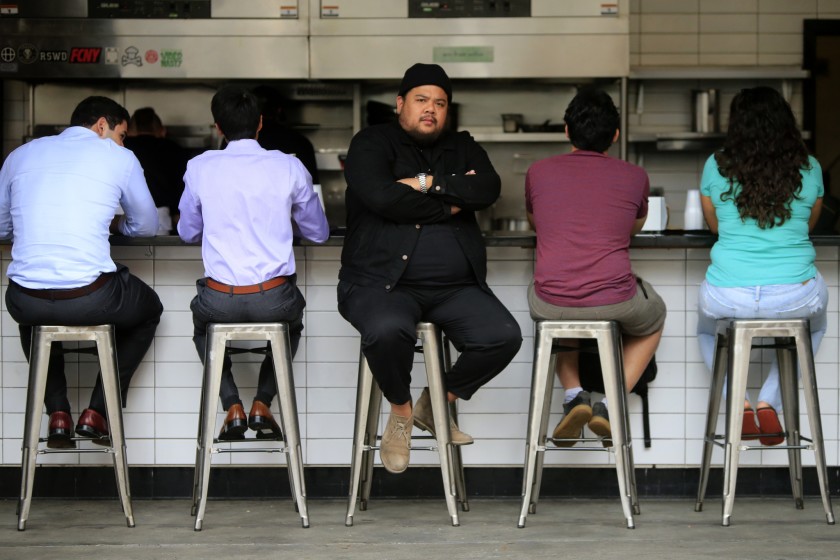 BEN HUNDREDS: What are you doing while you're visiting LA?
ALVIN CAILAN: Every time I'm in Los Angeles, it's pure business, man. My lawyer is here, my accountant is here. I have a lot of things going on, so if I don't see them for a couple of months, then I have to cram everything into one trip — and also eating hella tacos. That's all we've been doing. We're here this weekend for the LA Food & Wine Festival. I'm only doing two events but I'm staying for seven days. So, you know, I'm maxing it out. [Laughs]
When you plan a trip like this, is your itinerary just as meticulously planned for appointments as meals?
Oh yeah. For sure. If I know I'm coming to LA, I'll make reservations or give a heads up to my chef friends that I'm coming into town. I want to know where I'm going. Every hour is accounted for when I'm here. 
Where have you gone so far?
I took a couple of suburban cats to Taco Crawl in East LA to kind of push their comfort zones. I didn't go to Boyle Heights with them, that's too pro.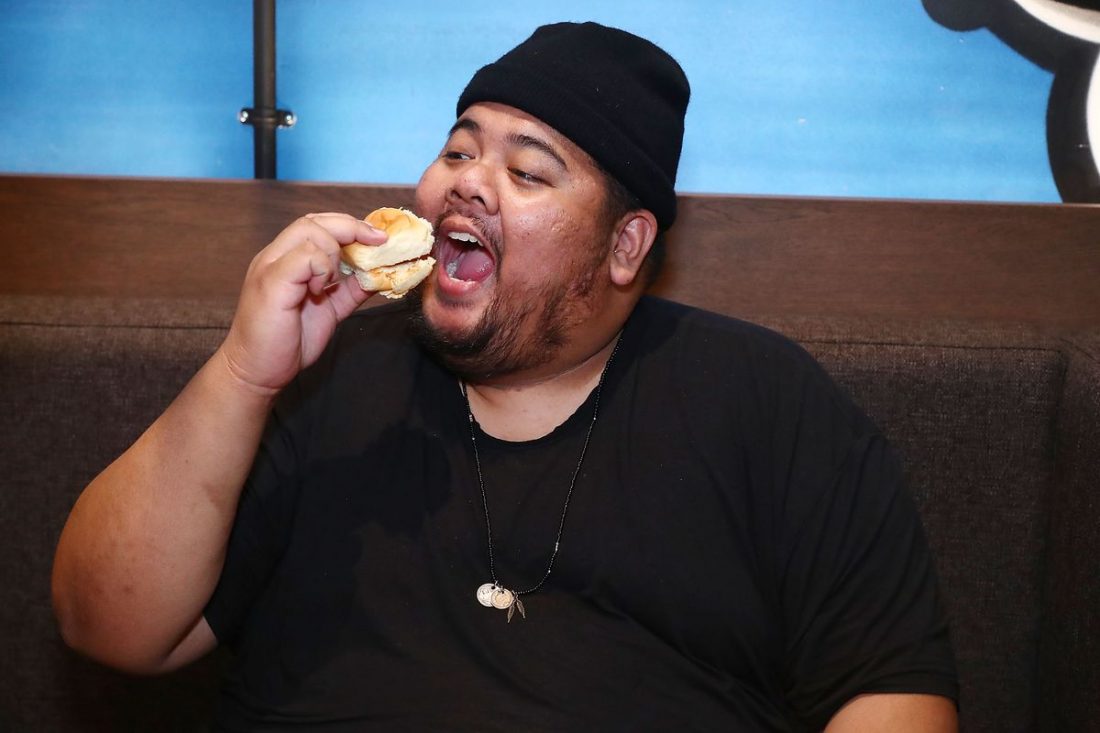 [Very intensely, ready to take notes] What did you eat?
Whenever I do any type of crawl, I start with the cheese pizza, the standard. I took them to 3rd and Indiana, that's the taco place I grew up eating. It used to be a truck. In fact, the truck is still in the parking lot but they opened a brick-and-mortar right next to it. At night, the brick-and-mortar is open, so I took them there. 
[Hunger intensifying, not finding a taco place when I look up "3rd & Indiana"] If I'm looking that up, what am I looking for exactly?
Tacos Leonor. We know it as 3rd and Indiana. [Laughs] That's like the standard taco if you've never had authentic carne asada — not the jazzed up shit you get downtown or the Westside. You want to get a standard carne asada, so you go there and then you work your way up. Then, we went to Jason's Tacos. Damn, I shouldn't even put that shit on blast because it's still lowkey. 
I got Jason's on my list. I've been wanting to go for a little bit. Are their tacos good?
Super fire. They're a dollar! The al pastor is juicy, so so good. The carne asada mulitas are to die for. You know what's dope is that they have their salsas in the squeeze bottles and the homegirls refill them every ten minutes so they're always fresh. They're never acidic. You know, sometimes you can taste something and can tell it's been sitting. The shit is good and we knew it was popping because there wasn't a line but as soon as 8 o'clock hit, tons of people started to show up. I was like, "yo this place is legit." That was the first time that I've had it because it was adjacent to 3rd and Indiana, we just went down Bradshaw and it's right there on Whittier Boulevard. Then, I took them to my neighborhood joint that I go to in the city of Pico Rivera, called El Atacor. I gave them potato tacos or taco de papa. What I get there are fried potato tacos because it's a classic.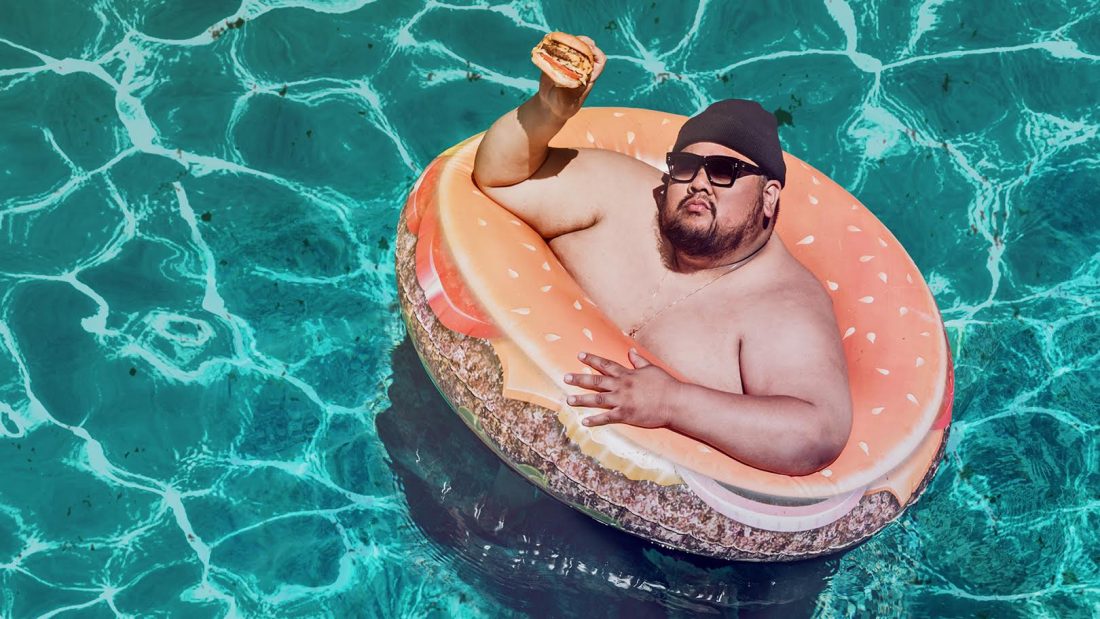 My mans is open until 4 o'clock in the morning.
That is like THE taco from the hood because it's like you're not always going to have meat. You take instant potatoes from a box, you make that, you stuff it in the tortilla, and you deep fry the whole thing. It's like heaven. I wanted to have them taste that. Long story short, we had tacos the first day. Tuesday night, we had Howlin' Rays because they've never had Howlin' Rays but had heard so much about it. Johnny is the homie so I said why not. Last night, we did the In-N-Out thing because you have to get the In-N-Out fix at least once while you're here. Tonight, we got the burger competition so we don't have anything planned. Tomorrow, Backyard BBQ in Pico Rivera.
You're doing a backyard BBQ?
Well, whenever we're back home in California, my girl's dad is one of those grill guys, so Saturday nights are for Coronas, probably some tacos, and BBQ. Sunday, I'm going to the Yankees and Dodgers game. Everything is planned. I left Monday open but I think the producers of The Burger Show want to squeeze in another episode so I'll do that and then I'm out.
When you do food festivals what do you like about them and what don't you like?
You know what, it's a part of the grind and that's why we do it. It's hard for me to say no to food festivals because it's like a new group of people that you meet every year that has never heard of you and you get to share your culinary DNA. I love that aspect of it, but usually, the biggest problems are the people who create them. They typically don't value the talent they book. They use your image for 6 months to sell tickets and then on the day of, you have $40 racks in your pocket from selling stuff and then have to walk three miles to your car. No one is going to usher you to the car. At LA Food & Wine they do a great job because they actually have drivers for you, they understand that and take care of you. Other food festivals it's tough because they don't understand. We're leaving our actual restaurants to do these events.
I've heard these issues from other chefs as well and have addressed them for Family Style. At music festivals, artists are just in a trailer chilling, but chefs don't get treated the same way at food festivals.
Let's just compare the two. I'm not saying any specific music festival but if you're a rapper, you have an air-conditioned trailer, an entourage to help you, and a caravan of golf carts following you around. If you're a food guy, they give you a tent and a dolly and you're parked fucking a million miles away. You have to walk through 300,000 people. Your name is as equal as the artist so it's like what's going on? The safety aspect, too. We did this one festival in NY and every day we had about 16-20 racks in our pocket and we had to walk super far with it. This is New York City. No disrespect to Queens but this is in Queens. 
You don't want to be anywhere carrying 20 racks in your pocket.
We love the fact that we get to meet new people and share our food but there's also a majority of food festivals that we fuck with that don't fuck with us. They say that they do but they don't.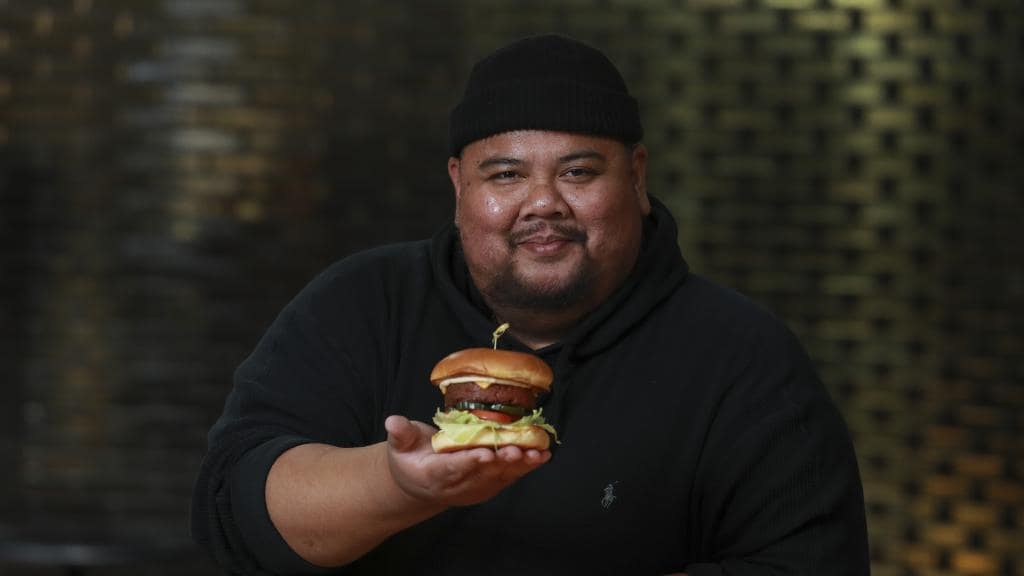 Why does Family Style Food Festival interest you? Hearing what you said, I look at Family Style as the first of its kind where music, brands, artists, and food are really put on the same pedestal.
It's pretty genius. In 2002, I had dreams of being in streetwear but life pulled me to the kitchen. I've always been the line cook that would wear Nikes. There was always a mesh for me between the two worlds. All of my friends who were in that world are now eating at amazing restaurants. They no longer line up for sneakers, they're lining up for the opening of Chef blah-blah-blah's restaurant. It's just like a matter of time for those two worlds to collide and The Hundreds is fucking genuis for putting that together. You and Bobby are so in touch with what's going on that it's only right you two created this. I'm very excited to be a part of it, it's going to be so much fun. 
In the food industry, it feels more and more like streetwear.
Yo, it's crazy!
Like the Popeye's Sandwich, the fact that every day it sells out and people come back tomorrow to try again.
We deal with lines every day. We deal with our version of the nerdy hypebeasts of food. That one guy that's like, "I sous vide a piece of meat at whatever whatever" and you're just like, "oh word." It's crazy, it's like parallel worlds. I remember when I bought a pair of Heinekens. It's the same enthusiasm, it just makes sense.
It's crazy because in streetwear, we might have a drop every week, or month, or whatever, but in the food world, you have a drop every day.
Especially with our spot in New York. We do a brand new burger of the day, every day. You can go to my restaurant and have a different burger every single day.
I'm sure there are people that do.
Oh yeah, it's nuts. They're drawn in by it. It's cool to see.
I saw you were working on The Good Burger pop-up. What is that like and how big of an influence was Good Burger early in your life?
My brother is ten years younger than me and when that movie came out, that's the movie I would play so my brother would chill out. We've watched it hundreds of times. Every kid has that movie and Good Burger was that for me and my brother. I didn't try to get all cheffy with it. I wanted to keep it true to the show, even the way it's constructed and where the pickles are. Everything was like the way it is on the show and in the movie. I just used great ingredients. We're using a Martin's Seeded Potato Roll, I'm using Mishima Wagyu Beef for the meat, which is the same meat they use at Umami Burger. Farmers market tomatoes, lettuce, bread, butter, and pickles. We make Ed's sauce, which is the biggest part of the movie. I got to replicate it. They never show the full recipe in the movie so I just pulled all the little things that he actually put in the sauce for the sauce and added a little flair to it. It's fun, I think it resonated with people and they loved it. It was a really fun project and I got to meet Kel.
We just had Keenan in here to do Bobby's podcast maybe a month ago.
Yeah man, that dude is cool! He wasn't there but he's been a part of the whole thing.
What do you think it is about the food scene that connects so much with people? They're so passionate about their favorite places, almost like their connection with a brand.
It's just the evolution. Back in the day, we used to wear Ocean Pacific and stuff like that. We would just buy at a department store and then when you get older you kind of have that quest to have something a little better constructed or something that has a story behind it. You start to care more about where things come from. In streetwear and in food it's the same thing. Back in the day, I fucked with Taco Bell heavy but now when I eat Taco Bell it's not the same because I've had tacos made by the most amazing chefs in the world. It's just an evolution of preference and taste. Food and streetwear are the same in that sense. We are now a generation of people who look deeper and want things that are better constructed. That's kind of where we stand now in food, especially in the city of Los Angeles where there are amazing places to eat.
As food infiltrates fashion, TV, and media, where do you see the food scene going?
It's just like streetwear. In 2008, everyone and their momma and cousin was a CEO of their own T-Shirt company and I think that's where we're at in food right now. At a certain point, I think it's going to die out and the strong will survive. I think that's the future. The people who do it right, the chefs that do it right, that do it for the food and not anything else will still be around. The people who want clout, it's going to disappear because their priorities are all skewed. Stay true to it, not new to it. That's my credo in life and I feel like that's kind of what's going to happen to the food industry. And I've been right so far!
Love Badmaash.
That was my watering hole in 2013. I got drunk there every single day and became best friends with those guys. So, it's a special place. We're about to go there today.
They're doing two different collabs for Family Style Food Fest. I can't wait.
It's under wraps, too! They won't even tell me what they're doing. It's going to be sick.
***