I'm a freelance travel writer and was recently out in Düsseldorf for a quick 5 day trip with AirBerlin to check out their Karneval celebrations (see that here). I don't ever hear too much about Düsseldorf compared to cities like Berlin or Hamburg, but lately, I've been keen on traveling to places that get overlooked. I have the firm belief that everywhere holds awesome gems if you dig a little. During my downtime from celebrating Karneval, I explored the city to see if I could find some share-worthy spots for The Hundreds' family.
Here's what I found:
Shopping
Königsallee is a big shopping boulevard with flagship shops by luxury brands and big-named chains. If you're looking for high street shops, walk down Schadowplatz (the street you would take to go to Afew, below) and you'll find Footlocker, Primark, a big camera shop, and other Euro chains.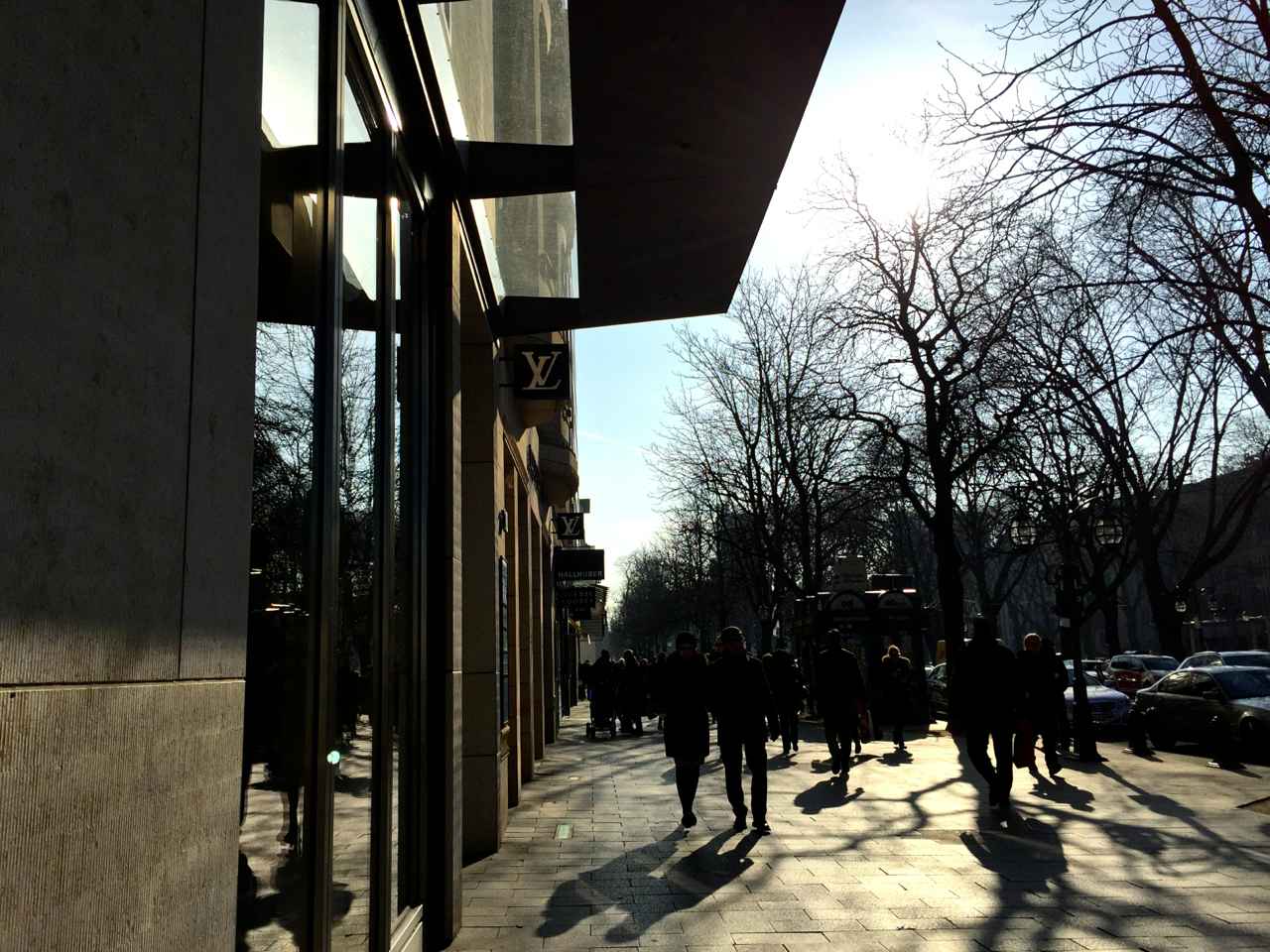 Königsallee, a popular shopping street.
Afew – Oststrasse 36, Düsseldorf 40211
A sneaker-only shop selling Nike, adidas, New Balance, Saucony, Asics, Puma, and more. I stayed near Koebogen, which was about a 10 minute or so walk away.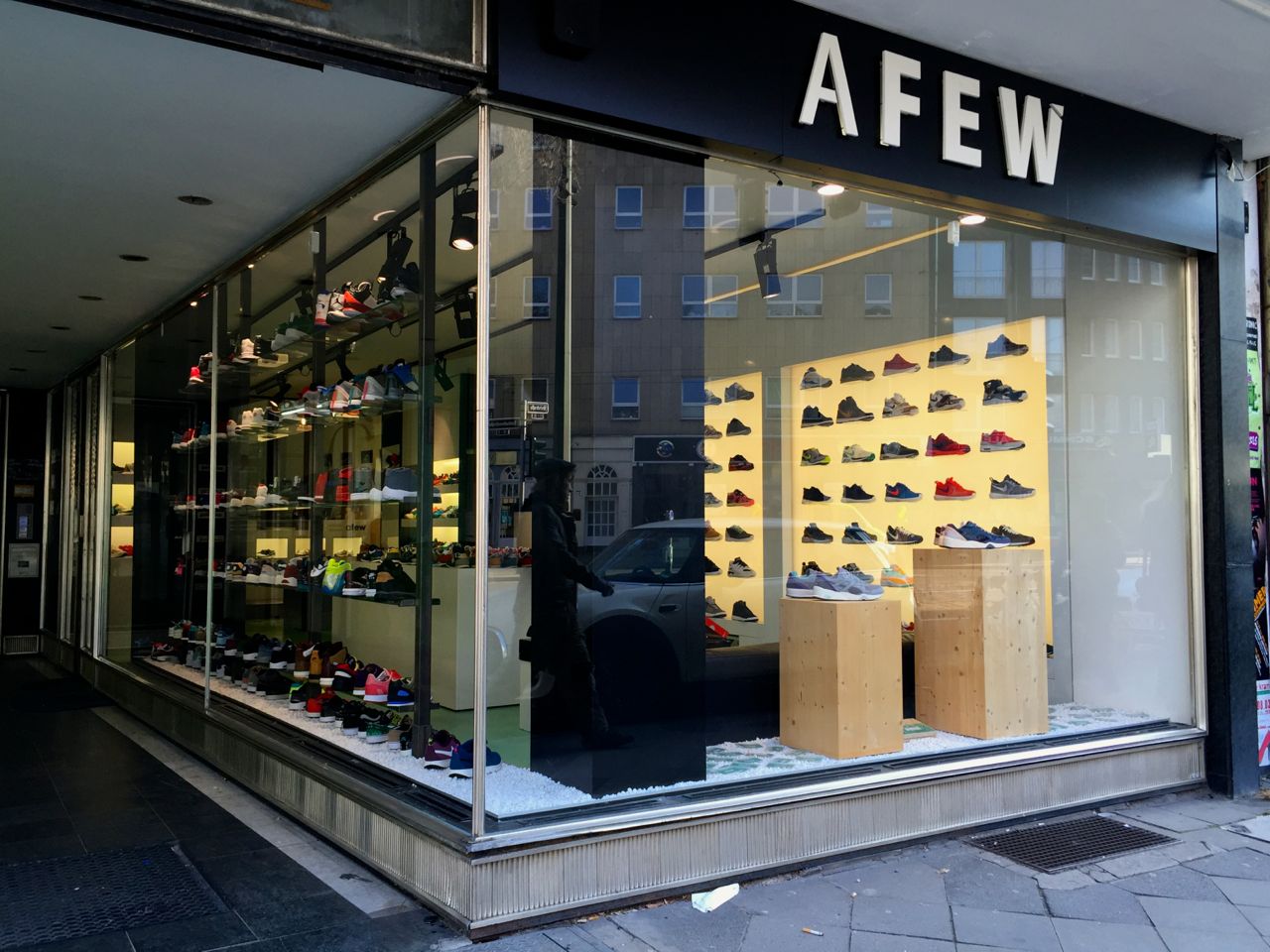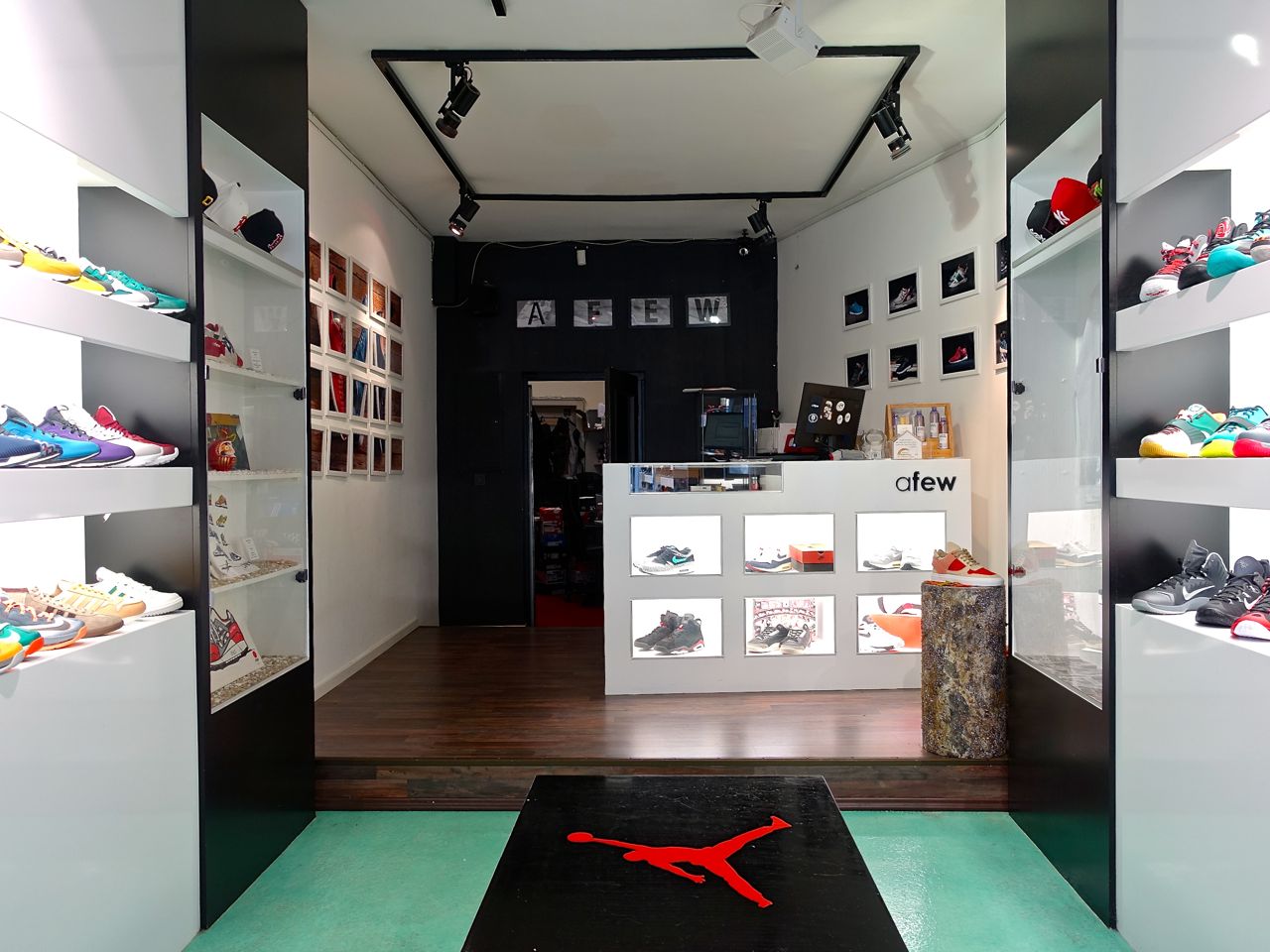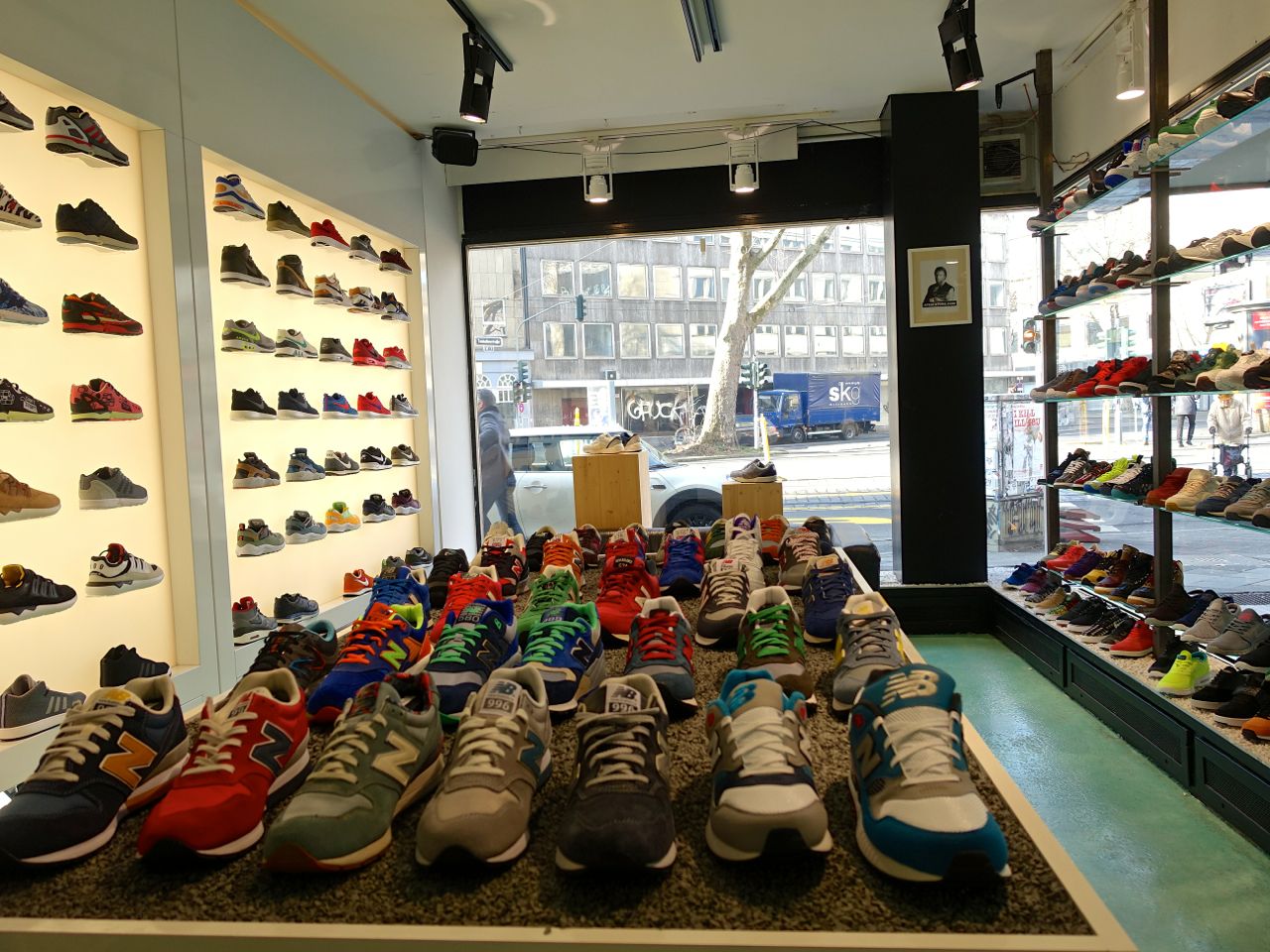 Souq – Muhlenstrasse 4, Düsseldorf 40213
I found this streetwear and sneaker shop in Altstadt (the old quarter). The staff are super friendly and personable. They carry brands like OPM, skate brand Ambivalent, Stussy, and more.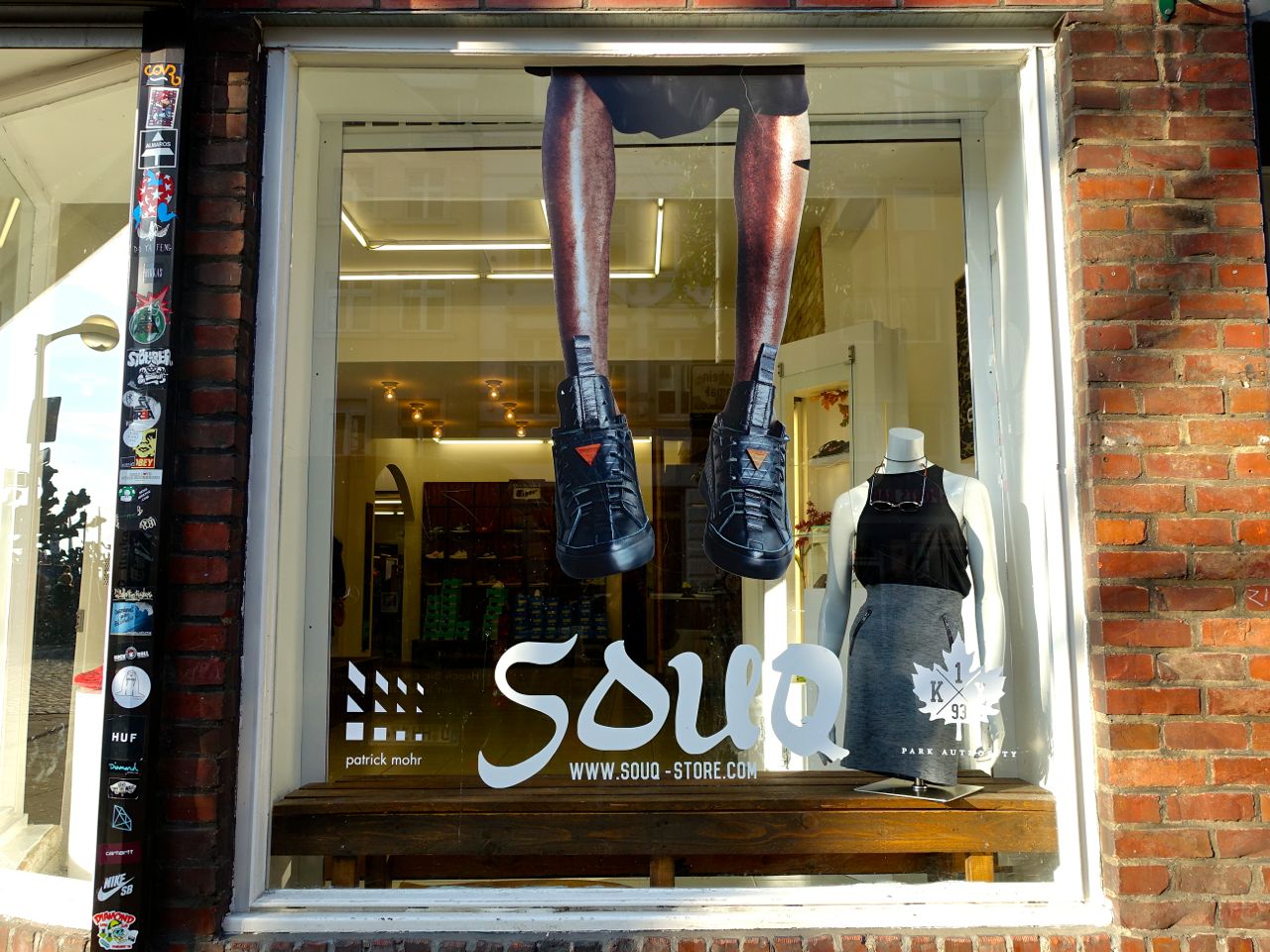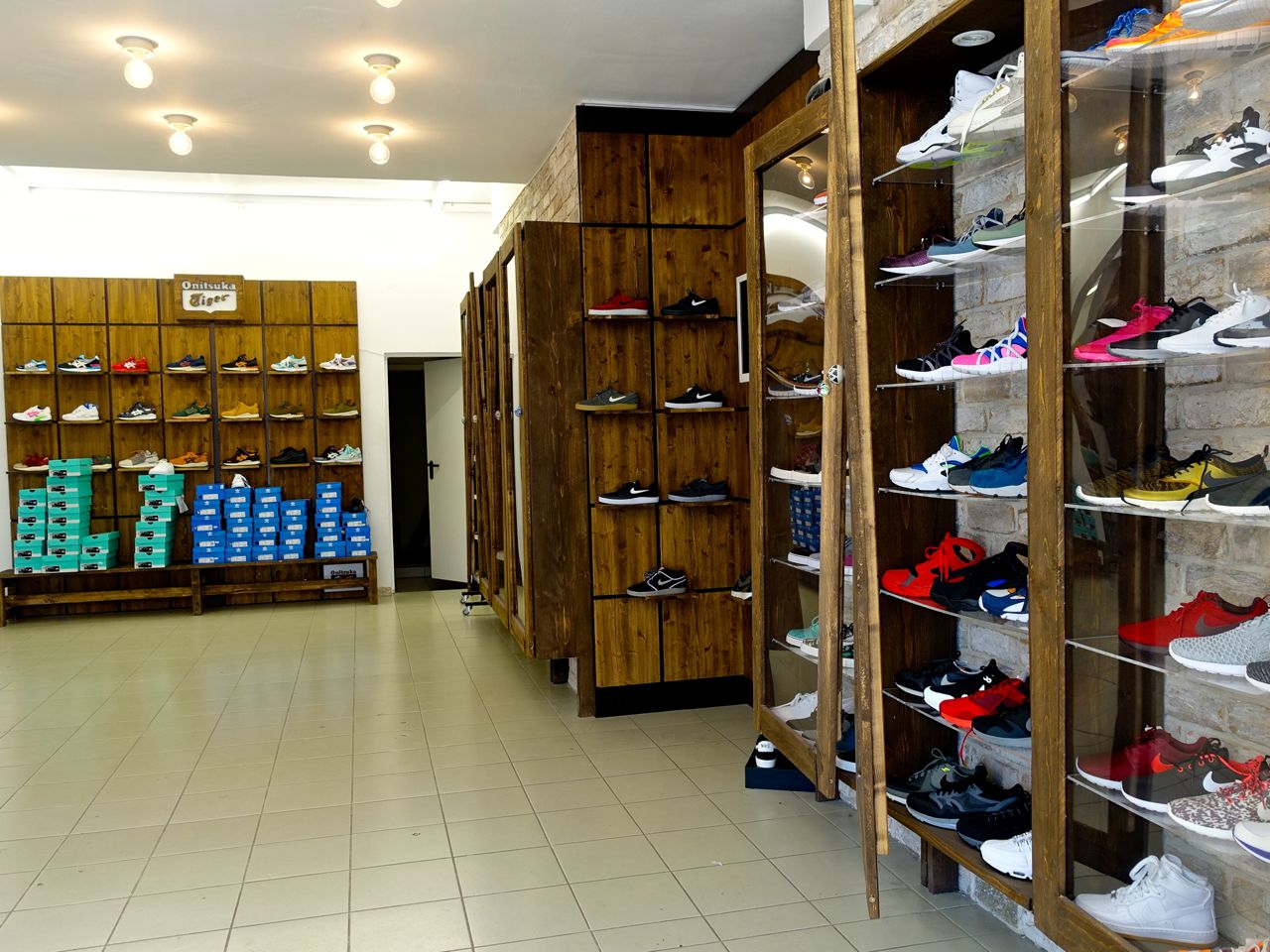 Medienhafen or Media Harbour
If you're into architecture, head over to Medienhafen or the Media Harbour. What was once an industrial zone of Düsseldorf has gone through a major redevelopment. It is now home to many media companies, ad agencies, and design firms. Begin at the Rheinturm or Rhine Tower and head over to the Neuer Zolhoff – the Frank Gehry designed trio of buildings. Walk over the bridge and check out Roggendorf Haus up-close to see the crawling men.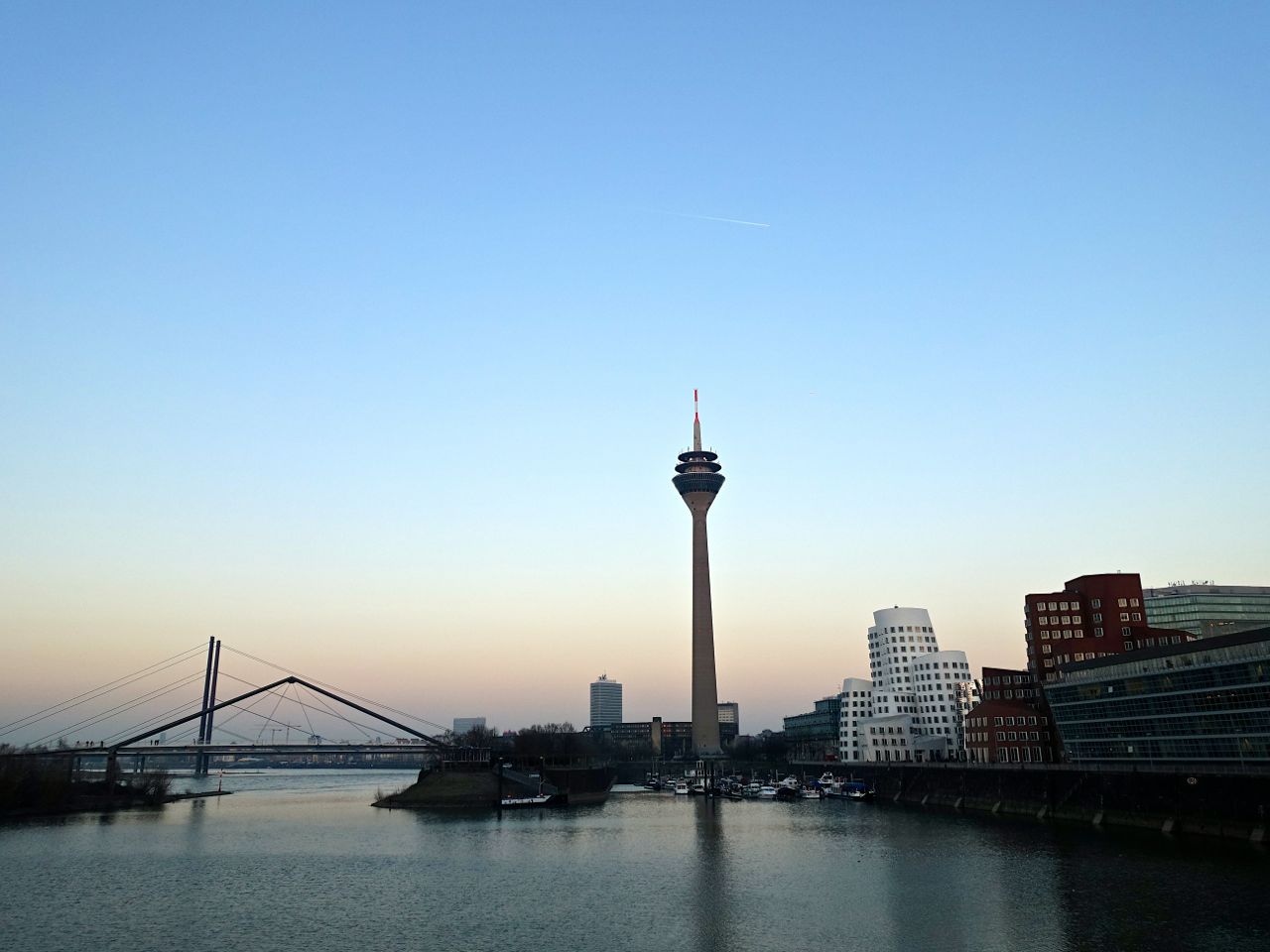 Düsseldorf's Medienhafen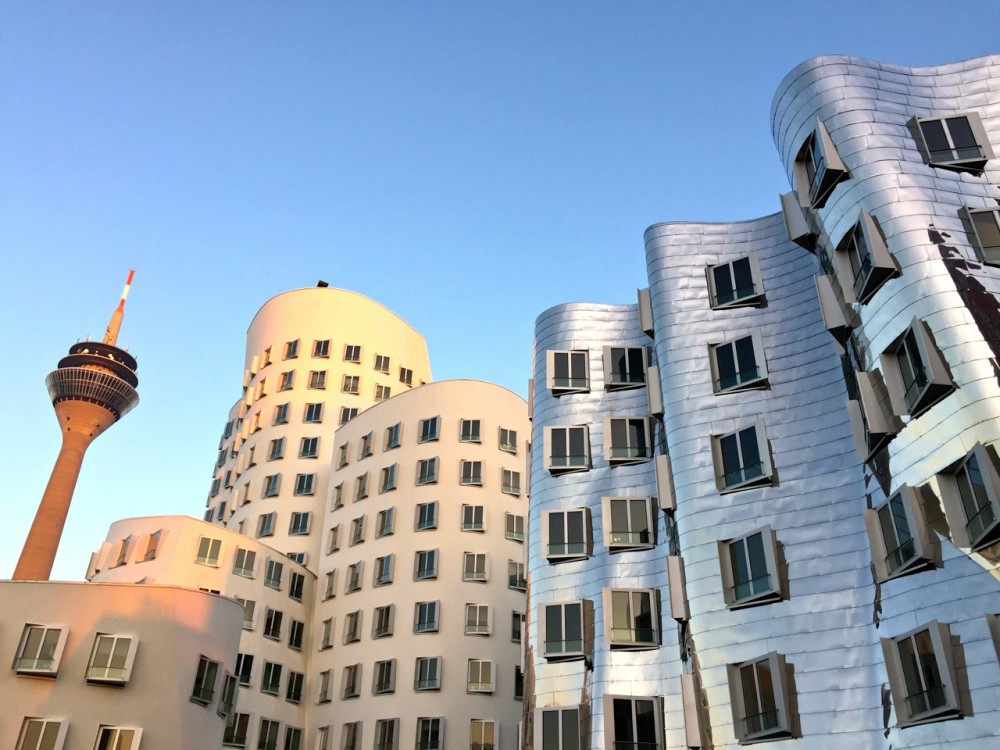 The Rhine Tower and Neuer Zolhoff by architect Frank Gehry.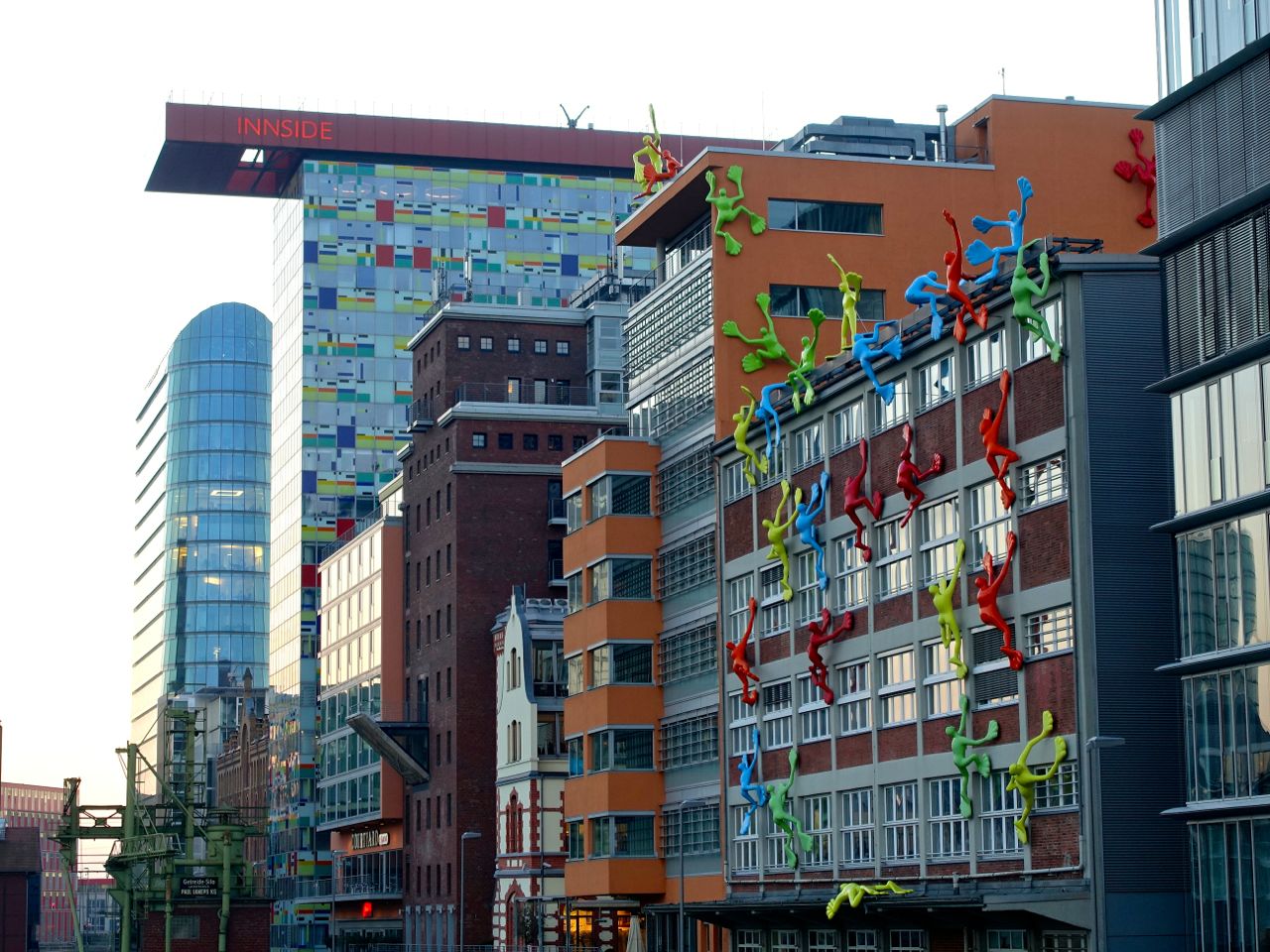 Roggendorf Haus with the colored men climbing up the building's facade.
Museums
I'm a lover of museums and galleries, so I always try to check out one, if not a few, in a new city. Art is subjective, so what I like you may hate, and I tend to focus on photography and modern or contemporary art. I was a bit hungover the day I went and my friend tagged along (I prefer to visit galleries solo!), so I did a quick version of my typical art day. I checked out Kunst Im Tunnel, K20, and K21. I might also love the German word for art: kunst.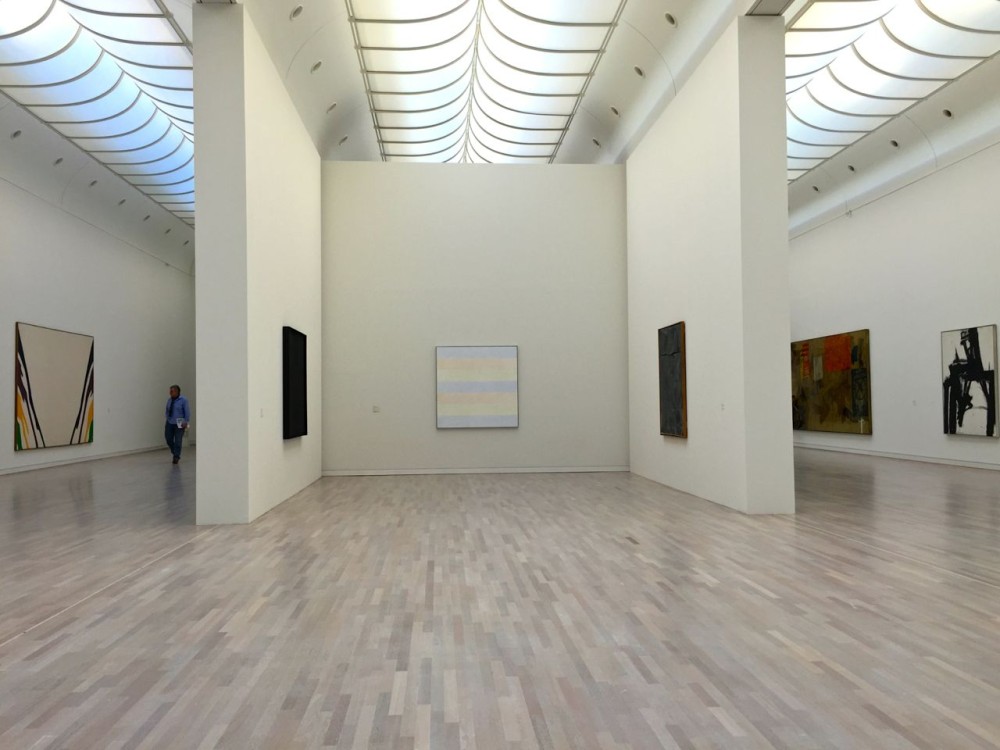 K20 is home to modern art by artists like Pollock, Warhol, Mondrian, and more.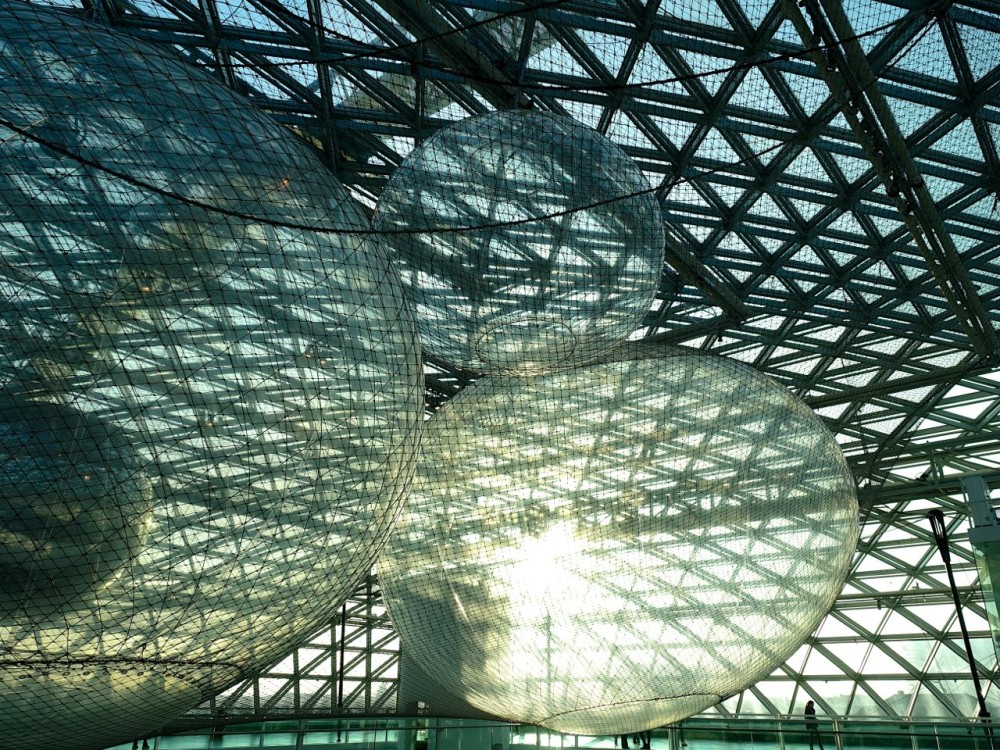 "In Orbit," an installation by Tomas Saraceno at K21. I was bummed we couldn't climb in the afternoon we went.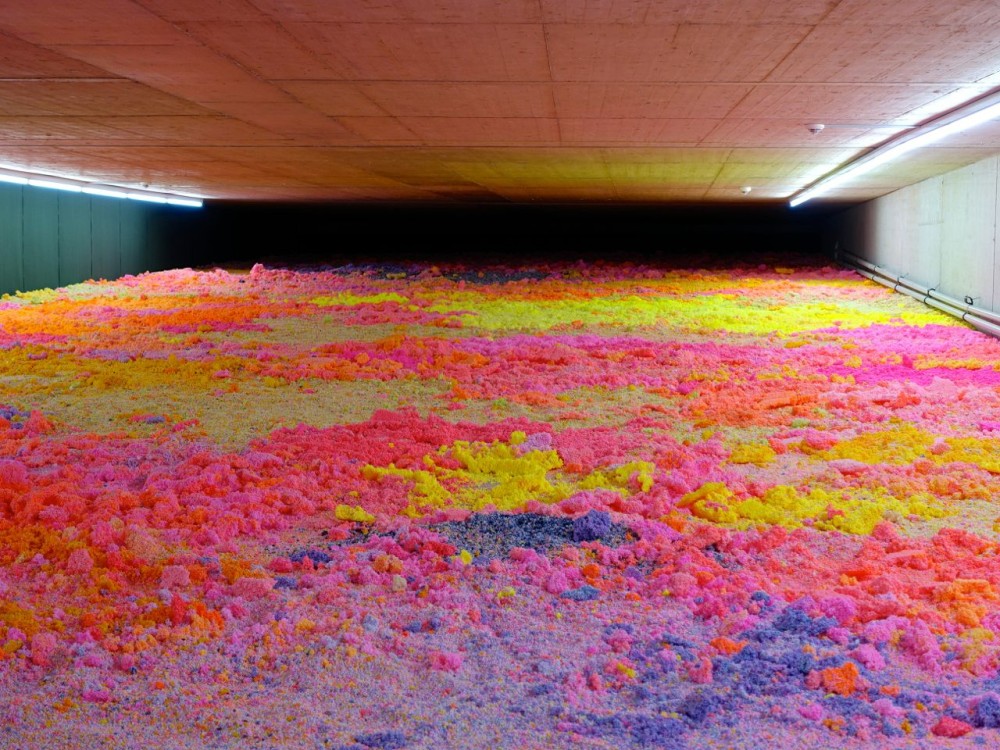 By the Rheinturm is Kunst Im Tunnel, a subterranean space for modern art like this piece Tau by Katharina Grosse.
Zum Schiffchen – Hafenstrasse 5, Düsseldorf 40213
This restaurant may be popular with the tourists, but there's a reason it has been around for almost 400 years. Zum Schiffchen means Little Boat, and if it's good enough for Heinrich Heine and Napoleon, it's good enough for you and me. They serve classic German fare like fried pork knuckle with sauerkraut, wiener schnitzel (not the American hot dog spot), and Altbier.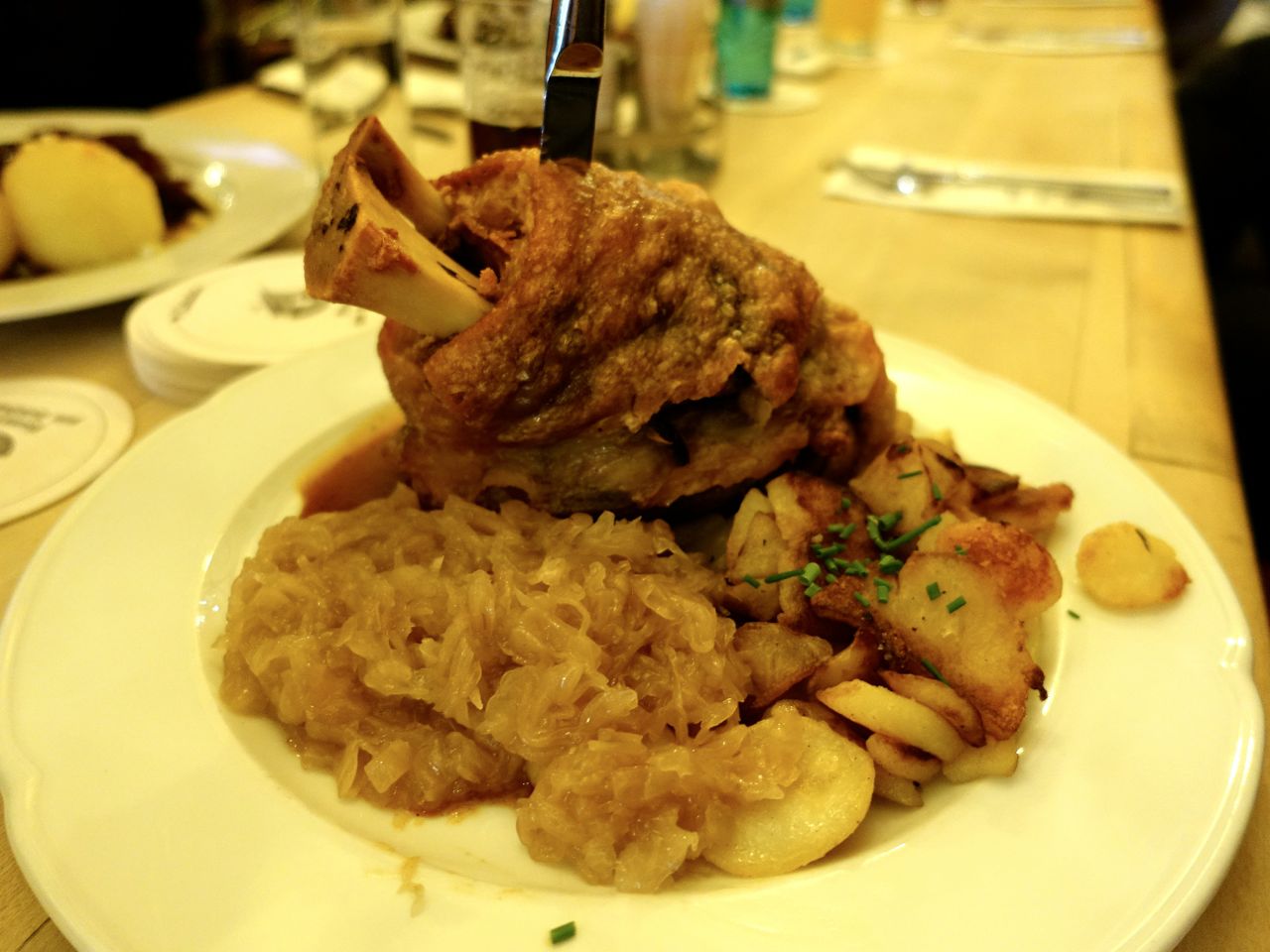 Pork Knuckle with Sauerkraut.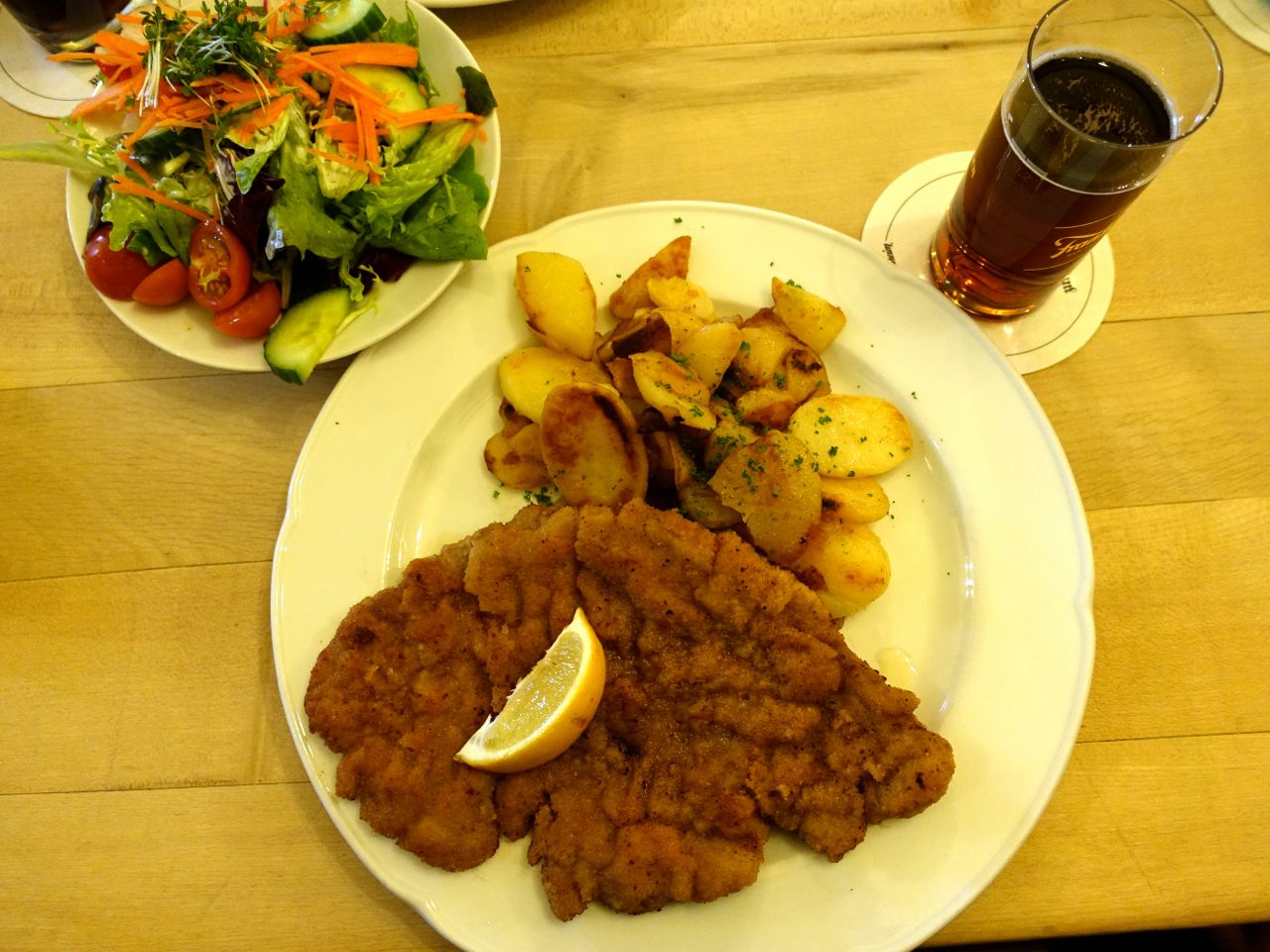 Wiener schnitzel (I think I just like saying it).
Street food
I love me some street food. I indulged in some fritten with mayo and curry tomato sauce. If you wander around Altstadt, you'll see a bunch of stalls selling fries. Do try out currywurst, the Germany specialty as well. I didn't take a photo – sad horns.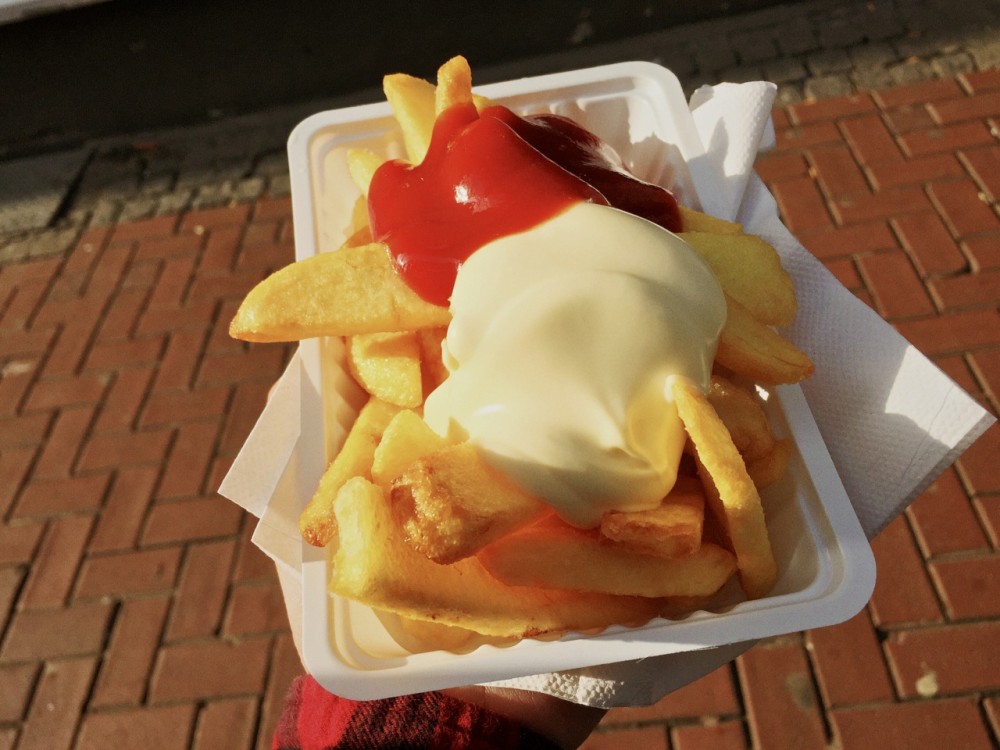 Fritten.
You're probably wondering, "Ramen?" At one point, Düsseldorf had the most Japanese inhabitants living outside of Japan in one city. This is due to Düsseldorf being the financial center of Europe, and Japanese companies set up their Euro HQs here. There's a road with a bunch of Japanese restaurants and businesses called Immermanstrasse where I found Takumi.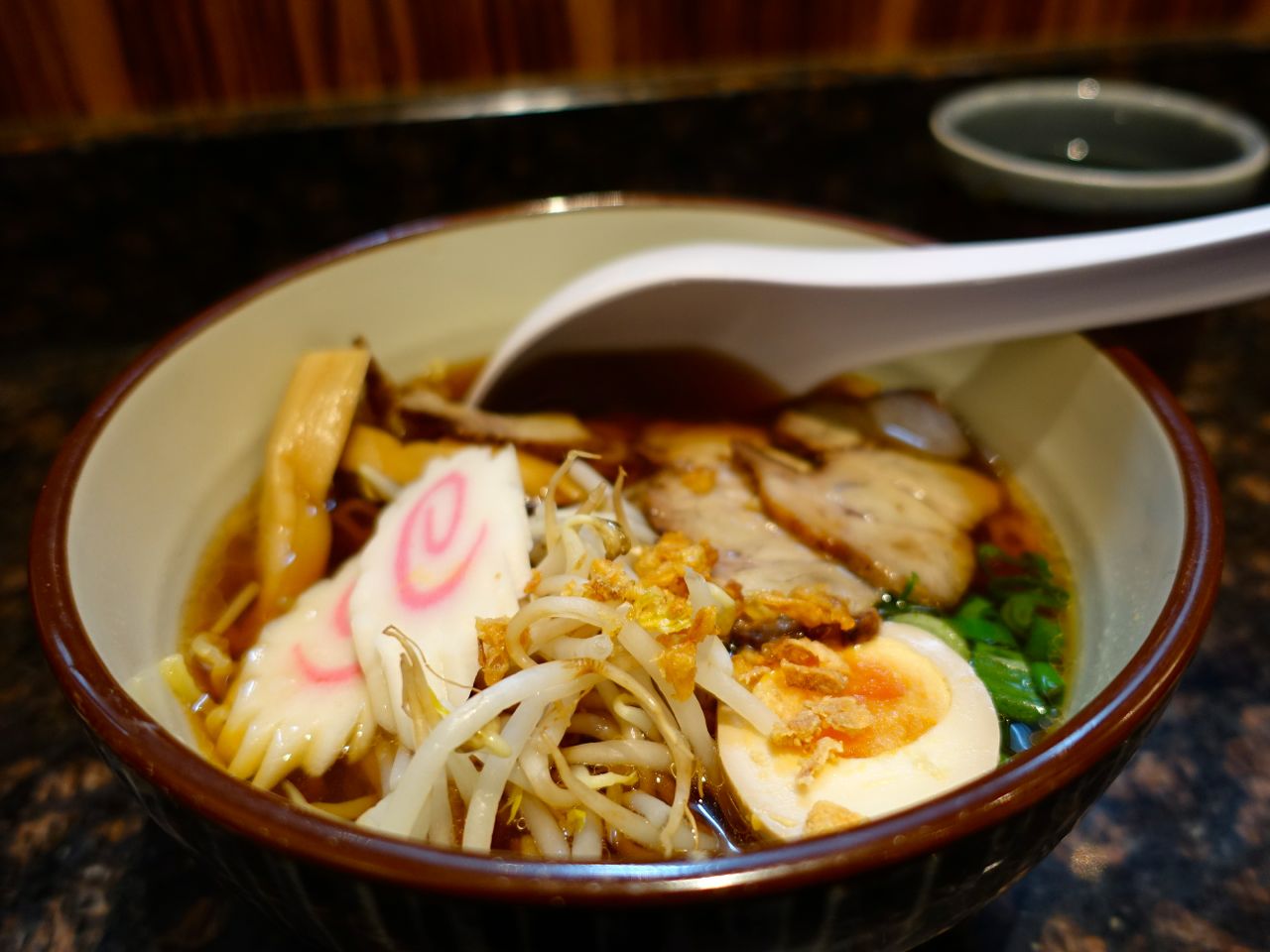 Some shoyu ramen at Takumi. Thankful for Japanese picture menus!
Altstadt
Altstadt is Düsseldorf's old town or historical city center. They call this area the longest bar in the world because there are supposedly more than 300 bars and clubs in the small, square area. People come here to drink the local beer and get turnt at night, so, if you're looking for a fun time, go here.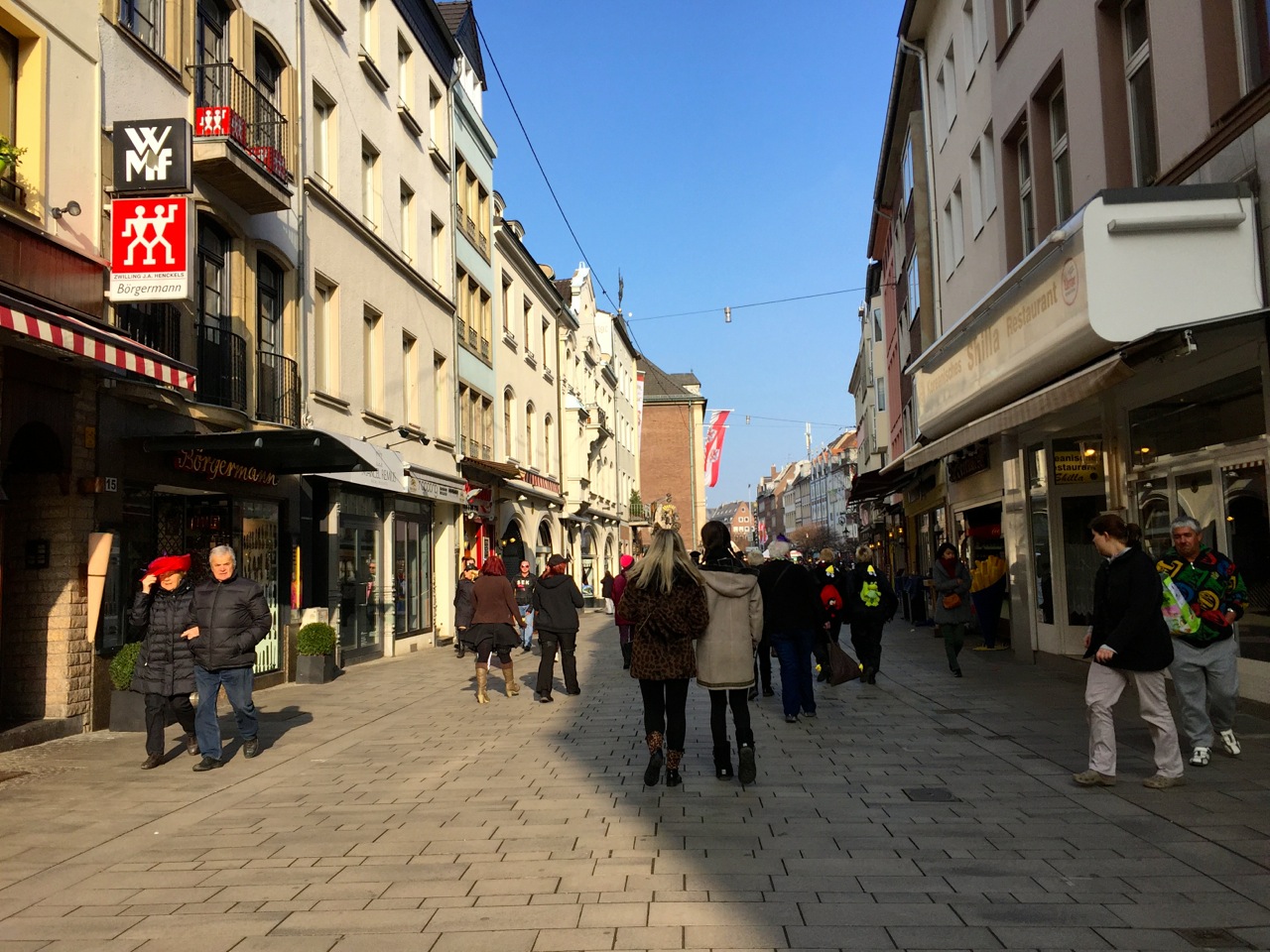 Drink
I can't function or talk to people (read: bitchface) in the morning until I've had a cup of strong coffee, so I always seek out a good local shop or roaster. Woyton comes up a lot when you do some research, but a local told me it's their equivalent of Starbucks. I'm not a fan of Starbucks unless I'm desperate, so I kept searching. I found Kaffee Reich which is in the Carlsplatz Market. They were open at 8am. While traveling, I have discovered that only North American coffee shops open up at 6am.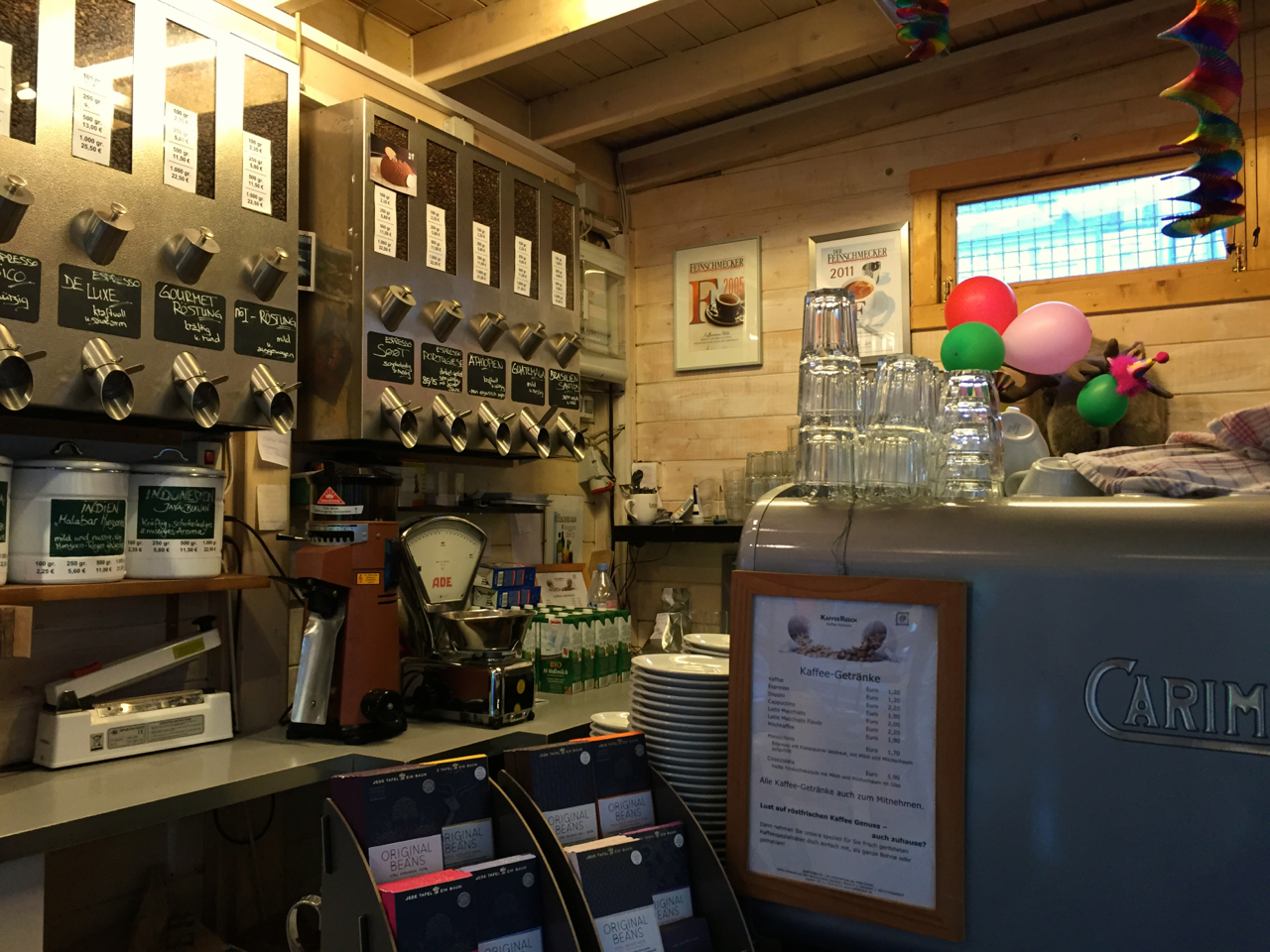 Kaffee Reich
Altbier
Düsseldorf has their own local beer called altbier, which means old beer and is a dark copper color. I'm no beer expert but I was a fan. I was told it is a top fermented beer and that is why even though it's darker in color, it still tastes light in comparison to a pale ale.  I did a beer tour in Alstadt and we stopped in for tastings at Brauerei im Fuchschen and Brauerei Küerzer. In the evening my friends and I went back to drink and chill at Küerzer (I saw a #TheTrillz doppleganger here!).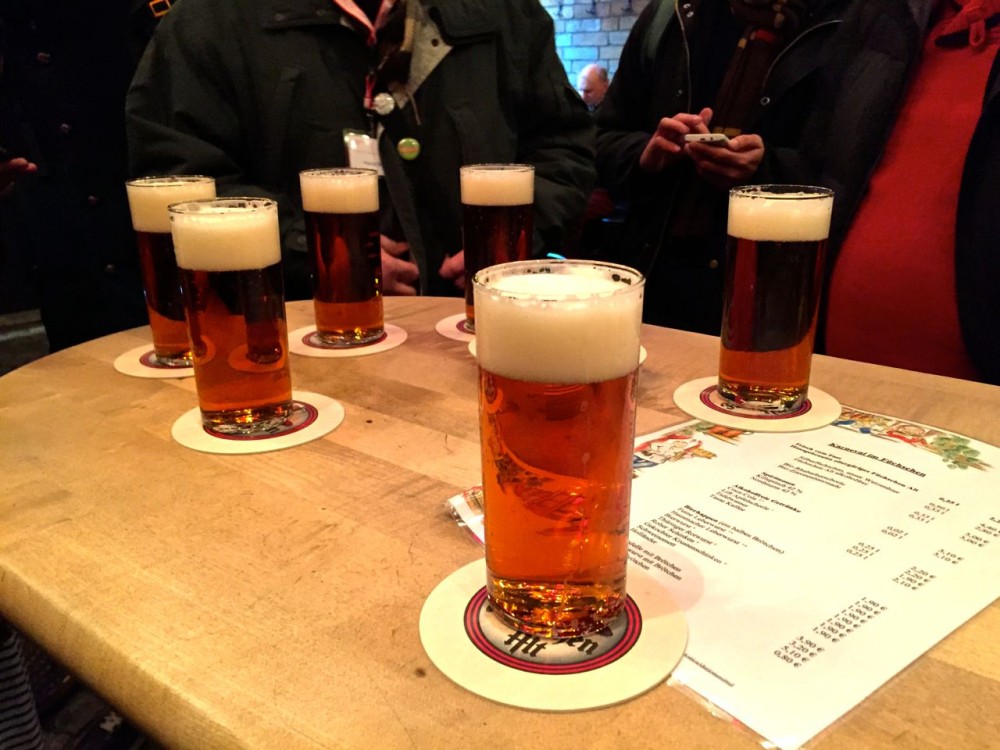 The dark in color but light-tasting altbier.
Stay
I stayed at the Steigenberger Parkhotel for my trip.  It's location is central and walking distance to everything I did during my trip. If you plan on being out, exploring all day, and you don't want to spend a lot on a room, try Townhouse Düsseldorf. It's really basic and feels like a dorm room, but you get a free breakfast and it's just minutes away from Altstadt or Rheinturm. Or there's always AirBnb.