The Dutch skateboard scene is one of the more interesting ones in all of Europe, but it lacks one thing: a great local brand. A Dutch version of Palace, Cliché, Sour, or Magenta. Ever since Colorblind Skateboards—without a doubt the most important Dutch skate brand ever—called it quits, there hasn't really been a local mainstay to fill the void. Many brands came, many left, but Rotterdam's Dufarge Skateboards seems to be one of the few that will stick around. The brand has been around for close to five years and is known for its unique projects and utmost attention to design and detail. Right before their annual "Pooligans" contest, one of the most laid back and fun contests out there, I was able to assemble the trifecta behind Dufarge to talk about their brand, consisting of Hugo de Pagter, Niels van der Zwan, and Ties Alfrink.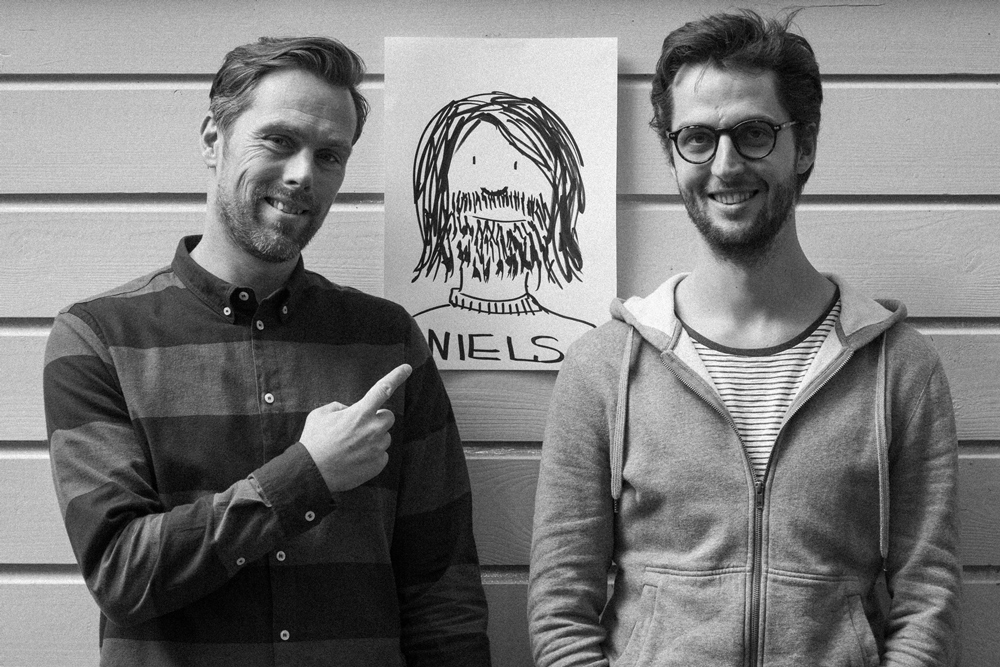 Dufarge co-owners Hugo and Ties with a drawing of the missing Niels.
MAARTEN: Let's go back to your younger days: what was your very first skateboard?
Niels van der Zwan: I started off with a Banana board. After that I got an Action Sport Illusion, with Action Sport trucks and Kryptonics wheels. That was about 30 years ago. I still have that set-up at my house.
Hugo de Pagter: Oh shit, you had an Illusion as well? Me too! After that I got an SMA Jeff Hartsel board.
Ties Alfrink: My first board was from a brand called Treeworks or something? It was a standard complete that I got at Ezone, in Utrecht, when I was about 11.
"IT'S A PROBLEM THAT A LOT OF PROFESSIONAL CREATIVES HAVE. YOU WORK SO HARD TO DO PROJECTS FOR OTHER PEOPLE THAT YOU BARELY HAVE THE TIME TO DO THE THINGS THAT YOU'D REALLY LIKE TO DO."
How did your friendship turn into a skateboard brand?
Hugo: Niels and I have always had an idea to do something. In skateboarding, you're constantly surrounded by creative people that start their own brands, shops or whatever. We always talked about doing a T-shirt brand. And since Ties and I work together, for a bunch of different clients, we needed a creative outlet, a project where we could just do whatever we wanted. It made sense to combine those things together and start a skateboard brand.
Niels: Actually, it wasn't a skateboard brand when we started.
Hugo: No, at the start it was just a mash up of things we liked. There was skateboarding, but also surfing, our graphic influences…
Ties: It's a problem that a lot of professional creatives have. You work so hard to do projects for other people that you barely have the time to do the things that you'd really like to do.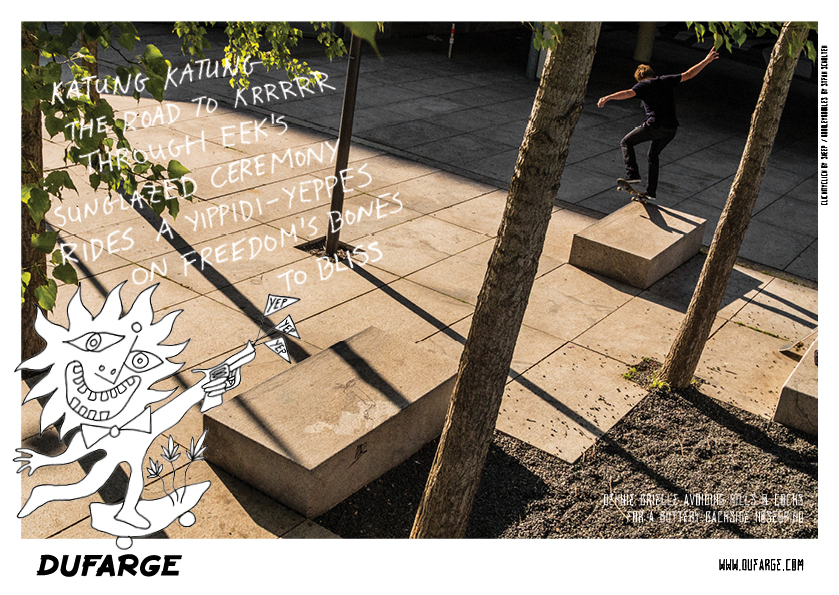 Why did you guys pick a French name for your brand?
Hugo: It sounds French, but it's actually based of an American writer, J.D. Salinger. The Catcher in the Rye has been my favorite book since I read it for the first time when I was 17. The name Dufarge is taken from a short story by Salinger [The Laughing Man], which features a detective called Monsieur Dufarge.
A lot of Salinger's stories are about the innocence of youth, the corruption of adulthood, and how you should stay young as long as you possibly can. Youth is pure—it's a time in which you can truly be who you are. And that's a great metaphor for skateboarding. It's an activity that keeps you young at heart, and allows you to never really grow up.
For some reason Dutch skateboard brands rarely stick around for long. You guys are celebrating your fifth anniversary this year, how did you manage to keep the brand going where others called it quits?
Hugo: We don't do this full time. That's a blessing and a curse. We'd love to do this full time, but the Dutch market is incredibly small. We could venture into Europe, but we decided to build a solid foundation in our own country first. But skateboarders can be really small-minded about things. If you're a skateboard brand from Rotterdam, they're not going to sell your stuff in Utrecht, because you're not from that city, even though it's only 60 kilometers away. It's so hard to change that image. We don't want to be a Rotterdam skateboard company, we want to be a Dutch skateboard company.
We want to push the scene, show them that it's possible to have an idea, execute it and turn it into a business. Plus, we just love to make cool shit. Everyone can order a bunch of decks with a custom print on it, but we feel that being a brand is more than that. We care about having good riders on our team, creating quality product and make sure it all makes sense.
"YOUTH IS PURE—IT'S A TIME IN WHICH YOU CAN TRULY BE WHO YOU ARE. AND THAT'S A GREAT METAPHOR FOR SKATEBOARDING."
Ties: And because we have other ways to pay our bills, we are free to do whatever we want, so we can create something truly great. We don't have to target a big audience. In fact, I think that back when we first started, people didn't really get what we were trying to do with Dufarge.
Hugo: We had some surf influences when we first started out. We thought we could merge the two, but in reality, you can't. It makes sense for us, but if we went through with it we would just be making stuff for ourselves. Skaters would think we were a surf brand and surfers would think the exact opposite. We quickly figured out that we are skaters who surf, not the other way around, and that it would be best to leave surf out of Dufarge. Ever since we made that decision, a lot more kids caught on to what we were doing.
The word DIY has been a buzzword for quite some time now, but it really fits Dufarge. For example, you don't just make your own graphics, but you screen print them as well. How important is that to you guys?
Niels: In the early days of Dufarge it was more of a necessity than a choice. For example, we made some stickers, but then decided that we wanted to package them in a bag. And that bag had to look nice as well and before you know it someone is carving out a stamp so we can stamp our logo onto the bag. If you had to go to a company and order a custom stamp at some other company it would be way too expensive. Our hoodies are another great example. We wanted to add a nice leather label to our hoodies. So Ties, in his spare time, took a bunch of labels to a spot where you can do laser carving and made all these labels by himself. We could've just ordered them of course, but we choose to do it ourselves. But because of that there's such an attention to detail in our product, and people really appreciate that.
Two of you guys are designers [and co-owners of Pony Design Club], but you guys don't shy away from working with other creatives. Why's that?
Niels: I was actually thinking about this earlier today, what our first collaborative product was…
Hugo: I think it was the Shark Cruiser, by Michiel Walrave.
Niels: After that… people started approaching us with ideas for graphics or products. One of Hugo's surf buddies came to us with an idea for a wooden cruiser, and we just came up with a graphic, the wheels, and all these little details. And at the end, this guy makes 10 of these boards, with three different kind of woods in them, Hugo and Ties screen print them and another collaboration is born. By working on these type of projects other people notice us and approach us with their ideas and the cycle continues.
Hugo: We also like working with people we know. It's easy to send an artist in France and email and ask him to do a graphic for your next deck series, but we know so many great designers ourselves, why not work with them? And since nobody is making big money off Dufarge, we can't afford to pay a big time artists. But those close to us see the work we put in and love being a part of it, so it's more of a collaboration between friends.
Niels: A great example of that is Koen Taselaar. He's really booming as an artist right now. The other day some TV show was interviewing him because he was nominated for a big art award and all he talks about is the Sticker Job decks he did for Dufarge. He was so stoked on that project, even though he didn't even get paid for it.
Hugo: Koen is a good friend of ours. He's on the Dufarge sticker team, which is kind of the homie squad. There's a bunch of talented people on that team, and the all help us out with different things.
It seems like you guys just haven't been corrupted by success. You just do things because you want to, and don't think about money and other business related stuff that big brands have to consider.
Niels: Exactly.
Hugo: As soon as a business has to provide for your income, you are forced to make different decisions. That's why HUF still puts out those damn Plant Life socks. We don't have to think about sales and that's a blessing.
You guys already mentioned the sticker team, but which skaters have full team status, and why?
Hugo: [Jan Maarten] Sneep was our first team rider. Fun fact: we asked them to be our team rider in the bar next to the one we're sitting now. He's responsible for bringing the no comply back to life in Dutch skateboarding. After him we added Dennie 'Brielle' Wagner. You see, it's not about adding the most technical skaters to our squad, it's about guys that get us hyped to skate. It's about a certain style or attitude, something that makes you think, "Damn, I wish I could skate like that." Danny and Sneep both posses that quality. Stefan Scholten recently moved to Germany, so he's our international team rider. [Laughs] He doesn't skate as much these days, but he does artwork for our ads and he's fully down with the team. Marcel Klaver is the latest addition to the squad.
Niels: We stole him from Almost [Skateboards]. [Laughs]
Hugo: Well actually he was out of sponsors, so we put him on our Dufarge pension plan. [Laughs]
Niels: But he's another guy from our circle of friends and associates. The only guy we added to the team without having a history together was Michael Schaap with his crazy afro. I had seen some photos of him and I was impressed, but when I saw him skating at an event in Rotterdam last year I was blown away. He's a skate machine with an amazing attitude.
Hugo: I saw him skating and I instantly knew he had to be on Dufarge. His style isn't the prettiest, it's kinda sloppy, but he just goes so damn fast. But he also adds to the team outside of skating. He studies photography and shot the lookbook for our recent fanny pack release.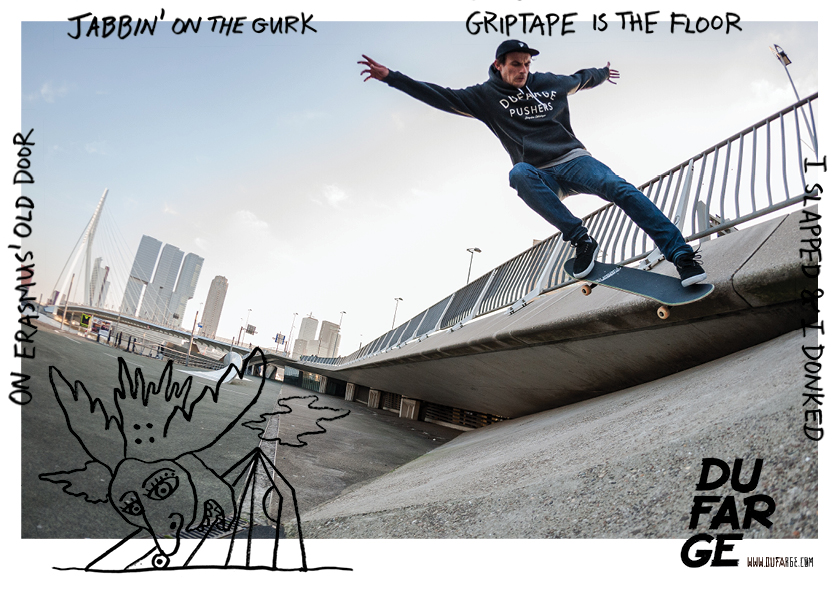 One of the biggest things you've done to date is the amazing Rem Koolhaas project. Tell us a little more about that.
Hugo: There's a spot in Rotterdam, next to the Boymans [van Beuningen] museum which is pretty much a big slab of asphalt. We skate there a lot because it's just a big, empty space, perfect for flat landing and nerding out. On that asphalt is a big, colorful flag, designed by [famous Dutch architect] Rem Koolhaas.
Niels: Hugo called me up: "Niels, I haven't slept. I have such a crazy idea. I want to put that flag on a board." But it took so long until we finally we able to put it into production.
Hugo: It got shelved for a bit but then our friend Greg [Vyent], who works at OMA [Rem Koolhaas' architectural design agency], asked us to make a PDF of our idea and send it to him. He pitched it to Rem and he was down with it. There are fifteen colors on the flag, and of course every color had to be exactly like the original. That means you have to work with these individual print colors, but all the wood shops we knew were only able to print in CMYK. Eventually we ended up at this place in the States who were able to do it and the result was amazing.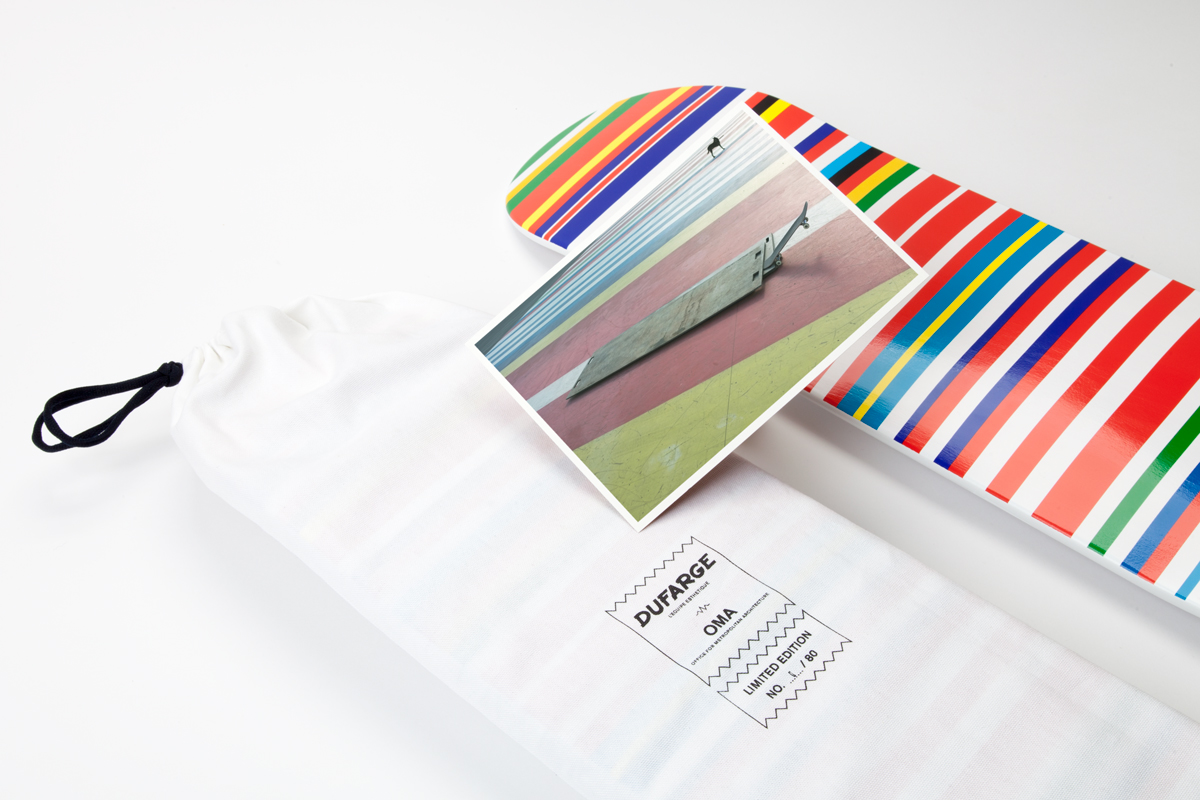 That project became huge. There was a ton of buzz around it. It was covered on style blogs and architectual websites, in design magazines… The entire world knew about this project. Isn't it tempting to say, "Fuck it, we'll only do projects like this from now on and continue to conquer the world"?
Hugo: That definitely went through our heads. We sold 80 decks within a week and a half and shipped them all across the world. But in the end, as Dufarge, we want to make stuff that's close to us. This was, since it's inspired by the spot that we've been skating for years. Plus our friend Greg, that we've know since we were young through skating, was able to help us achieve this. Now we could just go out and find the big banger of a project, but it wouldn't be as close to us as this one.
Niels: I'm pretty sure we wouldn't have fun if we had to force ourselves to find another big project.
Hugo: Coca-Cola approached us a while back to do a project for them, similar to the G-STAR project we did before. It was supposed to be sold at Selfridges, or Harrods or something, which is cool, but it didn't feel right. It wasn't us. And that's why we passed on it. The Rem Koolhaas project helped us achieve certain goals we had set for ourselves, like we made it onto Hypebeast. That project crossed certain stuff off the list, and we didn't feel that much of a need to repeat ourselves.
Any other goals left on that list?
Hugo: We have a lot of plans and ideas, but most of them cost a bunch of money and a lot of time. And those are resources that are scarce. But a lot of these plans can sit for a while without them losing relevance. So eventually, who knows…
On September 12th you will be hosting a new edition of your yearly "Pooligans" contest.
Hugo: Yes, Pooligans is another typical Dufarge thing that came along through our friends. Two of our sticker team riders, Tijs [Niessen] and Victor [Verhagen], are architects. They started an local initiative to build a skate pool in Rotterdam West. Eventually it got approved and they were asked to host a grand opening event for the pool. They came up to us and asked if Dufarge wanted to be involved. We thought it would be cool to make a skate contest out of it, just for fun, a one-off event. But that first contest was so much fun that we immediately couldn't wait to host another one.
Niels: Usually skateboard contests aren't that much fun to look at. But the atmosphere at Pooligans was, and is, so different than at other contests.
Hugo: It's a lot like Dufarge itself. It may not feature the best skating but everyone can see that we're having a ton of fun. And it's a great gathering of friends. There's old skaters, young skaters, and non-skaters, all hanging out, having fun. Pooligans is pretty much a reflection of Dufarge.
So what's next for Dufarge?
Hugo: We should really have a meeting about that…