In 2001, when my parents divorced and decided to sell my childhood home as a split asset, it forced me to move the contents of a room that had basically been curated and treated like a museum for 22 years. I wasn't a pack rat or hoarder by any means, but I was, and am, "a collector" by nature. So I quickly realized that I had things like 100 Starting Line-Up figures still in their original boxes and an overwhelming collection of around 500 pins that I had been storing since birth. My family decided on a garage sale to deal with our "stuff," which would not only allow me to unload some superfluous items, but also get me some money at the same time. So as I was rummaging through my room, pricing items left and right (by the way, I sold my Supreme Martian Ambassador 12" figure from Mars Attacks that said "Ack! Ack!" for $12), I came across a relic of yesteryear that at one time in my life meant everything, but years later meant absolutely nothing: the cassette single.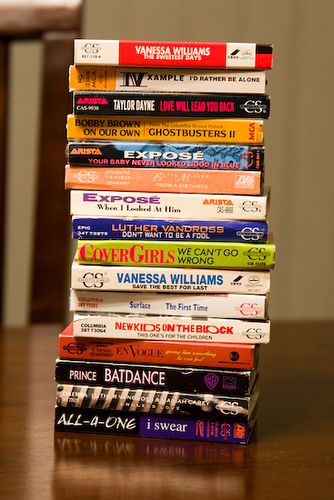 For those too young to know what a Walkman is, a cassette single was a tape you could buy with just one song from one artist. Think of it as a physical copy of what you've been doing on iTunes for years. Rather than spending $10 or more on the whole album, labels were releasing $0.99 tapes with just the hit single on side A, and usually an instrumental version or an album cut on the B-side. Referred to as the "Cassingle," it became a mainstay in music in the '80s and '90s and I must have had 300 of them still in my room. I decided to make them available at our garage sale for 25 cents each and I felt good about it. That is until the first patron started to dig through the titles.
"For real? Who listens to Del the Funky Homosapien AND Paula Abdul?" a potential customer said in disgust as he rummaged through a box filled with my Cassingles. "Tim Dog AND C+C Music Factory? Nas AND "Do The Bartman"? Pick a side, dude."
That guy didn't end up buying anything, and he prepped me for what eventually would be Internet message boards talking about my own rap project, but I understood what he meant. A fine line has always been set between rap music and pop since hip-hop's inception in the parks. Artists like Young MC, Fresh Prince, and Hammer tried to straddle the difference, but really just were considered soft, while straight pop acts like New Kids on the Block, Tiffany, and Cyndi Lauper were just things rap fans didn't want to be caught dead owning. But I took pride in buying it all. As a child, I had a wide appreciation for all types of music and studied what made each popular or enjoyable. Cassingles were to my pre-teen studies what dead frogs are to aspiring scientists. I wanted to dissect each track and learn more, and my brain was impressionable and optimistic enough to make it work. And because of this, I developed a wider appreciation for all forms of music and I thought I was better for it, until earlier this month at 34-years-old, I decided to turn my week into a musical experiment. I saw Katy Perry at Staples Center, then Drake vs Lil Wayne at the Hollywood Bowl back-to-back. I can't imagine that piece of shit garage sale customer would've approved, but I was excited to chronicle the differences, both in content and in my own reactions.
I wouldn't say I'm a Katy Perry "fan." I've never actually purchased any of her music, even skipping that Kanye West "Alien" jam for my somewhat intense Yeezy iTunes library, but I have appreciated some of her bigger hits, regarding them as strong pop songs. You'd have to be Ebenezer Scrooge to not like "Firework," "Roar," or "California Gurls" when they're played on the radio, and I admit to singing along while driving down La Brea in my Prius on some real white people shit. She's also fun to look at, which is a plus, and her visuals – although reminiscent of a K-Pop singer who was conceived in the Haribo factory – are interesting enough to keep my attention. So when I was asked by friends to join them for The Prismatic World Tour, Katy's self-described "magical" new traveling stage show, I figured the experience would be enjoyable enough.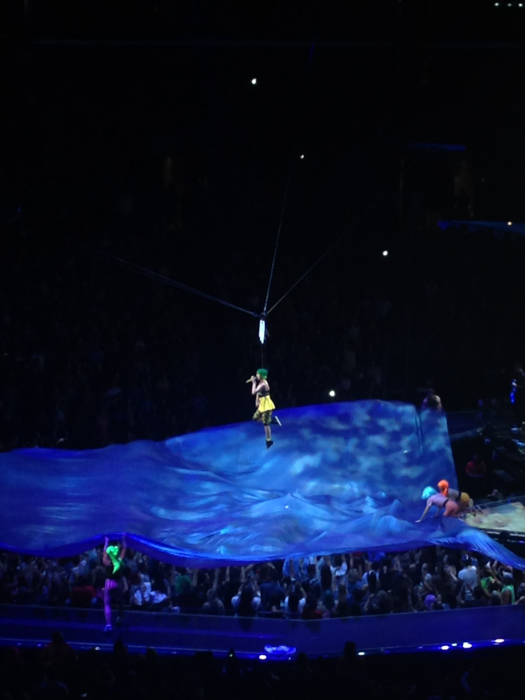 Walking through Staples to get to our seats, I was immediately shocked at how varied the age of the concertgoers were. Yes, I was expecting a primarily female audience, but finding adult women in groups of 5 or more dressed like they're in Vegas for a Bachelorette party wasn't something I could've predicted. Neither was the rainbow onesie available for $100 at the merch booth, which was mostly filled with different T-shirts baring Katy's face and making tons of dough. When we did find our seats we watched the show open with "Roar," focused on neon dancers amongst a Pyramid-focused Egyptian backdrop that was somewhere in between the Bangles and a themed party at Bryan Singer's house. Katy sat atop a realistic looking golden horse, manned by hidden puppeteers, to sing "Dark Horse," because who needs symbolism? She would then transition to a Kittywood, a cat obsessed universe that included human-sized cat toys on stage, a costumed mouse for the dancers to chase, a gigantic ball of wool, and Katy in a catsuit crooning a jazz version of "Hot N Cold." But not matter how strange this all sounds, it was Katy's transitional dialogue that actually had me wondering where I was.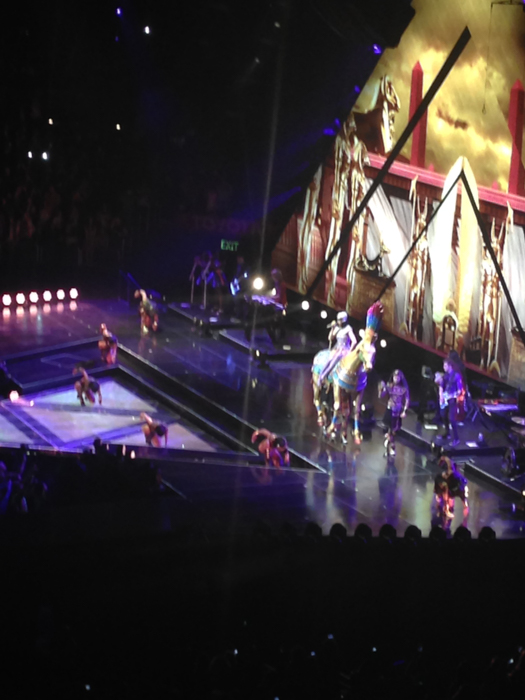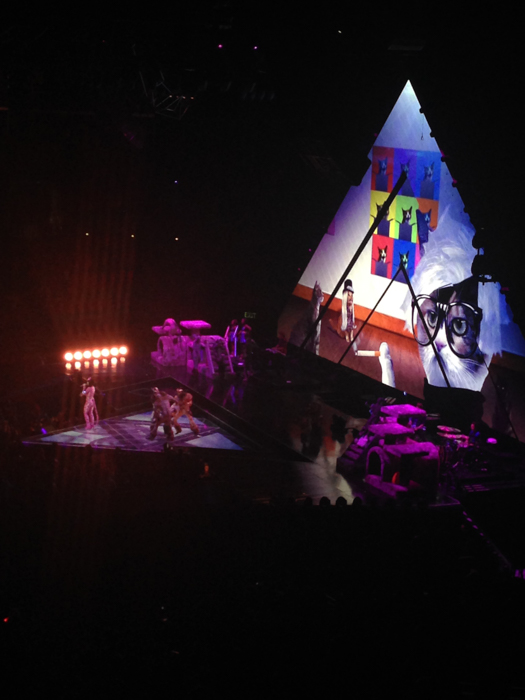 She would regularly spend 15-20 minutes chatting during breaks, sometimes with monologues that would rival Louis CK in length. Her tone had an over-the-top child focus, using an inflection that seemed like she was instructing toddlers how to swim, not introducing us to her next performance. She also has adopted a British accent at times, but at this point I just assume every famous person will do that at some point. Katy regionally reminisced about her apartment on Franklin, how she got paranoid smoking weed, her humble beginnings at LA's Hotel Café, and generally just advised young people to be themselves no matter what gets in the way. It was half-Amy Schumer, half-Barney the dinosaur. Gone were the suggestive dance moves, inferred bisexuality, and cleavage viewable from the cheap seats, making way for a concert more along the lines of a Reading Rainbow episode. Still beyond her rambling, she recreated a '90s dance party for her songs "Walking On Air" and "It Takes Two," even employing her back-up singers to perform a rendition of "Finally" by CeCe Peniston, which was my favorite part of the night. Numerous video packages played during the show to allow breathing room and outfit changes, each looking more like a Tumblr post than the next, employing emojis, cat videos, and gifs of her music videos to pass time. At a certain point, possibly while mummies with comically large attached breasts and butts had dance solos, I just realized I was in way over my head. I can't fault Katy Perry for not trying, she worked harder than most pop stars in her genre, but I wonder if her extreme focus on the pre-teen consumer is just her natural aura, or a calculated marketing tool to rival Miley's raunchy turn. Either way, I'm fucking ancient.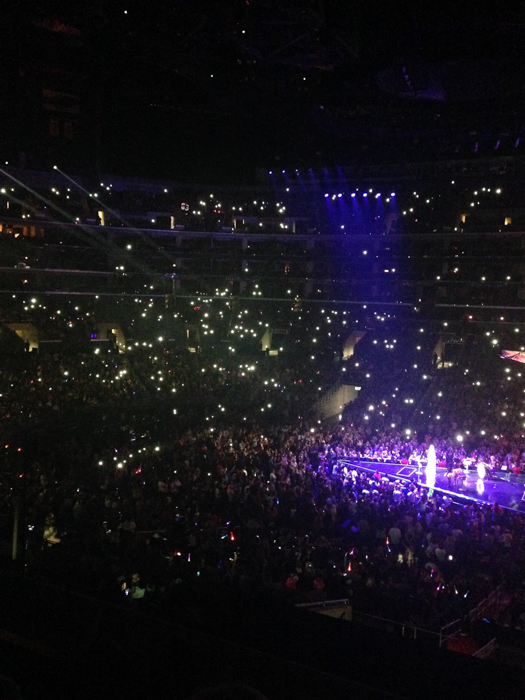 ::
On the other side of the spectrum, and only 2 days later, a concert I had been looking forward to since its announcement in early June, saw labelmates Lil Wayne and Drake hit the famed Hollywood Bowl just 20 minutes away. Touted as the only hip-hop show at the Bowl ever, strangely ignoring the co-headlining Jay Z / Mary J. Blige show in 2012, it was branded as a battle between the two, sponsored with a shoehorn by the video game company behind Street Fighter 2, Capcom. They had released an app for fans to dictate who opens the show every night and which MC, at the end of the performance, would be crowned the winner. But no gimmick could ruin a 51-song set that saw two industry heavyweights doing what they do best – entertaining.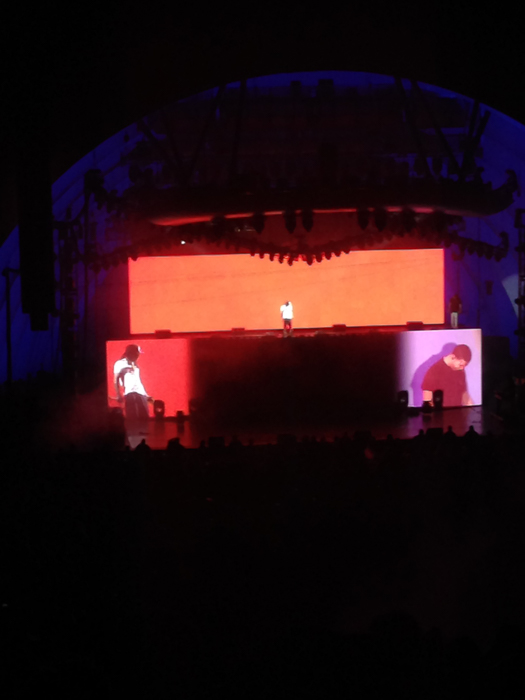 The crowd was diverse, mostly made up of fans that shouldn't sing along to the n-word parts, including two 60-year-old white women in front of me who turnt-up the entire show. Now I admit, it's hard for ANY concert to not sound and look terrific at the Hollywood Bowl – its tradition rooted in legendary performances by The Beatles, The Doors, Genesis's last show, and The Who – but this one did not disappoint in any way, shape, or form. Like hip-hop's Karl Malone and John Stockton, the rappers weaved on and off stage, passing the mic, performing 3-4 songs each, and trading insults (most involving Drake's early career as wheelchair-bound Jimmy on Degrassi). Wayne, who was presumed dead at a hospital a little over a year ago, looked more agile than ever, running the entire stage throughout the night, and even tripping once and recovering nicely. Weezy's highlights included a spirited "Mr. Carter," throwbacks like "Pop Bottles" and spazzed-out breath control on "6 Foot 7 Foot." But the night's "winner" – and rightfully so – was Aubrey.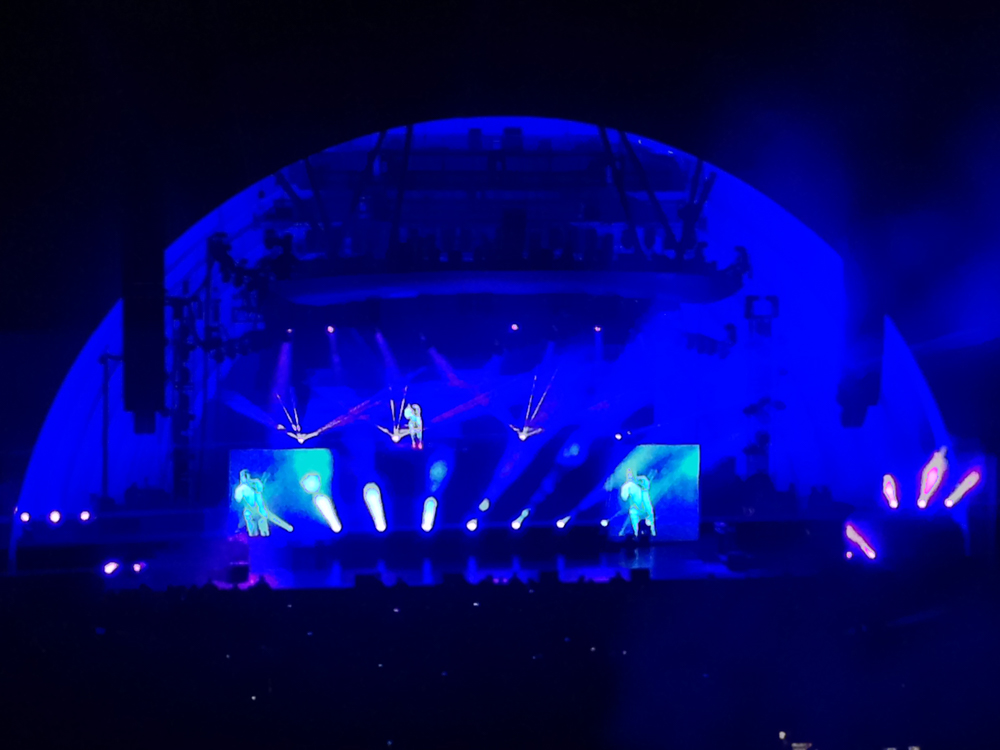 Drake seemed extremely comfortable in his "second home," leading with "Draft Day" and "We Made It," barely giving the audience a moment to get situated. Songs like "Headlines," "Crew Love," "Pop That," and "Started From The Bottom" doubled as anthems, as even those who find the Canadian "soft" were out of their seat. Speaking of "soft," Drake's ballad "Marvin's Room" played better live than it ever has on record, while he soared through the audience on a highly-Instagrammed moving platform that Wayne would later joke was a floating "stripper pole." He even rapped over a repetitive loop of him lint rolling his pants at a Raptors game, which was brilliant. Drake pointing out Bill Bellamy in the audience was legitimately the only part of his set that felt dated, as he passed on songs like "Best I Ever Had" to focus on songs currently on everyone's iPhone, like "0 to 100 / The Catch-Up."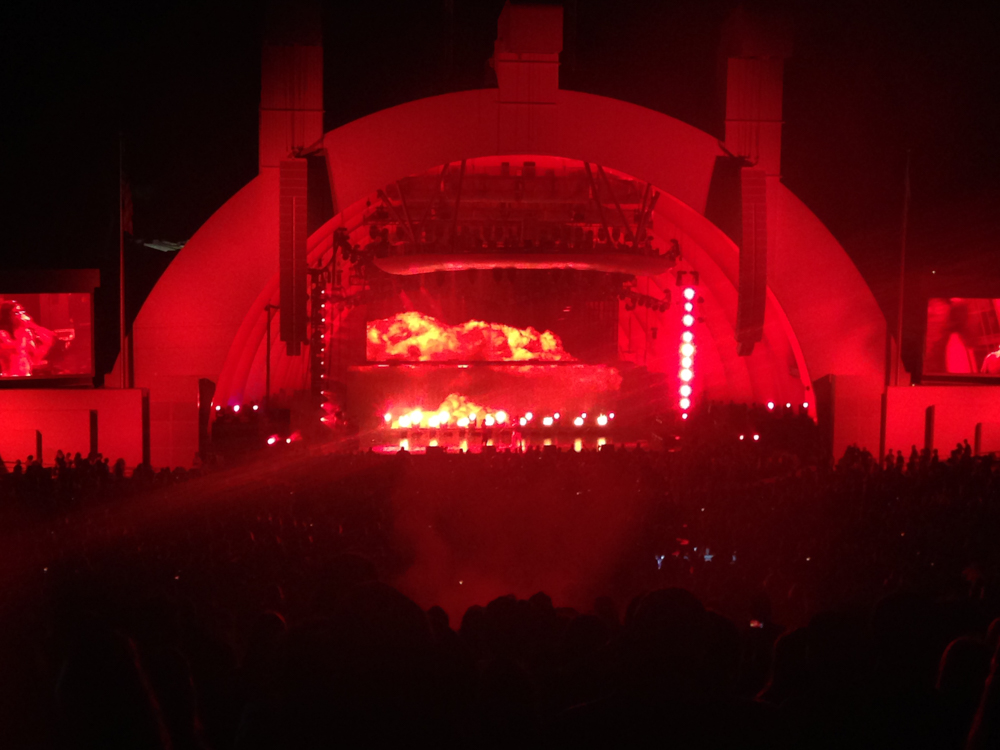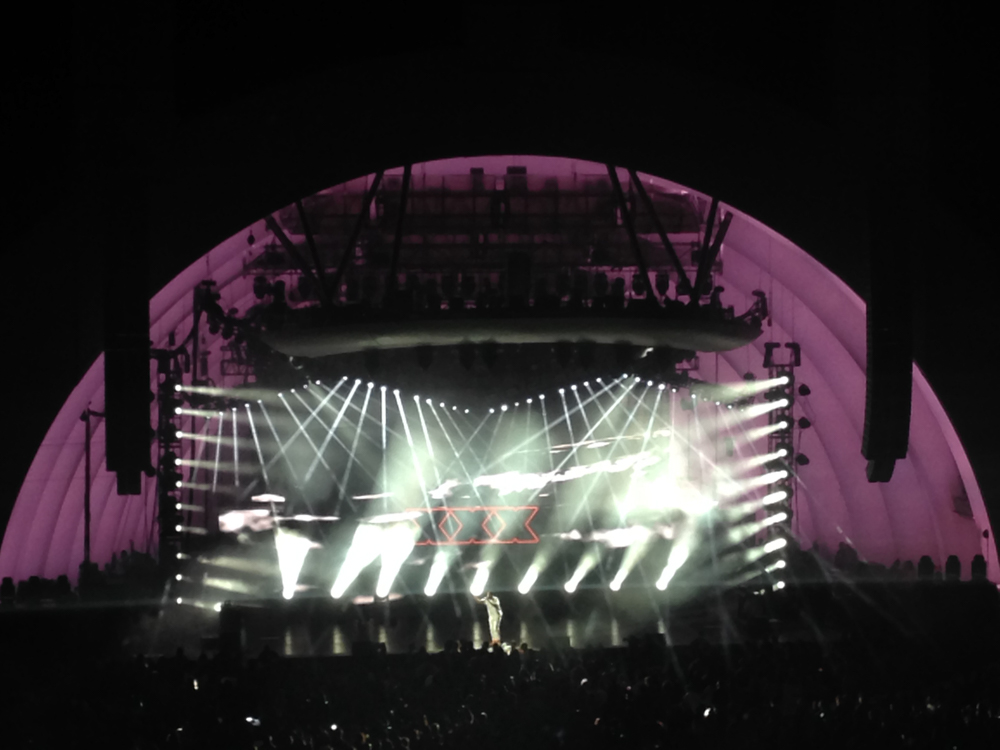 The two titans finally worked together during their encore, destroying duets like "The Motto" and "HYFR," collaborating like a weird 2014 inclination of Elton John and Billy Joel. Compared to Katy Perry's aimless banter, Wayne and Drake seemed alarmingly comfortable, precise, and hilarious, eliciting laughs all night long. I wouldn't be surprised if CAA is currently packaging the two for a Brewster's Millions or Trading Places remake. I walked out of the Bowl satisfied and ready for their new albums, both being releasing in the next few weeks.
I can easily chalk up my polar opposite reactions to age. I have more grey hair than I ever expected and I've really started to enjoy kale. I admit this. But could it also be that pop music is best digested one Cassingle at a time unless you're just too young to know better? If Katy Perry would step on stage at ANY concert, perform "Firework" and walk off, I'd sing her praises for the next decade. I may even have bought that hideous onesie. But if I have to listen to her album cuts, and innermost thoughts for that matter, I'm tapping out. Lil' Wayne and Drake, two of hip-hop's modern day kings, have focused on albums, long careers, and digestible personalities. Katy Perry, and really pop music as a whole, has focused on piecemealing formulaic singles one by one. That doesn't make for an entire evening, unless you're young enough to ignore that type of expectation. But we all grow up and eventually we sell those Cassingles for cents on the dollar. It's a cycle; I'm just at the tail end of it. So, get off my lawn, the garage sale is over.