A successful DJ's formative years consist of non-stop traveling, late nights, and a lot of fun. As technology progresses and popular music taste change through time and culture there is a transitional phase where the DJ must decide to keep the party going or pivot towards a new chapter.
Neil Armstrong is one of those tried and true DJs, having found early success through his mixtapes that caught fire through the streets of New York and eventually around the globe to touring with the one and only Jay Z to having been adorned with the coveted brand ambassador title with adidas. His current career still takes him across the world to rock events and clubs, but what is next for the mixtape master? With clubs wanting more EDM and the state of hip hop always in flux, the only things true and consistent in the past twenty years of Neil's life is his beloved dog, Poh and his love of food.
I caught up with Neil at The Line hotel before his "Dinner and Mixtape" event at Pot to hear about his stories on the road and how his passions of food and music have come together.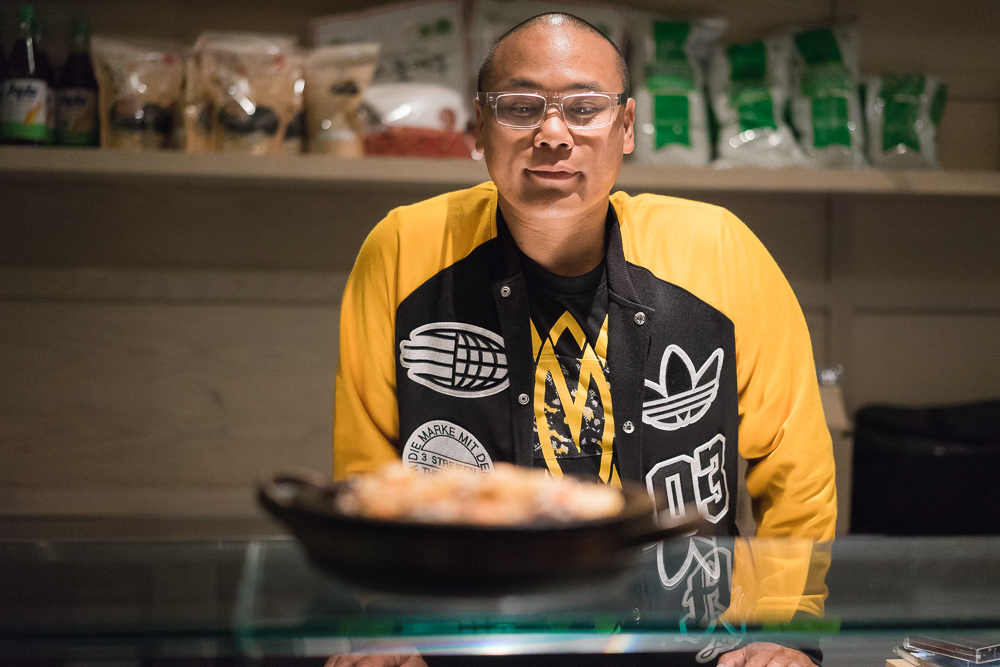 JOHN PANGILINAN: How's this road trip treated you thus far?
NEIL ARMSTRONG: I'm traveling with my girlfriend and she probably wants to kill me right now. Being in close quarters for 24 hours straight everyday. We have the added craziness having a senior dog with us thats on his own schedule. He's going to pee when he wants to pee and poop when he wants to poop. So sometimes we need to stop every 30 minutes. But overall I would suggest doing a ride trip like this for everyone at least once. Just to check out everything and see how people live. From my experience, people are people and you may hear crazy things about people in West Virginia or Texas, but so far everyone has been cool with us.
This whole trip was for your dog, Poh, how would you sum this whole trip up?
I did this for Poh. Basically, I found out my dog has a bunch of inoperable tumors and "day to day" would be the best term even though "day to day" was over a month ago. He's still strong and he's still with me, thank God. I have to DJ for a living and I had a few gigs set-up and I just didn't want to leave him. So I said alright well if we leave now I can bring him with me and everything snowballed from there. The idea of my dog passing away without me being there was very heartbreaking to me. The one thing I always wanted to do was let my dog swim in the Pacific Ocean. People do it back home, but I would not let my dog swim in the Atlantic Ocean, that's just not the move to me. Being born in New York, it's cleaned up, but in my head I think of syringes and dead bodies. I always wanted him to swim in the Pacific and that was my initial goal and thankfully we made it. Now we will try to complete the journey back to New York. I know what it's like to care for something immensely, but its not very far off from taking care of a child. You'd do anything for that creature, the person, that thing that you love and you want to enjoy as much as you can before time's over.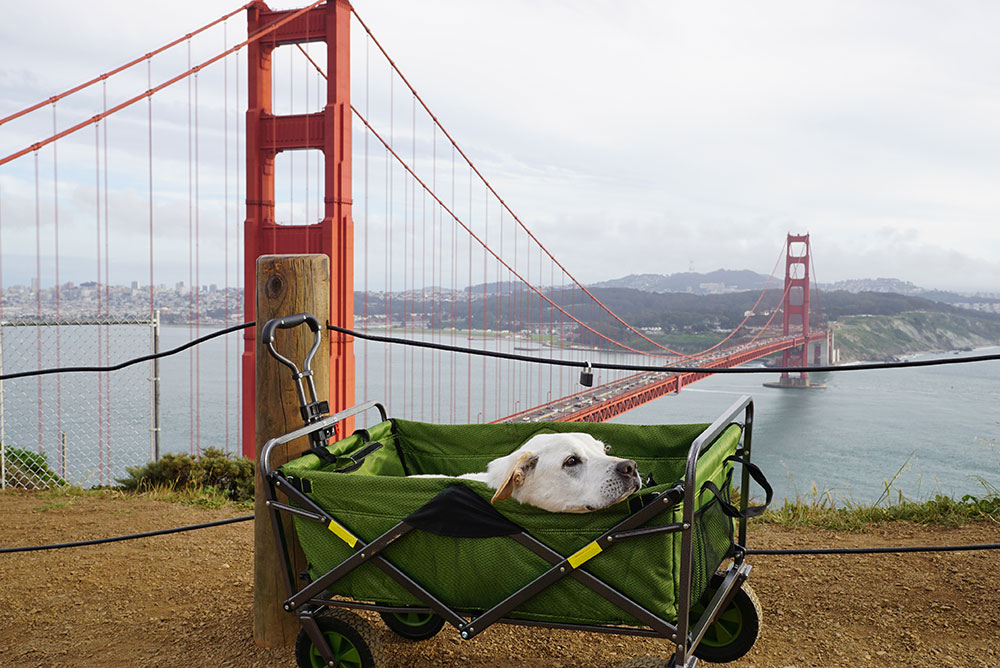 You've probably seen some crazy shit on this trip and checked a few things off the bucket list.
For sure. We went to see Walter White's house, I'm a big Breaking Bad fan, we went to the Goonies' house, a lot of silly stuff like that. I wanted to go to the Bat Cave, but didn't get a chance. We went to see Bruce Lee and Brandon Lee's grave up in Seattle. The Cadillac Ranch in Amarillo, Texas. It was an unexpected stop, but one of the cooler things. We saw the sun setting and it was really nice.
A lot of the more touristy stuff will be on our way back. So like the Dinosaurs that were in Pee Wee's Big Adventure. There's this guy that built a bunch of sculptures in the desert. Someone built a Flinstones town replica somewhere near the Grand Canyon and definitely, New Orleans. I'm a big foodie so I've been able to eat a lot of food that I wouldn't have normally been able to.
How many states have you gone through?
Let's see… New Jersey, New York, Pennslvania, West Virgina, North Carolina, South Carolina, Tennessee, Arkansas, Oklahoma, Texas, New Mexico, Arizona, California, Oregon, and Washington state so far.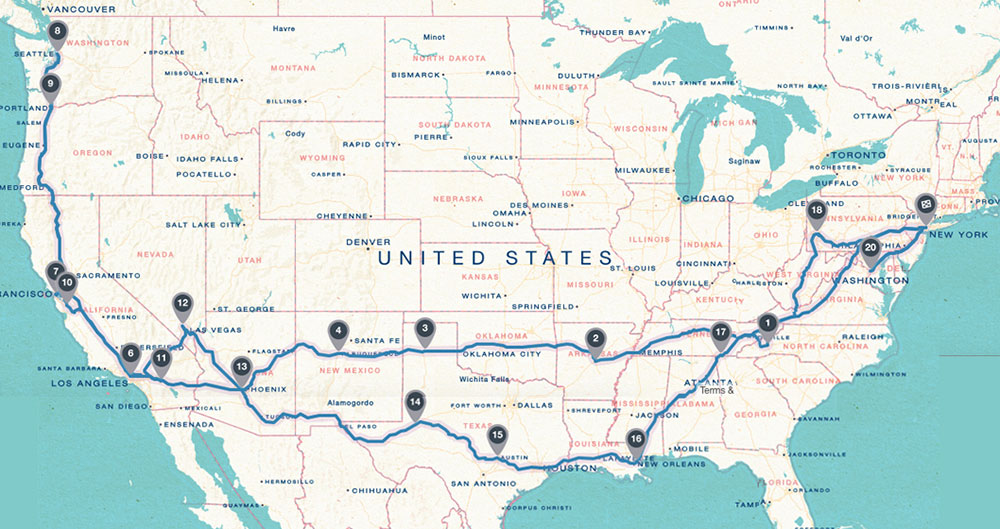 Speaking of food. Part of this trip you've held your "Dinner and a Mixtape" events. Can you elaborate more on those?
I've been setting up these "Dinner and a Mixtape" events and tonight we are doing one here at Pot (inside the Line Hotel in Koreatown), one of Roy Choi's restaurants. We have done events in Phoenix, San Francisco, Seattle, and Portland. After this we will do one in Austin, Texas, but we're going to chill after that. I've literally gained 25 pounds on this trip.
"9 TIMES OUT OF 10, THE CHEF LOVES MUSIC."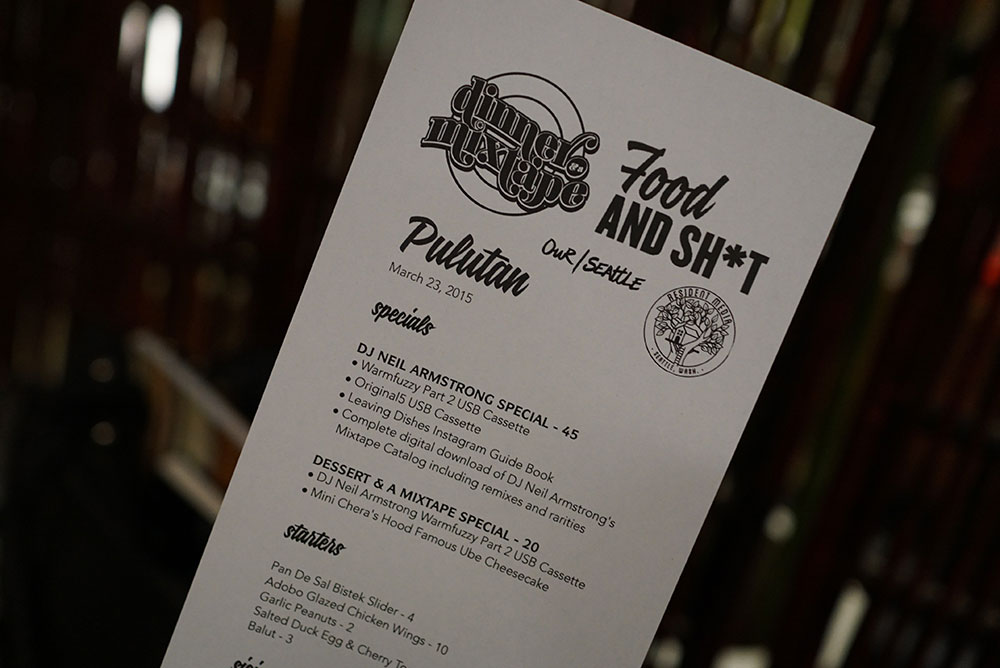 How did the concept come to be?
"Dinner and Mixtape," was sort of play on dinner and a movie… that classic date night situation. I've DJ'ing since I was 21 years old. I'm 41 now. So the past 20 years in this time period, music has changed. What people are listening to in the clubs has changed and even the people that are going to clubs has changed. No normal 40 year old should out at a club on a Wednesday night. If you are you might have to re-evaluate your situation.
So I was like, well I can't really play the type of music that I play in a club anymore, but I can probably play at a dinner. Even your 18 year old or even 15 year old will have no problem listening to Stevie Wonder joint while eating dinner and their parents who may be in their 40's may love Stevie Wonder and they aren't going out anymore. They also probably love Candy Rain and stuff from the 90's that's often not played on the radio. So I wanted to see if this would work and if I could bring my type of musical taste to a dinner setting and it turned out to be perfect.
There's just a lot of people now – kids, people my age, your age [author's note: I'm 35], if they're into Kanye, clothes, sneakers, music or whatever – they are often into good food too. So I wanted to bring that other concept of the lifestyle together, which I don't think has been done or at least strong yet. I think it's at the beginning. There's guys like Eddie Huang, Action Bronson, Questlove does food stuff, but Eddie is like a character and you watch him cause he's hilarious, he'll roll-up a blunt in a restaurant in Shanghai and Action Bronson is a rapper who will critique food, and I'm trying to do something a little more. I also do cooking myself, so I really am blending those two pieces together.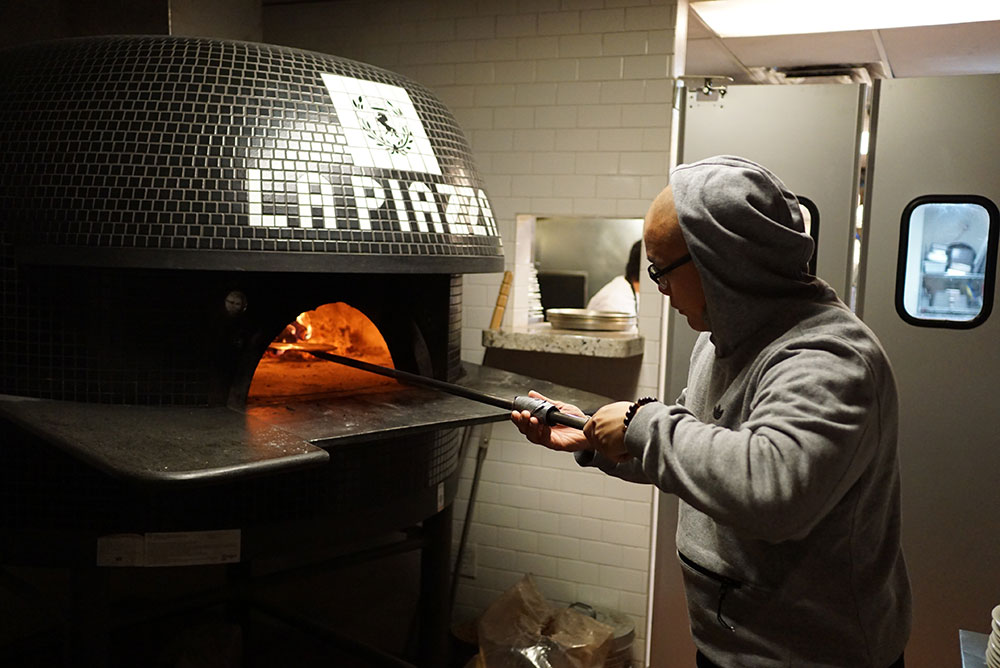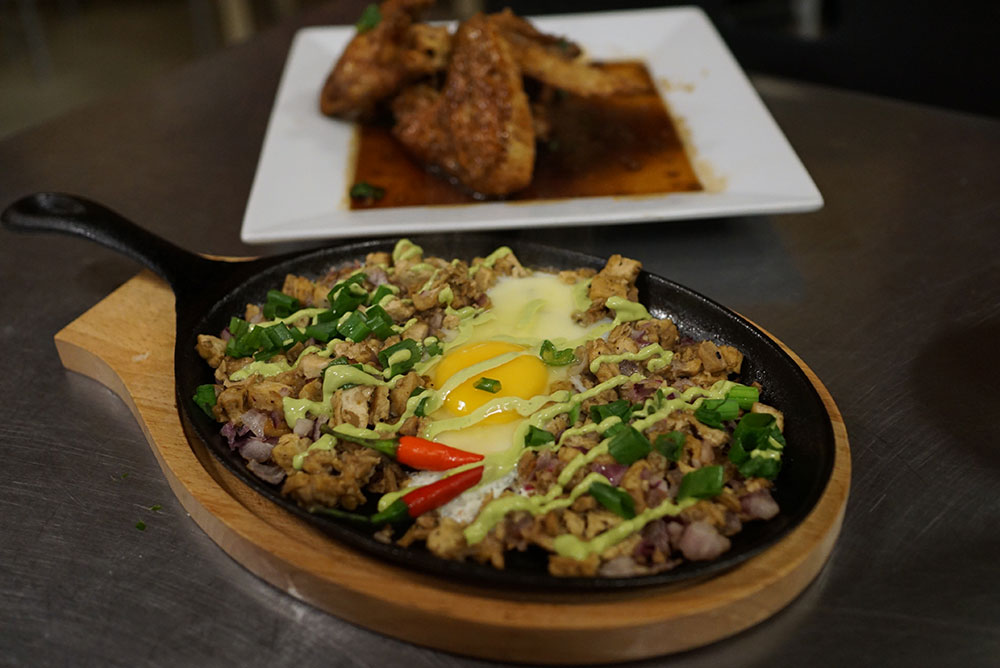 How does the food work during these events?
It actually depends. I've done stuff, such as in Portland, I've never been to the restaurant, but someone recommended me and it was one of the first places to have a DJ so it was a perfect situation for both of us. They just set the menu up. More often than not the chefs will play off my Filipino heritage. When I was in Phoenix we did a longanisa (Filipino sausage) pizza and did a play on the classic sausage and peppers pizza. When I'm in Austin we will do Filipino-Korean. So we will do Korean fried chicken, but instead of the normal soy garlic glaze we will do an adobo glaze. So when I'm able to incorporate aspects of myself into the menu its even cooler.
Here at Pot, they are doing a DJ Neil Armstrong, Bingsu shaved ice and calling it an Ice Moon. They said its supposed to feed up to 5 people so I may need some help eating it all.
Challenge accepted. What about the music?
The other portion of the event is the mixtape. I've gained notoriety originally for my mixtapes. Every aspect of my career can be attributed to making mixtapes. The unfortunate thing about these days is that I can't really play my mixtapes at the club anymore. I can't play a slowjam at two in the morning, when all these kids want to hear is, "Coco." It's just not going to work.
It's funny, "Warm Fuzzy," the mixtape I'm working on now, I did a ten-year anniversary in Seattle in a club, which would just be impossible now. What I do with "Dinner and a Mixtape," is that it's part listening session for my latest mix. So this latest mix came out February 14 and I've been touring it around and Austin will be the last spot for it. I don't really like to DJ the events because the tendency is for people when they see a DJ to want to interact with them in a way that doesn't quite work and make requests and that's not what is supposed to be happening with these events. So when the mixtape is playing they often just let it go and vibe along.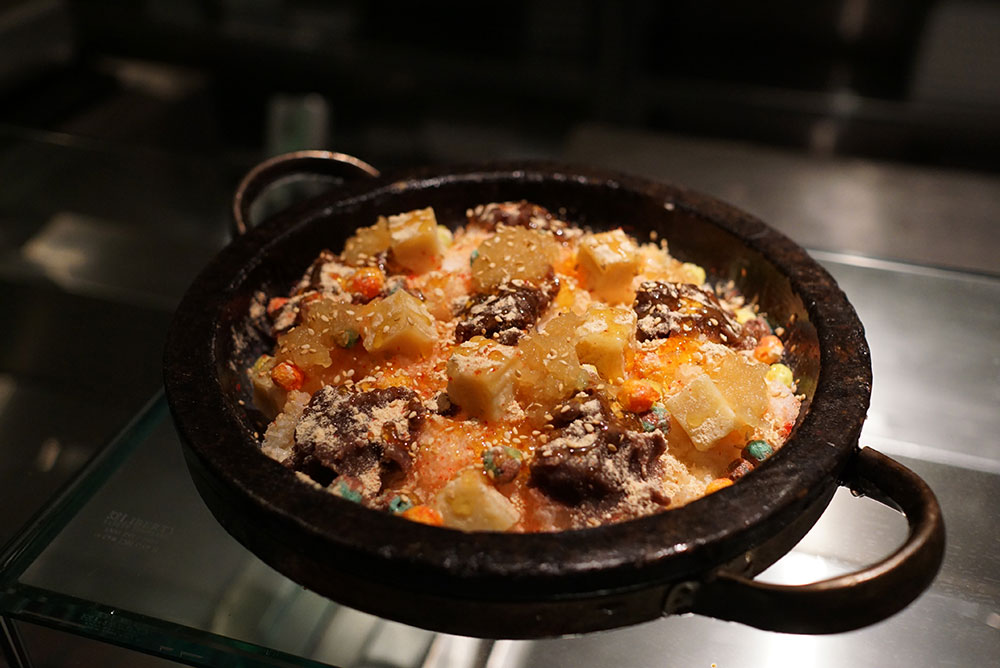 Ice Moon/Bingsu shaved ice.
So would you like to continue on this culinary road? Is this the future for Chef Neil Armstrong?
I am definitely will keep doing the, "Dinner and Mixtape," thing. I'm at that point where I've been lucky cause of my previous connections – I've done one in New York, LA, SF, Toronto, Manila, Hong Kong and the other places I've mentioned. I just started this in 2013 and it's been a good run without any sponsorships and just partnering up with the right restaurant, fellow foodies, fellow music lovers and that's the other part of the equation. 9 times out of 10, the chef loves music.
"IF PEOPLE, MY HEROES, CAN'T HAVE LONGEVITY, THEN HOW AM I SUPPOSED TO?"
In this case its Roy Choi and he's from LA so he knows the Soul Assassin guys and knew my stuff. When we met randomly he already knew who I was so it was easy to bring things together.
We'll see what happens. The thing about music historically so let's look at hip-hop. There's only one hip hop act that I know that has had massive longevity and still actively makes music and it's Jay-Z. Nas will come out with an album every so often, but he's not topping charts. I'm from Queens, and I love Nas to the death, but that's just how music is. No one is checking for Das EFX anymore or Slick Rick, and again I'm not dissing them, but it's just the unfortunate fact. Music changes. Music keeps moving. If people, my heroes, can't have longevity, then how am I supposed to? At the end of the day I'm just playing their music. If you look at the formula, like Ice Cube isn't famous anymore for music he's a moviestar, Nelly is on TV, Kelis has a cooking show – you can't sustain yourself as an entertainer. George Foreman he was a boxer and he sold the world a grill, and what's one have to do with the other. I bring that up because I happen to love music, but also love cooking and I would love to do something from that realm. I'd love to switch it up and do music only because I love it and the food thing would be more.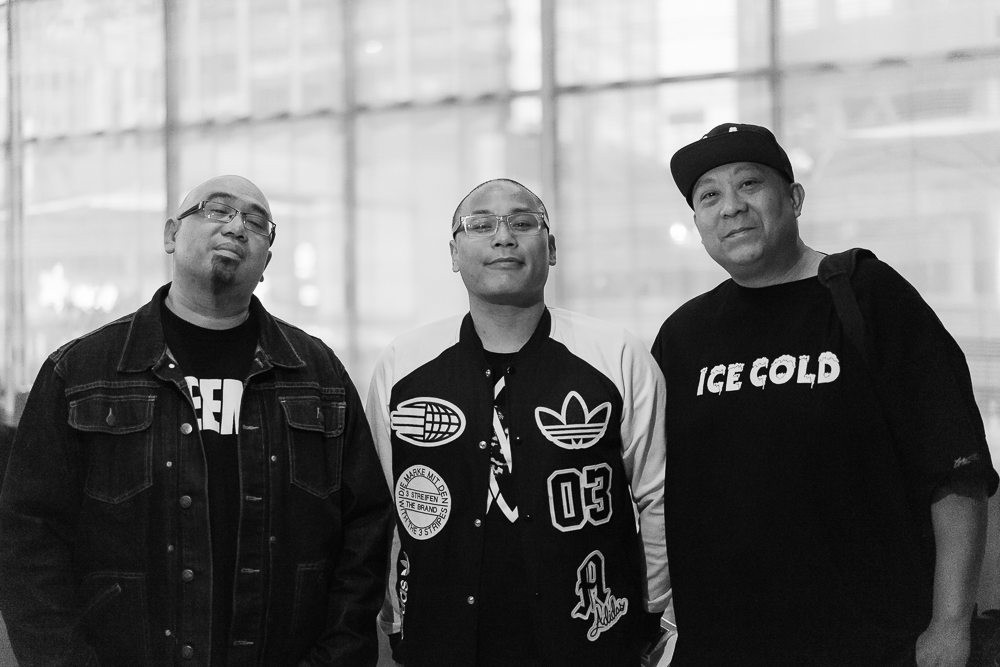 ::
Follow Neil on Instagram at @djneilarmstrong. Photos provided by: Yuko Ogino @goumada. You can even follow Neil's dog Poh and his big adventure at @pohthedogsbigadventure.