If you live in Texas or you are able to travel to Austin this weekend, do not miss the second annual MONDO-CON, a celebration of movies, art, comics, music, and toys brought to you by the nice people of MONDO. Mondo is an Austin gallery space and a soundtrack label, run by the people behind of some of the most beautiful screen print posters out there—always inspired by movies.
That's where you will find Spencer Hickman running the show with the other Mondo staff, even if he's actually from quite far away, over in the UK. Maybe his name will ring a bell to some: He was the longtime manager of the Rough Trade East record store in London and organizer of the Record Store Day UK. But over the last few years, his lifelong obsession with music has had Spencer behind Death Waltz, a seminal record label who singlehandedly brought back to life—with fantastic new artwork on vinyl—the scores to like Assault On Precinct 13, Escape From New York, Donnie Darko, They Live, and the original Japanese Godzilla, among other classic titles. He is also the co-owner of Transmission, a brand new record store in the UK.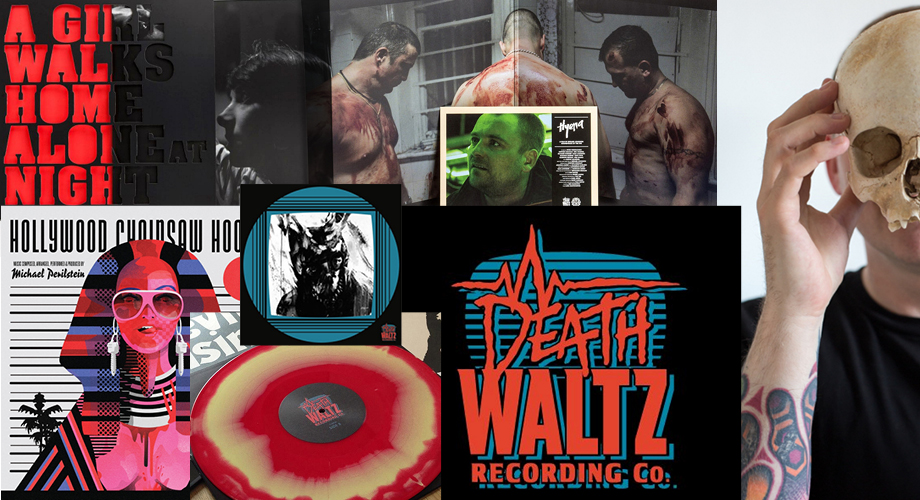 That's Spencer with the skull all the way on the right.
MANOS NOMIKOS: What came first for you: Music or movies? How did you decide to establish Death Waltz records?
SPENCER HICKMAN: Tough question! Both, I guess, hatched at the same time. My father was in a band when he was younger and music was always playing in the house while I was growing up. I remember my dad taking me to see Star Wars when I was 8 and that was it, it has a huge impact visually and sonically and since that day, I was obsessed with music and film. I started the label partly because, at the time, I was sitting around waiting to move to NYC and open the new Rough Trade there, and partly because no one else was doing it. I bought all the Dagger Records in the '90s, but no one was doing anything interesting with the scores to all these classic films. At the time it felt like a real risk.
"NO ONE FORGED THE WAY FOR US TO BE IN RECORD STORES. WHEN YOU START GETTING TWEETS FROM FOLKS HALFWAY ACROSS THE WORLD, IT BEGINS TO SINK IN"
What are you doing today? Busy time working for the opening of the Transmission record store? Tell us some things about it.
Between Mondo, Death Waltz, and the store, yes, it doesn't leave much room for sleep. Although I am lucky, my partner Kimberley Holladay—cover artist for Forbidden World—runs Transmission day to day, which allows me to concentrate on the label side of things. The store was basically an idea we had: to sell all things soundtrack that we love under one roof whilst doubling as my office. It's a place for like-minded individuals to come hang out and buy records—if they want to.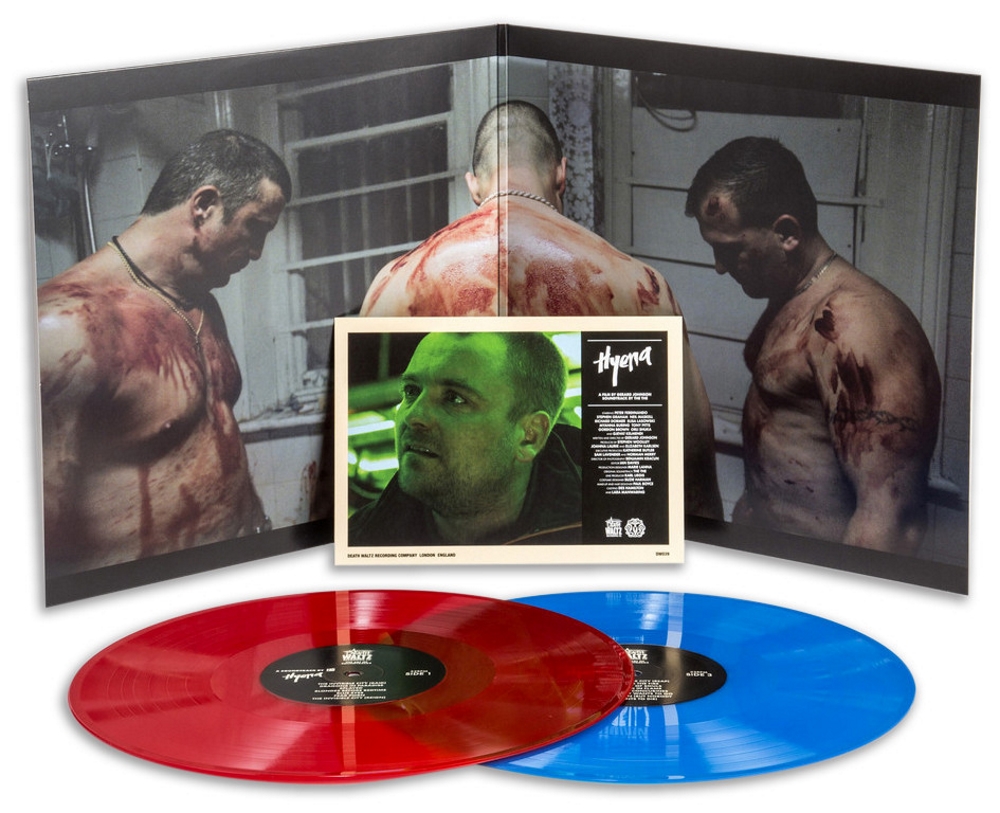 When was the time you realized that was it, "We are officially doing something good and have become a real, respected label?"
I guess it was fairly quickly, people really took to what we were doing and we started to get noticed for our reissue work. It was very hard to begin with not at least getting records in stores; you have to remember in those early days, there were no other labels doing this. No one forged the way for us to be in record stores. When you start getting tweets from folks halfway across the world, it begins to sink in that you are doing something that connects with other folks.
[Was it] hard to get the rights for your early releases? Any special stories to share with us?
Surprisingly easy! I just asked—nicely—and paid upfront. So many people have been ripped off in the business you have to be upfront. I remember selling art to fund the label—a Banksy, Judith Supine, and a Mark Jenkins piece. Don't regret selling them, but I do miss them.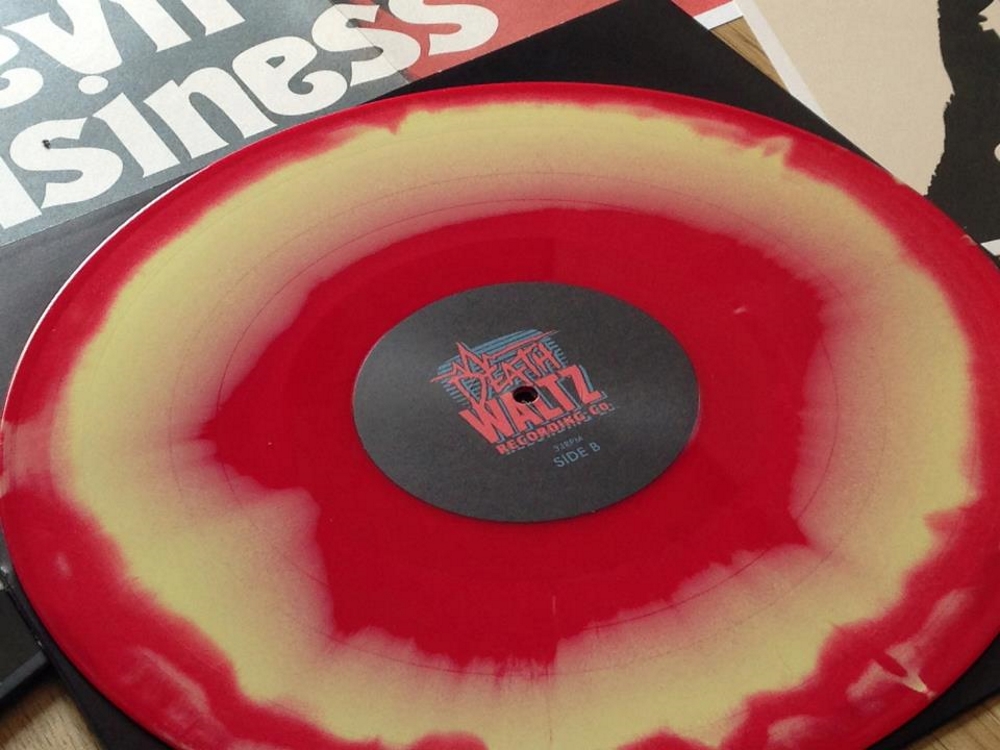 Besides reissues of classics, you also release soundtracks from new movies and Death Waltz originals (artists like Law Unit, Black Channels, Le Matos). Did this come in the way or was it planned from the start?
I wish I could say it was planned! I always knew I wanted to release scores from new(er) movies, which is why Donnie Darko and Let The Right One In followed up our first two releases. I am very happy we are releasing things like Deathgasm, Turbo Kid, and other new movies, it keeps it exciting and proves we are not just a reissue label. Originals came about because I wanted to be able to release music by bands I was into, such as Pye Corner Audio. Why wait for them to score a movie when I could just ask them to release a record with us? It just makes everything exciting, I feel it totally rounds Mondo and Death Waltz out into a record label and not just a soundtrack label.
"SOME RELEASES COME TOGETHER IN A MATTER OF WEEKS AND SOME CAN TAKE SIX MONTHS OR MORE;  THERE ARE NO HARD AND FAST RULES."
Death Waltz releases are known for their attention to detail, rich gatefold covers, and artwork by some of the most renowned artists out there. Hard process to get all these elements together in a final product?
Yes! It's like herding cats. So worth it though when you see people's reactions to them, some releases come together in a matter of weeks and some can take six months or more; there are no hard and fast rules.
Why did you decide to work on new artwork in all your releases that's always different than the original one?
As much as I love the original art to Escape From New York, I knew I wanted to do something fresh and different almost as a statement of intent. It's like, "Hey there, we just remastered the audio [and] we have done an entire new package for you to pore over." It made it exciting and still does—I am always trying to find artists that either haven't done record sleeves or haven't worked for labels doing similar things to us.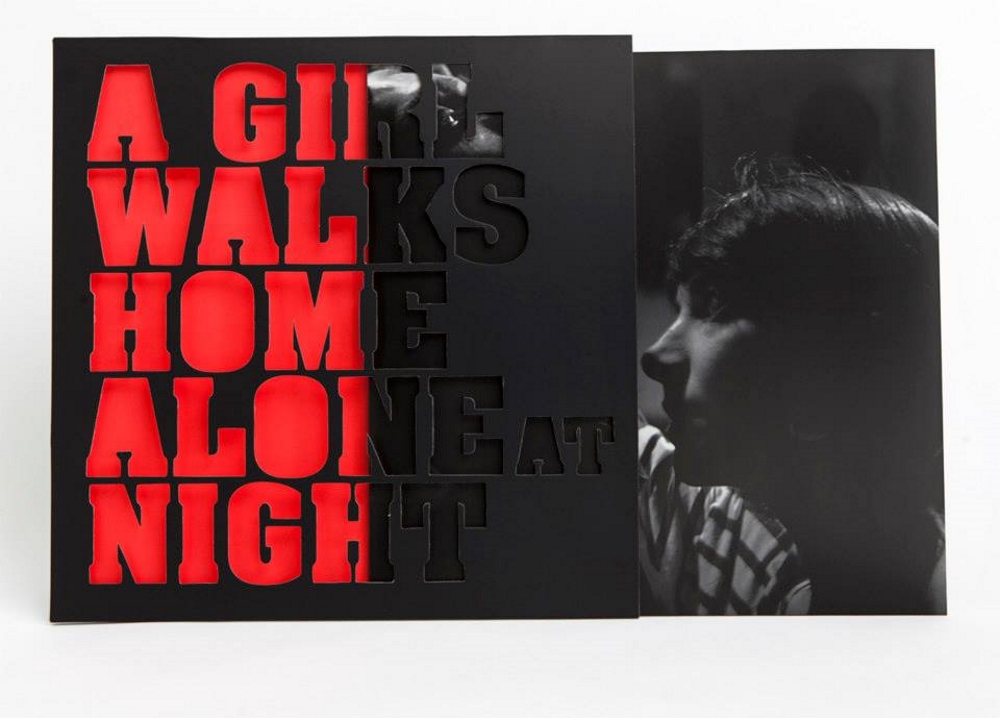 Earlier in 2015, you announced you are joining forces with Mondo from Austin, Texas, another favorite of mine, a real institution. Excited?
Much! Yeah it has been a crazy year and I feel like over the last 4 months, it has really come together. It took a while to find our feet, but now myself and Mo Shafeek (label production manager) are really stuck in and already planning out through 2016 and beyond. It's great because we now have several labels that allow us to do crazy shit such as Zombie Holocaust, but also really classy releases like Black Swan. It's super busy and I feel like I never stop, but in a good way, and both labels have a killer slate for next year!
A classic question. What are your all time favorite movies and composers?
Oh man, too many! Composer-wise: Carpenter, Frizzi, Franco Micalizzi, and Bruno Nicolai are the masters, but Steve Moore is rapidly making his way up there in terms of quality. Movies I love include Jaws, Planet Of The Apes, The Exorcist—my favorite period for film is late '60s and '70s, although I am a sucker for the 1980s video nasty movement!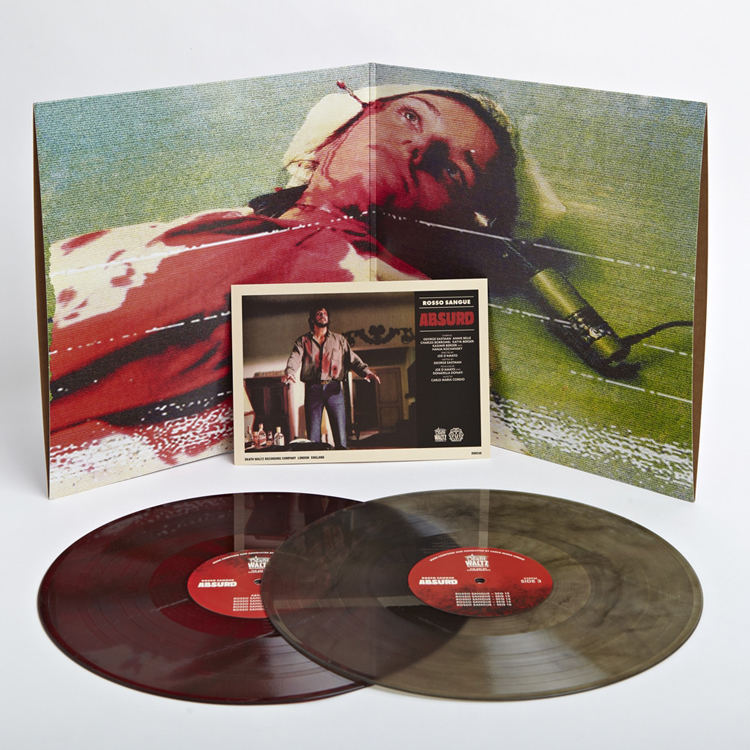 What does the rest of 2015 bring for DEATH WALTZ? New releases or projects on their way?
Right now two words: MONDO-CON, absolutely knee deep in it. It's our convention in Austin, TX on 10/3–10/4 that celebrates our love of art, film, music, and collectibles with dozens of world renowned artists in attendance.
We are screening Pieces with a live re-score from Umberto—we are also pressing a free 7' to give away at the screening. We are showing Black Swan and launching the soundtrack to that too. We'll have our Pop Up Record Store there called Audessey, which will include not only Mondo and Death Waltz, but also Waxwork, Milan, Invada, Strange Disc, One Way Static, Ship To Shore, Terrorvision, Light In The Attic, and many, many more labels all selling under one roof. MondoCon is just insane and there is so much going on it is going to be nuts!
Oh yes, and we have Fabio Frizzi performing live in Austin too, the day before MondoCon starts. We'll also be launching the soundtracks to Turbo Kid, Deathgasm, and Cooties as well as pressing up a very limited Steve Moore 7' to be sold at his performance during this Year's Beyond Fest in Los Angeles. Busy times, my friend, but I wouldn't have it any other way!
***