David Mendez Alonso is an artist and illustrator who grew up in Galicia, a region surrounded by the sea and forests in northern Spain. But David doesn't particularly like the idea of growing up. "I reject the concept of growing up," he says. "That moment when a child stops imagining and their way of seeing the world changes." His art—playful shapes and characters rendered in vibrant colors—is a refection of that viewpoint. "My art is a statement for all the outsiders who are still imagining and laughing," he explains.
David's work, which he describes as "grandpa gone wild with yellow color while he listens to Morrissey," includes installations, oil paintings, sculptures, ceramics, and textiles, and also appears on a collection caps as part of his brand, Outsiders Division. "Outsiders Division is something I used to write in my graffiti when I was 15," he explains, "and it's a concept that has been pursuing me all my life. Outsiders Division is a brand for misfits, weirdos, and freaks." David further discusses art and fashion in the following interview, along with his bold use of color and unique vision. "I am interested in the spontaneous, the premature, and adolescent thinking," he explains. "I think the biggest mistake of humans is to grow up and lose their sense of wonder. Don't grow up—it's a trap!"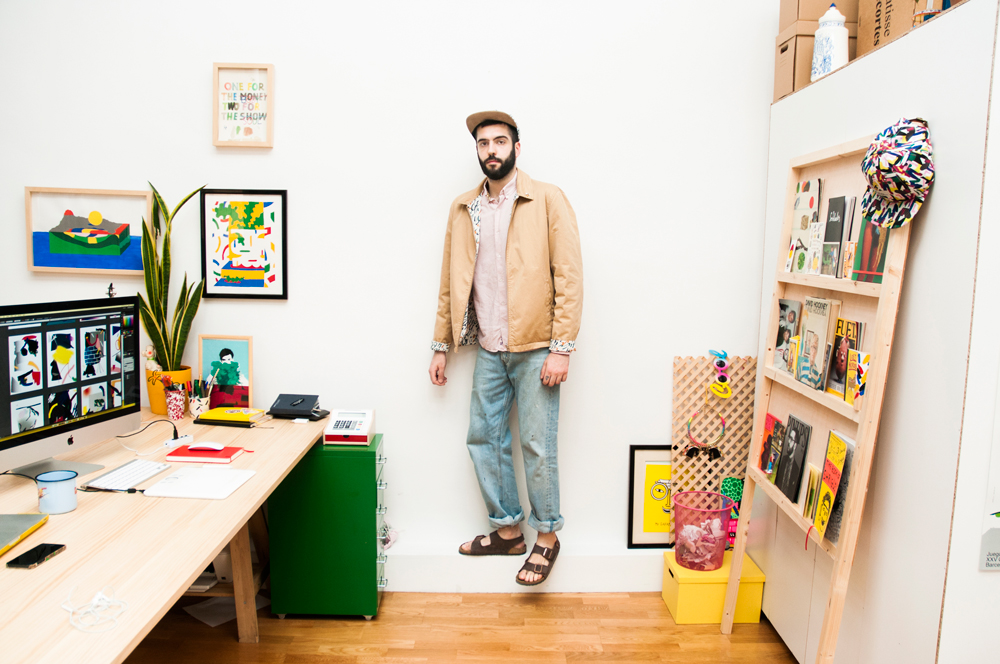 ZIO: When were you first interested in art? Do you remember the first thing you saw that attracted you to it?
DAVID MENDEZ ALONSO: The first contact I had with the world of images was graffiti. I remember how I fantasized about the tags that appeared all over my neighborhood, until I understood what that language was and why graffiti existed. That was the first time that I became aware of what I wanted to do. I wanted to create images and be part of that forbidden sub-artistic scene and all that it entailed. I wanted to tell a lot and the streets seemed the best possible way.
When and why did you move to Barcelona? How do you think Barcelona affected your aesthetic?
In 2009, I was awarded with a scholarship to finish my fine arts [degree] in Barcelona. At first, it was going to be temporary, but I ended up staying and I developed professionally. In Barcelona, no matter who you are or where you come from, what counts is how good you are at your job. It is a city open to new talent and where it is very easy to collaborate with other artists and feel alive. Barcelona connects perfectly with my work and has a vast artistic and graphic background. The streets have a different light, and the sun shines the whole year. I feel comfortable here.
"I WANTED TO TELL A LOT AND THE STREETS SEEMED THE BEST POSSIBLE WAY."
Where in Barcelona do you go for inspiration?
Anywhere away from the tourists. By the way, the best place to get lost is outside the city or go for a walk along the beaches of Bogatell. I have a personal obsession with Cosmocaixa, a nature and science museum at the top of the mountain. I might have been there about 10 times already.
Matisse has been a big influence on you. What do you love about his work?
Matisse is one of the few artists that keep my attention for more than five minutes. Every time I contemplate his works, I read some new stories. I like to imagine all the oil layers behind the final painting. He invented many of the trends that we follow today. It's amazing how his influence is still strong. In January, I'm publishing a book called Matissology, which honors him with all the possible humility. I am very influenced by him and a total fan.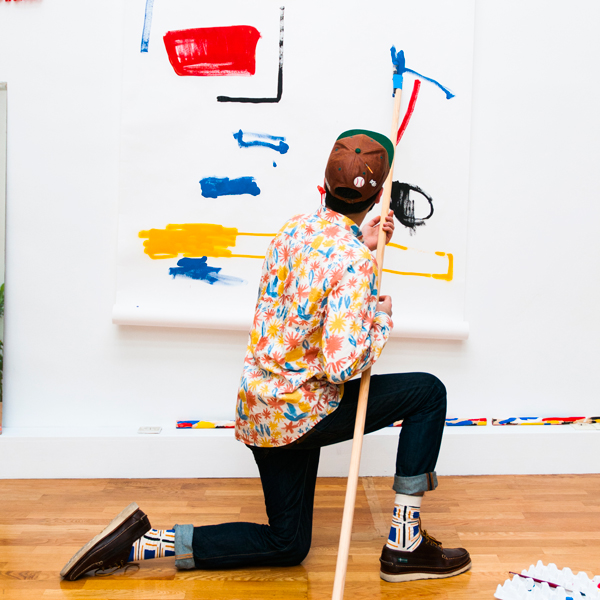 Yellow, blue, and red dominate your work. Why do you use these colors the most?
I am very interested in a Brutalist use of materials and colors. It's all part of the idea of letting materials behave as they want and not modifying them to our convenience. The challenge is to create powerful images with few resources. It is there that this obsession resides, apart from just enjoying them aesthetically. I love how they interact with each other; it's beautiful. Yellow, green, red, and blue are the colors that I like.
What is Outsiders Division?
Outsiders Division is a fashion project I created in 2012. I produce caps in editions of 80 pieces per model. I am the designer, creative director, buyer, and seller. It's something I manage by myself, and I combine it with other projects too. I take a lot of care in the details, and I only produce what I'd like to wear. My hats aren't a basic product labeled with a logo. I need five different steps to get what I want to.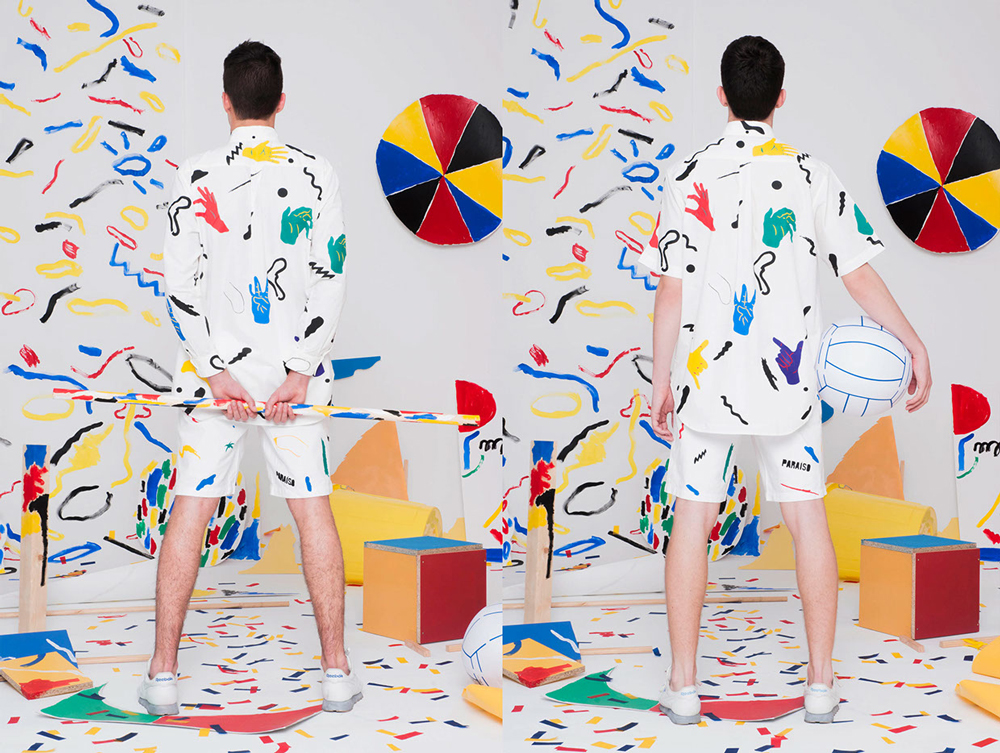 From an Outsiders Division campaign.
"I AM VERY INTERESTED IN A BRUTALIST USE OF MATERIALS AND COLORS… THE CHALLENGE IS TO CREATE POWERFUL IMAGES WITH FEW RESOURCES."
It seems art and fashion are more connected than ever. Why do you think so many artists have their own brands these days?
For me, fashion and art have been the same since the 1990s. Since the birth of Margiela statements, when fashion ceased to be only a way of dressing and began to use the same patterns and references as contemporary art. Today, artists expand their work by producing clothes. For me, the artistic value is the same, even though it is merchandising.
What motivates you to continue to want to create?
I am motivated by the new generations, by politically incorrect things, the magic that hides in an oil painting, and everything that comes from the street. Creating is a sixth sense that drives me to continue to tell stories and convey emotions.
***
Follow David Mendez Alonso on his website and on Instagram @davidmendezalonso. Check out his brand Outsiders Division on the brand's website.