We first heard the work of Berlin-based composer and sound designer David Kamp in a video for Andy Rementer's Case Studyo-produced "People Blocks." Melodic and delicate and quirky, the music he composed and performed for the video carries a sense of rare life, in that each and every sound feels like a character, with body and shape. Listen carefully to one of his many compositions he's made for various animators and experimental studios, and you'll notice that he crafts miniature worlds in his music, with sounds likely previously unheard of in nature.
As the founder of Studiokamp and Shapingwaves, David has done commercial work for the likes of the New York Times, MTV, Google, and the Smithsonian, and has worked with artists and filmmakers like David O'Reilly. He's also created museum soundscapes and worked with video game developers, like Patrick Smith on his latest "Metamorphabet." David's really more than a composer – he is designing and inventing new sounds with an array of digital and analog materials. Photos from his studio reveal miscellany like a pack of golf balls, a whoopee cushion, Danish butter cookies, styrofoam peanuts – this is the same studio where he once recorded a housefly for 30 minutes with a very sensitive microphone for a project. We were curious about his process and spoke with him below about his work in sound design, his viral "Cattlerap" video, and his unique approach to sound.

We read that you studied Electronic Composition. What made you more interested in your multi-media approach to composing music (sound + visual)?
DAVID KAMP: The program at ICEM was very academic and focused on "art music." It was fascinating to analyze the works of Karl Heinz Stockhausen, Ligeti, and electronic composers like Francis Dhomont. But while I learned many interesting aspects of music composition and was exposed to some pretty wild conceptual and technical approaches to making music, I realized that I did not really belong in the world of "serious" contemporary music composition.
While at University, I randomly came across the world of animation and independent animated films, as well as more commercial things like bumpers for MTV that were still creative and fun to watch/listen to. There, I realized that I sometimes had way more fun on those short projects as opposed to toiling away at my next music masterpiece for months. I also liked the collaborative aspect and back and forth between director and composer/sound designer that is possible in animation, to finally arrive at a great audiovisual piece. Animation also has the luxury of the sound designer getting to define the sonic characteristics of the visual elements from scratch, as there are less expectations how things "have to sound" compared to the amount of realism required in live action. You can get away with a lot of creative and abstract sounds in animation that would feel simply wrong in a live action film (surreal moments like dreams and taking drugs aside). Over the years I was lucky to work with many people whose animation work I admire – and it's still my main field.
Besides the animation work, which is still my main field, I have been working every now and then with game developers, some audio design for websites (commercial and art), and, recently, worked with some museums, designing the soundscape for the exhibitions, which was a fun challenge as well.
Please Say Something from David OReilly on Vimeo.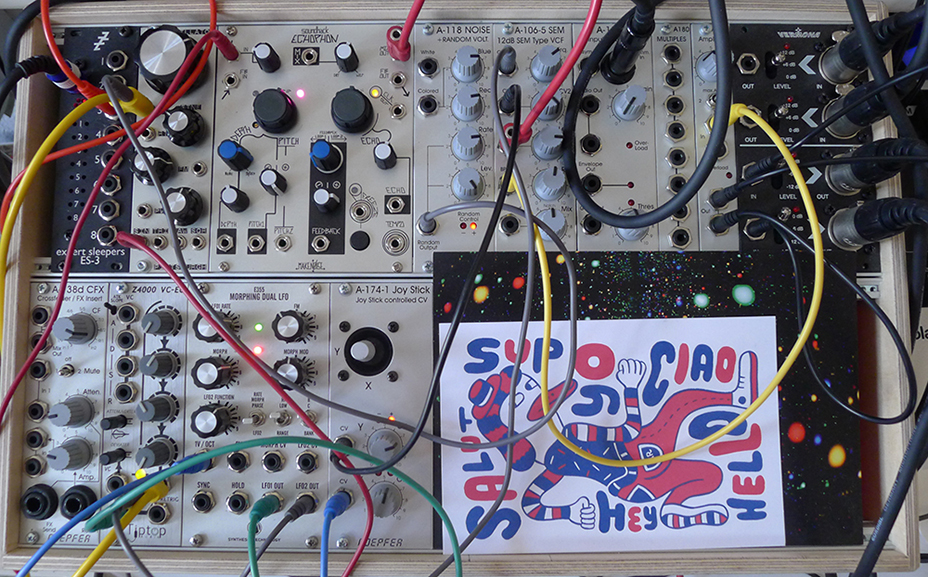 Can you tell us more about the viral Cattlerap video?
Cattlerap is is an eclectic mixture. For those who havent seen it: I added a beat to the rhythmic and very unique way some auctioneers are selling cattle at auctions, turning it into something many hip-hop artists would be proud of. Although the aesthetics of worlds they live in could no be more different. Obviously, I am not the first to do a mashup of two different things like that, but this one just called for it. After I released that video, which got posted on Reddit, re-uploaded by other people on Youtube, and became viral with many million views rather quickly – at some point Rhett Parks, the cattle auctioneer in the video, commented on it, which was a very "meta" moment for me.
We had a Skype call and he was very positive about the whole thing, he got interviewed by many TV and radio shows as a result and we even ended up doing another tune together. I also added a beat to a few other cattle auctioneers,  but Rhett still holds the crown of cattle rap.
What's your studio space like and what kind of digital and analog instruments do you use? What's your favorite piece of gear?
My main studio space is just one big room, and an additional extremely sound proof "foley room" that I use to record very silent things. I got some nice "fly pass bys" there recently, when locking a housefly into it for 30 minutes with a very sensitive microphone. If you are wondering, the fly has not been harmed and is well and alive. As far as instruments go, it's basically everything, I have all sorts of acoustic instruments, from guitars to drums to violins. I built an analog modular synthesizer, which gets used quite a lot as well, some toy keyboards, and, of course, many software instruments and even custom software for certain tasks.
Then there is a pile of things that I'd call noisemakers, different cranks and materials that I've collected over the years and used for foley recordings – from a unicycle to different foams, bird feathers, stones, and many more random objects that I keep once they have proven useful to  create sound effects. I recently invested in some very good portable recording equipment and microphones to be able to record in the wild and outdoors at a similar quality as in the studio. There are so many exciting sounds out there to capture, so I want to be ready. I recently launched a small side company, Shaping Waves, where I sell some recordings and designed sounds to filmmakers, other sound designers, app developers, and whoever needs unique sound effects and ambiences for their projects. We launched only a few months ago, so there are many more sound collections coming up and in production. They take time to create though, since I am working on them between my other projects.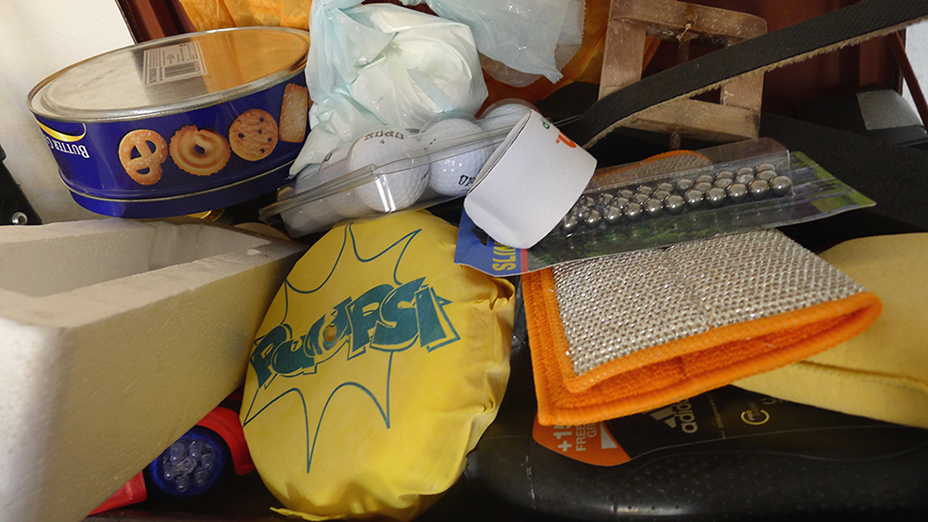 A few of the eclectic items David uses to make sounds.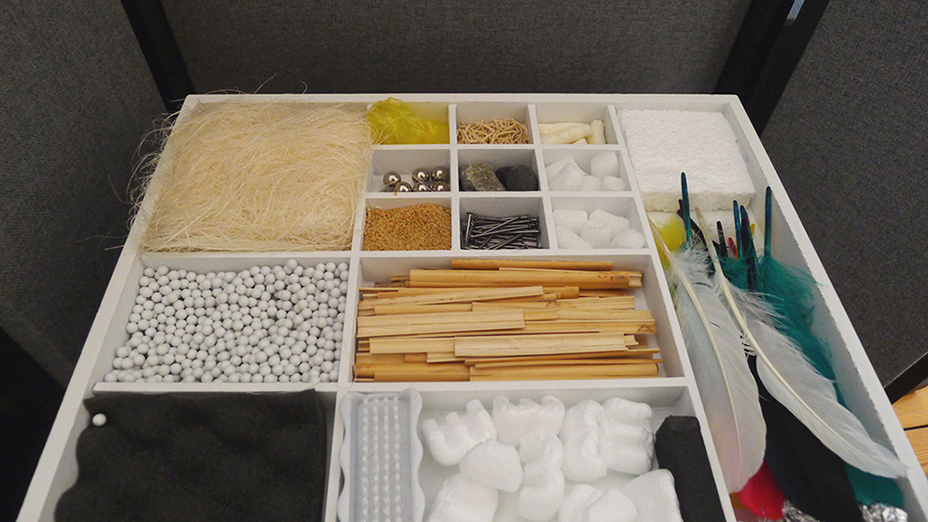 Do you have any advice for budding electronic composers? For instance, on finding the right career trajectory?
Hm. This is always a tough one. I can only say that I liked the time at university, (ICEM Folkwang hochschule) as I was able to experiment with sound in many ways and learn all the basics. Then it's about finding the thing you are really excited about and sticking to it long enough. My experience is that if you really want to do something, you can do it. It sounds cheesy, I know. But even cats can make music.
::
Follow David's work at davidkamp.de and on Twitter @kamptweets.