This is not a story about a flash in the pan. This is not a story about an artist releasing one song that gets attached to a viral dance craze and goes platinum off Tik-Tok. This is not an accident. Darnell Williams has put in the work — and then some.
Even if his new Reese LaFlare-assisted single "Turbo" or his next level video for "Fuck Hollywood" is the first you've heard of him, please don't confuse him with an overnight success. The Detroit-native is deep in the game and has played nearly all of the positions. From behind the camera to the editing bay to brand-building to producing to making his own music, Williams is well versed in all phases of hip-hop and is now gaining some of the long-overdue commercial momentum his fans have been wishing upon him for years.
An early partner in Illroots, Williams worked as an integral part of the creative process behind monumental projects in the culture. "Gees" video by Mac Miller and Schoolboy Q. Big Sean's "Too Fake" video with Chiddy Bang. Wow, a Chiddy Bang mention in 2019. All of them and more feature the distinctive signature touches of Darnell's video work.
Williams still meticulously crafts videos today, but the effort is mostly spent on his own visuals. His stock as a solo artist started to rise sharply a couple of years ago with the release of his single and video for "South Central," which chronicles the culture shock he faced after going from a lavish house in Hollywood to sleeping in his friend's kitchen.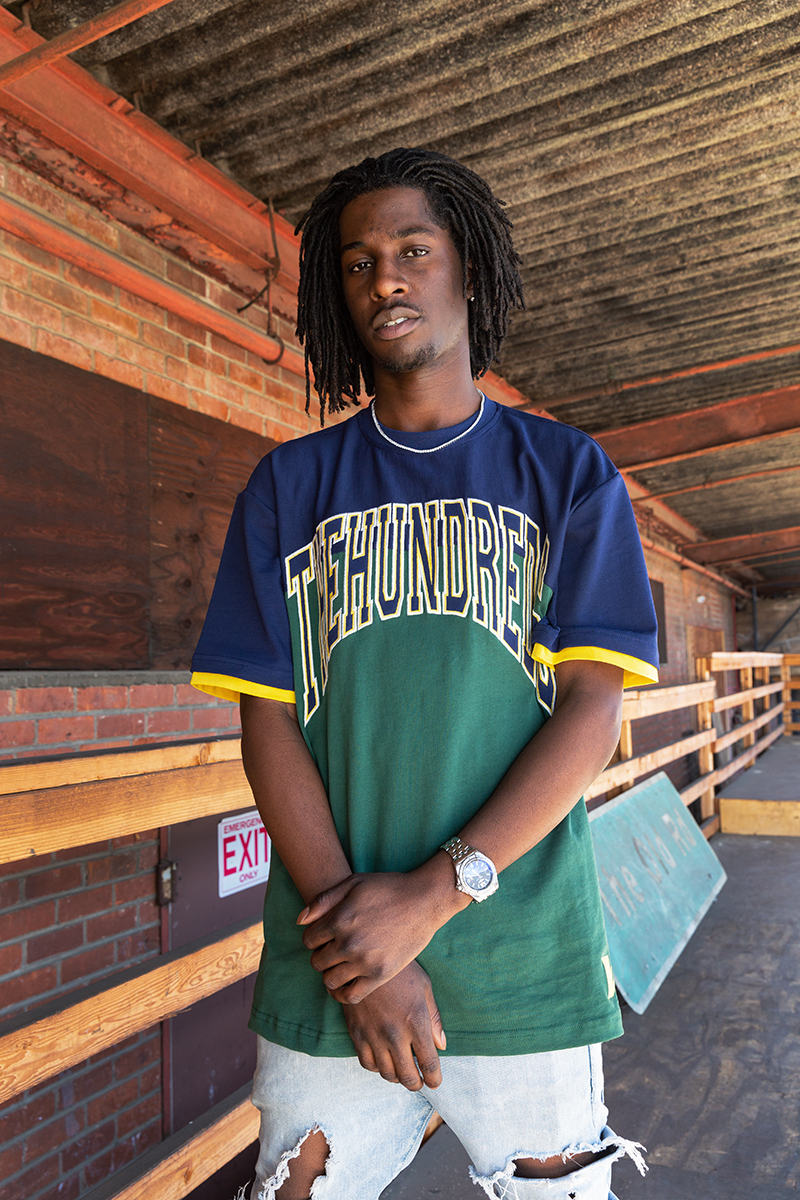 Now, he's back on the other side of the equation, climbing the ranks of hip-hop's new generation and establishing his legacy as one of the best visualizers of music in the modern age. Though repped by some of the biggest players in entertainment — Roc Nation and UTA — Williams hasn't folded under the pressure or felt compelled to follow the traditional script of spraying the landscape with singles until one sticks. He is carefully calculated and each song and video play into his larger narrative. The "Fuck Hollywood" single and visual were teased for what felt like ages before being unleashed on patiently waiting fans earlier this year.
Darnell's increasing success at this point in his career speaks to a larger point about working out the kinks in front of a smaller audience and building toward your big break, rather than having to find your sound (and yourself) in front of millions of fans. This process has allowed Williams to find a creative sweet spot from which he can branch out into many mediums under the umbrella of his music.
Darnell stopped by The Hundreds HQ to speak with me about the importance of music videos in music's new age, seeing a ton of new places on tour, and meeting Jay-Z and Diddy over champagne and cigars.
---
DUKE LONDON: Tell me about this run you've been on lately. How's label life?
DARNELL WILLIAMS: Yeah man, it's for sure taking some time getting used to. Now, I have more people I'm responsible for, as far as getting my business handled and shit. I have business managers and lawyers now, so that part is cool. Everything runs smoother now, but it definitely feels more like a business, rather than just being a rapper.
Though it may seem like an overnight thing to the casual observer, you've been at this a long time, even in behind the scenes roles for places like Illroots.
Yeah, back when I was like 19, I was editing videos for Big Sean and a few other artists. So, I've done a lot and experienced a lot. I've been on tours before, just never my tour. It's always been me doing content or media for someone else. But even if you're the cameraman on tour, you're living the tour life.
You've been touring a lot more and performing in a lot of new cities. What's it like finding out you have fans in places you've never been?
It's still crazy to me. It definitely hasn't hit me yet. Like, my perception of me and other people's perception of me is way different, so it's a new feeling for me to have fans — like real fans. There are kids in Russia hitting me up [laughs].
How does traveling inspire your creativity?
Just flying around inspires me, just getting on a plane and seeing different places. Then I get inspired all over again when I get back to LA, it makes me want to create shit. But if I'm in LA too long, it's a dub.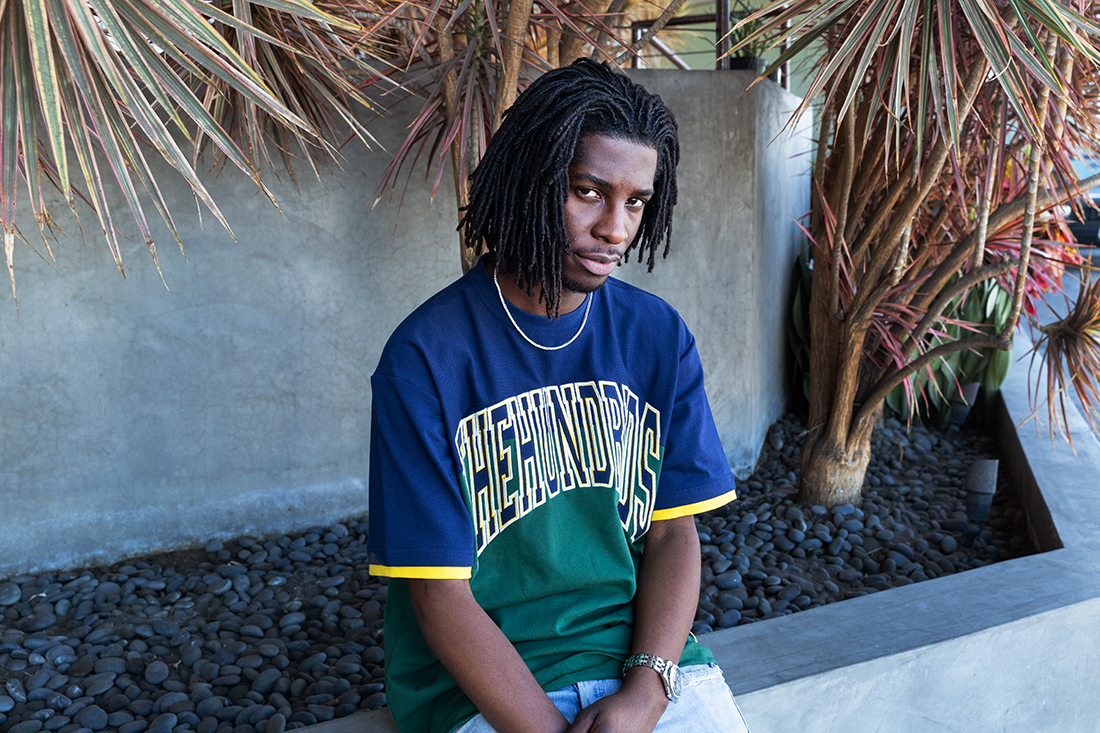 You've worked on a lot of crazy videos, both for other artists and yourself. How important are visuals to the end product of a music release?
With music in its current state, it hasn't been as important as it used to be, back in the "Video Killed the Radio Star" days. But I feel like it is coming back around because the game got oversaturated with quick pop-up content, just artists making things on the fly at home and shit. All of that was dope, but it didn't have as much of the artistic quality. People want dope shit, they want stories.
I think it's really important, especially when you're giving people a complete project, not just a mixtape or something. When I'm making my album, I'm not just thinking of the music, I'm trying to create a whole universe for you. That includes the visuals and making them click with the songs so when you're driving and listening to the songs, you're subconsciously imagining the videos. The whole experience. In film, they say 50 percent of the movie is the sounds. And not just the score, but even when a person walks into a room, how the floor creaks. If it's wrong, it'll throw off the whole fucking movie for you. I believe the universe I create for my fans is 50 percent sound, the rest is visual.
Of course, you have artists who can just swag it out and blah blah blah. But the reason a J. Cole or a Kendrick can sell out a whole stadium is that they create immersive experiences for their fans. Every timeless artist, from Jay-Z to Tupac and all the rest, they told real stories with their words and their visuals. You remember those forever. If you listen to Slick Rick's "Children's Story," you can picture it in your head. It's about painting pictures that people can connect with, through the videos and the music itself.
Do you have concepts in mind for videos you want to make and wait for the right song, or as you're recording a song are you visualizing how you want to do the video?
I think, more so, I already know how the video is going to look when I make a song. Even with "Fuck Hollywood," it was just situations in LA that I had already been around. So, when I made that song, the scenes for the video came naturally, all the most fucked up situations in Hollywood. It's all a mix of what I'm hearing in a song, it makes me feel a certain way. I can't just rap about ass and titties if I'm working with a Statik Selektah beat, feel me? Once you hear that kind of song, I can only make a certain kind of video.
Is it still Fuck Hollywood?
It's Fuck Hollywood forever, bro. I stay in LA, I'm always around Hollywood people, so it's not fuck everyone that I meet, but it's fuck the whole overall mentality and moral code of Hollywood. I don't like how shit is run, how people get to the top. Not everybody, but the real snakey shit. It's not really the most fun way to live when you have to worry about every new friend you make and what their real intentions are. Where I'm from, everyone had as much or less than me, so it's just a different place. I'm used to people being friends just to be friends, not because they need something.
Your music doesn't sound regional. You're from Detroit but have spent a lot of time on the west coast, too. How has living in a lot of different places affected the music you make?
It all just contributes to my entire style. I wish I could have a direct pinpoint on it, but I've lived in Chicago, where I got hip to the whole RSVP Gallery wave and the Treated Crew and shit like that. Then I spent time in New York and picked up a lot of the things that were going on there. Then I moved to LA and there was a whole other vibe. I just take things from every place I've been to. Musically, I don't think about what kind of music I'm making. I'm just trying to make a dope ass song, I don't care if it sounds like Bruno Mars or Gunna. I can't only rap like a Detroit rapper, I can only make music that represents how I'm feeling at that time. I've just been around so much and my ear picks up so many different things from all around. I'm over here listening to Tina Marie and Hall and Oates and shit.
What's been your travel routine lately? What do you eat on the road? Do you play video games?
I recently got a Switch. I've been fucking with that a lot. Honestly, when I touch down in a new city, I start trying to find some weed. Then I order something from the hotel or close by the hotel. My first night in town, I usually just chill and calm my mind, get comfortable in the hotel room. On a show day, I'm chilling before the show pretty much, then I'm hype as fuck after the show. Very lit. I usually put D'usse and Hennessy on my rider to drink, then we'll sometimes hit the town after the show. After the show I just had in Minnesota, I had to get back to LA the next morning for a video shoot, so sometimes I just take my ass back to the hotel and don't even get to enjoy the new cities.
Every timeless artist, from Jay-Z to Tupac and all the rest, they told real stories with their words and their visuals. You remember those forever.
What have you been playing on Switch?
I got Smash Bros and Mario Party and NBA Underground. It's kind of like the old NBA Street. I haven't unlocked all of the Smash characters yet, but I've been fighting with Link, Captain Falcon, and Ness, the little kid with the bat.
What's next?
I got "Turbo" out now, the video is coming out soon. I have another video for another new song called "Ham" coming. What's weird is, I've never released this song, but I've licensed it out for movies and shit, like it's in this Tyler Perry movie and it's also going to be the intro song for How High 2, so that's coming out around when that movie drops. I'm working on my album but not releasing until later in the year, just focusing on shows and singles. Beyond that, my song "Fuck Hollywood" is being developed into a TV show. My agency UTA and I have been working on that for a few months. I've written the pilot, we're just looking for a director now. End of the year.
Do you have aspirations to make movies?
Not until I'm like 45 and I've already done everything in music I want to do. I'll be sitting back at that point, directing like two movies a year.
Do other artists still ask you to work on their videos?
All the time, man. It's starting to slow down now, as they notice me doing my own thing as an artist. I'm still down, though. I just wrote a treatment for a new Meek Mill video. For the most part, I'm just going to keep it in the Roc Nation fam. It also has to make sense for me, like I want it to get seen by a lot of people if I'm going to spend time on it.
You got to meet some music icons at the famous Roc Nation Grammys Brunch. How was that?
When I first went to Roc Nation, I met Ta Ta and he brought me chicken wings, he was cool as hell. So right from there, I was already rocking with them, they were all like big uncles to me. As far as the brunch recently, it was crazy, I met literally everyone. I met Meek Mill, Nipsey, even Joe Jonas. I was smoking cigars with Antonio Brown. Of course, Hov and Diddy.
What was meeting Diddy like?
He was really cool, he was just chilling. I just said "Hey, I'm from Detroit, my name is Darnell. I'm a new artist on Roc Nation." He was super hyped for me and told me congrats. We took a photo and just traded energy. He just seemed really grateful and happy to be alive. Everyone was super happy. Jay was just walking around like The Godfather. There's a gravitational pull about him when he comes in the room. With him, I know I have to come back and holla at him in like a year after I've put in more work. I want him to know my name when I walk up to him.
The whole party was intense but also super chill, very unique dynamic. At first, it was really like a brunch, very chill and smooth, laid back. Then, once Jay came in, the cigars started getting lit and the music changed up a bit. After a few hours, you could definitely smell the weed in the air and Meek's "Dreams and Nightmares" was getting played real loud. Everyone got loose. Oh, Beyonce was there, too. I was texting this girl to let her know I was standing next to Bey, and a security guard was immediately like "no pictures." [Laughs] Her security is on it for sure. I wasn't trying to take a picture, but he was letting me know regardless.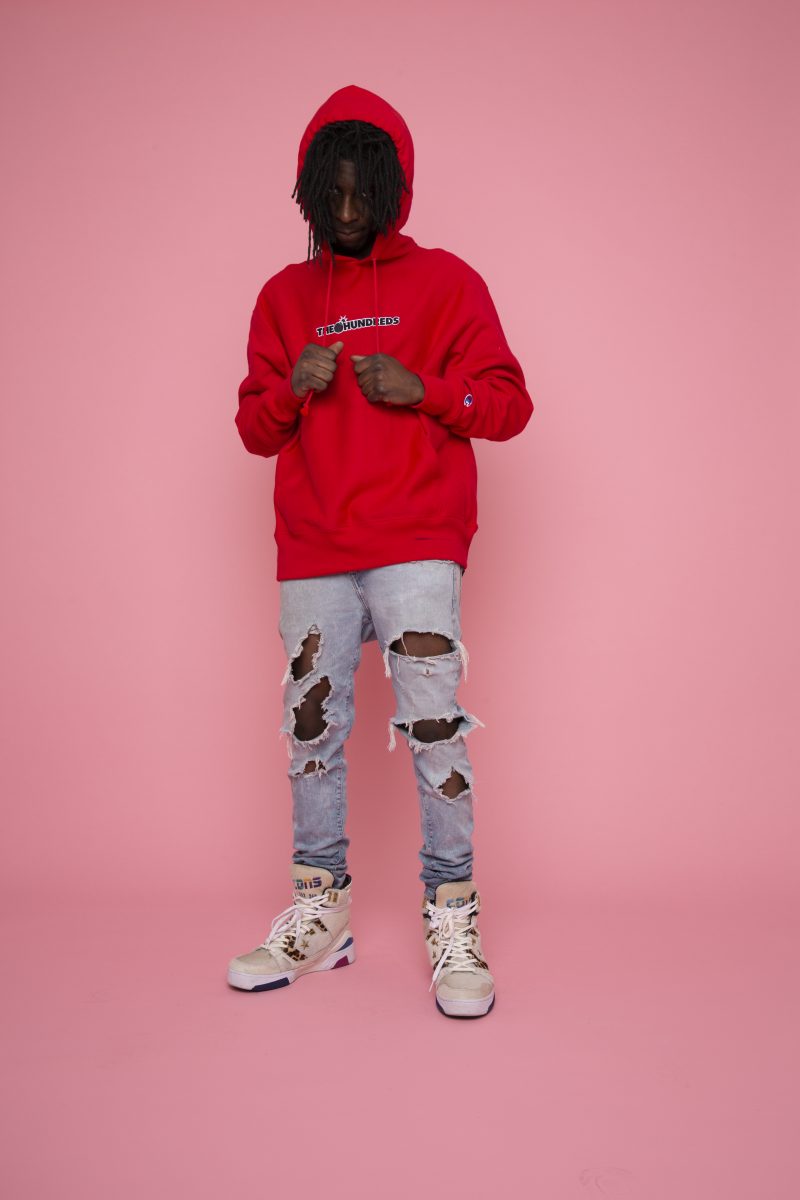 Not that this brunch is the end goal, but does getting to a point where you're hanging with all of these accomplished artists lend some validation to all of the hard work you've put in throughout the years?
I'm not going to say that it validated me because it's been a long journey. I've been to every label for meetings, from LA to New York and back again. The validation for me is that I have my own crib now, I'm not broke as hell anymore, you know? There are so many things I'm grateful for now and so many things I've accomplished with my music to this point, that's what validates me. But I get how it solidifies me in the eyes of outside people, like "oh damn, Darnell is hanging with Hov and Diddy now, he's really doing it." I'm just happy not to be living check-to-check anymore. But I'm not mad at it, the brunch was tight [laughs].
***
Photos by Allison Gretchko