24-year-old Atlanta, Georgia native Dae Dae has seen his fair share of struggles. Though he was lively and excited about being in Los Angeles, taking a healthy lap around The Hundreds' Rosewood store ("I love it here," he said. "I want to move here.")—his jovial mood, hidden under his multicolored dreadlocks only cover the amazing story of a young Black man who managed to survive Atlanta's rough Fourth Ward neighborhood—to have his first single impact Billboard's Top 100. "They building new things around there, like skateboard ramps [and stuff]," Dae Dae says of the rapidly gentrified area that he used to call home. He considers his childhood there a "learning experience," balanced by a healthy dose of influences that came from unlikely places.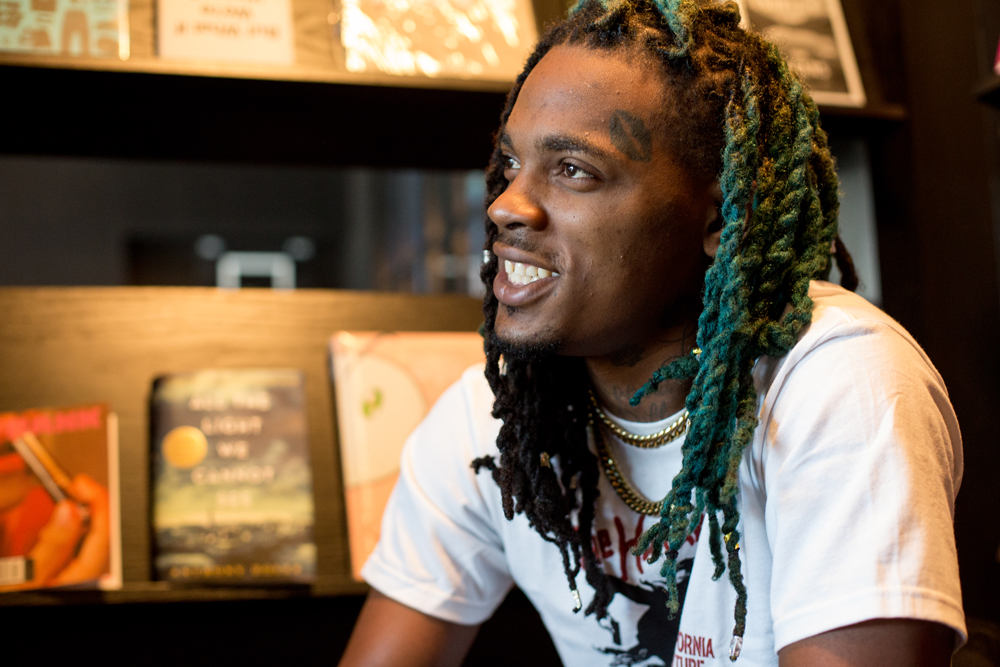 "When I was coming up, I looked up to Bow Wow and Lil Romeo. They inspired me to rap" Dae Dae said with a straight face. After prodding him, mostly to make sure he wasn't trolling, it became clear that not only was he very serious—but that he's hoping to reach a more diverse audience than people may think. "They just inspired me to rap, but when I got in it—they're stories weren't the same as mine." Hip Hop purists will probably seethe with anger upon learning this information, complaining that yet another dreadlocked rapper from the south was taking airspace from their own vaunted rapper love interest—but seeing Dae Dae tell the story of how he used to go to their concerts and be generally in awe of them was a true moment of bridging the gap. The stories in rap are universal, and even though we don't take the same route to get there, the love for the music transcends your age.
"I love Outkast! That's the music my dad played every morning when he took me to school," Dae Dae said, with a small tinge of matter-of-factness in his voice. Admittedly, it's a little strange to even hear that Outkast could be considered something your parents make you listen to on the dreaded morning drive—but that's the appeal of hearing a story like Dae Dae's, especially considering the hands-on role his father (who just recently got out of prison) had on his love of music, regardless of who or what he chose to listen to. "One Christmas, he bought me a CD Player. Didn't even put a disc in it. The first CD I bought, was a Bow Wow CD."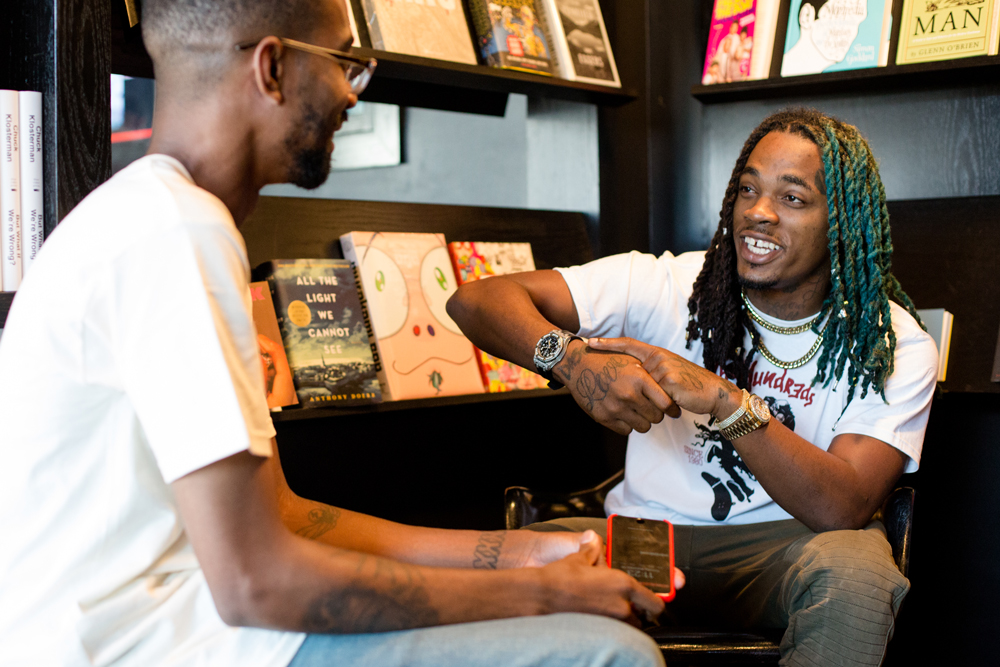 Even before taking listeners for a trip through his turbulent life and triumphant come up on his popular single "What You Mean (Aye, Aye, Aye)," Dae Dae was hustling to make ends meet for himself and his young family. "My kids and my family [kept me focused]," he said. "They are as much of a fan of [my music] as I am…so it's a different grind." Dropping out of high school at the age of 14 to take care of his newbon, Dae Dae hopped around from job to job, eventually finding a job doing concrete and flooring to save money to record, eventually taking his act to open mics in the city. His frustration at his situation motivated him to create "What You Mean," and it's immediately obvious in the first bar of the song. "Racks on me like a motherfucker/Fuck you, Blue Balenciagas," he yells defiantly—yelling at the people who didn't believe in him, but using his anger to inspire those who don't believe they could live their dreams.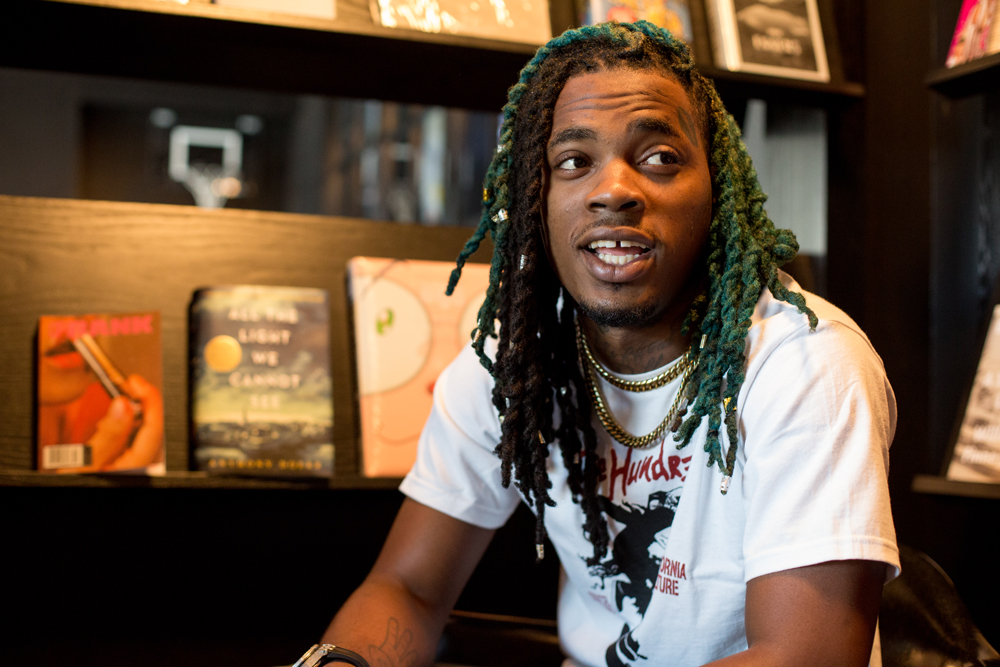 "I didn't think I was gonna make it. When I was doing music, I was doing it for my people…then we just started going to clubs with the song." The exposure to Atlanta's club scene only strengthened the reach of "What You Mean," which went viral due to the popularity of the dances surrounding its catchy chorus. "I was thinking of [what kind of dance] I'd do during the chorus," he said while pantomiming his performance. "Around the fourth week performing it, I perfected the dance," he said, smiling.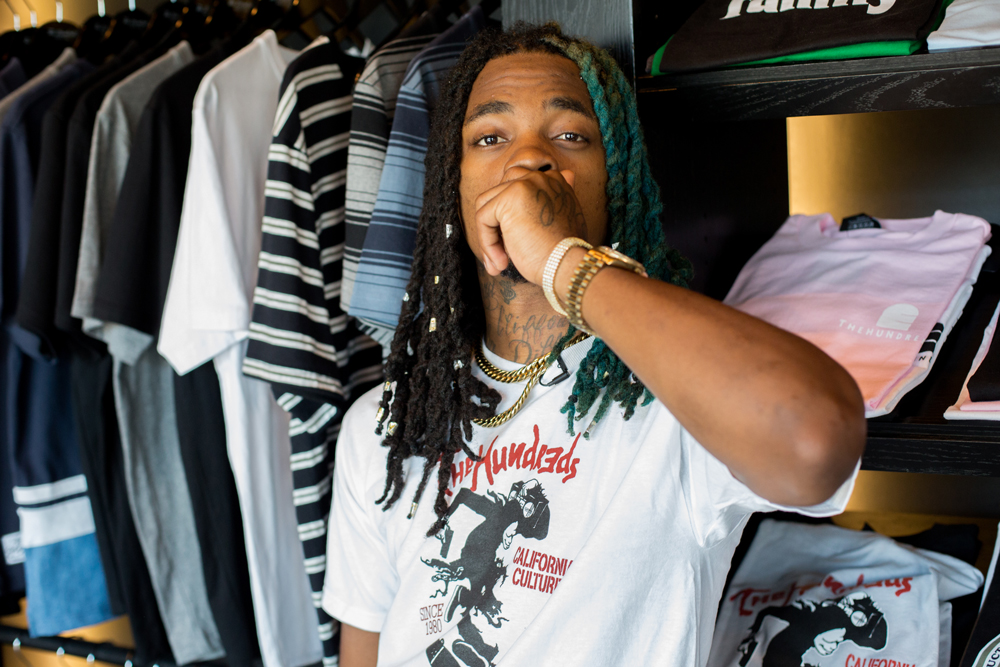 Dae Dae's anthemic singles have garnered the support rappers like 2 Chainz, Lil Wayne, and Lil Yachty, who have all supported his movement in the past year alone. Though now, he's hoping to branch out further than just a viral video. "One thing about coming up in Atlanta—you can't sound like nobody else. They'll let you know," he said. And on a label like 300 Entertainment, where he's adjacent to artists from his city like Migos and Young Thug, he's just as defiant in setting his own course. "I'm already in my own lane. I have my own sound. My situation is different. I'm straight from the hood, so being a part of this [with artists like them] is a blessing in itself."

Even with this pressure, and a forthcoming tour with label mates Shy Glizzy and PNB Rock on the horizon, Dae Dae is still just as hungry, not letting his newfound fame deter him from the fact that nearly everyone would want to be in his spot: "Everybody's rapping. Even momma's are rapping. I used to see old men rapping at [open mics]. I support them too" he said after letting out a hearty laugh.
***