The unstructured baseball cap creeps up on your timeline as often as an update from The Kardashians or the next sneaker release. The sole difference is that its subtlety feels like a friendly hello that grazes past a swipe, your double tap serving as double daps.
The reemergence of this accessory is inconceivable for its slow rise, an unexpected trend to appear especially in Streetwear whose hat offerings have been strictly 5-panel hats, snapbacks, 59FIFTY caps, or knit beanies. Although the hat has been stylized to different silhouettes according to its crown or brim, this specific style of headwear has always taken a staple form since its creation in 1860. The unstructured baseball cap originates its roots from '47 Brand, who created an amorphic crown with a slight curve to the brim—a style that reached its peak popularity from 1995 to 2003, according to the brand's co-owner, Steven D'Angelo, as told to The New York Times. Afterwards, it was thought that this style of hat was too dated and dad-like to coexist with the new millennium's booming technology and Y2K pace. But what differentiates the baseball cap of today is the distinct uproot of its name. Adopted by Generation Y and Z consumers, the cap has since been rebranded as the "dad hat." Its relationship to the attitude of this decade, as well its association with Normcore, reflect closely on why the dad hat is the most projected trending accessory today.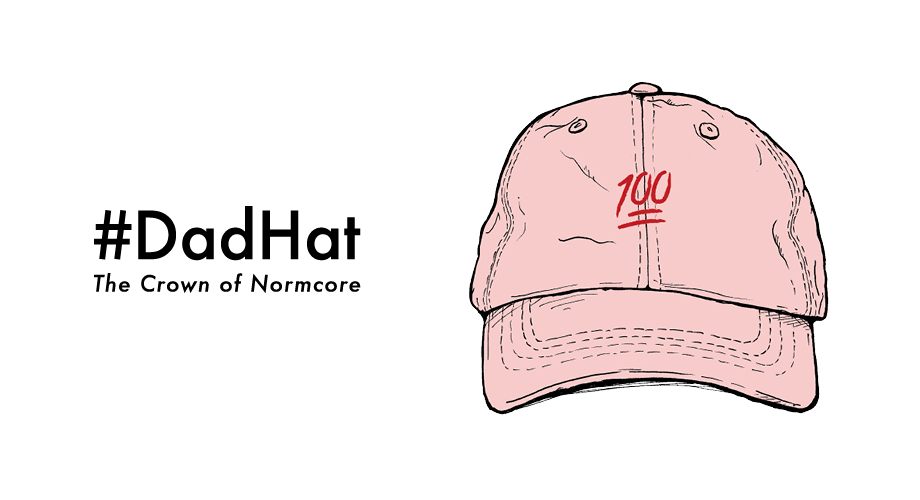 Historically, the baseball cap was exclusive to the sport, worn only by players and stigmatized in public until the late 1970s. When it was finally accepted to be worn outside the stadium, its permissible accessibility became a sign of rebellion for youth culture. From function to style, the baseball cap is a representation of a predilection for informalities and America's gravitation towards casual sportswear. To cap yourself today is to gain an automatic sense of belonging. Unlike other current trends like shredded denim, deconstructed clothing, or monochromatic dressing, etc., there is specificity with dad hats that targets the comfort of a consumer. Maybe because of its classic appeal. Maybe because hats are symbolically a crown, often holding more power than the clothing we wrap around our bodies. Or maybe, no matter how typical a baseball cap can be, today's dad hat offers a simplistic aesthetic that both represents the individual and the collective culture of today.
The dad hat's main feature lives in its embroidered or printed graphic on the crown. These usually kitschy designs offer inclusiveness for the wearer, and are abstractly representative of the brands that designed them. Hardly do we see logo promotion of the brand itself. Instead, these design accents tend to be interchangeable trending symbols of popular culture that make the wearer as relevant as a hashtag. From roses, Gucci flip flops, praying hands, fried foods, codeine, or any catchphrase like "It's Lit," the wearer becomes a placeholder of culture and a tangible, real life trending alert. Because of this effort, an individual's attempt to stake a place in the roster is automatic—you win the brand, you win its friends, you win yourself.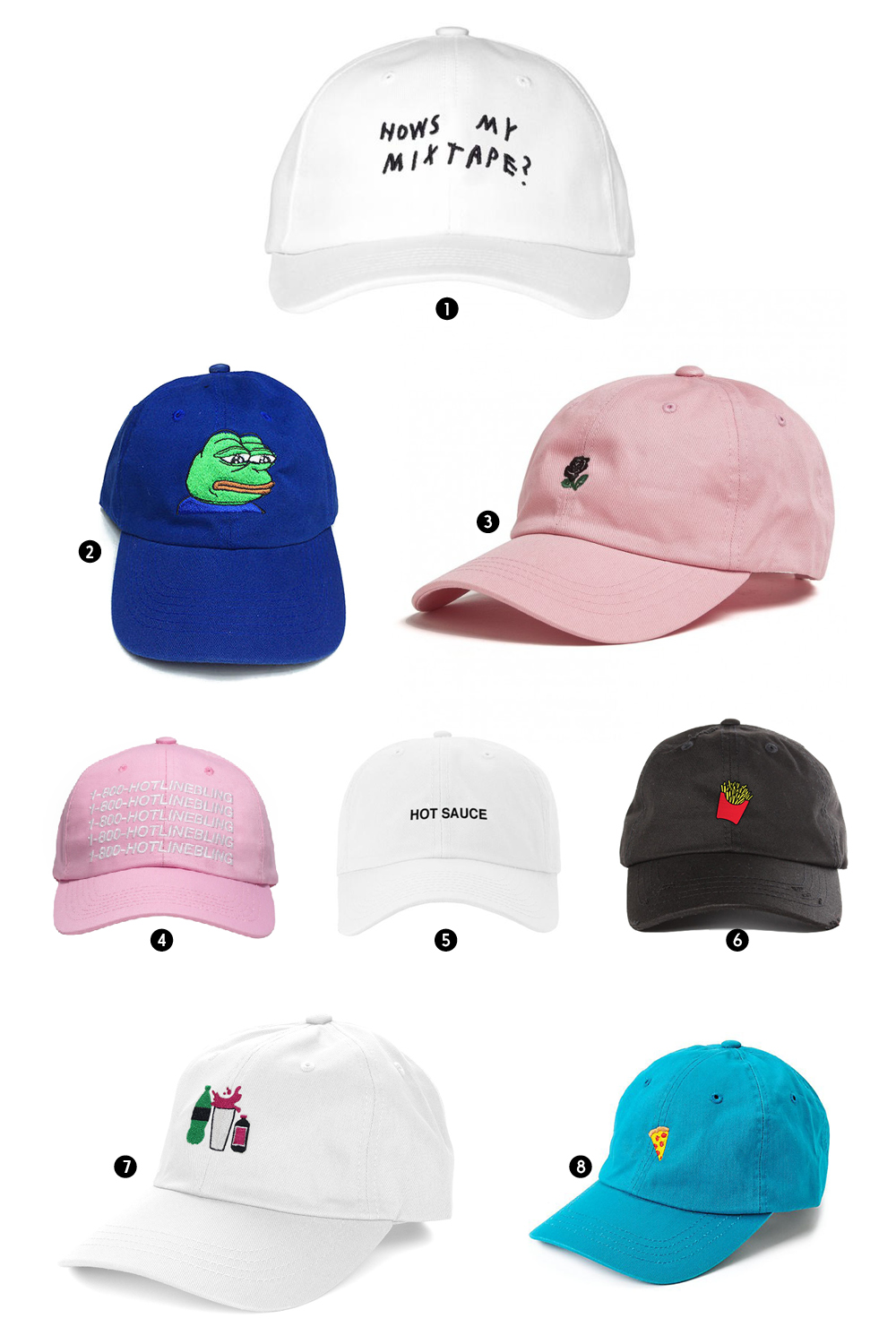 1. How's My Mixtape Sportcap by OVO, 2. Sad Frog Cap by 1st Class, 3. Rose Dad Hat by The Hundreds, 4. 1-800-HOTLINEBLING Strapback Sportcap by OVO, 5. Picante Dad Hat by Beyonce, 6. French Fries Destroyed Cap by Petals and Peacocks, 7. Lean Dad Hat by 2 Chainz, 8. Pizza Emoji Delivery Hat by PIZZA Skateboards
Currently, there are a growing 5,000 tags on Instagram, a healthy stream of dad hat selfies on Tumblr, and endless Twitter commentary with the hashtag #dadhat. After 2003, dad hats continued to simmer among old setters, but garnered a negative reaction from the youth because it resembled what their fathers wore. The opposite effect is true today, where millennials and Generation Z are at an age where their role models have now become father and mother figures. These paternal statuses are projected in reflection of those days. Bill Clinton as president. Jack Dawson being king of the world. Will Smith steezin' up Bel Air. Remembering the peak of our role models' careers now equate to the prime of our own youth. Maybe we continue to grasp moments like these to bask in the Golden Age and ride the '90s nostalgia trend. Or perhaps, it's our Peter Pan syndrome kicking into high gear in avoidance of age ourselves. But we've set aside our teenage angst and the ostracizing of authority figures, and view MOTHER, MOM, FATHER, and DAD as advocates for success. Today, we pay tribute to anyone who offers more life experience and holds relevance greater than a week, by worshipping them as "dad" or "mom" on social media. We want to be adopted by these idols. We want to be affiliated with their lifestyles. To be endorsed by Kim, wanted like Nicki Minaj, or accepted like Justin Bieber is completing a social hierarchy dream that's more valuable than the materials we possess. Millennials have valued "likes" and "followers" in social media rather than their actual capital. It's unsurprising that dad hats have become influential: they're easy to like, and that likability is the connective factor that supports its design or what it represents. Nonetheless, we acknowledge our idols by adopting ourselves, and emulating a dad-like style like wearing the dad hat. We may not get a F4F from these famous figures, but we'll receive support or gain following from everyone else.
When Seinfeld became available on Hulu in April of 2015, there was an uproar of re-dissecting and appreciating the show, including its style choices. The exposure of this sitcom, with its abundance of baseball references and misadventures using the baseball hat's rebelliousness as punchlines, simmered the coolness of Jerry Seinfeld and his friends. In retrospect, a '90s kid may not have understood the dry, NY-distinctive humor of 30-something Jerry Seinfeld, but may presently fraternize through experience and grasp his style simultaneously. The Nike Cortez, dad jeans, and the baseball hat, are now in association of an urbanite just trying to make something out of himself.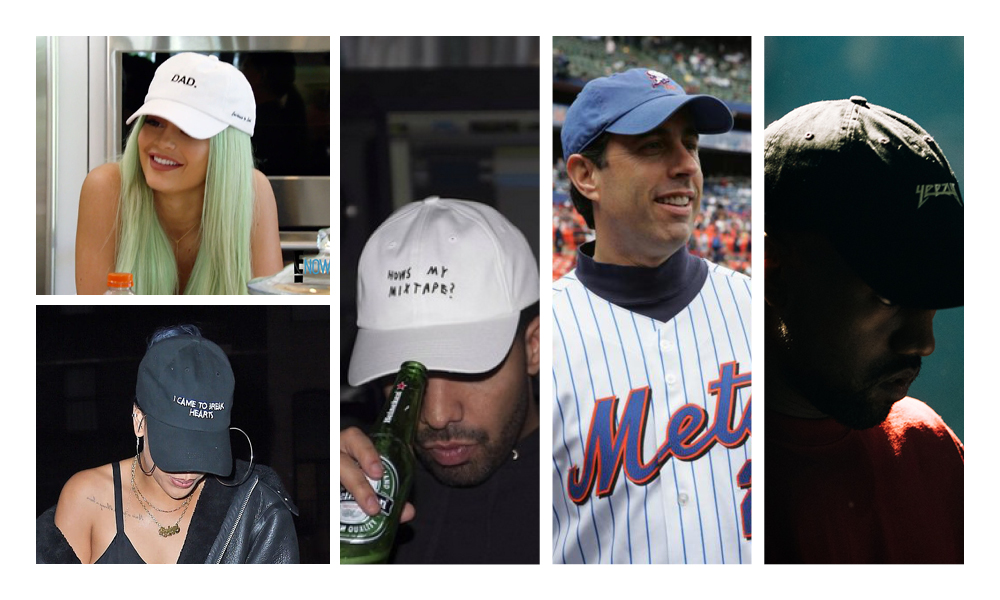 But the dad hat's rebirth of cool stretches beyond nostalgic infatuation—it is now partnered with the social media age's celebrity craze. Following the release of If You're Reading This It's Too Late, Drake posted a selfie on his Instagram page of him wearing a customized dad hat with the mixtape's infamous font embroidered on the front, reading "How's My Mixtape?" This photo currently holds over 200K likes, and eventually resulted in the dad hat becoming OVO webstore merch. With Drake's undeniable influence, the dad hat renaissance carries an urgency and coolness that was to be demanded in streetwear. Sartorially, today's artists continue to feed this hype, contributing to the trajectory of the dad hat's relevance in fashion. From Kanye West sporting a "Yeezus" dad hat at Madison Square Garden, Rihanna casually wearing it on the streets, and Beyonce selling dad hats that attribute to her unreleased album, these artists not only become part of the trend but break their cultural elitism by becoming "one of us." These appearances have caught fire, forecasting the dad hat as the hottest new accessory by publications such as Elle, Elite Daily, and Complex, along with curated selections of assorted "curved brims" to shop the look. Musicians have positioned themselves at the forefront of the movement by designing and manufacturing dad hats to enhance their own brands. The power of these idols in alliance with the dad hat has an immeasurable impact on popular culture. We praise these artists' personas by wearing products that embody them. What is the purpose and representative value of wearing a hat that reads "1-800-HOTLINEBLING," other than a signifier of being current? As these hats sell in each respective artist's online stores, purchasing isn't about completing or remembering a musical experience, but to truly become a product of creation.
Whatever the obsession, the resurgence of the '90s powers the relevance of dad hats today. The saturation of printed shop catalogs of yesterday are now today's infinite web shops, and the mass manufacturing of fast, cheap, and basic clothing repeatedly exist today. The popularity of dad hats reflect on its economical price, ranging from $15-35 on average. It isn't a coincidence that most brands who have immediately chosen to sell dad hats are also premature, independent web shops whose profit margins and investments are lower compared to established companies. Because of this affordability, consumers are presented with an offer price that is expendable, now being accessible to a broader range of customers. This accessibility has given the power of choice, democratizing fashion beyond mass production but providing association with identity.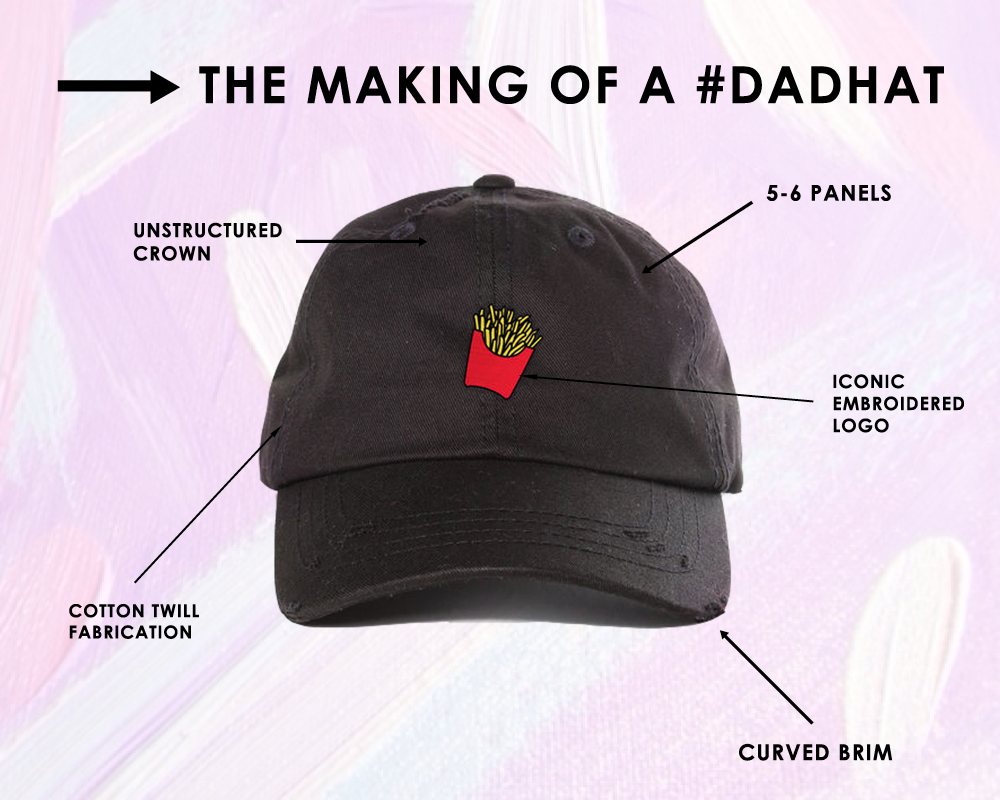 However, the dad hat's likely potential to be a staple accessory for the next 5-10 years stems from its accessibility and capacity to connect to others. With trends today constantly being recycled faster than ever before, and fashion calendars rotating every 2 weeks, the dad hat is a transparent fashion product that isn't about discovery or trendsetting. It has the ability for an individual to buy-in their identity and be part of something, instead of battling choice in the saturation of trends and stores. A wearer doesn't exactly seek attention when wearing a dad hat, folding mysteriously with its curved brim that naturally forms a shadow over the eyes. Yet, the dad hat simultaneously has the ability to attention-grab because peers can familiarize with a pizza emoji or phrases like "Hot Sauce." The allure of the dad hat is its coexistence with the surrounding environment, while remaining indirectly involved. Our current decade circles around this Normcore attitude, the zeitgeist coined by trend agency K-Hole that's in constant search of relevance, comfort, and the feeling of being a participatory individual. K-Hole theorizes that "Normcore knows the real feat is harnessing the potential for connection to spring up. It's about adaptability, not exclusivity." The power of its reformed name, dad hat, gives the illusion of "new," not recycled, vintage, or retro. Today, we look for reinvention just as how we're obsessed with refreshing pages and new content. Partnered with a hashtag, each dad hat exists to be refreshingly contemporary, yet is adaptable to its social situation.
The possibility of being recognized is a cry for connection that our decade fawns over. Currently, Nielsen research found millennials to spend up to 21 hours on their phones per month to keep up with their presence in a technologically socially-driven world. According to Ad Age, digital connection may have been adapted and embraced by millennials, but Generation Zers are "digitally native." For Generation Z, social media is part of the social pie, being born into a world where Facebook, Twitter, Instagram, and Snapchat exists. But this booming generation of 72 million seeks a two-way connection that can transpose beyond the digital world. Ruth Bernstein further points, "Brands that build careful marketing strategies that connect with the values of the younger set and offer a better digital experience both online and in-store will be successful among this new, young, powerful generation." The dad hat offers a seek in contact that can be translated from online to reality. Because of its featured design and status as cousin to the athleisure trend, social media will embrace and praise your dad hat with likes and comments. But the real personable magnetism comes with its approachability that seals an experience. A familiarity in pop culture, an arming of attitude projected by its informality—the dad hat is likable just as much as the dad IRL who tells tired jokes that you can't help but love.
***