Sprawled across a black leather couch are Chicago producer Boathouse and rapper Kweku Collins, who are shooting the shit—and seated in front of an unending production set-up is Mike Kolar, owner and chief engineer of the Chicago-based studio Soundscape (and also co-owner of Chicago-based indie label Closed Sessions). Kolar is busy trying to fix his sound gear, while Boathouse and Collins joke about Kylie Jenner's first-ever feature on Burberry Perry's track "Beautiful Day."
"I hope it was the black shorty and not Kylie who said nigga on that song," Collins says, as Boathouse laughs and shakes his head. As the conversation between the two goes back and forth, Kolar pulls up a 7-year-old visual called "Closed Sessions" that he and co-owner Alex "RTC" Fruchter shot for Curren$y's song "Rapper Weed," which documents the New Orleans rapper's recording session.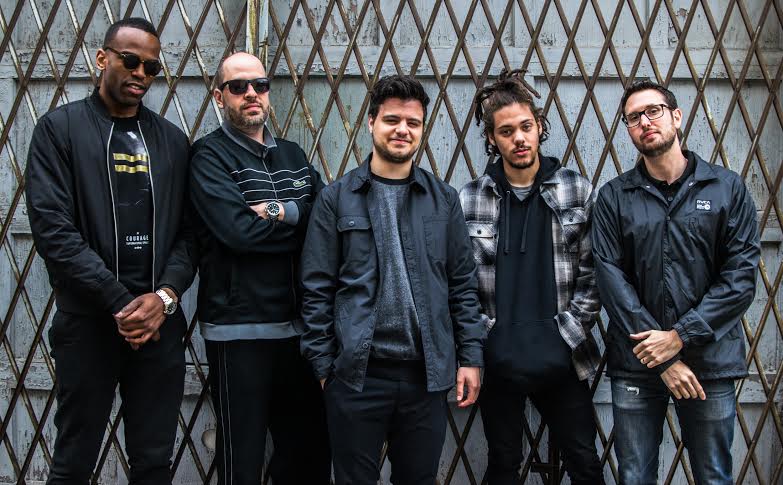 L to R: Odd Couple, Michael Kolar, Boathouse, Kweku Collins, Alex Fruchter
This video was the spark that would eventually give way to a longtime partnership and friendship between Kolar and RTC, who at the time was the Editor-in-Chief of the Chicago-based blog Ruby Hornet. The Curren$y visual also led to a larger documentary series, which allowed Kolar and RTC to work with Action Bronson, Freddie Gibbs, and Danny Brown, just to name a few. In 2012, the duo decided to take their endeavor a step further and created the label Closed Sessions. Over the last four years, the label's roster has grown considerably, now including Boathouse, Collins, producer oddCouple, singer Jamila Woods, and rapper Kipp Stone. Soundscape records a vast majority of Closed Sessions' releases.
As their roster heats up—Collins just released his debut album Nat Love, and newest signee Jamila Woods released her debut as well Heavn, while also landing a feature on Chance the Rapper's song "Blessings" from Coloring Book—we decided to ask each artist about the two songs that made them fall in love with music.
Kweku Collins
"Moment of Truth" – Gang Starr
I've been a Guru fan for so fucking long. That song, it was in a video game I used to play when I was a kid. I listened to that song so much—I learned it just from playing the video game.
"Strawberry Fields" – The Beatles
Just sonically it's such a journey. It progresses in this relaxing, yet captivating way. And the songwriting on that song is phenomenal.
OddCouple
"Cudi Zone" – Kid Cudi
This is by far one of the most influential songs to my production style. I honestly look at this one a number of ways, if we're talking about why I love it so much. From the actual standpoint of the lyricism, lines like, "Soarin' is this allowed?/I sure bet my daddy proud" hits home for real. I lost my dad when I was 12 and that lyric is some shit that just pops into my head all the time when I'm dead tired at the end of a 20 hour day. On top of that, the orchestration and mixture of all these different musical elements on this record is insane. Between string solos, huge lead synths, electronic drums that knock, and Cudder giving an anthem for the ages, this is like the perfect song to me.
"ADHD" – Kendrick Lamar
To me, this was the beginning of a whole sound that people are still channeling. It's the beginning of the Kendrick who made conscious and thought-provoking tracks sound pop and hot as hell. He's always been an amazing lyricist, but this is when he started making tracks that could be Top 40 sounding, while he's still saying the deepest shit. "Got a high tolerance when your age don't exist" is not only something you can rock to, but some double edged philosophy to really think about. Then the way that they utilized the space in the verses, all the little textures and details that go into it, the muffled drums, background pads, and all that shit—epic set-up for a really dope drop. I mean you listen to a beat like "Own Man" or a track I've done with a wild drop, like "ChillyChilly"—it's all about space and the alley-oop to set up the dunk.
Boathouse
"Get Dis Money" – Slum Village
When I hear this song I get put right back in my childhood room at my parents' house. I first began my journey into hip-hop as well as producing in that room, and Dilla/Slum Village were a huge part of that beginning.
"Maybach Music Pt. 2" – Rick Ross ft. Kanye West and T-Pain
To this day, it's hard to choose a Ross song better than this one. J.U.S.T.I.C.E. League was at its peak with their production. Kanye drops a verse about shitting on everything—and this was the era of unstoppable T-pain hooks. I couldn't ever forget the lyrics to this song. "Who's Maybach is this? Mr. West's."
Kipp Stone
"Expansion Outro (For Women)" – Talib Kweli
It concluded the first album I ever sat and listened to, front to back. This song stuck with me just because of how musical it was, as well as the story and meaning behind it. Plus, my dad and I really bonded over this album. He was proud of me that this song was my favorite track on the album.
"Day 'N' Nite" – Kid Cudi
This song is one of my favorite songs of all time. It was my introduction to Cudi and one of the first times I felt like I could genuinely relate to an artist. Him being from Cleveland was an added bonus, but I loved everything about this song off the bat. The lyrics alone basically summed up my life at that particular time.
Jamila Woods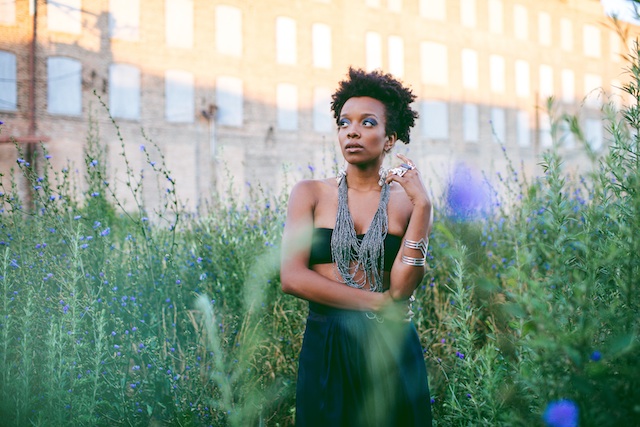 Jamila Woods. Photo: Zoe Rain/Whitney Middleton
"It's Gonna Rain" by Rev. Milton Brunson Thompson Community Singers
The first time I heard this song was at my Grandma's church, and the choir director had this crazy amazing arrangement of it. The song starts off with a soft piano part and then becomes more thunderous as the layers of vocal parts come in, which to me sounded like a rain storm in musical form.
"A la Faveur de l'Automne" by Tété
I was introduced to this song by my high school crush who was learning French at the time. I had no idea what the lyrics were saying but it didn't matter—I played it on repeat and had it memorized within a couple days. It was the first time I realized how music can transcend language and tell a story without words. In my music now, I'm playing with making non-word sounds take on new meaning in the context of the song.
***