SÃO PAULO.
This is a true immigrant city. You can walk the streets at any time and see the Lebanese, Italians, Angolans, Germans, Chinese, as well as a huge Japanese community present anywhere you go. I never been so excited to see my Asian people mobbing the streets I'll never take y'all for granted. Really made me think of Long Beach, seeing the intersection of cultures.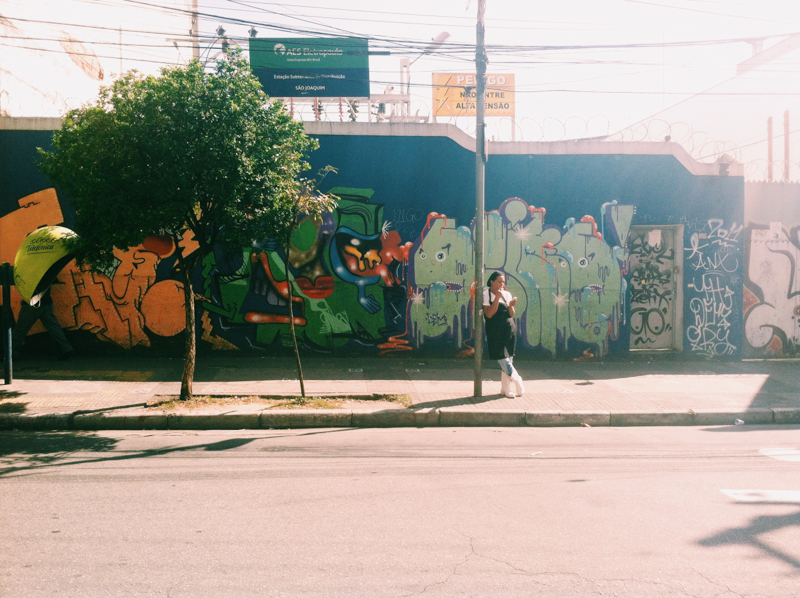 I think one of the first things you do that solidifies your manhood – that you a grown ass man now, not getting bowl cuts in the bathroom by your mom looking like ol boy from Kingpin or whatever they be doing in those movies – is finding you a spot to cop a crucial fade. Having a proper lineup is so important in life. Every job interview I ever went to with a fresh ass fade, I got on the same day, word is bond.  So being here in Brazil for a month now – I've been looking pretty bad I can't front.
Like Denzel straight out of He Got Game coming out of jail bad. I flagged this black dude down in the streets who had a fade and he directed me to the Galeria Do Rock which is pretty much where all the skateshops in São Paulo and American shoe stores can be found. The Angolans in the front on Rua São João sell some pretty decent dashikis if you trying to look authentically and ethnically conscious with your vegan wrap. But I digress.
I'm walking around looking into all the barbershops that are predominantly black with the interesting Afro-style tag underneath (Supercuts is never the look) and a rasta comes up to me and asks me what I'm doing. I respond and he tells me to wait and comes back with this jolly character named "Celso." He takes me to his shop: Niggaz Place. Yes. This is really real. And yes, he did an amazing job. Might have to cop a dry razor when I get back to the States.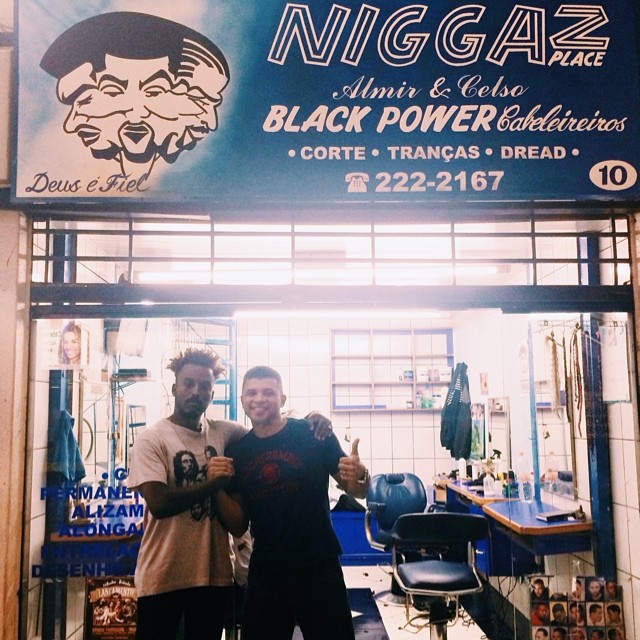 There are close to 19 million Paulistas vibing around the area on the daily. Can you believe that? I went running the other day in high altitude to Pio Jaragua where you got a beautiful view of the city and you can't even see the urban sprawl that is the money-making capital of Brasil.
I've felt most at home here in this city of São Paulo than anywhere else in the country so far in my month here.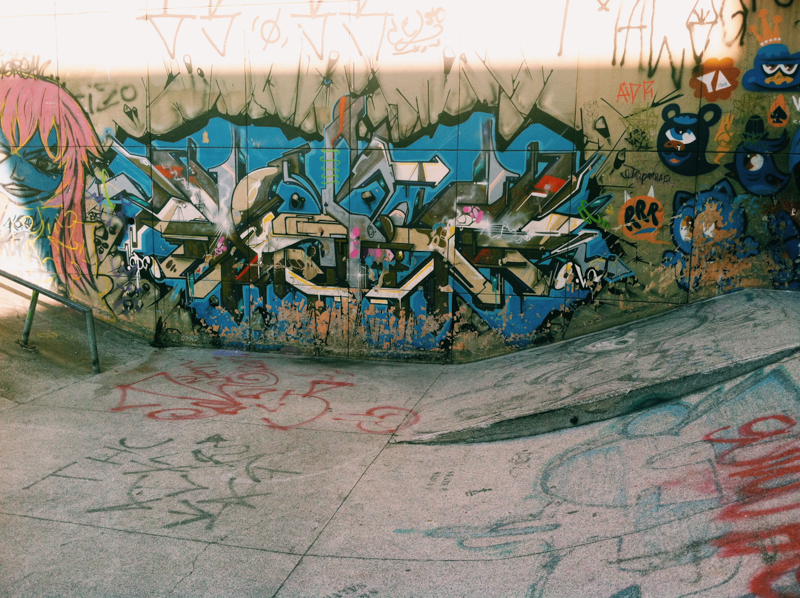 If I had to compare the two, Rio de Janiero is Brazil's LA and São Paulo is their New York. São Paulo is concrete jungle ironically surrounded by miles and miles of jungle. While Rio was colorful with white sand beaches, São Paulo is a grey big city – something they have no qualms about. It's very modern there. But there is beauty in it to me. That's why I think there are so many graffiti writers here, more so than anywhere I've ever been. I call them the city's interior designers. And boy do they work!
This place is busy busy. Think Manhattan. I do a lot of walking in this city, typically 3-4 miles a day. Hundreds of people roam each side of the street, especially Avenida Paulista which serves as the main thoroughfare of the financial district. Rush hour is crazy. I would be worried about a stampede down in the subway system here if it wasn't so damn ahead of its time. Looks like some trains up in Tron the old one not that new weak shit.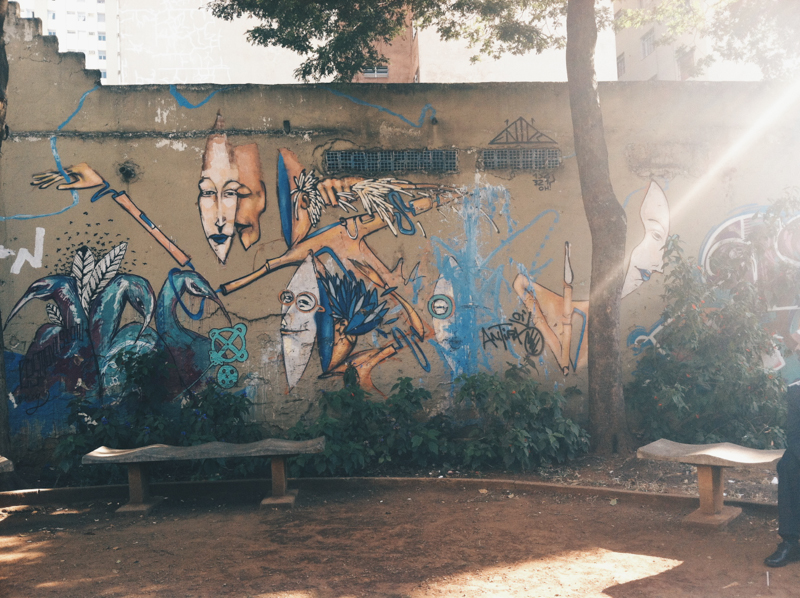 The art in streets is unreal. If in Rio, the emphasis was more on color or old school lettering, São Paulo is the master of height. There are buildings 20-30 stories up, completely covered in huge block pieces. It's almost unreal how prevalent graffiti is within the sky of this city. Like every time I look up, I'm like, damn, how you do that there?
Every single neighborhood's writers have their particular style. Each district's being marked up with walls covered with beautiful illustrations. Lots of cartoon and anime references blended in with the wildstyle hit ups. I've been spending a lot of time downtown with some writers and skaters I met up, where you can see buildings from the time of the early Portuguese colonial rule marked up head-to-toe in mind-defying art pieces.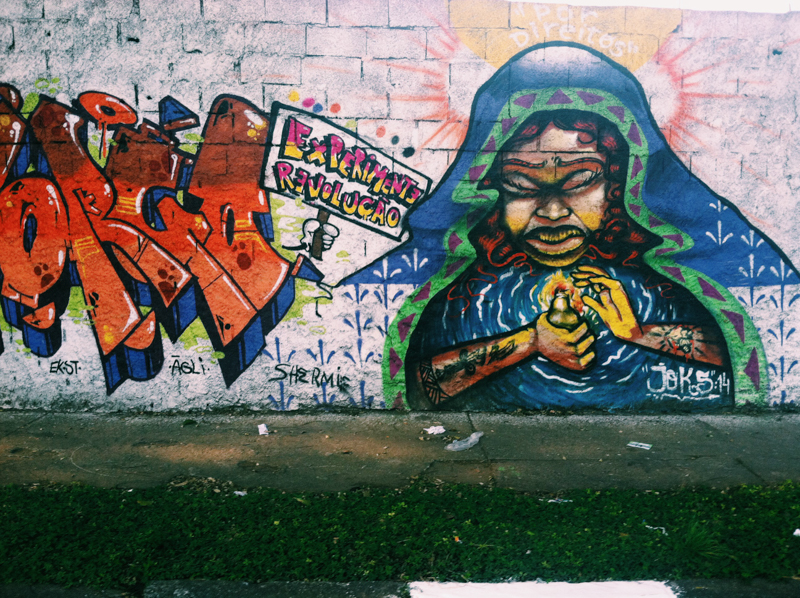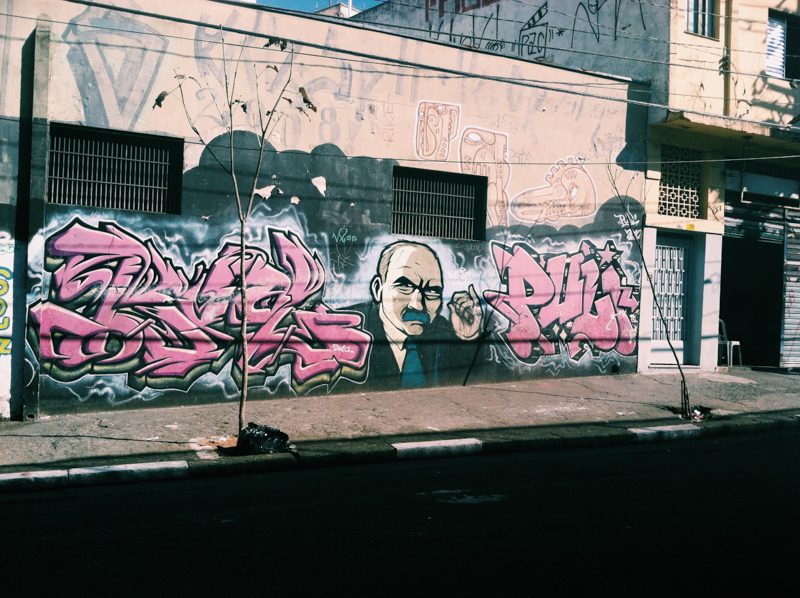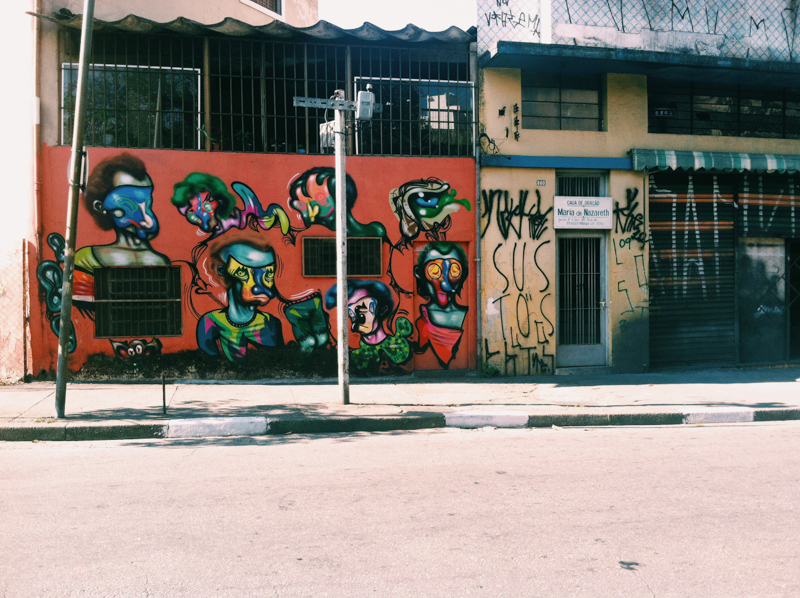 Went to famous graffiti artist OSGEMEOS's gallery opening: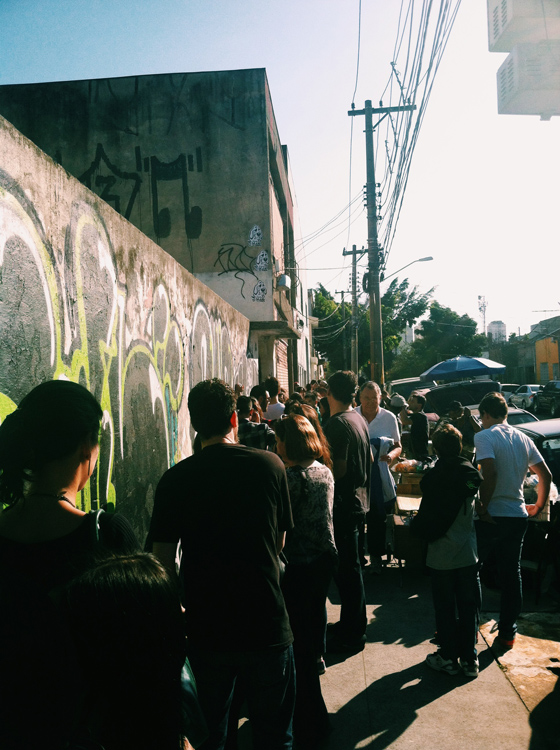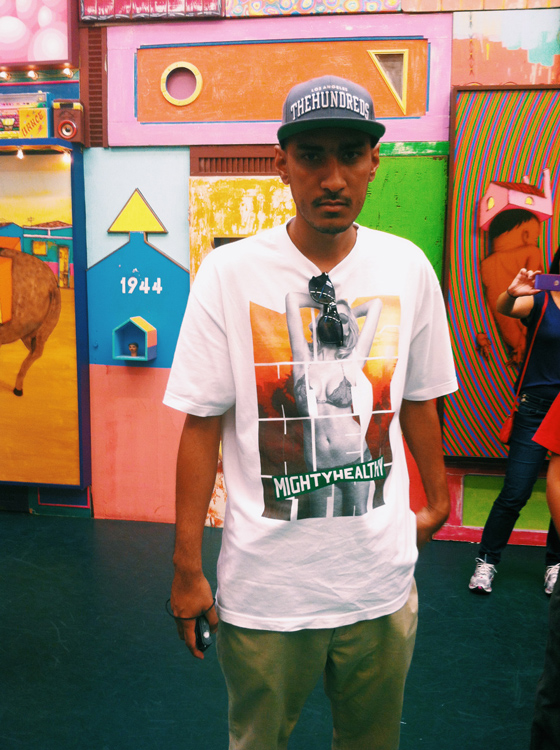 I don't want to compare my experiences between two rival cities but there are two things I have to stress the things that mean the most: food and graffiti.
The food here is better. I'm sorry, it must be stated! I love rice and beans and chicken, but damn, can a brother get some variety??? Where else can I get shawarma sliced and diced into a delicious little beirute sandwich for only $2.50 with a big cup of pineapple juice, right next to a ramen house with bomb ass $11 salmon rolls? There are more Japanese people here than anywhere else besides Japan and there are more Italian descendants here than anywhere else in the world. I mean, damn, the biggest fast food chain in the country, Habib's, was started by Arabs here.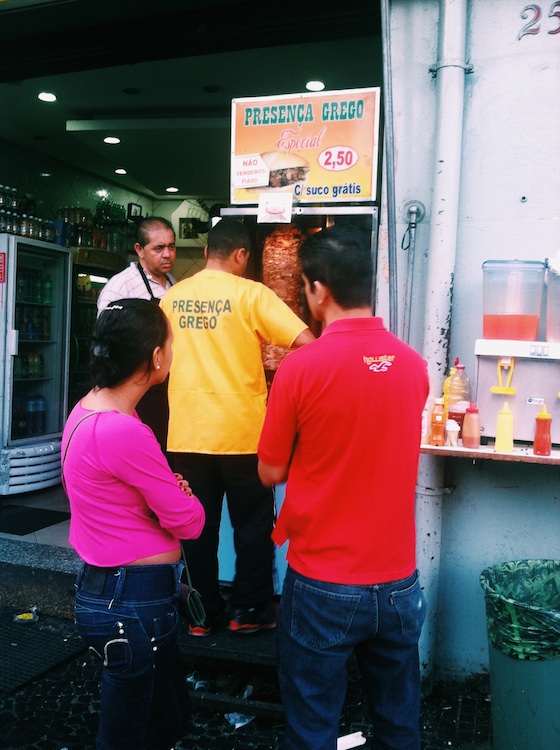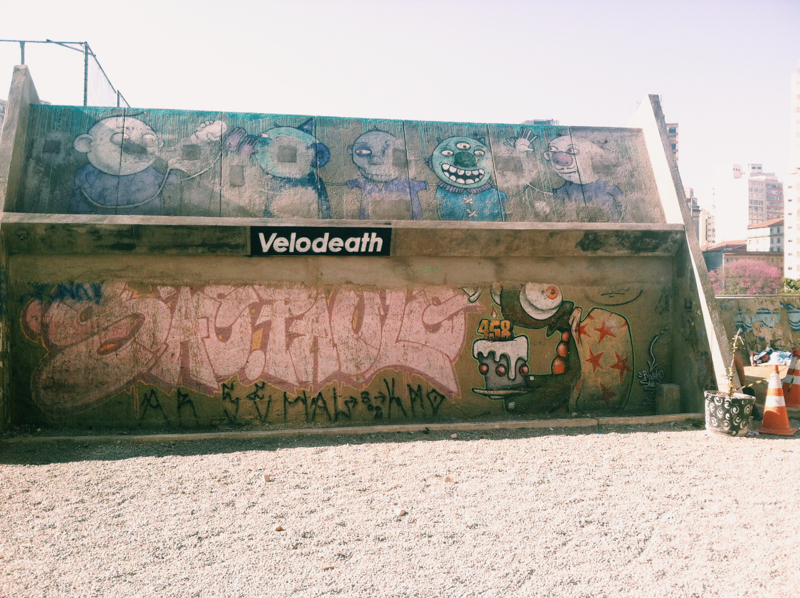 It's a trip to see how people can juxtapose the Neoclassical and baroque architecture with futuristic art and have it coming off so natural. I loved Bixiga too. An Italian neighborhood off Avenida Brigadiero, built in the same vein as Naples or Rome filled with Italian restaurants and miles – and even buildings – covered in public art. Made an friend there named Carla. Her handstyles are too clean. That's her below: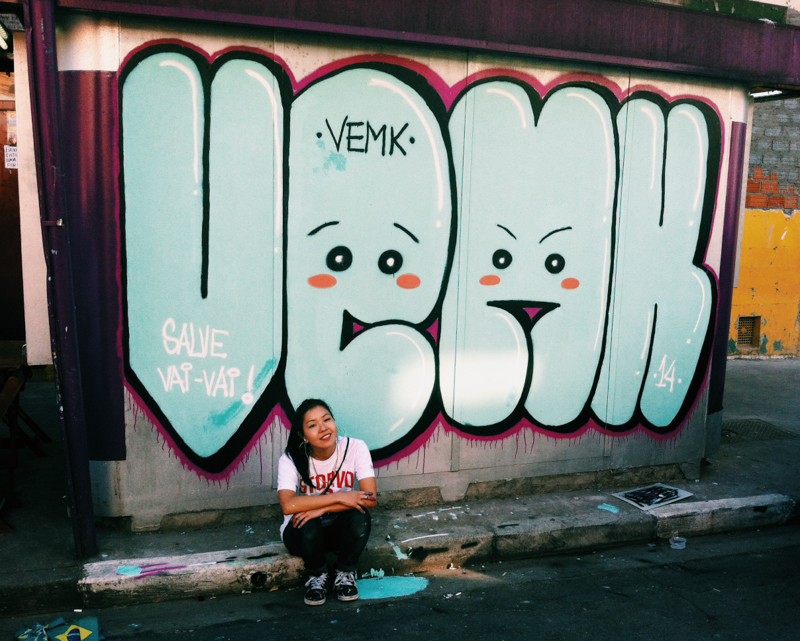 The people love it. They embrace the vibrant colors. I met a writer while I was leaving this flea market at Praca De Se where I copped Michael Jackson's Dangerous and Sade's Love Deluxe on vinyl on the low low. My favorite spot to kick it so far has to be Liberdade which is home to the Japanese community in São Paulo and is very much styled like a district in one of those samurai video games Konami put out on the PS2.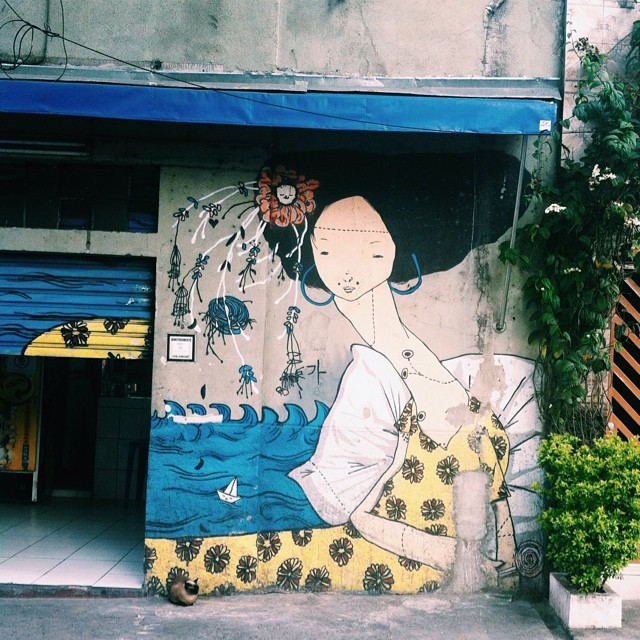 Their influence on the local art scene is unparalleled. Koi fishes, Samurais, Sumos, and Edo period iconography being standard in many of the larger pieces underneath freeway ramps. I think that's the true essence of what São Paulo means to me the fusion of all these cultures into a dynamic colorful entities that breaks through the tall concrete blocks and is just like wrah, wrah like a dungeon dragon!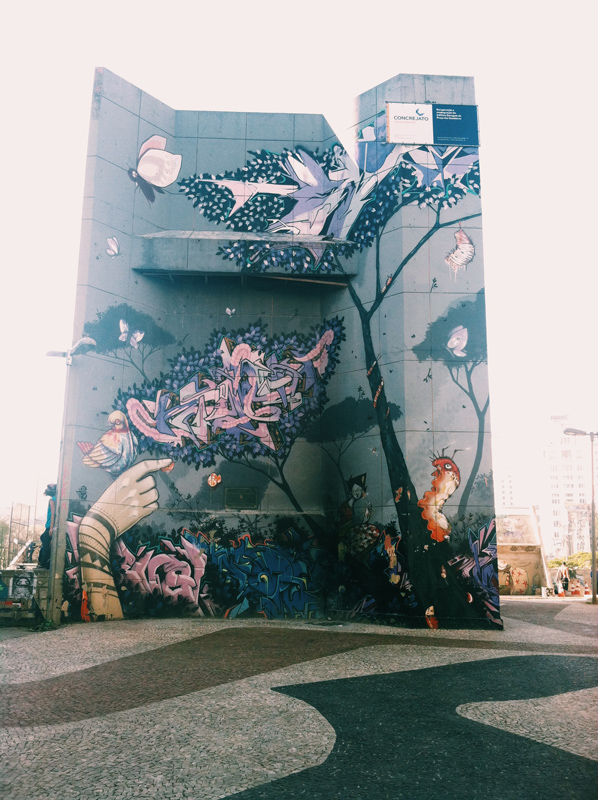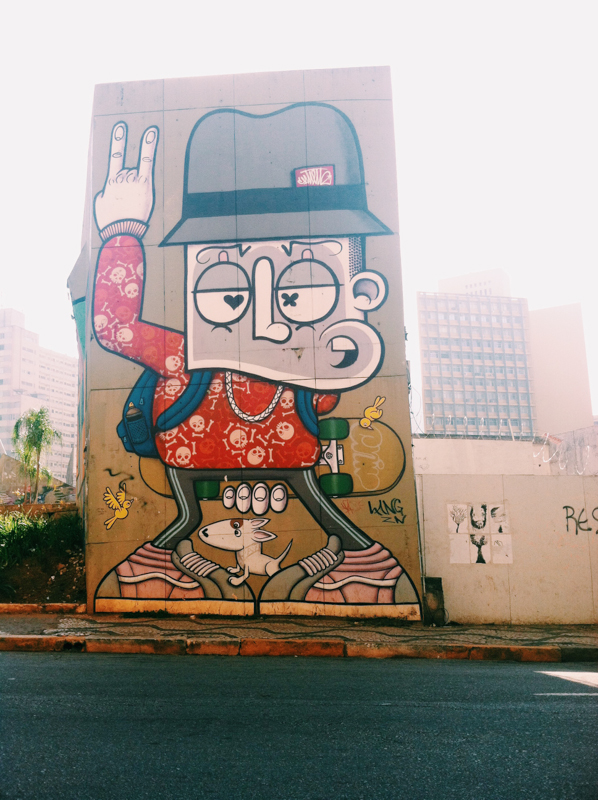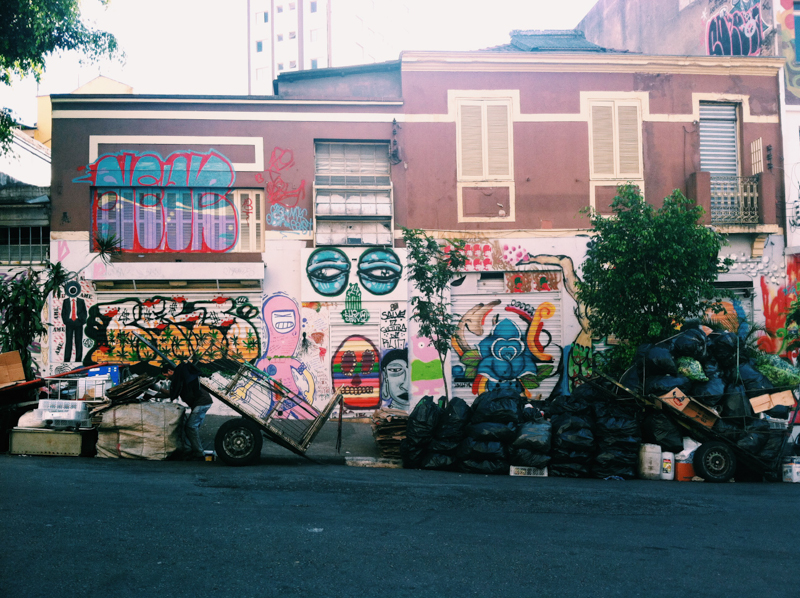 Soon, I'm heading up back North to explore. Peace, friends and enemies.