Words: Maurice Pendarvis
Photos: Switch (Country Club LA)
Photos of Country Club Cincinnati provided by Country Club.
It's been over a year since we last talked, what have you been doing with yourself?
It's been a very exciting past 12 months. Country Club | Los Angeles moved into the modernist landmark Buck House designed by RM Schindler. We use this space as a private project model where I produce art projects as well as performative projects, screenings, etc. Its been very well received as we sort of developed a new, more experimental model for a gallery project. Our inaugural project in the Buck House was last fall with a survey of works by the modernist graphic artist Charley Harper, followed by amazing projects with Tiffany Foundation Award recipient Beth Campbell, James Krone, Fritz Chesnut, and our current show with celebrated LA-based multimedia artist Kori Newkirk. In between these projects we hosted and produced many parties, events, screenings — more info about all of this can be found on our website. Coming up this fall, we have an amazing project in September with Jonah Freeman and Justin Lowe, infamous for their recreations of elicit spaces such as meth labs, drug dens, etc. They will be transforming the Buck House within this vernacular which will be a progression from their past projects at Deitch Projects in NYC in 2009 and their Meth Lab installation at Art Basel Miami in 2008. Following that will be a project, a survey of the seminal historical paintings, with one of the most important artistic and political figures in recent LA history, and a huge influence on many artists such as Shepard Fairey, Robbie Conal. Robbie became well known during the 1980s for plastering political posters all over LA, made from paintings he created in his studio. These are many of the paintings we'll be showing. He is also included in an upcoming show at LA MOCA this fall.
Country Club | Cincinnati has produced a ton of great projects over the past year as well with acclaimed artists Aaron Morse, Gary Lee Boas, and a fantastic summer group show that just ended with a lot of talented artists including Dan Attoe, Karl Haendel, Adam McEwen, EV Day, Clare Rojas, Hank Willis Thomas, and many others. W also produced a large outdoor mural project with Shepard Fairey for the Miami Art Museum at Art Basel Miami Beach this past December, and some outdoor murals with the Contemporary Arts Center Cincinnati [where Beautiful Losers originated] that Shepard produced concurrent with his retrospective on Supply and Demand, view at the CAC. Later this fall, we've got a great project lined up with Steve Powers for the Cincinnati space as well.
Our publishing arm, Iconoclast Editions, has been really busy as well. In the past year, we've released a ton of new offerings with a lot of artists including: Rita Ackermann, Olafur Eliasson, Shepard Fairey, Os Gemeos, Hook-Ups, Chris Johanson, Spike Jonze, Misaki Kawai, KR, Harmony Korine, Michael Leon, Barry McGee, Ryan McGinness, Tom Sachs, David Shrigley, Ed Templeton, Christopher Wool, and many others.
Why did you decided to move Country Club LA in to the Rudolf Schindler Buck House?
Right after I saw you last summer that space was made available, and I started thinking about it, and it seemed just like a more interesting model. There are a lot of galleries in Los Angeles and although while I thought we had a great program and we were starting something really special there, I felt like this gave us the opportunity to do something even more different than what was already going on with other galleries and
I just felt like it was the opportunity to adopt a more experimental model in a space as interesting than that was a lot more interesting than being one of many other galleries.
When I started thinking about using a space like that to create art projects it was definitely a freeing process. I will say that the space also has its limitations, it allows you to do things you can't do in a normal white box like this project we have coming up next month but it also has it limitations. We don't have these massive white boxes, you can do things in a big white box that you can't do in a residential type of setting.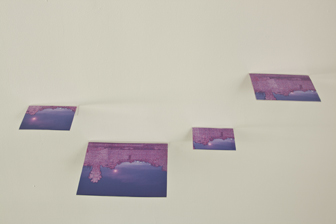 Are you talking about the lack of open wall space?
Yeah, or just open volume, I'm thinking more like that, a typical gallery will have quite a fair amount of open volume. A house like this, which isn't huge, there are some limitations but the trade offs are welcomed. Any kind of shortcomings or limitations that this current space has is definitely offset by all the interesting things we can do.
Its definitely gives the audience a different way to experience art when its displayed in a house.
Exactly. And I think it's a more personal way and a more intimate way to interact with art, and that was one of the key things for me too, giving people the opportunity to see serious art and compelling projects in the context of a resident, particularly a architectural landmark like this. I thought it was such an interesting concept, it would give the projects we were doing another layer of context more than a normal white box can't give.
What is the upcoming project, Bright White Underground by Jonah Freeman and Justin Long going to be about?
They are completely taking over the whole entire space. They are kind of transforming the interior space. They are not transforming the architecture of the structure, they are just transforming it cosmetically, the exterior of the home will look the same but as you enter it will feel like a completely different space. It's a continuation of their past [exhibits] its sort of like the natural progression in their collaborative projects where they've created this completely new environments but in the past these environments they've created have been created out of white boxes, in traditional galley type of spaces, and this house gives them a sort of context to work from that they never had before.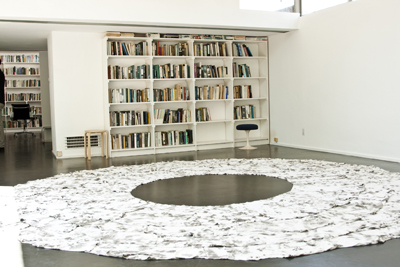 Since you have Country Club in LA and Cincinnati do you still curate at other galleries?
I've worked with other galleries, its more like collaborations, we'll do projects with artists that have a primary dealer in another city that we're not in or vice versa, a gallery will want to do something with one of our artists and we'll work with them. So there is as lot of mutual collaboration between galleries when they share artists. I do a lot of that. As far as stuff that I'm actually curating and organizing, in the last couple of years, it's mainly been for institutional projects, museums, art centers, and things like that. A good example of that would be the Transfer show I just organized and co-curated in Brazil. That was a large group that opened in San Paulo at a cultural center down there, and its not too dissimilar, I hate to say this but it's a group show and it kinda tracks, similar to Beautiful Losers, like the last 25 years of artists and art that have come from the Brazilian counterpart of things like skateboarding culture, independent music, graffiti culture, and things like that.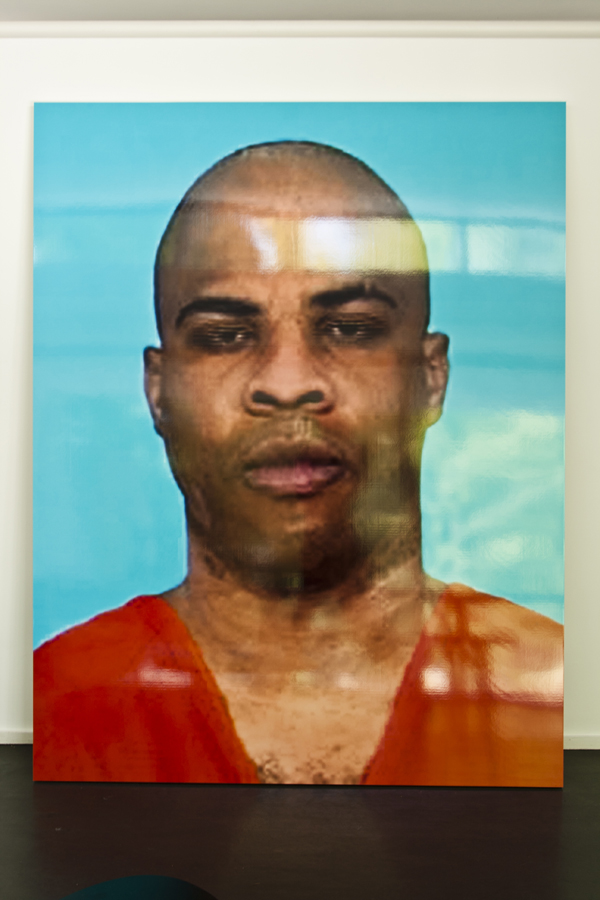 Strength was one of the best magazines about skateboarding and snowboarding at that time. What were you experiences like creating it?
I think about that, man that was a long time ago, I started that thing 15 years ago. It was really tiny for the first couple of years it wasn't until the third year at best that it really started growing at quick pace. First two years, we really, I think we were still quarterly and I don't think we went six times a year until the third year. It was a slow building process and, you gotta think, that was at the very beginning of people using the internet. So at the time digital media was a non-issue, it didn't really exist or at least on the level that it does now or by the time it did when I got out of that business. Print was still king and that was mainly how media was consumed and distributed via print. We just started off really small, I got a small core group of advertisers, and I built my retail distribution network, and my advertising network, and my subscription network, and it slowly built and every bit of money that was coming in I poured right back into it. By the time I eventually sold the magazine were doing 100,000 magazines a month and we were monthly at that point. That took about five years to get to that point. It was a different world then and that would not be possible now, as you know, a media entity that is primarily relying on its print format to make in this day and age as a startup not possible.
As someone who used to work in the action sport industry, what are your feelings when you look at the current state of the industry?
For me, I haven't worked directly in that industry for over 7 years, so for me, its interesting for me because I've been sort of a bystander or onlooker and have this outside view in on the industry. I still know so many people that I dealt with and worked with when I was involved in the industry are still in it. I still keep in touch with a lot people from the industry and kept taps on it a little bit, but I'm sort of this…its fun. The things that I don't' like about it don't get to me personally because I'm not involved in it.