In 2016, a brand like Fear of God can reappropriate a vintage Metallica tee (same graphic sold new on the band's site for $25), slap their own logo on it, and sell it for hundreds of dollars. $800, to be exact—at least this is the amount Dom DeLuca aka Brooklyn Dom tells us, as he recalls a conversation with a member of Metallica, who seemed completely confused by the idea of some old merch being sold for almost a whole stack—under another brand's name. Take Supreme's recent head-scratching collaboration with Black Sabbath on the heels of the band's final tour; the appropriation of band tees as fashion statements in the streetwear sect is currently ubiquitous among the mall rat and Hypebeast forum youth that count Kanye as their fashion idol.
"My history goes deeper than anybody in streetwear," says Dom, his New York City storytelling dialect ringing through the telephone line when we interviewed him, each word with its own weight. "But I don't put it out there—I have integrity. So when Mega [of Black Scale] has been asking me to do this show for over a month, I was like, 'No one's gonna care!'" He's talking about his photo show, titled SMUT, a Polaroid-snapped chronicling of his days as a roadie in the heavy metal scene from '88-'92, touring with close to 40 of the biggest bands at the time, like Metallica, Anthrax, Biohazard, and Violent; a period when he says "the road became my classroom and the bands were my teachers." The 300+ photo show of debauchery—that omitted a photo, by the way, of [redacted hair metal god] snorting [redacted] and smiling—opens tonight at Fairfax's storied The Seventh Letter gallery.
"You truly had to be there, honestly, you truly did."
It's perfect timing for a show like this, with fashion and street culture's current landscape. And from a personality like no other: Dom, the realest guy ever (Bobby Hundreds called him "inimitable") who went from heavy metal roadie at 18, to MTV VJ of Headbangers Ball at 23, to management at Def Jam, to opening one of NYC's first streetwear/skate shops Brooklyn House (a year before Supreme), then the iconic Brooklyn House West (in LA—just look at this legendary photo of Dom), to his current longstanding boutique Brooklyn Projects on Melrose.
By the way, Dom wasn't exactly right when he said no one was gonna care. Other than Mega taking notice, art and photo book publisher TASCHEN actually spoke to him about potentially putting together a book of the photographs after spotting Dom in a shirt he made with a photo transfer of the below snap of him at 18 with a groupie. He's got loads of these shots in storage. The problem was that his collection of photos and Polaroids portray an honest look at behind the scenes tour life on the road, and oftentimes, insanely famous figures doing insane shit—which would put him in legal hot water. He couldn't even reveal to us which bands' tours some of the snaps depict. "The top 5 heavy metal bands in the world, we'll put it this way," he answers cleverly. "I would snap the festivities on the back of the tour bus. In the golden age of heavy metal, chicks would do anything to get a backstage pass or meet the band." We surmised that things are different now because of the internet, camera phones, YouTube, etc. Dom agreed: "You truly had to be there, honestly, you truly did."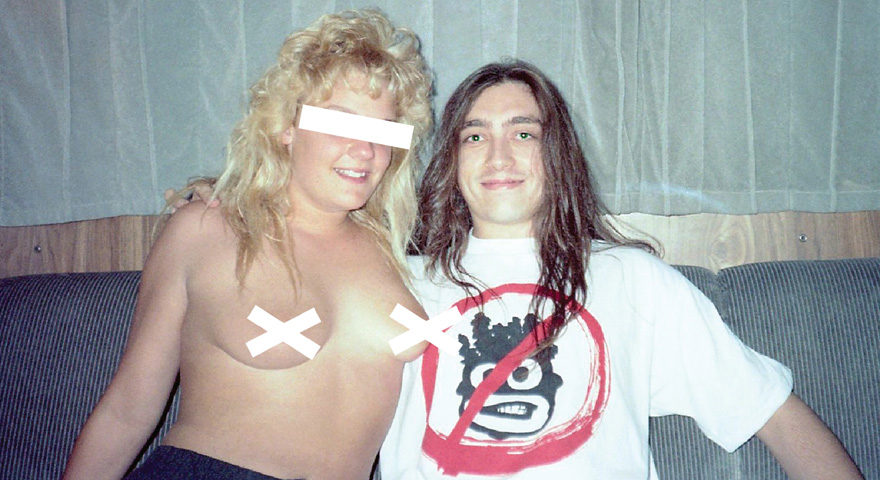 Brooklyn Dom DeLuca at 18 in a classic KMD shirt.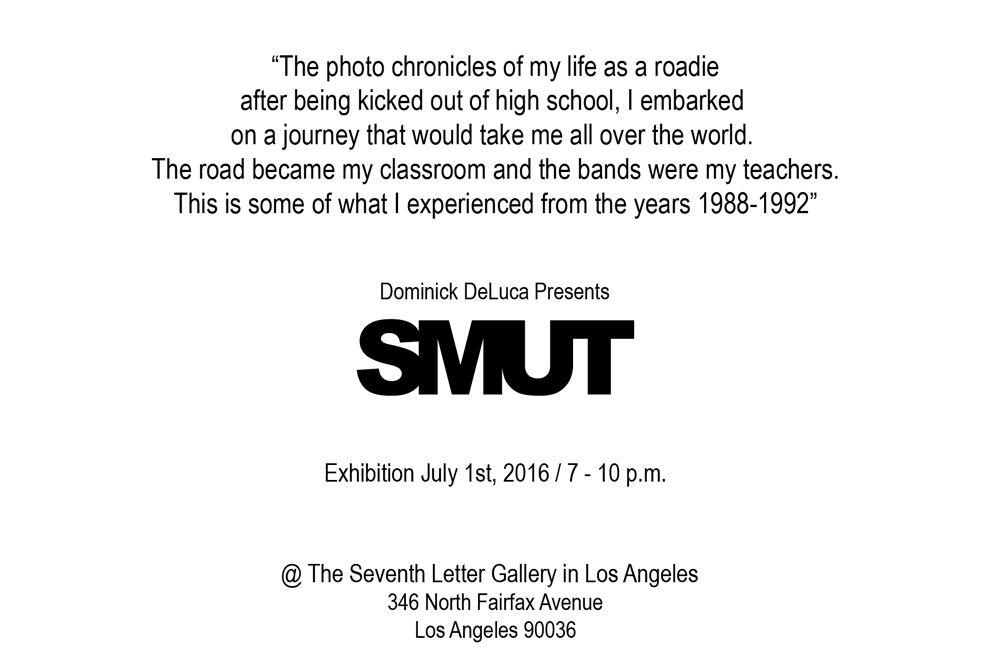 The name of his show, SMUT, is what Dom remembers Anthrax used to call their collection of groupie photos. Dom explains, "All bands had smut books. They were like trading cards. Tour chronicles." And some groupies back then were larger than life. He laughs, recalling a time on tour with Biohazard when he was introduced to a famous groupie who had a notorious talent: apparently she was able to smoke cigarettes out of her actual vagina—puffing out the smoke and all. He continued this marvelously depraved lifestyle for 4 more years until he took a break, worked at a jewelry shop, and soon reluctantly got a gig out of the blue as an MTV VJ for the iconic Headbangers Ball at 23 when these TV heads took notice of this "funny kid that knows everybody" at all the shows. That story's crazy too. But we'll save that one for another time on The Hundreds.
But we'll give you this: how it all came to be. Dom's uncles George and Mike owned a disco club in Brooklyn called L'Amor. "It was huge in the '70s," he recalls. "Saturday Night Fever huge." But disco was dying. So his uncles booked a "local heavy metal band." Little did they know, the group turned out to be the legendary Twisted Sister, right before their mid-'80s heyday, a few years before they gained international fame. "My uncles were total guidos, Travolta in Saturday Night Fever, Studio 54. They knew nothing." Dom recalls the night his uncles came over to his house for Sunday dinner and kept complaining that they recently booked this crazy heavy metal band that wore makeup and boots and led a mob that tore down their club's awning—one that said "The Disco Capital of the World." According to local legend, Dee Snider pranced out after the show, looked at the awning, and screamed, "THIS IS THE ROCK CAPITAL OF BROOKLYN, NOT THE DISCO CAPITAL!" as a deluge of fans seized the sign and ripped it right off. "Like something out of a movie," Dom excitedly remembers. "I was 11 or 12." Despite the mayhem Dee and Twisted Sister's fans caused, Dom's uncles said they made more that night than any other night they could remember. So, naturally—they started booking heavy metal bands.
"It was just timing, it was starting to bubble. The heavy metal scene was blowing up," says Dom. Bands like Metallica, Slayer, and Anthrax ruled the scene, and Dom soon became good friends with all these bands, from simply "skating around downtown" and being the magnetic personality he still is today, no frills (according to this interview with Kayo, Dom used to skate around with Scott Ian from Anthrax around Washington Square Park in the late '80s). But how did he get the roadie gig? After getting kicked out of school due to a downturn in grades following a family tragedy ("I was a great student, then my dad died. I kind of lost it"), he told the principal who refused to give him a second chance, "In a year, I'll make more money than you!" Then, "Sure enough," he says, "I started going on the road to make money."
The rest is history.
—or rather, the rest will be told another time because Dom's life is just that big. This is only a tiny sliver. Go see SMUT tonight, the show opens at 7pm. Say hi to Dom for us (we'll be there, too).
***
SMUT opens tonight from 7-10pm at The Seventh Letter (346 N Fairfax Ave, Los Angeles, CA 90036).