During The Hundreds' trip to London, our new contributor Tom Kirkby interviewed Bobby Hundreds for his own Breaks Magazine. An interview which Bobby says was "the most intense" one he's done in a while and even joked that that he refuses to be interviewed for the next 2 years because of it. You can read the first part of the interview in full on Breaks Magazine HERE – and the rest below.
What is the most striking change in the brand since the inception?
Let me just say we'll never get newer, but we will always get better.
Switching gears to retail, it's obvious that having a space means that you can take control of exactly how the brand is perceived, but what are some of the less obvious advantages of having a dedicated retail space?
It's one of the best moves you can make in establishing brand awareness within a region, as well as boosting sales for neighboring accounts.  But stores aren't necessarily the solution.  Retail is a universe and headache all its own, and there are a million ways for it to hamper or kill your business.  It's a powerful weapon, wield it accordingly.
What happened to your footwear line?
We let it go.  Okay, so 6 or 7 years ago, we started working on our own footwear program for a few reasons. We had envisioned The Hundreds to be all-encompassing.  It seemed off that we made everything the guy was wearing except for his shoes.  Secondarily, we had a bigger mission, which was to offer an alternative to the big three sports shoes (Nike, adidas, Puma) and the malled-out skate shoe companies.  Going into it, we understood the challenge, but we were stubborn and pigheaded about it.  We were trying to prove a point, and willing to sink hundreds of thousands of dollars to do so.
I've always sympathized with the underdogs and independents.  I assumed our market felt the same way and would opt to support a small shoe brand versus a faceless, multinational corporation – if given the choice.  But I was dead wrong.  Kids today couldn't care less that an athletics giant owns Skateboarding, or that their local boutique's shoe wall has been co-opted by the Man.  In clothing, you have thousands of competitors.  In our immediate market, Nike takes like 97% of the space. How can a brand like The Hundreds compete with that?  Nike's marketing budget alone is over 100 times our company's value.  Let's be real, if a guy's got a hundred bucks to spend, is he gonna drop it on some canvas vulc sneakers by a brand no one's heard of, or a pair of limited Lebrons constructed of spacesuit material from the future and buttressed with a global advertising campaign?  I can't blame them.  At least – back in the day – people didn't want to wear a corporation on their feet, and so they'd strive to endorse the little guy.  But what if your favorite rapper or skateboarder is also telling you to buy the Nike?  What if the counter-culture doesn't just tout the corporation, but is possessed by it?  No contest.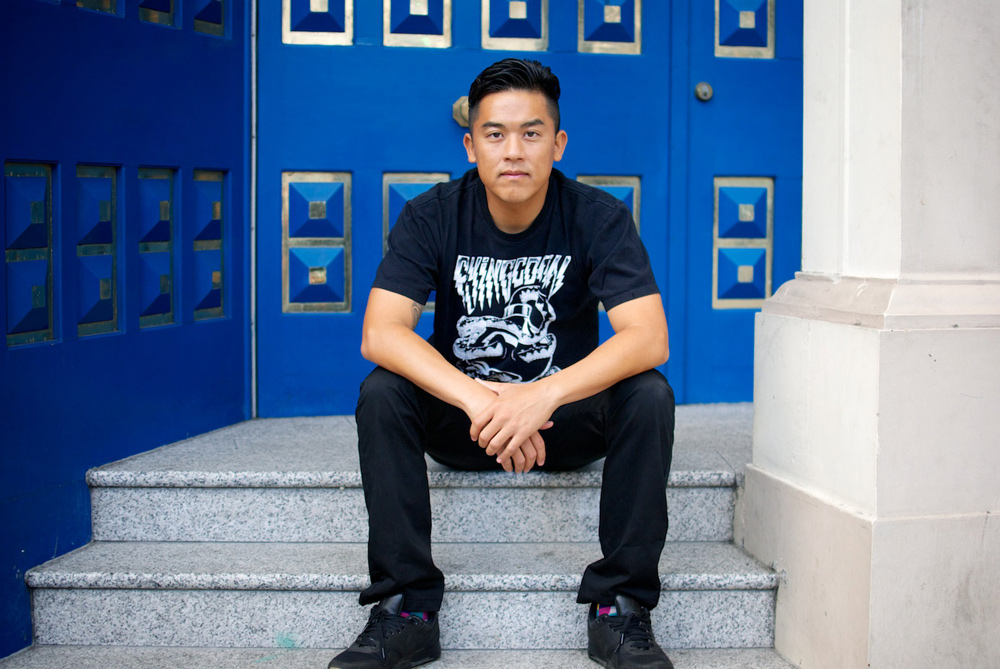 Why have you distanced Public Label from the Hundreds and [pushed] it as a wholly separate brand?
So when we started, The Hundreds apparel was built off of graphic tees.  They were cheap and all we could afford.  Furthermore, we didn't have further cut-n-sew capabilities.  As those opportunities opened up, I had to consider how a larger collection looked beyond T-shirts.  I liked Streetwear tees with their heavy plastisol, crispy open-end cotton, and bold messages, but otherwise, I liked to counter a graphic with more sophisticated apparel.  Like a chambray button-up or some premium selvedge denim.  To reconcile this more mature apparel collection with graphic Streetwear T-shirts, we referred to the cut-n-sew line as Public Label.  But as The Hundreds expanded, it warranted its own apparel that vibed closer with how the T-shirt collection felt.  So Public Label went on to become its own standalone project, heavy on progressive design, more fashion forward, under different distribution strategy, and overseen by Patrick Hill, our Creative Director.
So we have The Hundreds, we have Public Label, and next year, we will be introducing The Hundreds (Red Letter), which is essentially the apotheosis of The Hundreds.  It is entirely conceptualized and designed by myself and encapsulates how we want The Hundreds to be understood and remembered – as classic, Californian workwear.  And under the tightest distribution.  Be on the lookout for that!
There's no way I can't ask you about collabs, but, and I know you get asked this alot, which stands out as your favourite and most personal?
My answer to this question changes constantly.  Today, I'll say it was Garfield.  That one meant a lot, as Garfield was how I learned how to draw as a kid.  I started to adopt his personality, asking for lasagna at every meal, sleeping in his bedsheets, hating Mondays.  The highlights were traveling to Muncie, Indiana, to sit down with Jim Davis himself and to get an actual blueline comic incorporating Adam Bomb into the Garfield legacy, before they moved the process over to digital. 
Typically, for those that aren't aware, how time consuming, frustrating, and expensive is collaborating with someone?
It can be fun and rewarding as it was with Garfield. Or it can fracture a relationship and burn a bridge, especially amongst friends.  By definition, collaborations are not about your own creation, but about working with someone else's inspiration and mindset.  The irony is we all ended up in this business because we don't play well with others.  We have these gigantic egos, we're stubborn, we only see things our way.  So to concede and compromise your vision to pair with another's… it's not necessarily better product.  I'll put it like this.  Collaborations should result in twice the creative impact, but oftentimes, they are just two halves of an idea.
We all know about the Delorean but what else you drive?
Haha… my wife crazy.
When will we see a London store, and what else do you have planned for The Hundreds in Europe and the UK?
Fingers crossed…
READ THE REST OF THE INTERVIEW HERE ON BREAKS MAGAZINE
::
Breaks on Twitter @breaksmag and Instagram @breaksmag.