I don't think there are enough words to explain how much I love food. In the back of my mind, I'm always thinking about what I want to taste next, even if I am already full, stuffed to the brim, pants unzipped, breathing heavily. I get excited about going to sleep at night because it's like teleporting to breakfast the next day. My Editor-In-Chief Alina and I have had far too many extended conversations about food—what was the texture like? Oh, so it was sort of acidic? Did the flavors mesh well? (And I promise, we're not trying to be pretentious assholes about it; we just genuinely get excited—to an embarrassing amount—to share our experiences with food, to try and communicate the flavors we come across and transport one another to a moment).
I don't have any credentials regarding food, other than I like to eat it, and I want to write about it. But food is my comfort—it's something that can reunite a group of friends who haven't seen each other in a long time, a cultural textbook that allows us to understand and explore the world a bit better, a warm hug on a sad day. All my favorite memories revolve around food some way, somehow.
I wanted to pay tribute to some of the places I was lucky enough to travel to this year, wanted to explore a diverse range of flavors my uninformed palette was lucky enough to taste, but also wanted give thanks to the foods that made me pause, mid-chew, and say, "WOW!" while my mouth was full of food (probably not a pretty sight). IT'S MY LIST. It's subjective, it's full of flavor, and it's here: my favorite eats of 2016. Bon appétit.
Caramelized pork belly from Kin Khao (San Francisco, CA)
San Francisco has a lot of amazing food, but I don't usually go looking for Thai there (because I am from LA, the best place for Thai outside of Thailand, fight me about it). However, I was having a fierce craving for it while I was in the city and wandered in. This place is unassuming; it's kind of tucked inside of a hotel lobby, so I was sort of surprised when it was completely booked (we later found out that they were awarded a Michelin star). They managed to find two seats at the bar for me and my date and we began our journey with their life-changing pork belly. Oh my god, it comes out in a sizzling clay pot, caramel bubbling around it, the smell unlike anything you've ever dreamed of smelling—seductively sweet and porky, with a hint of fish sauce. We ended up devouring the pork within minutes; it was extremely tender, melt-in-your-mouth, the fat to meat ratio just right. We dipped our leftover sticky rice in the sauce, mourning the loss of the most intensely flavored food we'd had in awhile. DON'T CRY BECAUSE IT'S OVER, SMILE BECAUSE IT HAPPENED.
Stuffed deep dish pizza from Giodarno's (Chicago, IL)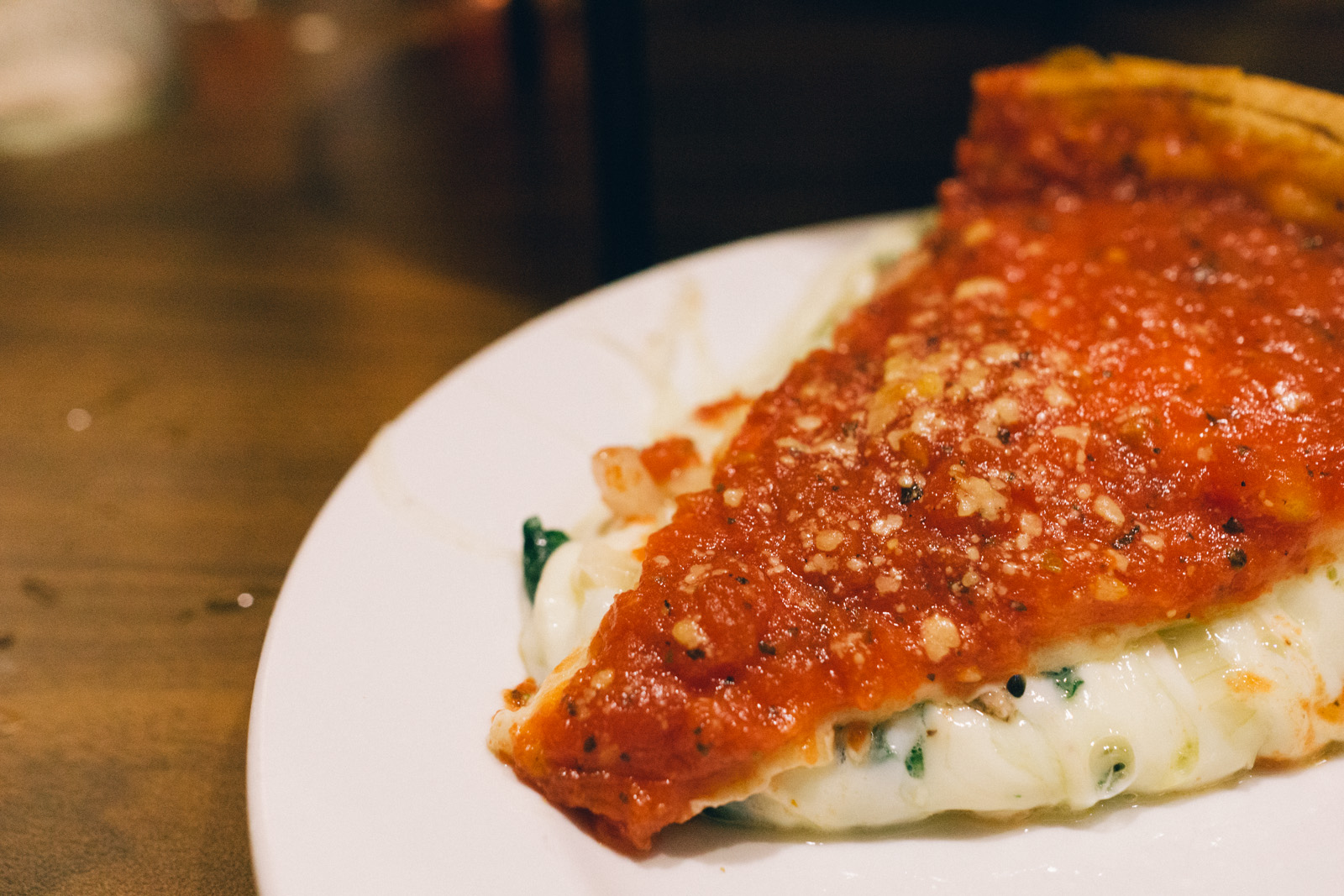 Photo: That Food Cray
My roommate for the last 3 years of college was from Chicago—and the biggest elitist when it came to its pizza. For her, the war between Giordarno's and Lou Malnati's is ongoing (she used to tell me Giordarno's was her favorite, but has recently switched to Malnati's, and is now also a champion for Pequod's). For me, it has to be Giordarno's. The tomato sauce tastes so much fuller, fresher, brighter even; the pepperoni has the right amount of bite—subtly spicy, tangy, and salty; there's an overload of oozing cheese; and the crust is the perfect vessel to carry all of it straight into my mouth. Thank you, Giodarno's, for making this thin-crust pizza lover a believer.
Ube truffle from Café 86 (Pasadena, CA)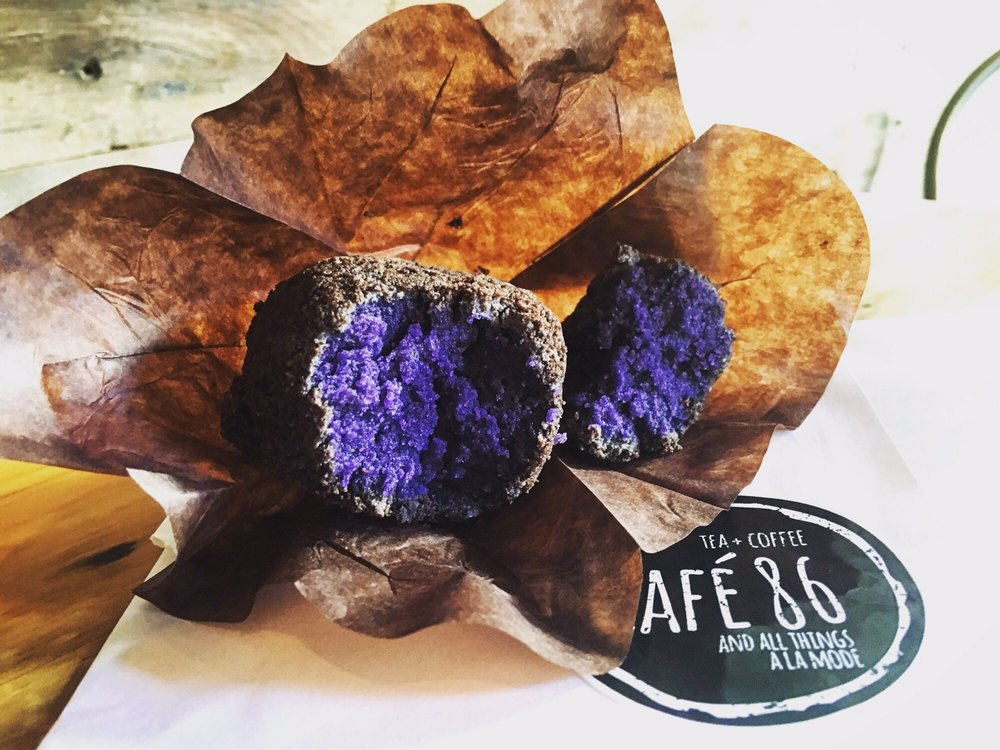 Photo: Yelp
Something that has increasingly agitated me is how popular ube and pandan-flavored desserts have become. It's not that the hype isn't well-deserved. Maybe it's because I used to have ube/pandan cakes for my birthday parties as a kid and got made fun of a lot, and now suddenly it's very trendy and the next thing to try. For those who don't know, Ube is a purple yam and Pandan is a flavor extracted from the pandanus leaves, both of which are common in Southeast Asian desserts. What used to be considered bizarre, oddly-colored, and nasty is suddenly the newest food to Instagram about. Funny how cultural foods can be co-opted and sold to the masses, but I can't complain too much because now these flavors I've grown up with are more widely available to me, too. Enough of my rant! These ube truffles are from another planet. They blow my childhood Red Ribbon ube rolls out of the water. The ube flavor isn't too overwhelming, the truffle is nicely dense and moist, and the exterior has a slight crunch to it—perfectly balanced and addictive. I'll also give a special shout out to their Ube Flan Cupcake and their Matcha Brownies, both of which I could write long paragraphs about (but I won't bore you).
Tofu and chicken curry with spinach garlic rice from Curry House (Los Angeles, CA)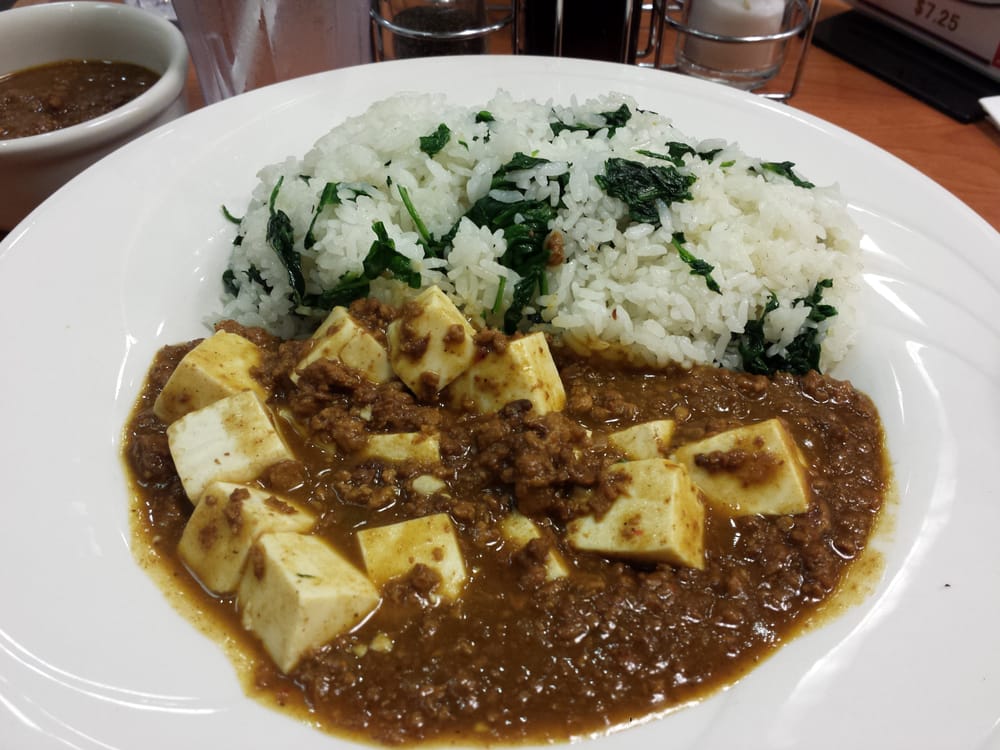 Photo: Yelp
Anyone who knows me well knows that pork katsu with curry and rice is my death row meal. It is my ultimate comfort food, a dish I could eat every day for the rest of my life if it came down to it. I go to Curry House way too often and have tried to scale back on all the panko-crusted meats I consume there (however tasty they may be). This is my new favorite: the curry is a medley of amazing spices, ground chicken, and ginger, the tofu just the right amount of firmness, and the rice cooked perfectly with spinach and garlic. I've convinced myself it's a healthy dish because of the spinach and tofu. (You can tell yourself that too when you eat it.)
Artichoke pizza from Artichoke Basille's (New York City, NY)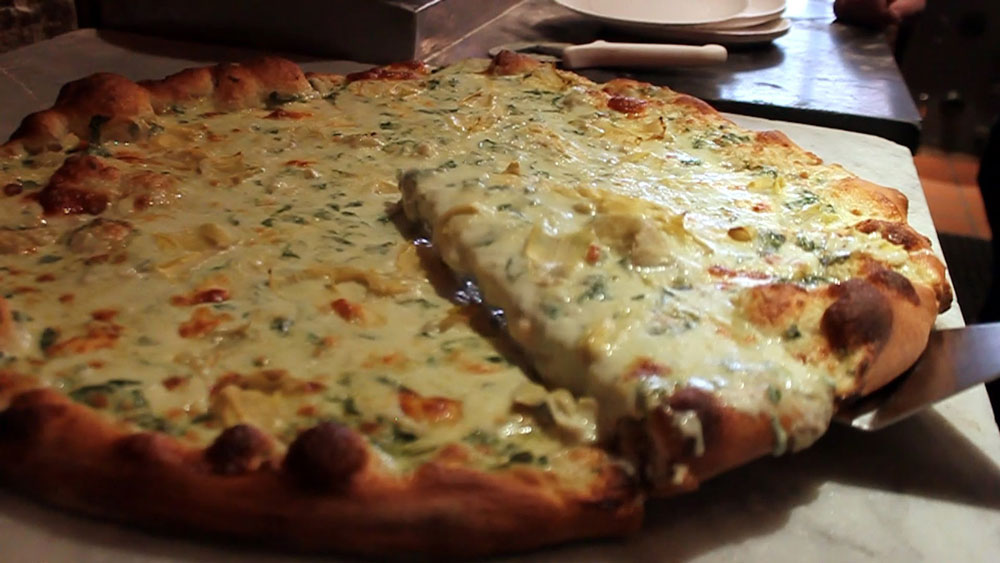 Photo: Youtube
Endlessly creamy, cheesy, and melty, and stuffed with a healthy amount of spinach and artichokes, this pizza was a dream. The base was crispy and the flavors were rich and comforting, with the artichoke adding enough tanginess to cut through all that delicious fat. I love you, artichoke pizza.
Tres leches muffin from Tierra Mia Coffee (Los Angeles, CA)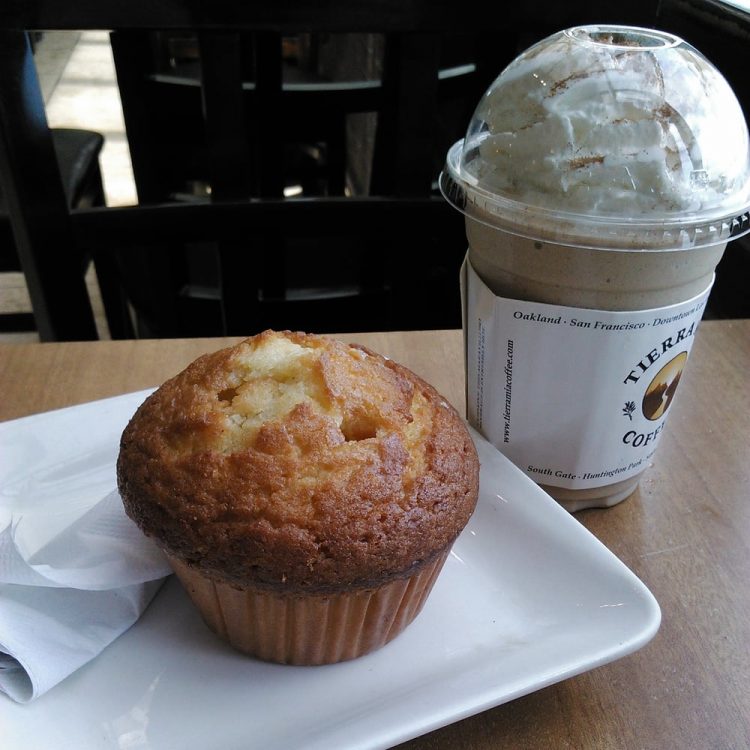 Photo: Yelp
My coworker left this beautiful gem on my desk for my birthday, so I can't say anything about the shop or workers or whatever because I've never been there (does it not annoy the shit out of you when Yelp reviews focus only on those aspects and not the food? THE FOOD CHANGED MY LIFE, I WOULD GIVE UP MY FIRST BORN FOR ANOTHER BITE, BUT THERE WAS NO PARKING, TWO STARS). But anyway, I might actually give up my first born for a lifetime supply of these muffins. It's moist, decadent, and soaked in sweet milk—but not soaked to the point that it's mushy or falling apart. It's extremely aromatic, too, like your friend vanilla is gently caressing your face as you bite into it, the tres leches dripping down your chin. If I could have one of these for breakfast everyday without any sort of repercussions health-wise, I would.
Açai bowl from Diamond Head Cove Health Bar (Honolulu, HI)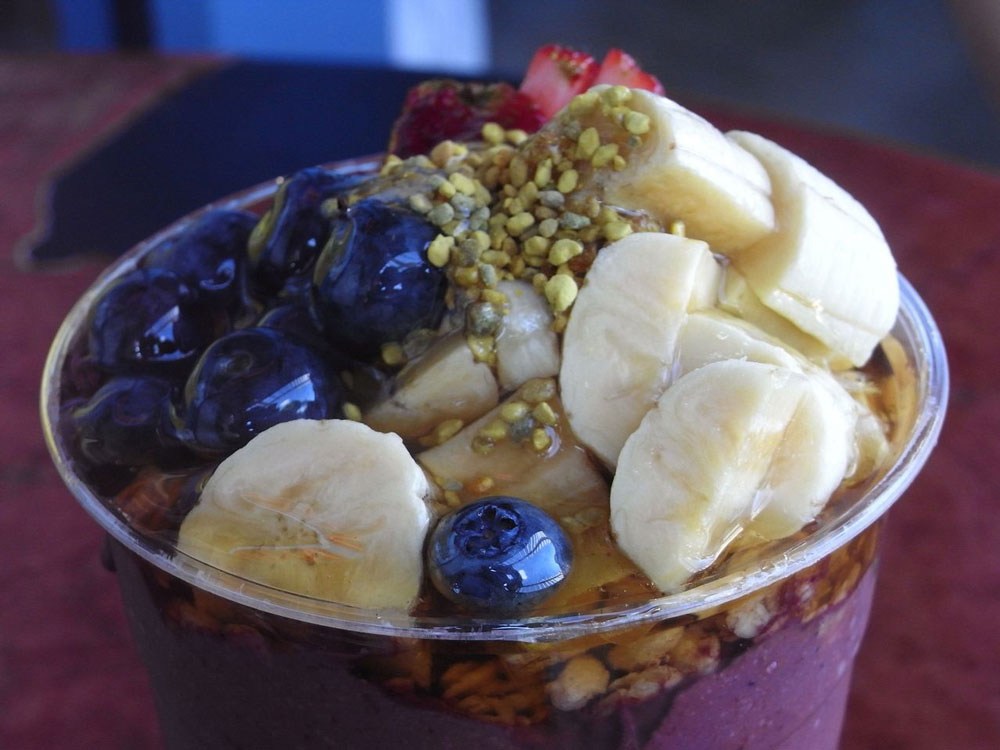 Photo: YES WE にゃん!
It makes sense that açai bowls have become so popularized. It's the harmonious (and uncommon) blend of eating something that genuinely tastes good, knowing that it's actually good for you, too. I got 'Da Cove' from Diamond Head Cove Health Bar; it's rejuvenating and perfect under the palm trees and light breeze of Honolulu. The best part is the honey and bee pollen on top—their honey is the best I think I've ever had (other than the intoxicatingly delicious honey I get drizzled on my milk soft serve from Honeymee in Little Tokyo).
Pork belly slider from Arroy Food Truck (Los Angeles, CA)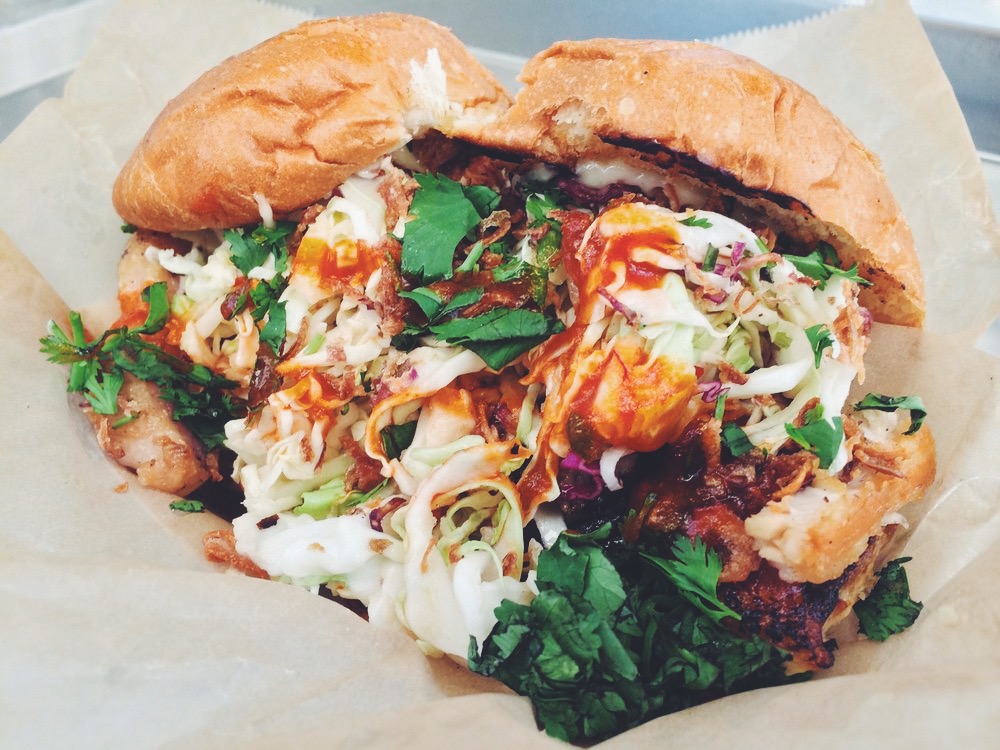 Photo: Arroy Food Truck
As you can probably guess from an earlier food favorite, I love pork belly. It's just so juicy and flavorful, but can easily be mistreated and turned into a rubbery mess. Arroy doesn't do that though—they treat the sacred pork belly as it should be treated, with love and respect. Their pork belly slider is well-seasoned, crispy on the outside, and simultaneously melts in your mouth when you take a bite. It also has the perfect accompaniment: a vinaigrette-y slaw that complements how luscious the pork belly is. Slightly spicy, tangy, and refreshing, it lightens the dish. All of this comes on a soft, toasted bun—get them with some garlic basil fries. Next time you see the black Thai fusion truck driving around (it has a giant elephant on it!), follow it and be transported to pork belly heaven.
Lomo saltado from Caveman Kitchen (Los Angeles, CA)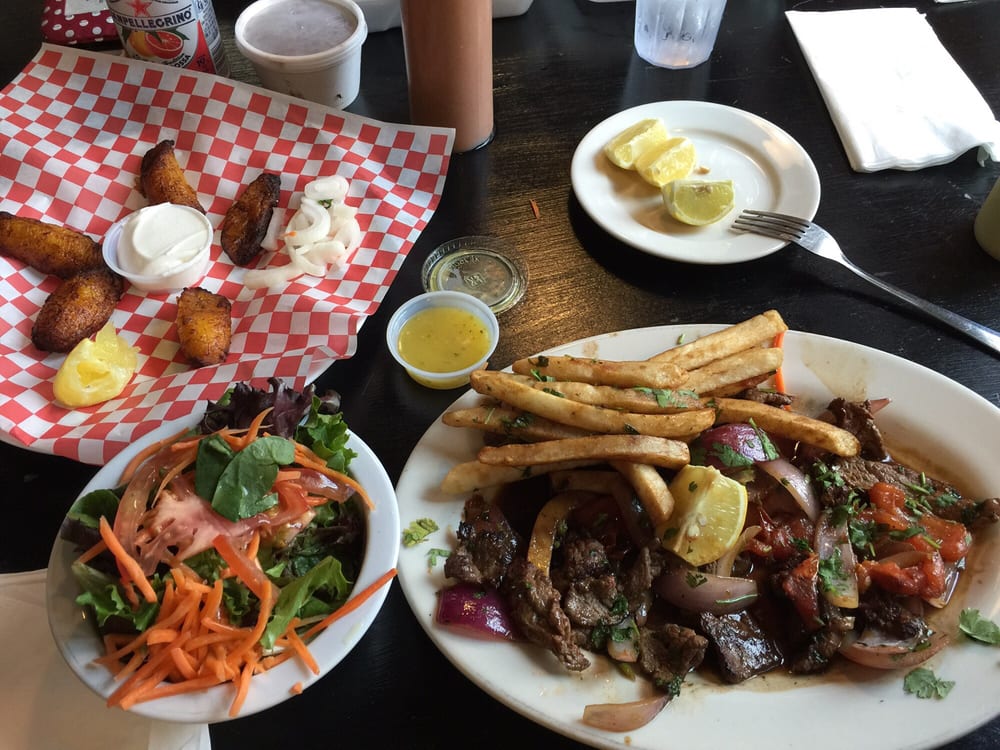 Photo: Yelp
It's hard to go wrong with steak and french fries. Caveman Kitchen does it so right: a heaping serving of steak sautéed with fries and onions, served with rice. It's perfect; the rice soaks up all the excess juices and sauce from the meat, the steak is tender, and the onions are enchantingly sweet. BUT the best part is dousing it all in their amazing salsas. My favorite is the red one; it's got an intense garlic kick, lots of lime, and just the right amount of spiciness to make what could be a heavy meal not quite as heavy. SO GOOD.
Crème brûlée from Bouchon (Las Vegas, NV)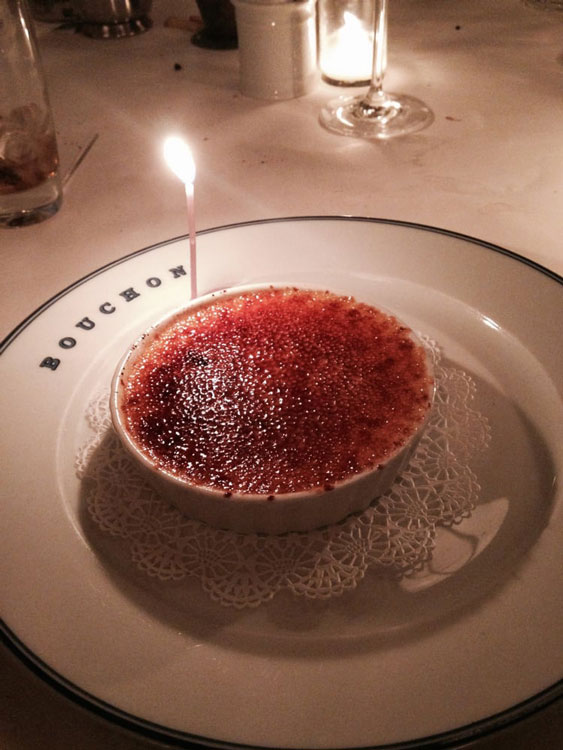 Photo: Yelp
Crème brûlée is one of my favorite desserts. Like Amélie, I love cracking open the top and scooping out the decadent custard underneath—the perfect textural bite of crunchy sugar and silky custard. This one was studded with vanilla bean; creamy and not overwhelmingly sweet. I'll also add that it was the most delightful end to a delicious dinner overall (I had the mussels which were steeped in an amazing white wine sauce, and the French bread they serve you there is perfection). Thanks Thomas Keller and Bouchon!
HONORABLE MENTIONS:
Ground Beef Pie from Bronzed Aussie in Los Angeles
Bacon, Egg, and Cheese from Tompkins Square Bagels in New York City
Ensenada Coctel De Mariscos Ceviche from Tikifish in Los Angeles
Tortilla de Patatas from Cafe Ba-Ba-Reeba! in Chicago
Xiao Long Bao from J&J/Jin Jian in San Gabriel
***