We can't really pinpoint why, but food has always been deeply important to The Hundreds. In the mid-2000s early days of the brand, curbside business meetings between Ben & Bobby Hundreds used to happen next to a parked roach coach in front of Bobby's apartment (there's an old The Hundreds graphic based on the same taco truck). Even today, our executive meetings usually take place at a restaurant, whether it's Yang Chow in Chinatown over a plate of slippery shrimp or at iconic family-run Greek restaurant Papa Cristo's on Pico. We break bread together. It's where the ideas happen.
Today, Ben and Bobby have fostered storied relationships with chefs and cooks that span the far reaches of Los Angeles county. To really understand the city, you have to have an appreciation of all the different foods and cultures Southern California has to offer; it's an element of understanding Los Angeles intimately, and we care so much about the history and heritage of this place we call home. The Hundreds has even hosted several Eat Meet events, as a way to meet and greet our fans over a shared meal at a restaurant we love.
Which is why our recent collaboration with woman-run global apron brand Hedley & Bennett is so special to us. Not only are their aprons thoughtfully made in L.A. by hand (watch our video of the entire process here), the brand and its CEO Ellen Bennett both encompass a spirit of innovation and, in their words, "a thirst for creating something better and badder than what's out there."
We're proud to present this portrait series of our chef friends—who spearhead some of the best restaurants in L.A.—wearing our The Hundreds X Hedley & Bennett apron, shot by Bobby Hundreds. From Jon Shook & Vinny Dotolo to Michael Voltaggio to the legendary Demetrios "Jim" Pantazis who started Dino's Chicken and Burgers with his brothers in the late '60s, check out the series below.
Evan Funke :: Felix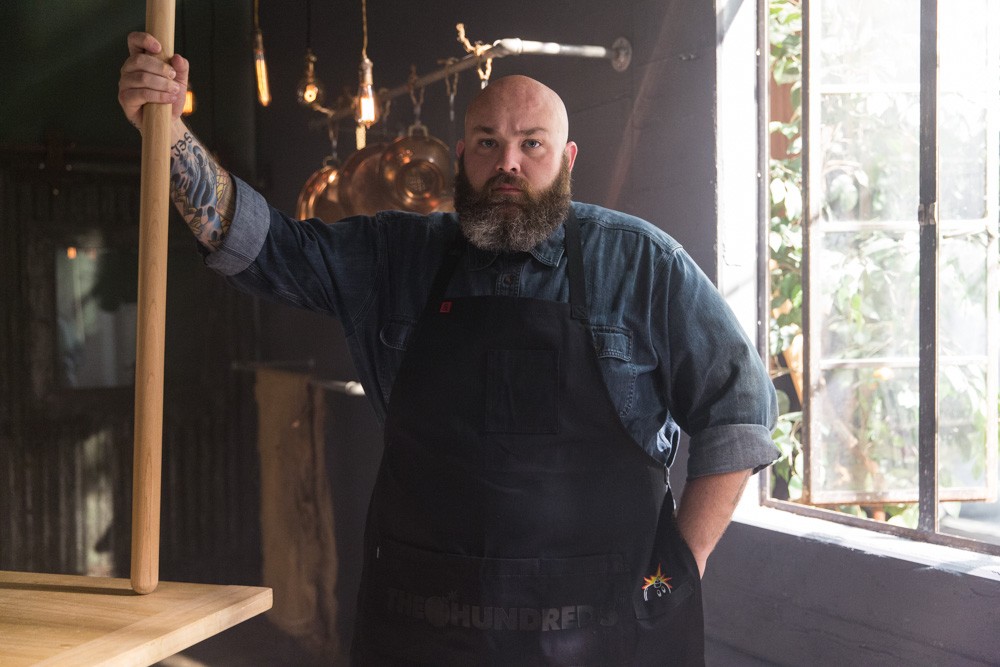 "Ben Hundreds and I are driving around this week, personally delivering our Hedley & Bennett collaboration aprons to all our chef friends in the city. We got to Unit 120 just as Chef Alvin Cailan (also, of Eggslut) got a call that he's been selected as one of LA's 10 best new restaurants in 2016 by Los Angeles Magazine. Alvin's been down with The Hundreds since the start (even has Breadman and TENS stickers) – Congrats, bud!"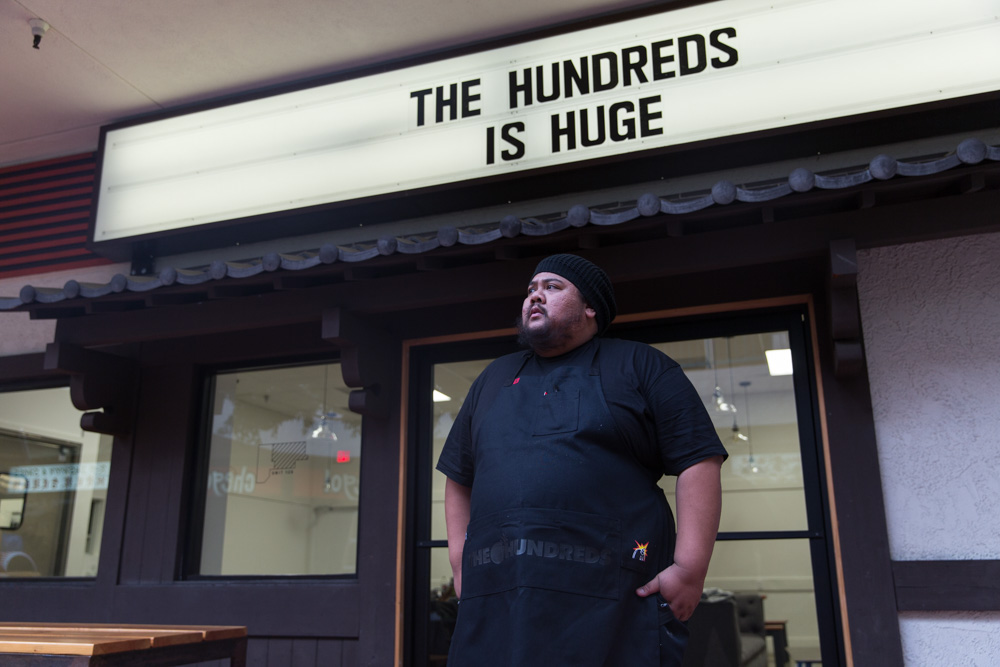 "In 1968, Demetrios (Jim) Pantazis and his brothers opened what would eventually be known as Dino's Chicken and Burgers (named after their dad) in L.A.'s Pico-Union district. It was Jim's use of Greek spices that has made the chicken famous – there's never not a line out the door for their chicken+fries plate. There are now a few Dino's around Southern California, but this is home for The Hundreds. Thank you to Jim and his family for always being warm and welcoming to us – Here's the legend in our The Hundreds X Hedley and Bennett apron."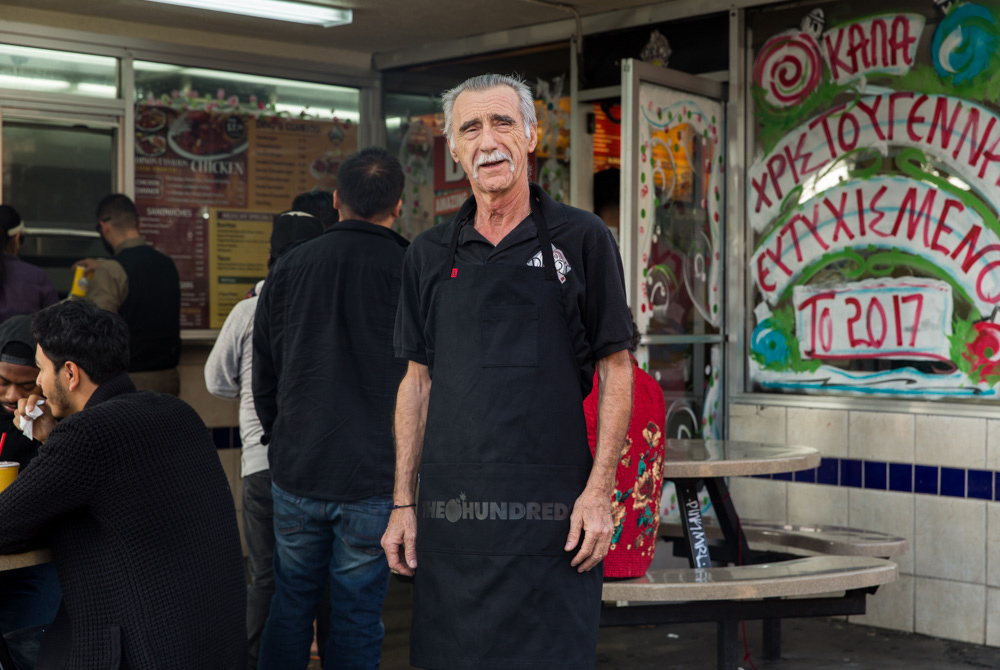 "What's our favorite restaurant in the world? Arguably Park's BBQ in Koreatown. We started our brand at the same time Jenee Kim opened her doors. The Hundreds and Park's have been inextricable ever since."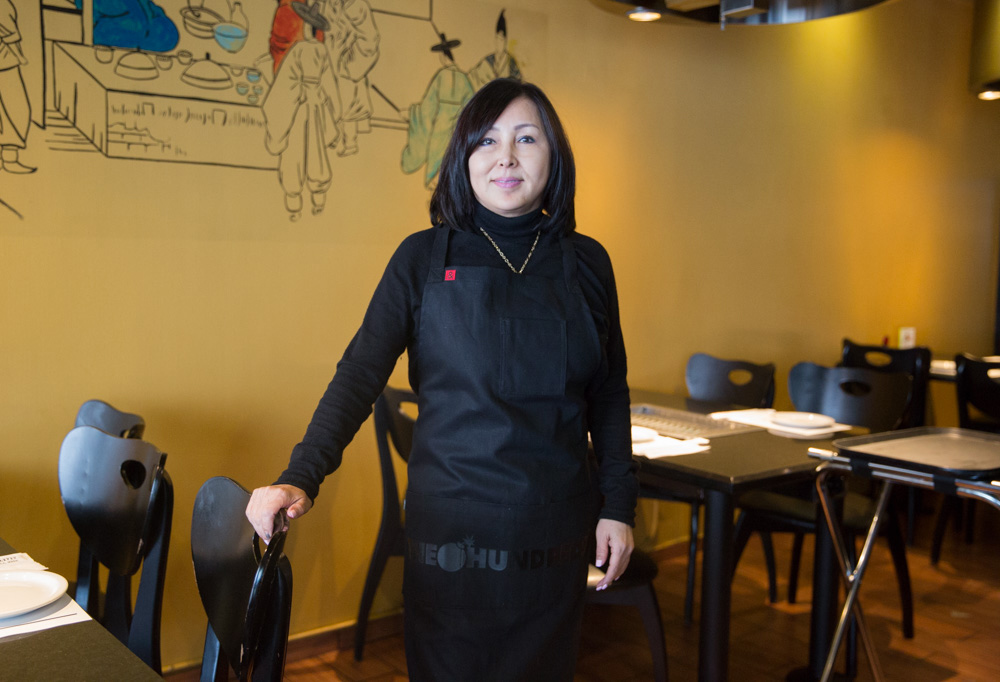 Nakul and Arjun Mahendro :: Badmaash
"Chefs Nakul and Arjun Mahendro of my favorite Indian restaurant, Badmaash, in downtown Los Angeles."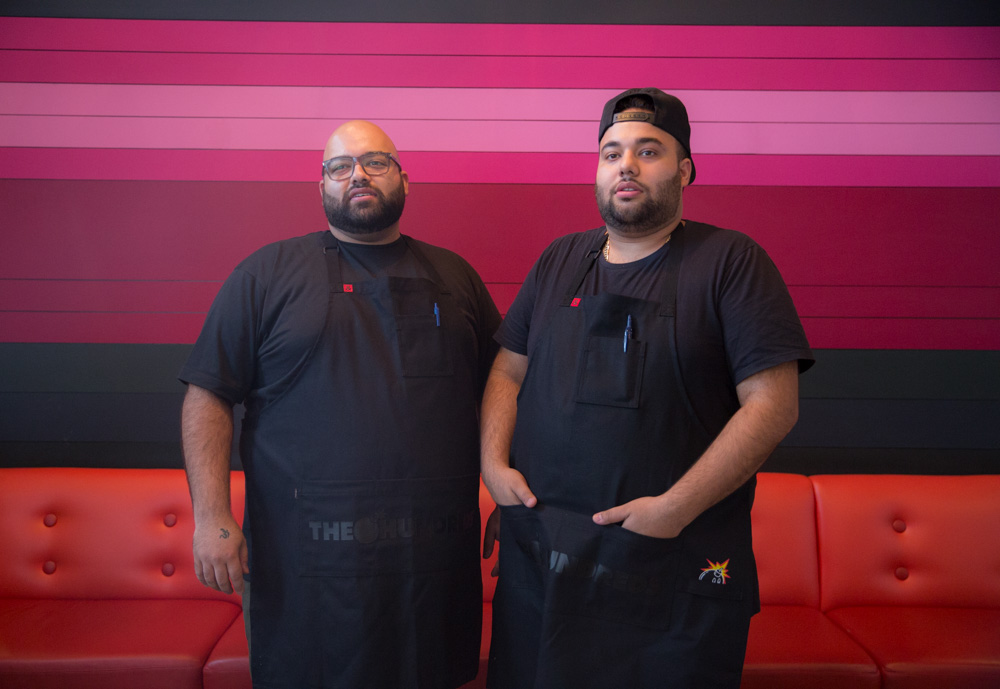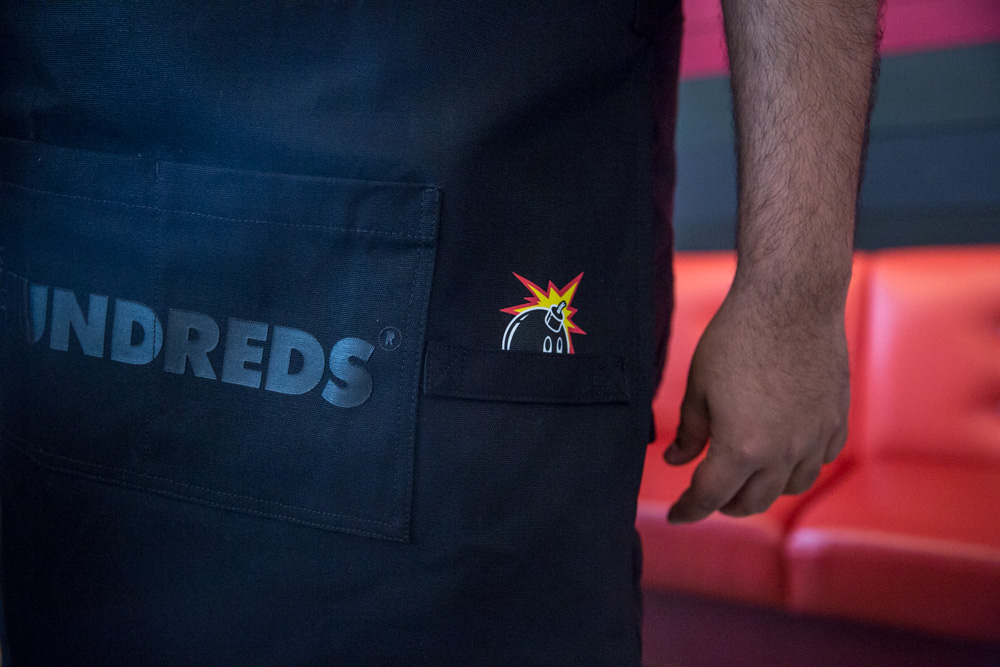 "Before Animal – one of LA's best-loved restaurants – opened its doors on Fairfax years ago, Chefs Jon Shook and Vinny Dotolo catered our holiday party in the vacant space. At the time, they were still reality-starring on Two Dudes Catering and working alongside us when our office was in the back alley. But, as The Hundreds grew, so did the Jon and Vinny stamp – the duo would go on to bless Los Angeles with 4 of my Top 10 favorite spots: Son of a Gun, Jon & Vinny's, Trois Mec, and the aforementioned Animal (amongst others!). Like other Fairfax stories, It has truly been a pleasure watching these two transcend our little bubble and become rockstars."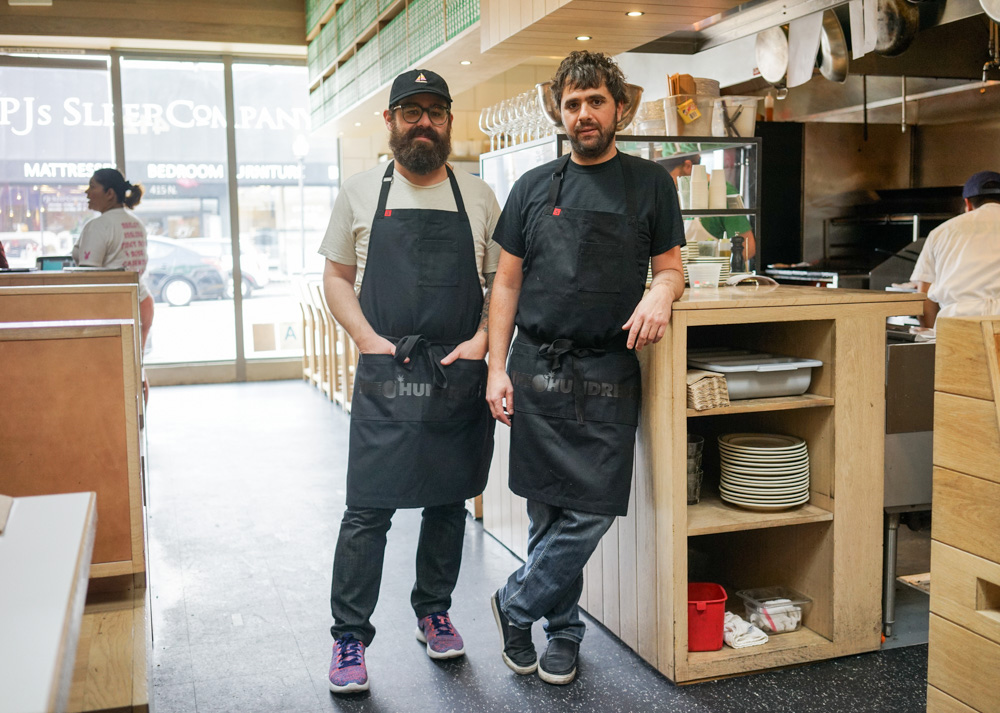 Niki Nakayama :: n/naka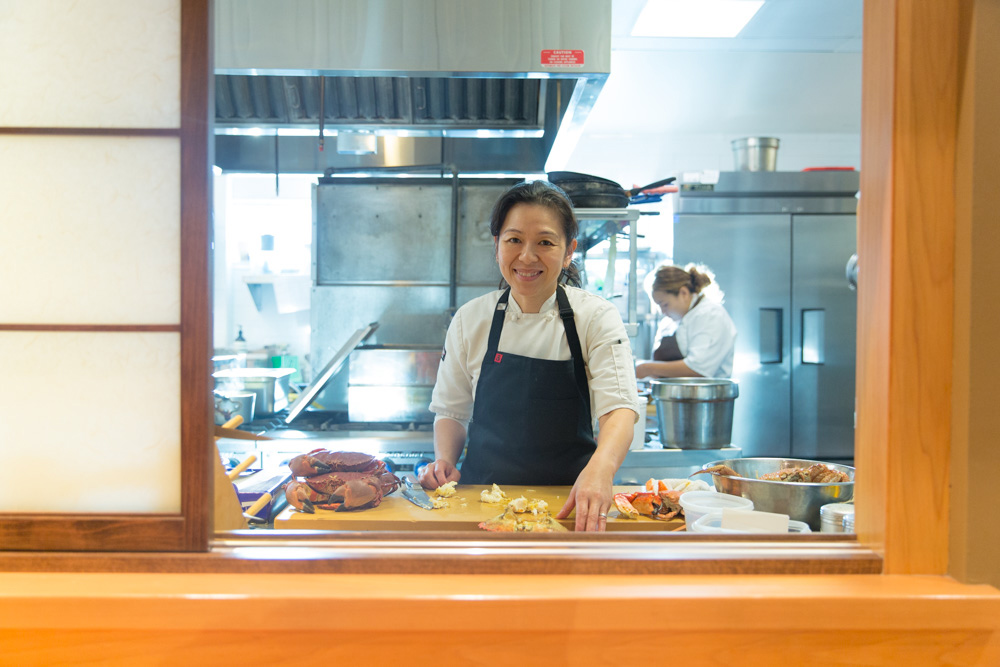 "From an Australian farm to being heralded as one of LA's rising star chefs, Louis Tikaram of E.P & L.P. in the The Hundreds X Hedley and Bennett apron."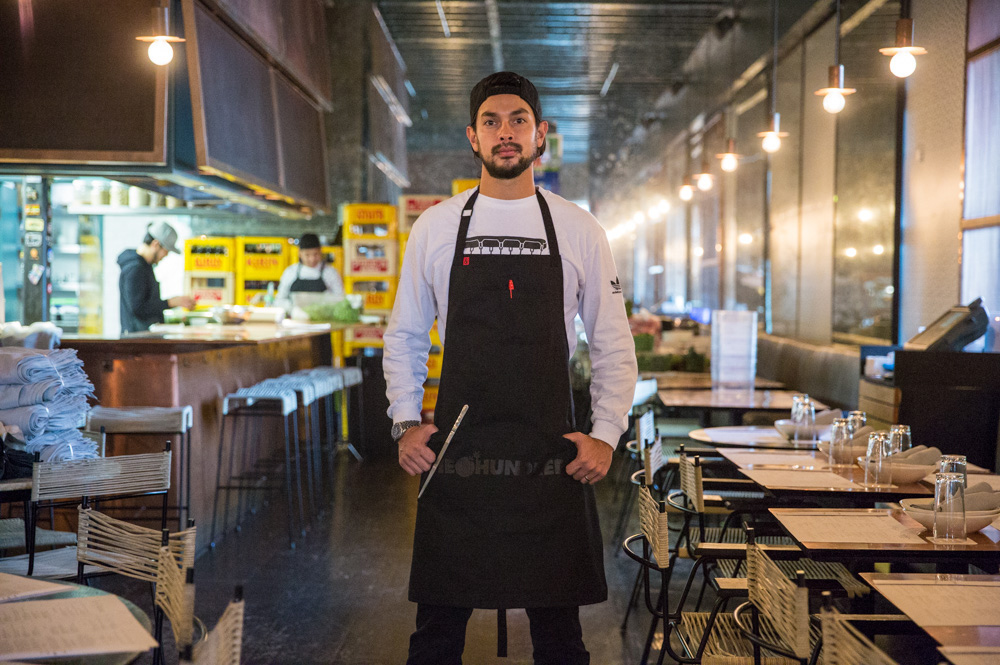 Michael Voltaggio :: ink.
We designed special "Sack Adam" T-shirts for the staff at Michael's ink.sack when it first opened (the chef even has the graphic tattooed on his arm) and you can watch our video interview and recipe demonstration with him from last year HERE.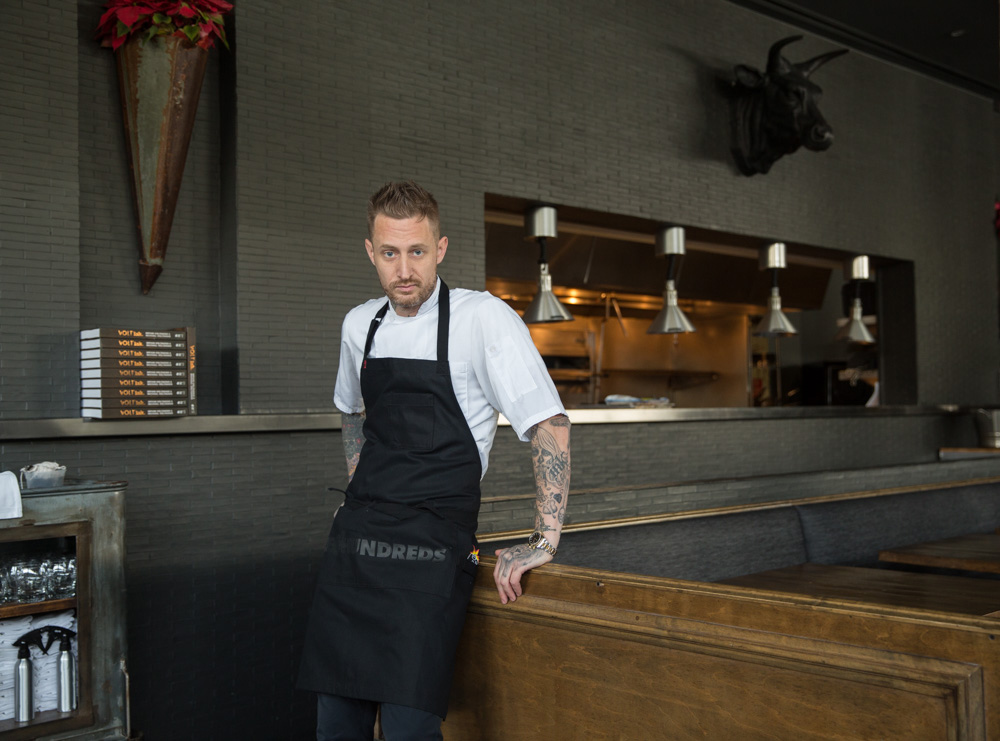 "Chrys Chrys' dad opened this Greek market on Pico more than 60 years ago. In 1968, he turned it into L.A.'s most famous Greek restaurant, Papa Cristo's. We've shared a lot of milestone lunches and dinners here, and Chrys continues to walk the floor, greeting lifelong customers and posing for photo ops. A true hometown hero."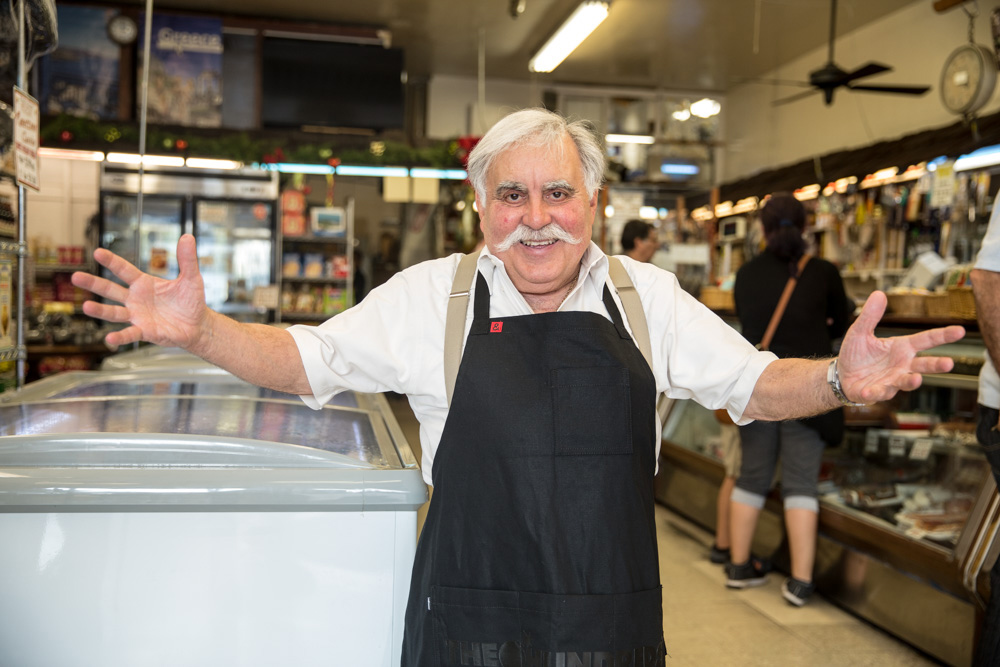 ***
Our The Hundreds X Hedley & Bennett Standard Apron is comprised of 10 oz. duck canvas, with camo fabric-lined pockets, and a 3-compartment lap pocket. The black on black "Bar" logo and the "Adam Bomb" logo were both screenprinted in-house at The Hundreds Homebase by Mixed Media Productions.
You can purchase your own apron in the Online Shop.