Detroit's population is the smallest it's been since the 1910s. Seven parents of Detroit Public School Community District students are suing the state, alleging their children were denied their constitutional right to literacy. The police department was under a federal consent decree between 2003 and 2016. An investigation into the Detroit Land Bank Authority threatens to engulf Mayor Mike Duggan; the sole full term of his predecessor, Dave Bing, was truncated the appointment of an emergency manager by noted coward/governor Rick Snyder; Bing's predecessor, the startlingly corrupt Kwame Kilpatrick, is currently serving a 28-year sentence in federal prison. In Hitsville, the hits keep coming.
In Detroit, for every mismanaged public service, there's a genre that flourished in the city and for every on-the-take civil servant, a brilliant musician. A city unduly burdened by the twinned evils of capitalism and institutional racism has also been blessed by scores of musical innovators. A partial list: the Jones brothers (Elvin, Thad, and Hank), Alice Coltrane, Tommy Flanagan, Donald Byrd, George Benson, The Temptations, Stevie Wonder, Diana Ross, Smokey Robinson, The Four Tops, Funkadelic, MC5, The Stooges, Negative Approach, Juan Atkins, Derrick May, Jeff Mills, Kevin Saunderson, Moodymann, Drexciya, Theo Parrish, J Dilla, and Danny Brown. In Hitsville, the hits keep coming.
Black Noi$e was raised in The Motor City, a curious listener. Rap, hardcore, and house and techno each had their appeal; rap was on the radio (and the Thrasher Presents Skate and Destroy soundtrack); hardcore was in menacing, dank V.F.W. halls (and on the Tony Hawk Pro Skater soundtrack); techno and house were on late-night mix shows, broadcast live from parties. He's nominally a producer, but Black Noi$e wears many hats: he regularly works with the World's Fair collective, Antwon, Wiki, ZeelooperZ, and a whimsical team of rap-loving porpoises, Bulletproof Dolphin. He's also played bass in hardcore bands, DJ'd for M.I.A., and is releasing a house 12" in the new year. When we caught up with him, he'd recently returned home from month-long tour with Trash Talk and Antwon, loath to discuss their debauchery, but eager to discuss the music of his hometown.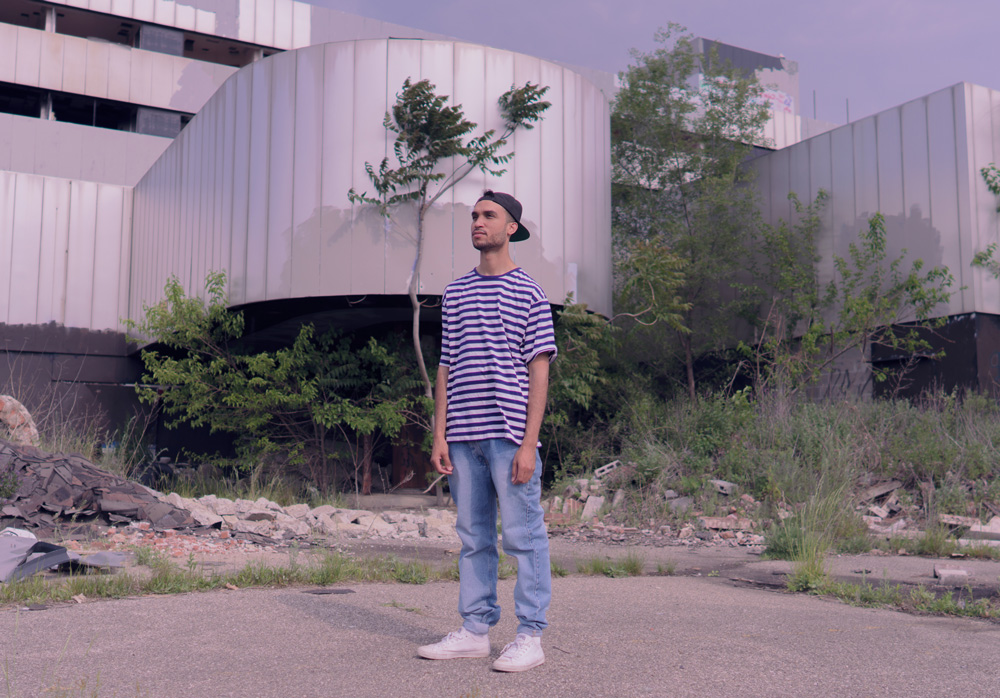 TORII MACADAMS: Why did your family move from Nova Scotia to the Detroit area?
BLACK NOI$E: My dad was born in LA and my mom was born in Shelburne, Nova Scotia; my dad was in the Navy and met my mom while stationed out there. The rest of my dad's side of the family was living in Detroit at the time, and they moved to Michigan when I was like 4 or 5.
What are some of your early rap memories?
No Limit, Cash Money, Bone Thugs[-n-Harmony], and E-40. I was a kid [and just knew] that the sound was crazy to me. The melodies, the general feeling—it was brand new. Then someone gave me Thrasher Presents Skate and Destroy for Playstation, that soundtrack blew my mind. Skate videos, too. My mom wouldn't let me listen to Biggie when I was a little kid, so I had to walk around with my Walkman on and bump it. My older cousins would come over and be shocked because I would just bar 'em up with Biggie verses.
How did you get into hardcore?
Skateboarding [and] Tony Hawk Pro Skater. At that time, it was 'fuck anything pop culture'—it was just the attitude. [Also] little V.F.W. Hall shows and Legion Hall shows. I played guitar in bands since I was like 14-15, so it was like a mission to just find the rawest thing I could. There was a venue in Detroit called Alvin's that put on a lot of shows, and that was the first time I really was scared at a show, like really fearing for my life.
I was like 16 at the time, seeing bands like Terror, Death Threat, Bury Your Dead, Colin of Arabia. There were hella crews just beating people up right after the first four count; I'd never seen anything like that in my life, especially not on TV, and YouTube was just starting or not even out yet, so there were no live videos to watch beforehand.
What's the appeal of playing in a hardcore band versus making beats?
It's one and the same, really. It's just a feeling, a certain energy. I feel like I'm just chasing that energy. Only child energy. I've played guitar since I was 11—that was my first instrument—[and] they have similar energy behind it. That's what I'm into: I like raw beats, I don't like all the flash. I like getting straight to the point.
What made you break edge?
I once told the homie Future's music made me break edge.
You did the ExExmilitary project with Skywalkr, which is kind of a fusion of hardcore and rap. Is that something you're looking to keep doing?
It's not something we were trying to do with that remix album. It just came out that way. It came together so fast [that] there was no real time to think about what we were actually doing with it. But I got the chance to work with King 810 on a mixtape they were doing, and I feel like that was the most conscious I've been of it. But, at the end of the day, it's all a feeling.
"I once told the homie Future's music made me break edge."
I heard your mix for Lily Mercer's Rinse FM show, which was techno-y, grime-y, and house-y. Detroit has an earned reputation for being a dance music city. Was it something you grew up around?
If you grew up anywhere in southeast Michigan, you had a few radio stations (97.9 and 105.9) that would play mixes on the radio, and they would air the DJ's late-night from parties, too. [They'd play] techno and house records sped up–people were dancing faster. I was too young at the time to get into the club, but the music was enough. Even when I would go through my aunt's and uncle's records, there would always be a Cybotron record, or Kano. It wasn't deep like that, but it was there; it just let me know there was more out there to learn about. I'm glad I grew up around it, though, because there was that weird period before the EDM craze when people would classify all music that sounded electronic as "techno," no matter what. It's kind of getting back to its rightful place now.
How'd you get into grime?
I feel like one of the first grime songs I heard was either from a Tempa T video, and dude was just yelling on top of some hard-ass beat, or a Dizzee Rascal song. It was really just something that I kinda fell into with a few homies. I use to sit on forums and message boards and just download everything there was to download, all genres. So it was something that just popped up one day.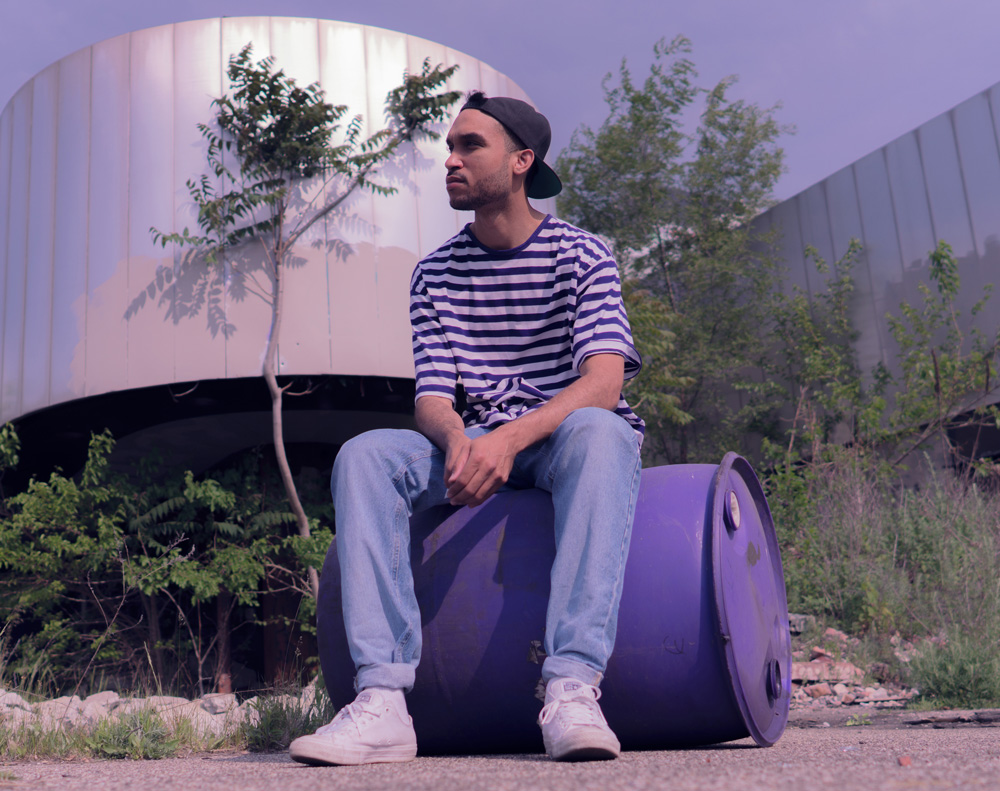 What's the Detroit music scene like right now?
A lot of dance music DJs, a lot of amazing beat makers, a lot of electronics on small folding tables. Some really good singers and some next-level musicians. There's a lot going on in Detroit right now.
Have you noticed more young artists and musicians moving to Detroit?
There's just an influx of people in general. A lot of people [are] coming, trying to figure out what's really going on out here. Everyone's just trying to add to the pot.
What are some qualities you think separate native Detroiters from the newcomers?
Money.
Do you think you'll stay in Detroit long-term?
Shit, I probably won't be able to afford it.
"On the Earl tour his toenail fell off in Tampa… We scared a lot of white people that night."
What were some of your favorite cities on your recent tour? And what are some of your tour essentials, so to speak?
Montreal, Salt Lake City, and Detroit. I think every tour I've been on, I just show up with a backpack full of shirts and socks, from DJing for M.I.A. on her Matangi tour to the most recent tour with Trash Talk and Antwon. As long as I have my laptop, chargers, and headphones, then I'm good.
What are some of your wilder moments on tour?
The camera roll on my phone slappin', but on the Earl tour his toenail fell off in Tampa. It also involved a gallon of Hennessy and front flipping in the hotel hallway. We scared a lot of white people that night.
What do you use to make your beats? Are you analog, digital, or both?
Reason 9. I've had a few different types of setups, from MPC2000XL, ASR-X, SP-303, SP-404. But Reason has always been the main one. There's, like, this resurgence of old analog gear–they sell little remakes of all the old analog gear at Guitar Center and stuff. It's kind of funny, like, you can leave Guitar Center with a whole "analog" set up. It's kind of a novelty at this point, but I appreciate however you have to make the music. At the end of the day, it's the music that matters. If you're listening to the music and thinking about the gear, and not the feeling or getting something out of the music, you're missing the point.
How do you decide who to work with?
I just like working with people who are excited about the things they are doing. I like being able to work at any time, so anyone who is down to sit down and craft something–it's always a better experience. I don't like to email beats or sessions.
Is there anyone you wouldn't work with?
Anyone who doesn't know that feeling.
Who are some of your favorite rappers to work with? And who are some of your favorite producers?
Zelooperz, Remy Banks, Kash tha Kushman, [and] making beats with Bulletproof Dolphin. All the homies are my favorite producers. They blow my mind every time.
"If you're listening to the music and thinking about the gear, and not the feeling or getting something out of the music, you're missing the point."
Do you feel like Detroit rap gets the recognition it deserves?
It's in a good place musically.
What did you think of Atrocity Exhibition?
I thought it was right on time, [and] a change of pace to the state of music right now. I'm glad he took his time. I'm a fan of the music.
What are of your plans for your career? Are you looking to make more than rap beats?
I'm definitely looking to make more than rap beats. I'm just a fan of music first. I want to be able to explore all sorts of different sounds and styles. I want to make good music, weird music. I've came from such a broad range of it growing up. I feel like it comes through in the music. [I] want to work with singers, more musicians, percussionists–just trying to keep it as raw as possible.
What are some of the things you've had to overcome in your career? What's an accomplishment that'll make you feel like you've "made it," so to speak?
I feel like I've been blessed to be around so many amazing people. Whatever happens from there on just happens. Knowing the people around me are good and constantly evolving is a good feeling.
Do you have any fears?
Spiders.
Do you have anything coming out in the near future?
I have a 12″ coming out through Vanity Press records. I helped out with a track on the new ZgetoboyZ [ZelooperZ and Shigeto] project coming out soon. [I'm also] finishing up this World's Fair album and headed to L.A. to work on some secret stuff. I'm going to make some more cassettes soon too for the hand to hand only.
***
Follow Black Noi$e on Soundcloud, Twitter @blackxnoise, and Instagram @blackxnoise.
Photos by Tony Katai.