Soccer is booming. The sport is fully on its way to conquer the final frontier: the USA. NBC paid a lot of money for the exclusive rights to broadcast the British Premier league, MLS teams are selling out stadiums like CenturyLink Field, and the FIFA video game is slowly pushing Madden and NBA 2K out of your favorite professional sports teams' locker rooms. The streets show a rise in soccer's popularity as well, spotting a soccer jersey on the street in a major US city used to be a rare occurrence, but it has come to the point where many feel that a soccer jersey is the only sports jersey deemed appropriate for casual wear. Streetwear has caught up to this as well. Around the 2014 World Cup, we saw a lot of great soccer-related releases, but would the trend stick? The answer is yes. While on-field designs are steadily improving, streetwear brands also continue to turn their view on soccer jerseys into interesting products. Join us as we take a look at 10 of the best soccer jerseys from your favorite streetwear brands that came out in 2015.
Stussy Long-Sleeve Soccer Jersey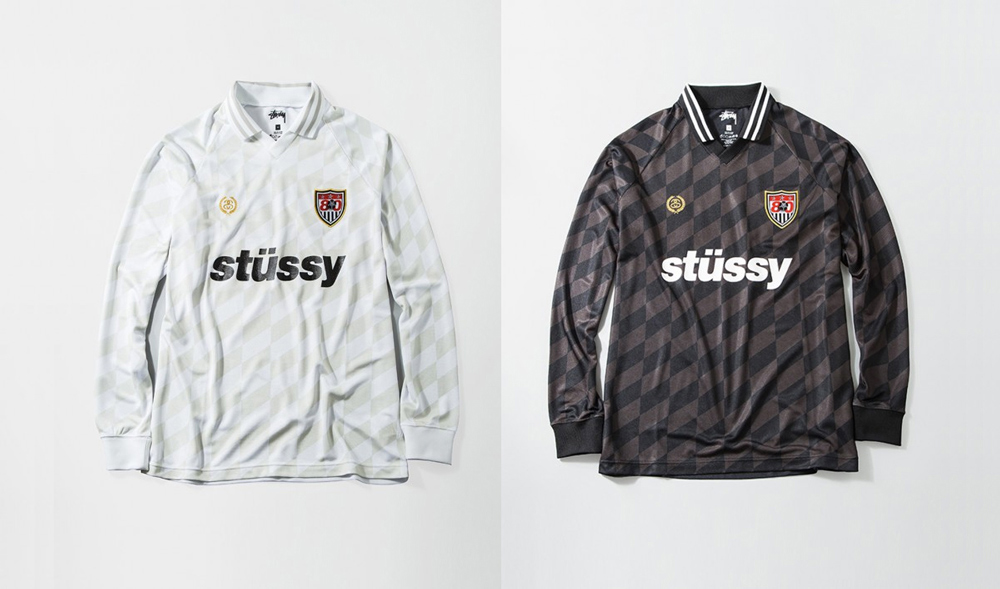 Stussy was one of the brands that really came through on the soccer side of things in 2014, and they've managed to keep the ball rolling (soccer pun) this year as well. They brought back the US Soccer logo, first introduced in their 2014 World Cup pack, and applied it to a long-sleeve jersey. For years, long-sleeve fan jerseys were pretty unique in soccer. Even on the pitch, most guys would just wear short sleeves all season, even during the colder months. Nowadays, both on and off the pitch there are more options for long-sleeves and it's nice to see that Stussy offered an option for this jersey, which was also released as a short-sleeve. On the chest, you find a large Stussy print, a small Double S Link embroidery, and a US soccer-inspired patch. The back shows the number 35, representing the amount of years that Stussy has been around. Respect the architects.
10.Deep VCTRY Captains Jersey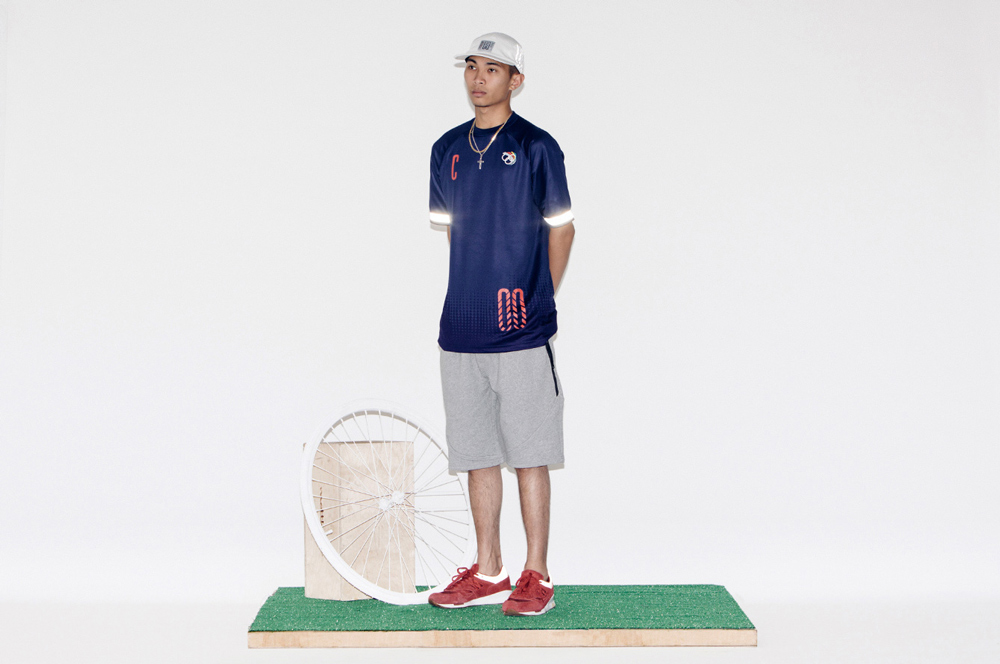 At one point, 10.Deep became so good in making sports jerseys that they launched a specific sub-line, VCTRY, which focuses solely on sports-inspired apparel. What's cool about 10.Deep is that they get really original with their jerseys. They're inspired by sports, but do not feel the need to create a jersey that could actually be worn on the field. Take this Captains jersey for example—the numbers on the front of the jersey (usually only reserved for national jerseys) are placed at an odd spot, just above the hip, and the sleeves and back have 3M details, something that would never be allowed during league play. Pushing the limits on design earns the New York brand a spot on this list.
adidas x Palace Graphic Goalie Shirt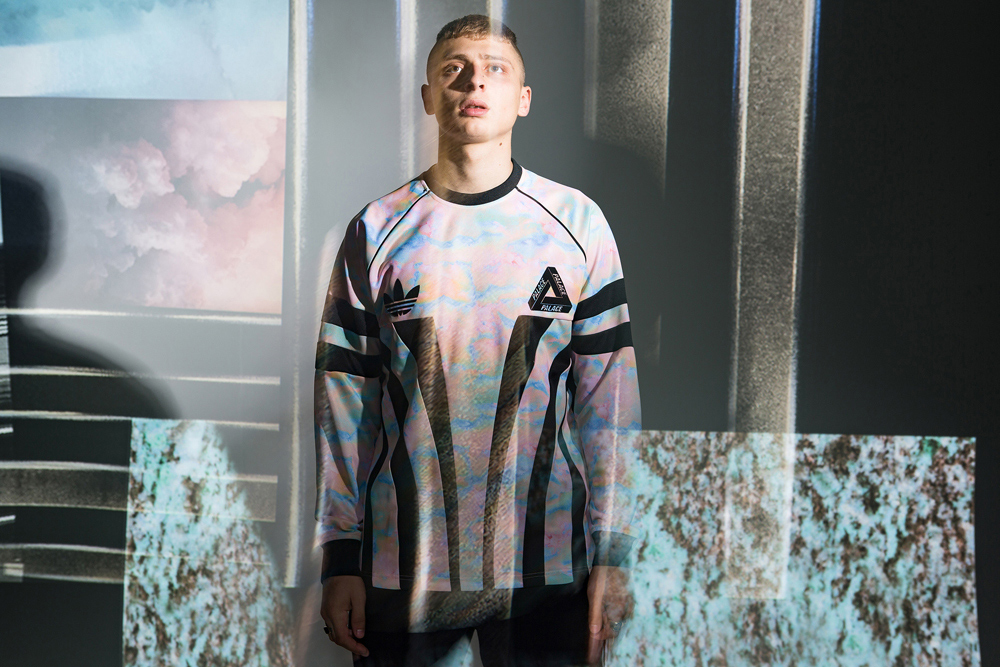 We can thank the Palace crew for the current hype of classic European sportswear. The crew had been known to wear classic tracksuits and soccer jerseys, but they brought this style to the fashion world in 2012 when they launched a special collection with Umbro, based on England's jersey for the 1990 world cup. After that, they started working with adidas, bringing back '90s soccer staples with Palace branding and colorways. In their Holiday collection, they mixed a few new colors in with the classic, including this amazing marble print. Now, a ton of brands will throw marble prints at you in 2016, but this colorful print blends marble with the colors of a floral print. adidas and Palace continue to be a strong combination, and I can't wait to see what the two brands have in store for us in 2016.
Bape x Puma 'FC Bape' Replica Jersey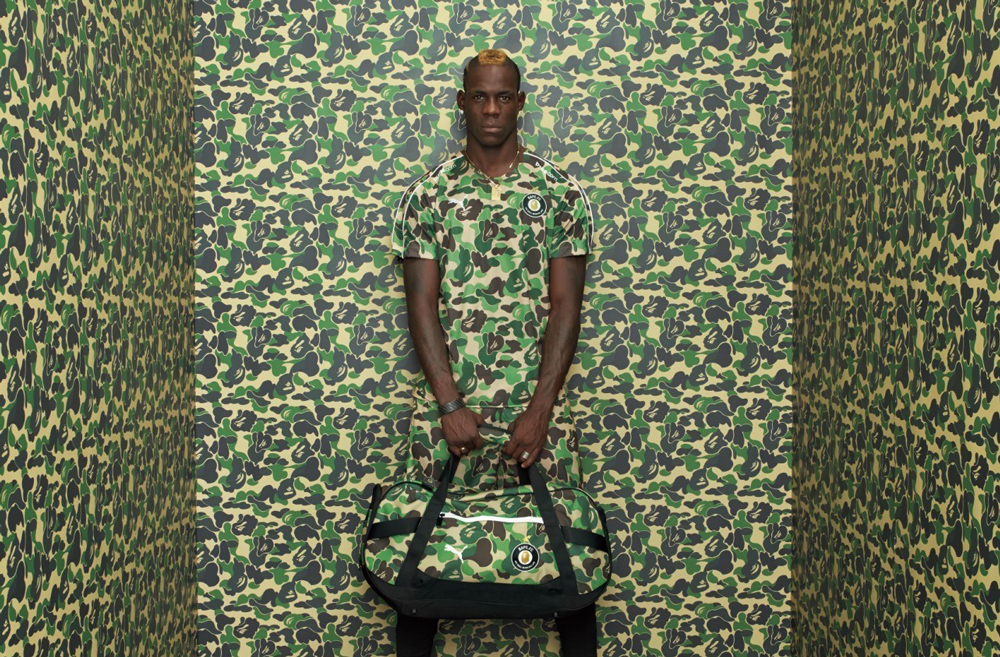 For the 2014 World Cup, PUMA collaborated with Kith, Alife, Colette, and Bape for a set of Evospeed soccer cleats and jerseys. The collaboration with Bape carried over into 2015, when the German brand released a full blown 'Bape FC' collection. While Bape collabs have seemingly increased since Hong Kong retailer I.T. bought the brand in 2011, the PUMA collab was incredibly strong. The collection included everything a team could need: jerseys, shorts, socks, track suits, bags, an amazing side line jacket, and a variety of off-pitch clothing, all covered in woodland and midnight Bathing Ape camouflage patterns. The cherry on top was the lookbook, in which Italian soccer star Mario Balotelli wore the collection against a matching camouflaged background.
HUF 10K Soccer Jersey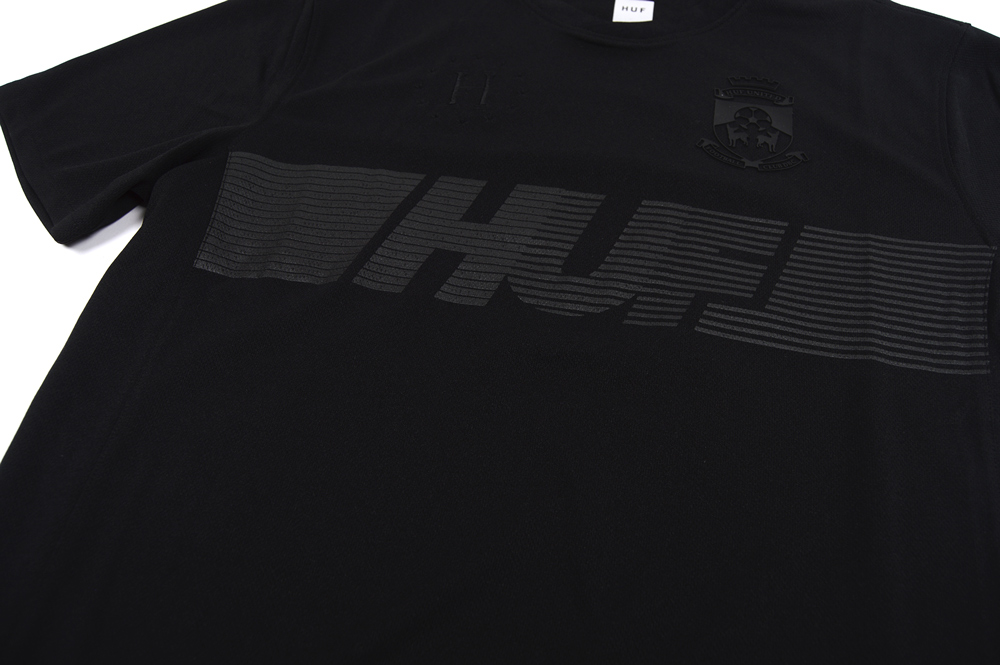 Throughout its lifespan, HUF has released a jersey-inspired piece by pretty much every major sport, but their roots to soccer jerseys goes back to 2006 when HUF was still 'just' a store in SF. At the time, HUF's main focus was retail, with a smaller clothing and accessories line on the side. And collabs, lots of great collabs. In 2006, HUF once again teamed up with Nike SB for a soccer jersey and a Zoom FC. The shoe itself sadly never made it to retail, but the jersey did. In 2015, HUF released several soccer jerseys, but the 10K Jersey is by far the best because it pays homage to the 2006 jersey by re-using the crest that was placed on the right chest. Since HUF has abandoned its San Francisco roots, the 'SF' part of the crest has been replaced with the now famous 'DBC' acronym. The 10K jersey was available in black and white tonal colorways and also featured the well known 12 Galaxies graphic on the left chest and a large 10K graphic across the chest.
Supreme Striker Jersey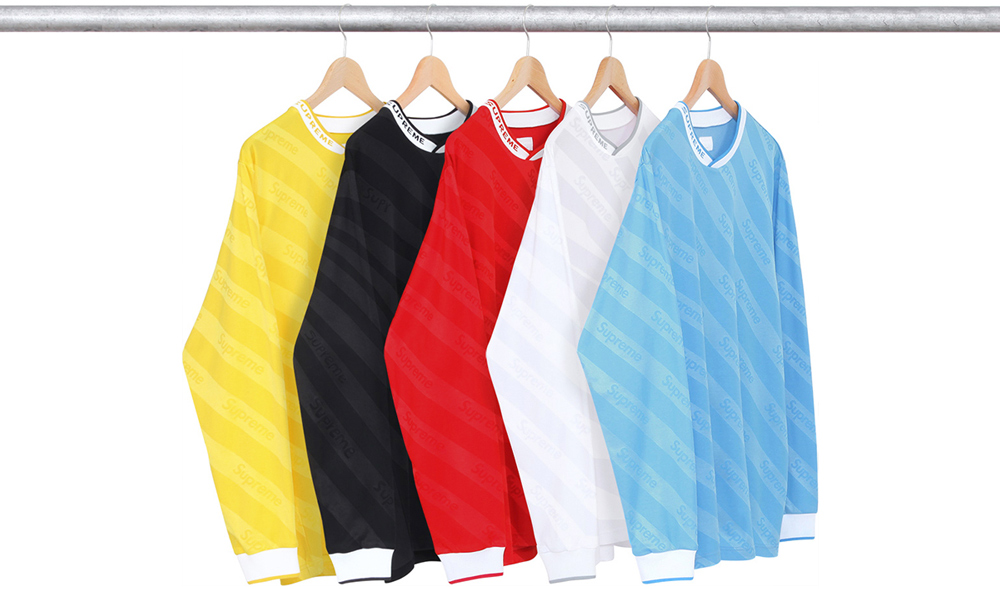 As is the case with most streetwear trends, Supreme is like The Simpsons in that South Park episode: they already did it. In the mid-2000s, the New York brand released a bunch of jerseys in collaboration with British sportswear brand Umbro. Before that, they worked with the more obscure Italian brand Play Sports, which included some make-ups inspired by the jerseys of Amsterdam-based soccer team, Ajax. In 2015, Supreme released two new soccer jerseys, a short sleeve with an in-your-face jagged pattern and this more subtle long-sleeve 'Diagonal' jersey in classic '90s colors, which feels a bit like a throwback to their earlier Umbro jerseys.
Nike SB x Pop Trading Company 'Antwerp' Jersey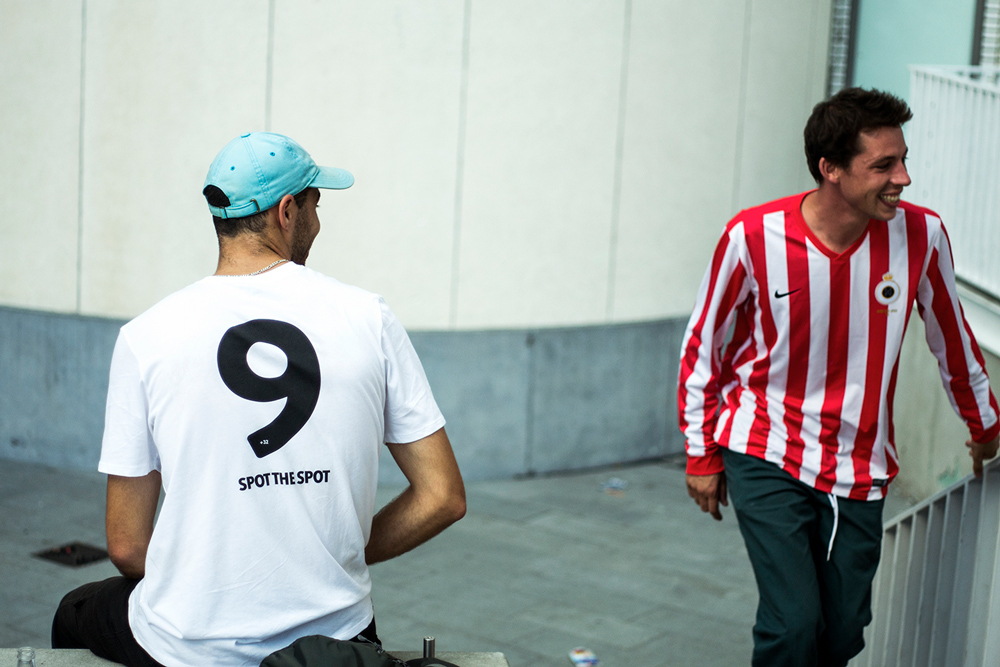 Skateboarding and soccer jerseys go way back. I, for one, fondly remember Gino Iannucci wearing an Inter Milan jersey in his Yeah Right! part. Alex Olson has been spotted in soccer jerseys and adidas Skateboarding has brought skateboard-themed soccer jerseys through a whole new level through collaborations with The Hundreds, Welcome, and Magenta. So it makes sense that Dutch skateboard distributor Pop Trading Co. releases a special jersey every year for their Spot the Spot contest. The annual event always takes place in a different city and focuses on visiting the city's best spots with a crew of local and non-local skateboarders. The event originated in the Dutch city of Arnhem, then moved to Rotterdam, and went over the boarder for the first time this year to the Belgian city of Antwerp. Nike SB has sponsored Spot the Spot since day one and, once again, offered the opportunity to create a soccer jersey for the event. The Pop crew picked a red/white base, based on the team colors of the Antwerp's only professional soccer team: RAFC, which plays in the country's second division. The team's logo also inspired the patch on the right part of the chest, which features the crown and circle from RAFC, combined with five hands. Legend goes that the city of Antwerp is named after the story of folklore legend Silvius Brabo, who chopped off the hand of a giant that terrorized the city during the reign of the Roman Empire and threw it in the river. Local dialect drops the 'h' in 'hand' and when you combine that with the Dutch word for throw (werp), you get Antwerp.  The long-sleeve jersey was a limited edition, only given away to Pop team riders and Antwerp locals.
Hall of Fame Donovan jersey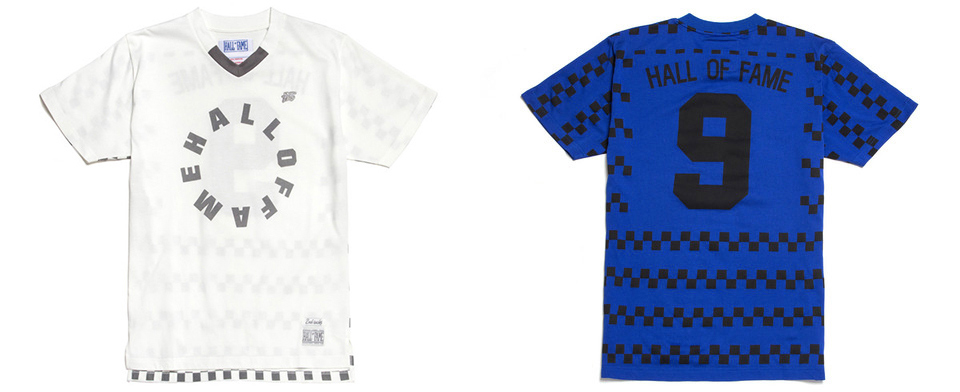 Although LA-based Hall of Fame started their year off with an amazing soccer-inspired lookbook, it took them until summer to launch their first soccer jersey. The Donovan jersey—named after the much celebrated US soccer player Landon Donovan—was another amazing cut and sew project from the brand who are known for their amazing football, hockey, and baseball jerseys. For this soccer jersey, they went back durene, a fabric that was used for hockey jerseys in the '60s. By picking this material, Hall of Fame once again proves their vast knowledge of American sports. The jersey itself sports a circle shaped Hall Of Fame logo and a checker stripe  pattern on the back. The alternate color on the lower part of the V-neck is another great example of Hall of Fame's eye for detail.
FCRB 'Leopard' Game Jersey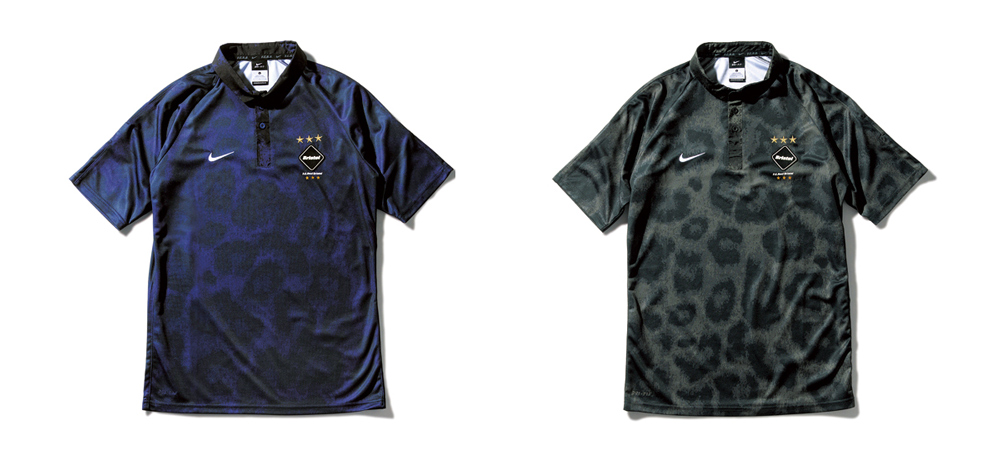 Recently, on field jerseys have taken note of streetwear brands. Fresh colorways, unique designs, camouflage, and even a tuxedo print are slowly becoming more common during game day. It's hard to imagine this turn around without the groundwork put in by F.C. Real Bristol, the fictional soccer team launched by Japanese brand SOPH. and Nike in 1999. The brand creates a complete collection twice a year inspired by soccer, both on and off the pitch, and showcase it their amazing lookbooks, which uses action figures in real life settings. With the creative minds from SOPH. at the helm, there's no denying that there's no other team on this planet that has a more fashionable fan collection. The brand brought fashion to soccer kits and introduced all over prints,  inclduing camouflage and animal prints, to performance gear. FCRB used to be a Japan-exclusive brand, but thanks to Nike Lab, it's slightly easier for Western fans to get ahold of it. This year, they once again impressed with the use of large Swoosh logo's, a new camo pattern, and this leopard print, which was released in five colorways. There's no doubt that we will see a print like this on the pitches within a few years.
***