non-native x SEIKO – I can't tell if this has an automatic movement in it or not, but either way it is damn clean. non-native has always been good about keeping things minimal and bringing a sense of class to the most basic essentials. This SEIKO definitely has a military work-appeal, but oozes refinement. I like how the Tachymeter exposes the dials depth and how the NATO nylon strap gives it a utilitarian quality. This isn't some re-skinning of an existing SEIKO watch, non-native actually put in some real design work and it shows. At a little over 5 hundy, it's priced just about right.
For non-native's ten year anniversary, the Japanese brand and boutique stops by SEIKO to create a commemorative timepiece. Instead of simply skinning an existing SEIKO design, non-native creates a bespoke chronograph that features a silky mate black stainless steel case, and an enlarged dial. The chronograph is a handsome piece and is available with either a khaki or black NATO nylon strap. This celebratory collection is limited to 500 individually numbered pieces, and sold exclusively at non-native stores.
Source: HONEYEE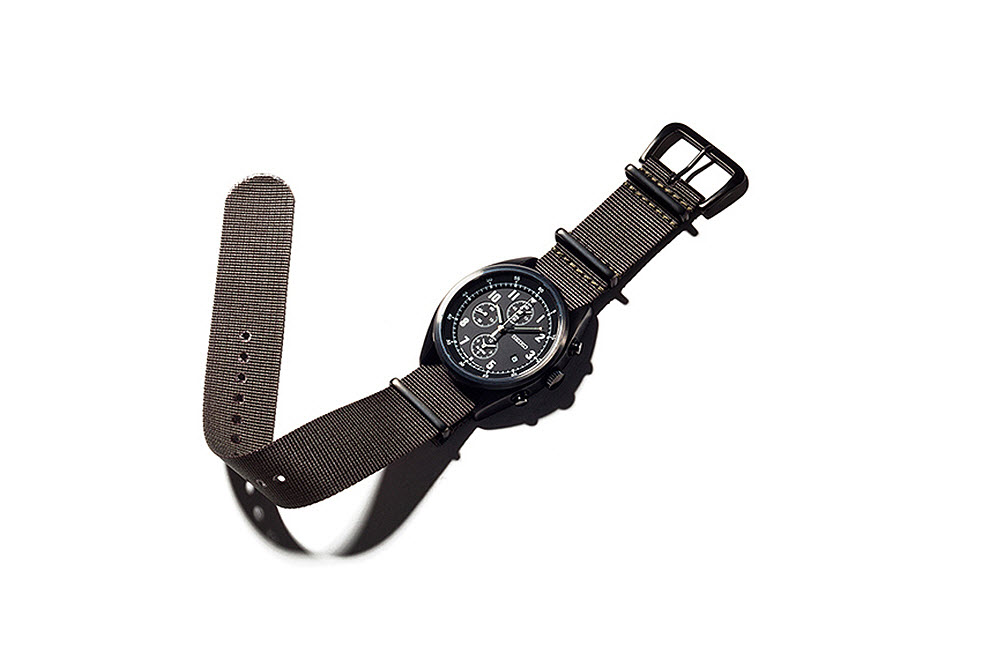 LA Galaxy x Reigning Champ – I know soccer in America is laughable when you compare it to the English Premier League, but the Galaxy is my team. The have "Los Angeles" in their name and that makes me a fan. I'll be proud to have driven to Carson and watched them play, and I have a sense of pride when I look at their five championships. This collection with Reigning Champ celebrates the Galaxy's achievements in a subtle co-branded collection of sportswear. From the simple graphic T-shirts to the low-key crewneck, the collection is all about class; just like my Galaxy.
With the number of championships under the LA Galaxy's belt, this is one of the most appropriate partnerships yet. The soccer club hailing from Carson teams up with Vancouver's Reigning Champ for an exclusive collection to commemorate the MLS Cup. The capsule of goods includes a jacket, crewneck, T-shirt, and shorts and arrive with the subtle branding. Look for the five embroidered stars to represent the team's championships along with minimal co-branding along the chest and sleeves. The collection drops today, April 16.
Source: Reigning Champ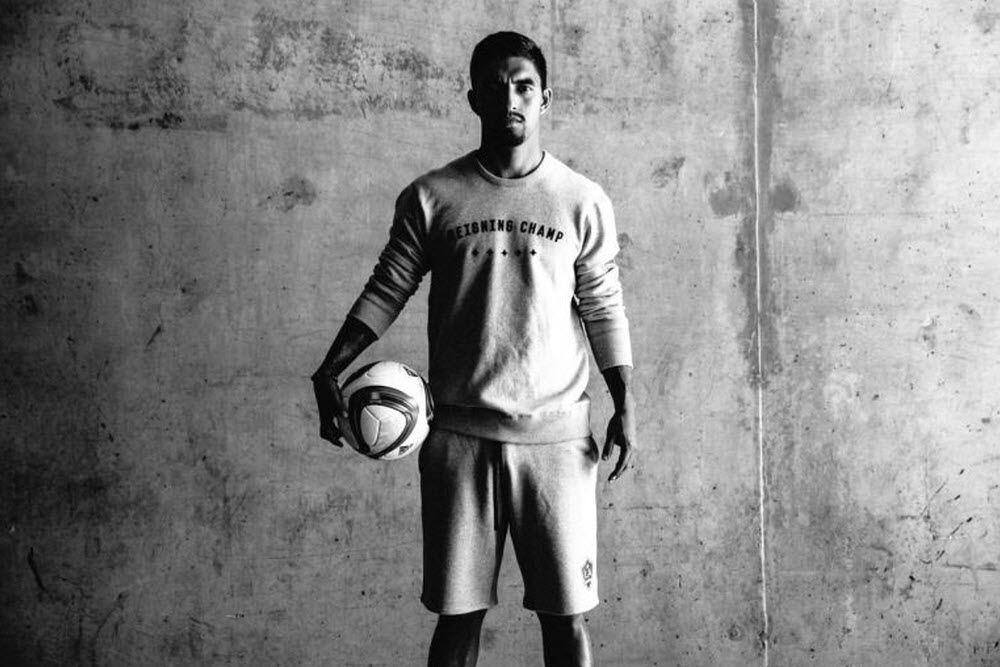 DrinkTank Juggernaut Growler – As a beer drinker, sharing beer with good friends is one of the best things to do on a weekend afternoon. DrinkTank makes it super easy to share your suds with their Juggernaut. And with a capacity of 128 ounces, it holds twice as much beer as most growlers. In addition to its behemoth size, the Juggernaut has a double wall vacuum insulation – to keep things cold – and a sturdy double bail locking system to ensure there is no spillage. Wasted beer is the worst!
Fans of craft beer will spare no expense when it comes to transporting their tasty suds. A growler is a must when you share an the Juggernaut from DrinkTanks guarantees to keep 128 ounces of your brewed booze nice and safe. The Juggernaut is cast from top notch stainless steel, and comes with a double wall vacuum insulation with a cap that uses a sturdy double bail locking system. Cold beer is kept air tight, and DrinkTank ensures that it'll keep thinks nice and cool for 24 hours.
Source: DrinkTank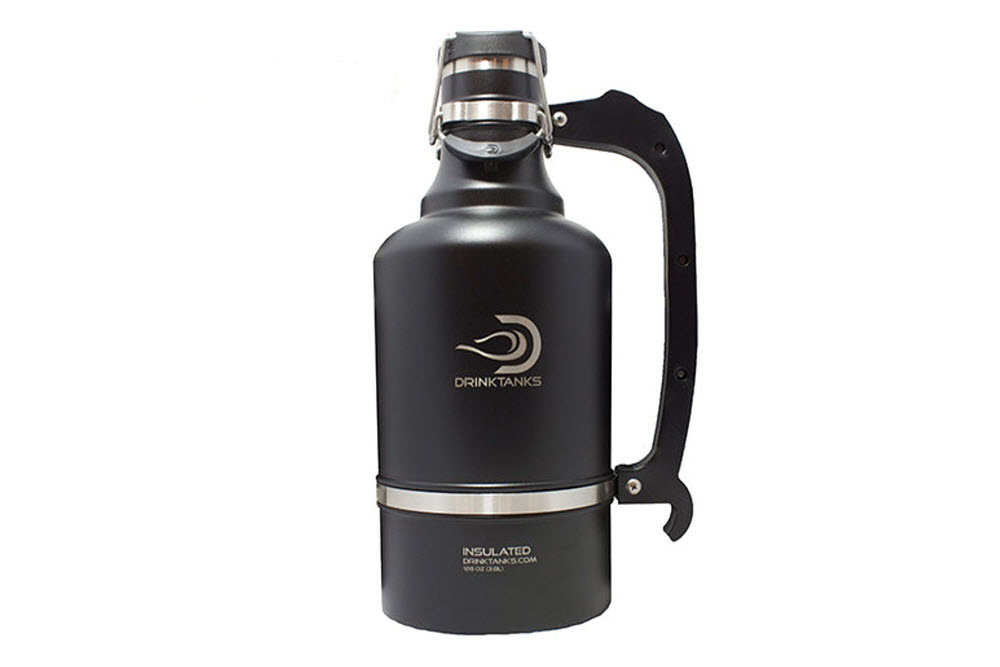 BAIT x Asics – I hate the Giants. I bleed Dodger Blue, but I got to hand it to BAIT for their choice of colorways. Their move up to the Bay has resulted in some of the iller color combos for the the classic Gel Lyte V. This one has been dubbed the "Misfits" and pays homage to the 2010 team that grabbed the Giants' first pennant since 1954. The ratio of black to orange is perfect on these runners, and the off-white midsole does a great job of cleaning everything up. Your chance to pick up a pair happens next Saturday.
BAIT's slow dominance of the West Coast has them moving into San Francisco, and for their next venture they hit fans with a pair of Gel Lyte Vs that pay homage to the 2010 San Francisco Giants. Using a blend of black and orange, the classic runner is an ode to the ragtag squad of players, and has been aptly dubbed the "Misfits." Retailing at $150 the shows will be produced in limited numbers, and will be available for purchase next Satruday, April 25.
Source: BAIT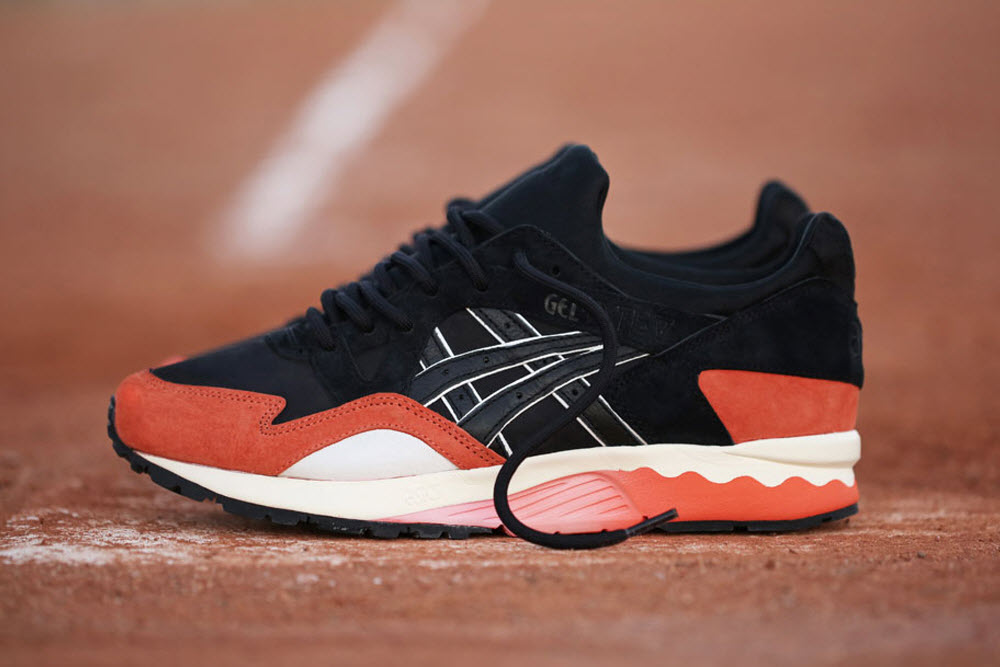 Palace Spring 2015 Second Delivery – The flip of the TrailBlazers logo is just too ill. Add the fact that these jumpsuits are indistinguishable from the ones worn by low-level thugs, and Palace has another winner on their hands. This mid-season drop truly delivers and completes a hood look that many try to imitate, but ultimately fail. Besides the tracksuits, there is also a nice, rounded collection of streetwear staples for loyalists of graphic T-shirts, hoodies, and snapbacks.
Palace is opening up a flagship store in London town, and is looking to drop a second delivery while they're at it. The mid-season collection is designed to pay homage to the street scene in London and goes in heavy with tracksuits, hoodies, and coach jackets. The pieces have a retro feel, and look like the belong aptly on some low-level thug. It's a seriously authentic skate perspective of a prevailing London-hood look. In addition to the cut-and-sew pieces, Palace will also offer up the usual graphic T-shirts and snapbacks. Look for the collection to drop when the store opens April 25.
Source: Palace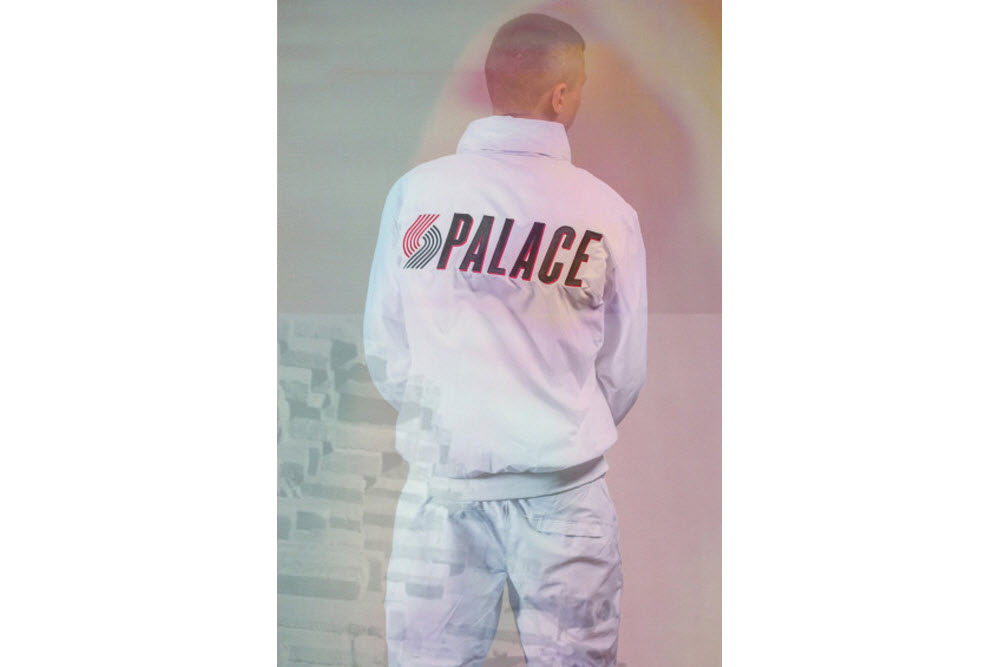 Vizio 4K M-Series – The M Series couldn't have come at a better time. I'm in the market for a new TV for my living room and was considering spending four figures to get a 4K TV. The lack of content would never justify the purchase, but being left behind the technology loop did. Thankfully, Vizio serves up a legitimate alternative to the more expensive luxury 4K sets. $600 for a 4K tv from a respective brand is more than enough for me to plunk down the plastic, and here's to hoping other brands follow suit.
Vizio is making it easier to bring that 4K tv set home with their all new M-Series. The electronics maker's new series packs 4K pixels for less than $600. Vizio starts things off with 43″ and will top out at 80″ for $3999. The kicker is that all these television will also come with Internet apps that allow you to stream Netflix, Hulu, and Spotify. In fact, you'll be able to get the fastest connection possible thanks to the built-in 802.11ac dual-band Wi-Fi adapter.
Source: Vizio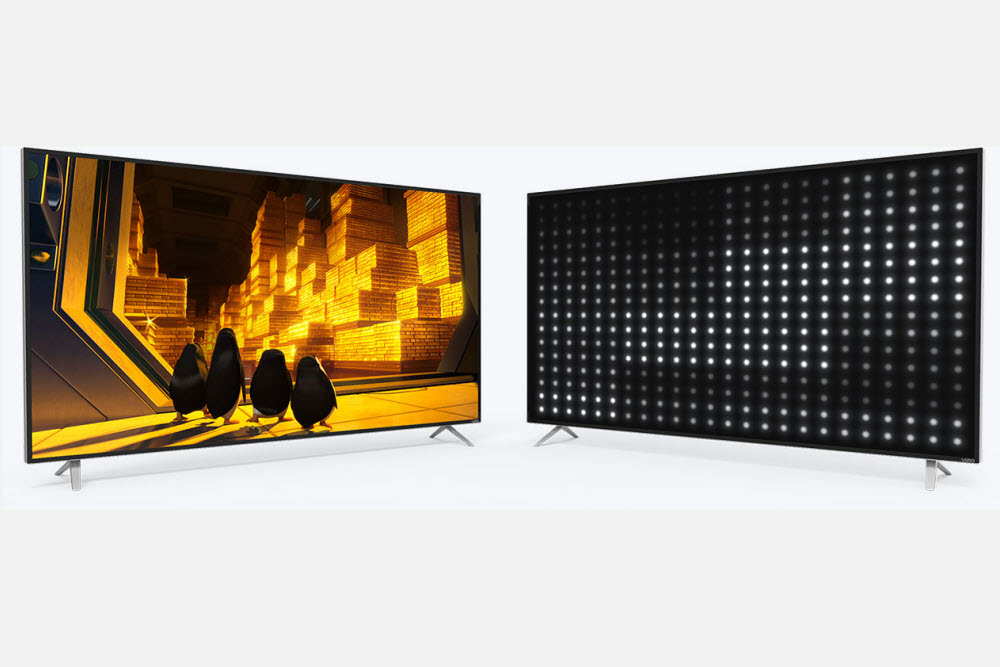 Daniel Johnston for Supreme – I was a fan of the 2012 release, and love what Supreme has done with Daniel Johnston for 2015. It's not just T-shirts for this project, and it's nice to see Johnston's work featured on other apparel mediums. The work jacket with the graphic on the back may be a bit much for my taste, but I liked seeing the long-sleeve tee, the sweats, and the snapbacks. The collection released this past Thursday and seeing the buzz on Instagram tells me this is long sold out.
I think I'm too old for graphics on my work jacket and short-sleeve button-downs, but can probably make an exception for Daniel Johnston. Supreme teams up with the prolific artist for Spring 2015 and the result is a collection that will have fans waiting in long lines. Johnston's personal battle with schizophrenia and bipolar disorder is often credited for his unique approach to graphics, and this project explores Johnston's disjunctive style. The collection will of course have the usual graphic T-shirts, but will also include a few pieces of workwear, athletic sweats, a baseball raglan, and a few snapbacks.
Source: Supreme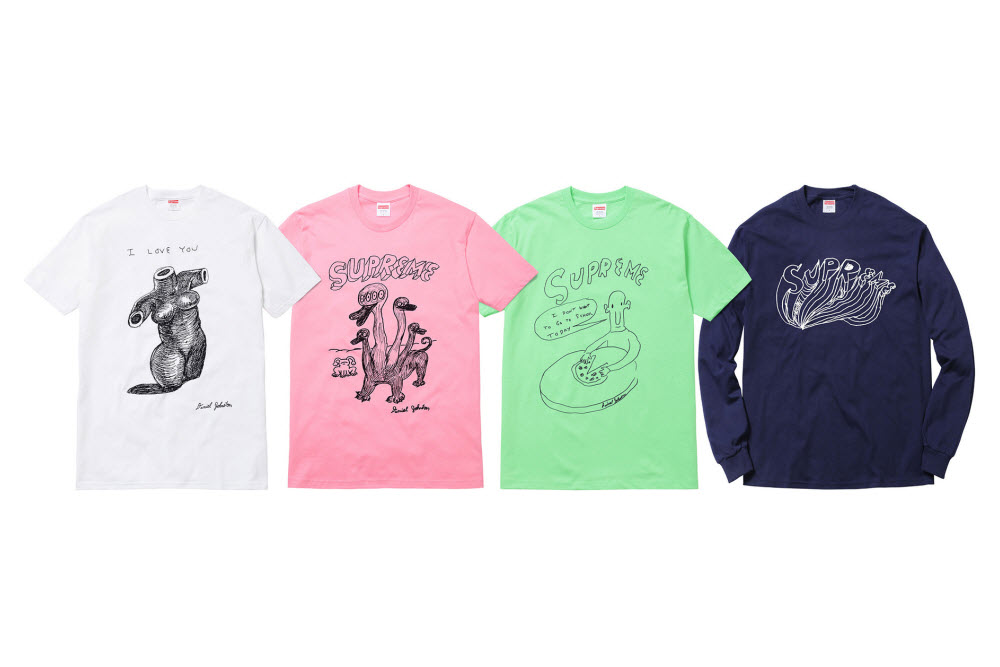 Reebok Furylite – What can I say? I loved the Pump Fury when it was released over twenty years ago, and I like what Reebok did with the Furylite. It looks like a sleek, capable runner, and taking out the Instapump function that made this a classic was a bold move. I'll miss the function, but I would be lying if I didn't say I think the red rope laces are a nice touch. Add the fact that these retail at $75, and you got a summer runner that will go great with a variety of shorts.
The Insta Pump Fury gets plenty of love, but what about those who love the design and prefer not to have to press a plastic pump to get a good fit? Thanks to the clever designers at Reebok, we have the Furylite, an affordable runner that allows you to leave the InstaPump C02 canister at home. Using the same iconic silhouette, the popular runner returns with red rope laces in lieu of the Pump. The colorway stays true to the original and uses a lot of bright neon, black, white, and red.
Source: Reebok