2015 was one of the more memorable years in skateboarding's recent history. There were a bunch of heavy video parts and even heavier team changes. We saw the trend of small independent board brands taking market share away from their larger, more established counterparts continue. At the same time, the opposite held true for shoes—the giants like adidas and Nike have become such a dominant force that it's become increasingly tough for skater-owned shoe companies to compete. The Brazil invasion was a serious force to be reckoned with this year—several South American skaters produced some of the best video parts of 2015. The contest circuit was also shaken up with new faces taking the top spots at major events. If there was one constant theme in skateboarding this year, it was change. With that in mind, let's take a look back at skateboardings most significant happenings from the past 12 months.
10. The Rise of Tiago Lemos
Before 2015, Tiago Lemos wasn't on very many people's radar outside of Brazil. Now, he's practically a household name. Hailing from Jaguariuna, Brazil, Tiago had a couple of online parts in 2014—but this was clearly his breakout year. He started off 2015 with a shared part with Carlos Iqui in Gold Wheels' Gold Goons video, then this summer, he was a central figure in Ty Evans' and Mountain Dew's skateboard blockbuster We Are Blood. And last month, Tiago released his third and best part of 2015 in DC Shoes' De La Calle/Da Rua—which cemented him as one of the top up-and-coming amateurs. Every so often, someone will come seemingly out of nowhere and shock the world of skateboarding. In 2015, that person is definitely Tiago Lemos. I'm fully expected him to go pro next year—and at just 24, he has a long and bright career ahead of him.
9. Shane O'Neill Makes Moves
In March of 2015, Shane O'Neill dropped one of the most talked about parts of 2015 when Thrasher hosted the release of "Shane Goes." He unleashed some of the most progressive skateboarding to date, and reminded the world that he's hands down one of the best skateboarders on the planet. A few months later in July, Shane quit his long-time sponsor, Skate Mental, which had everyone guessing what his next move would be. After months of suspense, it was announced that Shane was officially riding for Paul Rodriguez's Primitive Skateboards, and was also given shares in the company. In December, he released another video part welcoming him to the team that was just as impressive as his part from March. With two incredible parts underneath his belt, and ownership in one of the hottest board brands out—Shane O'Neill definitely had a banner year.
8. Fucking Awesome Launches Hockey Skateboards
HOCKEY from FA World Entertainment on Vimeo.
Fucking Awesome has been one of the most talked about companies in skateboarding since Anthony Van Engelen and Jason Dill left Alien Workshop to start the brand in 2013. After a couple of years of power moves like signing Dylan Rieder and Gino Iannucci to their new endeavor, AVE and Dill introduced the world to FA's sister brand, Hockey, earlier this year. They also released an extremely raw promo featuring John Fitzgerald and Donovon Piscopo—who both went pro for Hockey a few months after its introduction. With Fucking Awesome already holding its own, and Hockey's very warm reception from skateboarding—it would seem that there's no stopping FA World Entertainment's plans for world domination. 2015 definitely cemented their path.
7. Nyjah Huston Quits DC Shoes and Asphalt Yacht Club
In the beginning of November, Nyjah Huston disappeared from the DC Shoes' and Asphalt Yacht Club's team pages. He also released an insane part called "OMFG" simultaneously, which most people saw as him dumping all of the footage wearing his former sponsors' shoes and apparel. While an official announcement has yet to be made—Nyjah his been spotted wearing Nike SB shoes and apparel since parting ways with DC and AYC. Given his skill level and the fact that he is the most successful contest skater of this era, Nyjah's move to Nike is a huge deal. It's safe to assume that an announcement from Nike and another insane video part from Nyjah are imminent. We'll probably be seeing both of those in early 2016.
6. Luan Oliveira Wins Back-to-Back Street Leagues
Luan Oliveira is clearly one of the most consistent skaters on the planet. He proved that in 2015 with back-to-back wins at the Street League stops in Los Angeles and New Jersey. These victories earned Luan a hefty payday and the honor of being the number one ranked pro skater in the world. It also established him as a viable threat in any contest that he enters. In the past, Street League has been dominated guys like Nyjah Huston, Paul Rodriguez, and Chris Cole—in 2015 Luan established himself as a force to be reckoned with in the world of contest skating. He's definitely got a ton of momentum rolling into 2016.
5. Vans Releases Its First Video, "Propeller"
Vans is skateboarding's original shoe company. Given its rich history and incredible team, it's surprising that they waited so long to release their first video. In 2015, they debuted Propeller—which was clearly worth the wait. Directed by Greg Hunt, Propeller was the most critically acclaimed video of the year. It was capped off with a standout part from Anthony Van Engelen that catapulted him to the top of most people's list for Thrasher's Skater of the Year. Regardless of whether AVE takes home the trophy or not, Propeller will certainly be remembered as 2015's most memorable video.
4. Ty Evans and Mountain Dew Release We Are Blood
Ty Evans is responsible for some of the most epic skate videos of all time. He took the production value of the skate video to new heights in 2015 with the release of his latest film titled We Are Blood. The video was designed to show skateboarding to a broader audience through following a group of skaters around the globe and telling their individual stories. Filmed with professional movie cameras and edited and mastered in film studios, We Are Blood is a cinematic experience that has never been created before in skateboarding. While few projects will have the budget to recreate what We Are Blood accomplished, Evan's latest effort definitely set the standard for what a professional skate film can look like.
3. Danny Way Breaks the World Record for the Highest Air
In July, Danny Way set out to break his previous world record for the highest air ever done. He set the original record on June 12, 2003 with a jaw-dropping 23.5 foot air. After building the largest quarter pipe ever constructed in the mountains above San Diego, Danny was able to blast an incredible 25.5 foot backside air to set a new world record. Given that the guy has jumped the Great Wall of China on his skateboard, nothing is really surprising from Danny. One thing is for sure, I don't think anyone else will be going this big on a skateboard anytime in the near future.
2. Guy Mariano Joins Nike SB
After months of speculation on the Internet and in skate shops around the world, Guy Mariano was officially announced as the newest rider on Nike SB in November. Guy is one of the most legendary skateboarders of all time, and he seems to be getting better and better with age. His Instagram clips from 2015 alone are some of the most progressive tricks that we've seen this year. Judging by that, it's safe to say that Guy's best video part is yet to come, and it's most likely going to be in the next Nike video. Given his status, he's also more than deserving of his own pro model from Nike—which will be interesting to see if that's something slated for 2016 or beyond.
1. Eric Koston and Guy Mariano Leave Girl Skateboards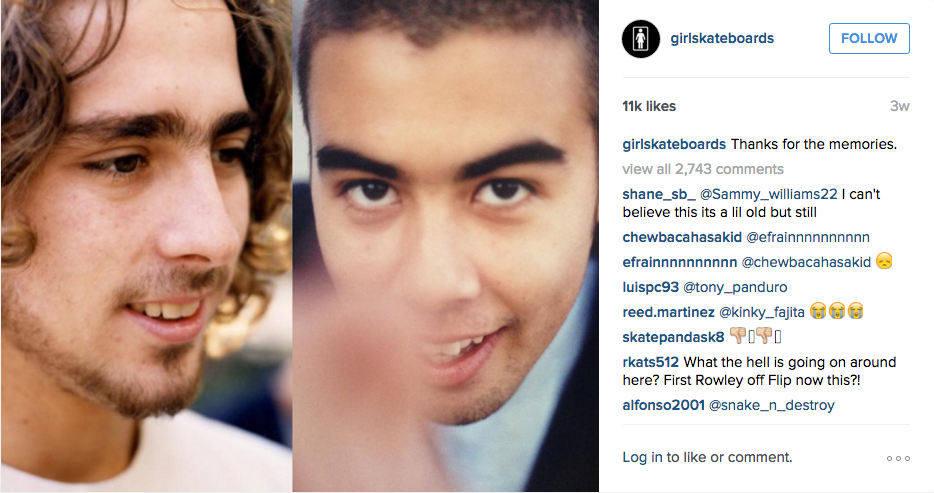 With a single Instagram post and the removal of their names from the team page, Girl Skateboards announced in November that Guy Mariano and Eric Koston were, in fact, no longer riding for them. 2015 marked the end of a 22-year relationship between these two legendary skaters and the iconic brand that they helped found in 1993. There's no official word on where Guy and Eric will be going next, but it's definitely a hot topic of conversation in skateboarding. Whether it's a new or already existing brand, one thing is for sure—this is the end of an era in each of their respective careers.
***