2014 was the year of breakfast. From the taco bell breakfast wrap to the fancy egg and cheese being touted across LA, and the influx of artisanal bakeries with fresh coffee. Brunching became a craze, and you can see a lot of my list of best things I ate belonged with eggs or dishes of that morning nature. However, there are many other one bites or mains that have made the cut from some of the most exciting restaurants, kiosks, cafes, and taco stands. Enjoy!
This dish arrives as a curveball on this Santa Monica's local farm-centric restaurant. Everything you love about pozole verde, but with seafood added and vibrant green broth made with some of the state's best produce.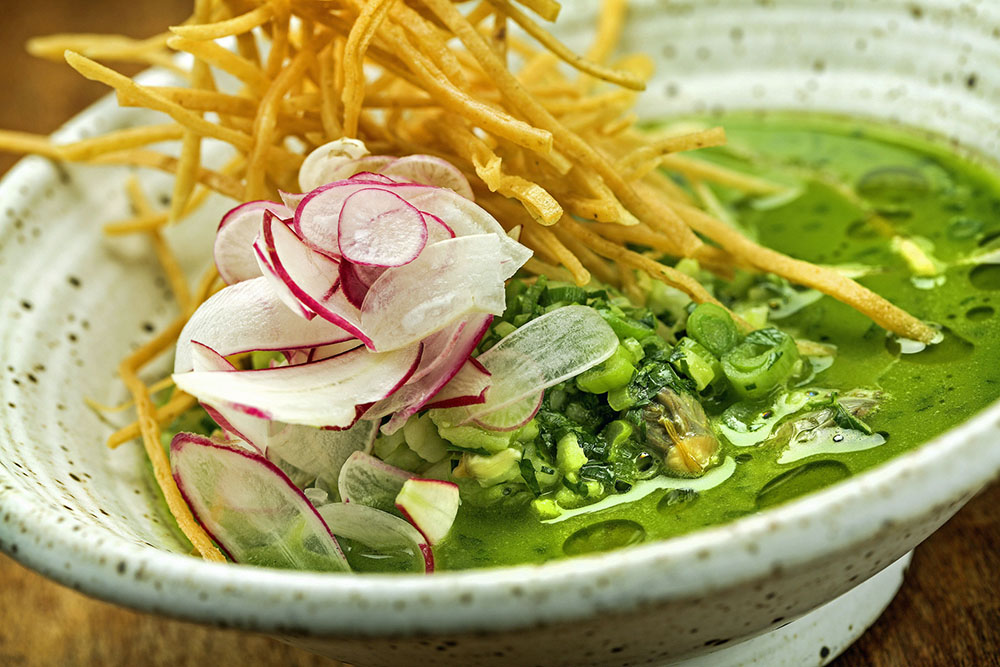 Taking a bite into this toast is a revelation.  The house-made sourdough is char-grilled and then slathered in delicate young veal meat and then spread with a traditional sauce made from tuna, giving a whole new name to surf and turf!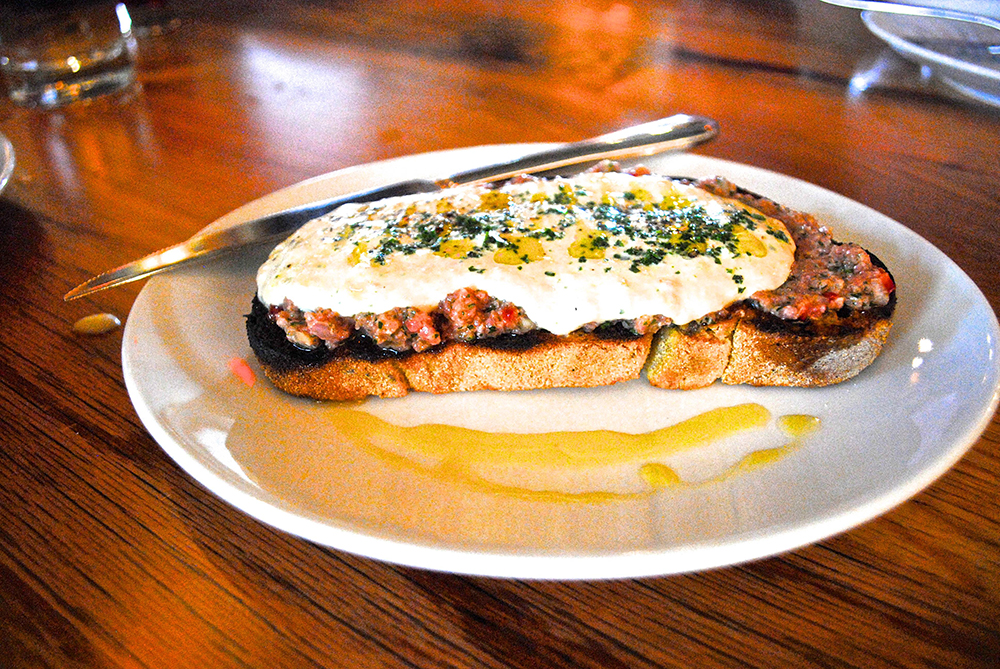 Many restaurants are preparing this underground cut of beef with a deeply rich imagination. But the beef tendon floating in this ridiculous curry broth is stupid good. It is served with ROTI, a deep fried flatbread. Rip a piece off and dunk it in the pool of deliciousness. Game over.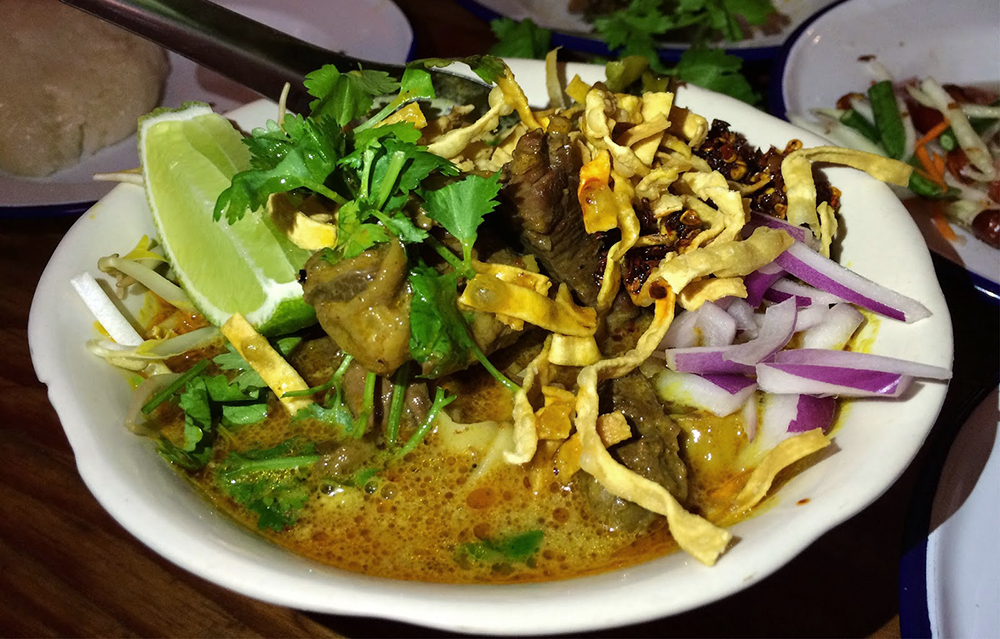 Known for its whim and wizardry, ink's kitchen of food magicians concoct a riff on a loaded baked potato. In this variation, they roast baby potatoes and roll it in green onion ash, making the potatoes look like little pieces of charcoal, which are served with a whipped sour cream and a spray bottle the size of a Binaca filled with tangy vinegar to spritz on the tasty spuds.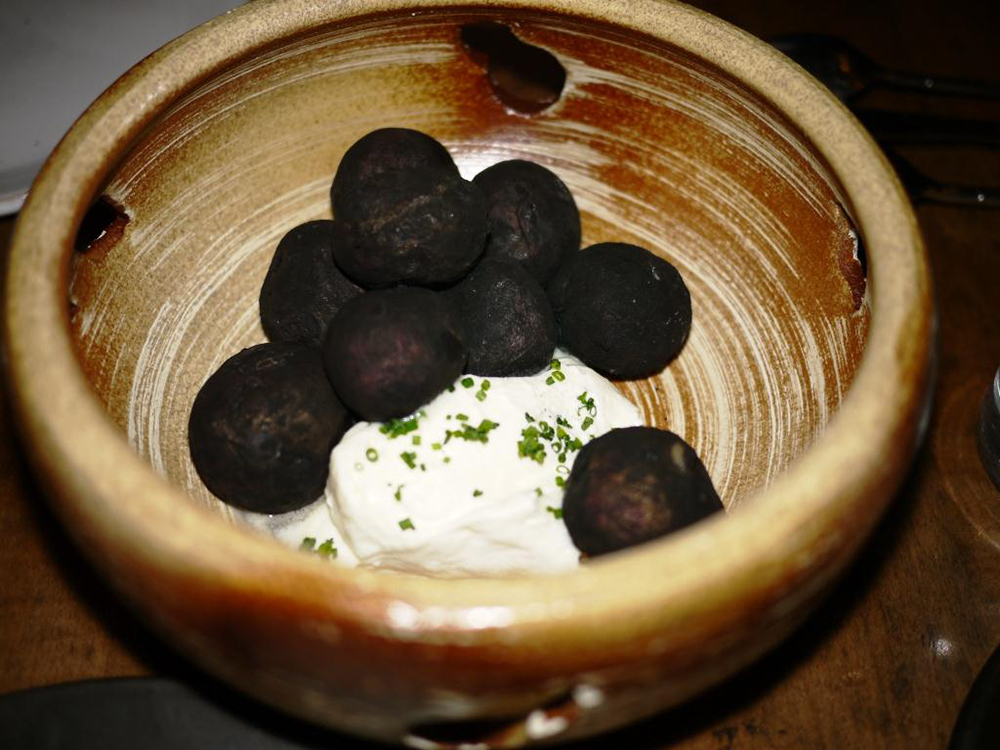 Not just the best French toast in 2014, but the best French toast I have ever eaten.  This breakfast dish was handed down by the heavens. Thick-cut house made brioche, the inside soft and custardy and the out bruléed with sugar 'till it is crispy and caramelized. It's topped with a sweet apple slaw and a hefty dollop of fresh whipped cream.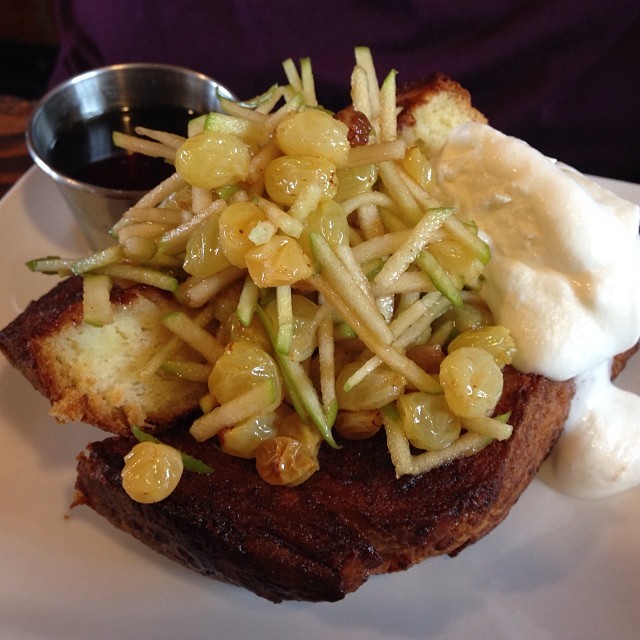 Beautifully scrambled farm fresh eggs, topped with sliced ham, sautéed wild mushrooms, and a red wine sauce drizzled all over the top.  The earthiness, the saltiness, the umami flavor – it's phenomenal. Read my interview with Republique's own Walter Manzke here.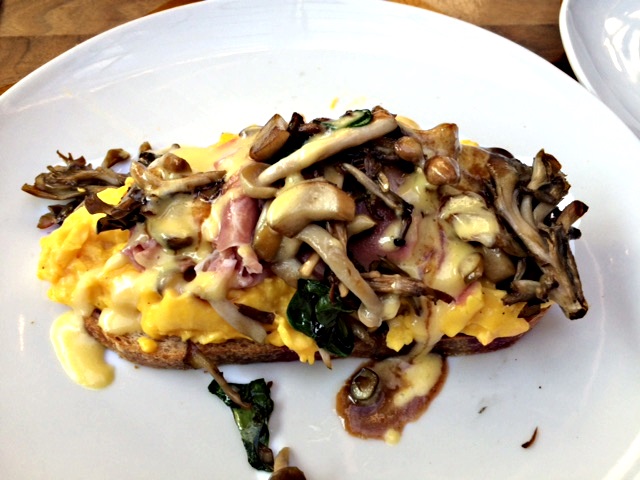 When you can make a chicharron arrive to your table warm and crisp on the outside and pure oozy fatty on the inside, it's almost like you're eating a whole stick of bone marrow. This savory bar comes jutting out of a pool of thin salsa verde. You have to order this indulgent bite.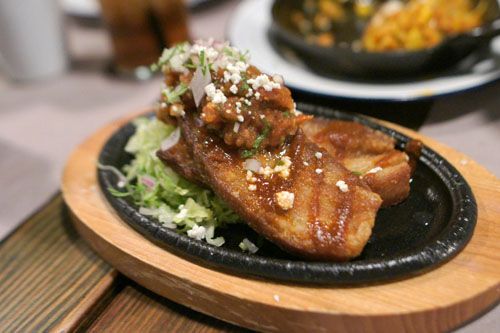 Peppery, smokey, slightly sweet, this Hollywood Annex to the Compton Pit Master slow cooks pork ribs in a smoker and never sells day olds. Come in and order a whole rack and a side of pickles. Done.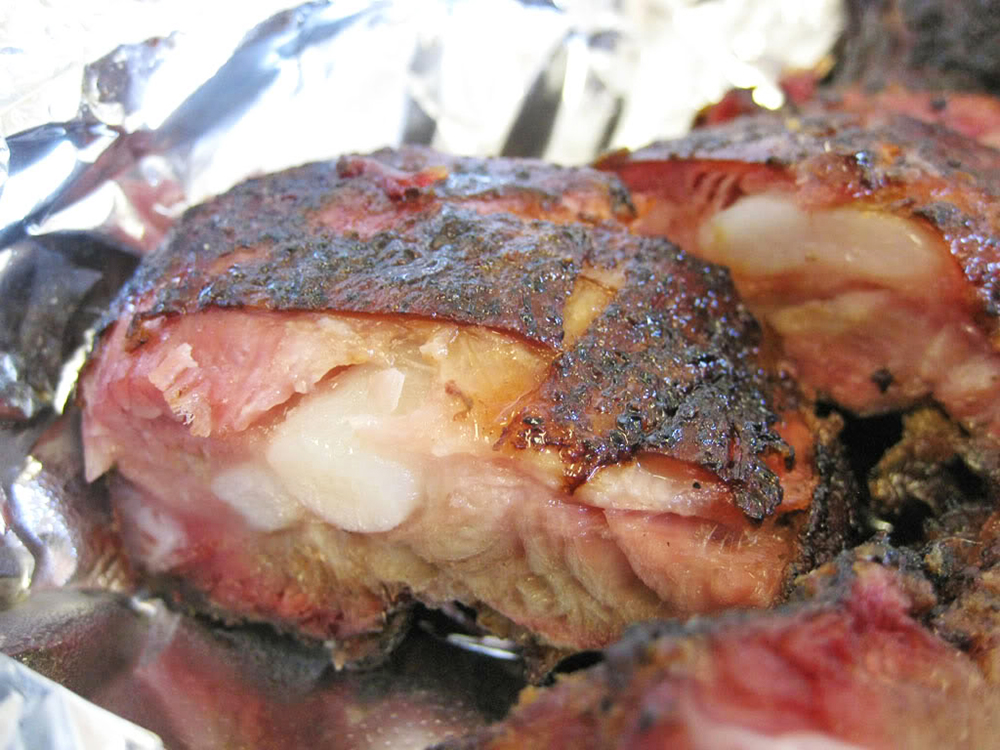 This dish should be #1 just based on simplicity and reward. It's a piece of toast with gravy made with Guinness and cheese that is charred on top!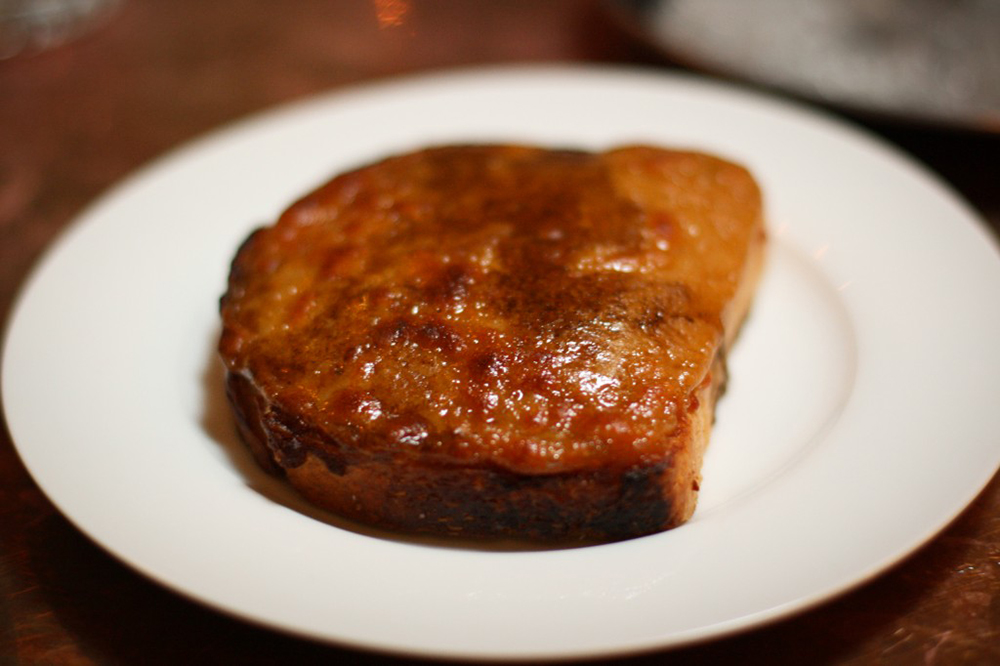 If you love the novelty of chomping on one of these bad boys at Medieval Times or at the Los Angeles County Fair, then you will obsess about this fried turkey leg, served in a sweet glaze with a white BBQ sauce. It's refined barbaric.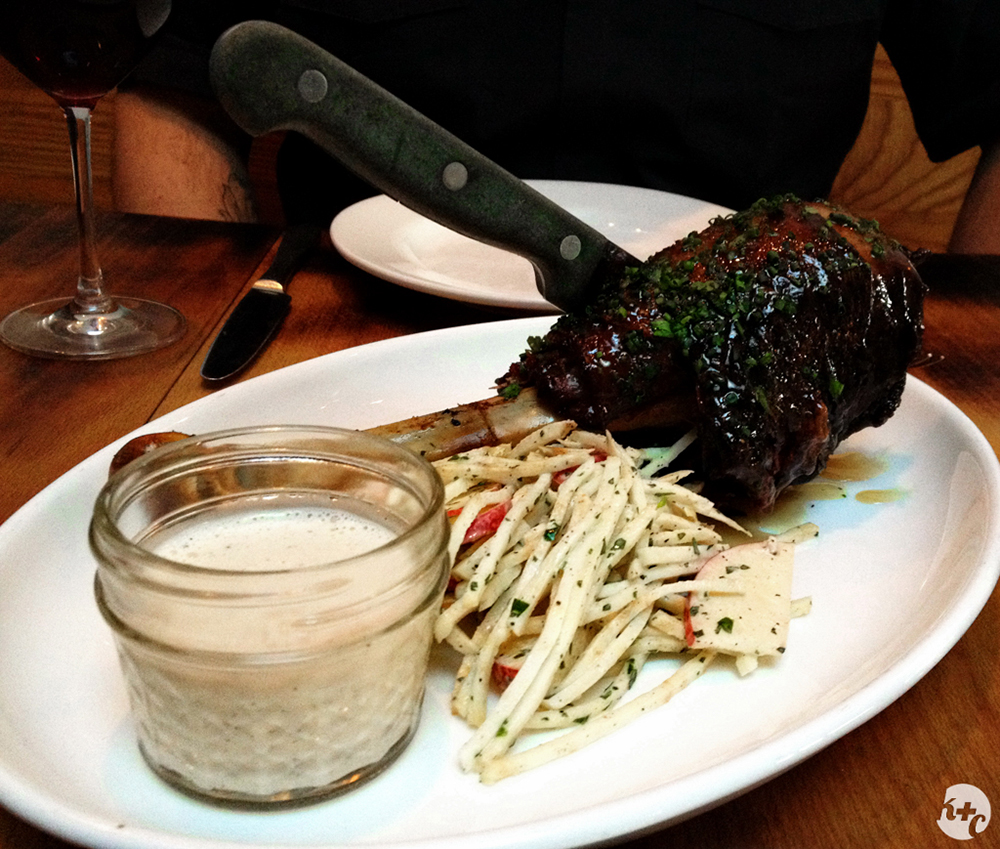 Naomi Shim is a genius with sugar, and when she gets inspired she plays with brown and dark sugars in amazing ways. Her toffee cookie is crunchy and caramelizes at the bottom. So every bite reminds you of a soft buttery cookie simultaneously with crisp toffee candy. You can check out her recipe for puff pastry and my interview with her here on TheHundreds.com.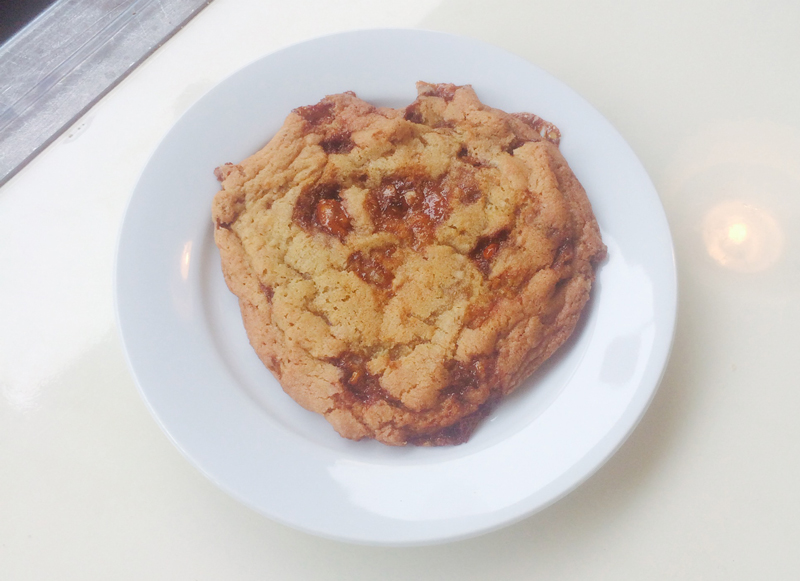 This crew at the Grand Central Market has matched the quality found at Jewish delis that hold legacies for decades – and if they haven't matched it, then they have surpassed it with the pastrami sandwich. Their smoked fish that is sliced paper thin and topped with fresh onion is also delicious.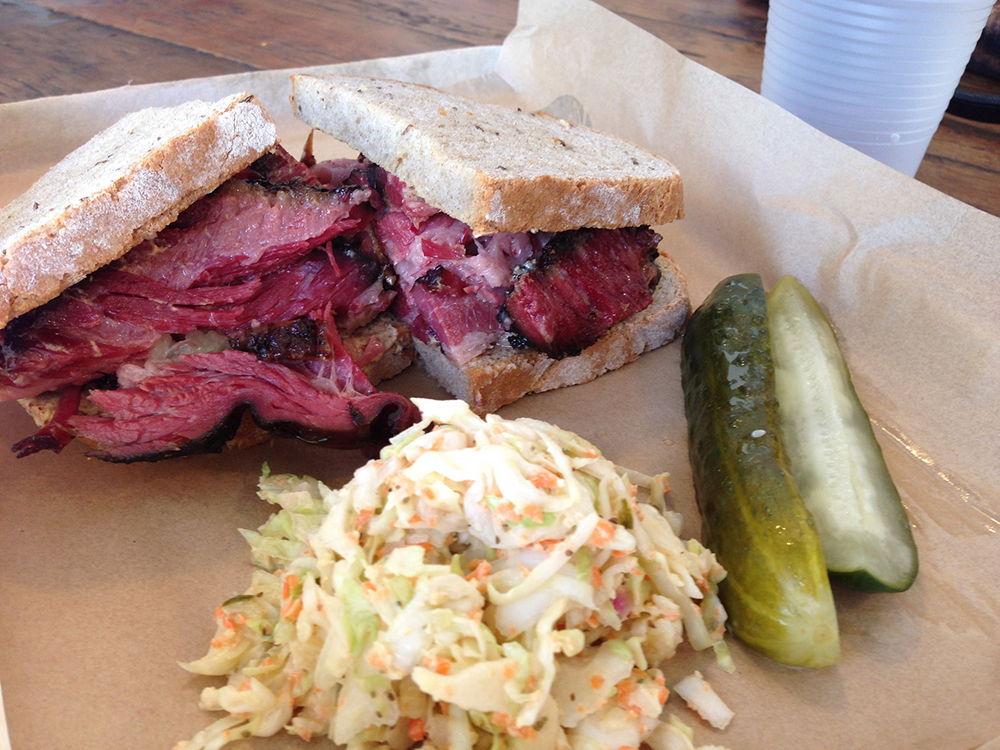 Crispy and Rustic. These are just the best fucking fries.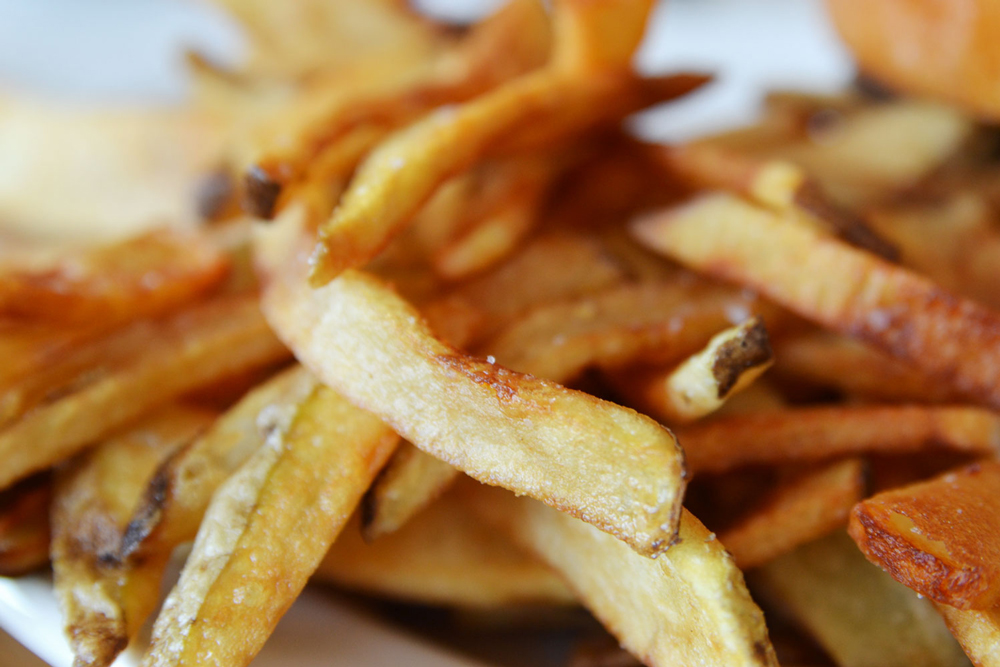 This is a Italian bread, but not thick and fluffy. This focaccia is oily, thin, crispy, with a layer of fresh white cheese cooked inside the dough that is tossed fresh and cooked to order in a wood burning oven.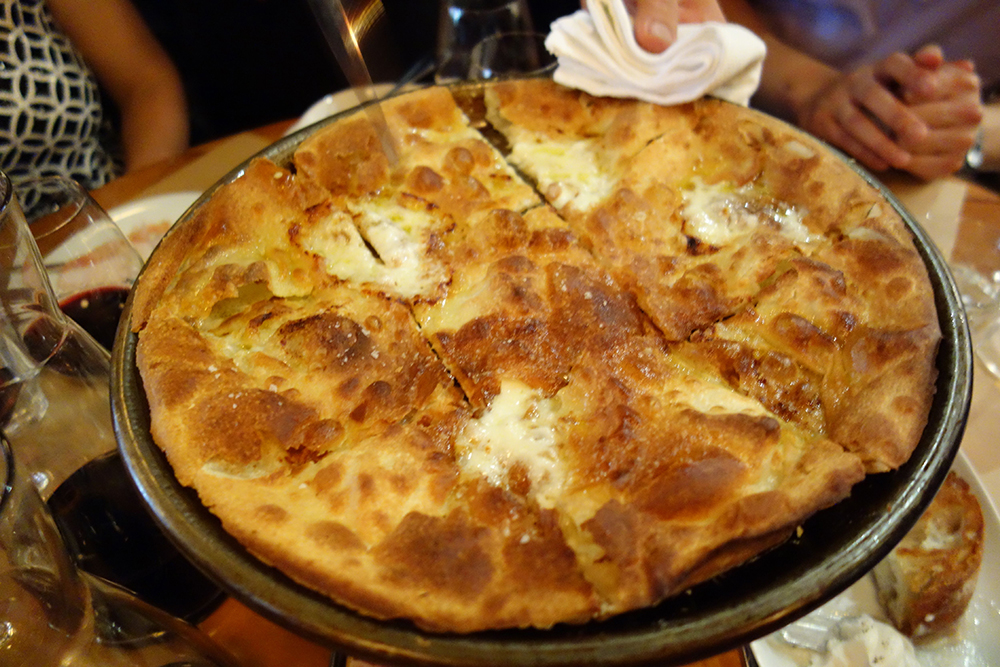 This ice cream company from Portland makes the best tasting, most flavor-forward ice cream. The snickerdoodle cookie has that great cinnamon flavor and cookie taste.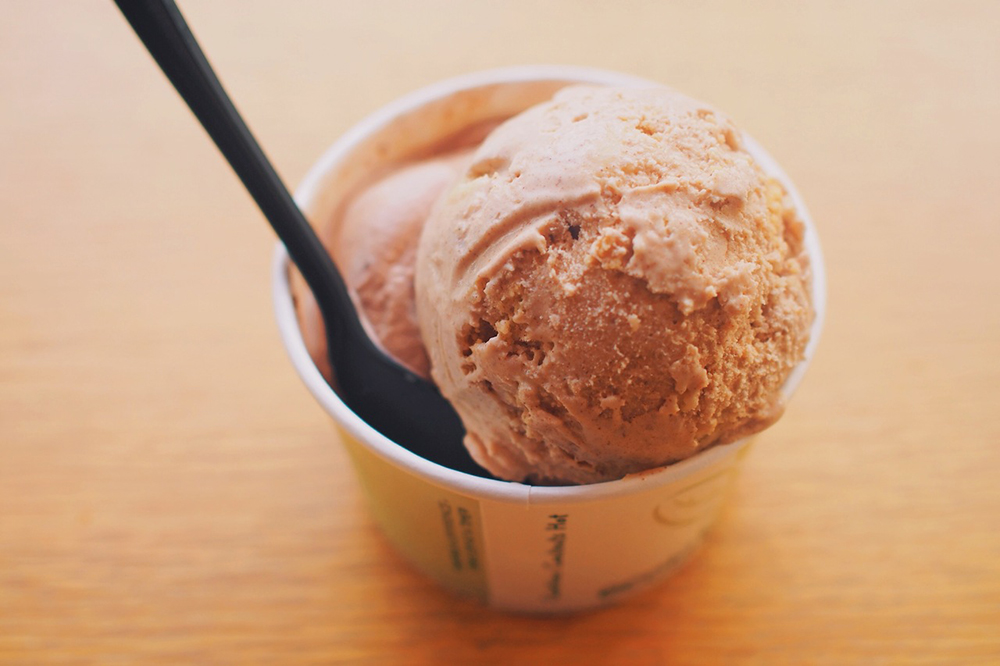 Delicious custard made the Dairy Queen. Topped with a thin wafer cookie, whipped cream, and optional birthday sprinkles – game, set, and match!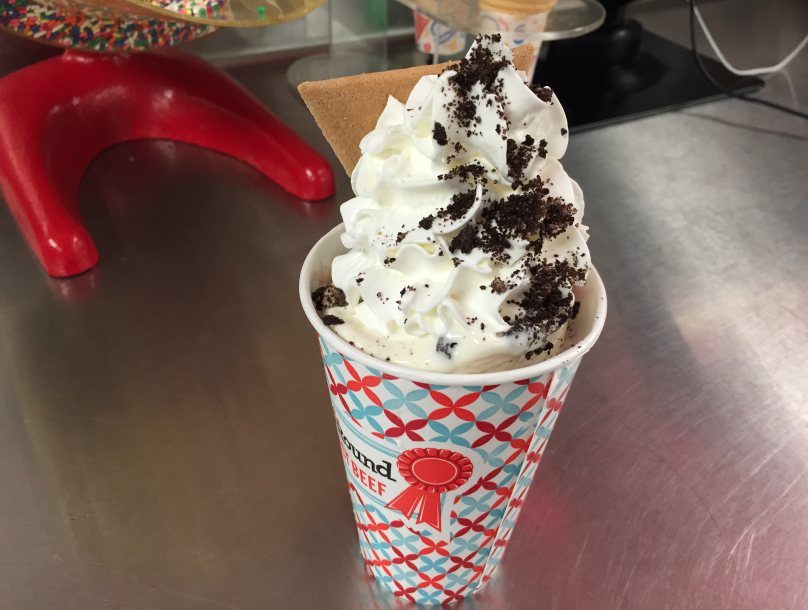 If Joel Rubichon, master chef with Michelin Star restaurants, is notorious for making mashed potatoes with equal parts butter and potato, then this tamale guy should be recognized for what seems to be equal parts masa and lard. Just so soft and flavorful. You might ask yourself if this is the best tamale you've ever eaten.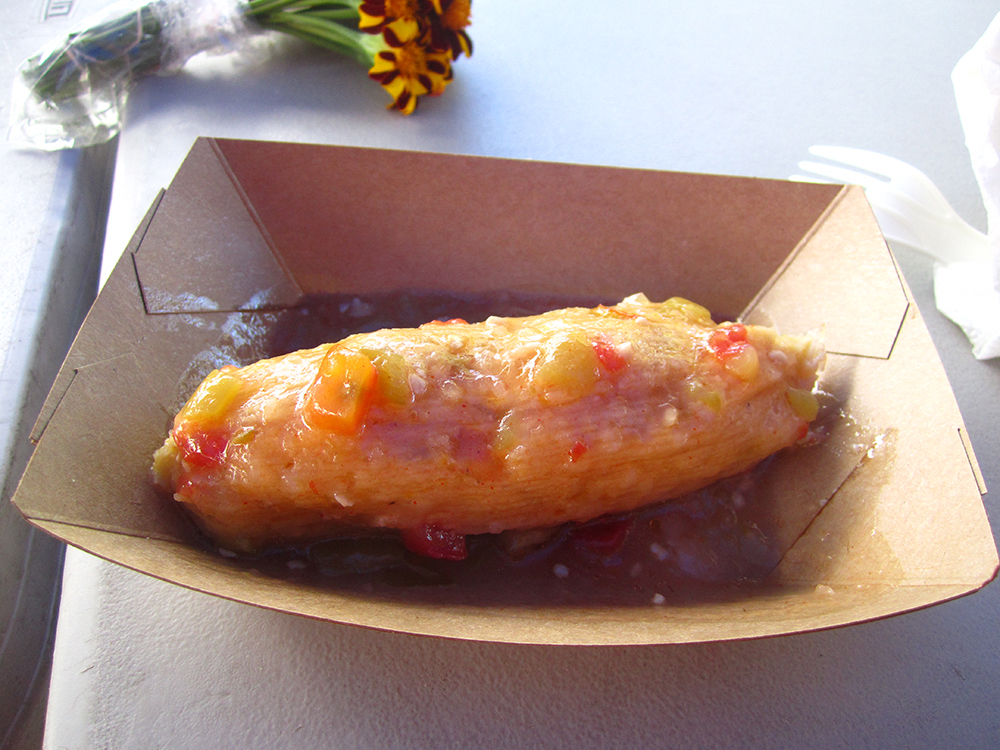 It's a light poached little egg on a Japanese skewer cooked in a little charcoal flame and the yolk is perfectly cooked medium. Mind changing. Check out my write-up of my trip to KokeKokko, its exclusivity, and my first taste of raw chicken here.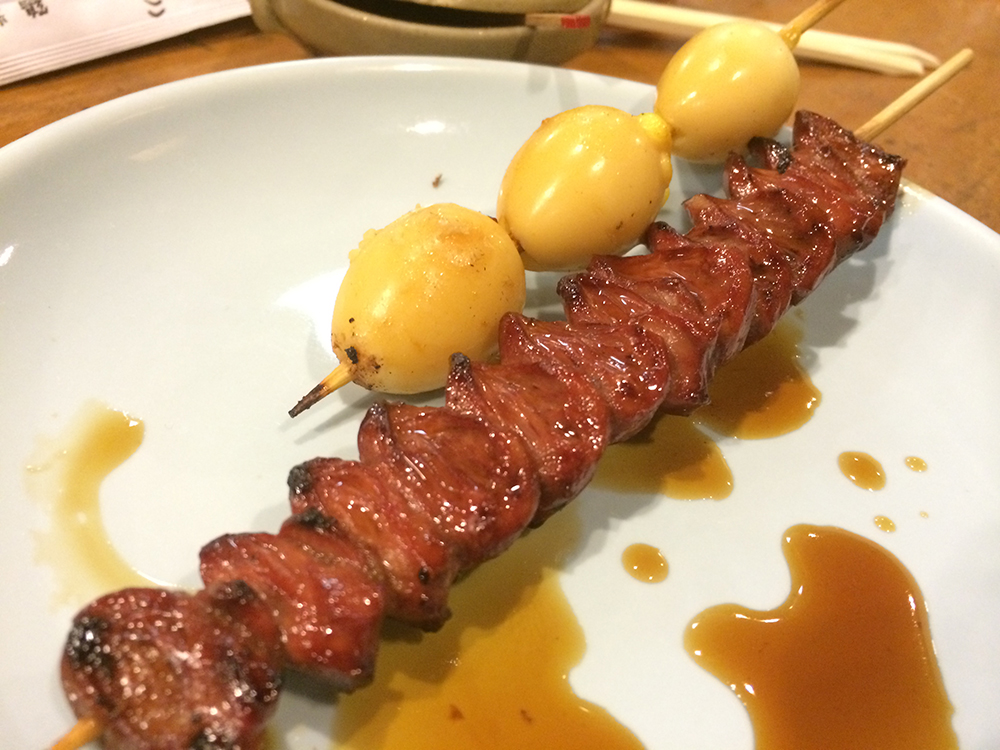 Make fresh masa tortilla and fill it with spit-roasted pork, pineapple, and cheese then fry. These emapañadas are the size of your hand and they stretch and ooze like a Mexican hot pocket insanity.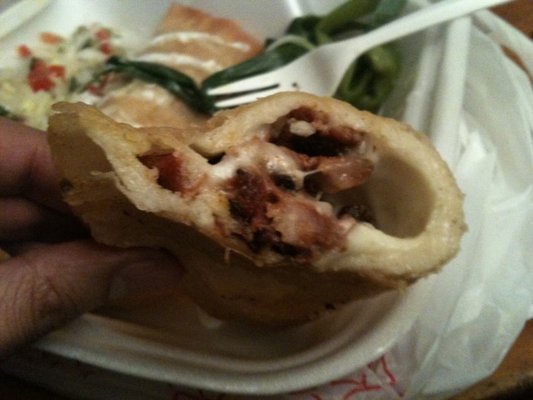 This salsa is thick, not watered down, and it tastes of the earth with guaijllos, and then it rings your spice meter with habaneros. I am not quite sure, but it's pasty and more tasty than another salsa I ever had.