Benjamin Marra's crime-fiction comics—such as Night Business, Gangsta Rap Posse and Blades & Lazers—are outrageous and awesome. In one frame, a pimp pulls off the protagonist's fingernails with pliers, and in another, a helmeted heroine crushes the head of a rapist under the wheels of her motorcycle. His comics are also intentionally off-kilter. "I believe my mistakes are my style," Marra explains. "The stiffness of my figures, the awkward proportions, the inaccurate shadows all contribute to my own unique, personal aesthetic."
Marra developed his aesthetic after graduating from Syracuse University with a degree in illustration, and realizing he didn't want to illustrate children's books. "After college, I went to a bunch of meetings with like these old grandmas, and they were wack," he recalls. "I remember going to see Jerry Pinkney talk at a library and there were all these grandmas there, and I was like, this scene sucks! I don't wanna do this!" Instead, Marra cultivated his interests in sex, violence and exploitation, and created the first issue of Night Business. "It took many years for me to embrace them as subjects for myself. But when I did I was able to make more honest work and have more fun. What I realize now is those genres can be important and sacred. The shift came down to embracing and realizing who I am as a person and artist."
In this interview for The Hundreds, Marra talks about his path as an artist; his influences, which range from Teenage Mutant Ninja Turtles to Pre-Renaissance Italian painters; the most important things he has learned about comics; N.W.A. and more.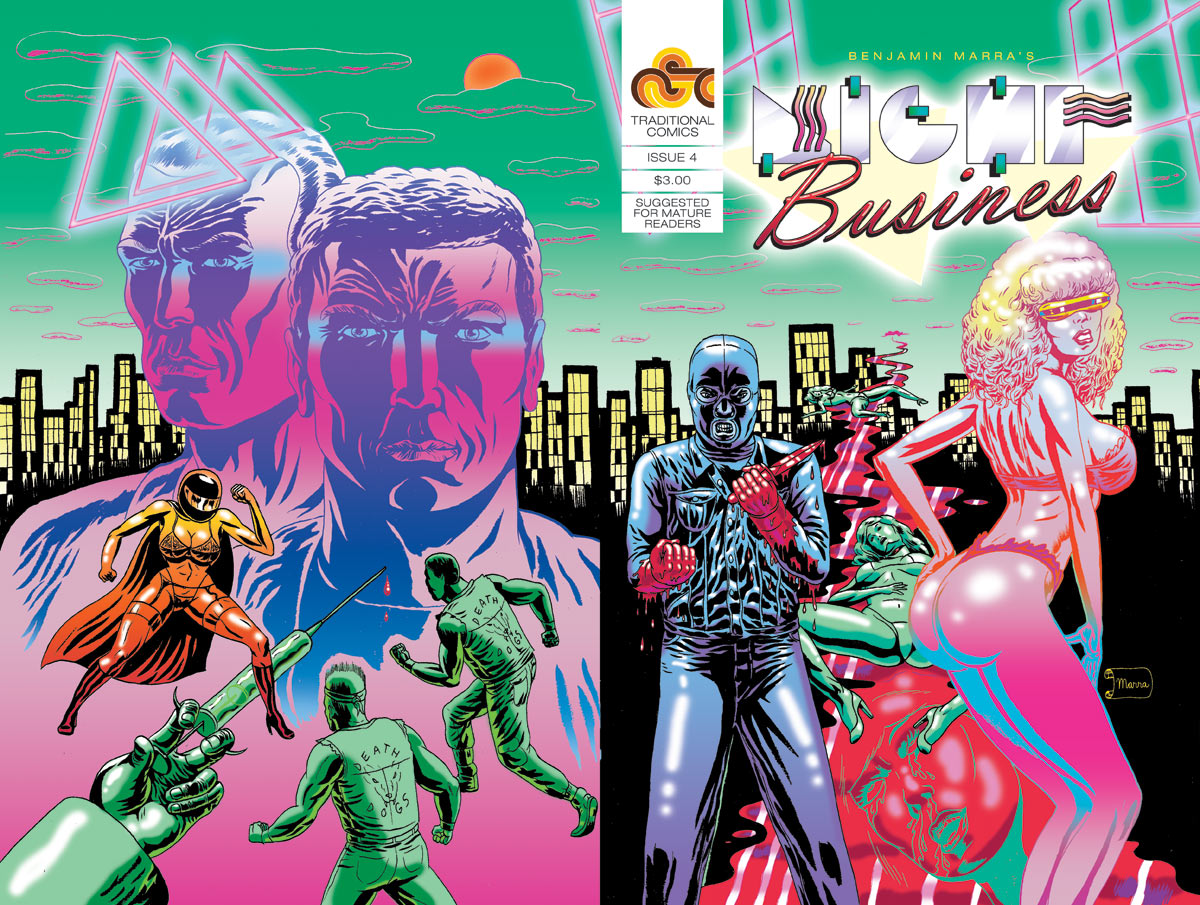 I read that, as a kid, you were more interested in comics like Radioactive Black Belt Hamsters and Space Beaver than by Marvel comics. What other comic books did you covet at that time?
At that time, the Teenage Mutant Ninja Turtles collections First Publishing put out—where they colored all the black-and-white art of the original issues—were high on my list of covetous objects. TMNT is responsible for my obsession with those anthropomorphic-animal adventure comics. Without TMNT, Space Beaver probably wouldn't have existed. Space Beaver issues were the holy grail, because there were only a few of them and they came out sporadically. I loved the story and the artwork.
Outside of the comics world, what artists have most informed your career? I've seen you mention Francesco Clemente often...
A lot of Italian artists have influenced me and my artistic development. Clemente was one, mostly in his fearlessness, his complete vulnerability toward his subject matter. I loved the tone of his work and his draftsmanship, his palette. Everything. But I don't draw like Clemente. My main artistic influences, outside of comics, would be Pre-Renaissance Italian painters such as Giotto, Piero Della Francesca and Fra Angelico. Currently, Piero Della Francesca's work is influencing me the most. There's an exhibit of four of his paintings currently hanging in the Met. They are outrageously incredible. When I look at his handling of the figure and his compositions, it destroys my mind. There is another ethereal quality to his paintings and the attitude toward his image-making that resonates with me. It's a sort of otherness, a strangeness, almost alien, almost as if he's looking at the human figure for the first time with each painting. I love that quality.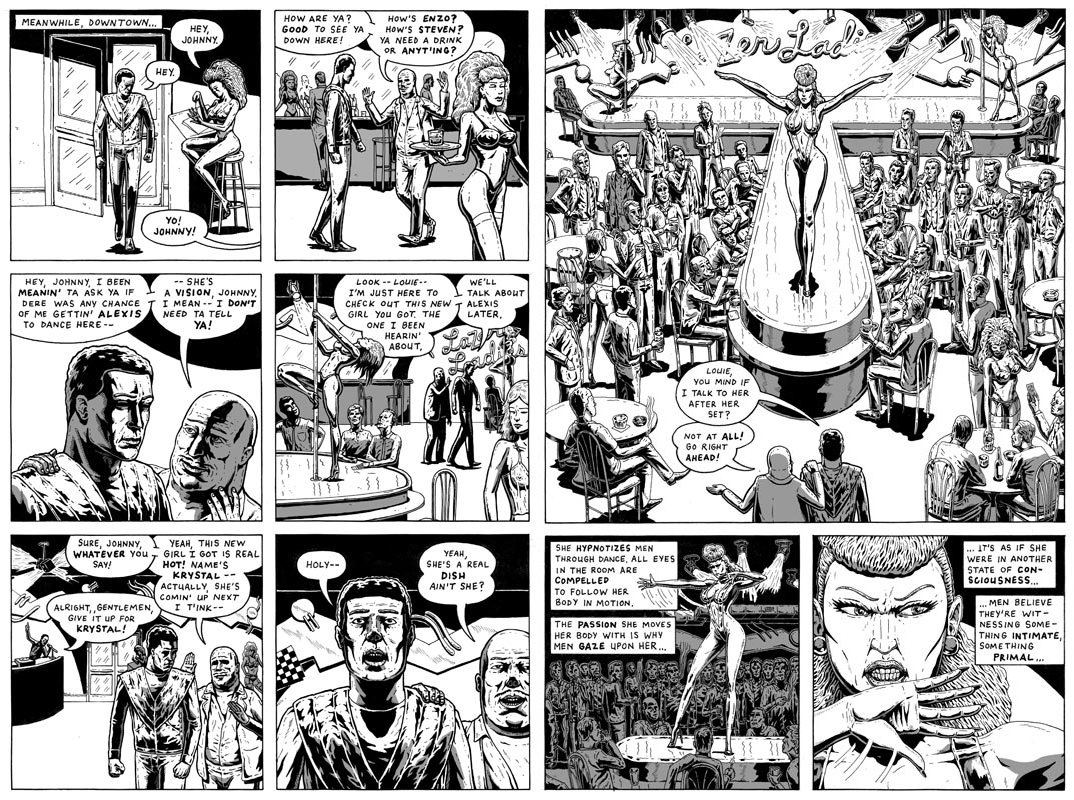 You went to college for illustration and then wanted to break into illustrating children's books. How did you go from wanting to do children's books to Night Business?
Well, there are several reasons for that shift in ambition. In college, I knew I wanted to make a living doing illustration and illustrating stories. So, based on what I was exposed to at that time, a legitimate way of achieving that goal would be to illustrate children's books. I felt like I had the skill to do it, too. I also thought girls would think it was cool and I was sensitive. My mentality was to use my skill to create art I believed other people wanted to see, rather than create images or stories for myself. I was misguided to a degree by my formal art education to create important and sacred things. I thought children's books were those things. I've got a pretty wide-ranging spectrum of taste for popular culture and art, and I love a lot of children's books. As I got older and developed more as an artist, I realized, or admitted to myself, that my own personal artistic pursuits didn't fit into the box of family entertainment. I'm interested in trash, genre fiction, sex and violence and exploitation. These were all dismissed completely by the majority of my professors. So it took many years for me to embrace them as subjects for myself. But when I did I was able to make more honest work and have more fun. What I realize now is those genres can be important and sacred. The shift came down to embracing and realizing who I am as a person and artist. The ultimate realization of that was creating Night Business.
How big of an inspiration were giallo movies on Night Business? Favorite giallo movie of all time?
Giallo movies are the biggest inspiration on Night Business. I wanted to make a giallo comic when I wrote and drew Night Business. My favorite giallo of all time would probably be the one that introduced me to the movement, which was Your Vice is a Locked Door and Only I Have the Key. But I also love Strip Nude for Your Killer and The Case of the Bloody Iris.
In grad school, your first comic book class was with David Mazzucchelli (Year One). What is the most important thing that you learned from him?
I'd say that was my first and only official comic book class. It's difficult to say what one thing was the most important thing I learned from Mazzucchelli, so I will give the top three:
3. You know the story and the reader doesn't. Meaning, you as the writer control the pace at which the reader absorbs the narrative. You control the beats and drama. You control how the information is delivered.
2. Make the words and pictures do different things. The words and pictures in comics are two different systems of delivery for narrative information. In having each convey different information you create a synthesis of the two, which is the third language of comics, and the true power of the comics' medium.
1. The most important thing I learned was my own comic book-making process or how I make comics. Mazzucchelli, I would say, is obsessed with finding the absolute best solution to any given storytelling problem. When I was working with him I would do draft after draft, thumbnail after thumbnail, of pages to try and find the best panel sequencing, most readable layout and most perfect word combinations. By pushing so hard to find those solutions I was able to hone my instincts for what is clear storytelling. Now I can work much faster, but my storytelling is probably a little sloppier than if I spent more time on it. In my process I leave as much as I can unfinished in the planning phases so I can make adjustments as I go and keep myself engaged with the form and content.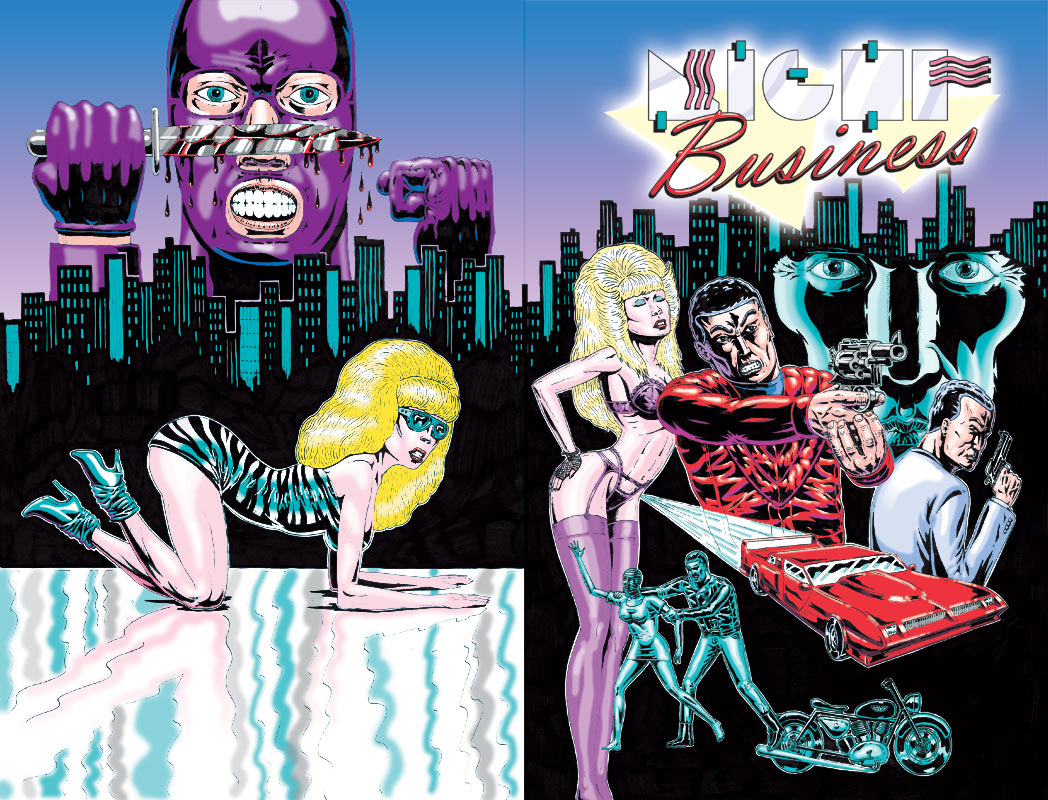 In your comics, you want things to be a little bit off, like the way Giotto's perspective is off. Giotto might not have understood perspective, but certainly you do. So why intentionally do this? What do you think it adds to your work?
There are many reasons why I want things a little off in my drawings:
1. It's just more interesting to me. I hardly pencil anything. I draw mostly with ink. So I'm figuring out the details, forms and rendering shadows in my drawings as I ink them. If I plan too much in the pencil phase I feel like I'm wasting time. The drawings also feel more resolved and thus less interesting to me. I'm entertained when I'm drawing something that looks differently than how I imagined. I'm also forced to accept it for what it is—imperfect. Imperfections are more interesting to me. Working this way is also faster and more efficient, which you need to be in order to draw comics. The result is things are a little off. That looks more interesting to me than if the drawings were fully resolved in the pencil phase.
2. I believe my mistakes are my style. The stiffness of my figures, the awkward proportions, the inaccurate shadows all contribute to my own unique, personal aesthetic. I always think about this thing Picasso said, we can all draw a circle freehand, but we all draw it imperfectly and differently and that's what makes us who we are. Instead of trying to correct my mistakes or deficiencies, I embrace them.
3. It makes the drawings about the idea, instead trying to replicate the actual thing they represent. When I think about Giotto's buildings and his relationship to perspective it tells me he's more concerned about depicting the idea of the buildings than he is about getting them as accurate as possible. The buildings are in perspective, but it's about the idea of being in perspective rather than an accurate representation of the buildings. Piero Della Francesca is a master of formal "proper" perspective, but there's an argument against his approach: drawing things, such as buildings, in one- or two- point perspective is actually inaccurate. Since we, as human beings, don't live in a single moment but a series of moments, it's inaccurate to depict things, such as buildings in "proper" perspective, caught in a moment of time. Cézanne's painting experiments of single still lifes from multiple points of view would be an example of trying to depict the way a human might perceive objects as they move through time and space simultaneously. But what's important and inspiring to me about Giotto's buildings is he's not letting his lack of understanding of how to depict a subject impinge his efforts to illustrate it.
4. Erasing doubt. Second-guessing my drawing choices was something I suffered from at one time. One of my other favorite artists is Gary Panter. I love how decisive and confident his drawings are and I find that inspiring. There are a lot of things that could be considered "off" in his work, but I like that aspect. It's what makes him Gary Panter. I want my work to evoke the same feeling. By doing very little planning in the pencils for my drawings and leaving a lot of drawing to be done with ink, I'm forced to be decisive, confident and a lot of times the results look off.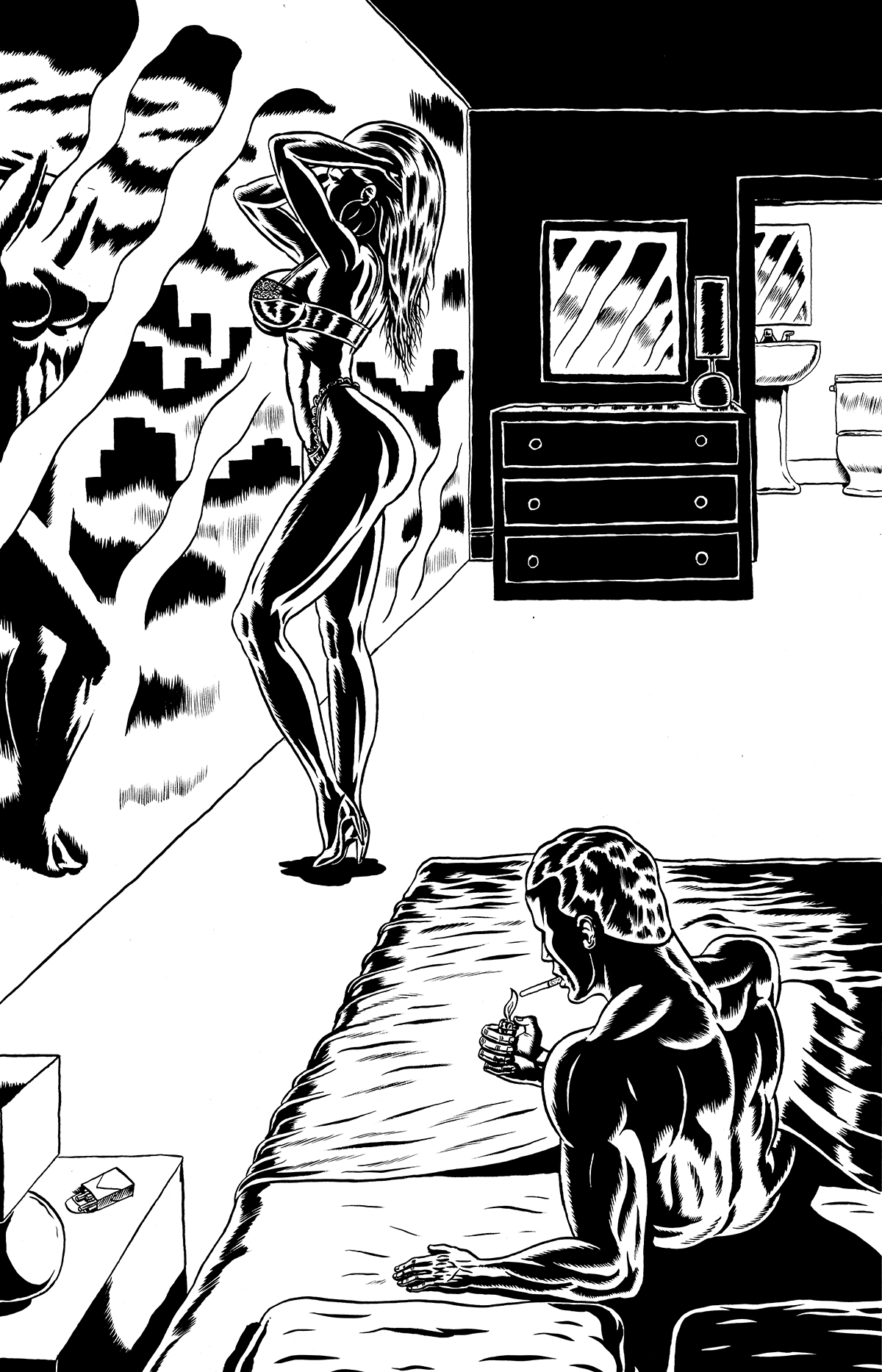 Why did you make Gangsta Rap Posse? Was gangsta rap a big influence on you?
I made Gangsta Rap Posse because I love N.W.A. and their music. I watched a VH1 Behind the Music documentary one night and was inspired by their story. I wanted to create a comic book as a love letter to N.W.A. and gangsta rap. I also saw a lot of comic books rap groups had made, like Public Enemy, at comic book stores and was disappointed by them. I thought there could be a better comic about rap music. Gangsta rap was an essential part of my growing understanding of the world while I was an adolescent in the 90s. I was still trying to figure out how things fit together—pop music, art and culture, art and commerce, crime and politics. I remember seeing "Nuthin' But a G Thang" on MTV thousands of times and seeing coverage of Congressional hearings about the threat of gangsta rap. It was all very confusing to me; how powerful music could be that it would require government attention. Later on, it reminded me of the government and society's fear of heavy metal and Satanism in the '80s. I'm fascinated by music that would appear to shake the pillars of civilization.
What are you working on now?
Many things. I'm writing and illustrating a few books for Josh and Sam Bayer's new comic line, All-Time Comics. I'm finishing off a new comic debuting at TCAF in May, tentatively titled U.S. Foreign Service Agent: Terror Assaulter OMWOT (One Man War On Terror). I'm working on Blades & Lazers II as well. I have my unfinished graphic novel to complete. I'd like to get to Night Business #5 this year as well. Additionally, I'm pitching a few comic book series to a publisher and have steady illustration work.