Walking into Apt.4B is like stepping into a time machine. Launched as a pop-up shop in 2013, the company now has its own flagship in the coveted streetwear district on Los Angeles's Fairfax Ave. More than a clothing store, its doorway feels like a portal into a '90s New York apartment set up, complete with an AK-47 lying on a vintage couch and brick phone on a coffee table. Mobb Deep, Raekwon, and Michael Jordan posters adorn a small bedroom in the back of the store. And naturally, Scarface is playing on VHS.
This was all a dream in 2013, when creative partners (and real life couple) Monique and Moon launched Apt.4B. With Mo' handling the business and Moon on the creative end, they've seen their dream grow right along with their relationship. Now, things are booming and they've even earned some A-list clientele.
Recently, the Apt.4B duo sat down with The Hundreds to talk about flipping their hopes into reality, what it takes to overcome obstacles, and why popping bottles with Jay Z is everything it's cracked up to be.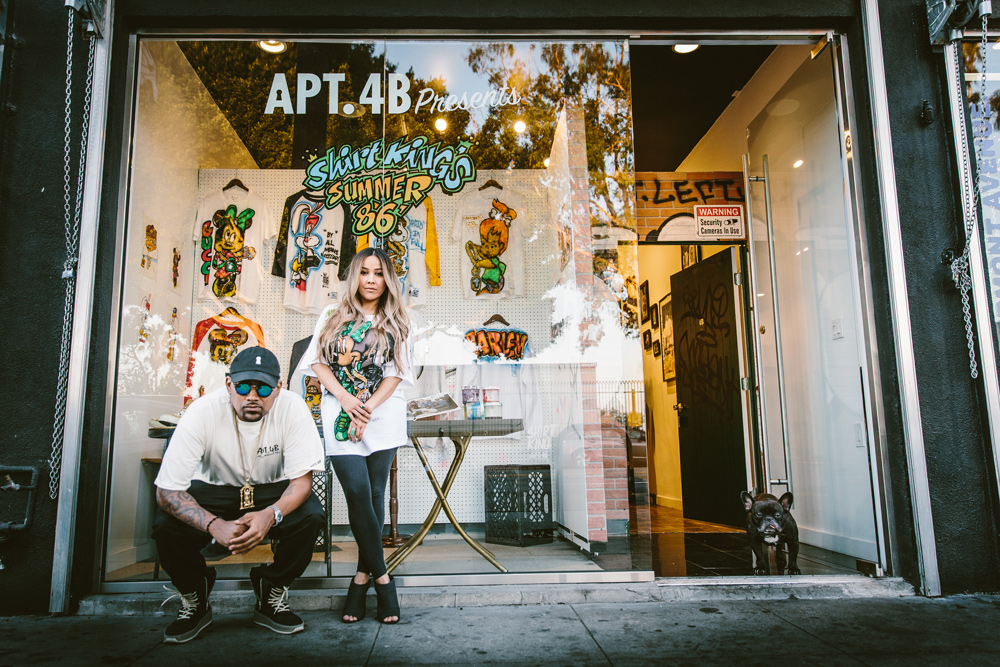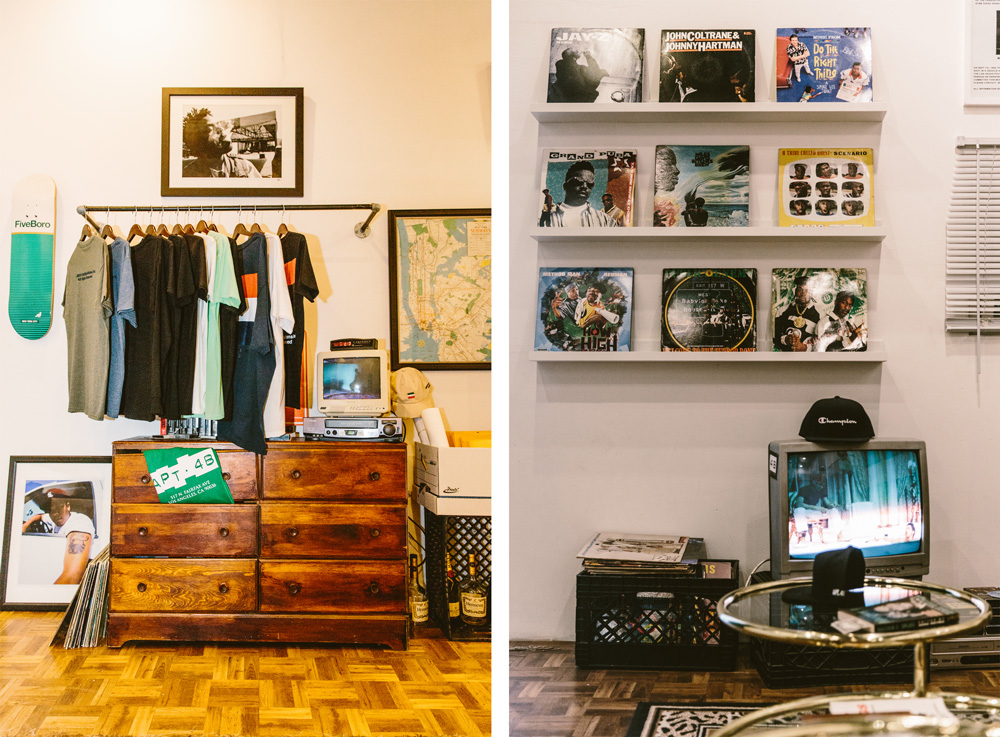 Andres: How did Apt.4B start?
Moon: We first did the apartment concept in 2013 as a pop-up shop. It was just an art installation at first and housed another brand at the time. We wanted it to create a vibe around the product. The idea of the apartment was Monique's idea. Before doing the concept in 2013, we were like, "Let's do this pop-up shop, but let's do something crazy. Something ill."
Monique: He was going to do a few installation pieces within the pop-up shop. But it was going to be minimal.
Moon: Right. It was going to be pieces of what you see now as Apt.4B: the kitchen, maybe a little triple beam set-up. But it wasn't going to be this extensive. Monique was like: "Nah, we gotta kill it and do some crazy shit."
At what point did you decide to name it Apt.4B?
Monique: It was two weeks before we were going to launch the product and open the [pop-up]. We were both working at our home office and it hit me: we should call it something. It shouldn't just be So And So Pop-Up Shop. We need to have a name. We need to name the apartment. Literally when I said that—
Moon: —I was listening to [Jay Z's] "A Million and One Questions."
Monique: He paused for a bit and shortly after, that verse came. [On the song, Jay Z raps: "Jigga the O.G. on MTV / tellin' 'em how I sold D / and used to bag work up out of apartment 4B."]
Moon: It was like, "Oh shit! Apartment 4B! That's perfect."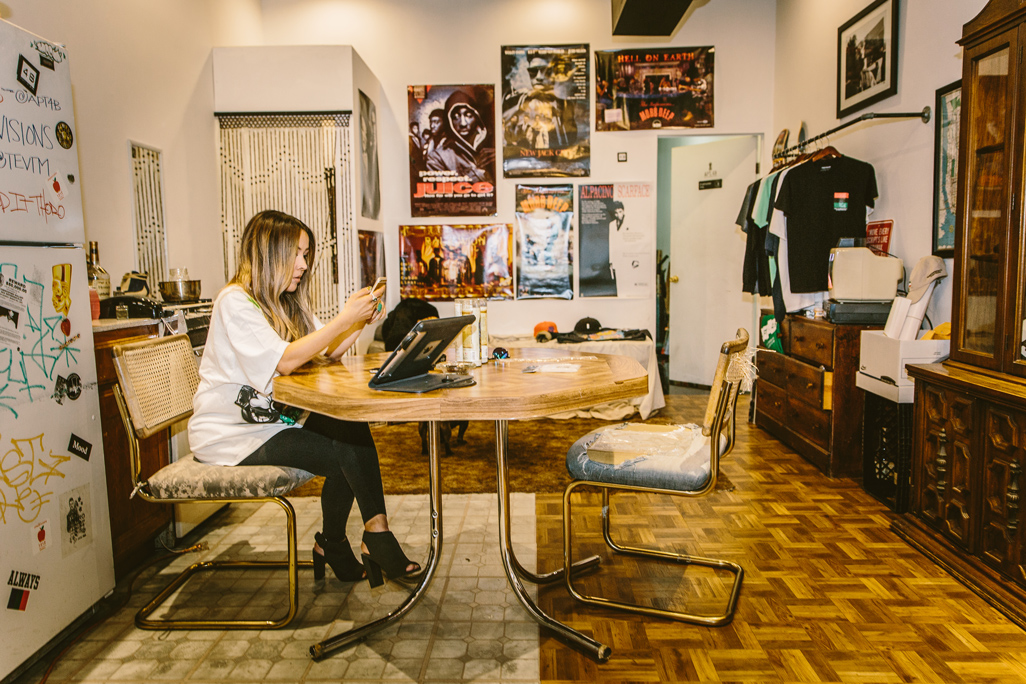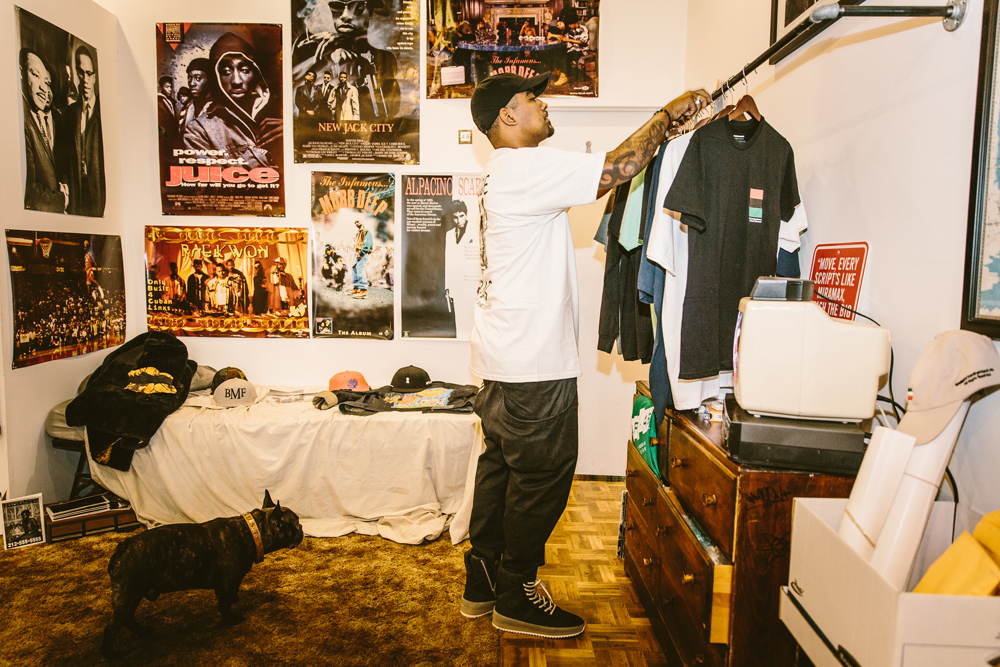 How did you transition from the pop-up to having this flagship?
Moon: Last year, on August 1st, we decided Apt.4B should be a brand in itself. It had a deep enough story. On August 1, 2015, we took the same space again and did the apartment along with launching another brand of ours, Third Eye Visions, my secret project. I don't care if [Third Eye Visions] blows right away, but it's cool ideas I have that might not fit Apt.4B. During our time there, it was going real well. We did a sneaker release with FILA, a J-Money collab, which was really dope. Then, we caught wind that this space became available up the street, but we weren't thinking about opening a store.
Monique: We wanted to travel with the installation. We wanted to go to Japan, Europe.
Moon: Apt.4B everywhere for a temporary time. Then, the space opened up and we were talking about it. It was something that we couldn't ignore. It was like, "I think we need to jump on this." In the pop-up shop, we were in the back of the store and we were getting good traffic, a good response so we felt like it was a smart move.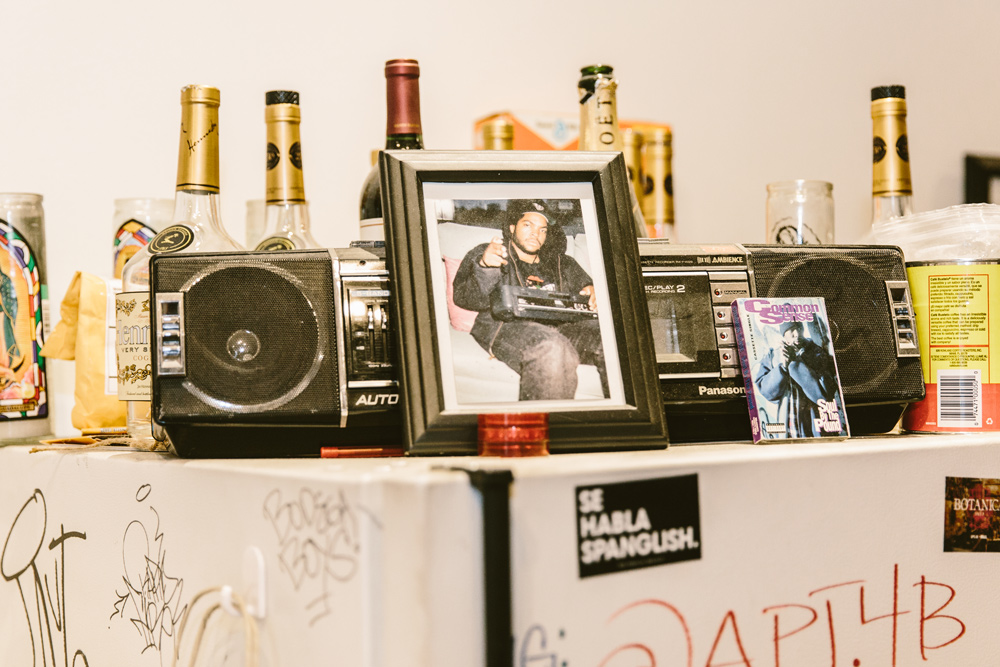 What are some of the obstacles you've had along the way?
Moon: We set out to do something really big. Ideas usually start really big. That sometimes can be good and that sometimes can be really bad. It can be too big and you try to execute and you spend a lifetime trying to execute and you never do anything. But I think we took this challenge head-on and it didn't feel like we were going to do this Apt.4B "business." I think once you remove that, it made it easy and fun to go on Craigslist and random estate sales and find the china cabinet. We'd go to five different estate sales or digging trips to find that one piece. It's a lot of driving, but that became fun. I think that's the biggest [obstacle].
Monique: That was one obstacle. The obstacle we've had since we opened the flagship is trying to explain to everyone that we're not a pop-up. They're like, "How long are you going to be here for?" We're like, "No. This is our flagship." It's just so different. No one's doing it so some people don't quite understand it. Sometimes people will open the door and literally think they walked into someone's house. They'll get startled and turn around. We're like, "No, we're good." But they're gone. That's the cool factor too.
You've done too good of a job. It looks too much like an apartment.
Moon: Yeah, it looks too much like an apartment. We've taken this concept part of the idea and really ran with it. We said, "We're going to make this store feel like an Apt.4B shop." That's something we've been throwing around. When you walk into an Apple Store, you know you're at an Apple Store. When girls go to Sephora, they know they're in Sephora. This is the Apt.4B shop. The design, the detail, that will be the detail in every store that we do.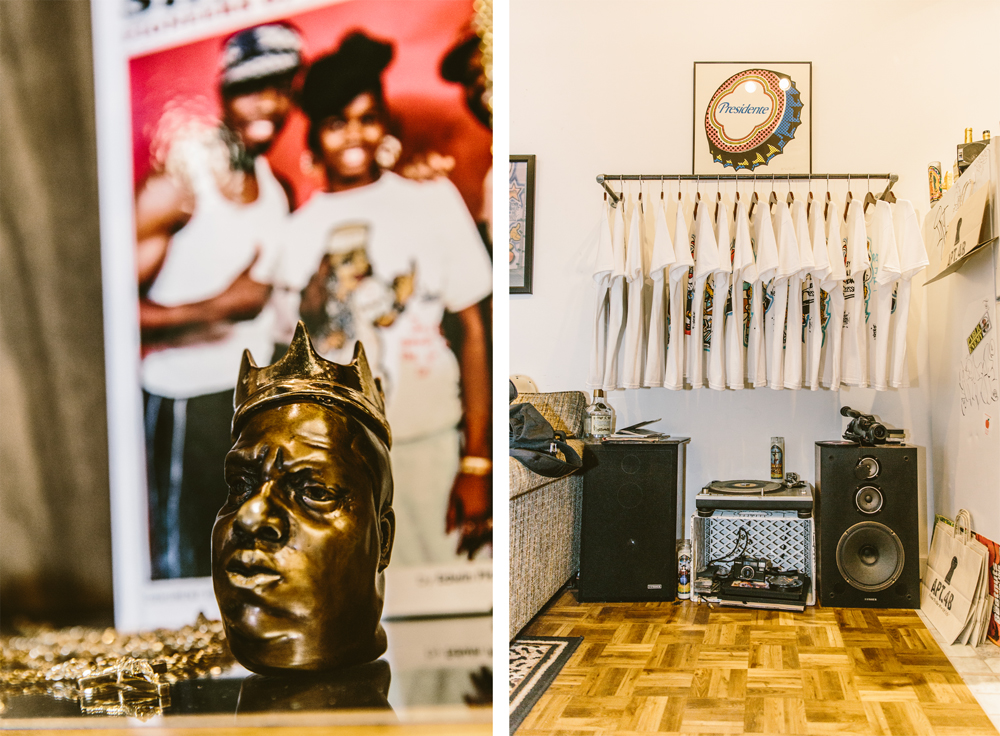 You came up with this name while listening to Jay Z and then Jay Z celebrated Reasonable Doubt's anniversary here in partnership with you guys. Tell me about that experience.
Moon: Well, it was really dope. Interestingly enough, they reached out to us. We had no idea. We weren't planning anything. I'm a huge Jay fan, she's a huge Jay fan, but that wasn't a thought for us. It was just another day and they reached out to us. That was really dope because it added validity to what we were already doing. There began this process of, "What are we going to do? How are we going to do that with them?"
Monique: The coolest part about that though is that they asked more than one person where they should hold this 20-year anniversary and more than one person told them about Apt.4B.
Moon: It made the most sense for them as well so it was really dope. Being a fan of the culture, you see what we do here at Apt.4B, to have the opportunity to celebrate 20 years with Jay was really dope. We had no idea Jay was going to be that involved. Obviously, anyone who's dealt with or even caught wind of maybe dealing with Jay Z, it's not real until Jay Z's there. Jay Z's a busy guy. I didn't expect him to show up. The process began with [Roc-a-Fella co-founder Kareem 'Biggs' Burke]. That was cool. It was like, "Okay. Cool. We'll celebrate 20 years and we'll have Biggs here and he was part of creating Roc-A-Fella." So that was dope.
Monique: … And he was the street side.
"Then we caught wind that Jay Z might come."
Moon: Yeah, he was the street side of Roc-A-Fella Records. For Apt.4B, we are true and raw with what we do, so that was cool enough. We'll have Biggs here, the 20th anniversary, we'll do products, it's official. We created a cassette tape, a hat, and a t-shirt… The launch was set for [June 25] and we did an event on the 24th, which was supposed to be friends and family. That quickly blew up. DJ Khaled was on his Snapchat and it just got really crazy with the promotion. People were calling me from New York, telling me they heard Apt.4B on Hot97. That was crazy. It was like, "Oh shit. It's really happening." There was Irv Gotti. There were people here that we didn't know were here. It was just so packed.
Monique: We were expecting a very intimate setting. It didn't turn out that way.
Moon: People have to realize, we are truly the business owners. We're truly independent. We don't have a 20-person staff that, when we have an event, we can just relax and shake hands with everybody. This is our baby. Even though the project was huge, it was still very much independent. It's hard to see that from the outside looking in… We had a nice line outside that quickly grew. It validated that this was happening. Pusha T rolls up that day. DJ Envy, [Kyambo "Hip Hop" Joshua] rolls through, Roc Nation execs are rolling through. Again, no Jay Z. That's not even on our minds. Then we caught wind that Jay Z might come. But we're not holding onto that. Whatever. We'll believe it when Jay's here.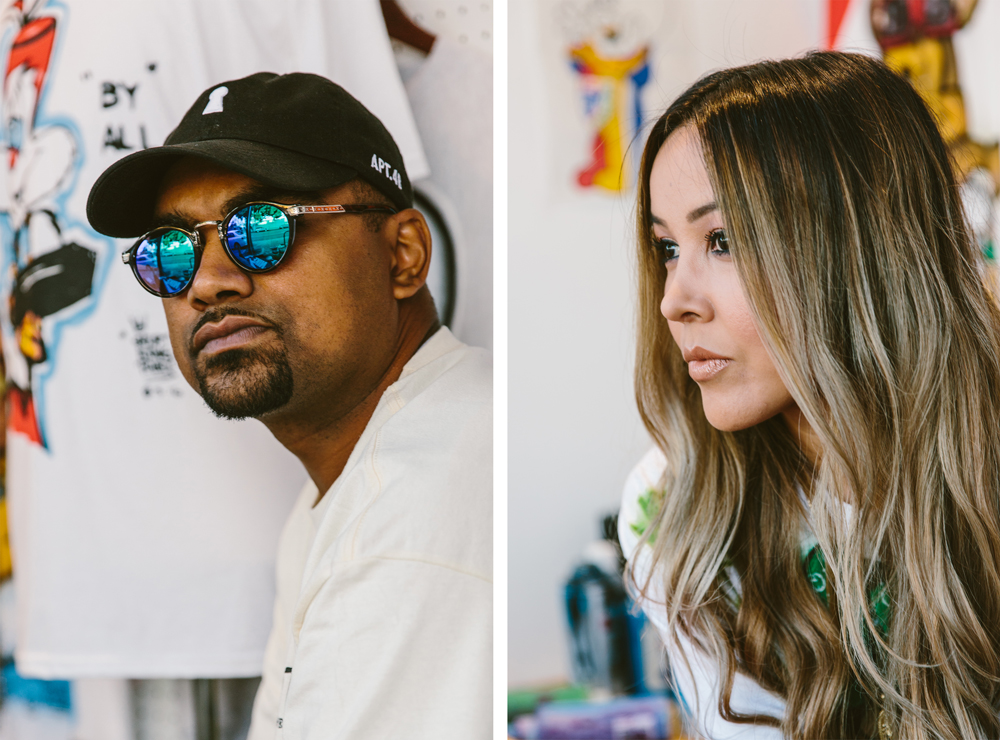 Then, two hours before he rolls up, they tell us, "Jay's on his way." Again, [we're thinking], "Jay's in Mexico. He's on vacation with family. It's Solange's birthday." Sure enough, I'm helping some heads out and I turn around and Jay Z's standing in our cramped hallway. Quickly shut down the store. It was 5 p.m. There was still a line outside. I had to go outside to give away some product. People were angry with me. It was hot. We got cussed out on Twitter, but it was Jay Z. We had to accommodate. Jay was here. Then bottle popping ensued. He ordered Ace of Spades [Armand de Brignac Champagne]. That came out of nowhere. It was like a magic box. He was here for three hours.
Monique: We thought, "Okay, he's going to come for five minutes, show face, and be out." When he asked someone for a drink, they went to go get him a bottle of water. He was like, "No. Liquor."
Moon: Our employees actually went down the street to YG's event because it was sponsored by D'USSÉ and got two [bottles]. They came back and we had D'USSÉ bottles. Again, a few minutes later, these Ace of Spade bottles come walking in. They're chilled. It's fucking amazing and then we popped bottles with Jay, which was really dope. Jay was a really cool cat. He was super nice and really quiet. I could tell he was taking it all in… For those who haven't been to Apt.4B, when you come in here, you'll see, it's a grimy looking spot. It's an apartment. Jay felt in his environment. He was really comfortable. That was a great experience. The event turned out great, product was great, Jay came through, but the story went out wrong.
"Protect your art, by all means."
Monique: It was advertised or marketed as Jay Z's '90s Brooklyn apartment. Trust me. We wish we knew what Jay Z's '90s Brooklyn apartment looked like, but we had no idea what his apartment looked like. [Apt.4B's] just a '90s New York apartment. It wasn't redesigned by anyone. No doubt, we brought some personal photos Biggs had and Jonathan Mannion sent us some prints to showcase.
Mood: That was the Jay Z touch we gave it.
Monique: But we do that with all our collaborations.
Moon: That was our biggest negative. It's hard to look for a negative when something so positive happened, but for sure, it's important for us to get our story out there and for anyone doing their thing from an independent level, just know that you have value and what you do has value… Protect your art, by all means.
Monique: Jay Z, that's not our story to tell. Now, if Jay came to us and said, "I want to tell my story. Can you guys help me?" All day.
Moon: By all means. We're running with Jay. It would be Jay's apartment.
Monique: [Points to their French bulldog] That would be Jay's dog. [Laughs]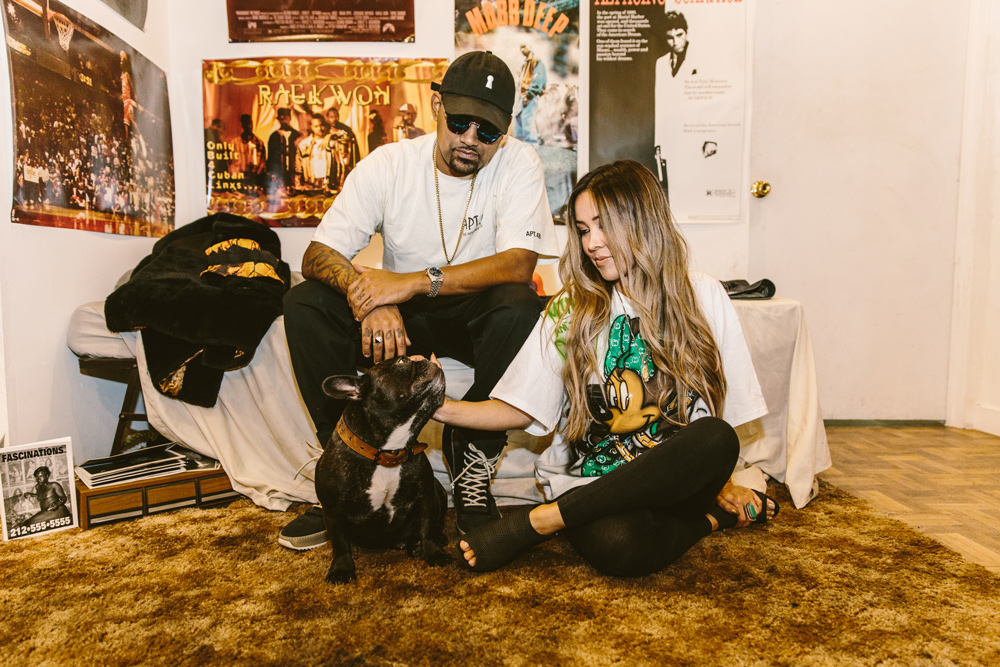 You've had other legendary MCs here too like Nas, right? What has that response been like for you?
Moon: Everything's been from an organic ideal. We don't really market. We have our shop and social media stuff, but it's never like we're throwing stuff on this guy to try to get a look. Nas walking in here was something where he was on the block and I was outside chillin'. He walked by and thought this place was interesting. He walked in. I was like, "This is our spot." Told him I'm from Queens and Nas was captivated. He was taking a million phone pictures. That was really dope. I didn't want to take a picture with him. I like that. I like the vibe. I like the comfort. That's something that's really important for us too. We just had N.O.R.E. and Dame Dash do a "Drink Champs" episode in here. That was fucking awesome. "Drink Champs" in Apt.4B. It felt like we were in the projects doing an interview… I think the guard goes down for artists as well, when they walk in here. It doesn't feel stuffy. It feels like you could be who you were.
"In this digital age where people feel like all the information is at their fingertips, the experience is almost gone. We force you to have the experience."
You're part of a family of shops on this street. What does it mean to be part of this Fairfax community?
Moon: It's like fam. I've been in L.A. since 2007 by way of Corona, Queens. In '07, when I first moved out here, this scene didn't exist. It was only Supreme on the block. I think they opened in '05. There was a store Reserve that was on the block and Turntable Lab [LA]. That was the beginning of the scene. It was me and a bunch of homies here. Flight Club had just gotten their space. A bunch of New York transplants were out here from the creative side. Russ [Karablin] from Ssur had just moved out here, Jamie [Story], J-Money. Got really cool with [The Hundreds] Ben [Hundreds] and Bobby [Hundreds] just from hangin' on the block. They had just gotten their spot. So, we were instant crew on this block… It's been like family from day one.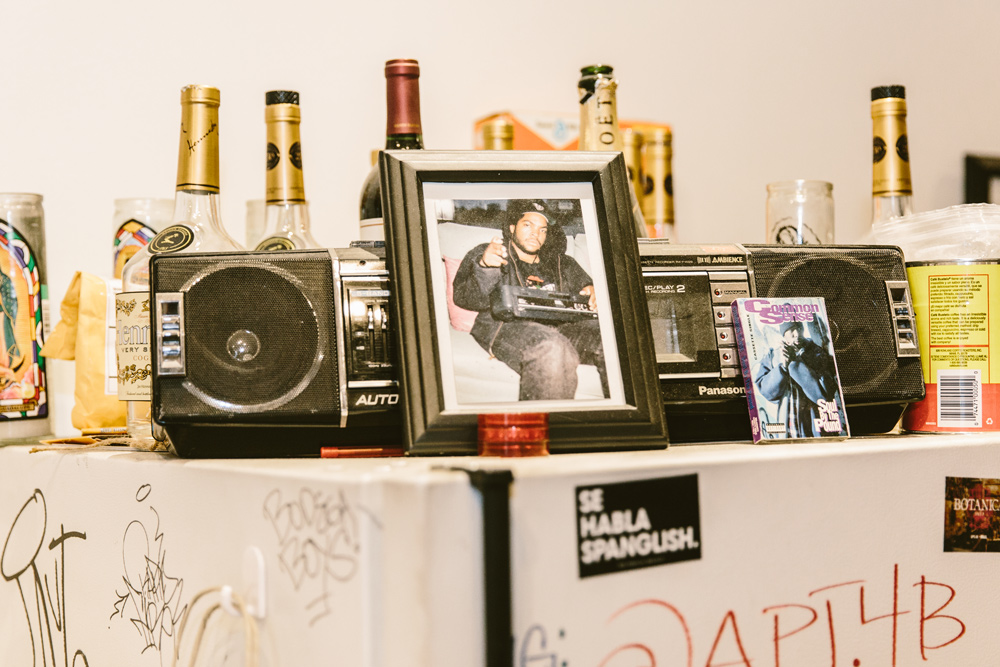 What's next for Apt.4B?
Monique: Every month we switch up our window installations and we're working on some pretty cool projects for the next few months.
Moon: For those who haven't come to the shop, when you roll up, you'll notice that you can't really see into the store. There's a doorway to get into the doorway. Shout out to J-Money for that idea. That was all him... It's great to have idea friends, to be around cool, creative friends. Our friend circles are small but they're small for that reason. J was like, "Yo, you should just block the whole front out so they can't see the shop." It was crazy, but that's what was dope. We love that crazy shit. But the idea is that Apt.4B never gets old because you can't see it when it's closed. You can drive by it. You could walk by it some days. In this digital age where people feel like all the information is at their fingertips, the experience is almost gone. We force you to have the experience. It's on you to have it or not.
I know you were talking about expanding and traveling with the store.  
Monique: We don't wholesale. We're direct to consumer. So [the next move] is flagships.
Moon: More stores. We're looking less towards the U.S. and more towards Asia and Europe and then maybe eventually New York. Obviously New York is my hometown but I just feel like they've gotta wait right now. We've gotta make it more special. We live in these times of quick-turnaround on things but we want to keep it special and not flooding the market but also, because we're not a multi-million dollar corporation, it works in our favor that we don't flood the market. We can't. It's impossible. In turn, it makes it that much more special for us and the consumer.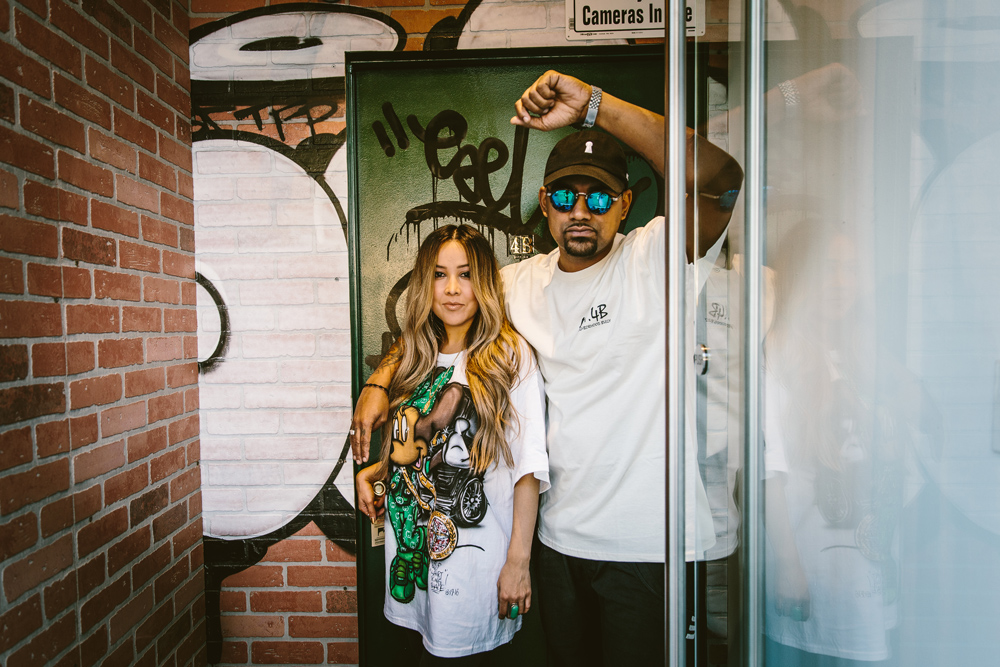 ***
APT4B.nyc. Follow APT.4B on Instagram at @APT.4B and @APT4B.la.
Photos by Andres Tardio.