If you go to enough major American music festivals, they eventually start to bleed together into one amorphous, fuzzy memory of sweaty crowds, swirling lasers, and hard-to-see performers.
Though the festival boom has plateaued—with new forays into the market fizzling out or imploding in spectacular fashion—the entire calendar year is nonetheless filled with fests that still lure in millions from around the world with their siren songs of sanctioned debauchery.
With this festival "season" now lacking any real beginning or end, and aided by the homogenizing effects of social media, American festival fashion, for better or worse, has been distilled down to but a few common elements. Whatever the event's primary music genre—from pop punk to hip-hop to EDM—sights of gals in high-waisted denim shorts and/or combat boots, some off-the-shoulder tops and fellas in tees, ripped jeans, and Vans slip-ons are all but guaranteed.
Fortunately, the rest of the world doesn't share in the US's attitudes on festival fashion conformity. Perfectly encapsulating this divergence is Fuji Rock, a three-day festival that draws over 100,000 guests each summer to the foothills of Naeba Ski Resort in the Japan's Niigata prefecture.
Ryou Ohtsuka, a Tokyo resident working in the music industry as well as a seasoned Japanese festival veteran—including a number of Fuji Rock visits—weighed in on the culture and climate factors that prevent Fuji Rock from becoming a cookie-cutter imitation of the Western fest scene. With Ohtsuka's guidance, we've compiled a primer on the wide variety of distinct looks one might come across at Japanese music festivals.
Utilitarian Campers
What might most shock visiting westerners is that the vast majority of Fuji Rock attendees looked as if they've been plucked straight from the Pacific Northwest of America as they patently eschew form for function and rock outdoorsy outfits that appropriately suit this weekend in the woods.
"The climate of Japan is influenced by the monsoon circulation, and it rains much in summertime, especially on mountainsides," says Ohtsuka. "Because of this, 'outdoor' fashion has taken off and become trendy as it's so convenient."
Whereas a rain shower in America might result in disposable ponchos being pulled out of fanny packs (for those not just willing to grit through the dampness), rain is just a part of everyday life to these revelers who often double down on their already water-repellant outerwear with the trusty raincoat they've brought along for just such an occasion, often accessorizing the ensemble with collapsible camping chairs slung around their necks for the hikes between stages.
Haute Outdoors
So baked into Japanese clothing is the outdoors look that it's become a lifestyle unto itself with hip brands and magazines popping up to declare that functional clothing need not be a drab affair. Ohtsuka credits one magazine in particular, GO OUT, with helping to start the trend of marrying outdoor gear with more fashionable streetwear.
"There were not that many outdoor fashion tribes before 2007," says Ohtsuka, "but [GO OUT] made this kind of movement and wearing outdoor gear and festival-ish fashion on the street gradually seemed less unnatural."
Second only to the aforementioned conservative old guard brands like REI and Columbia, the attendees at Fuji Rock are likely to be sporting the trendier iterations of these clothing items, from technical jackets to athleisure.
Hippies
Though they too embrace a crunchy, nature-filled lifestyle, this third category is not really an offshoot of the others. Instead, the hippie aesthetic seems to have grown in popularity as a few groups—organic farm communes, trance/reggae/house fans—adopted the 1960s look of the communist/anarchist student league (Zengakuren) simultaneously before coalescing.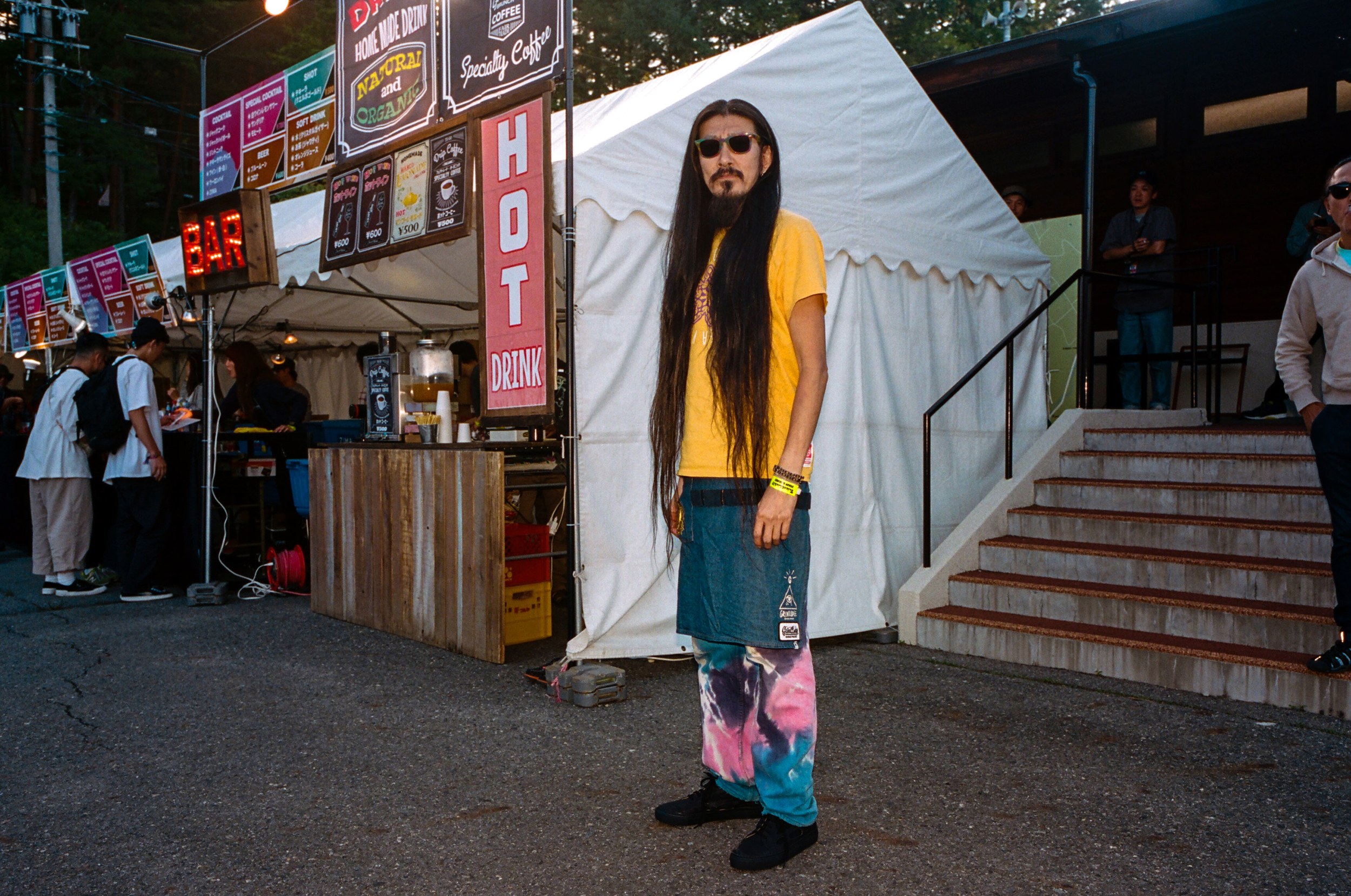 Though more likely to be found around the domestic rave scene, hippies were out in full force at Fuji Rock, manning a green energy zone in a back corner of the venue where they'd also cultivated a little organic garden that they'd tend to in the morning hours before the crowd rush began. This community can be identified by their tattered, dirty Grateful Dead tees, lack of footwear, and the occasional set of dreadlocks that will force you to crunch some numbers about what constitutes cultural appropriation.
Weekend Hippies
"The real hippie tribe doesn't appear at big festivals that much," says Ohtsuka. "Fuji Rock is too expensive. Summer Sonic is too urban. But some blue-collar workers who do attend like to dress like hippies without any of the accompanying attitude or philosophy, just because it lifts their festival mood up."
A walk through some of the hipper Tokyo neighborhood shopping areas confirms that the hippie aesthetic has not only permeated the festival scene, but Japanese fashion overall. Women (and men) in patchwork clothing, psychedelic patterns, and Birkenstocks were as commonplace a sight in Shibuya as they were at Fuji Rock.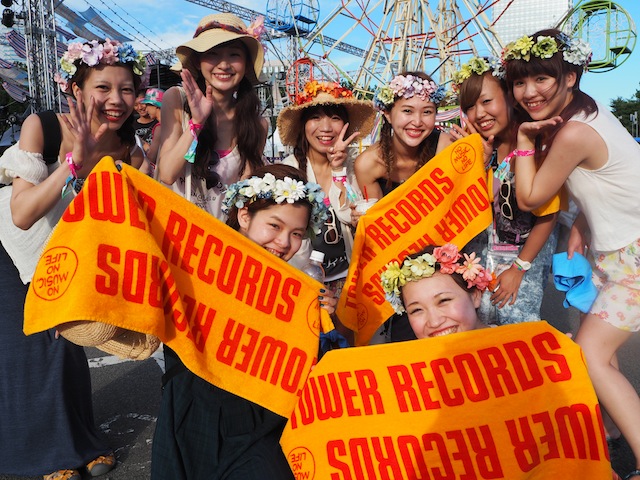 Floral wreaths at Summer Sonic festival. Vice
City Chic
You can take the kid out of Tokyo, but you can't take the Tokyo out of the kid. And as a large percentage of Fuji Rock's attendees migrate over from the capital city each summer, where streetwear is almost a foregone fashion conclusion, it makes sense that a few of the more image conscious guests would be donned in the latest trends.
Though Summer Sonic is more their scene, a few from this crowd were out at Fuji Rock. This fad-conscious group is not trendy to the point of absurdity like some of their western counterparts, however.
Traditionalists
Outside of special holidays or events like the annual firework festivals along Tokyo's rivers, it's not uncommon to see Japanese youth wearing casual yukata kimonos as they go about their days. Every so often, you'll come across a group or couple at a Japanese music festival rocking traditional men's and women's kimonos and those wooden stilt sandals (geta).
While this look might at first seem comparable to westerners who style themselves in real (mod) or fantasy (steampunk) aesthetics of bygone eras, Japan's relationship with its sartorial history is a bit more casual and, doesn't come off as much as historical cosplay.
As Ohtsuka points out, "they breathe well and are incredibly comfortable," so why to to reinvent the wheel?
Walking Scrapbooks
This somewhat meta category of attendees focuses their stylistic choices on the very act of attending music festivals. Mixing bits and pieces of the other categories into their outfits as needed, this group revels in showing off decaying, decade-old wristbands, shirts sourced from prior events, and commemorative neck towels.
Festival goers sporting Red Hot Chili Peppers and Beck shirts, who both performed at Fuji Rock 2016.
Eschewing a once universally agreed upon coolness rule, this group also has no problem wearing a band tee to that group's performance.
Should you be at a Japanese fest and itching to buy some merch, keep in mind that this group will likely swoop in and clean out the shop so either prepare to camp out a bit, or resign yourself to leaving the event with only photos and memories.
Gaijin
While the "ugly American" stereotype is more likely to be found swarming tourist destinations, there are still a few that make their way into the Japanese festival scene and serve as a shining example of how not to be for the other visitors. The likelihood of westerners to behave in an unseemly fashion has helped turn the once neutral term for "non-Japanese," gaijin, into a borderline slur, most commonly referring to a (typically white) tourist who's acting a fool.
At Fuji Rock, the scant few who fit into this category were those who attempted to carry the boisterous partying ways of their home country into this far more subdued affair. If his whooping and hollering doesn't earn your attention, his sparkly spandex shorts and oversized novelty sunglasses will.
"Just be cool," says Ohtsuka, when asked how Westerners might best avoid catching the side-eye of the locals and winding up in this loathsome category. "More and more foreigners come to Japanese music festivals each year. We've seen the worst already, so it's very easy to do better than those people and be considered a good guest."
***