I meet 19-year-old Palm Beach rapper wifisfuneral at Silver Lake nightclub Los Globos before the final show of his first national tour. wifi isn't scheduled to go on for several hours but there is already a line outside. As I stand idly on Sunset, a friendly man in all black introduces himself as Henry, wifi's "show producer." He immediately phones wifi, who has wandered off. Henry takes me upstairs to the relatively empty room and we chat until wifi arrives. I am introduced to the wiry rapper and we take a seat around a small round table on the edge of the room. As we chat, more people gradually gather around us.
The rapper (born Isaiah Rivera) has wifi bars tattooed on his cheek, an ode to his rap moniker, which represents the current climate of post-regional Soundcloud rap (Isaiah is adamant to distinguish his style from typical Florida rap, which he explains is aggressive and take notes from the likes of Lil Jon and Gucci Mane; instead, Isaiah idolizes New York-via-London rapper MF Doom [who he has tattooed on his neck] and LA's Earl Sweatshirt). He is drinking yellow Gatorade and constantly moving. Several times he gets up and leaves the interview table to wander around and talk to people. In these moments, I talk to his boys. Like most 19-year-olds, the rapper is surrounded by his friends. I'm not sure whether it's the fact that I'm a journalist, the group is high off it being the end of the tour, or they're genuinely warm people—but wifi's crew instantly puts me at ease.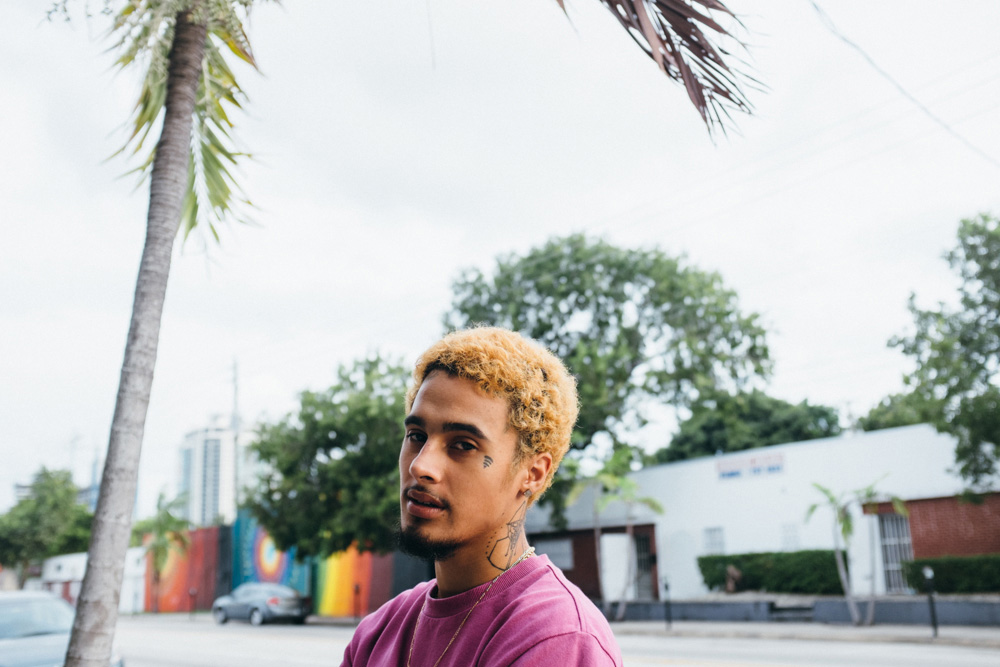 The group—all of whom, Isaiah maintains, he's known since childhood—has accompanied him on the entire 21-city Black Heart Revenge tour (named for wifi's breakthrough project, which has been scaling the the hip-hop charts and earned a cosign from wifi's hero Earl Sweatshirt). Their speech is peppered with slang I've never heard—"that's gas," which means "hot, like fire;" "fuck shit," which is a Florida term for "dumbass shit"—in turn making me old as hell (I meet wifi on my 30th birthday, a fact his crew is later upset I didn't share with them immediately upon my arrival).
Diagonally across from me is a handheld camera, behind whom is wifi's videographer Nasser Boulaich, professionally known as Nassacre. Boulaich directed wifi's video for "Just a Year Ago," in which wifi raps along the gruff-voiced Danny Towers in the suburban streets of his hometown and on a bridge overlooking downtown Miami. Towers is also sitting across from me, wide smile revealing a thick grill illuminated by red lights. The Orlando rapper been opening for wifi on tour, and Isaiah assures me that his collaborator has a dope project coming out soon. The boys are constantly hyping each other up; Nassacre is later described as "the best visual artist in Florida—no the whole United States, possibly the earth" (I don't remember who says it as the boys' voices begin to blend).
Directly across from me is Henry Daher, "platinum producer" (the boys' words) and the first person I meet tonight at the venue. Daher produced "Just a Year Ago," sound engineered all of Black Heart Revenge, and produces wifi's live show, but Isaiah wants to make sure I know that Daher has worked for more famous names, like TDE's Ab-Soul. (Meanwhile, Nassacre has done videos for Lil Durk and Playboi Carti.) Finally, there is wifi's childhood friend Gabe Guerra—touring DJ, creative collaborator, and "hype-man"—whom Isaiah frequently nods towards as he answers my questions.
Born in the Bronx (the rapper strikes me as significantly more New York than Florida in manner, style, and aesthetic), he explains to me that father left his his mom when he was just 6 months old. Isaiah was raised by his mom and his stepdad, who moved the family to Palm Beach, Florida, when he was seven. Around that time, Isaiah wrote his first bars, which he tells me in a touching moment of vulnerability that he did it only to get the attention of his absent father, who is also a rapper. I ask whether he was influenced by his father's style. "Hell no," wifi says without a beat. "He has nothing to with my career." He glances angrily at the ceiling, then returns my eye contact. "He's dust."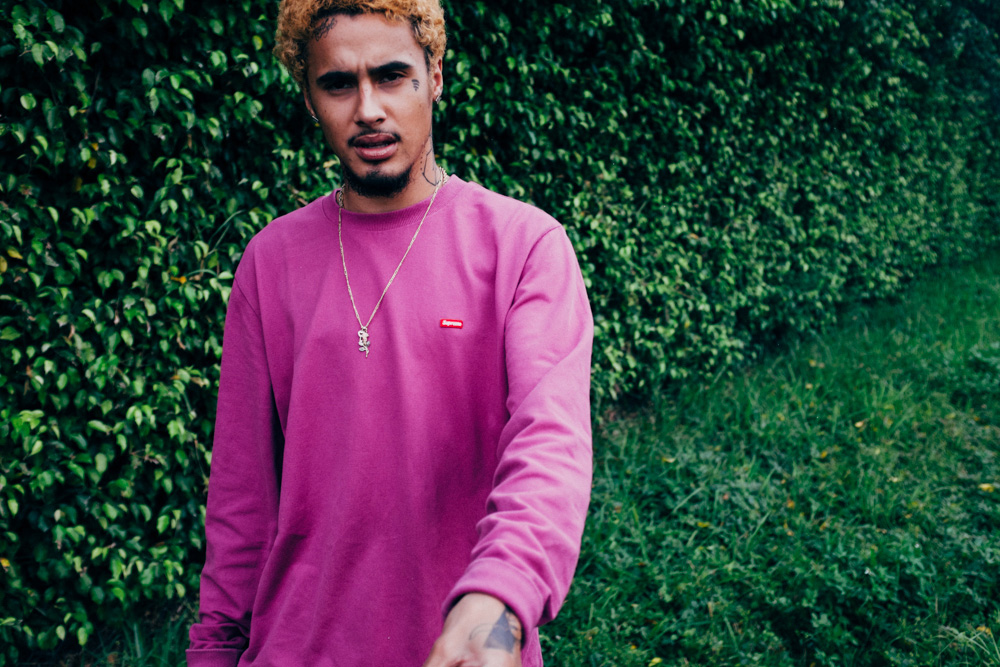 Changing the subject, I ask Isaiah whether he has a pre-show ritual to combat nerves. He lists "three remedies." The first is to "get really high," which he tells me is tonight's plan. The second: "get a pep talk from my manager to calm me down." (His manager is mysteriously absent during the interview, but his spirit lingers. I learn he's a redhead when we discuss the crew's love for King Krule: "My favorite ginger is my manager," wifi says. "Shout out to Matt.") The third remedy: "get really drunk."
This remedy surprises me because a few minutes earlier, wifi tells me he's sober. The rapper's former addictions to cocaine, adderall, and xanax are not something he hides. He told Vibe last month that he came "really close to dying" of overdose while making Black Heart Revenge. I understand that given its low risk factor, many "sober" people smoke weed, but I've never heard a sober person admit to getting "really drunk" as a method of artistic preparation. Because I have no tact, I call him on it.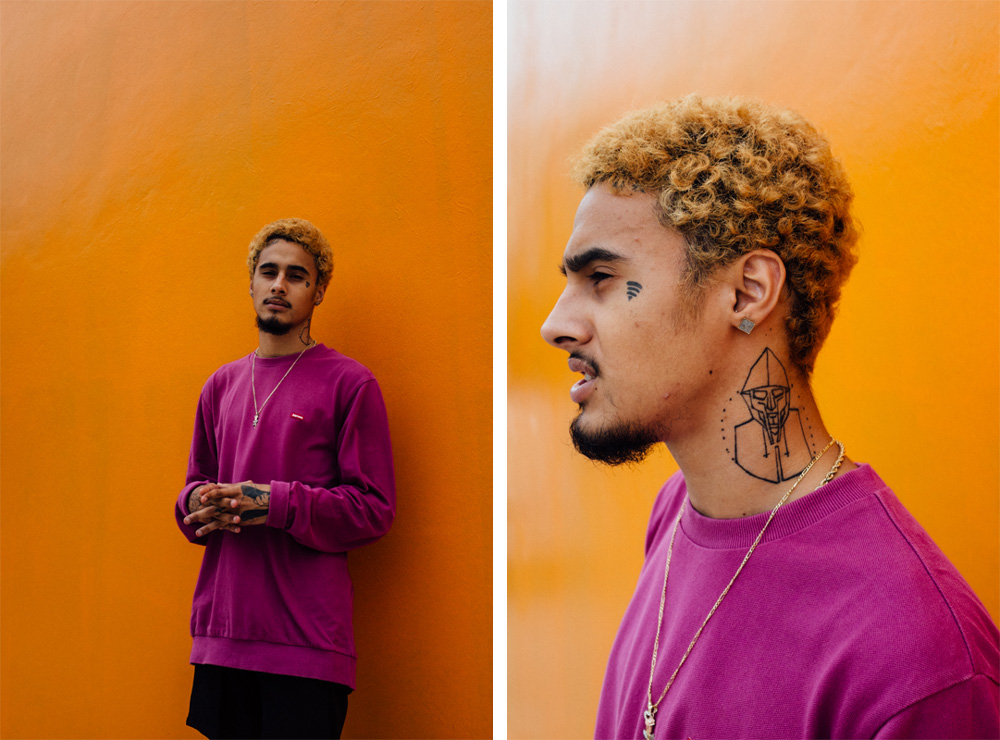 "I hardly drink anymore," he says nervously in the manner of a teen who has been caught by his parents. "So when I do, I get super drunk."
"But no more cocaine or pills?" I ask, embodying the role of the mother figure I've inadvertently assumed.
wifi shakes his head. "We just smoke weed now. Sober life." When I ask the boys if they ever go out partying after shows, they answer in the negative. Instead, they smoke weed and make music.
"What made you decide to get sober?" I ask.
I am expecting the story of the "overdose" detailed in the Vibe article, but wifi instead cites his newfound fame. "I started getting attention off music," he says. While he began making music with a drug-dazed, zero-fucks attitude (wifi recorded his first track at 14), he eventually realized he had "actual fans" and that his music was affecting people: "It's a lot of pressure." wifi elaborates that he would receive messages from fans confessing that they avoided suicide because of his music. Once wifi realized that people were depending on him, he knew it was time to sober up. (This doesn't mean that Black Heart Revenge isn't littered with drug references—it practically opens with "dropped my xanax in my sprite" on "It Don't Matter," my favorite song on the mixtape). Last year, Noisey affectionately wrote that that wifi's content includes: "women, drugs, being fearless, and most importantly, ignoring people who talk too much."
Since wifi committed to his version of sobriety, things have turned around for him. I ask him about his dream collaboration.
"I'd say $uicideboy$," he laughs, "but me and $uicideboy$ already collabed!" (on "I Can't Fold"). He beams with the I can't believe it enthusiasm of someone on the brink of making it big. He later tells me about running into Kendrick Lamar at Interscope Records—"he was having his hair braided and eating a fucking orange!" In terms of dream collaborations, wifi also lists Earl, Schoolboy Q, and Drake, who he then swiftly retracts.
"You're over Drake?" I ask.
"No I'm a Drake-a-holic," he says. "I just don't see me and Drake on a song."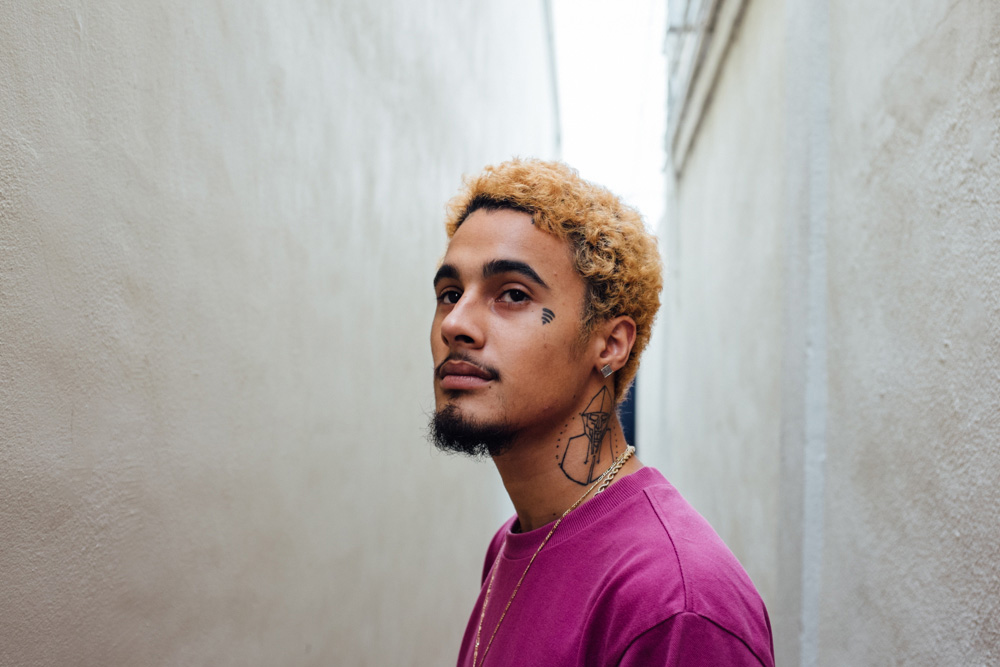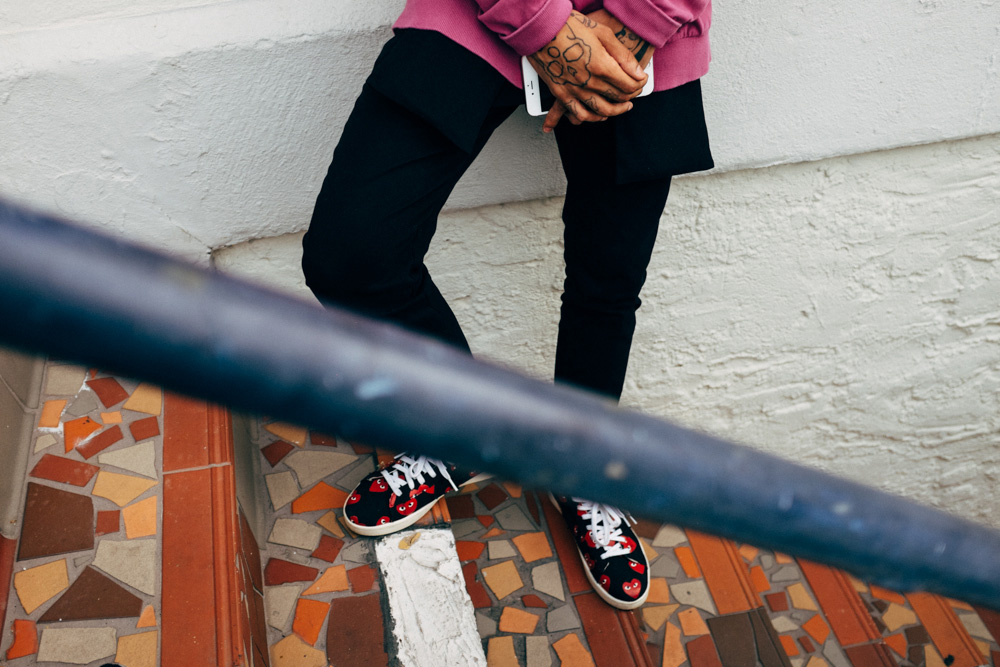 We proceed to debate Drake and Young Thug albums in the manner of hip-hop-heads who have gotten comfortable. "Nothing Was the Same—gas," Danny Towers says. "Take Care—gas." Isaiah excitedly agrees. Regarding Young Thug, Gabe and I prefer Jeffrey, while Isaiah insists nothing can touch Slime Season 2.
Then, suddenly, Henry informs wifi they have to cut the interview—it's time for sound check. The boys graciously invite me to stay and chill, but I have birthday festivities to attend.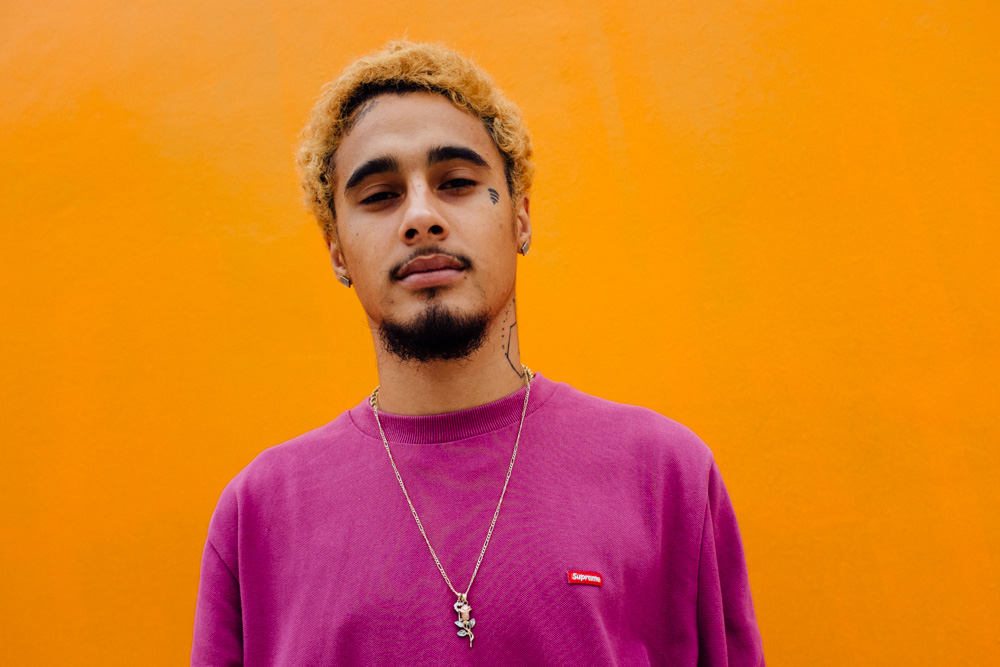 "Tonight will be gas," I say to wifi, showing off a little. "No fuck shit."
I walk off to the boys' raucous laughter.
"You're gas!" Danny Towers shouts as I turn around. I leave the venue feeling a bit higher on myself than usual, sad that I'm missing the show.
I'm excited for wifi's first collaboration with Earl.
***
Follow wifisfuneral on Instagram @wifisfuneral and Twitter @wifisfuneral.
Photos by Jenny Abrams (@shaynabatya).
Be on the lookout for Wifi hitting the road with Robb Bank$ and Da$h for a 32 city tour, starting January 11th.