Normally, when you hear about a 21-year-old who bails on the cookie cutter college path, becomes a phenom in their field, and generates millions in the process, it's the story of a superstar musician or all-star athlete. It isn't usually the story of a kid printing t-shirts. But here we are.
Sam LeBlanc and his brand, Half Evil, have made such an incredible impact in their first two years of operation that the entire streetwear industry is taking notice (and notes). The rising star and his anonymous-but-not-so-anonymous-if-you've-been-paying-attention co-founder are flipping streetwear on its head, combining striking designs and a dirt cheap pricing model in an era when the industry has never been closer to high fashion.
As retail prices keep climbing and the resale market inflates those prices into the stratosphere, Half Evil has taken a wildly different approach. For most of their drops, Half Evil offers a $3.33 graphic tee in the lineup alongside their other still-reasonably priced gear. The designs tend to be dark yet playful, a humorously sadistic walk on the wild side. Between Half Evil's bold styling and value pricing, the brand has amassed an incredible following in just over two years. In a time where everyone and their brother has a brand, Half Evil has been able to set themselves apart from the competition in a way that has puzzled industry stalwarts.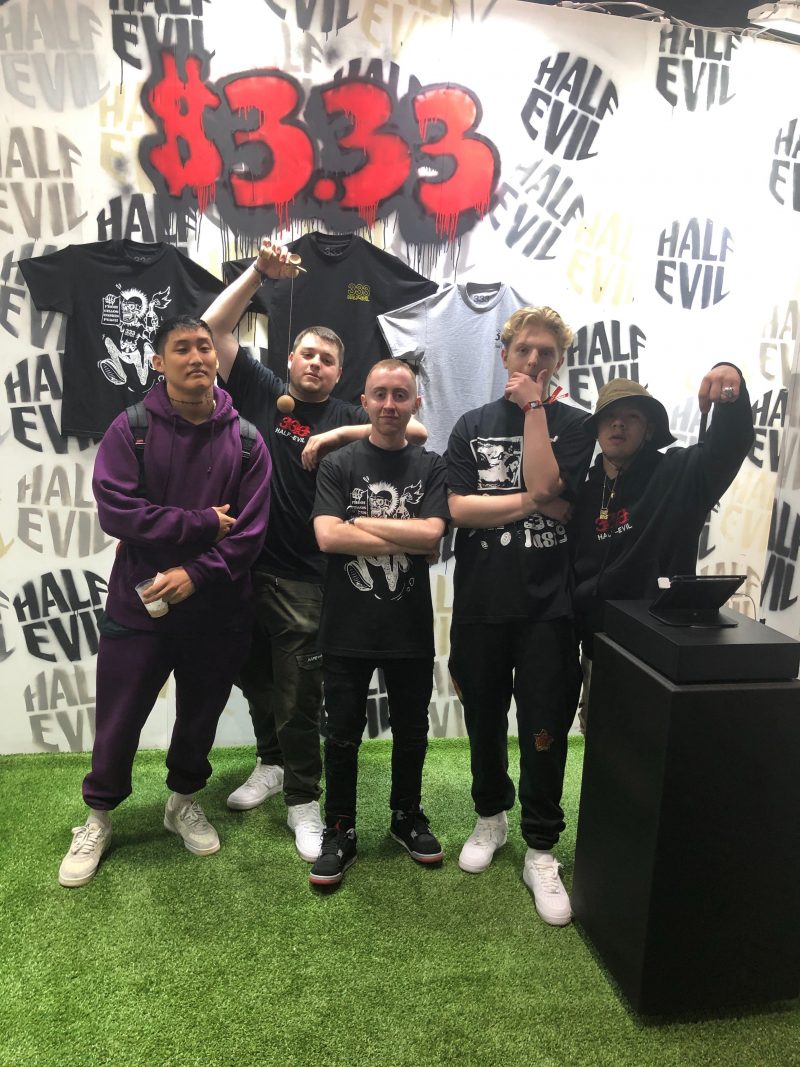 When I stopped by Half Evil's booth at ComplexCon in Long Beach, Sam said the only drawback to selling t-shirts for $3.33 — half of 666, get it? — was that sometimes people think there is some hidden catch.
"A lot of people didn't even believe they were for real until we rang them out," said LeBlanc about suspicious shoppers at the annual streetwear summit.
The nearly free t-shirts aren't just a gimmick, even though the insanely low prices absolutely put asses in the seats. The $3.33 price point is for the kids. LeBlanc remembers what it was like working for minimum wage at the grocery store and having to put his whole paycheck toward a Supreme t-shirt. "With Half Evil, obviously we have our regular priced items," Sam told me about their alternative approach. "But I wanted to make sure I give people who may not be able to afford the trendy expensive gear the ability to own at least one new piece from a brand they like every month and feel good about it."
"I wanted them to be able to still get that feeling of getting a package in the mail, the feeling of taking the shirt out of the bag, the feeling of putting it on, the feeling of going to school or the skatepark with it and showing it to their friends."
Half Evil is for the people. The $3.33 shirts are limited to one per order so everyone has a chance, and Sam personally goes into Half Evil's backend to cancel any orders placed by bots to ensure it's real fans getting the gear rather than resellers aiming to jack up the prices.
"People were flipping the three dollar tees for 50 bucks," the Half Evil co-founder said. "And I've caught kids using bots to buy a bunch of rugs or three dollar tees or 30 skate decks at a time. It's bullshit."
"There has been a few times where I've called the kids up and been like 'yo I'm refunding your order, I'll let you keep one of everything. You know that these were made to share and so everyone can be happy, not so you can pocket a profit.'"
When I asked how the kids react when the founder of the brand calls them in the middle of a drop to kindly request they cut the shit, Sam said, "They can't believe I called."
"I do it from a dummy number so they can't hit me back, but they usually end up saying sorry."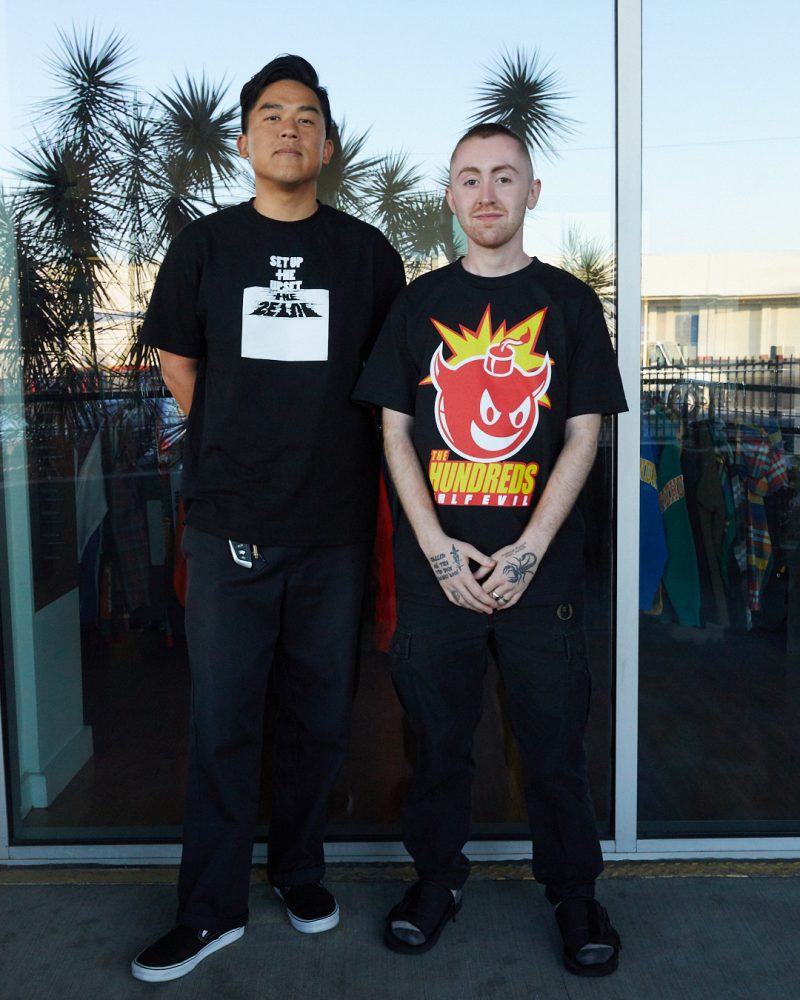 He gets it, though. They're just trying to hustle, same as him. Half Evil wasn't an immediate smash hit, and it wasn't the first brand Sam started, either. First was an ecomm site that did alright, then he tried his hand at a full cut-and-sew brand called Grimaldi, after his Grandpa's last name. Then, came Half Evil. Third time's a charm.
"I made a lot of products that never really went anywhere," Sam says of his first couple of tries at brand building. "But that trial-and-error definitely gave me much-needed experience and a lot of connections with manufacturers or other brands that helped us get Half Evil going."
Early on, it was musicians and other designers and artists who were taking notice of Half Evil and helping to spread the word. Sam started a Twitter group for creatives in Connecticut, where he's from, to bounce ideas around and get feedback on new projects. This group included musicians like Myke Green and Brockhampton's Dom McLennon, as well as the founders of brands like Deadby5am and Sukamii, among others. Many in the group have gone on to find great success in the endeavors they were pitching in this group.
"Connecticut has always been overlooked because it isn't a big market there and all of the creative people just leave for New York," Sam explained. "But because of the internet, the scene there has grown so much over the past few years."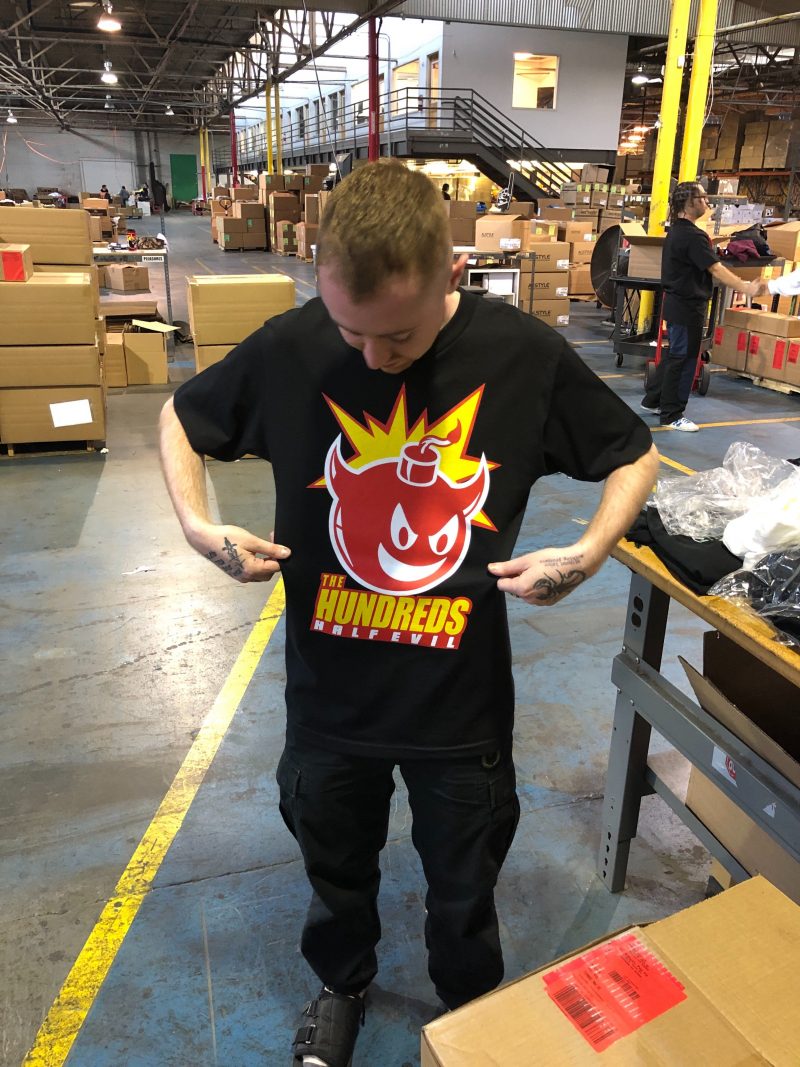 "It's easier to be from a small town now and get the exposure you used to have to go find. We might not have the biggest physical scene but we have a lot of talent. The reason I choose to help out musicians and designers and brands from that area is nobody chose to help me all that much. I've definitely had help, don't get me wrong, but if I would have had a mentor like I'm doing for people now when I was starting Half Evil, that could have helped me a lot."
It was also through this Twitter group that Sam and his secret partner built what would become Half Evil. The mysterious co-owner pitched Sam on the name Half Evil and he instantly loved the idea, throwing the idea for $3.33 graphic tees right back. From there, they designed a simple graphic, printed one sample shirt, took photos of it, and tweeted it out. The rest is history. Because members of the CT Creatives Twitter group heavily supported each other's projects, the initial Half Evil shirt started building traction on social right from the jump, mainly because of the head turning effect of it's price.
"I wanted them to be able to still get that feeling of getting a package in the mail, the feeling of taking the shirt out of the bag…"
"We ended up selling around 200 shirts on Twitter alone, not even using Instagram," said LeBlanc. "Obviously, there isn't much money in that because they were only three bucks but we were a new brand and we only cared about having 200 orders on our first drop."
Sam and his partner found inspiration for Half Evil in a myriad of sources, pulling a massive bank of references from other brands, artists, and musicians they love to create something of their own. From an outsider perspective, Half Evil has always felt like the streetwear incarnation of Junior from Problem Child; devlish, but not so much that you don't root for it. The way Sam describes it, "Half Evil is kind of like Robin Hood, stealing from the rich and giving to the poor."
"We'll drop a really fucked up t-shirt design, like Notre Dame burning before the church is even done burning and people will get outraged online. But then we take all the profits and donate it, feeding hundreds of homeless people around Chicago and giving them water and backpacks. We do something online to piss people off and get them talking, then use it to do some good. It's only half evil. You can never fully get rid of the evil in the world, so we might as well do something good with it. No human is 100 percent good or 100 percent bad, we all fall on a spectrum."
After the brand began taking off, it became untenable to keep running Half Evil out of Sam's parents' attic. The breaking point came after selling out of one of their first big collabs with rising rapper Lil Skies. The artist's videographer, Nicholas Jandora, was an early supporter of Half Evil and bought pieces from them dating back to their first few drops. So, Skies also became a fan and it was an easy decision when the rapper was looking for a brand to work with on some merch. "The first hour it was available, we sold more than we had in our first five months of business combined," said LeBlanc. "When we told our manufacturer how big the order was, they warned us that it was going to be about 400 boxes of clothing. That's when I realized I can't do this out of my attic in Connecticut anymore."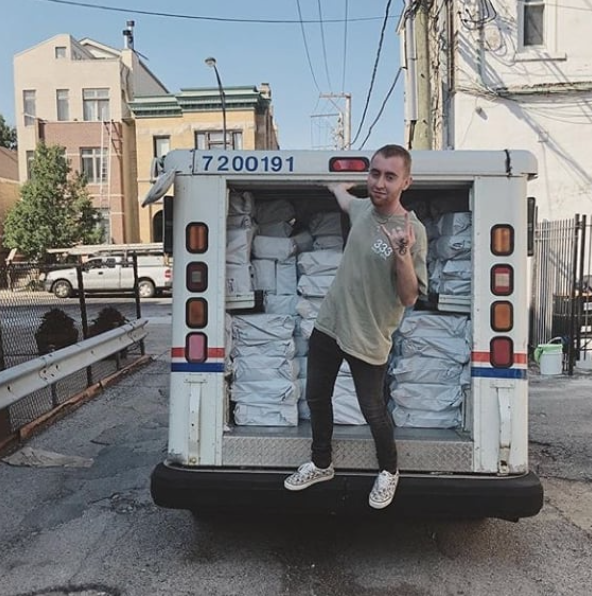 "It made more sense for me to move to Chicago, where my co-owner is from and more things were happening, than for me to keep expanding in CT. I love Chicago way more than New York, this city has shown me so much love and support. Chicago has a smaller scene than NY, so it's more like a family and people are way more willing to collab and work together. At the same time, if you do bad business in Chicago, that bridge is burned for you with everyone. It keeps people honest."
The Half Evil team leased a warehouse in Chicago for a little while, printing clothing and subsequently tagging, folding, bagging, and shipping everything out of there. The owners, their friends, and any other bodies they could find in the neighborhood willing to help out would work in teams of four to six people in 12-hour shifts, churning through the seemingly never ending orders that were coming through the Half Evil online shop. Their online support was growing so quickly that they began to question how strong their IRL support would be as well.
"We heard about a retail spot that was about the same cost as the warehouse, so we asked ourselves why we couldn't just process orders, fold clothes, and pack bags in the back of the store instead of in a warehouse," Sam said. "So, we traded the warehouse for a storefront and opened it in April of this year. There were over 200 people lined up around the block and it was still really bad weather, sleeting and snowing, but our fans toughed it out."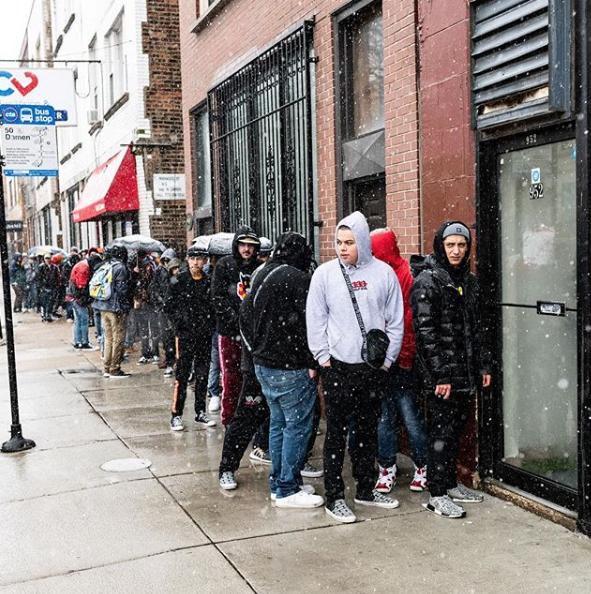 He told me a ton of fans flew from out of state to come experience the store opening for the first time, proving to Sam and his team how strong Half Evil's community really is. Two of the biggest fans that came to Chicago for the grand opening were Sam's parents, who he says were initially very disappointed in his decision to drop out of college to pursue his streetwear dreams. But his Dad was the first to start grabbing stock from the boxes to help out when the store got busy, proudly embracing Sam's entrepreneurial spirit once he saw how passionate the brand's fans were.
When I asked Sam what advice he would give to other kids out there trying to talk their parents into the idea of them pursuing non-traditional creative endeavors, he told me, "don't fight them on it but also don't give up on your dreams."
"A lot of our parents grew up without the internet and without a lot of this current technology, so it's not that they doubt your ability to succeed, they just don't understand the digital world that we live in. Don't take it personal."
***
THE HUNDREDS X HALF EVIL DROPS 11/14