Recently, a new spot called Alexander's Greek Kitchen opened up down the street from The Hundreds Homebase with the sign reading "$ WUTUP VERNON $" and the whole team here at The Hundreds went nuts over the food. Mahtab from Marketing told me, "I was standing in line at Alexander's and just heard DUGGA DUN DUGGA DUN DUGGA DUN. I'm used to hearing metal… but I realized I was listening to metal in a Greek restaurant."
Alex and his brother Konstantin run the restaurant and they're only 22 and 21-years-old, with Konstantin exactly one year younger to the day. The two Greek brothers dig noise music and have a sporadic radio station they broadcast whenever they want to called Fart Radio (last time it was at Trash Talk's warehouse with Jay Howell giving out tattoos). "It's a money pit," says Konstantin, about their monthly radio fees, "It's really funny, but we do so much stuff that doesn't make money [laughs]." Alex quit his job to open the restaurant, but Konstantin spends about 3 days out of his week working at Darren Romanelli's agency StreetVirus.
The brothers are both dedicated to DIY and a utilitarian approach to service, and chose Vernon because it's not a foodie Instagram-your-food hub. "No one's coming to Vernon to hang out, they just come to eat if they're hungry and I like that," says Alex. I caught up with Alex and Konstantin in the morning before they opened and talked about going strictly Greek with the menu, DIY vs. entrepreneurship, Alex's radio shows on KXLU and KCHUNG, and serving great food that serves a function. Check out our interview below.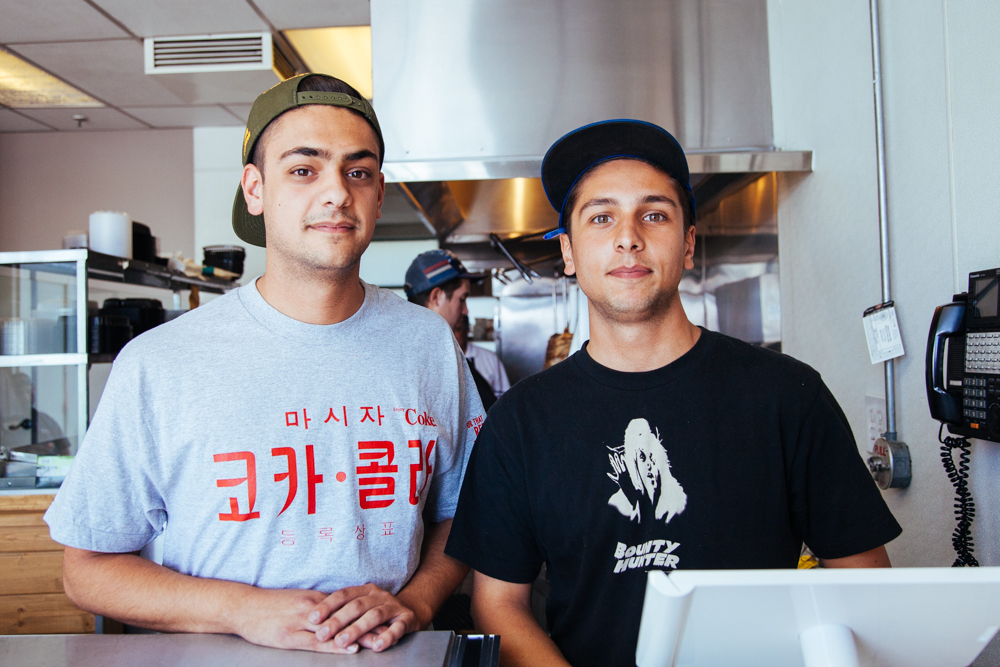 Left: Konstantin, Right: Alex
ALINA: Has working in food always been in the family?
ALEX: My dad did restaurants, but during our life our parents did food distribution, so they sold food to restaurants. All the Greek burger places, my dad served all them. We thought it was cool because all these Greek people owned American burger places and none of them owned an actual Greek restaurant. A majority of people that owned Greek restaurants are Middle Eastern. They're not actual authentic Greek restaurants. We wanted this to be Greek all the way through. So that's why there's no hummus and there's no falafel on the menu. We wanted to stay true to Greek within those parameters.
I've been working at The Hundreds since January and sometimes with the food, it's really slim pickings. What made you guys choose Vernon?
ALEX: My parents worked out in Vernon, they did their food distribution out of Vernon so we were always around here.
KONSTANTIN: It's like the meat capital of Los Angeles.
ALEX: Or the capital of distribution and manufacturing in general – everything from packaging, containers, poultry, fish, chicken ­– it's all done here. So we would drive around and never be able to eat around here. We saw this space open and just figured it's a really cool area. Also, there's no food stigma in Vernon. It's not a foodie town. Everyone comes here to work, they come here to eat and I kind of like that about it. No one's coming to hang out, they just come to eat if they're hungry and I like that more than a foodie vibe – an Arts District-y vibe. Food serves more of its function in Vernon where it's like, "I'm hungry, I'm going to go eat."
KONSTANTIN: So the focus is more on eating as opposed to taking a picture of your food and putting it up to tell people where you were.
You guys stuck with quite a minimalist menu. Can you talk about that?
ALEX: We inherited this space, it's only an 800 square foot restaurant, so we can't necessarily have a huge menu. You go to a lot of these other restaurants around here and they have almost 100 items. We just realized if we're going to be successful, we have to have a very slim menu because you just can't have that many items and inventory in this space. And I'm kind of really into the idea that the space dictated a lot of our decision-making.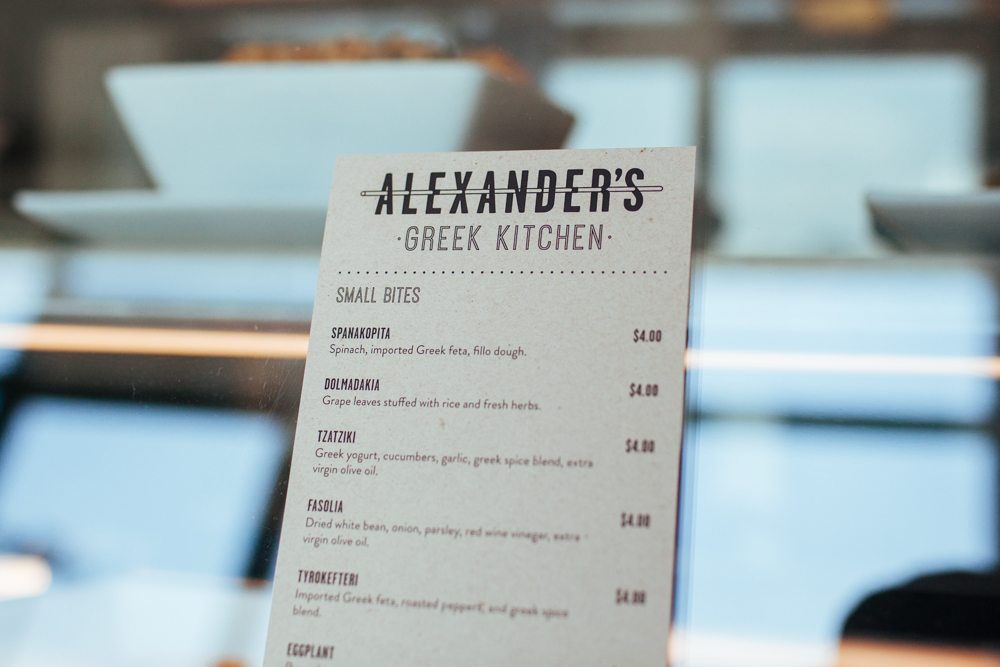 What about the recipes?
ALEX: All the recipes that are here are family recipes. The sauce we use is my mom's secret homemade sauce, the one that comes on the salad. And then the tzatziki is ours. My dad distributed that tzatziki to restaurants for a long time. And that's our recipe. I just realized that everything we serve here in the restaurant is everything we'd eat at home too. I don't think there's a thing on this menu that we don't eat at home. Like drinks too here are so biased [to what we like]...
KONSTANTIN: The only Snapple we have is peach and that's because we really like that flavor. [laughs]
What were you guys doing before this?
KONSTANTIN: I still have a job, so I'm only here two days a week. I work at this place this place called StreetVirus [Darren Romanelli's marketing agency] where I do social media.
ALEX: I just graduated, but I do a show on KXLU and a show on KCHUNG, so that's been taking up most of my time the past year or two. I worked at a brand development company but I quit that job to work here.
Did you guys have any brands or anything you were working on independently before starting this restaurant?
ALEX: I was doing a lot of zines and stuff. We did an online station, like a radio station, just for fun with some of our friends. But for me KXLU and KCHUNG is what takes up most of my time. When I'm not here, I go and look for records and tapes, and go to as many shows as I can.
What are your shows called and when can we listen?
ALEX: Fridays on KXLU is Shapiro Show, it's 6 to 9 AM and then KCHUNG [because it's artist community radio] I'm trying to make it more performancey, more fitted for an intimate venue… What I'm starting to do now on KCHUNG is live electronics with hardware. On KXLU I play post punk, hardcore, dark wave, noise, shoegaze, and a lot of weird esoteric stuff.
KONSTANTIN: We're super into noise music right now. It's really interesting to watch live.
ALEX: Especially for the past couple years, noise music for me is one of my favorite genres. It's like active listening for music so you're not just listening to shit that sounds good, but actively seeking out parts of a song that you like.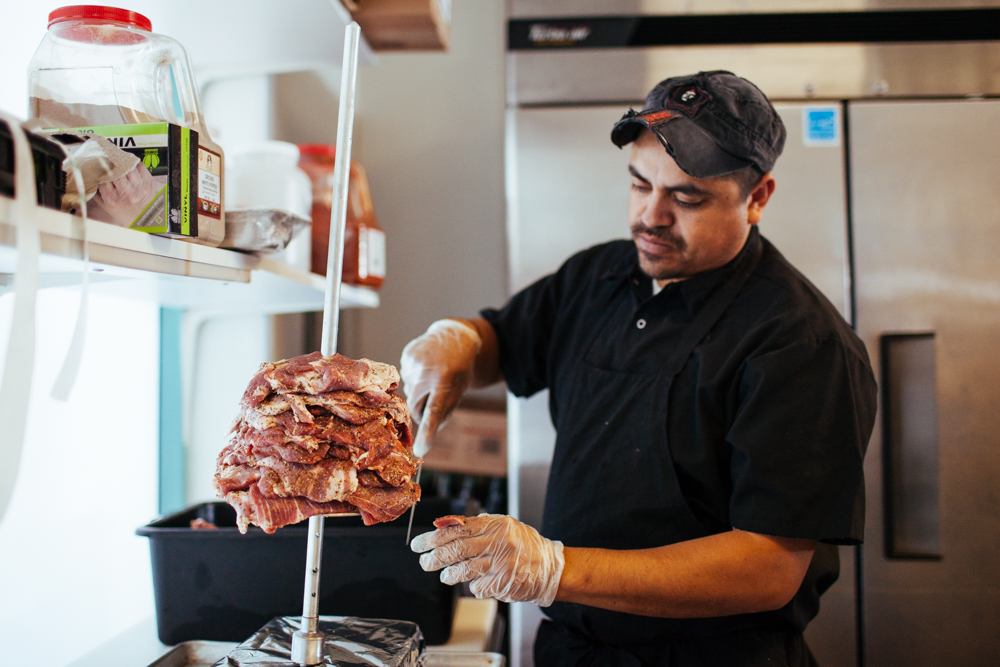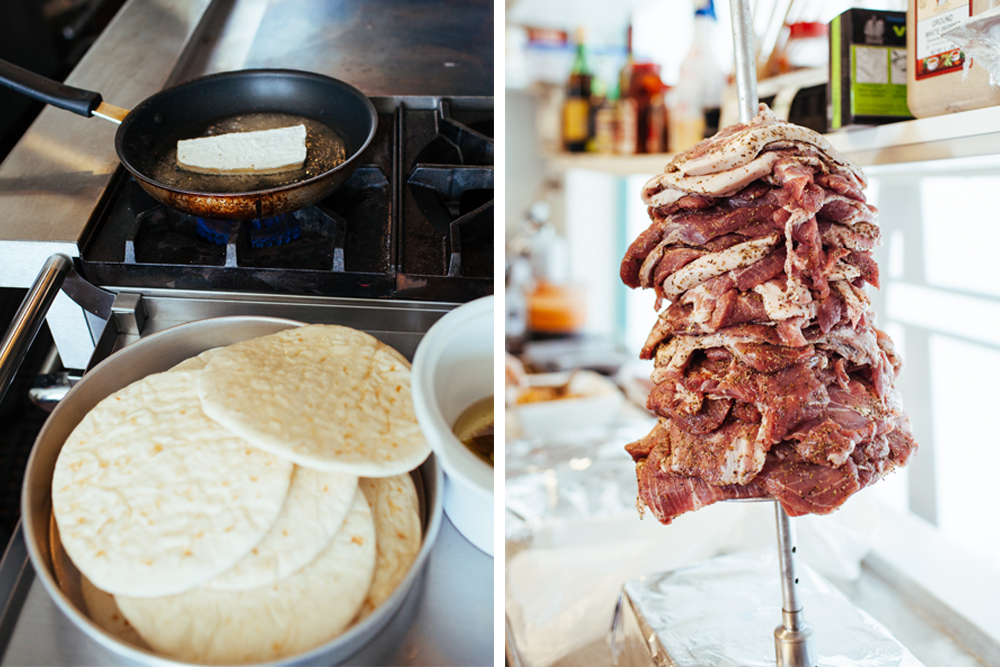 Even with this restaurant I noticed that you guys have the tapes on the side. I love that.
KONSTANTIN: Everybody brings it up! Everybody says, "Oh, you guys have tapes," and we're always like, "Yeah, we have tapes."
People don't really mention DIY and entrepreneurship in the same sentence. It's like the opposite of each other but it's also not. How does it feel to start a business from a DIY standpoint?
KONSTANTIN: There's definitely way more risk involved – doing things your way. Like he said, doing stuff that we like. Running this restaurant the way we envision it running seems like it's working. Other restaurants in the area try to cater to everyone – I think that's why their menus are so big. Like, why is hummus on other Greek restaurants' menus? It's because hummus sells well and is a very popular item. People were asking us, "Why isn't it on the menu? Why isn't there beef/lamb gyros on the menu?"
ALEX: It's like, "Yo, I can't go to Greece and have a beef/lamb gyro."
KONSTANTIN: You wouldn't eat that there so why would we put it in the restaurant?
ALEX: This restaurant is like that. Very strict.
KONSTANTIN: Yeah, it's like Greek, Greek, Greek, Greek. That's it, if it's not Greek it's not going on the menu. I think it's cool that our whole thing, from the person who did the construction to the dude that did the logo for the restaurant were all Greek people. That was something that I thought was interesting.
ALEX: The dude who serviced the refrigerator – also Greek. We kind of touched on the idea of, "What if we want to expand?" Nah, this is cool in Vernon. I can't think of opening 15 restaurants. Then it would be Daphne's.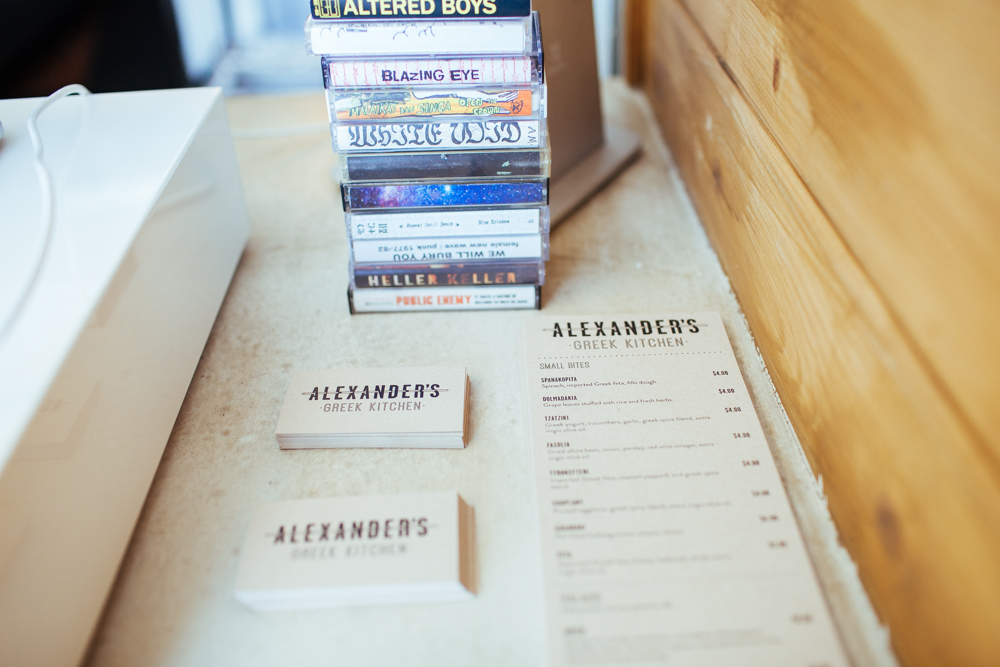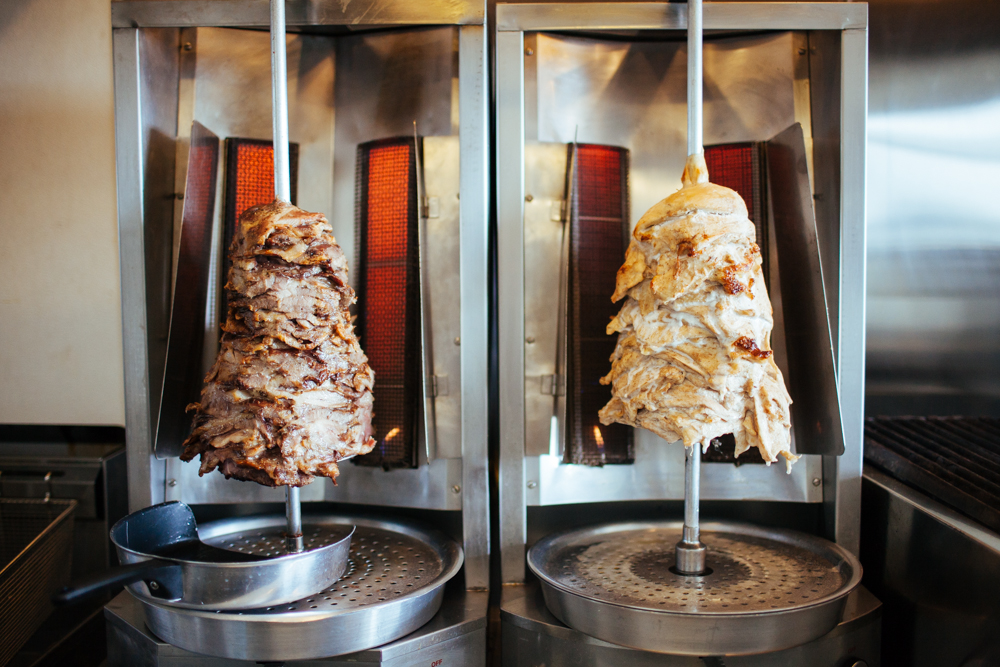 What have you done to promote the restaurant? Any internet promotion?
KONSTANTIN: We haven't really done any advertising yet..
ALEX: We just opened up the doors. For me, putting up a sign that says "Grand Opening" or shit like that – I don't like that.
KONSTANTIN: All we want you to see is the name of the restaurant. You'll see all of these spots with big stickers on the window advertising specials and other deals they have going on. To me, that lessens the value of your food. My dad's friend has a restaurant called Louis Burgers and he says, "I never put anything on my windows." And we were like, dude, this is the ONLY guy in that community that's all about that discipline of not putting ads all over the windows.
I love that place! I've been to the ones in Long Beach and Carson. So you guys were like, "We want to be like that, we don't want to do any of the loud promotions, we want to be minimal and have a clean aesthetic."
ALEX: I believe in this food so much more than I feel anyone else in Vernon is offering. I'm content with letting it grow organically. I don't need to advertise as much. I feel like there's enough people in Vernon looking to eat and there's so few options to where it'll happen over time. If we say "Grand Opening", we'd actually get overpacked. I'm happy with it the way it is.
That [DIY] world has taught me to have complete control over everything. Make sure you are aware of every aspect of what you're doing. Make sure there's a reason behind everything. Make sure what you're offering isn't corporate or gimmicky shit. Without that background, I wouldn't have the discipline. If I didn't get involved in the DIY community, I feel like we wouldn't have been able to make something that we would've been this proud of. It would've been like, "We're just here to make money." I think doing it the way we did, we can take more pride in it. There's more of a culture behind it.
::
::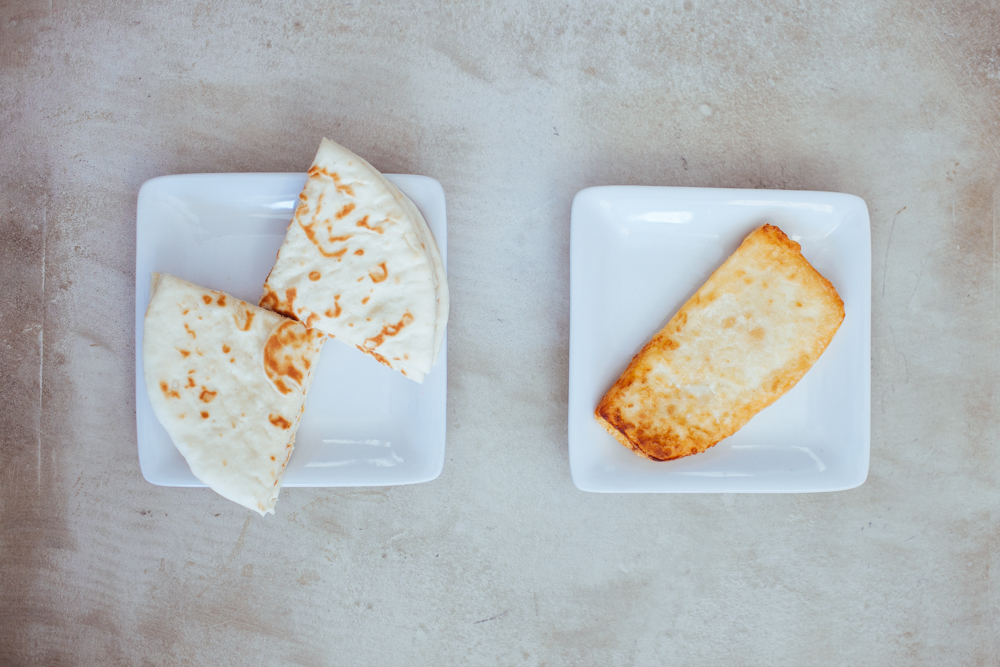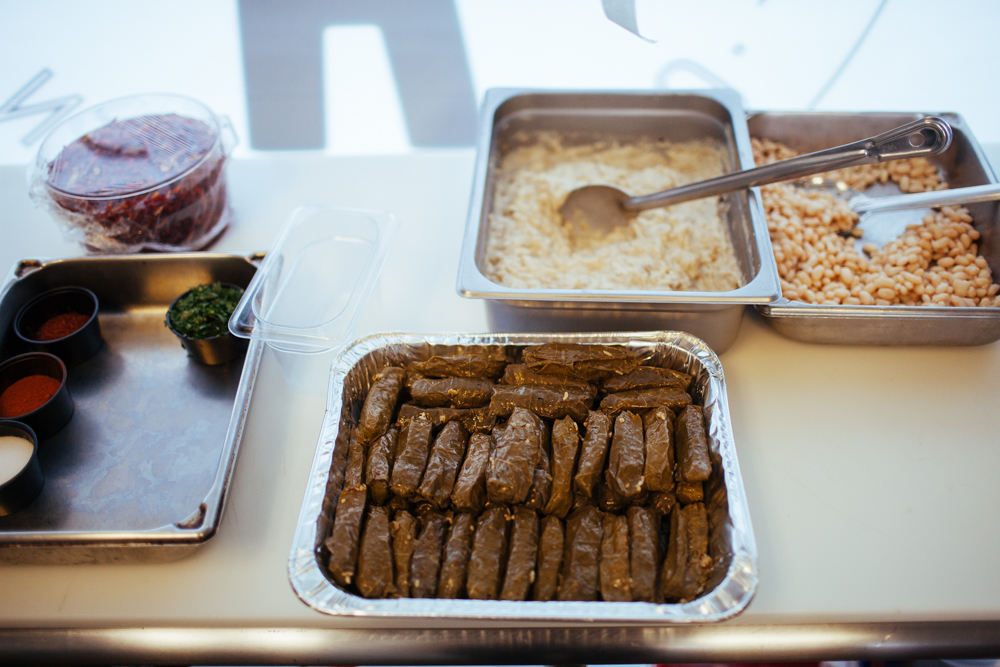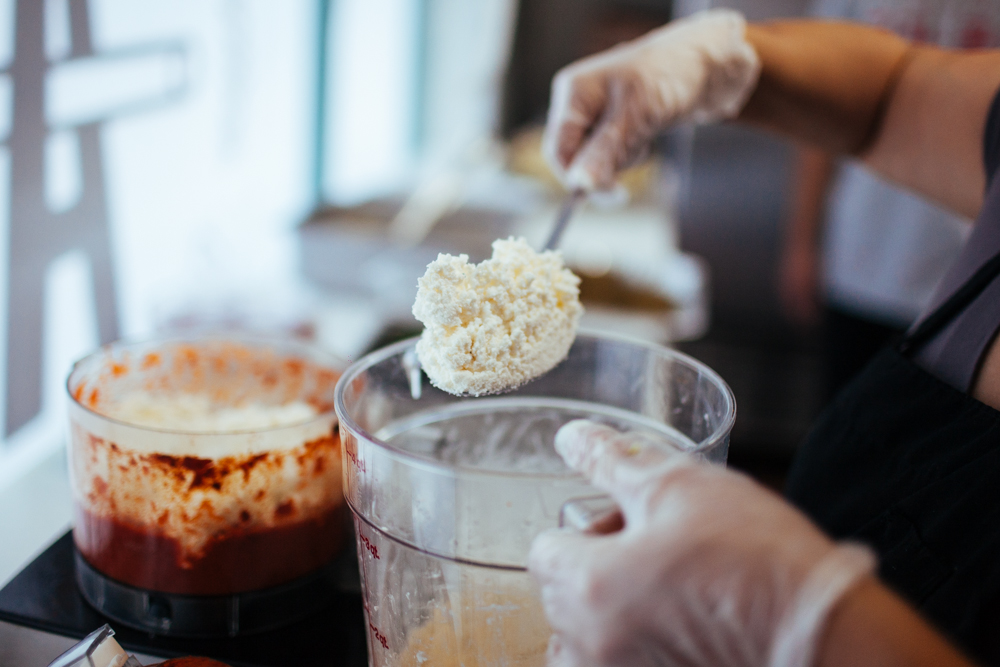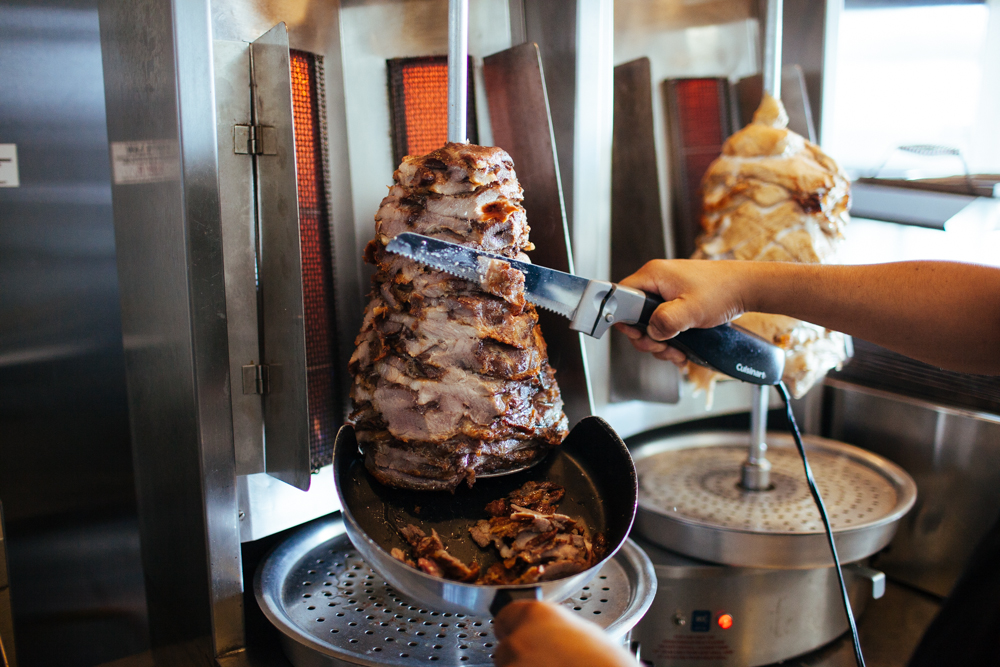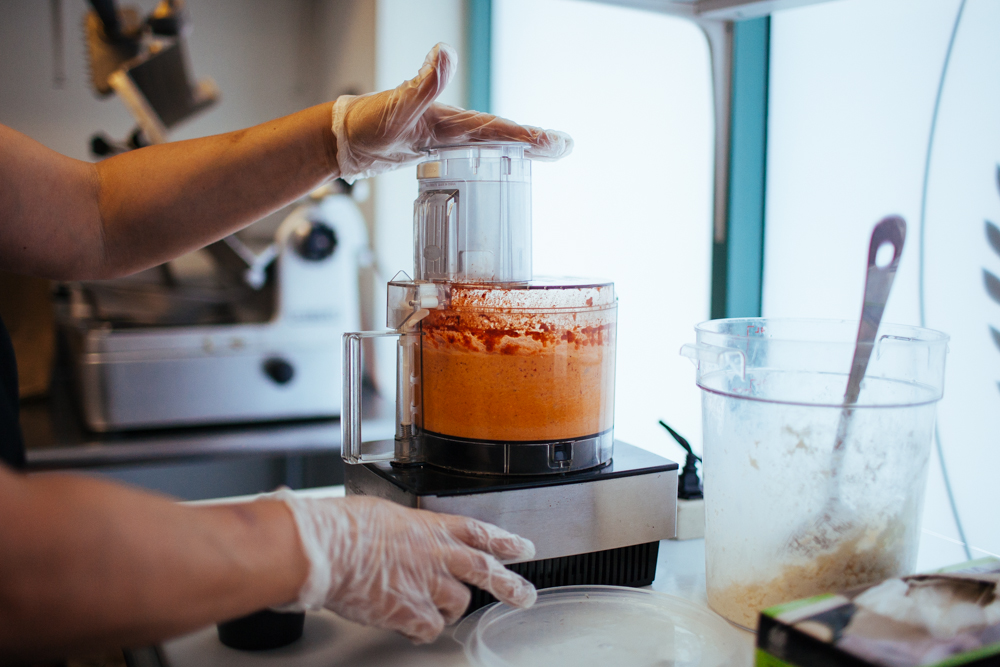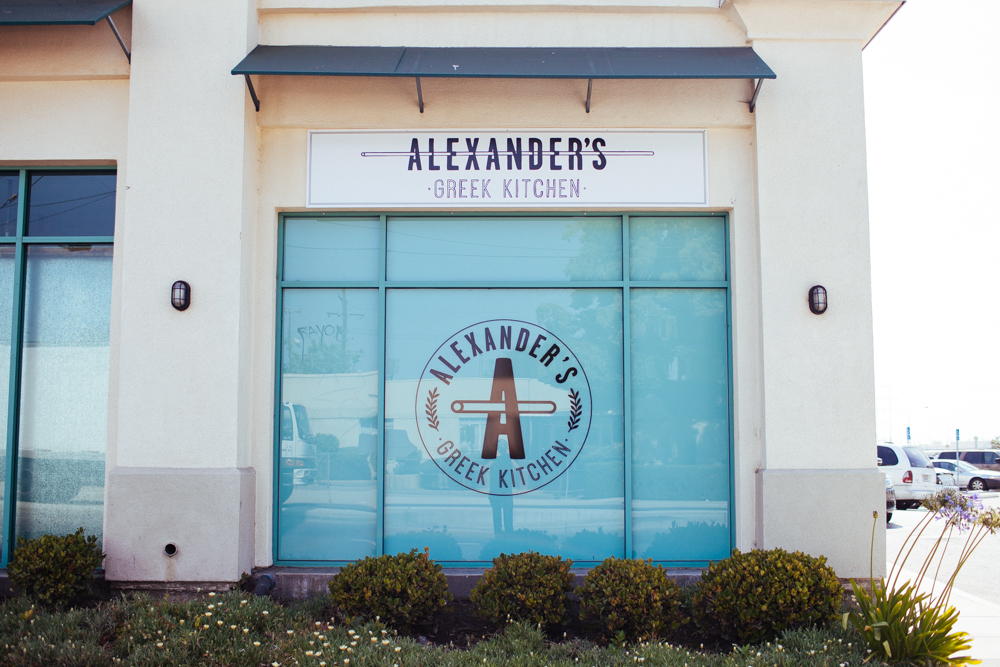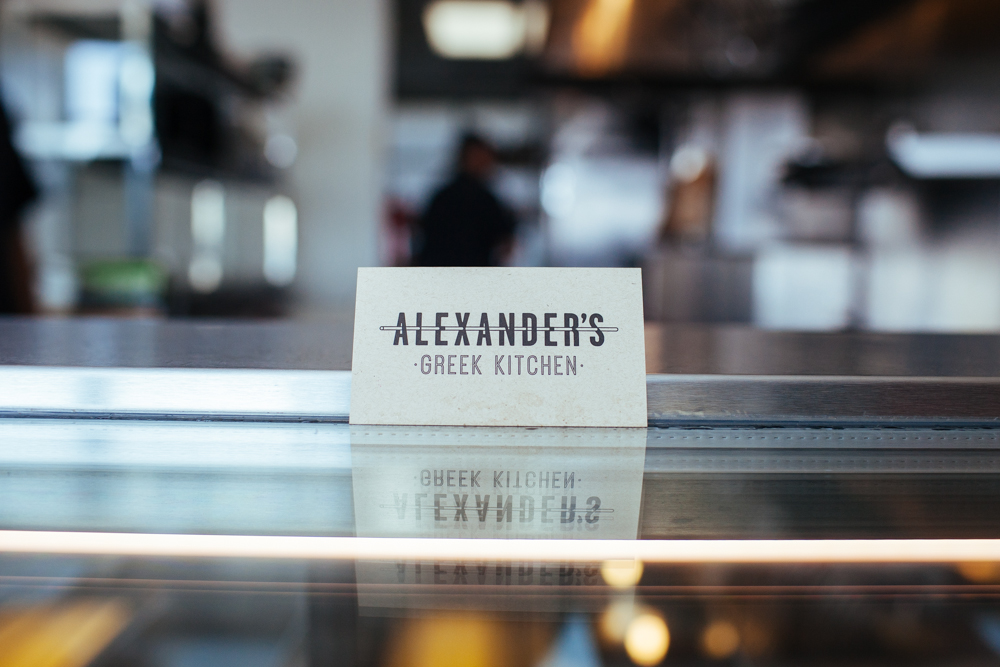 The logo is meant to resemble a skewer!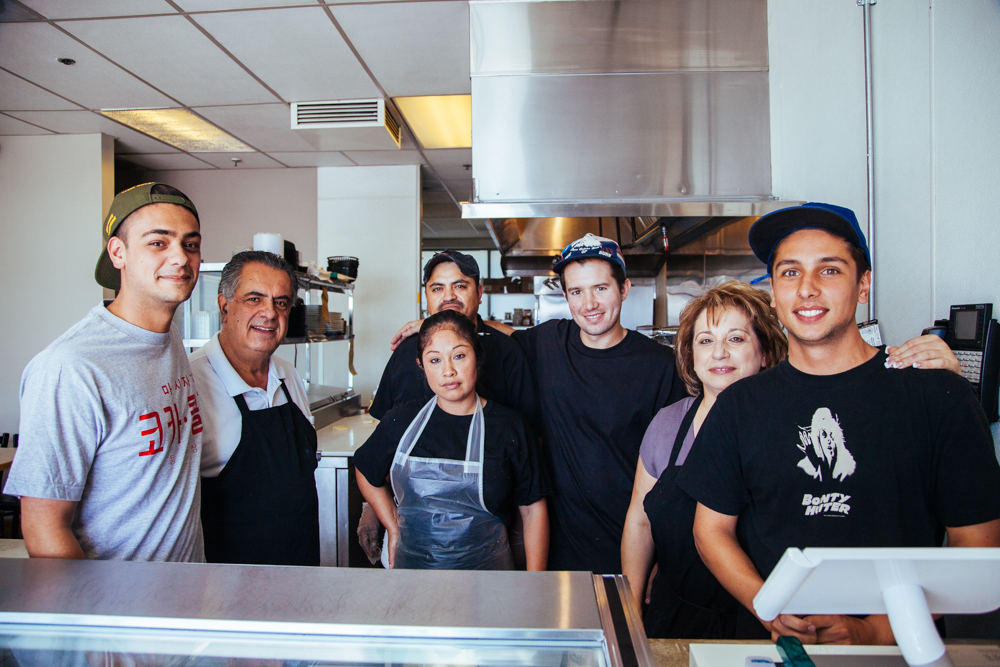 ::
::
If you ever find yourself in Vernon and want to visit Alexander's Greek Kitchen, click here for more details on their website. Their Instagram is also hilarious and amazing @alexandersgreekkitchen.