April Fools' at The Hundreds has a history. We've always been the first ones down for shenanigans, poking fun at the too-serious streetwear crowd and (maybe) get a laugh out of them (our mascot is the hyena after all). And the mastermind behind it all, Bobby Hundreds, has always been well-intentioned—crafting pranks with a message in mind. Here's his words on the holiday below:
Because we had such a lead on the web, our first April Fools' joke in 2006 garnered more attention than we were looking for. I hacked a CNN page to say our stockroom had been broken into. We learned 2 things that day: 1) There were a lot of strangers in the industry who were rooting for us, blindly reaching out to help. Ben and I felt bad, but many of those people became lifelong friends. And 2) Our reach was bigger than we realized. Every year after that, we unleashed an April Fools' joke on the world. Some of my favorites were the fake Abercrombie Fairfax store (a commentary on the mallstreaming of Streetwear), when LVMH bought us, announced in a hacked Fortune article (the Wall Street Journal called for a quote), and special guest Jayden Jaymes plays along for a BangBus gone wrong. We've laid low on the April Fool's jokes since, because the Internet has caught up, and to be honest – it's gotten kinda annoying. But, Happy April 1st! In this streetwear scene of fake toughguys taking themselves too seriously, we'll be the first to take the piss out of the game – and ourselves.
Let's pour one out now for all the The Hundreds' pranks of history's past.
This one was back in 2014—a commentary on the constantly changing environment of streetwear. Safe to say that not everyone was down with Abercrombie & Fitch setting up camp on Fairfax. But what did this project say about commodification, culture, and exclusivity?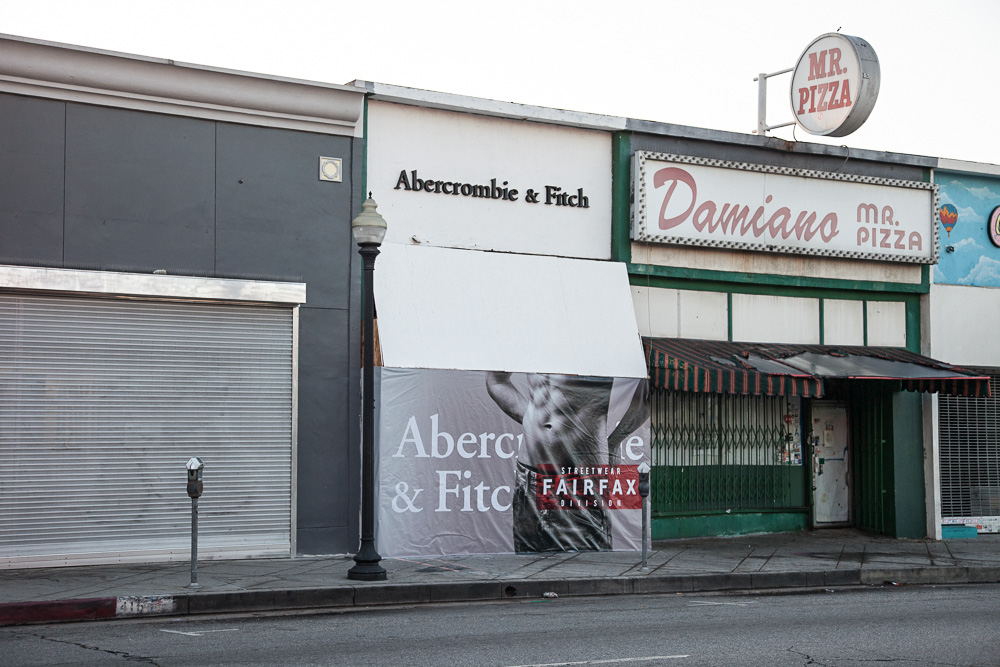 Ah, the actual The Hundreds bomb. This prank dates back to 2009—for all of your explosive needs! The legal lingo was—we hate to say it—pretty convincing.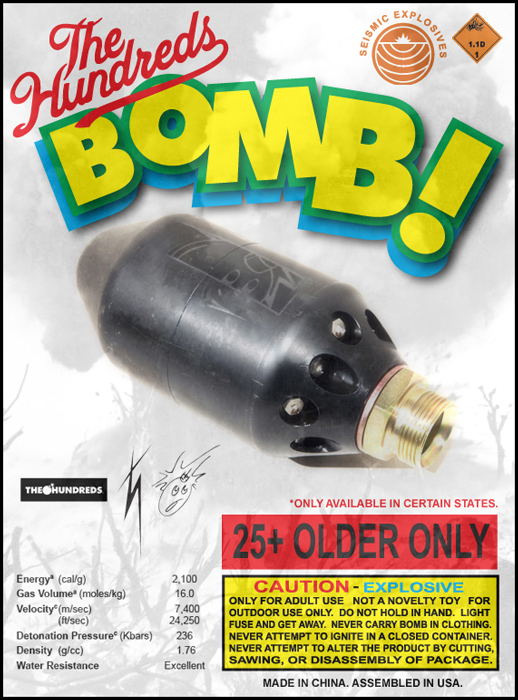 Remember that time that Ben and Bobby "sold" The Hundreds? This was back in 2008—the hacked screenshot speaks for itself.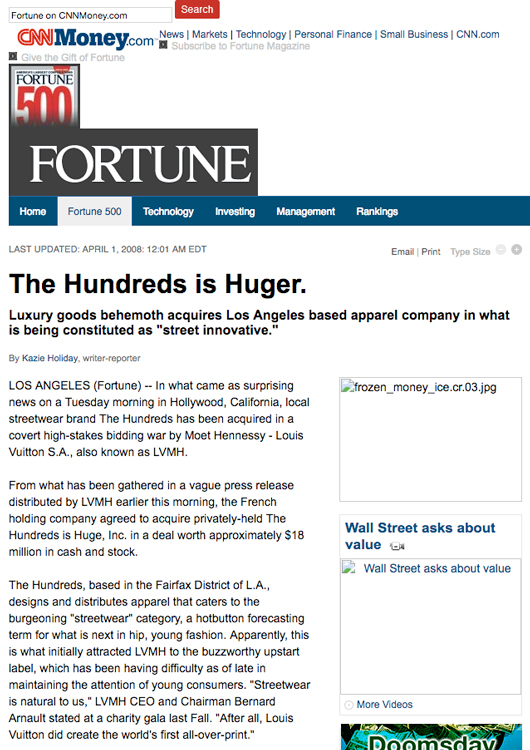 Jayden James took a ride in a bangbus with The Hundreds crew back in 2012—and there were a lot of unexpected detours. Mature audiences only.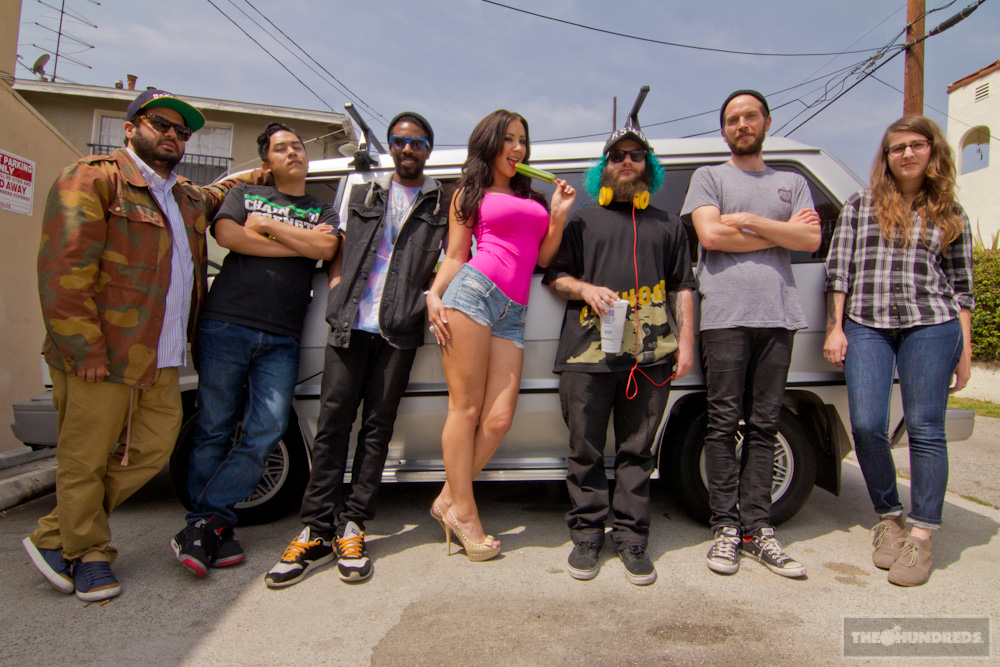 Ben Baller was commissioned by The Hundreds to make the world's most expensive chain—a whopping $3,115,000! This was picked up by both Highsnobiety and Complex, and every time people roll through The Hundreds Homebase, getting photographed in the chain is a must. You gotta admit, actually cutting a check several days before April Fool's—planting the seeds of the punchline—was key.
To this day, some people still attempt to call us out for spending so much money every time we share a photo of someone wearing the chain.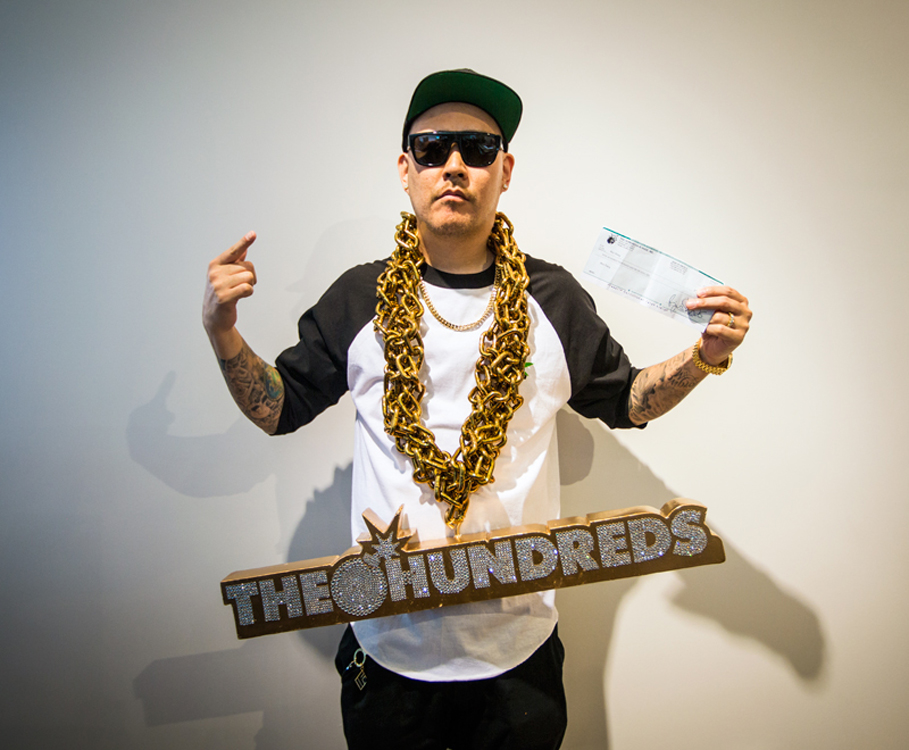 Happy April Fools from all of us at The Hundreds.
***