Best Made Strongbox – The older you get the more crap you have. Cutting down is near impossible, and the best alternative may be to organize your collection of junk. When it comes to keeping things safe and secure, a nice sturdy box is ideal, and Best Made has just the thing. These strongboxes are made in the USA and are power coated in a rich deep blue. The boxes come in two sizes, and can easily accommodate the precious baubles you've collected over the years.
Source: Best Made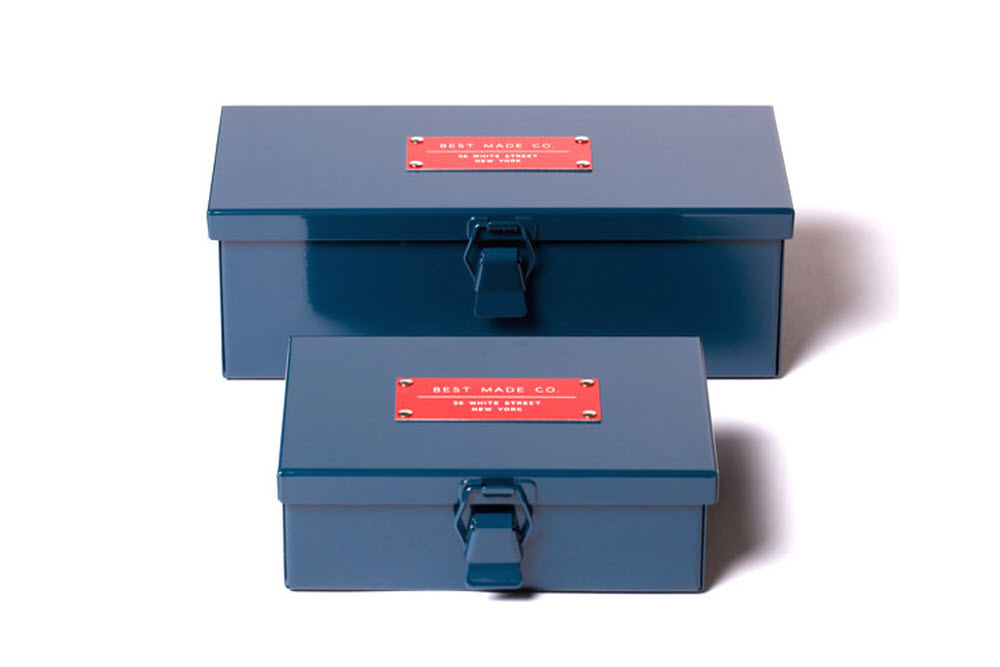 The Endless Summer Skateboard – The search for the perfect wave culminates in Bruce Brown's opus The Endless Summer. The iconic film is a documentary worthy of adulation, but the colorful poster that followed has almost eclipsed the actual movie. The bold colors take shape in a new cruiser skateboard that come with wheels and trucks that match the bright orange and pink. The skateboard probably looks better hanging on the wall, but if you ever caught the movie than you'll know that these were meant to hit the pavement.
Source: Dusters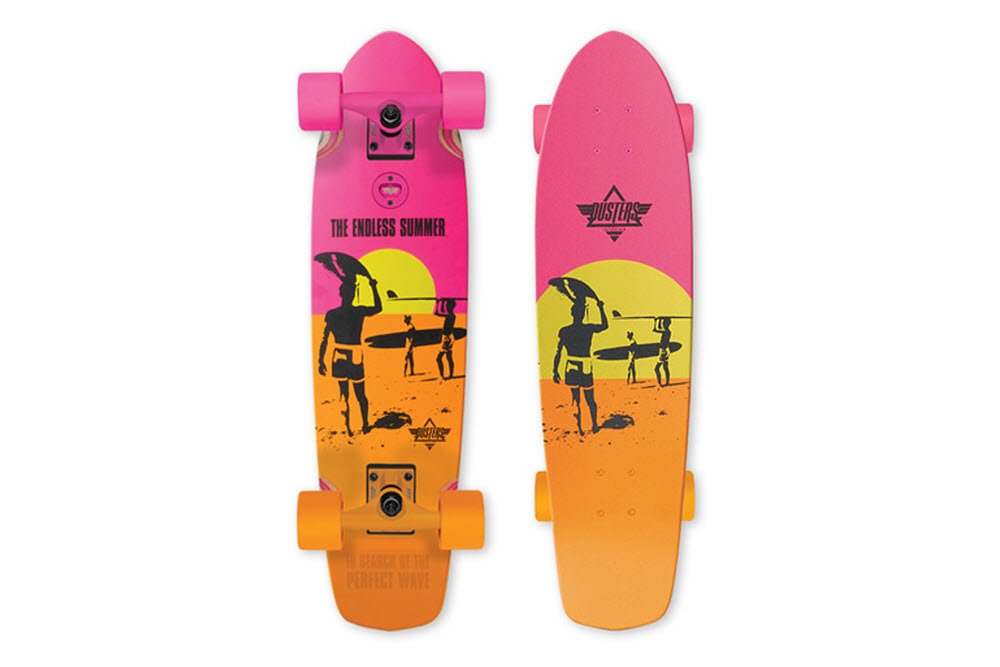 Club Monaco x Katin – Katin is one of the oldest surf shops in the world, and is known to still make custom surf trunks by hand. With it's humble beginnings in Huntington Beach, the soft goods company grown to become an institution in surf culture. Club Monaco taps into that heritage with a swimwear collection that is proudly made entirely in the USA. The line will comprise of garment dyed T-shirts, and a wide of printed swim trunks and patterned board shorts.
Source: Club Monaco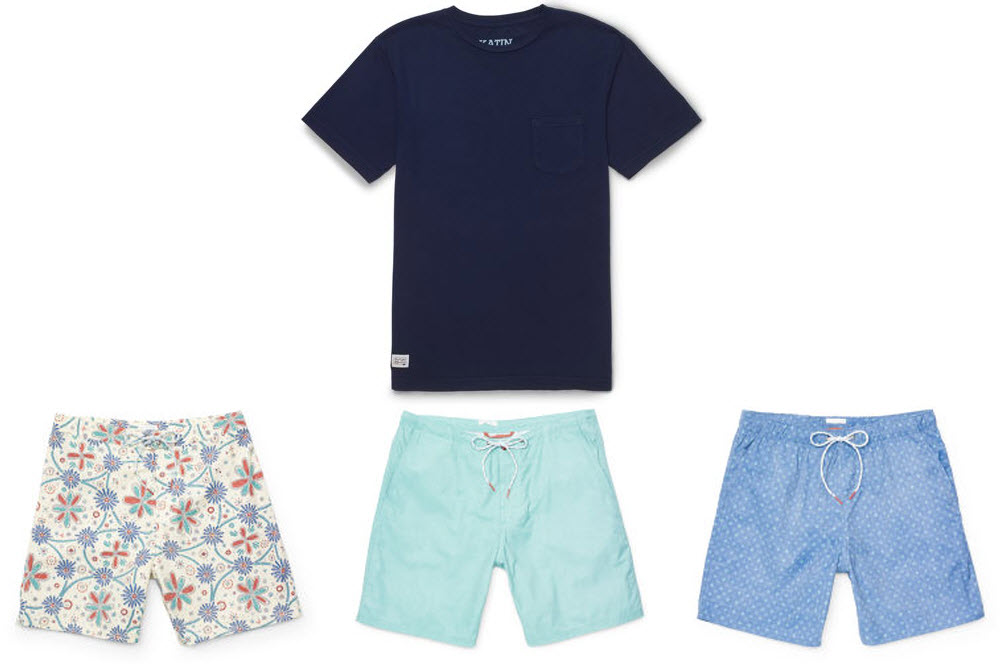 visvim FOLEY-FOLK – If you don't have a wonky eye, then squint both eyes and tilt your head to the right. You may begin to see a pair of bootleg tennis sneakers that married a regurgitated Ralph Lauren shoe with a popular DVS skate sneaker. But, upon close inspection you'll notice the 6 letters that spell out "visvim," and BOOM – Baller Status. visvim has borrowed some popular designs in the past, but what it lacks in originality it makes up for in details. The FOLEY-FOLK is a casual sneaker that exceeds in excess. The uppers use premium leather from Germany and features contrast suede on the tongue and heel. Cushioning is provided with a one-piece rubber outsole, and retail is set at $735. Hiroki Nakamura has always firmly held visvim has a luxury brand, and exclusive tennis shoes is another part of the business.
Source: visvim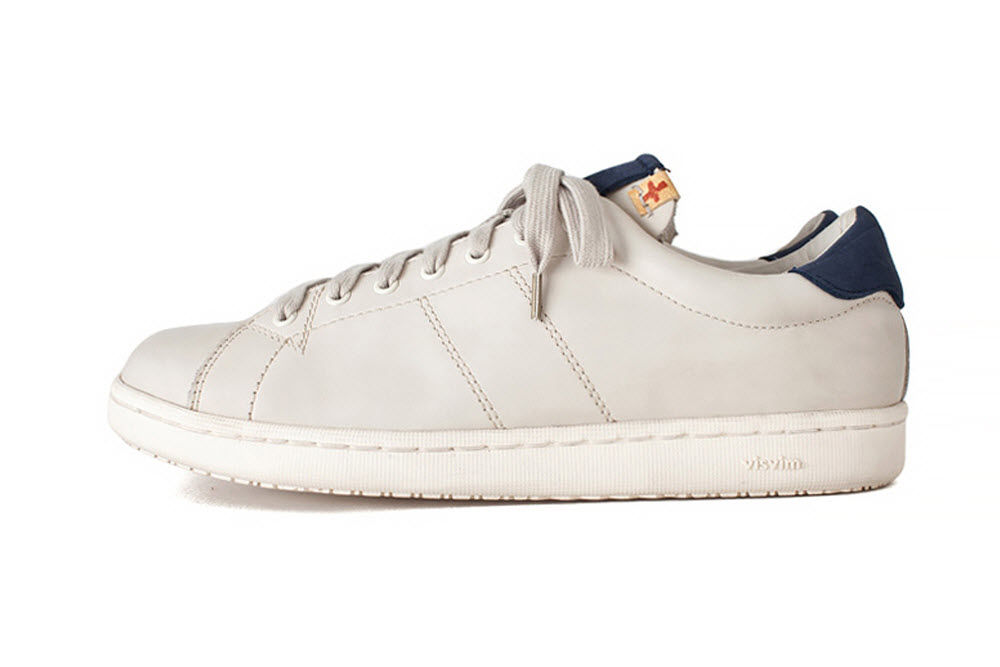 A$AP Mob x PacSun – After working with Black Scale, the A$AP Mob is moving onto a new project with PacSun. This New York-based hip-hop crew is finally going to get a taste of that mall money. The project is centered around the A$AP lifestyle and features a series of graphic T-shirts, sportswear pieces, and a couple of snapbacks and bucket hats. The collection screams generic, but when you consider that PacSun has over 600 stores littered across the US it makes perfect fiscal sense.
Source: PacSun