In just three short years, Richer Poorer has become a flourishing business for founders Tim Morse and Iva Pawling, who left behind successful careers in other fields to focus on making socks full-time, with no previous experience in sock-making! Undoubtedly risky, but fruitful, both are now reaping the benefits of the chance they took on starting their own business and seeing it through. A few weeks back I sat down with both Iva and Tim to chat about their accessories brand, get to see their products in person for the first time and also preview a little joint project between Richer Poorer and The Hundreds, which you're hearing about for the first time here!
Read 5 Questions about Socks below and catch a more in-depth analysis about the sock market through Bobby's eyes, here.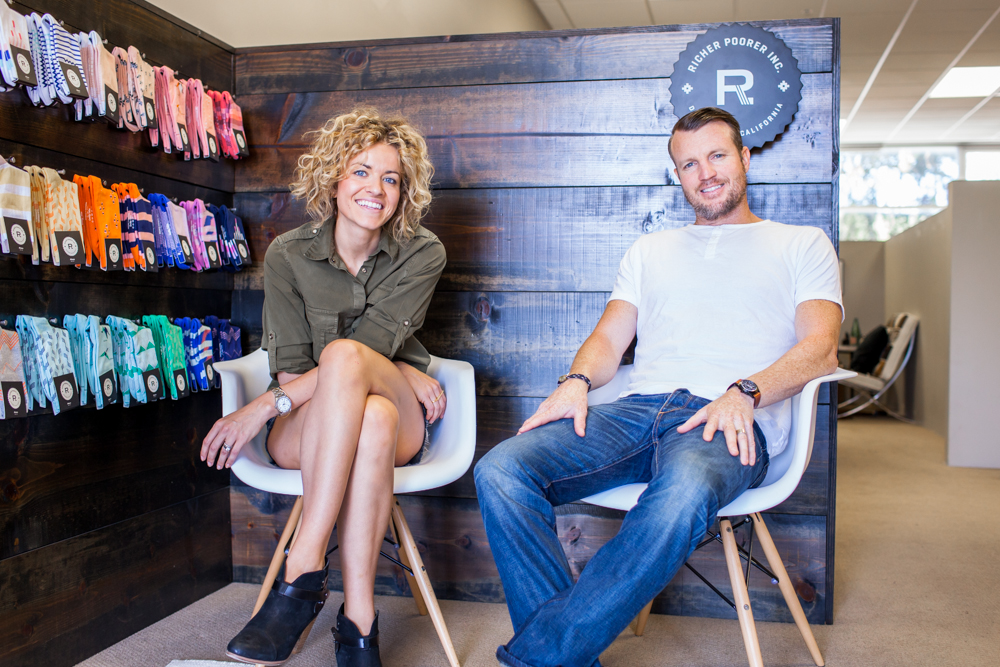 1. Who wears white socks these days?
Iva: I know, right? It's weird to think that at one point your sock drawer was probably all white socks. The funny thing is when we started the company one of the coolest things was giving socks to our friends and family and seeing people buying them because they just wanted to support the brand. And then you slowly see them coming back and saying, "Hey, I can't wear white socks anymore." That's one of those things that when you turn [on white socks] you can't go back.
Tim: It takes that one time for somebody to comment on them and say, "Hey, those are cool," or the guy sitting on the airplane and the girl sitting next to him comments on them and it strikes up a conversation and they end up dating and getting married. I mean, those stories we've heard. They're a conversation starter. We talk about telling stories and creating collisions and conversations. Socks are one of those things that people notice.
Iva: They're an easy thing for people to comment on. If somebody's wearing a pair of socks that are colored and patterned, obviously they took the time to consider them. So commenting and complimenting on their socks is different than a pair of pants, [which] has a specific fit that you're almost uncomfortable saying something about. They're also really easy to photograph, there's a simplicity to taking a picture of your feet and shoes.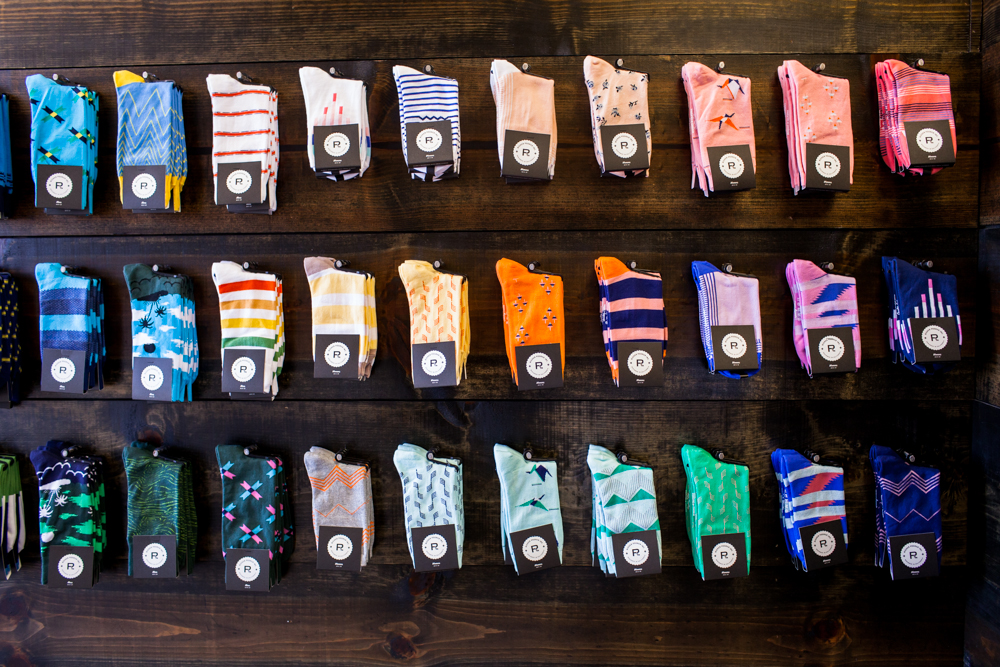 2. Design or performance, which comes first?
Iva: Design. When we started we probably went through, I don't know, seven or eight different sock blends. We were very focused on making a durable sock that wore well, that the colors didn't fade, that it wasn't a quitter. Once we kind of had that construction nailed down, we maintained that construction. Kind of like a T-shirt: you have your blank, and then the graphic or pattern changes from season to season.
Tim: With that being said we're focused on innovation too. One of the things that we're launching here in the next month is our athletic line. We think in doing the research that it's gonna be one of the top athletic products in the market. The feedback that we received from customers was they were playing basketball or skateboarding in our crew socks and they were getting holes in them. So let's go out and build a sock that they can do that all day long in. We built an athletic sock that's got a padded foot bed, elastic compression over the top, it's a COOLMAX moisture wicking blend, it's everything you'd expect from the top companies out there. And just as much as design, we recognize the importance of innovation and we're applying that to all our socks, as well as our boxer briefs that we've recently launched. Finding that balance is incredibly important.
Iva: We never had any intention, really, to move beyond the contemporary market. That's where we started as a brand, working with the top boutiques in the world, and we've slowly been pulled into other markets like. We found that in the streetwear market, as well as action sports really, there are only a few sock brands that are really spoon-fed to everybody. There were consumers that really wanted to find and discover a new brand, and they were finding us. So we needed to reciprocate and create a product for them.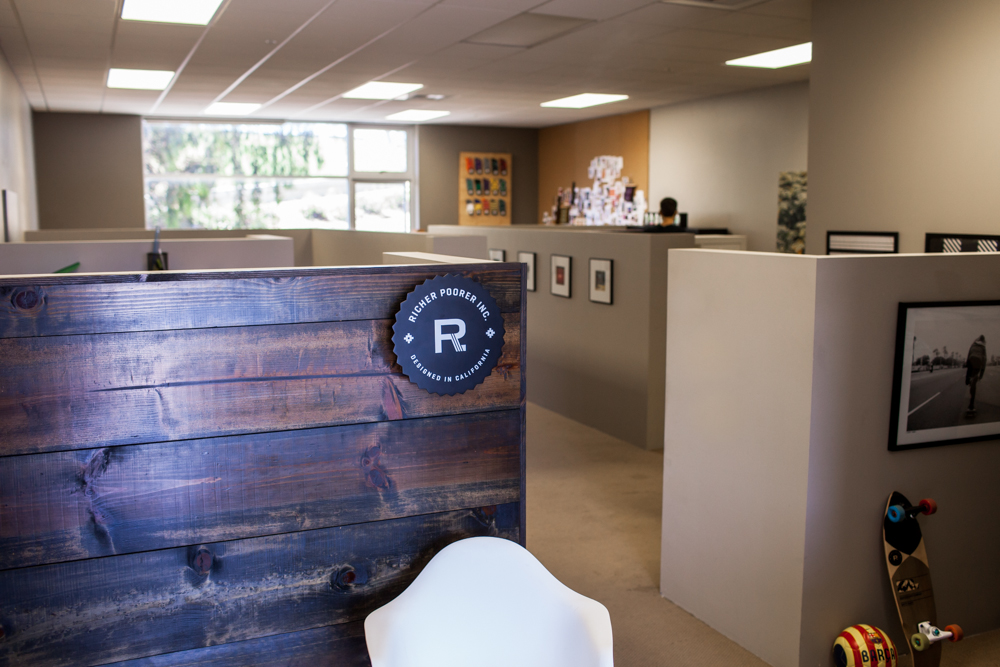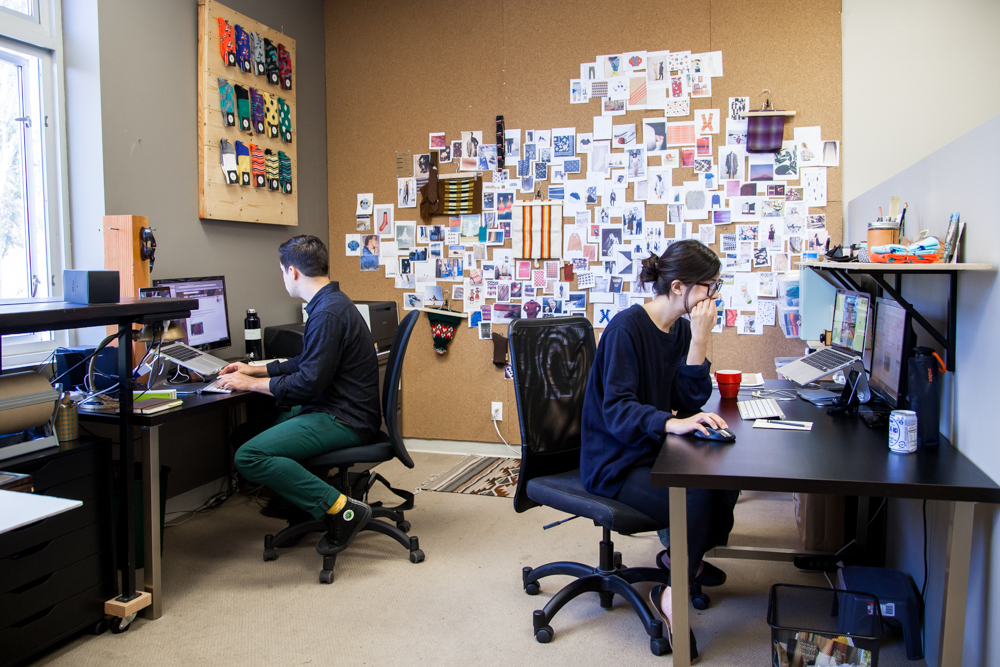 3. What does the name, Richer Poorer, mean to you?
Iva:
So we were tossing a lot of ideas and the term richer poorer. It's funny every single wedding we go to, my husband will nudge me right during the wedding vows because it's the most repeated term. But like Tim said that at the time, where the market was, we wanted to create a really high end product from a design side but that was reasonably priced. That dichotomy of richer and poorer; the impression of what's richer and what's poorer is kind of subjective. And the way that some of the poorest people in the world are the happiest and some of the richest are the most unhappy. There's nothing super swanky about the way that we operate, we're a very humble brand, we're modest, we love our product, we love what we do. There's always gonna be a little bit of grime to how we do it, but we always try to keep it as polished as possible.
Tim: And starting with socks, you have decisions to make every day, every one of us. Whether you're rich or whether you're poor, one of those decisions is to put on socks. It's one of the first things that you're gonna do. At a rudimentary level, the playing field is equal. Whether you're a billionaire or a ditch digger, you're still putting on socks and underwear every day. And take pride in how you do that. There's a commonality between us all in that sense.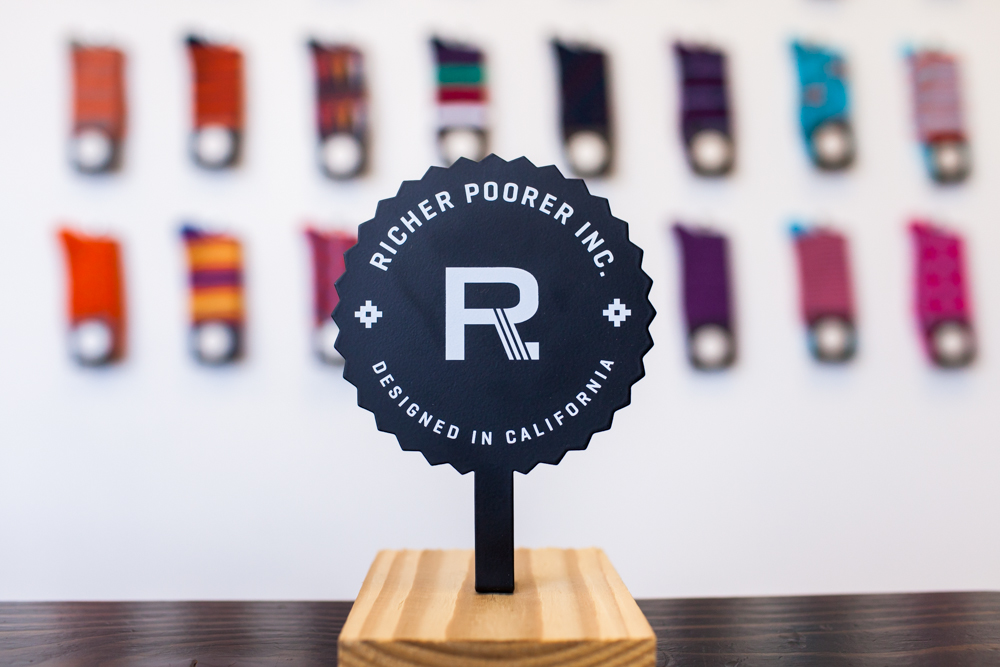 4. Why were socks the ideal candidate to start a company?
Tim: When we looked at the market [in 2010] we thought, "There's either a reason why nobody is doing it – because it's a really dumb idea – or there's a great business opportunity here." And the vision was always: use that sock as blank canvas and focus on design – because that's the most important thing for Iva and I. We love timeless design. We're not just focusing on chasing trends. Take those patterns that we develop and eventually apply them to other accessories. We always talk about making the ordinary extraordinary. So things like underwear, things like socks, things that you use in you every day life. But give them some life, give them some personality.
We were fortunate when we launched, we kind of caught lightning in a bottle in the sense that men's hemlines came up. Guys started rolling their pants, selvedge denim was in and the market had turned. Before 2007 it was all about excess. It was True Religion jeans, it was Hummers, it was bigger is better. And then the market contracted – the pendulum swung to the other side; pendulums don't stop in the middle. It was back to the basics, people didn't have the discretion to go out and spend $200 on a pair of jeans, but they still had a desire to buy something and update their wardrobe. If they could spend $12 on a pair of socks tthat updated a cool pair of jeans and a basic V-neck T-shirt, then they're stylin'.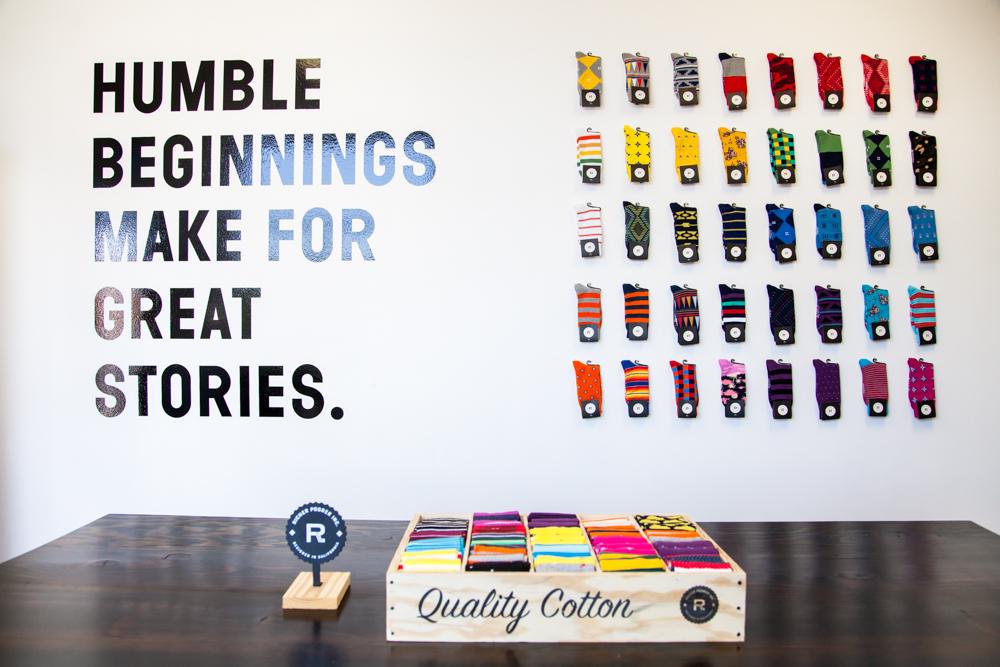 Iva: What we were really trying to do from the beginning is create a really well made product that's well-designed for the person that respects and understands that. That it's not someone just looking for the novelty sock or the argyle, that they actually want to connect to a brand, or connect to a product. You can see that every thing we do has been really thought out. We don't throw just any colors together to make a bright sock. We're certainly trend-conscious but we're more focused on finding inspiration from vintage stores rather than, "Hey, what's the market doing?" and, "What're the trend forecasts saying?"
What was important to us, was to create something that was very accessible. That we can sell to art museums where $12 items might be on the higher end, or work with the Steven Alan's of the world and be the lowest priced item in the store. We really wanted to create a product that would lead people back to discover the brand after.
When we first started, we realized that it's either you start with a brand and the product follows, or you're selling a product and then the brand follows. And for us, it was really important for us to offer a good product and then get the consumer to identify with our brand.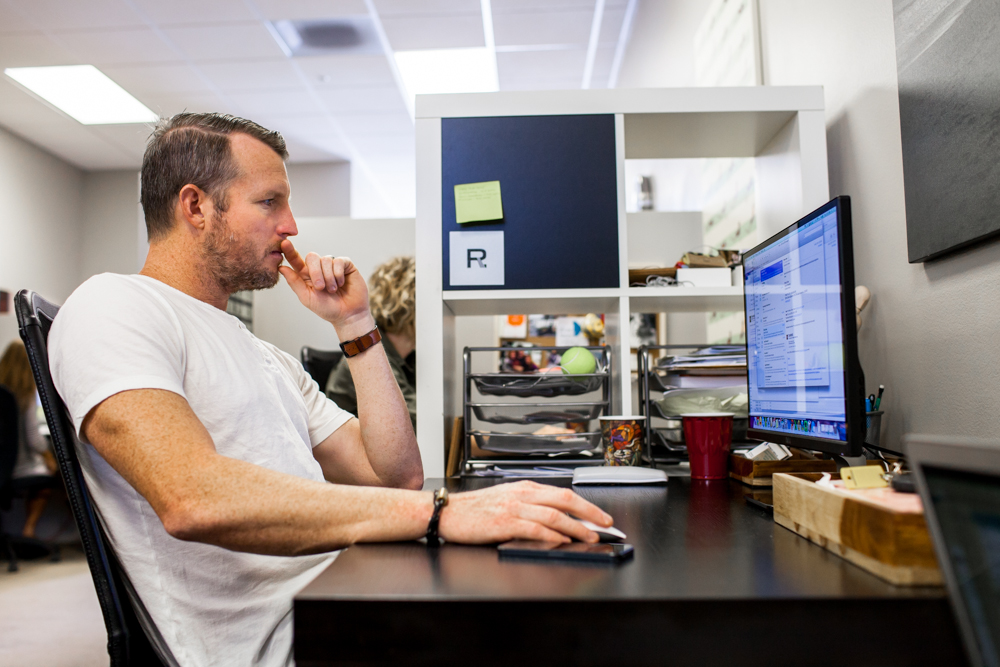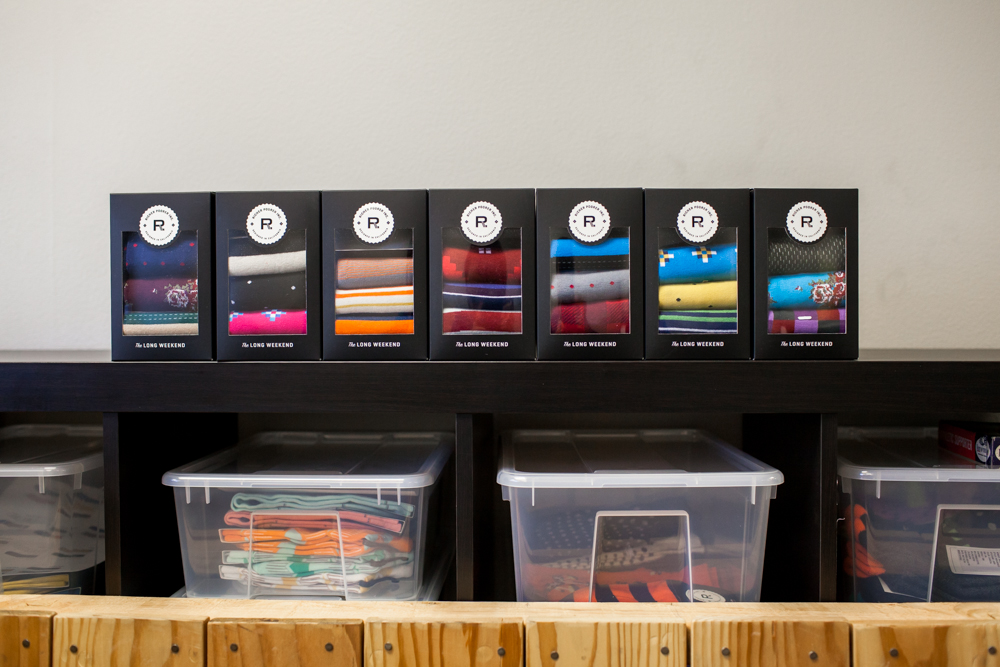 5. How important is it to embrace competition?
Tim: I think that's important, I mean, I think that's what's helped The Hundreds out a little bit is that we haven't been afraid to put anyone else on. Especially with the site – we'll support someone that's even competing a little bit, but I think that ties back to the confidence of the brand and our vision.
Iva: It absolutely is. I think just because you do something doesn't mean you can't respect the way someone else does it too, right? We are very friendly with other sock brands and speak to them often at the trade shows and discuss, "How's business going?" and, "What's working for you guys and what's not?" We believe – as Tim likes to say – a rising tide lifts all boats. And for everybody to kind of work together and talk is a good thing. There's enough room for us all.
Tim: It's called coopetition, that's the term. [Laughs]
Iva: Especially when we started selling socks, Happy Socks was really the only other person in the market. When we were calling on stores, the response that we were getting, initially, was, "Oh, we have socks." Our response was always, "Do you have other product categories that have only one brand?" If you want to add any kind of attention to a product category, you'd better have more than one brand selection there. Would you ever carry one brand of T-shirts? One brand of denim? Of course not.