The Hundreds X Garfield is sold out in our Online Shop, so here's a list of global stockists that may still carry the collab in-store and online.
One part cat, one part hatred of Mondays, and one part undying love for carbs; it seems like Jim Davis was using a calculated formula when creating Garfield—as if to make him a champion for future millennials. We relate to Garfield's unbothered attitude, his obsession with eating, and his overwhelming love of naps. But how is Garfield such a relatable force for millennials and Gen Zers when he's now-approaching 40? How has a comic strip endured for years and still remained as accessible as ever, especially to younger generations?

It turns out Garfield was meant to be a hit all along. In a 1982 interview with the Washington Post, Garfield creator Jim Davis said, "I'd like to say it was some sort of a divine inspiration that created the strip. In fact, it wasn't so much that as a conscious effort to come up with a good, marketable character." This might explain why sometimes, even with his crankiness and neverending pranks on Odie, Garfield is not all that funny. As noted in Smithsonian Mag, "Unlike New Yorker cartoons, in which you are actually missing the joke, Garfield is not even designed to be funny." Instead, he portrays the everyday life of a bored, cynical house cat who feels superior to his peers: a perfect, relatable (and licensable) character.
And what a marketable juggernaut Garfield has become. Garfield has starred in his own movies, worked his way into video games, and has even had a stage musical created in his honor. He's had art installations dedicated to him, T-shirts with his face plastered on them, and even a Twitter account documenting the vast array of unworldly Garfield miscellaneous merchandise (both real and bootleg): "eBay Garfield."
— eBay garfields (@ebaygarfield) February 22, 2017
Jim Davis created Paws, Inc. in 1981 as a creative studio with the sole purpose of dealing with Garfield's licensing. As Chris Suellentrop described in his insightful essay "Why We Don't Hate Garfield" for Slate, "Garfield's origins were so mercantile that it's fair to say he never sold out—he never had any integrity to put on the auction block to begin with."
It's no wonder that Garfield is a household name, and one of the most recognizable cats in the world, resting comfortably on his laurels next to Felix, Heathcliff, and more recently, Grumpy Cat.
In a way, Garfield's success speaks to the way we think about branding in a streetwear-dominant world; the comic strip about a cat became, essentially, a lifestyle brand. Garfield's ability to seep into random aspects of our lives through even more random merchandise—telephones, lava lamps, head massagers, and even fish tanks—show what a truly licensable force Garfield has become. He reminds me of streetwear designer Anwar Carrots, who's noted in the past that he wants to be "The Martha Stewart of streetwear" by doing the same thing Garfield has done. "I want to work with Target," Anwar mentioned, stating that he "always [has] this conversation about accessories versus necessities. You don't really need accessories, but you do need a towel, slippers, socks, chairs."
Anwar is not alone. Many streetwear brands and designers have made a point of creating branded product that goes beyond clothing. Pieces like bike locks, incense, knives, passport holders, and even a battering ram show that streetwear is trying to evolve from a fashion statement into a lifestyle. Supreme is famously known for creating obsolete pieces of branded junk that hype boys notoriously fight over. Granted, they've also released a ton of practical accessories like a bolt cutter and crowbar, but if Supreme possesses the power to sell a branded brick, what's to stop an iconic and lovable character like Garfield from permeating through all aspects of our day-to-day life?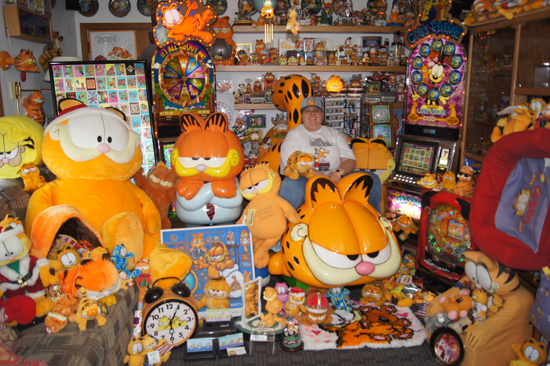 Cathy Kothe holds the Guiness World Record of "Largest Collection of Garfield Memorabilia." Photo: lovesgarfield.com
Some brands even double down, creating merchandise in partnerships with licensable characters. In the streetwear world, we've seen collaborations with Disney, Power Rangers, Animaniacs, Dragon Ball Z, and so much more.
Business savvy musicians like Nipsey Hussle have also harnessed the power of experiential lifestyle branding that translates well into product. Nipsey Hussle discussed the timelessness of another highly marketable cat, Hello Kitty, mentioning to Complex that, "Sanrio do $5 billion a year off novelty items... It's just Hello Kitty, and it exists in the ecosystem of content, which is like visuals, cartoons; actual experience, which is the theme parks and stores; and products." He adds that, "If you look at content creators, we have the same potential."
It should come as no surprise that just last month Sanrio partnered up with Puma for a Hello Kitty-themed capsule collection.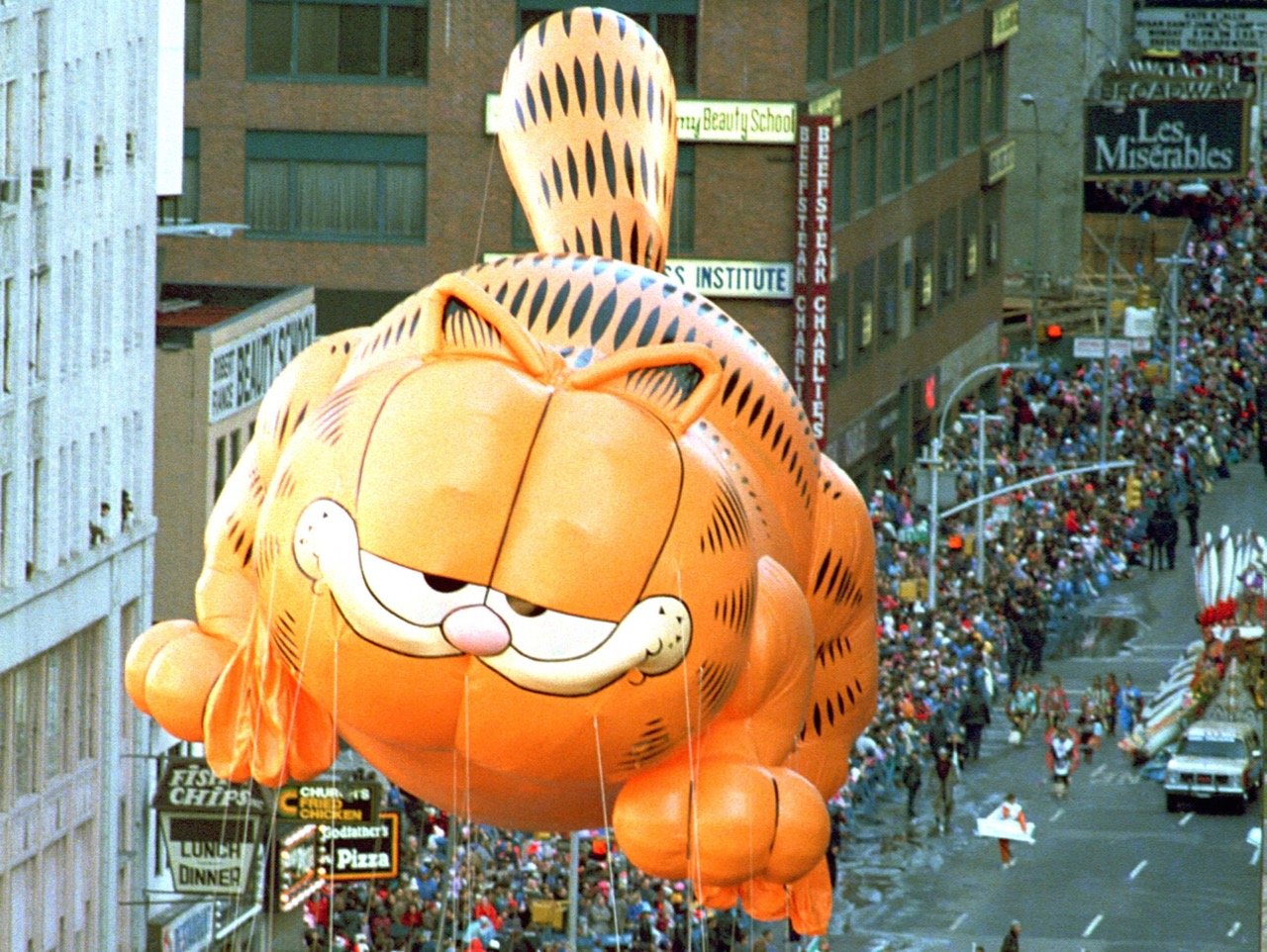 But let's circle back to Garfield. What is it about him that makes him so marketable, beyond his love of lasagna and contempt for his friend, Odie? The details are in Garfield's simplicity. "People aren't threatened by an animal," Davis mentioned in the same 1982 interview. "By virtue of being a cat, Garfield's not black, white, male or female, young, or old or a particular nationality. He's not going to step on anyone's feet if these thoughts are coming from an animal." And it's true—especially now in our heightened political climate where words can be twisted and intentions misconstrued. But the hilarious non-political thoughts of a cynical cat? That's something that's pretty accessible for everyone, regardless of background and identity (unless you're within the small percentage of the internet that doesn't like cats—but that sounds like a personal problem).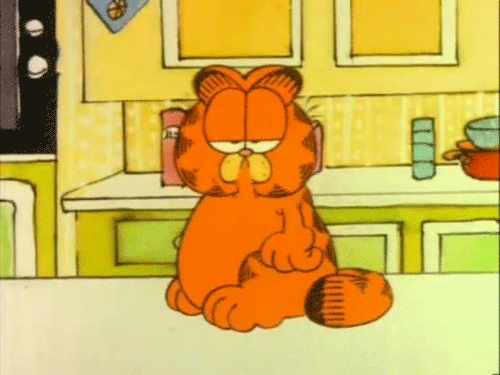 Jim Davis also intentionally made Garfield's situations evergreen, ensuring that the comic strip would still ring true regardless of the passage of time. "Thematically, [Garfield] deals with things that everyone can identify with... if it was so timely, 30 years from now, people wouldn't understand it," he told Wired. "It's more important to have a body of work resonate with the reader than it is to have an individual gag [resonate]."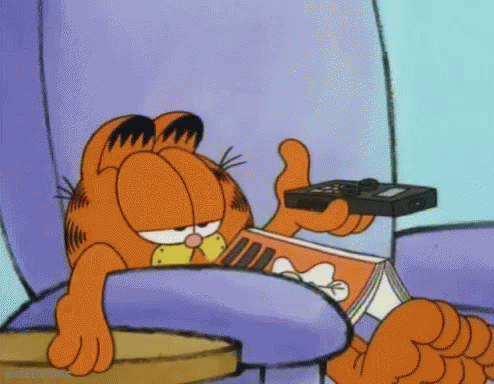 Beyond identity though, Garfield is relatable in his honest ennui. He conducts himself with a zero-fucks attitude and has a self-awareness that his life—beyond lasagna and tormenting Jon—is confined to a small box that he doesn't mind staying in. As young people in 2018, it's easy to see Garfield's self-loathing and lack of motivation reflected within our own lives, as sad as that may sound. It reminds me of Devin O'Neill's article The Hundreds published earlier this year on sadness as a form of rebellion in Generation Z's youth culture: "We rebelled against the expectations of the previous generation. Instead of 'being somebody' and 'going places,' we luxuriate aggressively in being nobody and going nowhere." Garfield fits right in.
In recent times, companies, brands, and entertainment entities have noticed this trend and are trying to capitalize on this feeling of helplessness and apathy. As stated in the same article, "There's big money in mining the disillusioned emotional wasteland of contemporary youth." But while companies are scrambling to create unfunny memes and attempting to connect with younger audiences in ways that are obvious and disingenuous, Jim Davis has been there from the start.
In an upcoming essay about a scary, existential Garfield Halloween strip series from 1985, Devin also argues that while surreal comedy projects like Garfield Minus Garfield and Lasagna Cat turn the comic strip into a "bleak, surreal, post-ironic desert," Jim Davis "saw those qualities and drew them forth explicitly" decades ago. "When we look at this [particular Garfield] arc, it seems inarguable that Davis knows deeply and exactly what Garfield is and how it functions in society."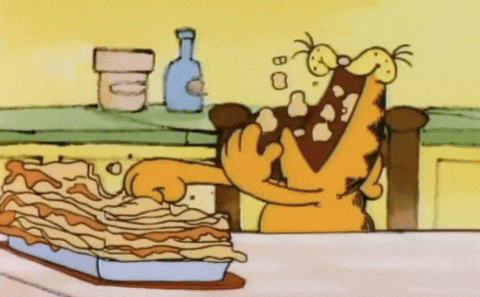 Despite all of Garfield's resounding success—even with Jim Davis's marketing strategy—his creator has maintained shock and excitement about the way his character took off. As he told All Animals Magazine during his involvement with The Humane Society to end pet homelessness, "Everything about his success has surprised me! I was thrilled just to be syndicated. In my wildest dreams I hoped maybe there'd be a book or a coffee mug, but I never imagined Garfield would resonate the way he did... I am still amazed and humbled the people love the characters. I try not to analyze it too much—it might go away."
But even forty years later, Garfield hasn't gone away—and has shown little signs of slowing down.
"He hates Mondays. He loves lasagna. He sure is fat," Slate wrote of Garfield. What better champion for a struggling age group than a relatable, overweight orange tabby who's just trying to make it to his next comic strip?
***