Leica T 701 – Leica gets into the compact interchangeable market with the newly announced T 701. The camera body is a testament to quality and detail. Milled from a single block of aluminum the body is hand polished for 45 minutes to achieve a smooth and matte finish. Inside the body is a 16.5 megapixel APS-C sensor that is capable of HD video and robust poster sized pictures. The camera is controlled by a few dials and brand new touchscreen display. There are currently only two lenses out for this new T Series, but most of your bases can be covered by the 23mm f/2, and the 18-56 f/2.5-5.6.
Source: Leica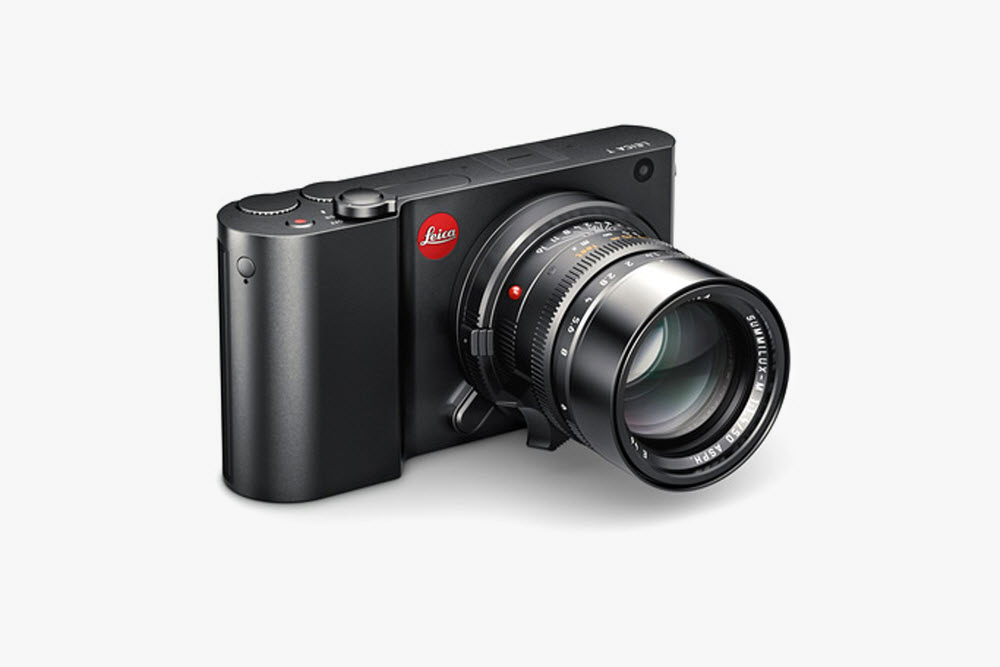 KITH Indigo Collection – KITH continues to grow after each season. What started out with T-shirts and sweats has moved onto entire menswear collections. The new Indigo Collection takes on the sportswear theme with a refined and minimalist approach. Using rinsed, medium, and vintage denim, the collection crafts favorites such as button-down shirts, jogger pants, hybrid shorts, and bomber jackets. The Indigo Collection's gamut of blues fits well with the airy Spring weather, and is set to drop in stores April 26.
Source: KITH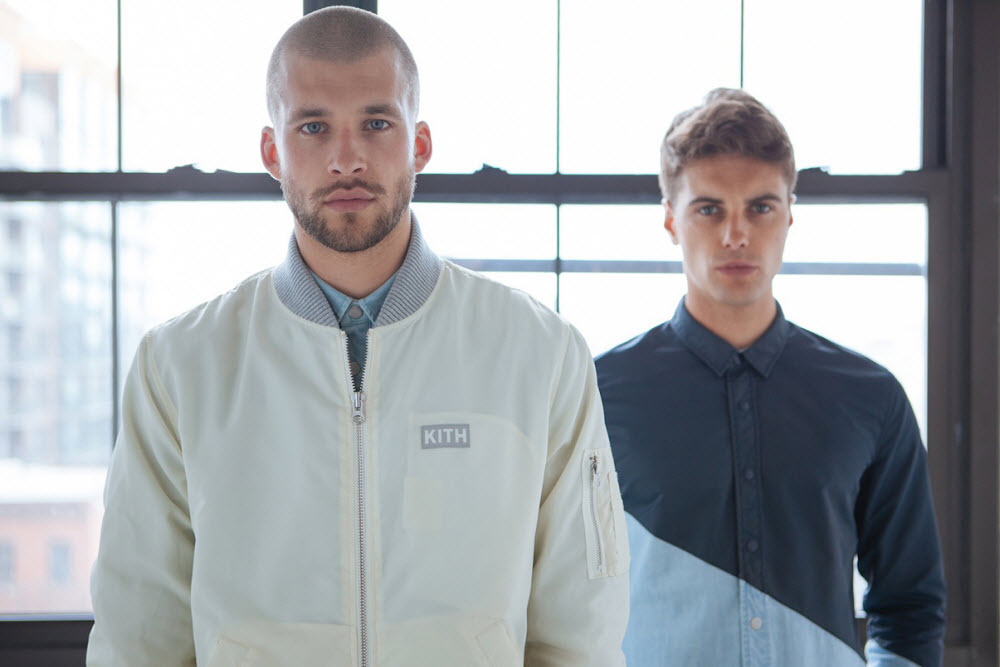 Vans Vault Sk-8 Hi Zip LX – Most of my shoes have crumbled heels. That's because I'm lazy and skip untying my laces and move straight to ripping my shoes off. So when Vans Vault releases a classic sneaker with zippers at the heel I'm all ears. Zippered sneakers are nothing new, in fact this particular model is a re-issue. The Sk-8 Hi Zip LX was released a few seasons ago to great success, and it's back again for this Summer. As with any Vault release Vans steps up the details and provides the Sk-8 Hi Zip LX with premium leather uppers, metal eyelets, and rawhide laces. Three traditional colorways will kick off the release so keep your eyes out for the Sk-8 Hi Zip LX in black, jester red, and peacoat navy blue.
Source: Vans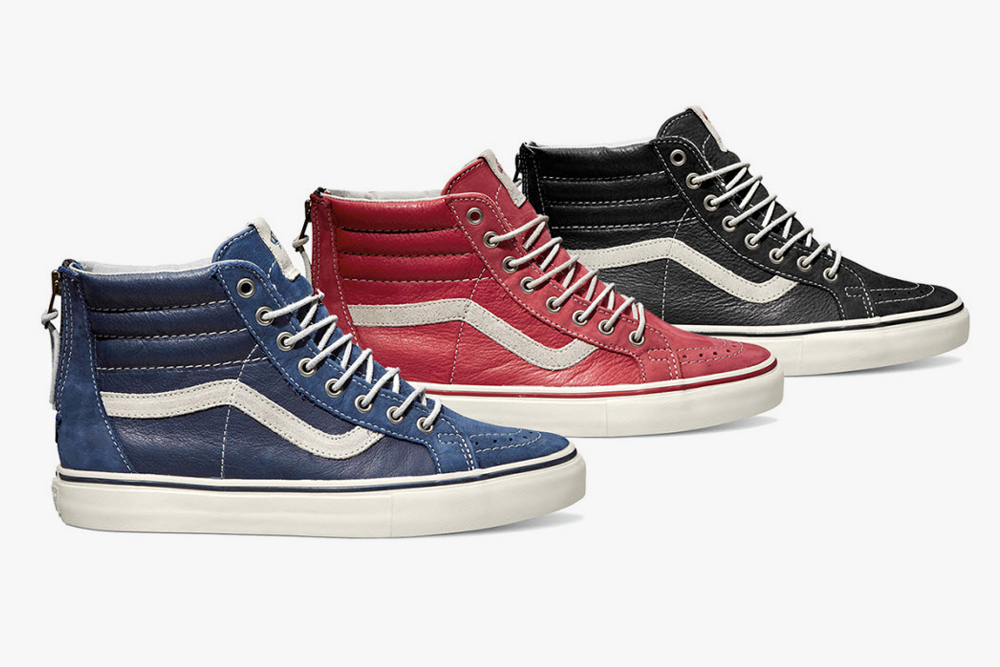 Tired Skateboards – If the graphics look familiar, it's because Tired Skateboards is by contemporary Dutch artist Parra. The mentality of Tired is about viewing skateboarding as a hobby, and not another competitive action sport. The company admits to not landing kick-flips, huffing and heaving after an ollie, but always enjoying the ride. Tired is a nice reminder that skate has more to do with having fun then looking cool. Tired will kick things off this Spring with vintage shaped vert and ramp decks, as well as a cruiser.
Source: Big Time Distribution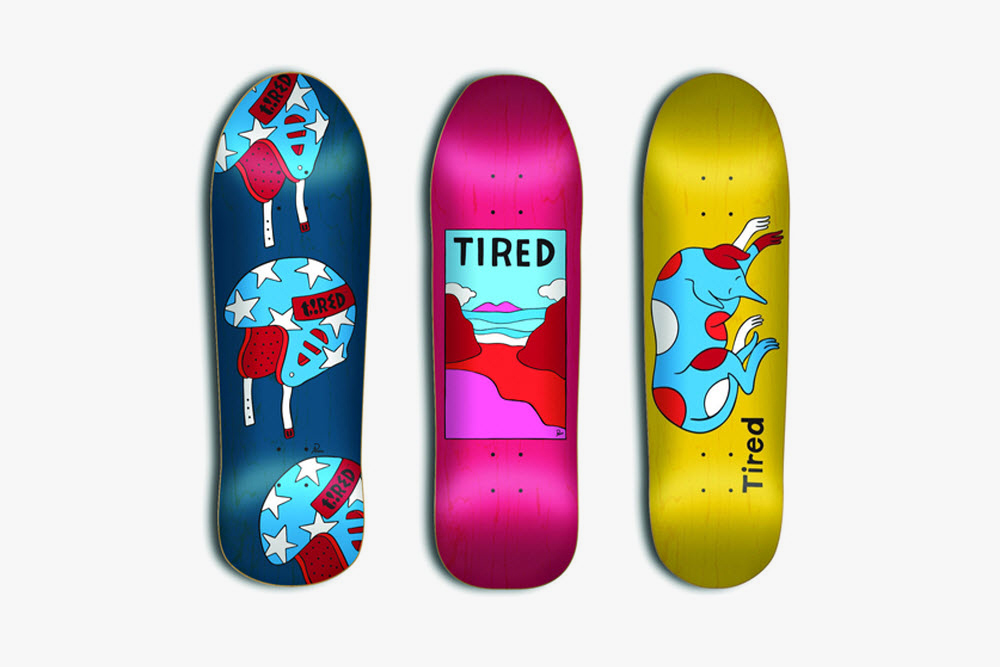 Bluemasters, Innovation in Denim – Denim junkies are a strange breed that love to hang onto every detail and explore erudite archival brand history. Bluemasters, Innovation in Denim by Menabò Group is made with the denim purist in mind as it journeys into the history and culture of denim. In addition to denim history the book also profiles designers that have shaped or been influenced by the denim industry. The book looks to be an interesting read for any denim fanatic, but also has the sort of information a budding designer should be acquainted with. To keep things interesting the 202 page book is also filled with rich full color images.
Source: Menabò