It's the 10 track commandments, whet?
I like to dig through Soundcloud. So here, I present the results of my excavations (in no particular order): Nine tracks released in the past month that you shouldn't miss, plus a tenth track that's kinda old but still knocks. Hopefully this'll help get you through the rest of your week, to the blessed lituation that we often call the weekend. #TYBG.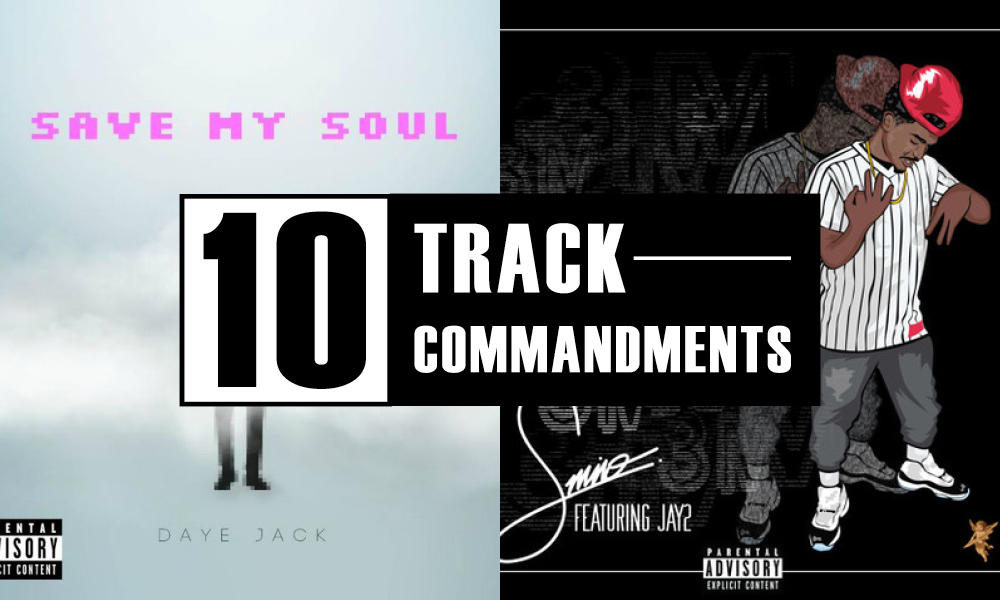 1. Smino ft. Jay2AintShit – "3M"
Over the past few months, St. Louis, Missouri-bred and Chicago, Illinois-based musician Smino has been dropping a few loosies on SoundCloud, giving us a taste of his aesthetics. He recently released the lead single for his upcoming mixtape Zero Fatigue called "3M." With support by Chicago producer Monte Booker and Chicago rapper Jay2AintShit, "3M" acts as our introduction to Smino's ethos, "It's simple if you listen / Do what make you feel amazing / That's your ammunition / Shoot the lights out, shoot the lights out / We gon' shine, shine, shine." Smino's recommendation is follow your own path, as he's done himself.
2. Toro y Moi ft. Rome Fortune – "Pitch Black"
Rome Fortune is known for his off-beat, unlikely collaborations and a penchant for weird production styles. Cue his newest collab with Toro y Moi, "Pitch Black," which features Fortune's southern drawl-driven cadence over Toro y Moi's particular type of glitchy indie soul. Fortune usually has this way of rapping fast while still rapping slow (I fault his drawl for that), but Toro y Moi's production style slows the Atlanta rapper down immensely, to the point where he's mostly flowing slow and long, as if he's just talking.
3. Prince Harvey – "The New Black"
Prince Harvey's been making some waves: He recorded the entirety of his upcoming project at the Apple Store over the course of four months. Indeed, the mixtape's title is also an ode to his time spent at the store, Prince Harvey At The Apple Store: SoHo — a.k.a. PHATASS. You might be hesitant before even listening but "The New Black" hits immediately, and you honestly have to give him the benefit of the doubt. Recording in an Apple Store must require some ungodly stamina.
4. Maka – "Like, Like"
Maka is a Boston native and member of a collective, brand, and movement called "DopeSick," with cohorts Damn Ricky and Fat P. Maka is a vocalist and producer, who recently flexed both skills with the track "Like, Like," which has a groovy vibe. While the song is pretty simple aesthetically, we hear Maka's vocals escalate toward the end of the song in an unintelligible, demanding manner, bringing another dimension to the song's mood.
5. Daye Jack – "Save My Soul"
From the beginning with Hello World, Daye Jack's brand of genre-bending music has been garnering buzz. After signing to Warner Bros., the 19-year-old Atlanta, Georgia musician continued to follow his self-prescribed course with Soul Glitch, an eight track project that ebbs and flows with the experimental rapper's voice. In "Save My Soul," through a vigorous cadence, Jack waxes poetic on the price of fame, and the isolation and deceit that comes with it.
6. Proctor – "Have Mercy" (Remix)
I couldn't find much on British musician Proctor, but he's already in my favor as he's remixed "Have Mercy," originally by Detroit, Michigan-raised and Chicago-based singer Eryn Allen Kane. Ms. Kane is heavy on the Chicago radar: She's worked with many of the city's musicians, including Chance the Rapper, Saba, and Towkio. While Kane's version of "Have Mercy" is purer, Proctor's version pitches her voice down, superimposing shivering, clapping synths over her buttery cadence.
7. Finding Novyon and Travis Gorman ft. Allan Kingdom – "Lots"
This song brought to you by Minnesota: Finding Novyon, Travis Gorman, and Allan Kingdom all hail from the state. And "Lots" — with co-production by Gorman — is the first song from Novyon and Gorman's upcoming collaborative mixtape #TheFoodNetwork. The song is clean and straightforward, the 808s lending themselves to the song's murky, dark mood, and the two rappers' cadences matching almost perfectly.
8. IshDARR – "Sugar"
IshDARR teams up with Film Noir producer Medasin — the same Medasin we mentioned in Vol. 1 — for his latest single "Sugar." The track immediately gives me GoldLink vibes, and while comparisons like that aren't completely fair, this one is certainly a compliment. Directed by an uptempo rhythm and a wompy, bouncy beat, the Milwaukee, Wisconsin musician alternates between singing and rapping. And in the midst of it all, Medasin samples Rob Base and DJ E-Z Rock's "It Takes Two." Kind of an odd move, but it somehow works.
9. BANKX – "Weekend6"
The Midwest is poppin off: 17-year-old BANKX is also another rapper from Milwaukee. "Weekend6" is the fourth track under his belt, a slightly grim, wholly ominous song guided by a heavy, subdued bass. The song evokes a numb feeling, pairing well with the single art, a prominent display of drugs, guns, and women. Lyrically, the song borders on derivative, but BANKX picks it up with a slow unravel at the end, as his language becomes more indecipherable, extending toward the lyrical matter of the song.
10. Gorillawarfaretactics – "Zoology"
In the last couple years, New York-based trio Gorillawarefaretactics — consisting of frontman Dilla and producer duo (and twins) 1984 — stepped away from music. But before they left, they gave us a pretty solid denouement: The 10 song offering Zoology. The title track from the tape is satiated with references to golden era hip-hop, both in beats and bars, the lyrics rife with nods to the greats, like DJ Premier, J Dilla, and Nas. "We comin live from the jungle where no trees grow / Where men'll take your dreams, go and smash 'em like casinos." Sounds about right, New York. And hopefully that's not what happened to GWT.