It's the 10 track commandments, whet?
I like to dig through SoundCloud. So here, I present the results of my excavations (in alphabetic order): Nine tracks released in the past month that you shouldn't miss, plus a tenth track that's kinda old but still knocks. Hopefully this'll help get you through the rest of your week, to the blessed lituation that we often call the weekend. #TYBG.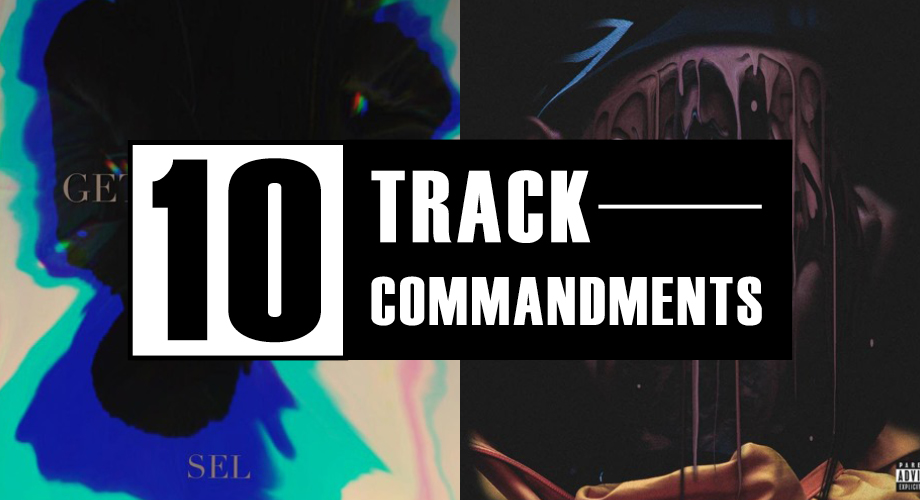 1. Cousin Stizz – "Super Bowl"
If Michael Christmas is the unofficial crowned king of the Boston rap scene, then Cousin Stizz is the prince. After making his debut last year with the song "Shoutout," Stizz's come up ballooned when he dropped his first project Suffolk County. On the latest from the young star, "Super Bowl," we hear echoes of the tape's slow, hypnotic flow and instrumentals, becoming another anthemic song like "Shoutout." Life lesson from Stizz: Party big and like you're always winning.
2. Lucki Eck$ feat. Joey Purp – "Deja Vu"
Some artists are a slow burn, and for me, Lucki Eck$ was one of them. It took some time for my ear to get accustomed to Eck$' slurred form of rapping, where he's simultaneously inarticulate but also enunciates. But that's what makes "Deja Vu," and Eck$, special. A feature from Joey Purp only elevates the song, where he mimics Eck$ leisurely flow over the equally unhurried beat. "Do they make vegan lean?"
3. Marvelous – "Recipe"
The best emcees rap what they know, and that's exactly what Marvelous does. On "Recipe," he waxes poetic about growing up on Chicago's west side and the things he's learned—and what he's trying to do differently. Nowadays, the musical landscape is a bit more difficult for rappers who just spit, but producer Ambi Lyrics' glossy, oceanic beat alleviates some of the pressure. Ambi's got her aesthetic all over this one; "Recipe" is damn near just as much hers as it is Marvelous's.
4. NicX – "Untitled"
It's been a while since we've heard anything new from the Atlanta (by way of Cleveland) rapper NicX—and "Untitled" is a good welcome back. Indeed, the emcee proves he's still got that rapid-fire delivery, but there's now an air of mystery surrounding him. In the last minute of the song, he takes the initial fast-paced beat and slows it down, still quick but languid in his flow. Sometimes musicians need to go MIA in order to come back with a better-honed artistry. I believe that's something NicX definitely did.
5. Ohana Bam – "Too In The Way"
Ohana Bam's catchy hooks are what immediately drew me in. While "Too In The Way" doesn't hit you on any deep, meaningful level, it's pretty truthful: Haters like to interfere; haters never see the vision, because their hating, cloudy-minded lookin' asses are stagnant. Get out the way.
6. Roosevelt The Titan x Anak1n – "Infinite"
Roosevelt The Titan and Anak1n rhyme over a mesmerizing beat that throws your mind in circles, their cadences dark, gritty, gloomy. They rap with antagonism—with something to show. Roosevelt calls himself "a melinated villain," using his music as a tool to uplift himself—and both sprinkle a fair amount of braggadocio throughout the track. Group all of these sentiments together, and you get that infinite feeling.
7. SEL – "Get This Work"
There isn't much to dig up on SEL, but sometimes the work just speaks for itself. That's exactly what he speaks to on his latest "Get This Work," reminding us that money, power, and respect are the holy triumvirate. There ain't anything else you need to know.
8. theMIND – "Mercury Rising"
Thanks to Mick Jenkins, theMIND has almost become a household name—he's featured on Wave[s] and The Water[s]—but with "Mercury Rising," we see what he can do on his own. Backed by his collective THEMpeople, Donnie Trumpet, and cellist (and #10trackcommandments alum) Sylvie Grace, theMIND pours himself into the single, and we're finally able to fully lavish ourselves in the stunning peaks and valleys of his voice. Damn if it isn't gorgeous.
9. Truce – "Turn Of Time"
Who are you, Truce? His/their SoundCloud is just as baffling as their Instagram and Twitter: They've got one song, nine Instagram posts, and nine tweets under their belt. Seems like he's/they're British, too. What ever the case may be, this singer's voice is mesmerizing. He kind of has a Michael Jackson, meets electronic/house, meets funk feel. Already ready for more.
10. Tree feat. Chris Crack – "Chicken Pocks"
MC Tree is an OG, and his raspy voice is almost unmistakable. "Chick Pocks" is the first cut off his album with fellow Chicago rapper Chris Crack; and what works so well about TREE + CRACK is that their voices stand in contrast. While Tree's approach to the song is more gradual, Crack spits fervently, using his voice to pick up the song's pace, though the beat remains minimal.
***