It's the 10 track commandments, whet?
I like to dig through SoundCloud. So here, I present the results of my excavations (in alphabetic order): Nine tracks released in the past month that you shouldn't miss, plus a tenth track that's kinda old but still knocks. Hopefully this'll help get you through the rest of your week, to the blessed lituation that we often call the weekend. #TYBG.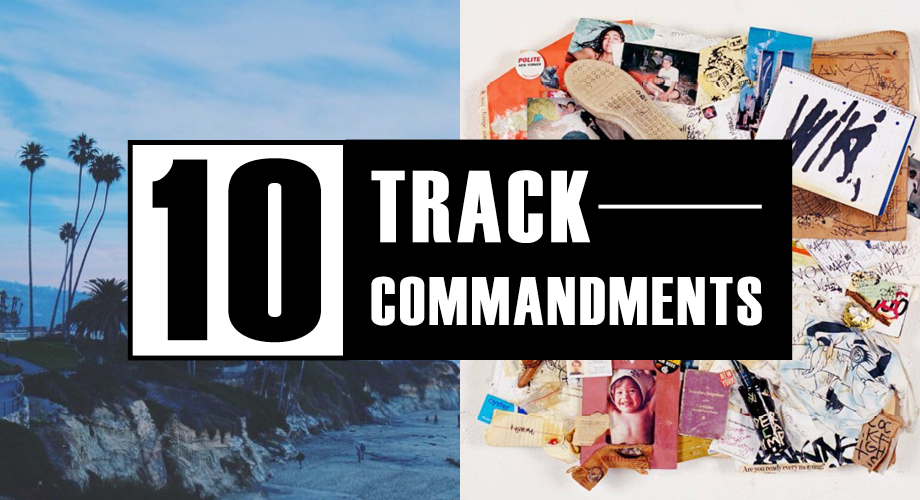 1. Adam Joseph – "Lowside"
Adam Joseph—part of the Chicago crew O3—and producer Xander are both fully aware of what's happening locally and nationally in hip-hop: Melodic raps and Soulection-like beats are being adopted across the board. In line with that, Joseph and Xander serve us something similar, Joseph's raps shimmering over Xander's Film Noir-ish beat (indeed, the creation of Soulection allowed other producer/DJ collectives like Film Noir to flourish; Xander's beat is more akin to Film Noir), bouncing between lively, glitchy keys, synths, and hi-hats. While the song is a short 1:46, it's a good start; I'm curious to see what's next for the emcee.
2. Barney Artist – "Cruisin"
There's something about Barney Artist that's always caught my attention. Maybe it's because his British accent bleeds through the music; maybe it's his potently soulful and slightly lusty sound. Whatever the case, his vocals are always buttery, and this time, on "Cruisin," his cadence ebbs and flows with the beat, wavering between candid lyrics. The song is one of eight tracks from London's Myself & Others' project M&O Advent Calendar 2015, a celebration of some great songs as the year draws to a close.
3. Jean Deaux – "Act Right (Saturn's Return)"
If, after all these months and all these playlists, you have yet to understand Chicago's importance, then there is no hope for you. Over the last few years, Jean Deaux has been doing a lot of groundwork in the city, collaborating with some of our favorite Windy City rappers and producers, like Mick Jenkins, Saba, and longtime affiliate THEMpeople. With her latest EP Outer Body, Deaux puts her listeners in a trance, her singing voice effortless and raw. Even the way she spits is mesmerizing and alluring, a perfect recipe for any female vocalist.
4. Kipp Stone – "Seen It All"
Kipp Stone is Closed Session's most recent signee, and on "Seen It All" he works with CS label-mate Boathouse to create a hypnotic track that is, indeed, about seeing it all. Put plainly, "Seen It All" is Stone's narrative, where he describes the paths his friends have taken—some of his homies have degrees, some are still on the street—and giving us an account of the two sides he's witnessed. Though he doesn't come to any real conclusion by the end, we get a pretty good idea of the life he's lived.
5. RAS – "Daily Routine"
RAS is another product of Milwaukee's DIY rap scene. "Daily Routine" is his strongest cut, something reminiscent of the early days of Joey Bada$$ and Pro Era. Like any fledgling music scene, Cream City is coming into its own, still in its exploratory phase and trying to find something that fits. Almost every single Wisconsin rapper I've come across has been so wildly, sonically different, that it's no wonder RAS borrows from something else entirely.
6. Ric Wilson – "Do You Hear Me"
"Do You Hear Me" reminds me of a lot of things, none of which are Chicago in nature. The song reminds me of Blu and Exile, of the sand and palm trees, and of California. If you listen to Ric Wilson's newest EP The Sun Was Out, he explores many lanes, moving through songs with more staccato rhythms and others with auto-tuned, R&B-patterned beats; "Do You Hear Me" is just another study of one of those lanes. Though Chicago's scene is nowhere nearly as green as Milwaukee's, Chicago is still very experimental: Rappers and producers are still trying different aesthetics on for size. Trial and error is key.
7. Roy French – "Mexico"
While listening to "Mexico," I was trying to look for some deeper, hidden meaning but realized that with some music, you just take it for what it is. There doesn't appear to be much beneath the surface here, and that's completely okay. But damn if there isn't something captivating about the way Roy French yelps and squeals through nooks and crannies of this song.
8. SRNO – "Try"
Sometimes you just have to throw a moody remix in the shuffle, and for SRNO, it seems like enough time where we want to give Dej Loaf's "Try Me" another listen. SRNO abbreviates the original song's lyrical content, focusing on the chorus (and not the macaroni), and keeping it interesting by interspersing the lines with typewriter- and xylophone-like sounds.
9. Wiki – "Living With My Moms"
Wiki's 10-day old project Lil Me reminded me just how ferocious of a spitter the New Yorker is. "Living With My Moms," in particular, is infectious. It's also a song that speaks to our generation: Many of us lived with our parents after graduation—even I lived with my mom for a time after college, and soon realized that as an adult living in your parents' home, you still have to sneak around because your parents always see you as a kid. But when you're out on your own, away from their watchful eye, you're able to flourish; and that's exactly what Wiki describes.
10. L.A. VanGogh – "Hold It Down"
L.A. VanGogh is nothing if not soulful, funky, and melodious. Production-wise, "Hold It Down" is a gloriously sunny loosy, masking some of the song's darker lyrics. "And I swear it was all good about a week ago (barely) / Now we grown up and we tweekin." My only hope is that we have more to look forward to, from either L.A. as a soloist or with his duo safeNsound.