It's the 10 track commandments, whet?
I like to dig through SoundCloud. So here, I present the results of my excavations (in alphabetic order): Nine tracks released in the past month that you shouldn't miss, plus a tenth track that's kinda old but still knocks. Hopefully this'll help get you through the rest of your week, to the blessed lituation that we often call the weekend. #TYBG.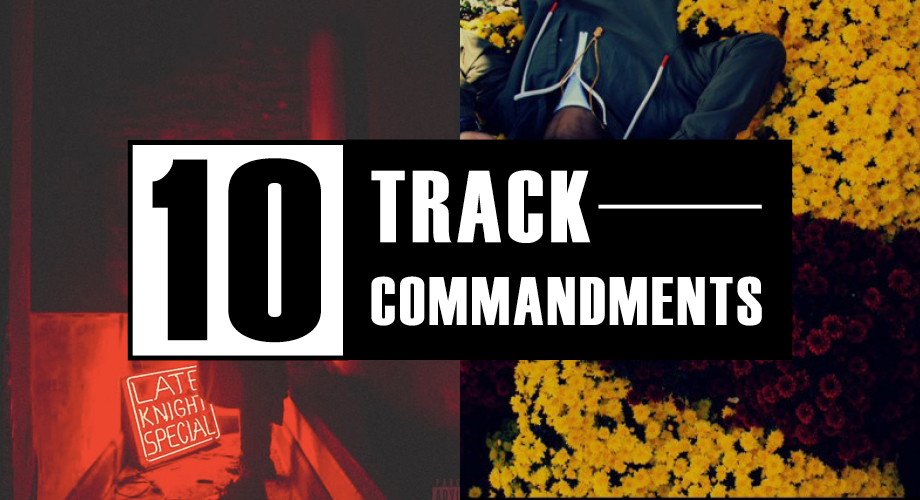 1. Anik Khan feat. Sid Sriram and Humeysha – "Obsession"
"Obsession" is the follow-up to Anik Khan's summer debut I Don't Know Yet, and indeed proof that the Queens musician is heading in a slightly different direction with his music. While IDKY proved his skills as a rapper, uniting his Bengali and Astoria upbringings, Khan now shows us just how deep his vocal abilities go. He lays his melodic raps over a track production by Soulection's J-Louis, waxing poetic on his need to make money, and in typical Khan fashion, give back to his loved ones. Sid Sriram and Humeysha jump in at the end, adding some specifically Desi-sounding vocals into the mix. Pretty much the definition of #BrownExcellence.
2. Beach Jesus feat. Lasko and Elias Abid – "Aloe BB"
Beach Jesus is a new quartet out of Chicago that is a little different than your average group. It's part hip-hop, part electronic band—they call themselves dream-hop, and yes, they do dabble in dreamy qualities. Their music is punctuated by both raps and harmonies, and dance-like, synthy electronic melodies. It'll be interesting to see how their sound progresses, but in the meantime, you can start with "Aloe BB," which features production accompaniment by Lasko and Elias Abid.
3. Ciscero feat. Matt McGhee – "Homies"
"I go for broke, for bro's, for she's, for holmes, for peace, my sis, my love, my cuz, my piece, my home, my me's," Ciscero raps on "Homies," the second single dropping from his upcoming EP Kids Wear Crowns. Ciscero lays it all out for us, a song that's an ode to those in his life that have worked tirelessly for him, and whom he certainly hopes to return the favor to.
4. Donavan Day feat. Christen Cappello – "On U"
Donavan Day, formerly known as Hassani Kwess, is another DMV native. While we don't know a lot about Day, what we do know is that one of the hottest parts of "On U" is that beat—the interchange of strings, background vocals, hi-hats, and bass flourish underneath Day's cadence. "The pussy wavy." Yerrrrr.
5. Joey Purp – "Morgan Freeman"
Over the last few years, Vic Mensa, Chance the Rapper, and Towkio have risen out of Save Money's ranks, reaching solo stardom; and now we're surely ready for another: Joey Purp. On his latest "Morgan Freeman," we see Purp rapping over the Ikaz-produced beat with a fervor, first luxuriating in a staccato-like cadence and then shifting into hoarse, strained vocals, ending in that same staccato rhythm. With this track, he definitely lets us know he's got next.
6. Kirk Knight feat. Mick Jenkins – "I Know"
Kirk Knight has come a long way from his guest verse on the Joey Bada$$ song "Where It'$ At?" The Mick Jenkins-assisted "I Know" is featured on Knight's debut project Late Knight Special, and although it took him a fair amount of time to release the project, it was probably for the best. While it was Knight's mission to show everyone what he can do as a soloist, the project also helps his Pro Era crew break free from the boom bap label that they've been trapped in from the start.
7. Sángo feat. Faktiss and Chris McClenney – "Na Hora"
Okay, so this song is amazing for many reasons. It's one of the songs from Sángo's latest project Da Rocinha 3, the third installation in the series that seems to be named after the Portuguese football player Diogo Filipe Costa Rocha. So yes, the name of the project is in Portuguese and all the track titles are in Portuguese too. "Na Hora"—which means "In Time" in English—is sung in Portuguese (duh), and while I have no clue what they're saying, this song makes you wanna dance. Gahdamn!
8. Tunji Ige – "On My Grind"
Tunji Ige blew up after his project The Love Project, and now he's been throwing us some bread crumbs to what many of us hope is a follow-up project. Our latest indicator, "On My Grind," confirms that more than a vocalist, Ige is an excellent producer. We know he's been hustling since the get-go—he must still be cooking in that basement in Philadelphia.
9. Von Alexander feat. Meraki – "D R E A M S"
Von Alexander is another product of Milwaukee, Wisconsin's amazing DIY ethos. He came on the scene as Vonny del Fresco, but recently changed his moniker to Von Alexander, something closer to his born name. With "D R E A M S"—one of the singles from his forthcoming EP—he gives us an intimate look into his life, something we hope is a common thread throughout his new material. Clearly, his transition from del Fresco to Alexander hasn't slowed him down one bit.
10. Zuse – "Tell Ya Bout It"
While I usually save the tenth spot for a track that's at least a year old, I had to add "Tell Ya Bout It"—just under a year old—to this week's playlist. And I'll tell you why: The Atlanta-by-way-of-Jamaica rapper Zuse is a gem, infusing elements of his Jamaican culture, like Patois, with young Atlanta's exploratory nature. Instantly, his most striking quality is his voice, which shines over FKi and Ryan Reynolds' minimalist beat and those operatic-gospel-religious-like background vocals. Sheesh.