It's the 10 track commandments, whet?
I like to dig through Soundcloud. So here, I present the results of my excavations (in no particular order): Nine tracks released in the past month that you shouldn't miss, plus a tenth track that's kinda old but still knocks. Hopefully this'll help get you through the rest of your week, to the blessed lituation that we often call the weekend. #TYBG.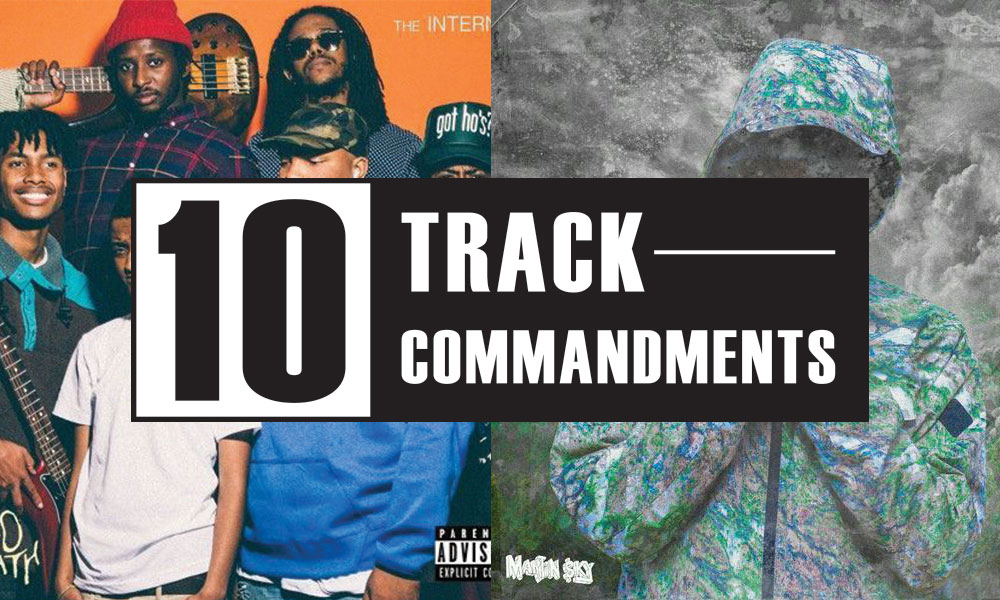 1. Felly – "7th King"
The California-by-way-of Connecticut artist Felly opens "7th King" with an airy, uptempo piano, and two voices murmuring, "I'm currently unemployed./ That's alright, most people are." Though the track begins on a less than hopeful note — and continues to prove that the singer is kind of a fuck up — we somehow still feel triumphant in his grinning sing-rap and ricocheting percussion. The bouncy song might bring you back to the recklessness of your late teens and early 20s, when the sheen of stupidity hadn't frayed, and when your ma probably (read: definitely) told you not to come home because you been smoking a little too much weed.
2. Litany ft. Appleby – "Woman"
"Woman" initially feels like an '80s throwback: The twangy keys facilitate this, and the single art knocks it out of the park. The whole song accelerates when Appleby chimes in, as his voice is strained in different pitches and layered, carrying the track on his back with his exchange between a biting intonation and slumbering cadence. He warbles along with B from Litany, their voices coming together to create a song not nuanced in seduction, but swimming in it.
3. Frank Leone & GDNA ft. Donnie Trumpet & Akenya – "Rapture"
Chicago's Frank Leone is quickly developing a portfolio of distinctive tracks. His latest "Rapture" is summer ready, brimming with smooth vocals from Chicago singer Akenya, an underbelly of sultry guitar rhythms, and of course, Donnie Trumpet's soaring horn, the star from the Social Experiment's musical gift Surf. Akin to the ethos of Surf, "Rapture" is a collaboration between friends, led by Leone and LA-based jack-of-all-trades (and yes, master of all) GDNA. Certainly, it is a track perfect for cavorting with friends, picnics in the park, and laying around in the soft summer sun.
4. Martin $ky – "Self"
"Self" is the latest follow-up to Martin $ky's March 2015 project Everywhere But Here. Like many of the tracks from his project, the $ky-produced track "Self" is also guided by bulky, pulsating 808s. And like the title implies, $ky is currently knee-deep in himself, "They mad at me cuz' I've been on my self shit/ Grinding all day and all night to get the wealth shit." "Self" is a song about putting on for himself, his family, and his squad. Music is a competition, after all. Especially rap.
5. Anik Khan – "Shadows"
As a Bengali-born rapper bred in Queens, Anik Khan's story is one of straddling two worlds: Hip-hop and Bangladesh. His ability to insert the two in both his music — which is often consumed by classic boom-bap beats, and Bengali and Bollywood melodies — and his look — he often dons a gold chain and kurta (a men's tunic worn in India and Bangladesh) — is unique. "Shadows" is the second track from his upcoming project I Don't Know Yet, a story that touches on the roots of his immigrant story, galvanized by shaky, booming drums and a high-pitched whistle.
6. Masego x Medasin – "Girls That Dance"
Masego pretty much popped up out of nowhere and already has a few interesting collaborations in the works. "Girls That Dance" is the first single from his upcoming The Pink Polo EP, and is another superb illustration of Masego's brand of jazz-trap-EDM fusion, where he's (assumedly) playing the saxophone, as on the song "Childish People." Per usual, the musician injects a little swing into a characteristically electronic beat, this time by Medasin of Film Noir.
7. Boogie – "The Reach"
After releasing Thirst 48 last year, which included the hit "Bitter Raps," Boogie has had a fair amount of success. His single "The Reach" — from his latest project, also called The Reach — is an ode to his come-up. It's filled with familiar themes that we've seen in the past: his son, his environment, fake people, and fame. The production also hits a gospel-like note with the heavy opening piano and soaring intro from Jess Glynne's song "My Love," touching on his religious upbringing.
8. The Internet Music – "Special Affair"
For a while, I viewed The Internet as Odd Future leftovers. Harsh words, I know, and extremely wrong, too. Before their third album Ego Death dropped this week, the band released two tracks from the project. The beauty of the album's first single "Special Affair" lingers in its subtleties: Almost immediately, Syd tha Kid's hushed vocals are laid over minimal production of a thudding bass line and sparse bongo riffs. And she sings — in somehow both the nicest and sexiest way possible — about wanting to take this girl home.
9. Duckwrth x The Kickdrums – "Lambo (Part 1 & 2)"
"Lambo" is a journey through every kind of beat imaginable. What's first guided by percussive elements then shifts to a more bass-driven track; Duckwrth's vocals also shift between energetic singing and pointed raps, accentuated by the Kickdrums' production. The Kickdrums' beats might lead you to believe that "Lambo" is backed by a live band — as is often the case when Duckwrth plays live — but the Kickdrums, or Alex Fitts, is indeed a solo dolo mission.
10. DP – "Jabar"
DP hasn't released a ton of music, but this we know for sure: Even though "Jabar" is well over a year old, it still slaps. Driven by rough, bass-heavy production and amplified by his low-slung voice, it's difficult not to equate the Virginia-born emcee's flow with the virulent bars of classic Clipse. DP's ominous, gangster raps are refreshing, harkening back to a time when hip-hop was rife with the subgenre.