It's the 10 track commandments, whet?
I like to dig through SoundCloud. So here, I present the results of my excavations (in alphabetic order): nine tracks released in the past month that you shouldn't miss, plus a tenth track that's kinda old but still knocks. With this mix, we dive headfirst into the UK music scene, covering both OGs and newbies. British rap, grime, and R&B have captivated the world, and for us, it's no different. Hopefully this'll help get you through the rest of your week, to the blessed lituation that we often call the weekend. #TYBG.
(Disclaimer: As grime novices, it's difficult for us to pinpoint the exact sonic subtleties and distinctions between the first wave of grime emcees and the new wave. But we're researching and learning—bear with us.)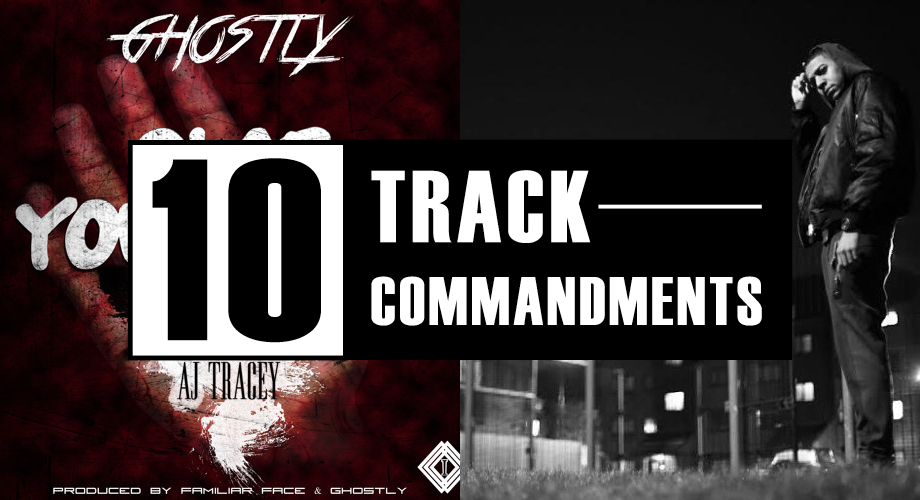 Jay Amo ft. Spitz – "Bare Ammi"
"Bare Ammi" is the first cut from Spitz and Jay Amo's EP The Opp Bosss, which, according to them, was created in just three hours. And the track exemplifies that lo-fi quality of musicians making something on their own—the grit and grassroots charm, where you can hear that the artists are taking control of their creative direction. On "Bare Ammi," both emcees trade verses with an urgency, which pushes them forward through the deluge of synths, snares, and bass.
Ghostly – "Bits"
With "Bits," producer Mischief shows he really knows how to chop up a beat. He takes 50 Cent and Mobb Deep's "Outta Control" and plays with the sample, reshaping the speed, sprinkling modern sonic elements to give the beat a renewed sound. Ghostly agilely spits over Mischief's production—and though the bass is hard-hitting, Ghostly manages to remain laid-back and reflective.
Nino – "dem tingz der"
"dem tingz der" initially lingers in an electronic instrumental, computer blips eventually coalescing with Nino's vocals. The song flourishes in an energetic, playful beat, driven by brassy snares and a manipulated bass. Like Jay Amo and Spitz, "dem tingz der" also has the lo-fi sound of a musician who's just starting out and finding his sound.
Cosmo – "Drunk Driving"
The melodies that U.S. rappers are embracing are also being embraced by UK rappers. Cue Cosmo, who, on "Drunk Driving," can be found meandering somewhere between spitting and warbling a tune. He gives a nod to Bryson Tiller ("Hit them with the Bryson flow,") but Cosmo doesn't necessarily cater to that alt R&B sound, still showing that he can rap like an emcee, but he has a penchant for rhythmic inflection.
Novelist – "Hoax"
Though he's only 19-years-old, Novelist is already at the forefront of grime's new wave of emcees, and "Hoax" proves why. Like much of grime music, the track's bass is crucial—co-producers PREM and Novelist also peppering the beat with gun shot samples and guitar-like riffs. But really, Novelist's sharp, boastful lyrics are the star, the major key. Over the last month, he's been dropping off track after track—three of which have been instrumentals—in order to prepare us for his self-made genre, Ruff Sound Movement.
Oscar #worldpeace – "No Change"
For as much talk as Oscar #worldpeace is getting as part of the new crop of grime artists, it still seems like his reach hasn't eclipsed the music world. It's disappointing, especially since his talent is worth the attention. Produced by Mike Skinner (one of the UK's most successful British rappers and #worldpeace's manager,) "No Change" is propelled forward by a vibrating, almost staccato bass, standing in stark difference to #worldpeace's vulnerable, raw cadence—a quality that can be found throughout his music.
Barney Artist ft. Jay Prince – "Rubicon (Same Old Me)"
While grime is characterized by an aggressive flow, and composed with almost combative synths and electronic sounds, Barney Artist and Jay Prince reveal the soft underbelly of UK hip-hop, which—in the advent of grime—is often overlooked. On "Rubicon (Same Old Me)," the duo gravitate toward something funkier and bouncier, layering vocal and sonic melodies, while still staying true to the UK's desire for an electronic aesthetic.
AJ Tracey – "Str8"
Like Novelist and Oscar #worldpeace, AJ Tracey is another young grime emcee on the rise. Tracey, though, is multi-talented: he's able to seamlessly shift between multiple sub-genres while still embodying grime. Some of the tracks from his latest project Alex Moran, for example, exist in trap and EDM. But the nuances of "Str8" (a loosie for British fashion label Trapstar) fall in line with grime—the contentious beat outlined in metallic hi-hats—Tracey's vocals organic and rough around the edges. The track is raw like any good grime song should be.
Allana Verde x Davinche – "Warning"
While Allana Verde leans toward the R&B and soul lane, with "Warning," the UK singer is still looking to hip-hop: more specifically, our very own Notorious B.I.G.. Producer Davinche samples the original version of "Warning," and Verde modifies Biggie's storyline—where a rival group is plotting against the Brooklyn rapper—to fit her own, explaining her plot to stop all these girls from preying on her man. Her sound is the flip-side to UK hip-hop and grime, and a refreshing break from both genres.
Commodo ft. JME – "Shift"
Both Commodo and JME are originators in UK music: Commodo is a fairly notable producer, and JME is a well-known grime artist and co-founder of grime crew BBK. So it's only right that they paired up for "Shift." Commodo is heavy-handed with his bass and, of course, it works out well, the interplay of the bass and synths creating a sinister, gritty backdrop for JME, his flow equally gritty. The track is also a bow to English grime emcee Kano's breakout song "P's & Q's."