It's the 10 track commandments, whet?
I like to dig through SoundCloud. So here, I present the results of my excavations (in alphabetic order): Nine tracks released in the past month that you shouldn't miss, plus a tenth track that's kinda old but still knocks. Hopefully this'll help get you through the rest of your week, to the blessed lituation that we often call the weekend. #TYBG.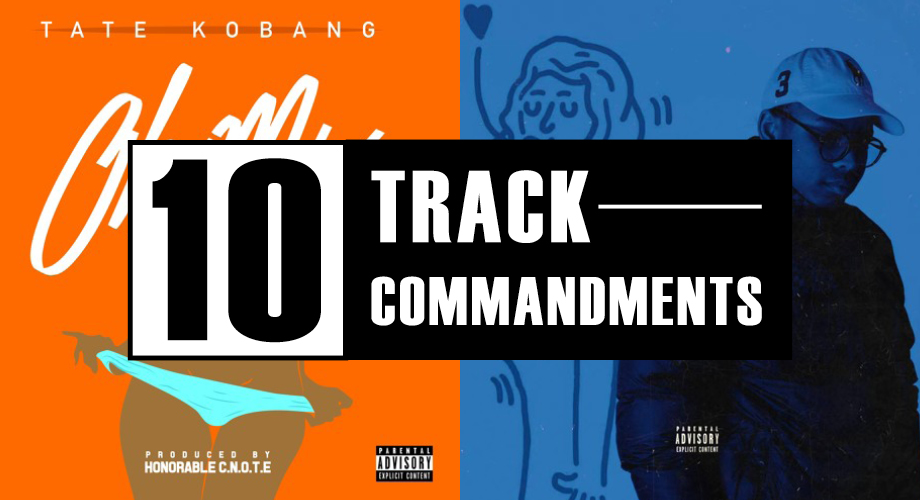 1. Bibi Bourelly – "Ego"
Bibi Bourelly first appeared on everyone's radar after co-writing Rihanna's "Bitch Better Have My Money." Sometimes, songwriters are just songwriters and aren't lucrative musicians in their own right—but it seems as if Bourelly is on her way to breaking that mold. "Ego" exposes her vulnerable side, a more natural approach to reveal her zero fucks policy and unwillingness to conform. Sonically, the track feels more wholesome, aligning with her youthfulness (she's only 21), and allowing the song to sound that much more sincere.
2. DinnerWithJohn – "WBON"
Chicago-based musician John Walt has two sides to his artistry: John Walt is the rapper, but DinnerWithJohn is the singer. On "WBON," we're given DinnerWithJohn, where he croons over a subdued beat, glistening in its background vocals and R&B synthy sentiments. The deep tonality of Walt's voice shimmers with the autotune—more than anything, the song seems to be an exploration of his singing voice and the sonic elements that match it.
3. Jon Waltz – "Justified"
It's always amazing following the journey of an artist: Witnessing their mistakes, sonic discoveries. Watching an artist grow and come into their own is completely satisfying—so when this happened with Jon Waltz, I was pleased. He began his career as a rapper with the EP Alyss, dabbling in melodies, sometimes edging away from discordant or staccato-like rhythms. Now, he's a full-blown singer and "Justified" is proof, where he's finally lingering in all his harmonies and sweet-sounding inflections. Bravo, Waltz.
4. Massa Moon – "ÉGARÉ"
Okay, correct me if I'm wrong, but this song sounds exactly like Bryson Tiller's "Don't" and I'm with it. (It is absolutely worth adding, too, that "ÉGARÉ" doesn't directly translate to 'don't' in English, but 'lost.') I don't know enough French to know what Massa Moon is saying, but it is clear that the Weeknd busted this thing wide open to make way for Bryson Tillers, Tory Lanez, and PartyNextDoors to exist across the world. That's pretty cool.
5. see.francis feat. Rado – "All I Wanted"
I've figured out that I'm drawn to raps paired with horns and brass instruments—something to do with plucking pieces of different genres and coupling them together. That's exactly what see.francis does, using a soulful saxophone to wax poetic on the material items he and Rado have always wanted. But indeed, it runs a bit deeper than that: Their true wish is to get out of their circumstances, to live an existence where things aren't so black and white.
6. Tate Kobang – "Oh My"
Music is boring; everything sounds the same. But Tate Kobang brings something a little different to the table, and this time with the Honorable C-Note in tow. "Oh My" is a slightly different lane for C-Note, who's worked with artists like Young Dolph, Migos, and Pizzle. The beat for "Oh My" is bouncy—akin to Kobang's "Bank Rolls" remix—and makes for an even more promising start to Kobang's career, and proves you can't quite pigeonhole C-Note.
7. TeeJay – "Dirty Muddy"
"Dirty Muddy" isn't about much else except drug use–the juxtaposition of TeeJay's lyrics, vocal melodies, and the slow, languid beat make for a curious song. You can damn near sing along with him about sipping on lean and pissing out codeine. Sometimes you just fuck with a song and can't exactly explain why.
8. Tunji Ige – "I Just Wanna"
Tunji Ige is another artist that has come a long way. From the get-go, he's been a proponent of employing melodies in his songs—also tasking himself with being a one man band: Singer, rapper, and producer. The shift from the gritty drums and keys in "I Just Wanna" to something lighter in the latter third is impressive, and telling of Ige's talent and ear as a producer. Though the second part of the song might be a little brighter, he still drifts towards something a little darker.
9. Wara From The NBHD – "Skin Tone"
If anything, "Skin Tone" completely speaks to Wara From The NBHD's brand. Wara's stance on the track is upfront: He directly addresses the world's perspective on black men. The song's grungy, rock-like harmonies are haunting—reflective of his organic approach to discussing controversial topics like guns, drugs, and poverty. His energy is raw.
10. Smoko Ono feat. Rockie Fresh, Saba, and Jarred AG – "No Look"
Though the name Smoko Ono might be unfamiliar to you, you've definitely heard him before: He produced Vic Mensa's single "Feel That." In true Chicago style, he rounded up a few of the best, from every corner of his city—Rockie Fresh, Saba, and Jarred AG—for another Smoko-led track "No Look." Infusing a bouncy beat with live horns and juke elements, the track successfully blends together multiple ingredients that are essential to Chicago.