It's the 10 track commandments, whet?
I like to dig through SoundCloud. So here, I present the results of my excavations (in alphabetic order): Nine tracks released in the past month that you shouldn't miss, plus a tenth track that's kinda old but still knocks. Hopefully this'll help get you through the rest of your week, to the blessed lituation that we often call the weekend. #TYBG.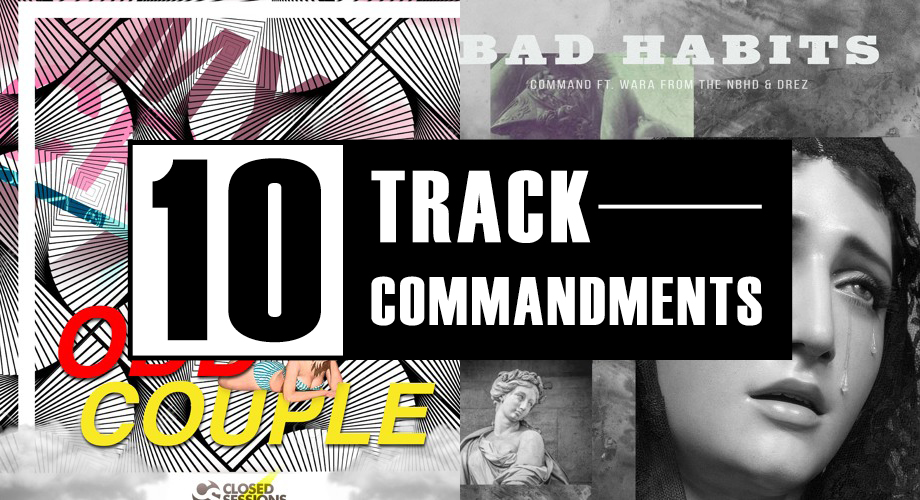 1. COMMAND ft. Wara from the NBHD and Drez – "Bad Habits"
COMMAND languidly opens "Bad Habits" with a dispirited wail, almost religiously expressing his devotion to his vices, "Took my last dollar / Said fuck it, just pressed the button / Cuz god could press the button on me / At any moment." COMMAND, Wara from the NBHD, and Drez exchange verses about the reality of their weaknesses. "Bad Habits" is a solemn prayer to bad habits—bad habits that are sometimes drug habits; bad habits you sometimes just don't give a fuck about.
2. Brad Bonds – "Brampton Memories"
Brad Bonds's voice is buttery, easily coalescing with the soulful, yet minimal beat on "Brampton Memories," allowing his vocals to shine. The second cut from his debut, self-titled EP, "Brampton Memories" and the project allow Bonds to nudge his way into the upper echelon of Toronto's music world. Both song and EP showcase his dexterity, something particularly important as the culture continues to crusade for R&B singers.
3. Trapo – "Chicago"
While Trapo's previous work gravitated toward darker motifs, "Chicago" is bright and friendly, a markedly different speed for the 17-year-old, Madison, Wisconsin, native. What is evident from "Chicago," and his recent project SHE, is that he has surprising sense of nuance, his songs retaining intimacy, even in their uptempo rhythms and the hoarse inflection of his voice.
4. White Gzus – "Hoody Hoo"
After a short recess, Chicago's White Gzus—Blanco Caine and Gzus Piece—is back with "Hoody Hoo," a true homage to TRU's version with the same name. Amid the high-pitched hoody hoos we know so well, the duo effortlessly sparkle in their southern vigor, adventuring for some tail. This is that early summer jam, the kind you bump on hot, sticky summer days.
5. Jay2AintShit ft. Paige Porter – Insightful Ass Interlude
Jay2AintShit serves us up with "Insightful Ass Interlude," wrapping us in a warm blanket of melodies and vivid tongue twisters—two things he's gotten pretty good at. "Escape from middle grounds, soundtrack of my life / I roll the windows down, greatness in my sight," he sings, the production breaking from the thudding, spherical bass-line, instead opting for Paige Porter's voice, the whole song halting a bit too soon.
6. OddCouple – "My Crush"
On OddCouple's version of Mars Today and Esta's song "Summatime Fine," OddCouple first pares down the vocals to a whisper, warping the bass and adding more rattling, vibrating layers. Mars's voice becomes a murmur, OddCouple pulling it down so that it's just another sound in a myriad of effects—and then, amid the whirring bass, brings it back up again.
7. Lukas G – "Quotez"
Being a creative is hard; sometimes, as an artist, you gotta amp yourself up and keep the morale high. And that's exactly what Lukas G does on "Quotez," using his braggadocio as a tool to for a positive spirit and self-confidence. And like any true Chicago rapper—where the idea of squad, gang, crew is paramount—he's taking his homies with him.
8. No Rent – "Thanks To You"
No Rent hails from Edinburgh, Scotland, and is of Iranian descent—but you probably would never guess. His sound is more akin to someone like PartyNextDoor or Post Malone than anything remotely contemporary from Scotland. On "Thanks To You," his vocals appear auto-tuned, warbling over the self-produced beat. Sparse at first, No Rent adds some lush, alluring layers as the song picks up.
9. WHITERO$E ft. TroopBrand and Nocando – "That Feel Good Joint"
"That Feel Good Joint" is exactly that, the type of song you play on a sunny day. It shimmers and radiates in every peak and valley, as it finds Troop and Nocando reminiscing on past relationships. The song's nostalgic playfulness makes it the perfect springtime tune.
10. Nadia Rose – "#DFWT"
You might be over the Big Sean remakes/remixes/covers of "IDFWU," but Nadia Rose's rendition has some of that London attitude, spitting on a lot of truths. "Let him hit, make him cum / Then it's like where'd that motherfucker go?" Don't fuck with them.
***